Road Trip from Adelaide to Brisbane
A road trip from Adelaide to Brisbane is a great way to explore the beauty of Australia. You'll pass through charming small towns and some of the most picturesque scenery in the country. What's more, you can choose to prospect for gold, stargaze in the outback or taste the country's best vanilla slice as you sample the numerous attractions along this route.
The 2020-km road trip from Adelaide to Brisbane takes 22 hours to drive, non-stop. Highlights can include Murray Bridge, Big Desert Wilderness Park, Ouyen, Hay and Broken Hill, as well as Cobar, Narromine, Dubbo, and Toowoomba, depending on your route.
This just scratches the surface of all the wonderful places and attractions you can visit on this fabulous adventure. So, you'll want to keep on reading to learn more about what else you can see, where to stay along the way and the best times of year to make this trip.
How far is Adelaide to Brisbane and how long will the road trip take?
Comparison of road trip route options between Adelaide and Brisbane.

| Route | Distance | Driving Time |
| --- | --- | --- |
| The Ouyen Route | 2,035 km | 22 hours 20 minutes |
| The Nyngan Route | 2,020 km | 22 hours |
Most people taking the trip from Adelaide to Brisbane by car, do so via two main routes. Either along the A39 or via a detour on the A32. Both routes will take you over 22 hours to complete if you were to drive non-stop.
While the Ouyen Route is marginally shorter in terms of distance, both of your road trip options will get you to Brisbane in roughly the same amount of time.
The main difference between these routes is that, whilst the Nyngan Route remains solely within South Australia and New South Wales, the Ouyen Route also skirts through parts of rural Victoria.
Whichever route you take, the views will be fantastic and the small towns you'll visit will be bursting with authentic Aussie charm.
The beauty of driving along either of these routes is that they will take you through the heart of regional South Australia and New South Wales. This means that you will get to see some fantastic parts of the country - parts that many other tourists and travellers miss out on.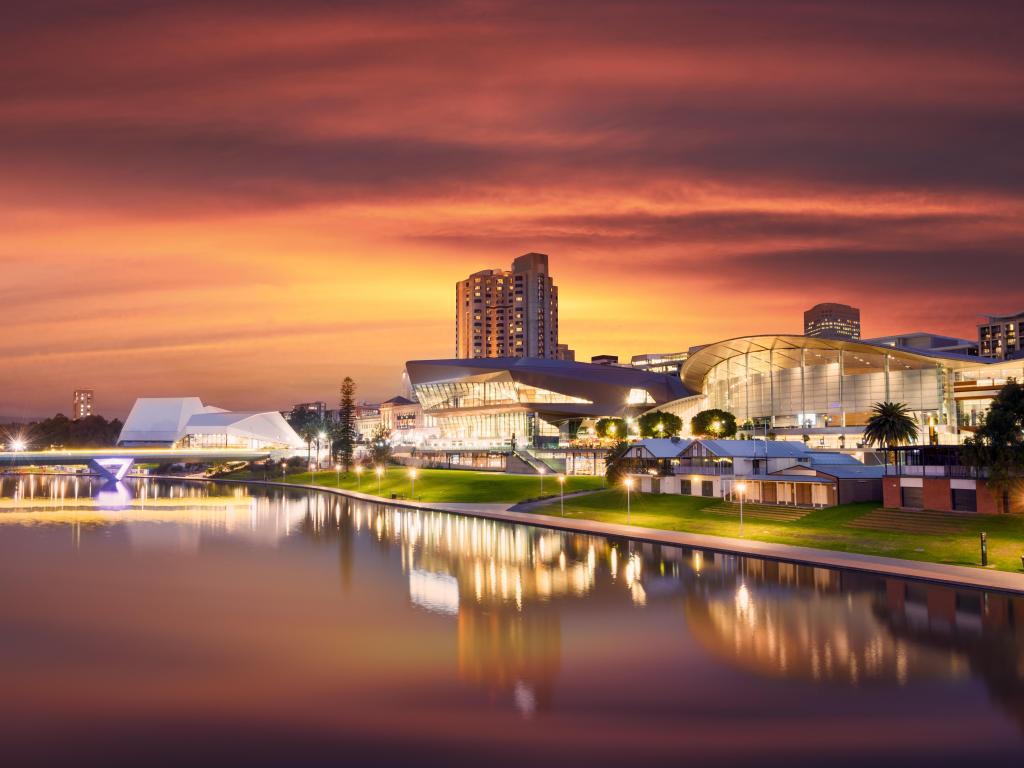 Best road trip route from Adelaide to Brisbane
Setting off on your road trip from Adelaide to Brisbane, our two routes take different directions, before converging shortly after crossing the border in New South Wales, at the town of Moree.
From Moree onwards, both routes continue along the A39 past the notable town of Goondiwindi. From there, it's on to Pittsworth - which was once the largest cheesemaker in the state - and then on to Toowoomba, before eventually reaching your final destination of Brisbane.
The Ouyen Route
This route begins, heading southeast, on the Princes Highway (the M1) towards Bridgewater and then Murray Bridge.
You'll arrive at Murray Bridge around an hour into your journey. Murray Bridge is definitely worth a stop whilst passing through, and if you are able to stay here overnight we would recommend you do so: this area is renowned for being one of the premier spots in Australia for stargazing.
Around 20 minutes' drive from Murray Bridge, you'll pass through Tailem Bend. At this point, the road divides. Take the A8 and then B12 heading east, until you reach Ouyen. At just over 3 hours' drive from Murray Bridge, Ouyen is a great spot for your next pit stop.
If you have a particular love for vanilla slices, you should also take the opportunity to stop off at one of the many bakeries in Ouyen, which was the original location of the Great Australian Vanilla Slice Triumph for 14 years. This is a further 3 hours along the B12 and takes you from South Australia to Victoria.
Now continuing for another 3 hours crossing in to New South Wales, we highly recommend the quaint country town of Hay as you are able to see a sensational 360-degree view of the sunset over the stunning flat landscape of the Hay Plains. The visit of Hay will take you from the B12 on to the A20.
Following the B64, which becomes the A39 just after Marsden Rest Area, you can continue along to A39 to Moree. You may also want to pop in to the popular and famous Western Plains Zoo at Dubbo, which has a wide variety of well-loved animals, including giraffes, African lions, and the Galapagos tortoise.
Our two routes converge at Dubbo: continuing on the A39 for over 700km to the town of Toowoomba. En route, Pilliga Nature Reserve, Mount Kaputar National Park and the small rural town of Goondiwindi are all well worth a visit.
From Toowoomba, it's an easy one and a half hour's drive (depending on traffic, of course) to the metropolis of Brisbane, taking the A2 and then the M7 into the heart of the city.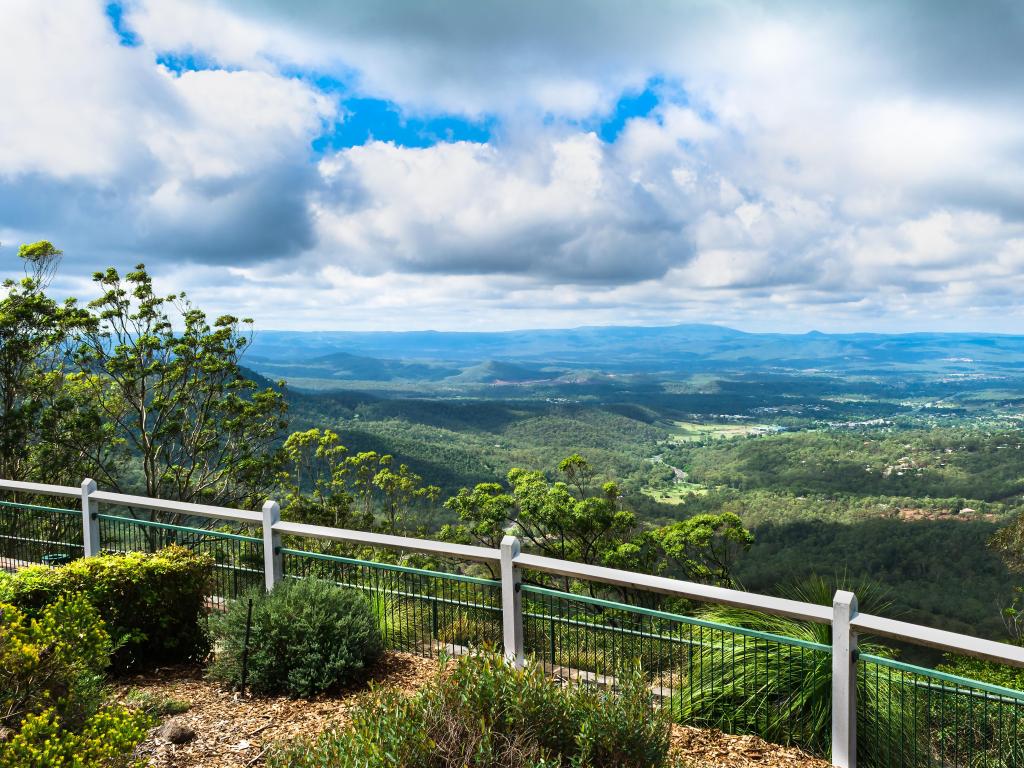 The Nyngan Route
Leaving Adelaide to the north via the M2, join the A32 just after Gawler Belt, heading towards Roseworthy.
After passing by a collection of intriguing, small towns, you'll arrive at Broken Hill, roughly 5 and a half hours into your journey. A frontier mining town with a rich history, Broken Hill is well worth taking a few hours to discover.
Situated on the site of one of the richest deposits of silver, lead and zinc ores in the world, this area also conveys a stunning terrain of lush wetlands, gleaming lakes, fantastic flat-topped mesas, and magical desert plains.
From Broken Hill, continue for another 5 hours to Cobar. While Cobar is now more well known as an area that mines copper, the town was once a major gold mining centre, and still has prospecting opportunities today. Maybe you could strike it lucky!
Moving along - and still on the A32 - you'll encounter another pit stop option at Nyngan, where you can have your photo taken beside the "Big Bogan" statue: a controversial steel monument erected just a few years ago, depicting a man holding a fish,
Alternatively, 1 hour and 30 minutes further down the A32 is the town of Narromine. This is a great destination for adrenaline junkies as it is regarded as one of the world's best locations for hang-gliding.
Just over half an hour from Narrowmine, you'll reach the town of Dubbo, which is our final stop on the A32 before diverting northeast to Adelaide. At this point, our two routes converge and follow the same directions.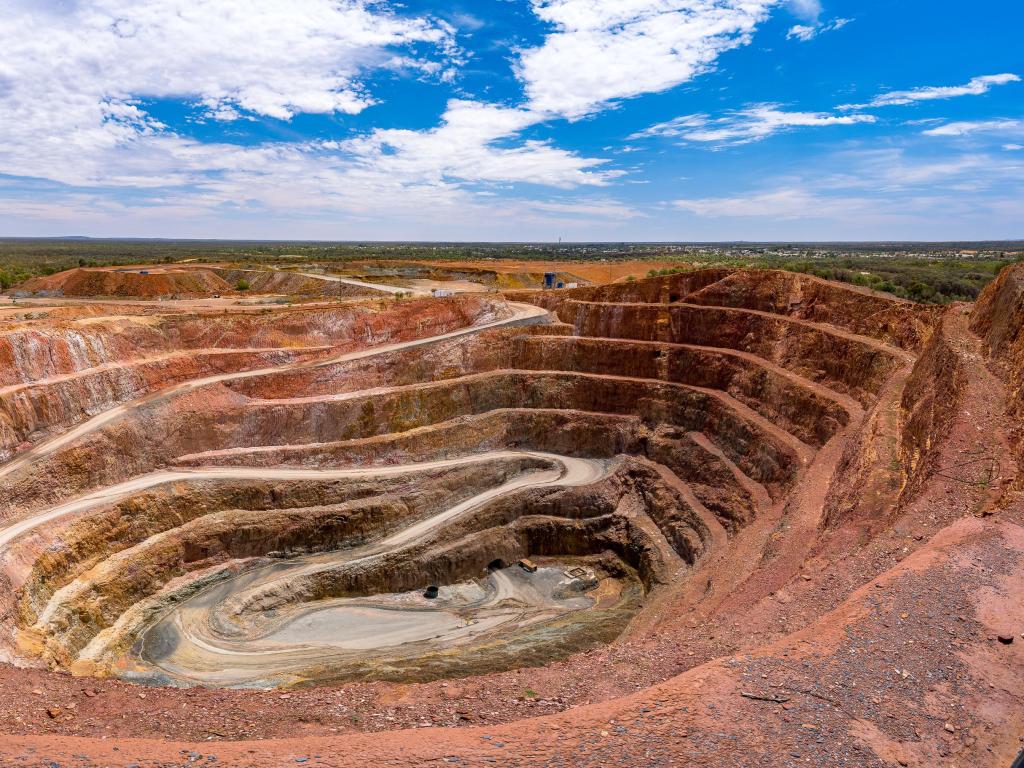 Best places to stop between Adelaide to Brisbane
Given the length of the drive from Adelaide to Brisbane you are going to have to break the journey up with at least one - if not multiple overnight stops.
Whichever route you decide to take, there are numerous, quaint, rural towns you can choose to rest up in. Outlined below are a couple of places we recommend.
Visit Australia's oldest mining town: Broken Hill
Once a bustling frontier mining town, Broken Hill is not only a convenient stop on our Nyngan Route (just under 6 hours in), but is well worth a stopover due to its rich history and numerous attractions.
Broken Hill's credentials as a tourist hotspot are bolstered further by its status as Australia's first heritage-listed city.
As you soak up the atmosphere and story of this place, we recommend your first stop be at the Line of Lode Miner's Memorial, celebrating the life and work of over 800 miners who lost their lives here. For more detailed background on the life and industry of these pivotal times for Australia, check out the Albert Kersten Mining and Mineral Museum.
Back to the current century, Broken Hill is reemerging as something of an artistic hub, with scores of galleries, stores and artisan eateries in the area. And if you're looking for some comfort in the desert, the Broken Hill Outback Resort is a great option for an overnight stay.
Boasting a popular restaurant and stunning views from its rooms, the Broken Hill Outback Resort proves to be a popular choice with travellers in the area. And with luxurious spa tubs in the rooms, it's not hard to see why!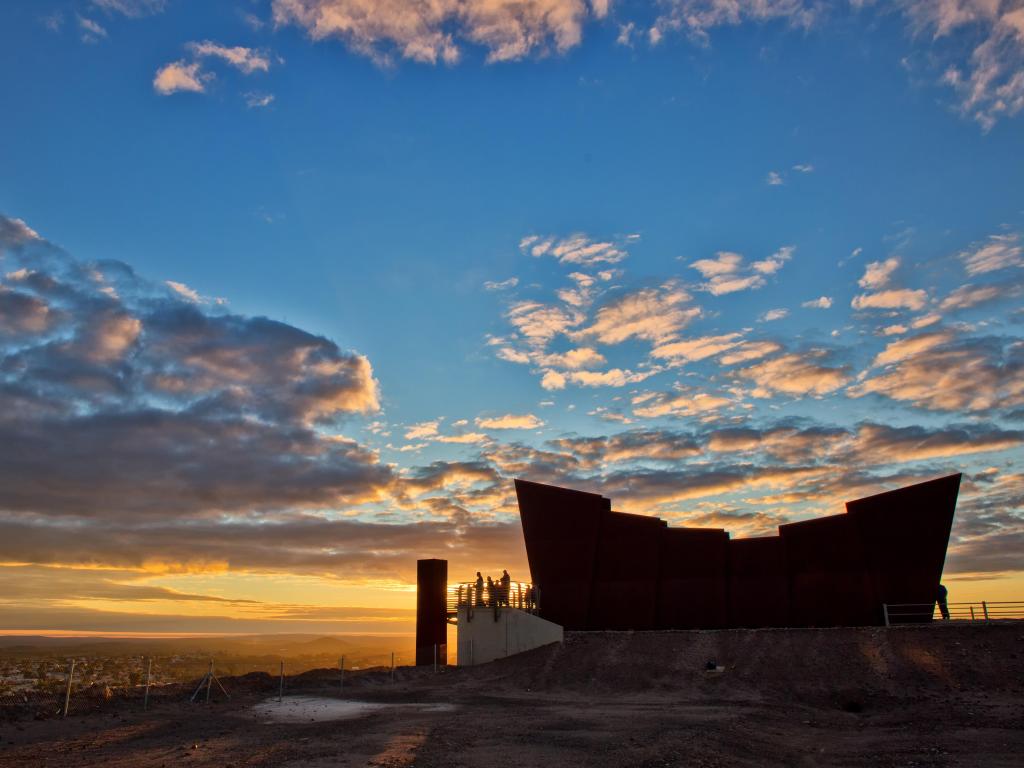 See the sunset in Hay
Situated about 915km from Brisbane - and about 7 hours of drive time into your journey, via the Ouyen Route - this charming rural town sits on the banks of the Murrumbidgee River.
A splendid place for swimming, fishing, and kayaking, this is also a superb spot for watching the sun set over the gorgeous landscape of Hay Plains.
One of the best places to stay here is the Bidgee Motor Inn. Located right in the heart of downtown, it places you within easy walking distance of all the best restaurant, bars, and shops in the area.
Make sure to head to the inn's outdoor saltwater pool to reenergize after your drive. You can also take advantage of the barbecue facilities and prepare a home-style delicious meal.
The Shear Outback Museum and Hay Gaol Museum are only 5 minutes from the property but with on-site facilities like these, you might find yourself fighting the urge to stay put, despite the hotel's central location!
Where to stay when you reach Brisbane
Brisbane, often referred to as the "River City," is a refreshing blend of contemporary architecture, dynamic urban culture, and beautiful green spaces to take a fresh breath in.
The City Botanic Gardens, a historic retreat nestled by the river, offers a tranquil space with a rich collection of native and exotic plants. Another notable attraction is the Lone Pine Koala Sanctuary, the world's first and largest koala sanctuary.
Meanwhile, if you are an art aficionado, you should head to the Queensland Gallery of Modern Art, home to a remarkable collection of contemporary artworks from Australia and beyond.
In the heart of it all, nestled beside the scenic Brisbane River, is the luxurious Emporium Hotel South Bank. In this beautiful property, you will find a rich array of dining options with three restaurants and bars that cater to diverse palates.
When you are ready to relax, you can enjoy light appetizers and refreshing cocktails at the WET Deck, a unique space that merges modern luxury with relaxation, offering an unbeatable view over the Brisbane River.
Things to see on a road trip from Adelaide to Brisbane
During your road trip from Adelaide to Brisbane you should take the time to stop off at as many places, landmarks, and attractions as you can. Clearly, you won't be able to see everything, but if you get the chance, we recommend you visit the following:
The Ouyen Route
Murray Bridge - Check out the beautiful stars at night in a crystal-clear sky at one of Australia's best spots to enjoy the cosmos.
Murray Sunset National Park - Head to Victoria's largest national park to see over 180 species of flora and fauna.
Big Desert Wilderness Park - Enjoy the nature of Victoria's first declared wilderness area. A great spot for hiking, birdwatching, photography and 4-wheel-driving.
Murrayville - a beautiful location featuring multiple reserves with a golf course in the centre.
Ouyen - Feed your sweet tooth at Australia's original home of the vanilla slice.
Hay - Nestled on the banks of the Murrumbidgee River, the stunning landscapes of the Hay Plains showcase the most incredible 360-degree sunset views all throughout the year.
Gillenbah - the location of a koala reserve in the beautiful Murrumbidgee Valley Nature Reserve.
Tomingley - Quentin Park Alpacas gives you the opportunity to feed and hang out with a herd of alpacas while you learn about your new fluffy friends.
Hickeys Fall - Just before the town of Gowan, Hickeys Fall is a famous photo location due to its beautiful waterfall.
Goondiwindi - Beguiling rural town situated near the Macintyre River which is revered for its fascinating aboriginal culture and arts.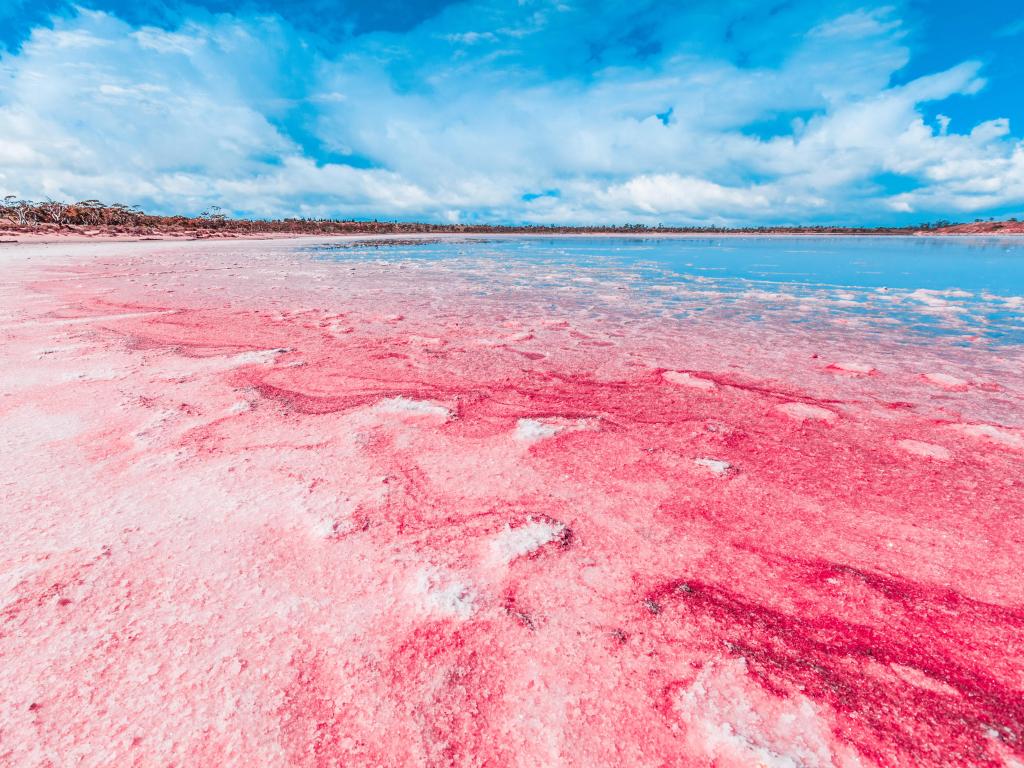 The Nyngan Route
Broken Hill - A prominent town that resides on one of the richest deposits of zinc ores, silver, and lead. It's also home to a spectacular landscape of shimmering lakes, gorgeous flat-topped mesas, verdant wetlands, and sensational desert plains.
Mount Grenfell - Just before Cobar is Mount Grenfell, which features rock paintings and is a very important Aboriginal site.
Cobar - Once a major player in the gold mining industry, the area is more synonymous now with copper mining. However, if you feel like lady luck is shining on you, there are still opportunities to prospect for gold.
Nyngan- Have your photo taken beside the iconic 'Big Bogan' statue.
Narromine - A prominent hand gliding location, this lovely spot by the Macquarie River is a renowned spot for swimming, fishing, kayaking, and canoeing.
On both routes
Dubbo - Famous rural city in New South Wales that is home to the fabulous Western Plains Zoo and the historic, heritage-listed Old Dubbo Gaol prison.
Toowoomba - Famous as the 'Garden City', the largest inland city in Queensland is renowned for its magnificent Carnival of Flowers, as well as a lovely selection of parks, gardens, and green spaces.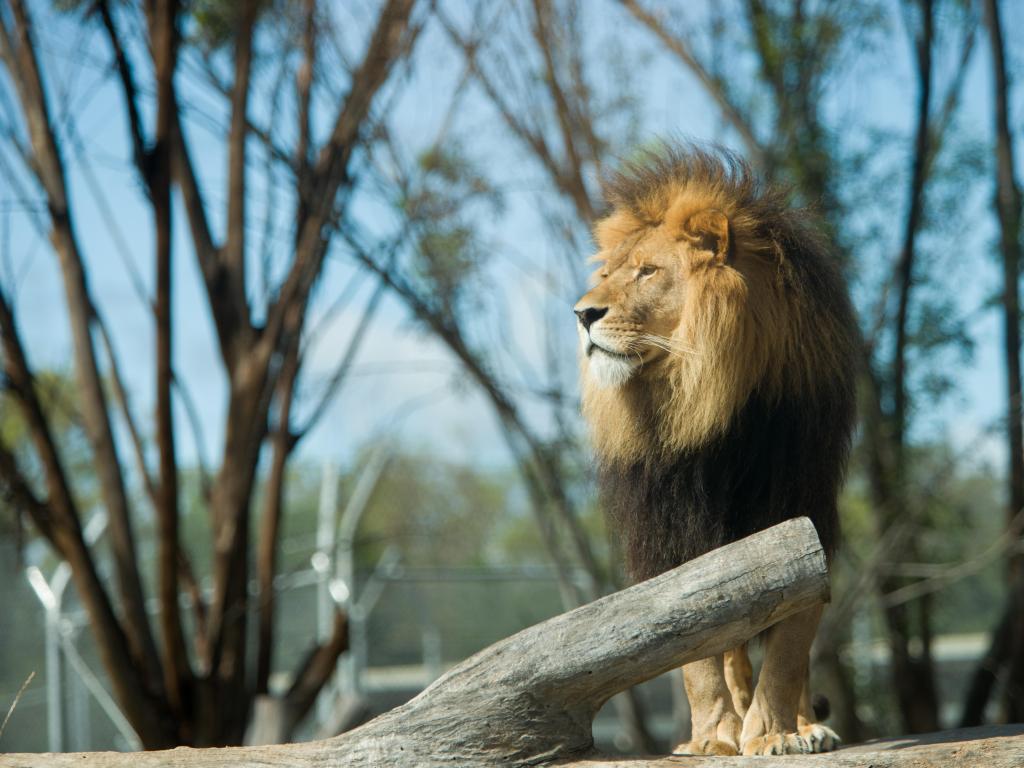 Best time to go on a road trip from Adelaide to Brisbane
A road trip from Adelaide to Brisbane is one that could be completed at any point of the year.
As the journey involves travelling around regional parts of the country, you should be aware of the potential threat of weather events, such as hurricanes or storms, which can result in flash flooding or bush fires.
However, as we know there are risks wherever we travel but if you wish to avoid the season of possibly strong weather we recommend taking your trip from March to November to avoid the turbulent weather and very high temperatures.
Generally, you will find that the price of hotels and volumes of traffic will be increased during the school holidays, at weekends in the summer. So, it is worth factoring that into the equation during the planning phases of your journey.