Road Trip from Adelaide to Melbourne
A road trip from Adelaide to Melbourne is one of the world's most phenomenal drives. Traversing the iconic Princes Highway, you'll pass rugged cliff tops, remote and pristine beaches, stunning national parks, and plenty of quaint oceanside communities that line South Australia and Victoria's magnificent coastline.
The 1099-km route from Adelaide to Melbourne will take around 13 hours to drive. Highlights along the way include Murray Bridge, Robe, Mt Gambier, Grampians National Park, Warrnambool, the Twelve Apostles, Great Otway National Park and Torquay.
These are just a handful of the many wonderful places, sights, and landmarks you can visit during this epic journey. So, if the sounds of the coast are calling you, then keep on reading to discover the best route, the best places to stay and everything else you can enjoy along the way.
How far is Adelaide to Melbourne and how long will the road trip take?
Comparison of road trip route options between Adelaide and Melbourne.

| Route | Distance | Driving Time |
| --- | --- | --- |
| Main Route | 1,000 km | 12 hours 30 minutes |
| With Grampians National Park Detour | 1,140 km | 14 hours 0 minutes |
The road trip from Adelaide to Melbourne, in theory, could take you a day to complete, covering over 1,000km of scenic and beautiful coastlines. But then, you'd be missing out.
Instead, try taking a week, if not more, factoring in any extra days for every city or town you might want to stay in to soak up all the wonders this journey offers.
The route is also comfortable, being well serviced by petrol stations, public toilets and lots of small beachside communities that offer plenty of options for places to eat and stay. However, you may encounter some toll roads along the route.
It's worth knowing that many hire car operators will have arrangements in place allowing you to drive the vehicle on toll roads without restriction and you will be automatically billed for any usage. Just be sure to check when making arrangements.
So, if you love coastlines, you will be in for a treat on this road trip, as the route gives you plenty of opportunities to visit some terrific beaches, creeks, and waterways. To surf, jet ski, paddleboard and kayak in some of the most beautiful waters of Southern Australia.
But, make sure to pack some sunscreen, good hiking boots and mozzie spray – particularly if you plan to visit any state or national parks along the way.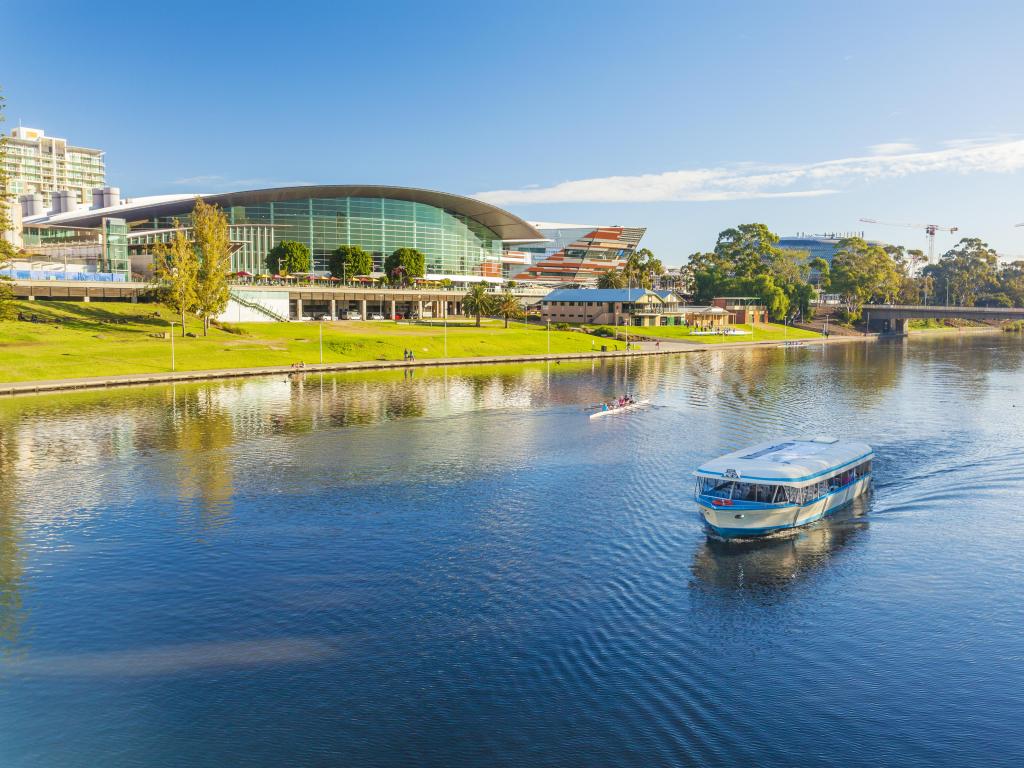 Best road trip route from Adelaide to Melbourne
The route from Adelaide to Melbourne mostly sticks to the National Highway and Princes Highway, making it straightforward and easy to follow despite its length.
Our proposed route does incorporate a few short detours, however, taking smaller roads like the iconic Great Ocean Road (a hugely popular tourist highlight) for short periods of the journey.
This is great because it means you'll have a smooth yet stimulating drive to your destination, with plenty of time to explore while taking in some of the most beautiful views of Australia's Southern Coast.
How to drive from Adelaide to Melbourne
The map above shows our suggestions for the best road trip routes between Adelaide and Melbourne. Keep reading for detailed descriptions of both routes, where to stay on either, and the best things to do on the way.
Main Route
Leave Adelaide heading east, and take the National Highway M1 to your first stop, Murray Bridge. And although it's only an hour's drive away from Adelaide, it's an area renowned for being one of the best spots for stargazing in Australia.
Leaving Murray Bridge, you should make your way to the small seaside town of Robe. Heading north-east onto Karoonda Highway and merging onto the Old Princes Highway.
Along the way, you will be able to check out the beauty of Coorong National Park, as well as the fabulous natural beauty of the coastline around Cape Jaffa, if you have some time.
From Robe, head back onto the Princes Highway B1. Taking a quick stop at the lovely coastal town of Beachport will give you the chance to stretch your legs along the second longest jetty in South Australia.
Once you're done there, follow the Princes Highway B1 to Mount Gambier. Mount Gambier is the second-largest city in South Australia and is a great base for exploring the Umpherston Sinkhole. An iconic natural, deep sinkhole that has been decorated with a landscape garden and is a pleasant spot to visit.
As you journey on, head back onto the Princes Highway, where you will soon hit the iconic Great Ocean Road. One of your first stops here should be Warrnambool for its wonderful coastline and the opportunity to see whales that often congregate offshore.
From Warrnambool, journey back onto the Great Ocean Road, driving on to The Twelve Apostles. Then back onto the Great Ocean Road to Great Otway National Park to discover windswept coastlines and breathtaking waterfalls in tall mountain forests. You can even walk the iconic Great Ocean Walk if you have some time.
Before heading to Melbourne, Torquay is a great place to stop. Officially the start of The Great Ocean Road at the iconic Great Ocean Road gate, home of Quicksilver and the home of surfing in Australia.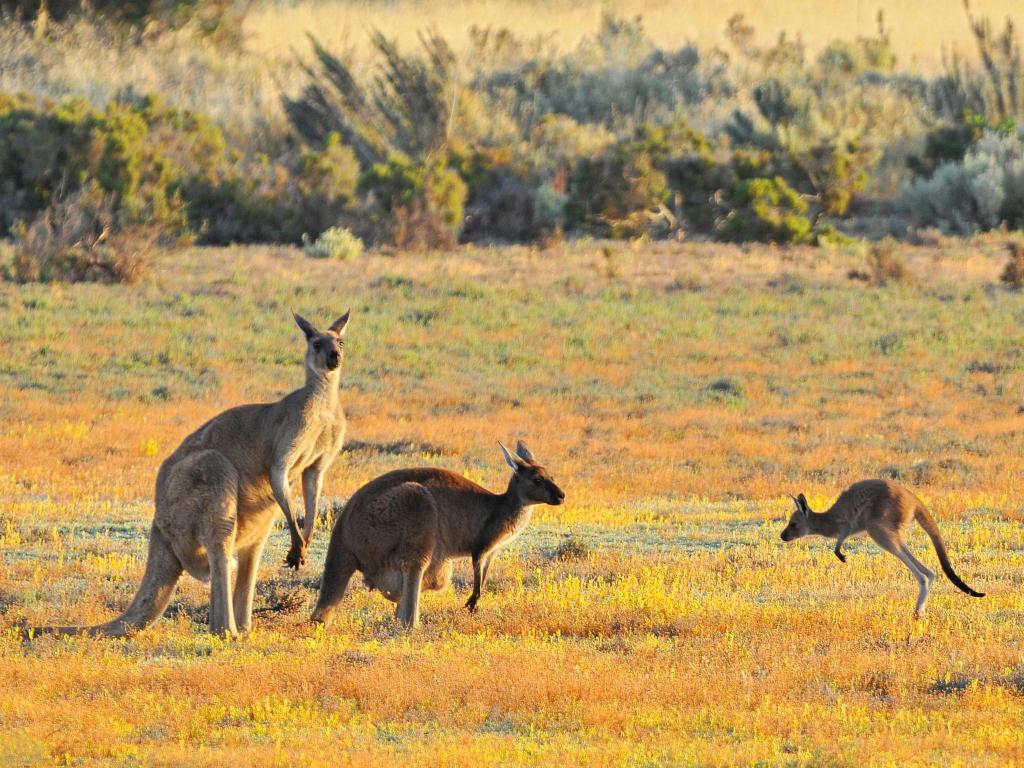 Grampians National Park Detour
To visit the Grampians National Park, you will have to detour inland for about two hours, taking the A200 north once you reach Portland.
On the way inland, you will pass through the towns of Heywood and Hamilton, which are both convenient options if you need to shop for a few provisions before hitting the National Park.
Yes, this detour is more than a minor diversion away from what is already a long route to Melbourne. But if you love hiking through steep valleys, and checking out dramatic views of sandstone mountains, bosky forest, and gorgeous wildflowers, then you will love this heritage-listed, culturally significant indigenous site.
On your way back to the coast, take Woolsthorpe Road heading south out of Dunkeld. Once you have merged onto B140, head east to Caramut and then south on C174 for around 40 minutes until you reach Warrnambool. From this point onwards, you will be back on the main route described above.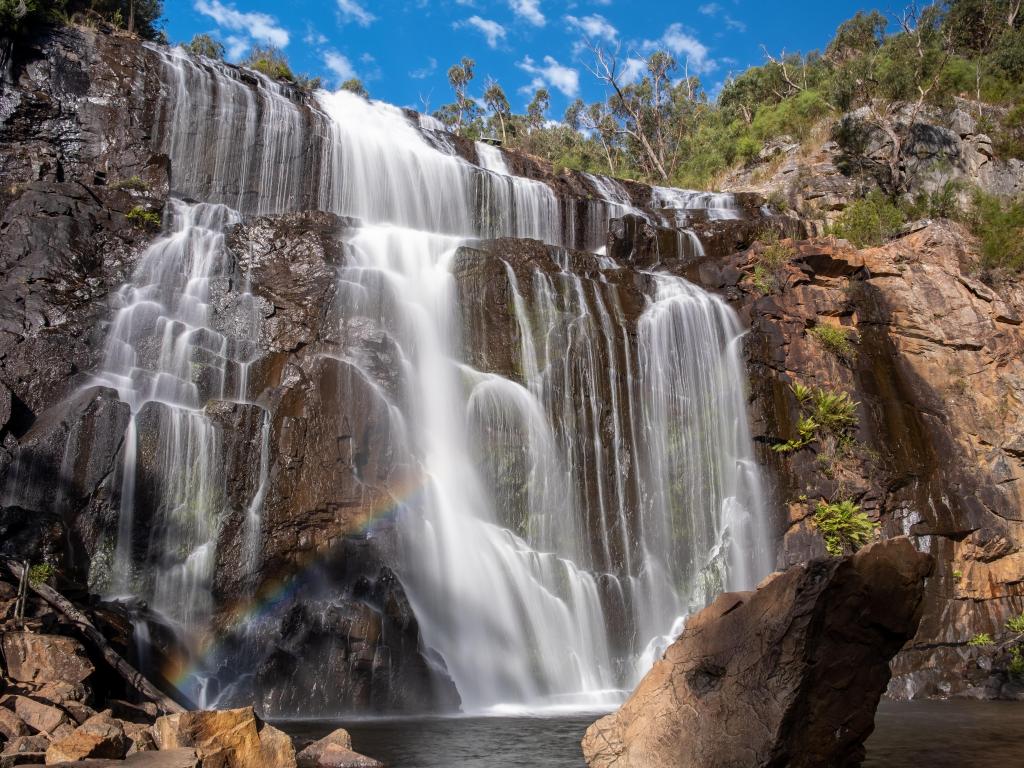 Best places to stop between Adelaide and Melbourne
A road trip from Adelaide to Melbourne is a long drive. So, it's worth choosing one or two destinations at least, for an overnight stop. There are quite a few options available to you, but here are a couple of our favourites.
Take in the Cosmos at the Bridgeport Hotel in Murray Bridge
At only just over an hour into your journey, Murray Bridge may not be your first choice for an overnight stop. It is, however, well worth spending a good chunk of time here if your schedule allows.
Residing on the banks of the famous Murray River, the Murray Bridge is a charming regional town renowned for being one of Australia's premier destinations for stargazing. So, if you want to see the beauty of the cosmos in all its glory, then stay at the lovely Bridgeport Hotel.
One of this hotel's highlights has to be the swimming pool that will no doubt be a hit at the end of a long day's driving. And, while the hotel is close to a number of local bars and eateries, its popular onsite restaurant is perfect for travel-weary road trippers who just want a fuss-free, low key evening.
The Bridgeport Hotel is also located just a stone's throw away from the Riverglen Marina, a haven for those who love fishing, kayaking and paddleboarding.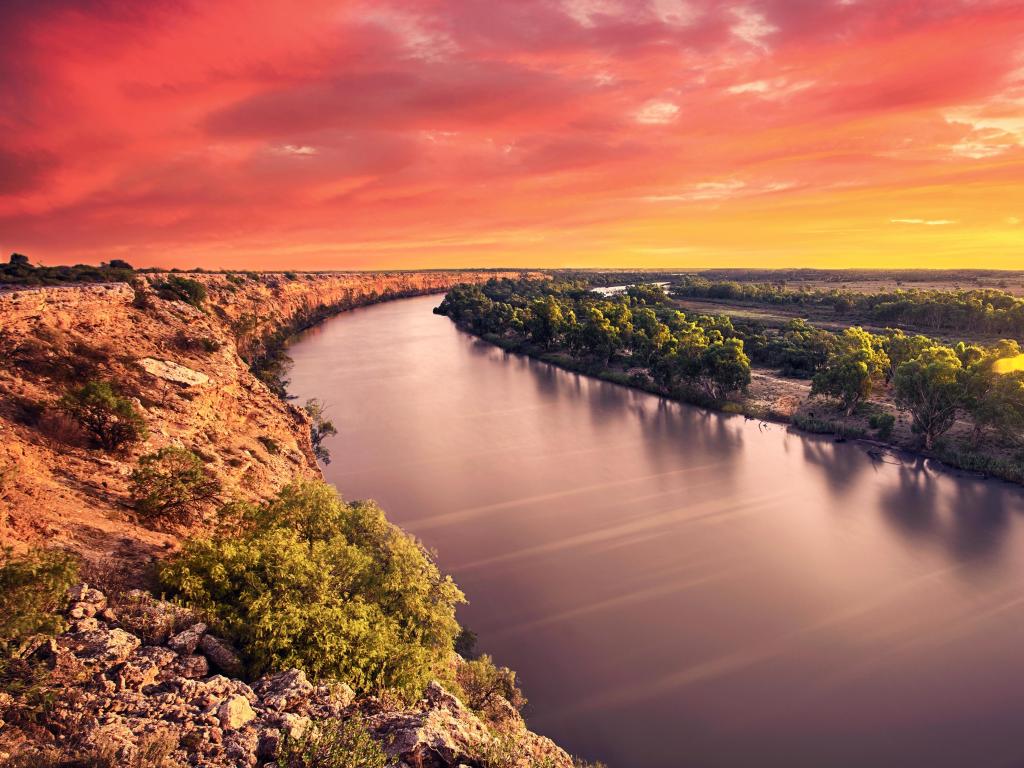 Explore the charms of the Mount Gambier Hotel in Mount Gambier
Located roughly halfway between Adelaide and Melbourne, Mount Gambier is the second biggest city in South Australia and is known for its stunning volcanic, limestone landscape, and shimmering crater lakes.
So, if you love nature, this is a great place to visit, and if you decide to stay a night or two, then the Mount Gambier Hotel is the place for you.
Established in 1862, this historic hotel is situated within a stunning period building in the heart of downtown. Catering to families, couples or individuals who want to explore the Limestone Coast and is within easy walking distance of a wide range of restaurants and shops.
Rooms here are upstairs within the property and come with both air conditioning and heating, providing an excellent accommodation option.
Rooms are also equipped with very clean ensuite bathrooms, that have Pay-TV and wireless internet.
Downstairs, the property has a fabulous pub and restaurant that acts as the hub of the community. The talented head chef has created a fantastic menu of meals that champion local produce, and there are also several locally made wines and craft beers on offer too.
Soak up some maritime history in Warrnambool
Sat along a stretch of southern Australia known as the "Shipwreck Coast", Warrnambool is a city known for its seafaring past, as well as some beautifully sheltered beaches. At just over halfway into our route, this is a great option for an overnight stop.
Another reason to spend some serious time here - especially between the months of June and September - is the spectacle on Logans Beach. Every year, Southern Right whales gather on this calm beach to give birth - a truly amazing sight to behold!
Staying on an aquatic theme, Warrnambool is also known for its fabulous natural geothermal waters. Why not take a dip in these therapeutic hot springs and soothe away any tension from the drive?
The Deep Blue Hotel & Hot Springs is home to Warrnambool's Hot Springs Geothermal bathing experience, making this a perfect option for your overnight stay. And just in case you tire of the hot springs, there's also the option of taking a two-minute stroll down to the nearest beach for an ocean dip.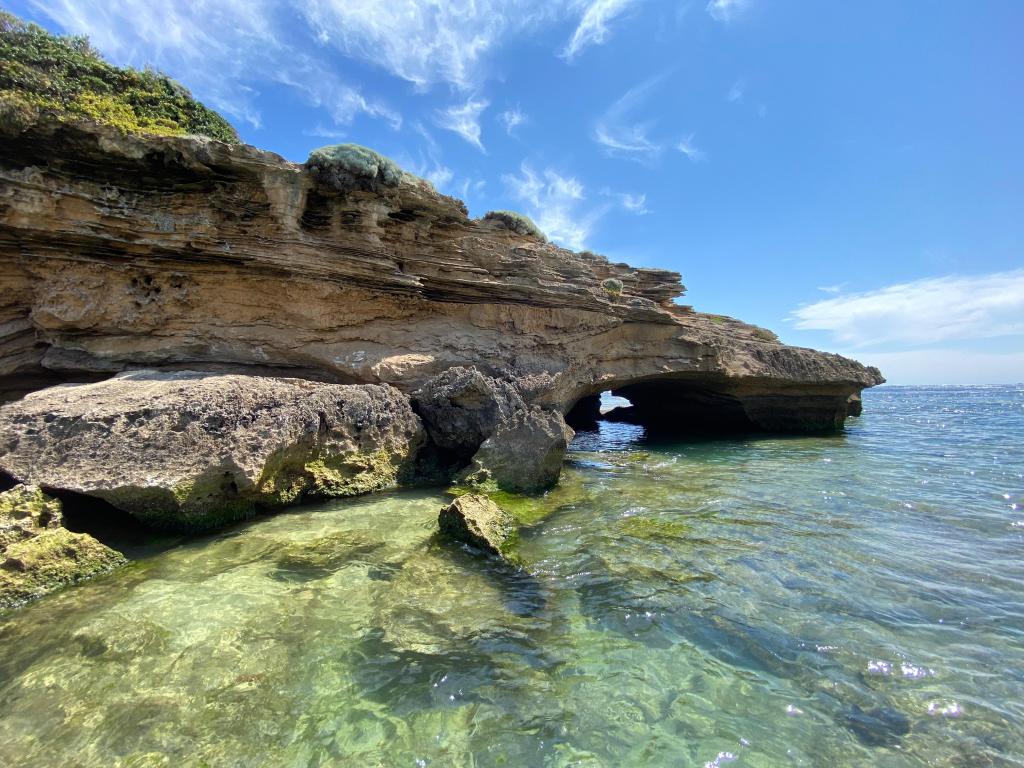 Things to see on a road trip from Adelaide to Melbourne
There are so many places to visit during your road trip from Adelaide to Melbourne. You may even need a good couple of weeks or months to see them all. However, if you do not have that much time available to you, these are the places you should prioritise a visit to:
Murray Bridge - Take in the cosmos at one of Australia's prime spots for stargazing.
Coorong National Park - A spectacular saline lagoon that stretches for 140km and provides excellent opportunities for boating, camping, kayaking, fishing, walking, four-wheel driving, and learning about European and indigenous history.
Best Western Olde Maritime Motor Inn - Get your photo taken beside the iconic 'Larry The Big Lobster'.
Cape Jaffa - A historic town on the Limestone Coast that is renowned for its stunning coastline, outstanding wine region and incredible natural attractions.
Robe - Known for its superb seafood, especially Southern Rock Lobsters, this is a great base to explore. There are activities for everyone, from scenic coastal walks to four-wheel driving, heading off the beaten track, surfing and even golfing.
Beachport - Take in the lovely coastal views on a stroll along the second longest jetty in the state.
Mount Gambier - Explore the wonderful, limestone, volcanic landscape and glistening crater lakes that are a feature of South Australia's second-biggest city.
Grampians National Park - Check out this stunning area that is rich in sandstone mountains, wildflowers and fabulous fauna that includes echidnas and wallabies.
Cape Bridgewater - A popular spot for fishing, water-skiing, and canoeing. Walk into the adjacent Discovery Bay for surf fishing, beachcombing and 60 km of pristine, unspoiled beaches.
Warrnambool - Enjoy scintillating views of the rugged coastline, surf and sunbathe at its fantastic beaches and spot whales that often gather just offshore.
Twelve Apostles - Marvel at the incredible collection of limestone stacks that lie just off the shore of Port Campbell National Park. For the best view, go down the Gibson Steps.
Great Otway National Park - Revel in the views of some of Australia's windswept coastlines, breathtaking waterfalls in tall mountain forests and while walking the iconic Great Ocean Walk. Be sure to check out the historic lighthouse, which was originally built in 1848, whilst you're there.
Torquay - Ride the swell at this iconic surfing spot that is also the home of Quicksilver.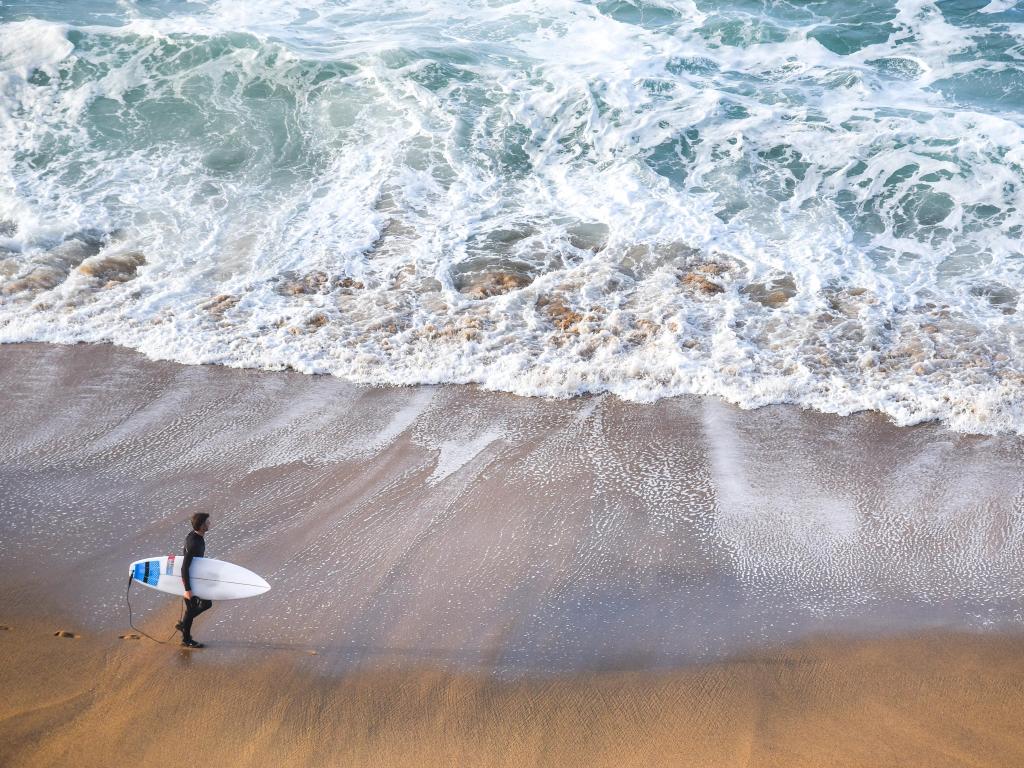 Best time to go on a road trip from Adelaide to Melbourne
A road trip from Adelaide to Melbourne is one you can do at any time. However, during the storm season - which runs from December to February - hurricanes or torrential rains could all affect your beach experience. So, you might want to factor that into your planning.
Likewise, in the colder months of winter between June and August, when daytime temperatures drop to an average of around 11 degrees Celsius, you might find the water is too cold to swim or surf in. You will notice that crowds and prices are lower, though.
We recommend taking this wonderful road trip during late summer or early autumn, around March, when the highest temperatures have passed and the threat of storms is no longer a concern.
What's more, travellers arriving in Melbourne during March can time their visit to coincide with one of the city's premier annual events: Melbourne Food and Wine Festival. What better way to reward yourself after the long drive than with an entire festival dedicated to gastronomical delights!