Road Trip from Melbourne to Uluru
For the ultimate drive across Australia, taking you through some of the best cities, quaint towns, stunning coasts and incredible national parks, the road trip from Melbourne to Uluru is a real get back to nature adventure leading you to the spiritual heart of Ayres Rock.
The 2,500 km road trip from Melbourne to Uluru takes 27 hours to drive. Key stops include Mildura, Port Augusta, Adelaide and Coober Pedy, as well as Great Otway National Park, Mount Gambier, Grampians National Park and Little Desert National Park.
This exciting road trip covers a large distance of stunning Australia, including taking you through some of its best cities, parks and stunning coasts. Keep reading to find out the best routes, places to stop overnight and our favourite things to see between Melbourne and Uluru.
How far is Uluru from Melbourne, and how long will the road trip take?
Comparison of road trip routes between Melbourne and Uluru

| Route | Distance | Driving Time |
| --- | --- | --- |
| The Inland Route | 2,500 km | 27 hours |
| The Coastal Route | 2,600 km | 29 hours |
The quickest of our two recommended routes will take you inland, spanning a distance of 2,500 km, this option will take 27 hours to drive without stopping en route.
Our alternative option takes you along the coast, including a visit to Great Otway National Park and through South Australia's capital in Adelaide. Taking 29 hours to drive, this route covers 2,600 km.
With an epic drive like this one, you'll want to spend as many days as you can so that you have plenty of opportunities to take part in some fun activities along the way, or simply absorb the stunning views.
We'd recommend spending a minimum of six to seven days, though you could easily spend several weeks admiring the impressive sights.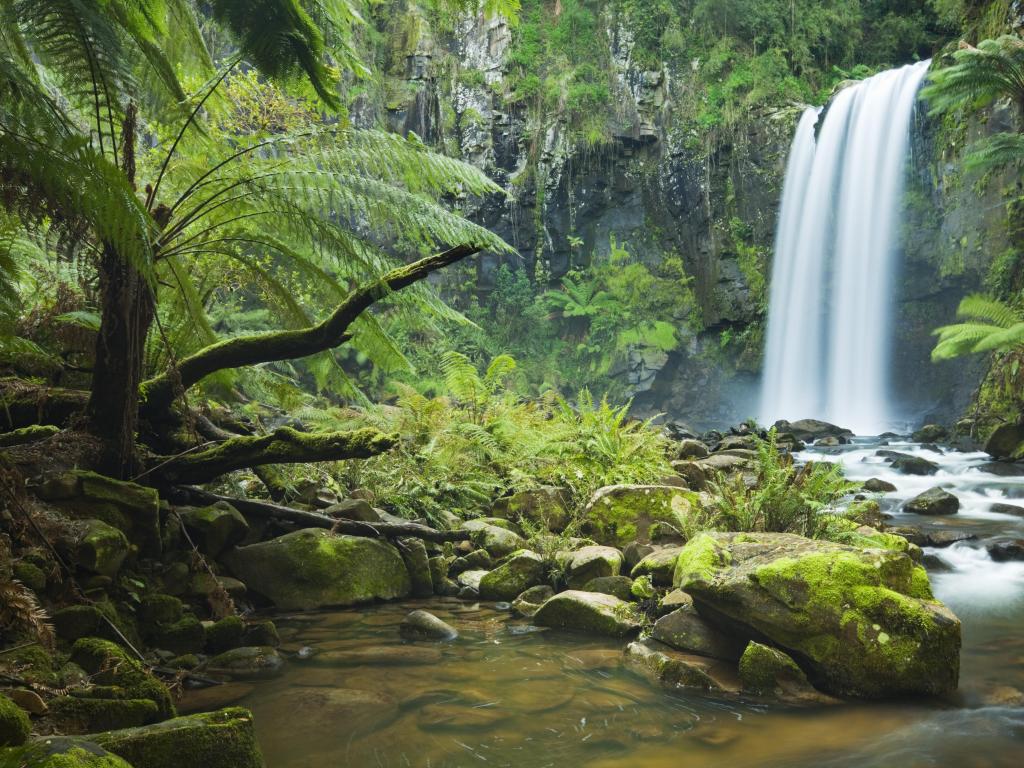 Best road trip route from Melbourne to Uluru
The routes from Melbourne to Uluru (also known as Ayers Rock) vary greatly, so you'll need to decide which one suits your expectations more. For example, if you'd like sea views then you'll definitely want to follow our Coastal Route as that'll give you beach vibes.
If you're limited on time, you may want to follow our Inland Route. Taking you past the stunning Grampians National Park as well as Little Desert National Park, this option also has plenty of cities to explore including the pretty Mildura and Port Augusta.
As you'll be driving through Australia's gulfs, there will be fewer opportunities on this route to catch a festival or explore private mansions and grand public buildings. So, if culture and history are high on your agenda, our alternative option might be better.
As well as taking you past Great Otway National Park, situated on the coast, our Coastal Route is the only one that takes you through Adelaide, a bucket list destination for many. There are fewer parks and forests on this route, but still plenty of variety as you drive to Uluru.
The Inland Route
Follow M8 towards Melton to leave Melbourne. Drive past Lerderderg State Park past Ballarat and Lake Burrumbeet. You will soon reach Grampians National Park.
Here, you can also make a detour to Lake Lonsdale before driving towards Pine Lake. The highway then will take you through Horsham and towards Little Dessert National Park.
Drive past Wallup and Warracknabeal as you start heading north. Head towards Mildura past Hattah-Kulkyne National Park and follow the route towards west.
You will reach Port Augusta past Chowilla Game Reserve following A87. Drive between Lakes Gairdner and Torrens to Coober Pedy. Keeping Tallaringa on your left, follow the highway until you reach Ghan and turn west to reach your destination in Uluru.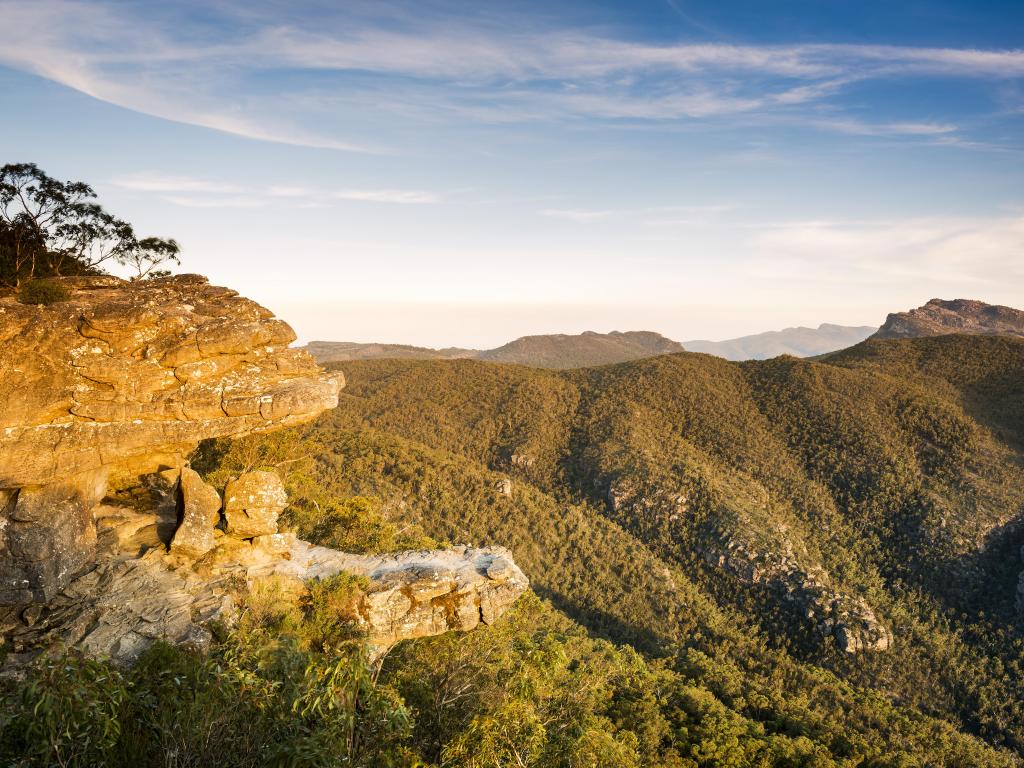 The Coastal Route
Head out of Melbourne following Port Phillip towards Great Otway National Park. Follow the coast through Port Cambell and turn slightly inland to reach Mount Gambier.
Drive towards the coast and through Tantanoola where you can make a detour to Lake Bonney SE. The route will take you past Gum Lagoon and Coorong National Park.
Past Lakes Albert/Yarli and Alexandrina, you will reach White Sands. Turn west here and follow the signs for Adelaide. After your visit, follow the coastal highway past Adelaide International Bird Sanctuary National Park and Thompson Beach.
Head north towards Port Pirie and drive past Mount Remarkable National Park to reach Port Augusta. Follow the same directions for the Inland Route to reach Uluru from this point on.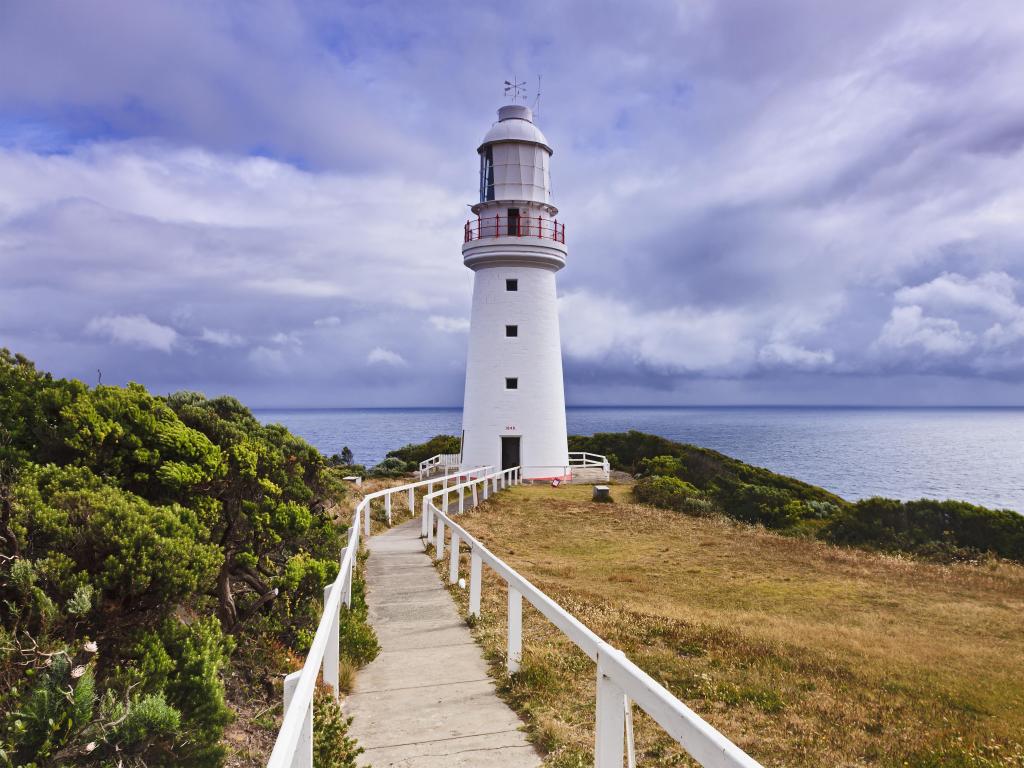 Best places to stop between Melbourne and Uluru
There are some fantastic locations you can stop at on the drive from Melbourne to Uluru. From remote countryside to urban cities, the choice is yours. Of all the spectacular hotels you'll miss, here are some of our favourites.
Stay in the heart of Adelaide
Just over eight hours from Melbourne on the Coastal Route, a stay at Adelaide has to be done if you're following this option to Uluru. As the capital of South Australia, this city is full of culture, and charm. It is also packed full of attractions that'll keep you occupied for days!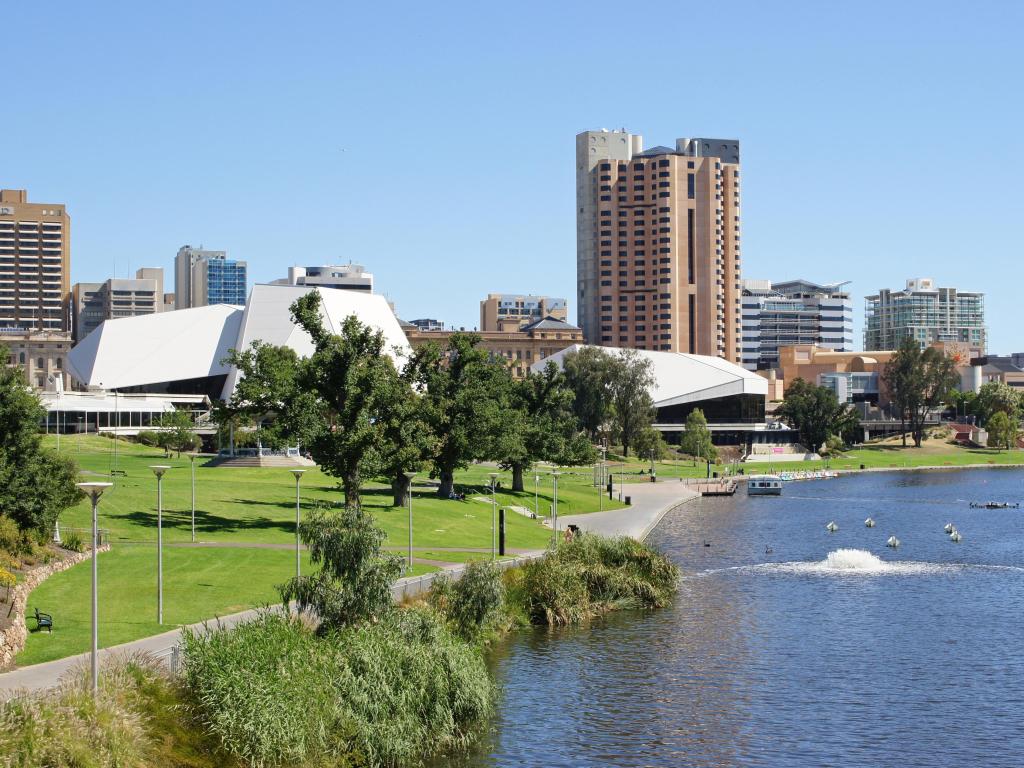 Thoughtfully built around the River Torrens/Karrawirra Parri and renowned for its elegance and diverse cultural heritage, Adelaide is situated between Australia's beautiful south coast and the Mount Lofty Ranges' foothills.
Given the fact that the city is a huge tourist attraction, you won't be surprised to hear that there is a plethora of fantastic and incredible hotels you can choose from. But for a spot of luxury and offering some of the best views, it has to be the InterContinental Adelaide.
This 5-star hotel sits on the banks of River Torrens and next to the Adelaide Festival Centre, Adelaide Convention Centre and the Adelaide Casino. Offering both water and city views, the resort is luxurious, modern and stylish with two spectacular onsite restaurants.
Luxurious rooms boast marble bathrooms and to top it off, there's a fantastic outdoor pool with sun loungers. If you would like to enjoy a relaxing day in, you can head to the Atrium Lounge where you can enjoy an afternoon tea, cocktails or late-night drinks.
Beach views in Port Augusta
Located around halfway on both of our route options, Port Augusta makes an obvious choice for an overnight rest stop. Given that there aren't many towns in the Northern Territory of Australia, this city is an ideal stop to recharge before embarking on the next stage of your trip.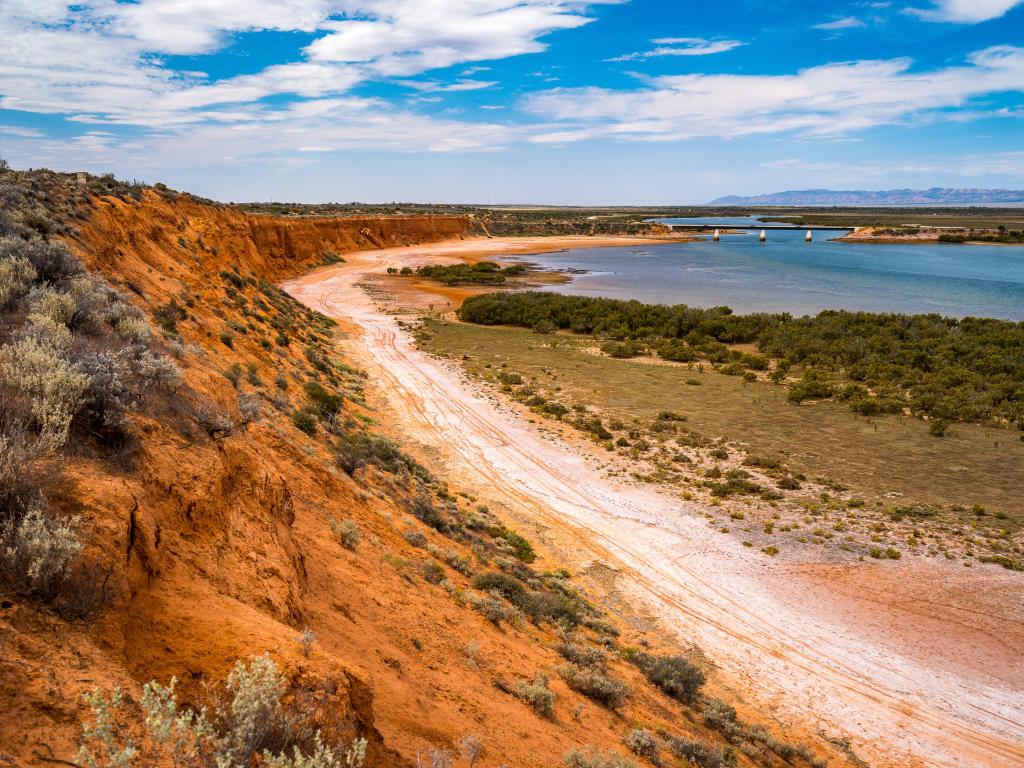 Due to its location at the main east-west route between Sydney and Perth intersection and the north-south route between Adelaide and Darwin, the city is known as the "Crossroads of Australia" and is renowned for its beaches.
Take a walk around the Australian Arid Lands Botanic Garden or explore Port Augusta Cultural Centre. For outdoor enthusiasts, there's nearby Mount Remarkable National Park and Matthew Flinders Red Cliff Lookout to discover.
To really make the most of the beautiful location of Port Augusta, we recommend stopping at the Majestic Oasis Apartments. This apart-hotel offers the best of both, you'll get a fantastic outdoor pool and stunning gardens to enjoy, whilst also being conveniently located to the Upper Spencer Gulf.
This 4-star resort also comes with BBQ facilities (an essential thing to really get into the Oz spirit). The open-plan apartments come well equipped and some even offer a balcony. With the beach and plenty of restaurants within walking distance, this is the ideal spot to relax and unwind.
Where to stay when you reach Uluru
After several days on the road, you'll definitely be in need of some relaxation once you arrive at Uluru. A great hotel in this part of Australia is the 5-star Sails in the Desert.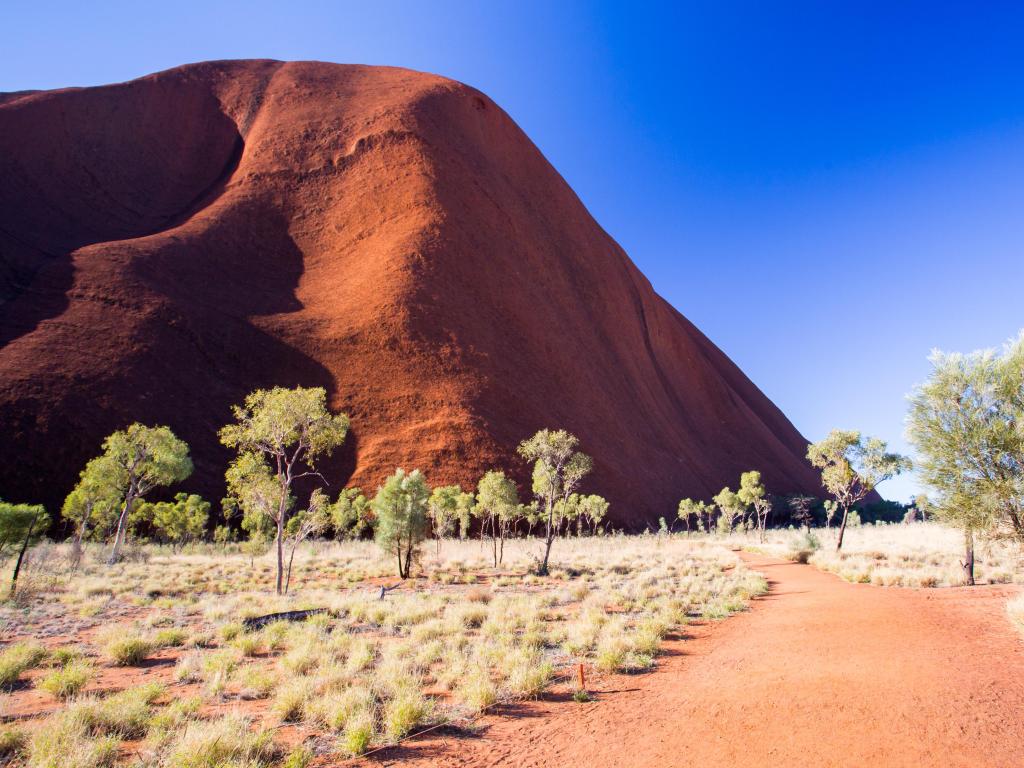 Expect the celebrity treatment at this hotel which is located at the entrance to the UNESCO-designated Uluru-Kata Tjuta National Park.
Additionally, the resort also offers a tennis court, an outdoor pool and a soothing day spa. Uluru and Kata Tjuta (The Olgas) are all within proximity to this hotel, making it the ideal spot to explore this incredible landmark.
You will also find minibars and coffee and tea-making facilities, as well as private balconies that offer incredible views of the stunning landscape.
Things to see on a road trip from Melbourne to Uluru
Spanning over 2,500km, the road trip from Melbourne to Uluru really does offer a fantastic choice of attractions, activities and incredible places to visit. To help you plan your trip, we've highlighted some of the best places you'll pass along the way.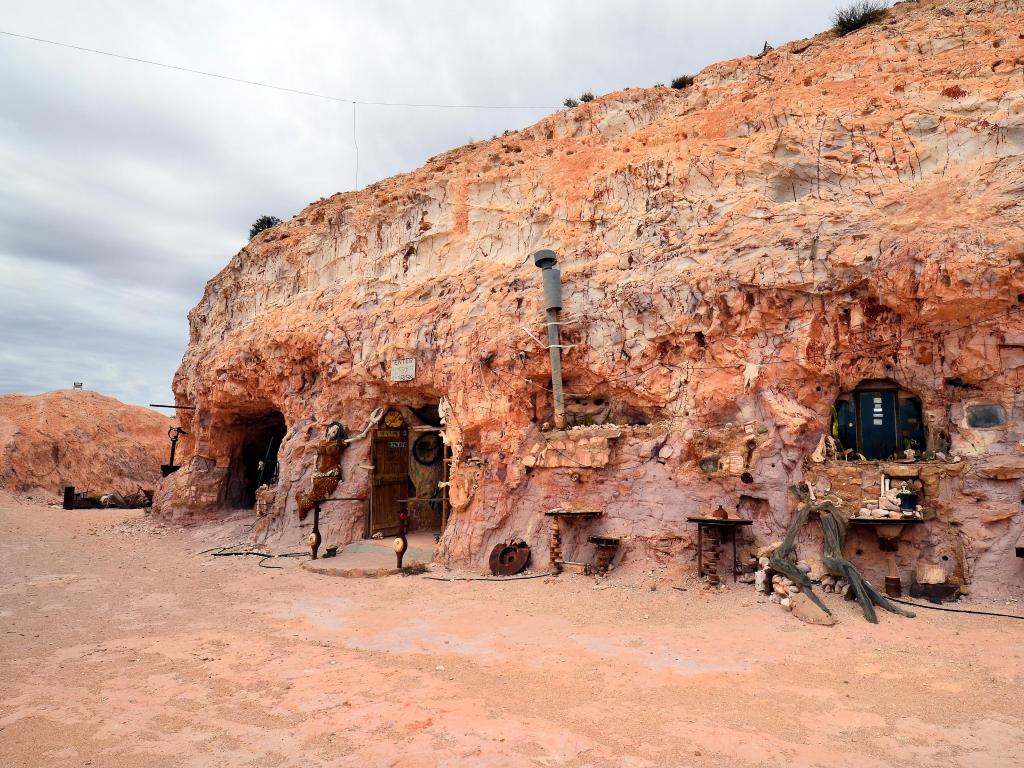 Both Routes
Port Augusta - Known as the "Crossroads of Australia", Port Augusta is at the top of the Spencer Gulf. At this small city you'll find great restaurants, beautiful waterside scenery and fantastic shops.
Wadlata Outback Centre - Located in Port Augusta, the Wadlata Outback Centre and its "Tunnel of Time" is a multi-award-winning attraction, which offers hands-on activities to illustrate the history and culture of the region.
Coober Pedy - This town is in northern South Australia and is well known for opal mining. It's also been home to many famous movies, thanks to its stunning lunar landscape. Venture below ground and you'll find underground houses, hotels and even shops.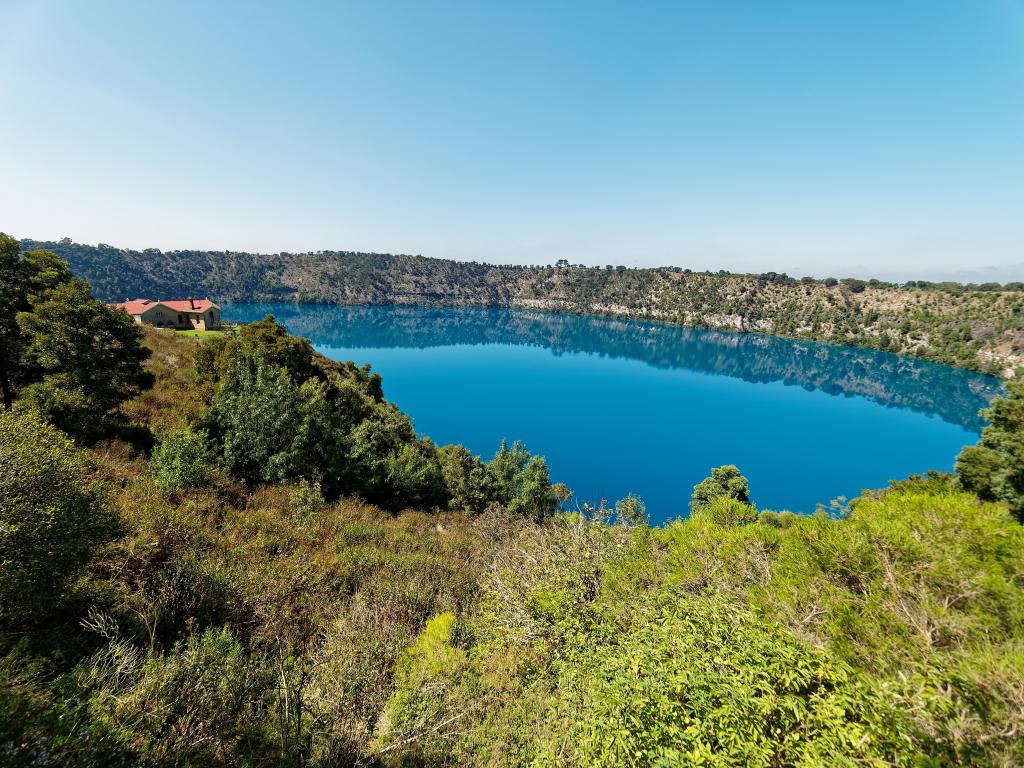 The Inland Route
Mackenzie Falls - The most famous and magnificent waterfall in the Grampians is Mackenzie Falls. You can get the most out of your day's adventure by taking a challenging walk down the stunning Mackenzie River Gorge to Zumsteins Historic Area in the Grampians National Park Whilst seeing the magnificent waterfall.
Little Desert National Park - More than just a desert, this national park close to Dimboola offers camping, wildlife spotting (including a chance to see the great Indian bustard, a critically endangered species) and fantastic hiking trails.
Pinnacle Lookout - Before the track reaches the Pinnacle lookout, you can take a short walk through a rainforest recognised as a World Heritage Site. Uninterrupted and breathtaking views of the entire park extend to the coastline, the volcano, and Wollumbin will mesmerize you (formerly known as Mount Warning). If you're an early bird, try to catch a glimpse of Wollumbin's silhouette as the sun rises.
Halls Gap Lakeside Tourist Park - A great starting point for exploring the Grampians is this tourist park. Discover beautiful mountain views, abundant Australian wildlife, campsites, excellent services and a range of cabin accommodations.
Pomponderoo Hill Nature Walk - You can go on a short walk in this desert that is full of beautiful flowers. There are many different types of birds and parrots. Emus and kangaroos can also be seen. Although Banksia ornata grows late in the season, it's worth watching.
Keith Hateley Nature Walk - You may breathe and connect with nature in this park. This nature walk can also cover an excellent introduction and insight into some of the local plants and animals.
Mildura - Situated in Northwest Victoria, Mildura is a city beside Murray River. There are plenty of water sports activities to be enjoyed here, plus fantastic wine bars and restaurants.
Kiata Campground - This peaceful and attractive campground sits within the Kiata's yellow gum and black box woodland. You can explore the semi-arid surroundings of the park's eastern and central regions, as well as the wide variety of native flora and fauna.
Australian Inland Botanic Gardens - It is the first unique botanical garden in the southern hemisphere. You can see many exotic plant species, with the rose garden, which has over 1600 hues, possibly serving as its centrepiece.
Mildura Arts Centre - In Northwest Victoria, Mildura Arts Centre is the primary centre for arts and culture. You can find a regional art gallery, a performing arts theatre, the Rio Vista Historic House, a Sculpture Park, and a cafe bar on one site.
Lake Gairdner National Park - Surrounded by red sand hills, this lake is Australia's fourth largest salt lake and offers a stunning vista as well as campsites. The annual March Dry Lake Racers event attracts motorists from around Australia who make the most of the dry lake.
Jaycee Park - Jaycee Park hosts various events, including pop-up markets, community celebrations, and kid-friendly activities. Also, there are barbecue areas and public restrooms for residents and guests.
Josephine's Gallery and Kangaroo Orphanage - In this gallery, you can find an extensive range of Aboriginal Artefacts and significant works by many of Australia's best-known Aboriginal artists.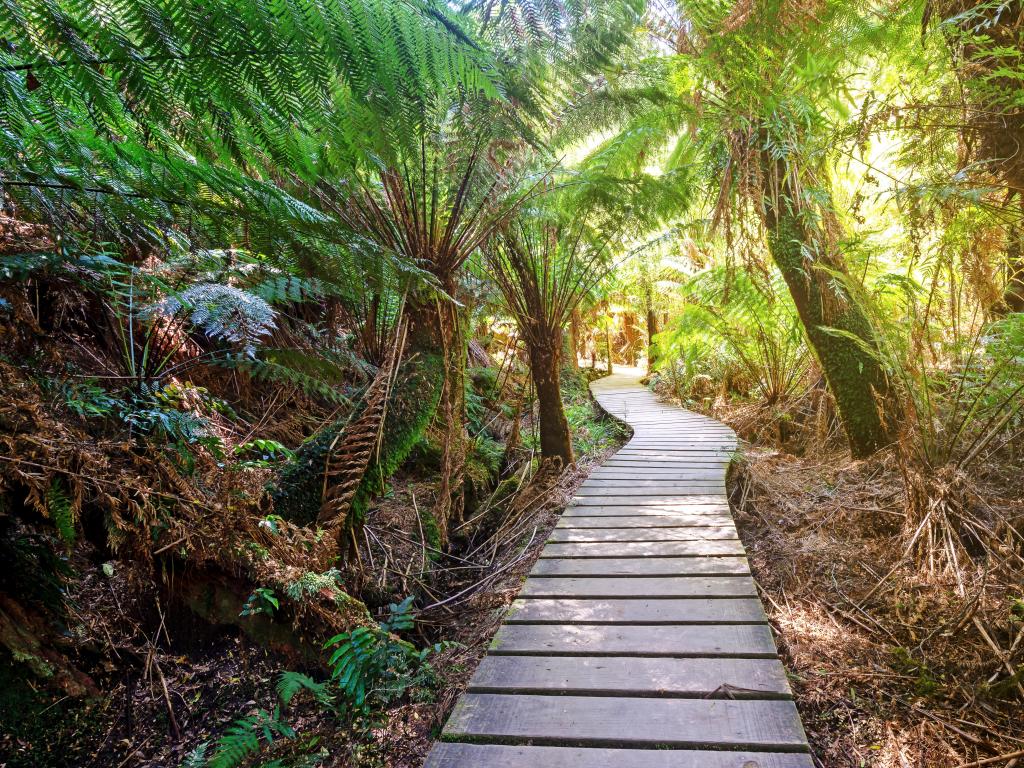 The Coastal Route
Great Otway National Park - Stretching across the famous Great Ocean Road, this park offers fantastic ocean views, rugged coastlines, beautiful beaches and waterfalls. You can also discover Cape Otway Light station.
The Redwoods Otways - The tallest tree species in the world have grown in this Otway soil, thousands of miles from their native California. Walking between the enormous trunks surrounding the river for the first time inspires a unique sense of awe and reverence.
Mount Gambier - The largely populated city is known for its limestone, volcanic landscape and beautiful lakes. Visit Centenary Tower to get panoramic views of the area.
Blue Lake - In Mount Gambier, one of the basins of the extinct volcano is host to the Blue Lake/Warwar. The lake's dark blue, which first appears in November, mysteriously transforms into a vivid, deep turquoise blue overnight.
Erskine Falls - One of the most well-known waterfalls in the Otways Ranges is Erskine Falls. As part of a long, quiet walk through thick rainforest, you can witness lush greenery cut out by rivers and waterfalls and find pleasure in beauty.
Maits Rest Rainforest Walk - This wooden boardwalk will give you unique views of the forest because it has been built over the tree-fern valleys and moss-covered roots of ancient rainforest trees. Some local animals, such as swamp wallabies, koalas, ring-tailed possums, and grey kangaroos, might appear if you're lucky.
Tantanoola Caves - This spectacular cave, built into a cliff face, is thought to have been made apparent by the ocean's continuous pounding. As the tide sank over time, it left behind a cave of intriguing shells, pebbles, and seal bone.
Big Lobster - The Big Lobster, a well-known sculpture of a gigantic red spiny lobster, is situated close to Kingston SE's entrance. It is a highly well-liked tourist destination that brings thousands of tourists to Kingston Southeast each year. You can buy local fruit, wine, beer, rock lobster, and various souvenirs at the Big Lobster.
Adelaide - The capital of South Australia, Adelaide is one of the most visited destinations in the country. Located on the river, there are fantastic buildings, beaches and some of the best attractions around to be enjoyed here.
South Australian Museum - The natural history and cultural collections at the South Australian Museum have more than 3,000 artefacts on exhibit, plus the historically significant Yuendumu Doors. Additionally, a lively schedule of temporary exhibitions is available.
Umoona Opal Mine - Umoona Opal Mine has become the town's largest single underground tourist attraction. You can see a historic award-winning documentary video, "The Story of Opal," together with opal jewellery and opal stones.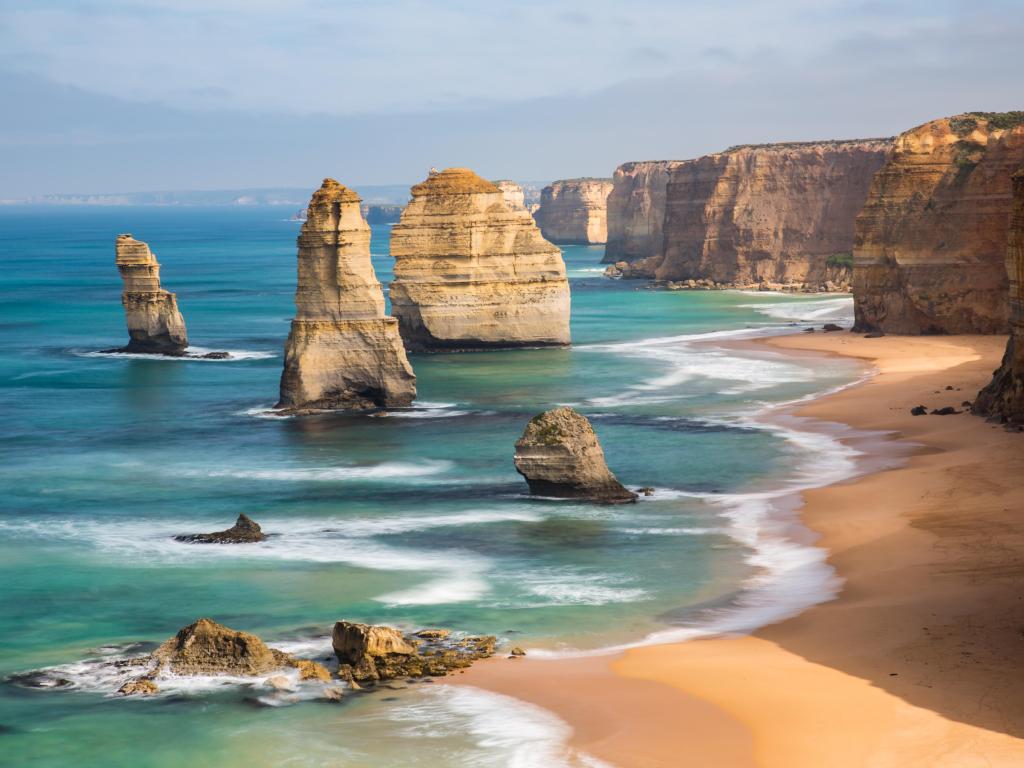 Best time to go on a road trip from Melbourne to Uluru
Whilst you can visit Uluru year-round, the best time will very much depend on what kind of temperatures you can tolerate and the type of activities you would like to take part in en route.
For example, summer (December, January, and February) at Uluru will see temperatures as high as 40 degrees Celsius and 45 degrees in the desert. Meanwhile, temperatures in the park regularly reach 30 degrees or higher, and summer can exceed 40. For most, this will be uncomfortably hot.
In contrast, temperatures can fall below zero degrees during the winter (June, July, and August). Even though the nights get cold, this is the best time for stargazing though so just make sure to wrap up warm!
The best and most affordable time to visit Uluru is from September to November, or March to May. The air temperature is pleasantly mild (about 25-30 degrees), and the nights are mild.
It's also the ideal time if you'd like to hike, swim, star gaze or watch a sunset or two along the way. These months are ideal for seeing the park's wildflowers bloom too.
If you aren't put off by crowds, you can always plan your visit around an exciting festival. Some important Uluru events occur in the spring, such as the four-day Tjungu festival in April and the Uluru Camel Cup in May.
There are also notable summer festivals, including the Australian Outback Marathon, set against the stunning backdrop of Ayers Rock in July, and the Uluru Astronomy Weekend in August which attracts astronomers from all over the world.