Road Trip from Albuquerque to Austin
Get your bags ready for an epic adventure through America's most famous stretches of highway, charming desert towns, and iconic cities. From Route 66-theme nostalgic attractions to stunning parks and colorful cityscapes, this road trip from Albuquerque to Austin has it all!
The 850-mile road trip from Albuquerque to Austin will take about 13 hours to drive. You will get to visit Dallas, Waco, Wichita Falls, Amarillo, El Paso, Marfa, Adrian, Eagle Mountain Lake, Lake Arrowhead State Park and Elephant Butte Lake State Park.
Read on below to learn more about our recommended routes, the best places to stay, things to see and do, and the ultimate times to hit the road. Click here to jump to the map that illustrates two of the best routes from Albuquerque to Austin.
How far is Austin from Albuquerque, and how long will the road trip take?
Comparison of road trip routes between Albuquerque and Austin

| Route | Distance | Driving Time |
| --- | --- | --- |
| The Amarillo Route | 850 miles | 12 hours 50 minutes |
| The El Paso Route | 950 miles | 14 hours 10 minutes |
There are two fantastic routes between Albuquerque and Austin. The El Paso route covers approximately 950 miles and takes about 14 hours and 10 minutes of driving time.
Alternatively, the Amarillo route, while slightly shorter in distance, spans around 850 miles with an estimated drive time of 12 hours and 50 minutes.
Although you can complete each trip in a day or two, there are tons of incredible sights and experiences along the way, making a 3-4 day journey much better.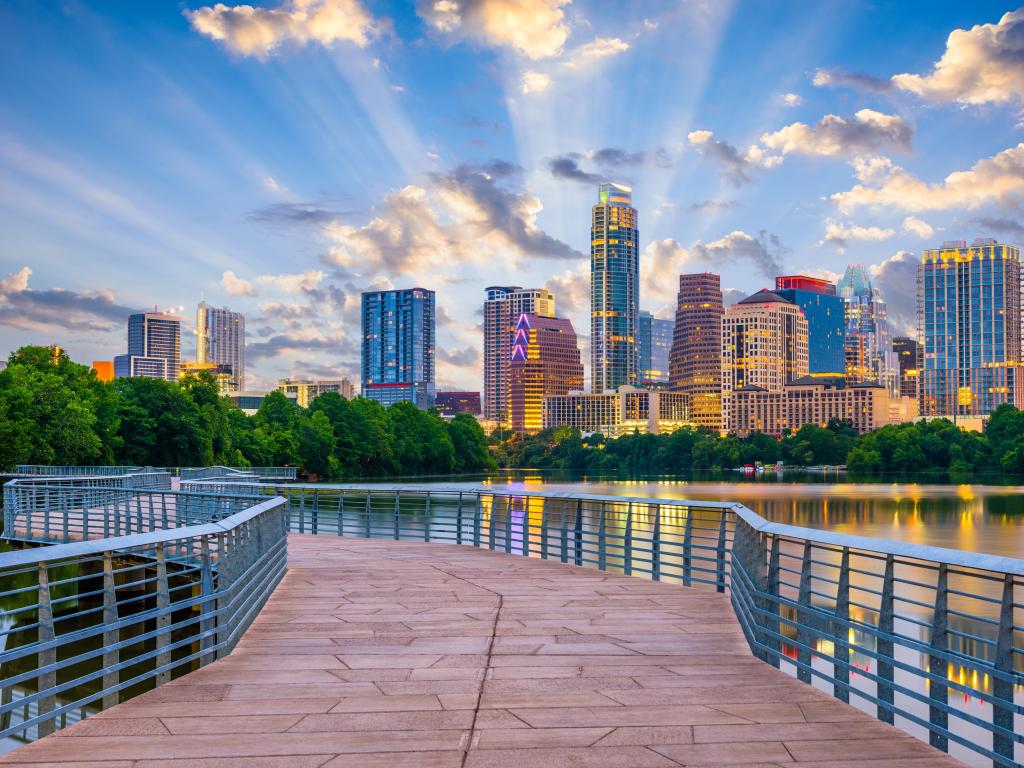 Best road trip route from Albuquerque to Austin
Both the El Paso and Amarillo routes have plenty of unique attractions and landscapes that will make for an unforgettable road trip. Which route you choose really depends on what you want to see the most.
The El Paso route takes you through the heart of the American Southwest, taking you through towering peaks like Mesa Sarco, Ladron, and Lost Mine, and some of America's most charming western towns and cities like El Paso and San Antonio.
One of the most striking features of this route is the stretch between El Paso and Marfa, where you'll travel parallel to the Mexican border, offering views of Mexico and the beautiful desert to your right.
The alternative Amarillo Route is perfect for nature lovers and history buffs. A highlight of this route is passing through Adrian, the midway point of the iconic Route 66.
Beyond Wichita Falls, you'll be treated to a landscape dotted with beautiful lakes, including Eagle Mountain Lake, and the stunning Lake Arrowhead State Park.
Along the way, you'll get to stop at cute towns such as Clarendon and Hedley and enjoy their authentic Southern charm. Before reaching Austin, you'll also see incredible Texas cities like Dallas and Waco.
How to drive from Albuquerque to Austin
The map above shows our suggestions for the best road trip routes between Albuquerque and Austin. Keep reading for detailed descriptions of both routes, where to stay on either, and the best things to do on the way.
The El Paso Route
From Albuquerque, head on Interstate 25 (I-25). You'll pass beautiful desert communities as you head south.
Continue along I-25 to Truth or Consequences. Here, you can refresh yourself at the Elephant Butte Lake State Park. Here, you can enjoy the beautiful natural scenery, hiking, and bird watching before getting back on the road.
Afterwards, drive to Las Cruces and experience the New Mexico Farm and Ranch Heritage Museum, highlighting the region's agricultural history. From Las Cruces, head southeast on I-10, moving towards El Paso.
As you approach El Paso, the vastness of Texas will make you want to sit back and enjoy the empty highway. Keep an eye out for the Prada Marfa installation, an art project set against the barren desert landscape.
Next, continue to Marfa, and after stopping, make your way to San Antonio via Interstate 10. Here, the picturesque San Antonio RiverWalk awaits you, with serene tree-lined pathways and historic architecture.
If you have time, make a quick detour to the Caverns of Sonora for a subterranean adventure. When you've finished exploring this vast cave system, get back on the road and head northeast on I-35 towards Austin.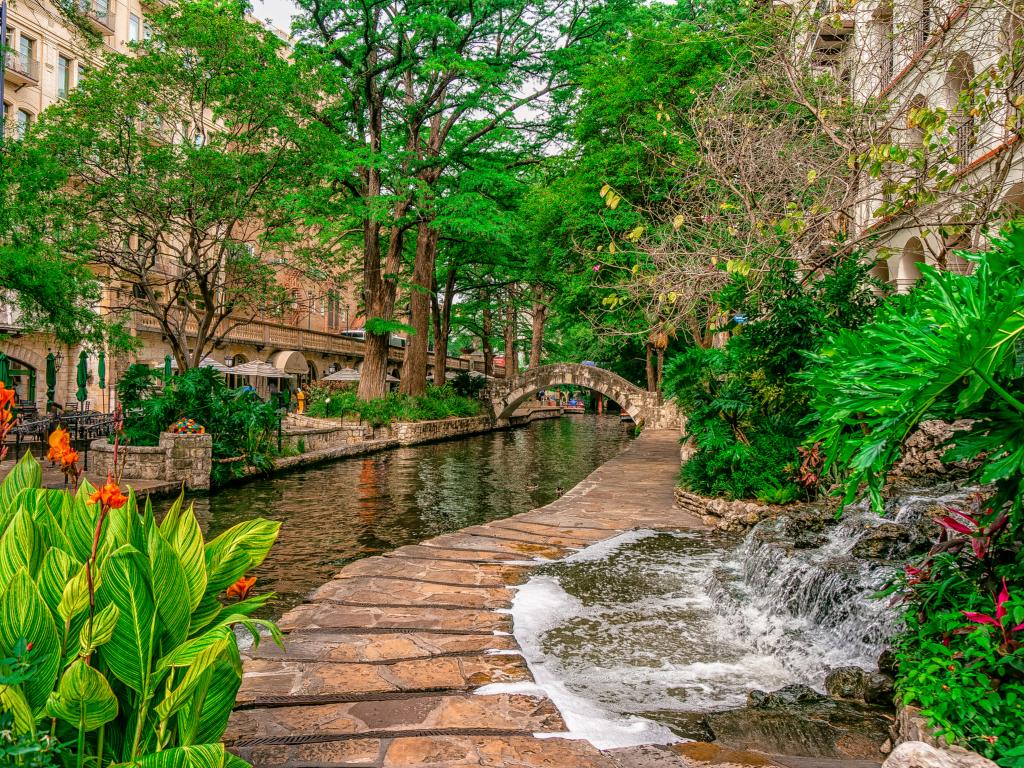 The Amarillo Route
Starting from Albuquerque, head east on I-40 to the western landscapes around Tijeras. The desert plains will open up into the town of Santa Rosa, famous for the Santa Rosa Lake State Park and the Route 66 Auto Museum.
Stay on I-40, eastward to the iconic Midpoint Cafe on Route 66 in Adrian. This iconic highway landmark boasts the halfway point of the legendary Route 66.
When you reach Amarillo, pay a visit to the lush Amarillo Botanical Gardens. After wandering around the natural sights, head southeast on US Highway 287.
As you get closer to Wichita Falls, you'll get to see The World's Littlest Skyscraper landmark. Take a detour north to Grapevine Lake near Dallas to enjoy the idyllic lakeside experience amidst the hustle and bustle of the city.
In Dallas itself, take a visit to marine life at The Dallas World Aquarium or get a panoramic view of the city from Reunion Tower. From Dallas, head south to reach Waco. After this charming city, you'll soon reach your destination, Austin.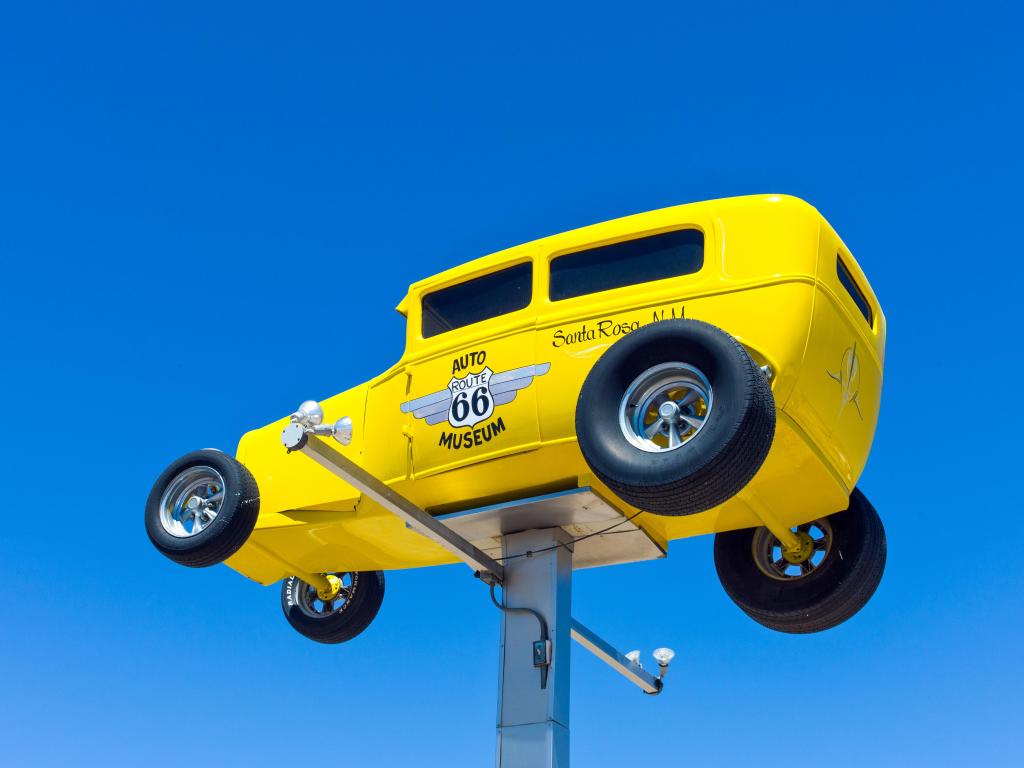 Best places to stop between Albuquerque and Austin
On your way from Albuquerque to Austin, you'll pass so much history, culture, and nature, you'll want to split your trip up and stay in a one-of-a-kind destination. Below are our favorite stops to spend the night at and experience the southwest in style.
An artistic oasis in Marfa
The iconic town of Marfa, situated roughly 4 hours and 15 minutes into your journey, is the perfect place to stop on the El Paso Route. This Texan town has a mix of contemporary art installations and mesmerizing night skies, offering a desert escape like no other.
Marfa's main draw is its eclectic art scene, with gems like the Prada Marfa beckoning from the vast desert landscape. It's not just an art installation, it's a testament to Marfa's spirit.
Another captivating feature of Marfa is the popular Marfa lights. At the Marfa Lights Viewing Center, immerse yourself in the mystery and beauty of these luminous orbs that dance across the desert night sky.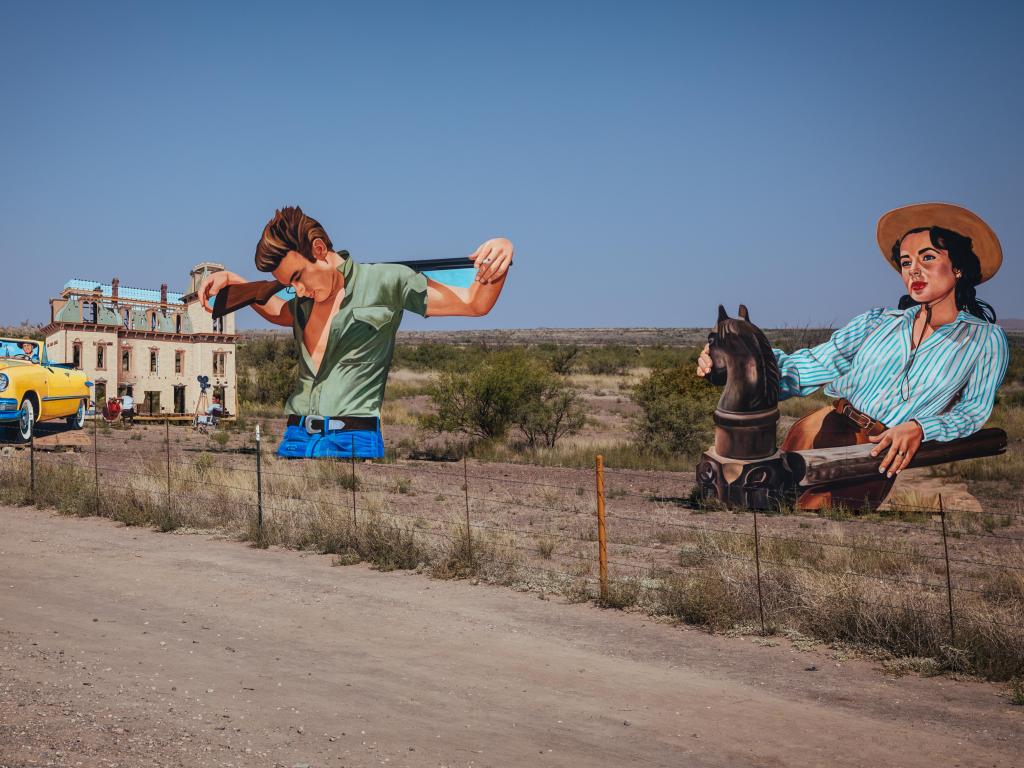 If you love quirky innovation, Marfa doesn't disappoint. The town is set to be the home of the world's first 3D-printed hotel, making the town a hotspot for history, art, and futuristic design.
When in Marfa, we recommend staying at the highly-rated El Cosmico. Located right in the heart of Marfa, El Cosmico offers unique accommodations, from yurts to decked-out pink trailers. It's not just a place to sleep, but a genuine experience.
El Cosmico offers guests BBQ facilities, a fully equipped kitchen, and plenty of fun around the property. You'll also love the kind of service that makes you feel like you're home away from home.
If you want to delve deeper into Marfa's artistic soul, the Chinati Foundation is just a 5-minute drive from El Cosmico. Also, you can check out the historic Presidio County Courthouse, a mere 5-minute drive or a 20-minute walk away.
A glimpse of the Wild West in Amarillo
Amarillo is the ideal pitstop on the Amarillo Route, about 4 hours and 15 minutes from Albuquerque. Far from being just another dot on the famed Route 66, Amarillo is filled with deep-rooted Wild West history and wonderful attractions.
Through the heart and soul of Amarillo passes the iconic Route 66. It's also famous for hidden gems like the Panhandle Plains Historical Museum.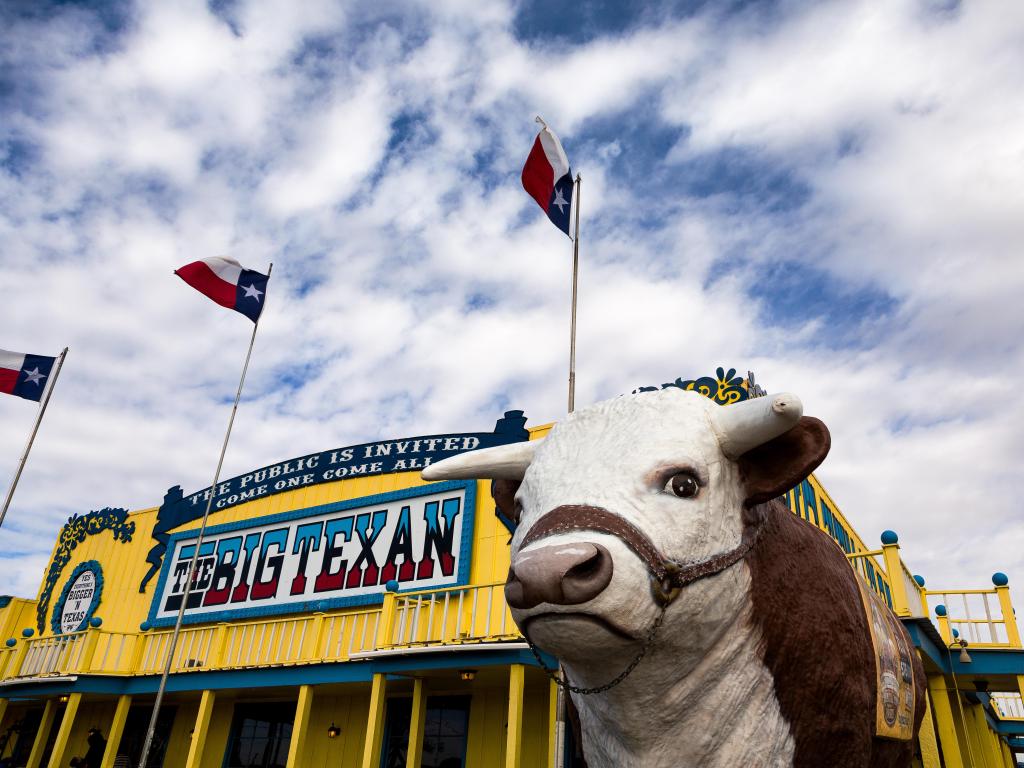 No visit to Amarillo is complete without a stop at the Cadillac Ranch. This eccentric art installation of half-buried Cadillacs, covered in graffiti, embodies the spirit of both historic and modern-day Route 66.
During your Amarillo adventure, we recommend resting at The Barfield, Autograph Collection. Located in a restored old office building, The Barfield mixes historic architecture with chic contemporary design.
Every corner whispers a tale, from the craftsmanship of the building to the world-class amenities like its free Wi-Fi, fitness center, and highly-rated restaurant. Inside, the cocktail bar serves an unforgettable Negroni. There's even a speakeasy in the basement.
Nearby the hotel is the Wonderland Amusement Park, only an 8-minute drive away. If you want to connect with nature, the Amarillo Zoo is also a short drive away.
Where to stay when you reach Austin
Austin has a casual coolness that's hard to resist. As the Live Music Capital of the World and Texas' capital, this vibrant city is a haven for music fans and for barbecue connoisseurs.
When you reach Austin, immerse yourself in the state's rich history at the Bob Bullock Texas State History Museum, or make a foodie pilgrimage to Franklin Barbecue, a place revered by many as a BBQ temple.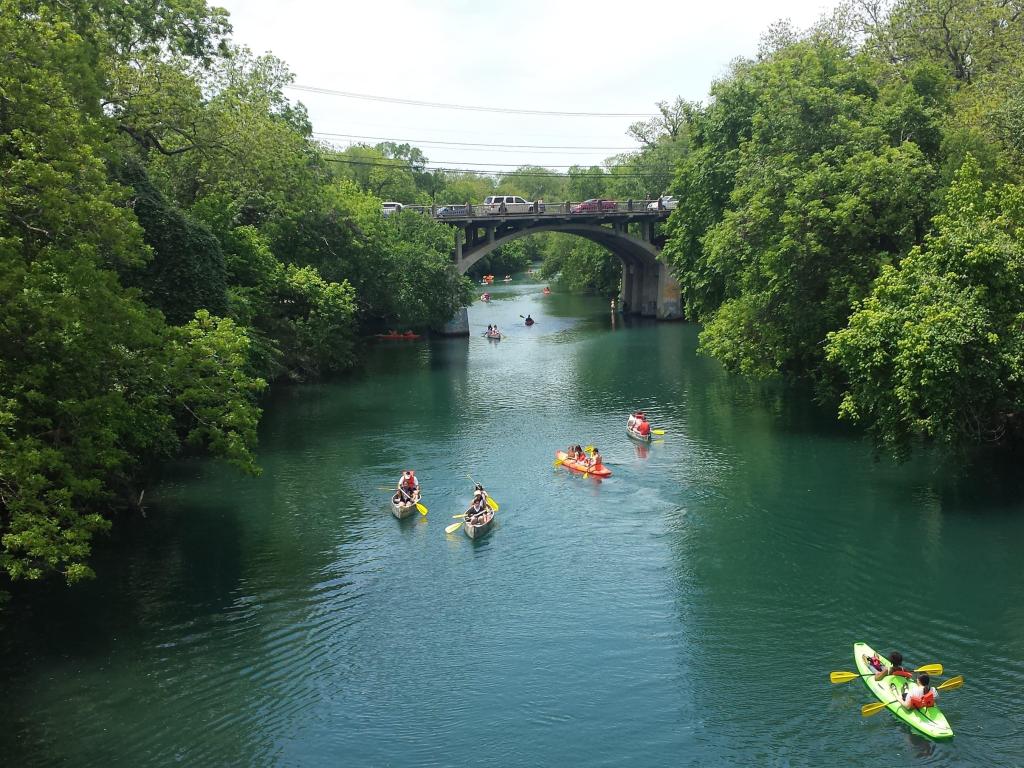 And while the city's music and food often steal the spotlight, there's a quirkier side to Austin that's equally exciting. As the sun sets, you can see the largest urban bat colony in North America beneath the Congress Avenue Bridge.
When you're ready to rest and recharge, we recommend staying at the luxurious and comfortable Colton House Hotel. This beautiful hotel has prime amenities, including a cocktail bar beside a large outdoor pool.
After exploring the city, wind down and find a cozy spot by the terrace's fire pit. In the morning, take advantage of the hotel's fitness center or walk around the stunning hotel grounds.
The Colton House is just a brief drive away from the picturesque Lady Bird Lake, perfect for a morning jog or a leisurely paddle. You're also close to the famous Texas Capitol Building and other downtown landmarks.
Things to see on a road trip from Albuquerque to Austin
On this road trip of a lifetime, you'll be covering some of America's most treasured cultural landmarks and iconic southwest locations. Below are our favorite highlights to help you plan your ultimate highway adventure.
El Paso Route
Parea Mesa Peak - Standing as a testament to nature's beauty, Parea Mesa Peak captivates visitors with its jagged silhouettes and panoramic views.
El Cerro de Los Lunas Preserve - This preserve features diverse ecosystems and is a haven for flora, fauna, and those seeking a tranquil escape amidst nature's splendor.
Tomé Hill Park - Home to ancient petroglyphs, Tomé Hill Park offers a fascinating window into the past against a backdrop of rugged beauty.
Sevilleta National Wildlife Refuge - A mosaic of landscapes, Sevilleta captivates with its mix of shrublands, grasslands, and wetlands, providing shelter to a wide range of wildlife.
Socorro Nature Area - A serene oasis, the Socorro Nature Area is a birder's paradise.
Bosque Del Apache National Wildlife Refuge - A haven for migratory birds, this refuge comes alive when the sandhill cranes and snow geese arrive.
Elephant Butte Reservoir - As New Mexico's largest reservoir, Elephant Butte presents a vast expanse of shimmering waters that are perfect for boating and fishing.
Elephant Butte Lake State Park - Encircling the reservoir, this state park offers recreational activities, from hiking trails to campgrounds overlooking the gorgeous water.
New Mexico Farm and Ranch Heritage Museum - Featuring 3,000 years of agricultural history, this museum celebrates the farming and ranching heritage of New Mexico through fun and interactive exhibits.
Prada Marfa - An art installation standing mysteriously in the Texan desert, Prada Marfa challenges perceptions with its high-fashion facade set against rugged landscapes.
Museum of the Big Bend - Nestled in the Davis Mountains, this museum chronicles the rich history and diverse cultures that have shaped the Big Bend region.
Caverns of Sonora - These caverns feature stunning crystal formations that glisten in the dim light, creating a surreal subterranean landscape for you to explore.
Treue Der Union Monument - This Texan monument honors those who resisted Confederate conscription during the Civil War, standing as a symbol of unity and resistance.
San Antonio RiverWalk - Winding its way through the heart of San Antonio, this urban waterway is lined with charming cafes, vibrant art installations, and historic landmarks.
New Braunfels Railroad Museum - A nostalgic journey into the golden age of rail travel, this museum showcases vintage locomotives and artifacts, telling tales of railroads that once connected communities and transformed landscapes.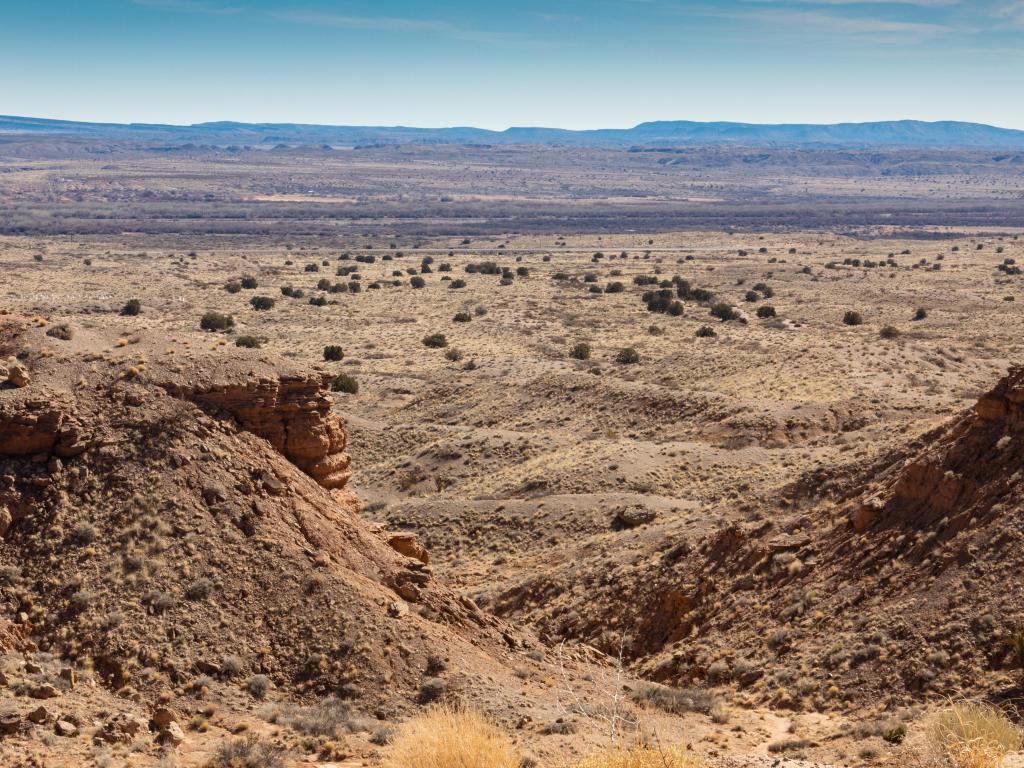 Amarillo Route
Musical Highway - As tires roll over this stretch of road, you'll hear a melodic hum that resonates with the spirit of travel.
Santa Rosa Lake State Park - Highlighting New Mexico's arid beauty, this park has shimmering blue waters and sun-baked landscapes, beckoning boaters and anglers alike.
Route 66 Auto Museum - A nostalgic dive into automotive history, this museum showcases gleaming vintage cars that once cruised the iconic Route 66.
Midpoint Cafe on Route 66 - Poised exactly halfway along the historic Route 66, this quaint cafe is like a time capsule, offering you a slice of Americana and mouth-watering pies.
Amarillo Botanical Gardens - An oasis in the heart of Amarillo, these gardens have diverse plants that make them the perfect space for relaxing and enjoying nature.
Lake Childress - Nestled in the Texas plains, Lake Childress mirrors the vast skies above, providing a scenic setting for picnics, fishing, and relaxing walks.
The World's Littlest Skyscraper - Deceptively named, this small and quirky building in Wichita Falls tells the tale of early 20th-century schemes and dreams.
Grapevine Lake - A popular retreat near Dallas, Grapevine Lake's placid waters and surrounding parks offer a haven for outdoor enthusiasts, from sailors to hikers.
The Dallas World Aquarium - This must-see destination features exotic fish, birds, mammals, and reptiles, simulating a journey through the rainforests and the world's oceans.
Reunion Tower - Rising distinctively over the Dallas skyline, this tower offers panoramic views of the city, especially mesmerizing when its orb shimmers with lights at night.
World's Largest Caterpillar - More than just an industrial marvel, this gigantic caterpillar in Italy, Texas, gives you plenty of whimsical photo opportunities.
Texas Ranger Hall of Fame and Museum - Dedicated to the legendary law enforcers of Texas, this museum weaves tales of bravery, justice, and the relentless pursuit of outlaws in the Wild West.
Bell County Courthouse - An architectural gem in Belton, the Bell County Courthouse stands as a testament to Texas's rich history.
Round Rock Donuts - Infamous for their golden-orange hue and mouth-watering taste, these donuts have achieved legendary status among sweet-toothed travelers and locals alike.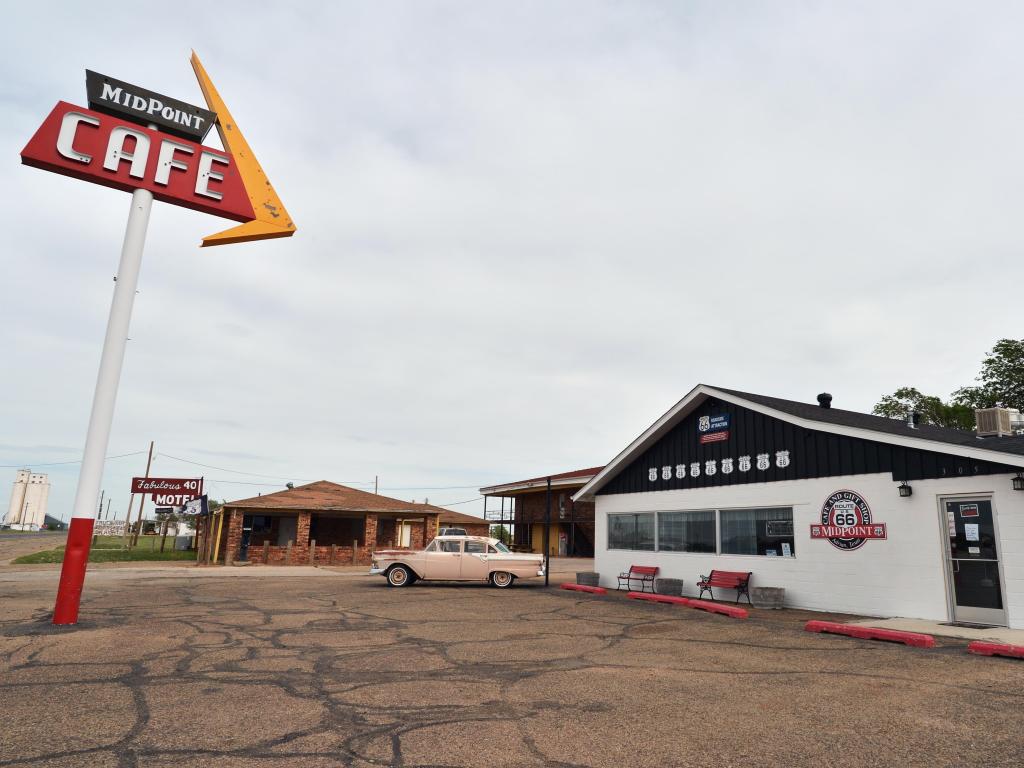 Best time to go on a road trip from Albuquerque to Austin
Albuquerque, Austin, and the scenic routes connecting them are exciting destinations that offer diverse experiences throughout the year. Your road trip and route will depend on what exciting events and festivities you want to experience.
Embarking on this trip in winter will give you charm and challenges. If you choose the El Paso Route in December, you can head to the Carlsbad Winter Wine Festival.
However, be prepared for cooler temperatures, averaging around 40 to 50 degrees Fahrenheit, and potential icy road conditions in specific stretches, especially at higher elevations.
Spring brings milder temperatures and plenty of amazing festivities. If your road trip coincides with May and you're traveling on the El Paso Route, make a stop at Alpine for the vibrant Cinco de Mayo Celebration.
By this time, the temperatures on both routes should warm up, ranging from 70 to 80 degrees Fahrenheit.
If you're considering a summer adventure, temperatures soar to the mid-90s, especially around Albuquerque and Austin. But it's also the season for boating, fishing, and lounging around the almost endless lakes and rivers.
On the Amarillo Route, the Amarillo Route 66 Celebration lights up June with non-stop fun and historical charm. If you'd prefer a nature-focused celebration, head to Austin in August to experience the Bat Fest, an ode to the city's wild bat population.
Fall on both routes has moderate weather, ranging between 60 to 80 degrees Fahrenheit. On the Amarillo Route, the State Fair of Texas from September to October is a beloved tradition, with delicious food, live music, and carnivals.
If you're a foodie and will be in Austin in the fall, make your way to the Austin Food and Wine Festival in November.
No matter when you travel and which route you take, you'll be blessed with endless fun and activities, plus some of the most iconic stretches of highway in the country. You'll be sure to have the ultimate road trip traveling between Albuquerque and Austin.