Road Trip from Albuquerque to Denver
The journey from Albuquerque to Denver only takes through the iconic sights of Colorado and New Mexico and spans the deserts of the southwest and the Rocky Mountains - some of America's most majestic landscapes.
The 570-mile road trip from Albuquerque to Denver takes 11 hours to drive through Santa Fe, White Rock Overlook, Taos, Raton and Colorado Springs. Alternatively, you will travel west through Aztec, Telluride, Aspen, and Mesa Verde National Park.
Ready to take on this amazing adventure? Then read on to learn more about which route to take, where to stop, what to see on the way, and how to start planning how to pack this short trip full of memories that will last a lifetime.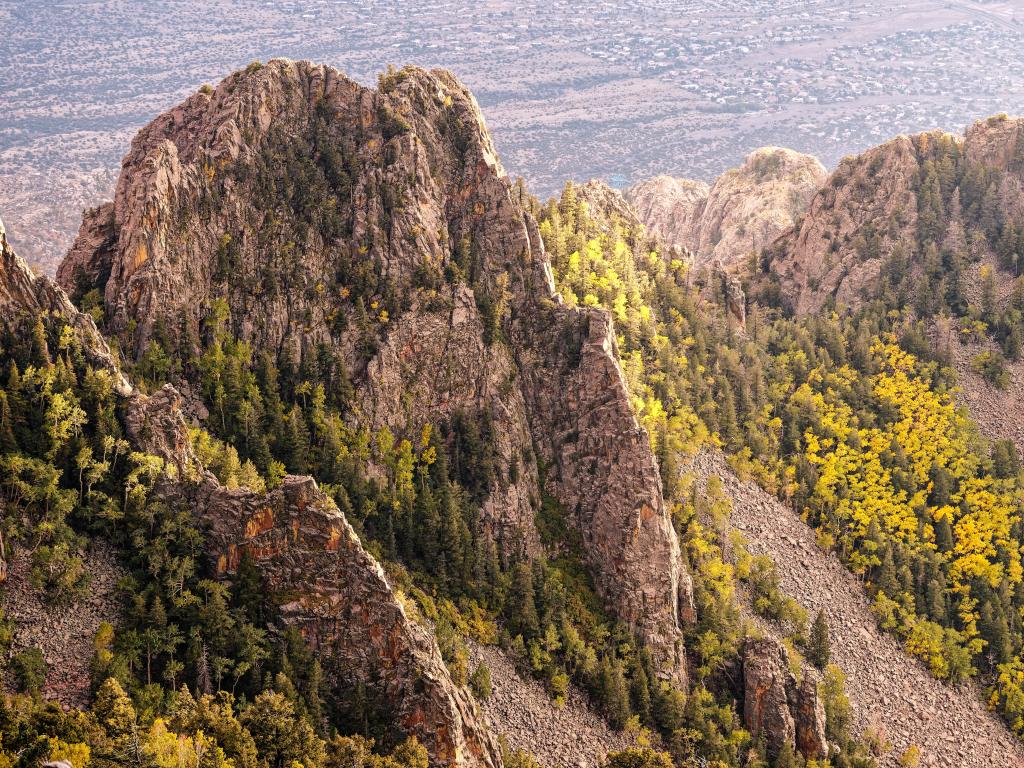 How far is Denver from Albuquerque, and how long will the road trip take?
Comparison of road trip routes between Albuquerque and Denver

| Route | Distance | Driving Time |
| --- | --- | --- |
| The Direct Route | 570 miles | 11 hours |
| Desert to Forest Route | 700 miles | 14 hours 15 minutes |
As road trips go, the drive from Albuquerque to Denver is a relatively short one, and you can complete the 565-mile direct route in just 11 hours of driving.
If you're taking turns behind the wheel, that means you could technically make it all the way to Denver in a day if you had to. But the whole point of a road trip is that you don't have, right?
If you're taking the Direct Route, we'd recommend taking at least 3-4 days to enjoy the sights you'll find between Albuquerque and Denver.
You also have the option of taking the longer and slower Desert to Forest Route, which gives you more of a chance to explore stunning natural scenery and national parks. This route covers 700 miles and will take around 14 hours to complete, so you might want to add an extra day.
Whichever route you take, you'll want to make sure you see all the interesting places you'll pass along the way, so keep reading to find out all the things you can see.
Best road trip route from Albuquerque to Denver
On both of our recommended routes between Albuquerque and Denver, you'll be able to enjoy outdoor activities and views out over some of the country's most iconic landscapes.
Although it's the shorter of the two options, the Direct Route includes plenty of Old West sites and stunning natural scenery. It doesn't take you to as many parks as our longer route, but you'll still have a chance to stop and enjoy the great outdoors along the way.
This route also includes several towns with an up-and-coming arts scene, which are perfect places to pause and explore the creative culture of this fascinating part of the world.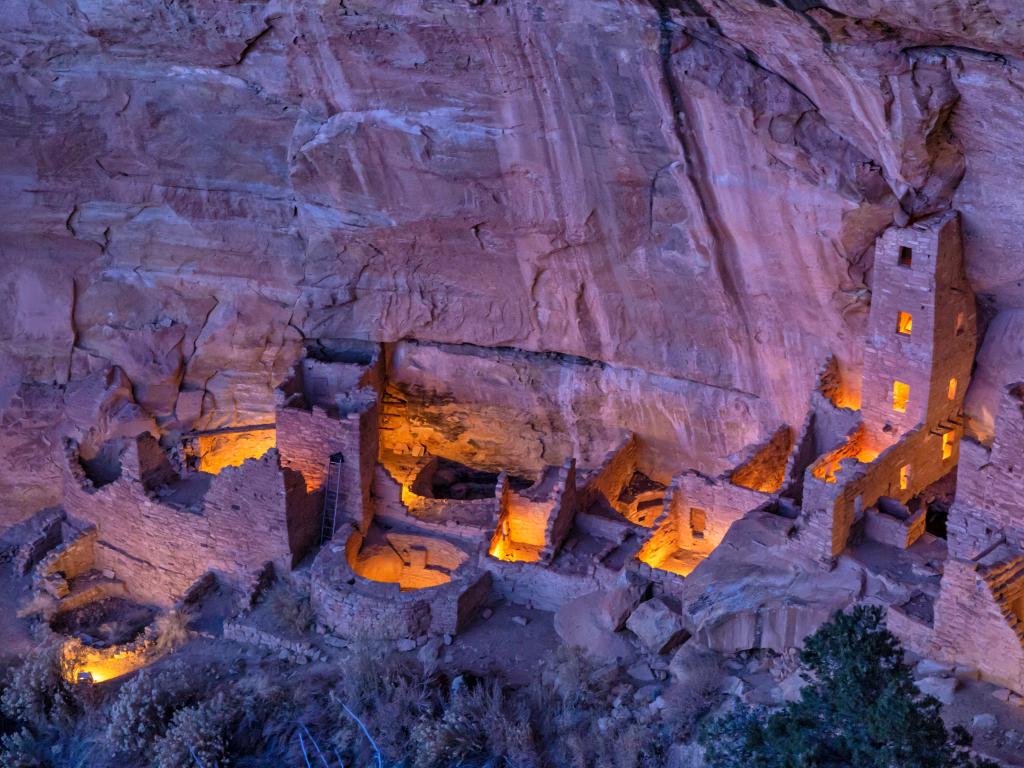 In contrast, the Desert to Forest Route offers non-stop scenery, from the desolate desert beauty and archaeological sites of the Pueblo people to the countless national and state parks in the Rockies.
If you're a snow sports enthusiast, this would be the ideal route for a winter ski or snowboarding trip too.
Choosing your route is likely to come down to how much time you have for your trip, and how much of it you want to spend enjoying the outdoor attractions along the way. Either way, this is a fantastic road trip which squeezes a huge amount into just a few hours of driving.
How to drive from Albuquerque to Denver
The map above shows our suggestions for the best road trip routes between Albuquerque, New Mexico and Denver, Colorado. Keep reading for detailed descriptions of both routes, where to stay on either, and the best things to do on the way.
Direct Route
Leave Albuquerque on Interstate 25 (I-25) heading north until you reach Pecos National Historical Park, then return along I-25, taking Exit 284 for the 466 which takes you into Santa Fe.
When you're ready to move on, follow NM-475 Paseo de Peralta which leads you onto Highway 84. You'll take this road north as far as Pojoaque, then turn left onto NM-502. Next, follow signs onto NM-4 towards White Rock Overlook.
Return to the main route along the same roads, turning onto NM-30 up to Espanola where you'll turn right to cross the Rio Grande along Santa Clara Bridge.
Turn left onto S Riverside Drive, NM-68, and follow it northwards out of town. When you reach Taos, turn onto US-64 for a scenic stretch through the mountains, continuing around Eagle Nest Lake and Cimarron Canyon State Park before merging with I-25 at Raton.
You'll follow I-25 for most of the rest of your trip, passing Trinidad and Colorado Springs. To visit Devil's Head Lookout along the way, take Exit 174 onto Bear Dance Drive before taking a left onto Tomah Road and a right onto S Perry Park Road.
Then follow Jackson Creek Road and S Rampart Range Road until you get to Devil's Head Lookout.
Return along the same winding road but turn left when you arrive back on CO-105. A right turn onto W Wolfensberger Road will lead first to Plum Creek Parkway and then back to I-25.
All that's left from here is to follow the interstate north for around half an hour before you reach your destination, Denver.
Desert to Forest Route
Similar to the Direct Route, leave Albuquerque via I-25, but exit onto US-550 and follow it as far as Aztec. After visiting Aztec Ruins National Monument, turn onto NM-574, then right onto NM-170 at La Plata.
The road becomes CO-140 when it crosses the state border. Continue straight ahead past Breen, before taking US-160 from Hesperus to Mancos.
At Mancos, pick up CO-184 and follow it right up to Canyons of the Ancients, then follow the road back towards Dolores, where you'll join CO-145 and follow it through the mountains as far as Placerville. Along the way, you can turn off to visit the ghost town of Alta, before taking CO-145 eastwards a short way to reach Telluride.
From Placerville, take CO-62 as far as Ridgway, then join US-550 heading north. In Montrose, it merges with US-50 (continue north here) which you'll follow until you reach a left turn onto D Road - keep an eye out for the road sign as there's limited signage for this turning.
D Road leads you onto 1900 Road, then take a right turn onto F Road and a left onto 2200 Road. This brings you out onto CO-92 which skirts Gunnison Gorge National Park before linking you up with CO-133 at Hotchkiss.
Follow CO-133 through Bowie and Somerset, before joining CO-82 at Carbondale. This road takes you through the mountains past Aspen - you'll enjoy several scenic lookouts along this part of the route, so have your camera ready - before leading you onto US-24 just past Twin Lakes.
Follow US-24 through Leadville, before forking off onto CO-91 as you exit the town. This takes you past Top of the Rockies Zipline and Copper Mountain, before merging with Interstate 70 (I-70) North.
For one final scenic detour, turn off onto CO-9 and follow it around Frisco Bay. Turn left onto Swan Mountain Drive to reach Sapphire Point Overlook, then take a left onto US-6 to return to I-70, which leads you all the way to Denver.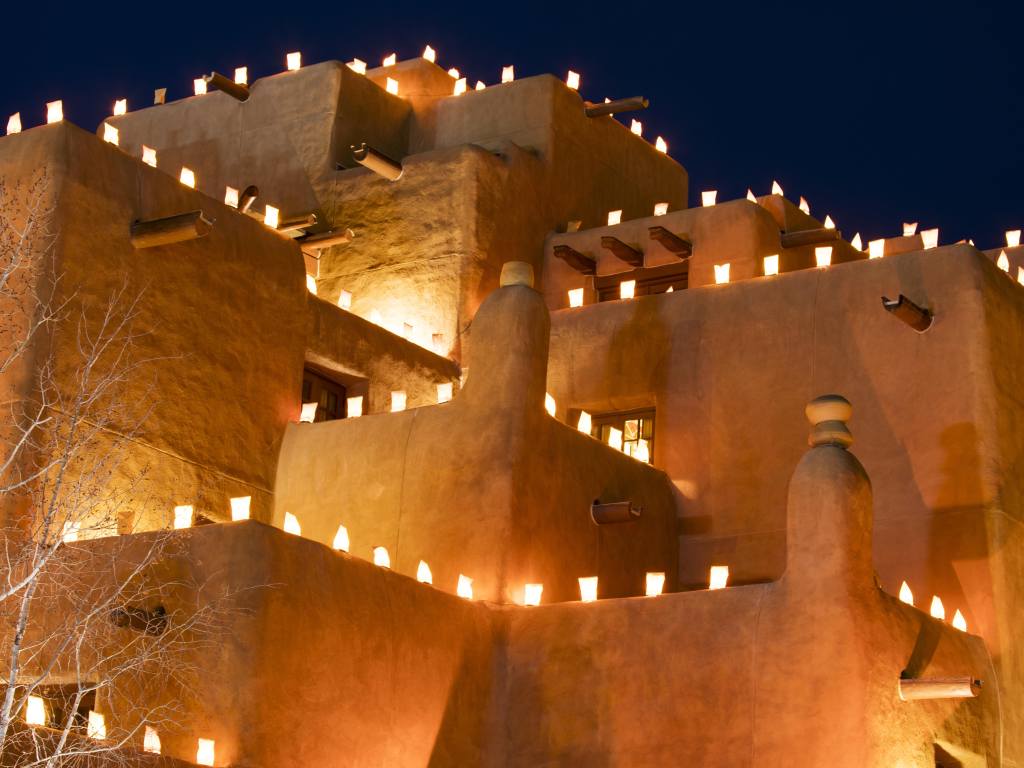 Best places to stop between Albuquerque and Denver
Whichever route you choose, you're going to need to make at least one overnight stop on your road trip from Albuquerque to Denver.
Here are our top picks for each route:
Feel the change in Trinidad
You'll cross the border into Colorado to reach Trinidad a little past the halfway point of the Direct Route. Conveniently located and not short on charm, this is an up-and-coming tourist destination in the southern part of the state.
A former old western coal mining town, in recent years it has attracted many artists and alternative businesses, which have brought new life to its beautiful historic downtown area.
In addition to the quaint downtown area, there is also the History Museum, the A.R. Mitchell Memorial Museum of Western Art, the Simpson's Rest overlook, and the nearby Trinidad Lake State Park.
In our view, one of the best hotel picks in town is La Quinta by Wyndham, Trinidad. This hotel is easily accessible so you can jump straight in for a refreshing swim in the pool or relax a bit in the clean, modern, rooms before exploring this cute mountain town.
Throw in a free breakfast buffet and a road tripper could ask for little more. The downtown area is only a 5-minute drive away, and the hotel is located right by Trinidad Lake, where you can spend a leisurely day before continuing your journey towards Denver.
Make for the hills in Telluride
Just before you hit the halfway point of the Desert to Forest Route, you'll reach Telluride, a former mining town turned top-rated ski resort, with stunning views aplenty.
Telluride has long been attracting people from all walks of life, so whether you're a ski enthusiast at heart or just enjoy the fresh mountain air, this charming city is a fantastic place to stay.
In the town you'll find well-preserved historic buildings (Butch Cassidy even robbed a bank here) which led to Telluride becoming a National Historic Landmark District in 1964.
You will definitely have noticed the landscape shift from desert to forest by the time you reach Telluride, so why not embrace the mountain lodge vibe and book a night (or more) at The Hotel Telluride where you will be spoiled with superb mountain views?
During your stay you can get a wonderful view of the historic downtown and surrounding mountains from the Village Gondola, then hit the slopes or go for a hike, depending on the season of your visit. Bear Creek Falls is a particularly enchanting hike.
If you're in need of some relaxation after a day on the slopes or trails, you can book yourself a spa treatment at the hotel or simply wind down in the fabulous hot tub before calling it a day.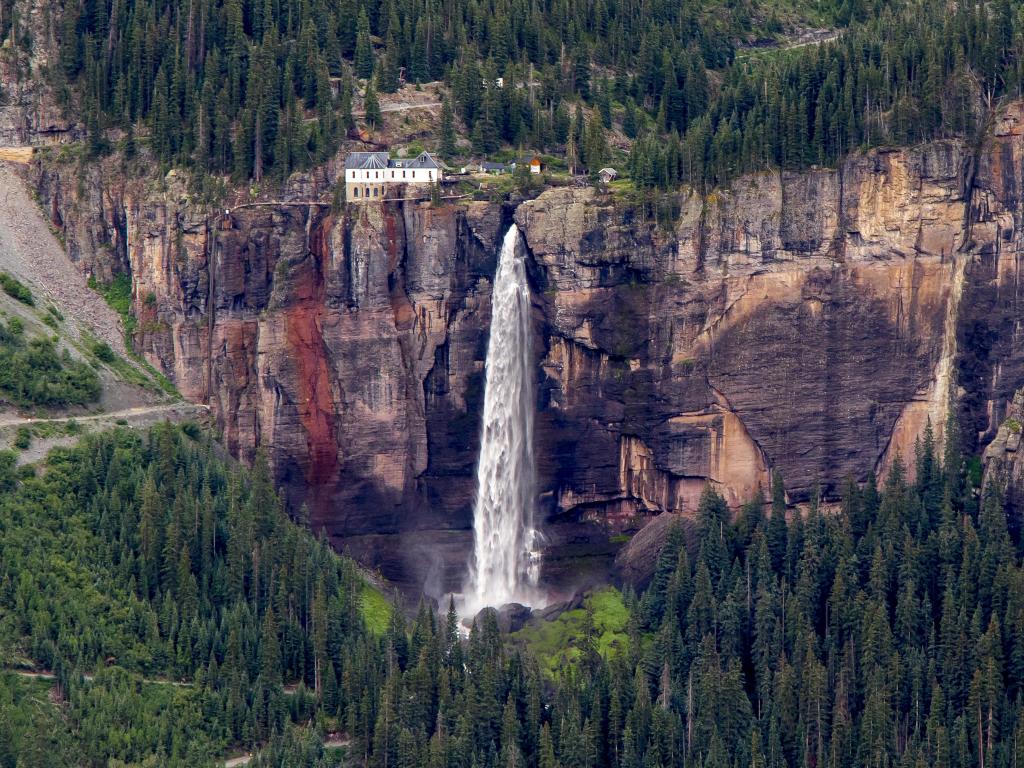 Where to stay when you reach Denver
Chances are you'll have done your fair share of hiking or skiing by the time you complete your road trip, so we'd suggest booking a Denver hotel which has easy access to the city's many attractions.
Located in an 1891 building in the Larimer Square district, The Oxford Hotel Downtown Denver is just the ticket. It seamlessly blends elegance and convenience, and if you're ready to let your hair down you can join other guests for its daily happy hour and bourbon tasting.
With a chic restaurant, you will feel rejuvenated to explore Denver, with many attractions like the Museum of Contemporary Art and Coors Field located within walking distance.
Things to see on a road trip from Albuquerque to Denver
Although this is a relatively short road trip, you'll have plenty of choice on what to visit along the way when you take this trip from Albuquerque to Denver.
Both routes offer some fantastic attractions - here are our top picks:
Direct Route
Pecos National Historical Park - A short detour to Pecos, NM, before reaching Santa Fe will be a must for anyone who has an interest in Native American, Spanish Colonial, or Civil War History. There is a lot to see here.
Santa Fe, New Mexico - Galleries and art museums abound in this New Mexican town, including ones dedicated to Georgia O'Keefe, International Fold Art, and Local Indian Arts & Cultures.
White Rock Overlook, New Mexico - The name could say it all, but the view from here is really indescribable. Sometimes called the "Grand Canyon of New Mexico", this is south-western beauty at its finest.
Taos, New Mexico - An internationally renowned Art Colony, the outstanding natural beauty and Pueblo ruins that surround Toas have been the inspiration for many an artist. There is also a wide range of gourmet, fusion, and Mexican restaurants here.
Raton, New Mexico - Nearby Sugarite Canyon State Park has breathtaking scenery, and if you continue on to Climax Canyon Park you can catch a glimpse of the K-2 boundary (thought to be a layer of sediment created during the mass extinction event which put an end to the dinosaurs).
Trinidad, Colorado - From museums to state parks and scenery, this small town packs a big punch. Take an iconic photo at the Simpson's Rest overlook then explore the highlife downtown.
Colorado Springs, Colorado - Like so many places out west, this growing metropolitan area once started as a mining town. With the aptly named Garden of the Gods and North Cheyenne Canyon Park, there are plenty of natural wonders a short drive from the city.
Pikes Peak - This stunning area a short drive from Colorado Springs offers some of the most breathtaking alpine views along hair-raising mountain roads. It also features one of the tallest peaks in the Rockies, at 14,110 ft.
The EDGE Ziplines & Adventures - This long-established zipline course in Castle Rock, CO offers zip lines and climbing structures for various skill levels.
Devil's Head Lookout, Sedalia - A hike of fewer than 3 miles into Pike National Forest, accessed from the north, leads to one of the last standing original Fire Lookouts that has spectacular 360-degree views of the mountain wilderness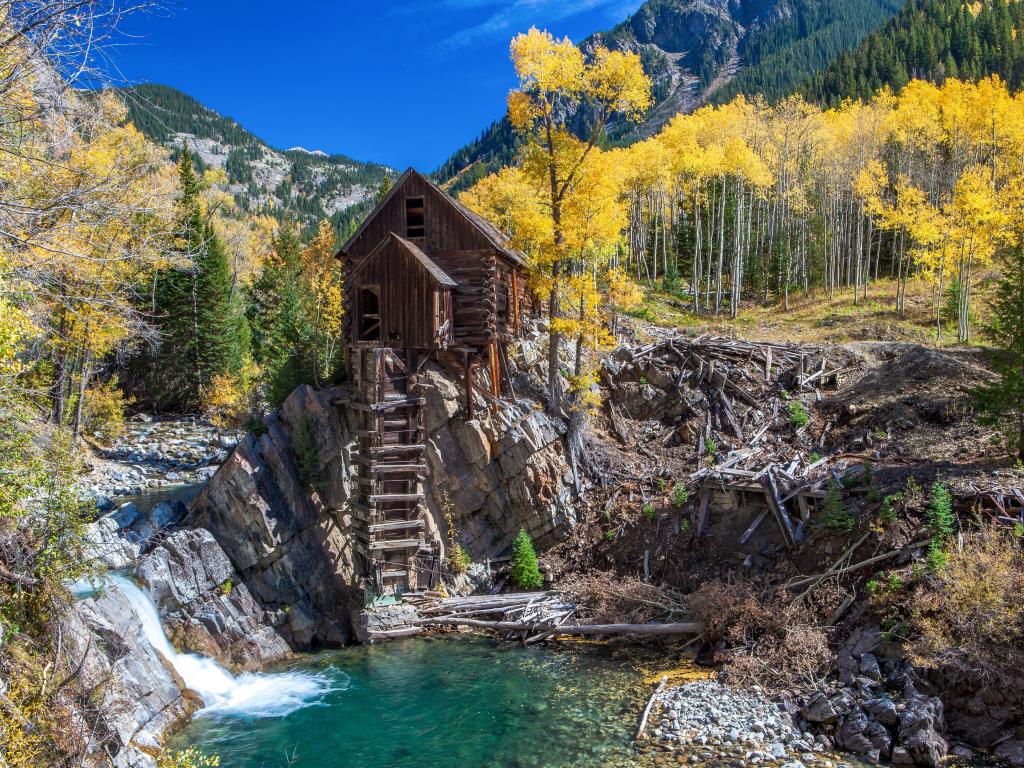 Desert to Forest Route
Valles Calder National Park/ Fenton Lake State Park - If you take a detour off the 550 along the 4, then take a left on the 126 back to the 550, you will be rewarded with canyon vistas, the Jemez Historic site, Spence Hot Springs, and the Blue Bird Overlook.
Aztec Ruins National Monument Visitor Center - Conveniently right off the 550 in Aztec, NM, these stunning archaeological ruins of a 900-year-old Pueblo Great house will surely inspire awe in human ingenuity and desert survival.
Mesa Verde Visitor and Research Center - Less than 5 miles off Highway 184, along Route 160 just past Mancos, this beautiful and well-curated center is better for those who might not have the time to go deep into the park to see the Pueblo ruins themselves.
Mesa Verde National Park - If you venture further into the park itself, you will be rewarded with the well-preserved cliff dwellings of the ancient Pueblo people as well as the impressive Cliff Palace
Canyons of the Ancients National Monument - On the edge of Dolores along highway 184, this is also a must-see for anyone who has an interest in Native American cultures. It features over 6,000 archaeological sites and you can still see partially standing pueblos from the 10th-13th centuries A.D.
Lizard Head Peak Vista Overlook - About 5 miles before Ames along Route 145, this spectacular rock formation is worth a quick stop for an unforgettable photo op.
Alta, Colorado, Ghost Town - A few buildings situated at 11,800 feet are all that's left of this old mining town that used to be home to a few hundred people during the mining heyday from 1877 to 1948. This town was also the first place to employ Nicolai Tesla's AC transmission for their power supply.
Telluride, Colorado - Telluride is not only surrounded by picture-perfect mountains and trails, but also has some fabulous slopes in case you had brought your skis. The free Village Gondola is a must if you visit during the 287 days a year when it operates.
Salvia Springs Ranch - A little way off Highway 62, you can visit this ranch to go on a guided horseback adventure through the mountains and get some first-hand Old West experience.
Ridgway State Park - Located between the highway and the Ridgeway reservoir, this is a convenient place to stop and take in the abundant natural beauty and even go for a swim.
Montrose, Colorado - There are many parks and trailheads which surround this town, which also has several small but highly rated museums like the Ute Indian Museum and the museum of the Mountain West.
Aspen, Colorado - In addition to the famed slopes and five-star resorts, there are plenty of scenic places for free in Aspen, including the John Denver Sanctuary, a public park dedicated to the late great John Denver located just next to Rio Grande Park.
Sapphire Point Overlook - This beautiful stop on Swan Mountain Rd offers a wonderful view of the Dillon Reservoir. Some people are in love with this spot that they choose to have their weddings here.
Best time to go on a road trip from Albuquerque to Denver
You might not think it, but Denver can be a true year-round destination, as long as you're ready for the winter chill. Each season has something unique to offer.
With its location in the Rocky Mountains, the snow and access to nearby skiing is clearly an attraction in itself through the winter.
Temperatures can drop to the low 20 degrees Fahrenheit though, and road conditions might be icy, so make sure you're prepared for your trip if you're making the drive from Albuquerque with winter sports in mind.
It's definitely more challenging to enjoy the other outdoor activities along the route, so if you're keen on seeing places like the Canyons of the Ancients then you'll probably want to travel at another time of year.
Denver does have a world-class theater and performing arts scene though, so you can always catch a cozy indoor performance if you arrive in poor weather.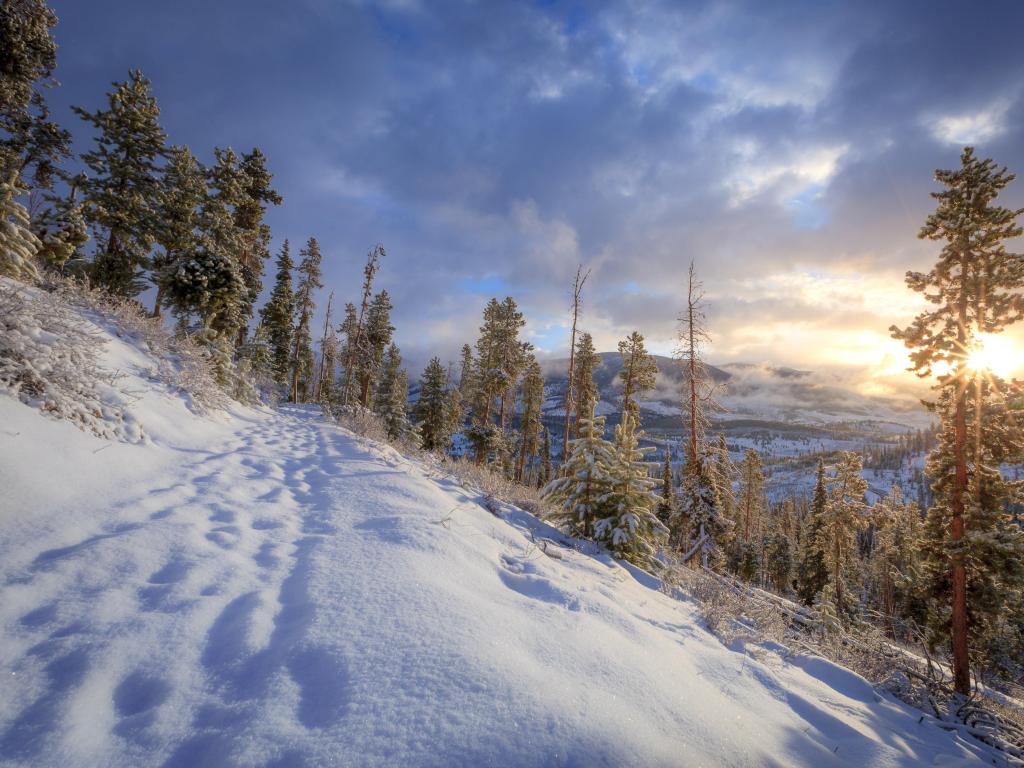 In contrast, summers are relatively hot, reaching the high 80 degrees, though there are regular mountain rain showers. These leave the whole area feeling revitalized ready to enjoy evening entertainment at rooftop bars, or concerts at the iconic Red Rocks Amphitheater.
Spring and Fall are arguably the best time to visit Denver if you're hoping for reasonable weather, less rain and fewer crowds than in the summer. If you're here in October or early November, you can also catch the stunning fall foliage.
Spring is a festive time of year, with lots of street fairs and activities downtown. Between May and July there are several notable festivals including the Five Points Jazz Festival, Denver Chalk Art Festival, and Global Dance Festival.
Whatever time of year you travel, make sure your vehicle is ready for the drive and packed full with whatever music, snacks and company you need to make this trip one you'll never forget.