Road Trip from Albuquerque to Las Vegas
Ever wanted to try your luck at the tables but never got around to it? A road trip from Albuquerque to Las Vegas is an ideal trip for those who are looking to travel to Sin City via a range of beautiful, natural, scenic sites from mountains to valleys, with some tourist town hot-spots along the way.
The 790-mile road trip from Albuquerque to Las Vegas will take about 13 hours to drive. You can visit Fort Apache Reservation, Pagosa Springs, Flagstaff, Durango, the Grand Canyon, Dixie National Forest and Zion National Park along the way.
We've curated two unique routes that make the most of the spectacular scenery between Albuquerque and Las Vegas. Keep reading to find out all you need to know from the suggested routes, things to see along the way and where to stay.
How far is Las Vegas from Albuquerque, and how long will the road trip take?
Comparison of road trip routes from Albuquerque to Las Vegas

| Route | Distance | Driving Time |
| --- | --- | --- |
| Southern Route | 790 miles | 12 hours 50 minutes |
| Northern Route | 850 miles | 14 hours 40 minutes |
At around 790 miles, The Southern Route will take almost 13 hours to complete without accounting for any stops you might want to make, such as the Grand Canyon, which is a highlight of this route.
Our alternative Northern Route is equally scenic, taking in Dixie National Forest and Zion National Park, and will take you 14 hours and 40 minutes to drive, covering 850 miles along the way.
As there is so much to see along each route, we recommend taking at least 4 or 5 days to complete this road trip.
Best road trip route from Albuquerque to Las Vegas
Both of our recommended routes feature landmarks and attractions that many would consider to be bucket list places to visit, so the route you pick will depend on which one you would like to visit first.
The Southern Route will take you through the unforgettable landscape of the Grand Canyon, which really is incredible. This route is also slightly quicker and features many other scenic stops along the way, which include some beautiful national forests.
However, you miss the opportunity to visit some of the scenic reservations and mountains on The Northern Route, including Zion National Park.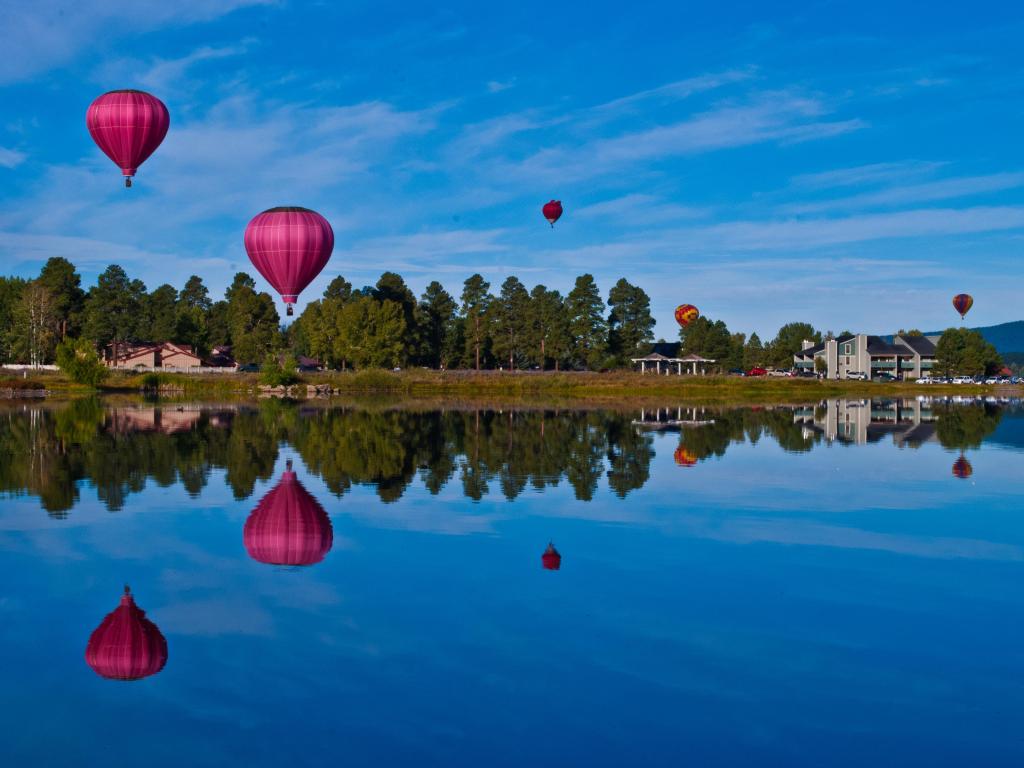 Appreciate the beautiful landscapes across mountain reserves, national parks and valleys via this scenic Northern Route. The Pagosa Springs also allow some time to rest and relax in the naturally heated springs.
You can make a detour and extend your trip to see Dixie National Forest on this route as well. This route is a little longer and you miss the unrivaled experience of the Grand Canyon, which many see as a once-in-a-lifetime destination to visit.
The Southern Route
Head directly south out of Albuquerque on Interstate 25 (I-25). Just after you pass through Sevilleta National Wildlife Refuge, you'll get to Socorro, New Mexico. From here, drive west, winding your way around the Magdalena mountains.
Continue on US-60, driving through the Cibola National Forest. After stretching your legs, follow US-60 west and you will come to Pinetop Lakeside and Apache Sitgreaves National Forest, two great places to leave the car for a while and explore the beautiful natural landscapes.
The next part of the journey takes you north through Snowflake and Woodruff, into Holbrook. Get on I-40 and take it to Flagstaff, surrounded by Coconino National Forest. The infamous and imposing Grand Canyon is your next stop, which will take you north off I-40.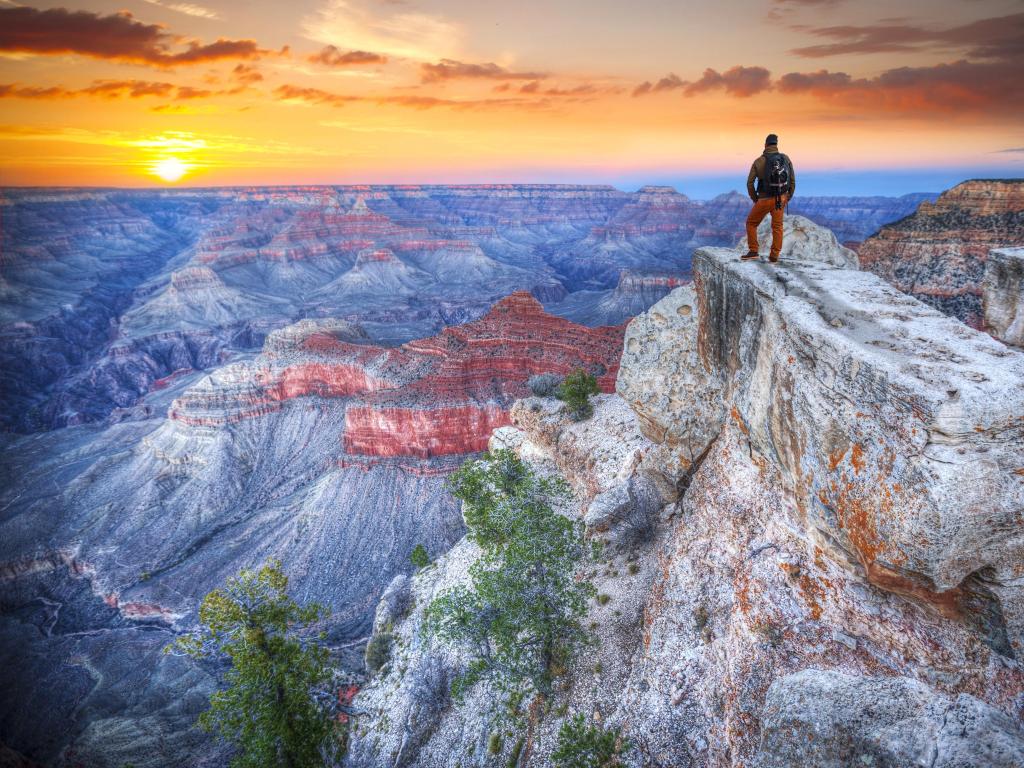 After exploring the Canyon, head back south and to I-40 and follow it west to Kingman. Take US-90 and I-11 north through Lake Mead National Recreation Area and into Las Vegas.
The Northern Route
Leave Albuquerque heading north, with Sante Fe National Park on your right. Stay north, driving into Jicarilla Apache Nation Reservation. Once you get to Pagosa Springs, go west on US-160 to Durango.
Once you reach Cortez, your route will take you south on US-491, through Ute Mountain Reservation, and then west to Oljato-Monument Valley. Glen Canyon National Recreation Area will be on your right, and you will drive by the southernmost tip. Take US-89 to Kanab.
Zion National Park is the next major landmark you will pass on your right. Shortly after this, you'll join I-15 past Red Cliffs National Conservation Area. Stay on I-15 for the last part of your trip. You'll pass through Moapa Valley before entering Las Vegas from the north.
Best places to stop between Albuquerque and Las Vegas
As this road trip requires quite a few hours of driving, an overnight stop is necessary to break this up and allow you to rest. We have picked some of the best places you can stop and take a break while admiring the unique attractions and landmarks that make these places top places in travel lists.
Admire the majestic scenery around Flagstaff
Well located at the midpoint of the Southern Route is Flagstaff. Flagstaff is best known as the "Gateway to the Grand Canyon" and is a great base to explore other nearby attractions like Walnut Canyon National Monument and Coconino National Forest.
This truly is a place for outdoor enthusiasts. The epic landscapes of the Grand Canyon need little introduction with its expansive red rocks and deep gorges. If you have visited before, why not head for the hiking trails across the pine forests and clear water wetlands of the Coconino National Forest.?
For an excellent view of the clear skies this area is famous for, visit the Lowell Observatory. Take an informative daytime, or even nighttime, tour to understand more about one of the oldest observatories in the USA.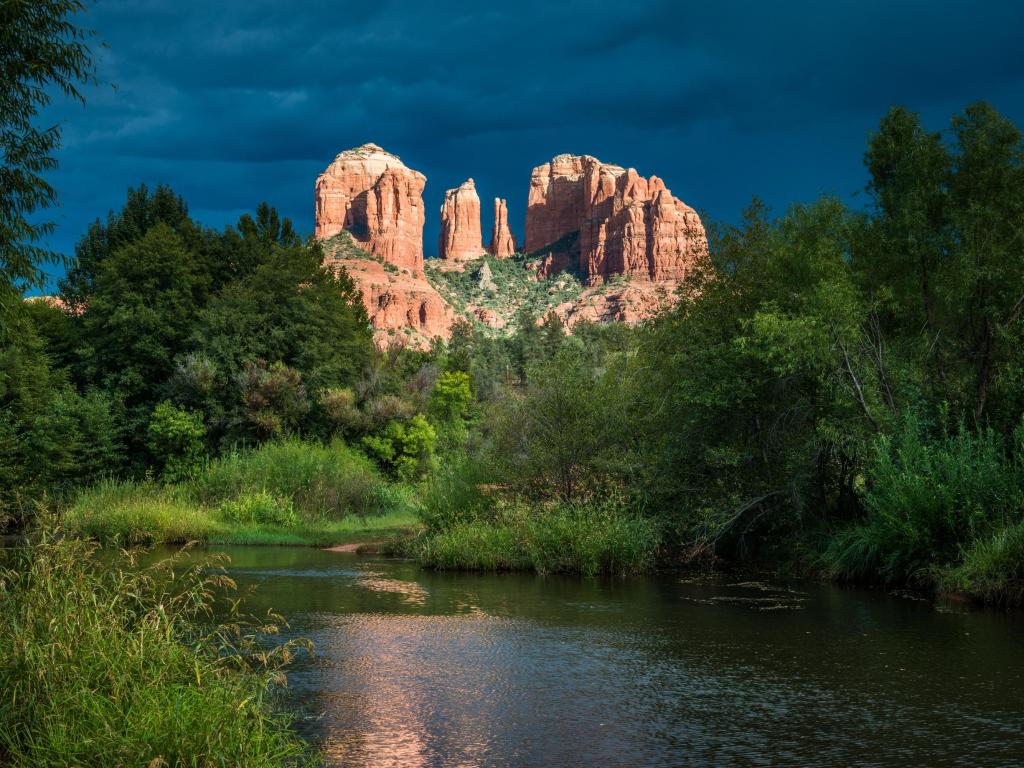 The Little America Hotel Flagstaff offers traditional and pretty room décor, with generous-sized suites to rest after your journey. Fancy a swim? Relax in the fabulous outdoor pool after a busy day driving and sightseeing.
A delicious menu is served each day in the hotel bar and restaurants so no need to travel far for tasty treats. Free on-site parking means you can leave the car and enjoy the town on foot.
If you fancy a stroll, the hotel is close to several parks, such as Foxglenn Park. A good choice of bars and steakhouses are a short walk away for a decent evening meal.
Take in the inspiring views on your way to Oljato-Monument Valley
Halfway along The Northern Route is the Oljato-Monument Valley. Known for the Goulding's Trading Post Museum, the Wildcat Trail, Monument Valley Navajo Tribal Park, Monument Valley Tribal Tours and Monument Valley Navajo Market, there is no shortage of attractions and things to do here.
The incredible sandstone structures and landscapes in Monument Valley Navajo Tribal Park will really leave an impression. Take a guided jeep tour to learn about this site while you enjoy a ride-keep in mind that it might get bumpy!
Open since 1989, you can head to Goulding's Trading Post Museum to see original buildings and learn more about the history of the area, including its prominent use in many films.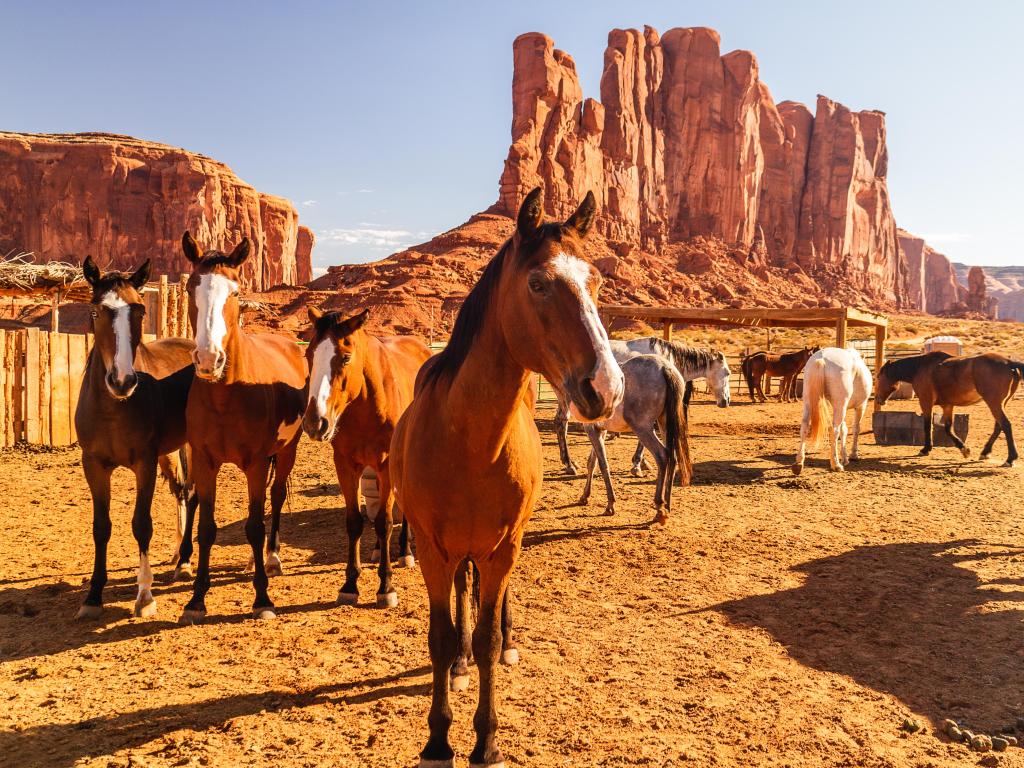 Set in the valley itself, Goulding's Lodge is an absolutely stunning location with incredible views. Why not head to the sun terrace at the end of a busy day to admire it fully?
There are plenty of options to eat and drink on site, so there is no need to leave once you arrive. Enjoy the indoor heated swimming pool for a relaxing swim before you indulge in a lovely evening meal.
Free on-site parking and close proximity to the entrance of the Monument Valley mean it boasts an excellent location to use as a base during your adventures and sightseeing. A short ride from the 1-163 makes it easy to find and resume your road trip.
Where to stay when you reach Las Vegas
Set in the center of the action, the Las Vegas Hilton At Resorts World has all the great attractions on its doorstep. Hungry after a long drive? Over 40 food and beverage concessions on site mean you don't have to travel far for excellent food and drink.
With 7 swimming pools. spa and wellness facilities and an infinity pool with views over Las Vegas Boulevard, you won't be short of places to relax during your stay. You also won't need to travel far to pick up a souvenir, as there are over 20 shops on site to cater to your every need.
With so much to do on-site, you might not even want to venture out, but seeing that you will be located in the heart of the famous Las Vegas Strip, we suggest you head out and explore this fascinating city on foot.
Make sure to book an entertainment show to see your favorite performer live, or head to one of the many casinos you will be surrounded with to try your luck. The possibilities in Sin City are truly endless!
Things to see on a road trip from Albuquerque to Las Vegas
Excellent hiking and walking trails are a dime a dozen on this route, so they make up many of the things to see. If these aren't your style then we also have a wildlife refuge, observatory and hot springs to keep you entertained.
The Southern Route
Sevilleta National Wildlife Refuge - Set in the Chihuahuan Desert there are over 2,000 miles of trails to hike across, each as stunning as the last. Head here in October and you can explore more of the Refuge that is usually closed, with a memorable guided tour
National Radio Astronomy Observatory - an interesting and interactive attraction to take a stroll around. Take a self-guided tour alongside the VLA (Very Large Array) to see the giant dishes up close
Cibola National Forest - Cibola National Forest is 1.9 million acres of beauty, with some of the best trails in Albuquerque
Pinetop Lakeside - head to Woodland Lake Park, one of the more popular stop-offs. This pretty lake has several good trails to explore and is ideal for a wander and picnic
Flagstaff - Flagstaff is popular due to its closeness to the Grand Canyon. As well as a gateway to the red rocks, its own attractions such as Coconino National Forest are a draw
Kaibab National Forest - head to Kaibab National Forest to explore some of the 1.6 million acres. If you are after more than a stroll then you can head up Kendrick Mountain before heading back to the campground for a well-deserved rest
Grand Canyon - stand in awe when you visit the Grand Canyon and its incredible rock formations, thought to be over 2 billion years old. A visit here really will leave a lasting impression
Kingman - with Kingman located on Route 66, there are a large range of museums here displaying Route 66 memorabilia
Lake Mead National Recreation Area - explore America's largest national recreation center. There is so much to do on both land and water, so start off with a boat cruise across 290 square miles of waterway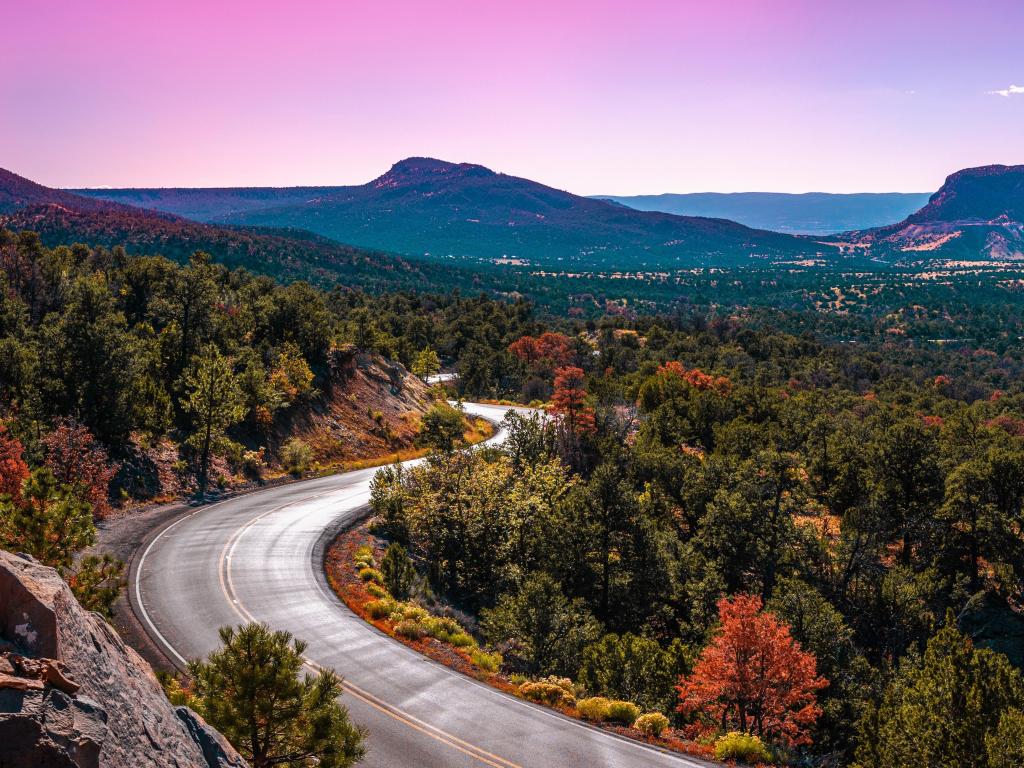 The Northern Route
Santa Fe National Forest - over 1.6 million acres make up this beautiful National Forest. Marvel at the mountains and the gorges when you take one of many trails across the landscape
Jicarilla Apache Nation Reservation - set near the Colorado border, this beautiful wilderness is one to visit if you are looking for an authentic and interesting day, but watch out for the free-roaming black bears and mountain lions
Pagosa Springs - a hot spring could be just what you need after all that driving, so head to Pagosa Springs for some rest and play in a deep geothermal hot spring to feel reinvigorated
Sun Juan National Forest - for any wildlife lover this is the place to head given the abundance of animals you are likely to see. Anything from mountain goat and deer to black beer can be spotted, so take some binoculars and keep an eye out
Durango - for any history fans this is an archeological treasure chest. The UNESCO World Heritage Site of Mesa Verde National Park has some of the best preserved, accessible ruins you can find
Ute Mountain Reservation - take part in a guided tour from the local Native American Tribe to hear about the history of this reservation first hand
Dixie National Forest - from Kanab take the I-89 North to detour to Dixie National Forest, it's more than worth it. Across nearly two million acres of beautiful woodland, head to Navajo Lake and take in the stunning mountain ranges
Zion National Park - If you love hiking, Zion National Park is for you, with the chance to walk along the 'Zion Narrows' footpath with towering rocks overhead. Afterwards cool off in the Virgin River, the perfect place for a swim
Moapa Valley - this scenic valley is ideal for a stop-off and leg stretch. The National Wildlife Refuge is well signposted with good trails taking in the scenic woodland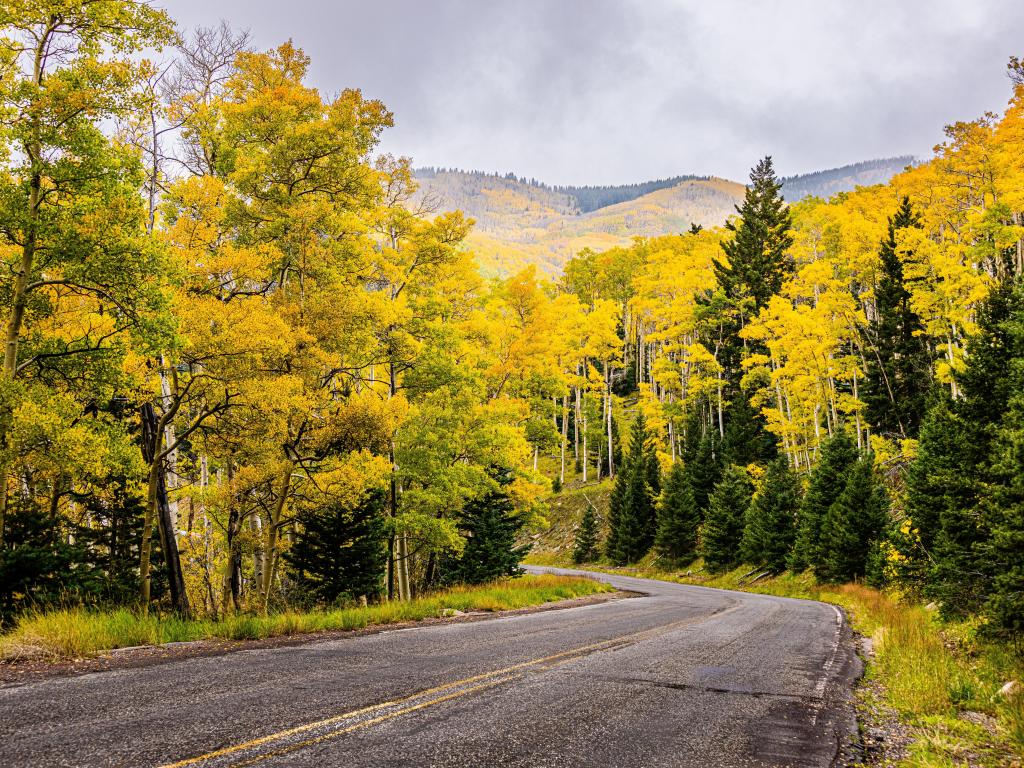 Best time to go on a road trip from Albuquerque to Las Vegas
While this road trip can be done year-round and there is a lot of entertainment in Las Vegas inside and nicely air-conditioned, there are many outdoor attractions en route and the weather might just be too hot to enjoy them fully.
Las Vegas itself can also get excessively hot during the summer months, with temperatures reaching 100 degrees Fahrenheit on average. These conditions make it a less popular time to visit. However, if you can find a hotel with a cooling pool, then it could be a good time for a visit as it is cheaper and quieter.
Winters in Las Vegas are cooler and without extreme weather, with December temperatures around 58 degrees Fahrenheit on average. January is also one of the quieter times to visit, after the busy Christmas and New Year period.
If you wrap up warm, then it could be a good time to visit with visitor numbers low and good deals to be had. There might not be the same amount of entertainment on show, but you can be sure you will find lots to do whatever month you visit.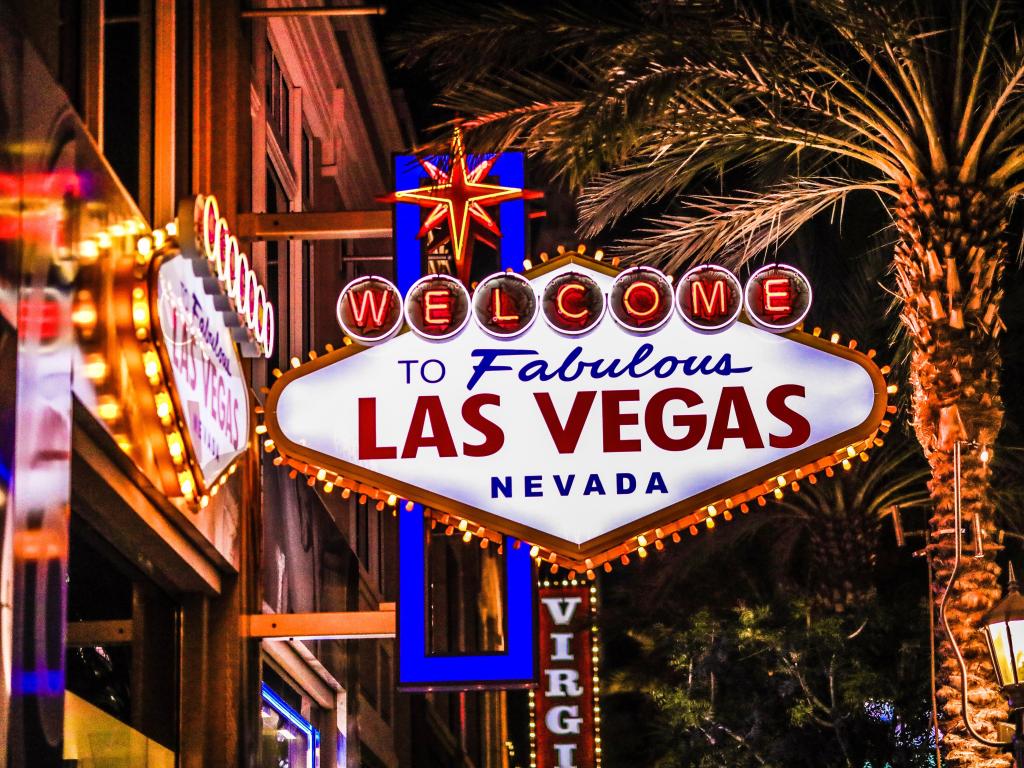 Heading to Las Vegas around March to May, and then November to December would still see you benefiting from warm weather. Temperatures during spring are usually around 75 degrees Fahrenheit, so plenty hot enough still for both inside and outside entertainment.
However, these are also the busy months where most tourists want to take advantage of warm days and pleasant evenings strolling along the Las Vegas strip. This means accommodation and tickets for events are at a premium, so heading here during this time needs a bit of research to get the best deals.
Las Vegas always has something going on, but if you visit during the peak season, you will get to enjoy the Electric Daisy Carnival in May and Life is Beautiful Las Vegas in September.