Road Trip from Albuquerque to Moab
If you are looking for a short but scenic trip that offers stunning desert landscapes, spectacular natural areas, valleys and mountain vistas then the drive from Albuquerque to Moab is ideal. Along the way you'll pass iconic parks, famous arches and be spoilt with breathtaking views.
The trip from Albuquerque to Moab takes less than 9 hours to drive and spans 460 miles. Key stops include Arches and Canyonlands National Parks plus Canyons of the Ancients National Monument, Pagosa Springs, Lemon Dam, Monument Valley and Santa Fe.
There's so many incredible places to visit on this epic drive, from breathtaking canyons and desert landscapes to history-rich towns and national parks. Read on to discover the best routes, places to stop and our favorite things to do between Albuquerque and Moab.
How far is Moab from Albuquerque, and how long will the road trip take?
Comparison of road trip routes between Albuquerque and Moab

| Route | Distance | Driving Time |
| --- | --- | --- |
| The Direct Route | 365 miles | 6 hours |
| Pagosa Springs Route | 460 miles | 8 hours 30 minutes |
| Monument Valley Route | 490 miles | 9 hours |
The most direct way to drive from Albuquerque in New Mexico to Utah's Moab will only take 6 hours and 365 miles to travel. That said, it isn't the best route to travel as you'll miss some of the stunning nearby attractions that make this trip so unique and special.
That is why we recommend taking either an eastern or western direction, both of which offer a great variety of activities to enjoy along the way.
Both routes are a similar distance, with our Pagosa Springs Route slightly shorter at 460 miles and taking 8 hours and 30 minutes to drive. Meanwhile, our alternative Monument Valley Route spans 490 miles and will take 9 hours of driving without stopping.
While you could drive to Moab in a single day, you won't get many opportunities to take in the incredible views from Arches National Park or enjoy the warm hot springs on our Pagosa Springs Route.
Instead, we suggest you take a leisurely approach and give yourself two to three days to really make the most of the desert and canyon-rich landscape that you'll pass.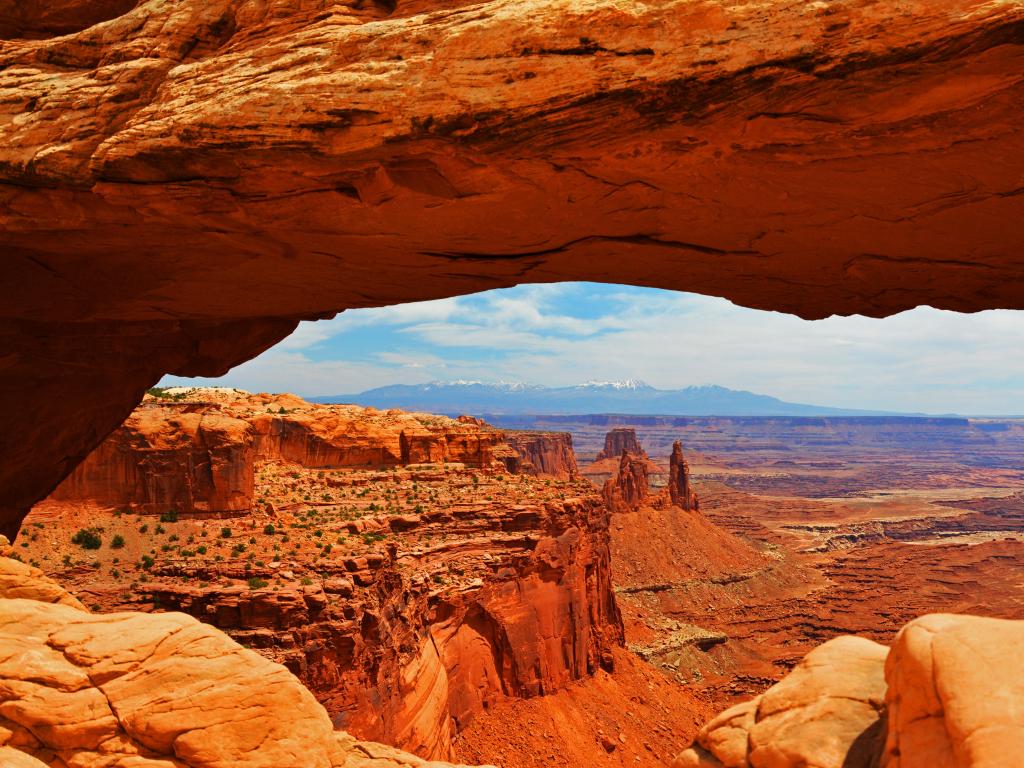 Best road trip route from Albuquerque to Moab
The best route from Albuquerque to Moab really will depend on what you'd like to get out of the road trip. If you're hoping to catch a view of the stunning Monument Valley in Arizona, then you'll definitely want to follow our suggested route with the same name.
However, if forests and lakes are high on your agenda, our Pagosa Springs option should be considered. It will take you through the beautiful San Juan and Carson National Forests, and then northeast from Albuquerque and through Santa Fe.
In comparison our alternative route is slightly longer but one huge draw is that it'll take you right alongside Monument Valley which is simply stunning. Other highlights include Bluewater Lake State Park and views of the San Juan River.
Regardless of which route you decide to follow, both options make the most of the most iconic and world-famous sites that surround Moab which include Arches National Park and Canyonlands National Park.
You might need to make a reservation for a timed-entry permit while visiting Arches National Park. Please check the national park's website for up-to-date information.
The Pagosa Springs Route
Begin at Albuquerque and head north on Interstate 25 (I-25), stopping at Sandia Crest en route to enjoy spectacular views. Follow signs for Santa Fe or detour to visit Bandelier National Monument.
Continue north passing Santa Fe National Forest and Carson National Forest on US-84 West. You'll pass several towns as well as Banded Peak to Pagosa Springs.
After a rest, continue west towards Lemon Dam, making a stop at San Juan National Forest. Follow the road towards Lewis and alongside Canyons of the Ancients National Monument and Lone Mesa State Park.
When you reach Monticello in Utah, head north on US-191 following signs for Moab, stopping at Canyonlands National Park along the way. From here you can spend time at Arches National Park too.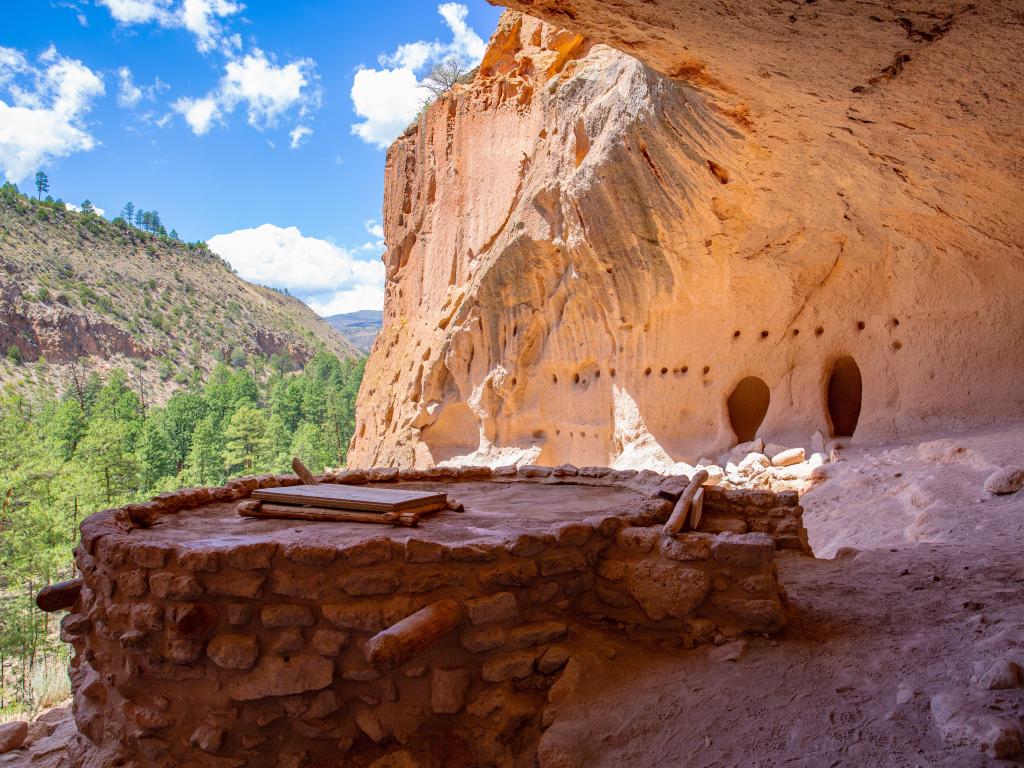 Monument Valley Route
Our alternative route will take you west from Albuquerque on I-40, passing north of Cibola National Forest and through several towns into Arizona.
Stop by Antelope House Overlook for incredible views, before heading north towards Monument Valley, passing Rough Rock and Kayenta first.
Once in Utah, you can drive to Glen Canyon National Recreation Area, otherwise, continue on US-63 to White Mesa and alongside several mountains including Twin Peaks East and Shay Mountain.
Drive north on US-191 where you'll pick up the above route the rest of your way to your destination of Moab.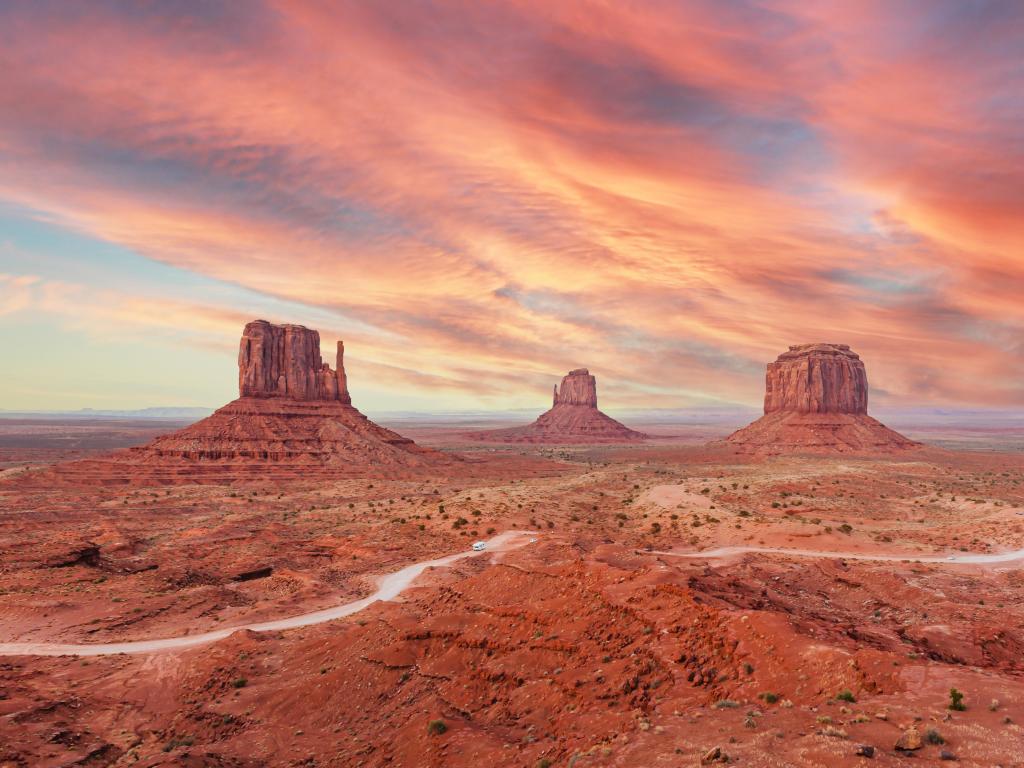 Best places to stop between Albuquerque and Moab
Although it's not a lengthy drive, this fantastic road trip does benefit from stopping overnight along the way. Here are a couple of suggestions for great hotels and stunning locations that you might want to consider when planning your drive.
Soak up the water at Pagosa Springs
Halfway between Albuquerque and Moab, you will find Pagosa Springs, which lends its name to our route. This lesser-known town is an outdoor lovers' paradise thanks to its beautiful scenery and great nearby activities which include hiking and skiing.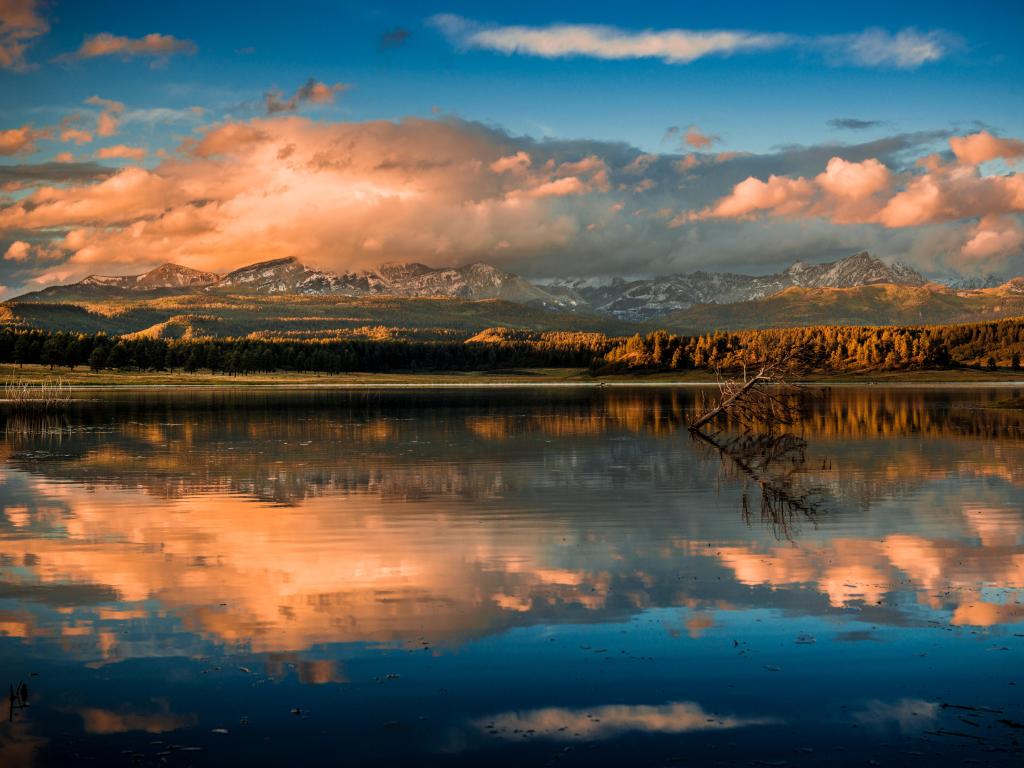 Pagosa Springs is probably best known as having the deepest geothermal hot spring which is even noted in the Guinness Book of World Records! The number one activity you have to try while driving through is to take a soak in these natural hot springs here.
While visiting this fascinating town be sure to explore Treasure Falls, a stunning waterfall that makes for a great hike and stunning views. If winter sports are your thing, you can also hit the slopes at Wolf Creek Ski Resort which is just a short drive away.
Given that one of the big draws of this town is water, then the Healing Waters Resort and Spa makes an ideal base for the night. This charming resort is ideally located in downtown Pagosa Springs, which will allow you to access the hot springs easily.
Just five miles from San Juan Forest and surrounded by wooden cabins, this hotel is a real retreat with a heated mineral outdoor pool and indoor hot baths to enjoy. There are limited rooms and given its luxurious amenities, we'd recommend booking this popular resort early.
An outdoor retreat at Bluff
Just two hours away from Moab, an ideal stop on our Monument Valley Route is Bluff, a beautiful part of southeast Utah which offers high-quality hotels, restaurants and modern amenities yet is surrounded by beautiful natural scenery.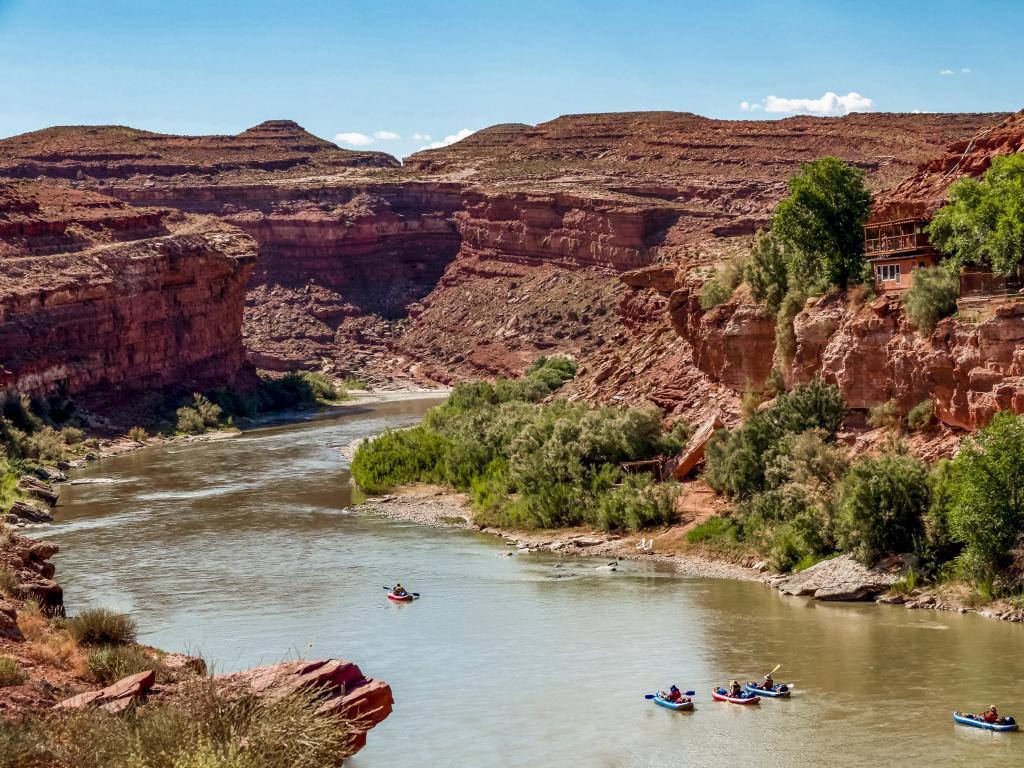 If you're looking for a final rest before reaching Moab and exploring its nearby national parks, then a top hotel choice is the Desert Rose Resort and Cabins. This chic hotel has a welcome indoor pool, lodge-style accommodation and rooms with adjoining patios, which offer the perfect place to enjoy the views.
As an added bonus, the hotel features a beautiful communal lounge with an impressive fireplace. You're also just 40 minutes away from Monument Valley and within easy access of Hovenweep National Monument and Goosenecks State Park.
A major draw to this area is the San Juan River which flows through Bluff and is part of the Ancient Trails Scenic Byway. You will also be nearby the "Valley of the Gods", which attracts film teams from all over the world.
If you're looking to explore more of the great outdoors, then you could visit 16 Room Cliff House. This interesting ruin is incredibly scenic and features hiking trails, which might be challenging to beginners.
Mountain views at Moab
As Moab itself is known as a gateway to the stunning Arches National Park, as well as being within easy reach of Canyonlands National Park, it makes sense to stop at least one night in the city to enjoy undisturbed visits to the surrounding natural wonders.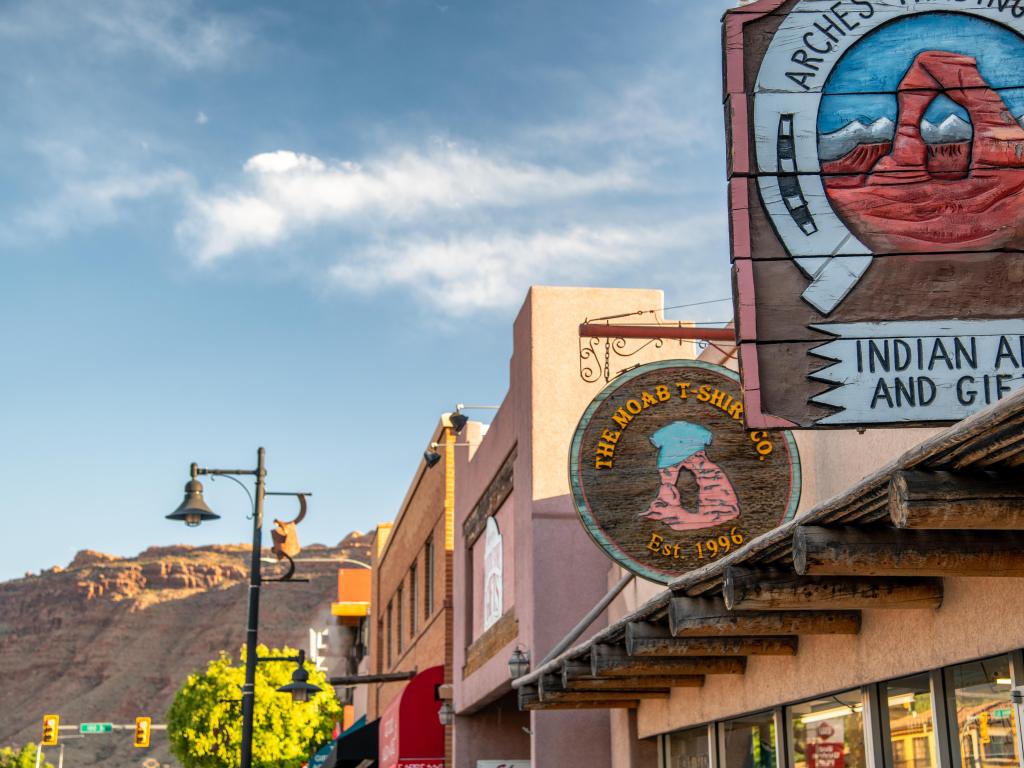 The Hoodoo Moab, Curio Collection by Hilton is an exceptional hotel. Surrounded by mountains and incredible scenery, this stunning hotel also features a fabulous outdoor pool where you can relax and soak in the serene beauty of the mountains.
Spend the night watching the mountains from your balcony (select rooms only) or enjoy a meal at the hotel's upscale restaurant to save you some getting back in your car. With Arches National Park, Canyonlands National Park and Castle Valley all just a short drive away, you might just want to stay the week!
Things to see on a road trip from Albuquerque to Moab
If you're limited on time but want to see the best bits between Albuquerque and Moab, then our list of some of the area's highlights should help you plan your trip.
Both Routes
Arches National Park - An incredible scenic park, Arches National Park is ideal for those looking for stunning views, great hikes or just to explore the landscape. You might need to make a reservation for a timed-entry permit while visiting Arches National Park. Please check the national park's website for up-to-date information.
Canyonlands National Park - A wonderful park for photographing wildlife and other natural subjects, Canyonlands National Park features beautiful, expansive vistas that can be seen from the canyon.
Hole 'N' The Rock - This roadside attraction is in Utah and is a unique spot to visit, centered around a cliff sandstone home, there's even a petting zoo to visit making it a great place for families too.
Spruce Tree House - The cliff dwellings are truly one-of-a-kind and are well worth the effort required to get there. Near the Spruce Tree House there are also two artificial waterfalls that appear and disappear instantly.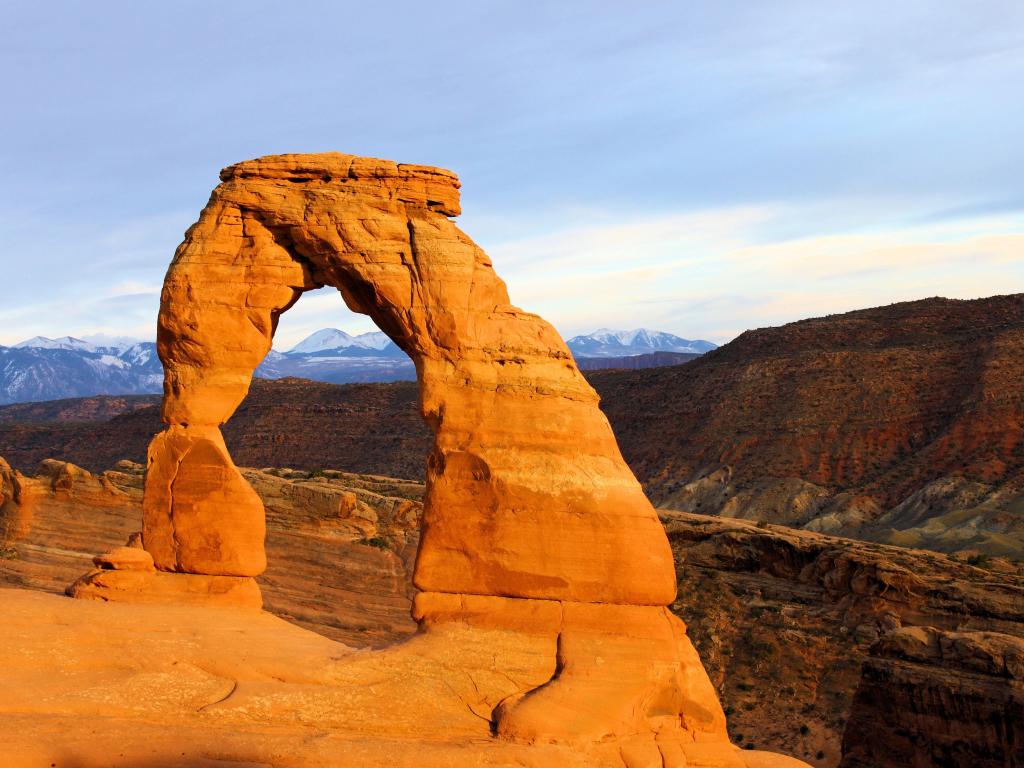 Pagosa Springs Route
Santa Fe - This large city in New Mexico is a great place to stop along the way. With stunning architecture and surrounded by the southern Rocky Mountains, it offers urban vibes while being a gateway to the great outdoors.
Bandelier National Monument - Here you'll discover over 33,000 acres of rugged and beautiful canyons, including the homes carved into the cliff face that were once home to tribal nations.
Rocky Mountain Wildlife Park - This park has a great zoo which makes an ideal family activity. You'll find grizzly, wolves, black bears, and even a mountain lion which can all be spotted along the Horseshoe Route hiking trail.
San Juan Historical Museum - The collection of fascinating structures, informative panels, and beautiful images here make this a true gem. The museum is home to some of the best leisure facilities in the city.
Nathan's Hippy Dip Hot Spring - This quirky destination in Pagosa is a great place to visit if you'd like a quick dip in the spring. The water averages a toasty 104 degrees Fahrenheit!
Pagosa Springs Town Park - The park is conveniently located in the heart of the city and is a nice place to enjoy a walk by the river on a hot day. There is a nice grassy area for children to play in, a paved walking path by the river, spotless facilities, and several picnic tables.
Lemon Dam - This historic landmark in Colorado is tucked away in the San Juan National Forest and features a little dam which contains a lake. The reservoir itself is a beautiful spot where you can enjoy a quiet walk or enjoy the local wildlife.
San Juan National Forest - You won't run out of forest to explore at this 1.8-million-acre site. The San Juan Forest has everything from high-desrt mesas to alpine peaks, stunning lakes to incredible waterfalls.
Canyons of the Ancients National Monument - Off the beaten path, this stunning area features a national monument located in Colorado. See the breathtaking landscape, take a hike or simply admire the ancient sites which feature cliff dwellings, villages and rock art.
Mesa Verde National Park - You'll find Mesa Verde National Park at southwest Colorado. Famous for its huge Cliff Palace and other well-preserved Ancestral Puebloan cliff dwellings, this national park is a designated World Heritage Site and is well worth the hike.
Purgatory Resort - Ideal for winter sports fans, Purgatory Resort is a ski resort in the San Juan Mountains which averages 260 inches of snow each year, making it the perfect place for skiers and snowboarders.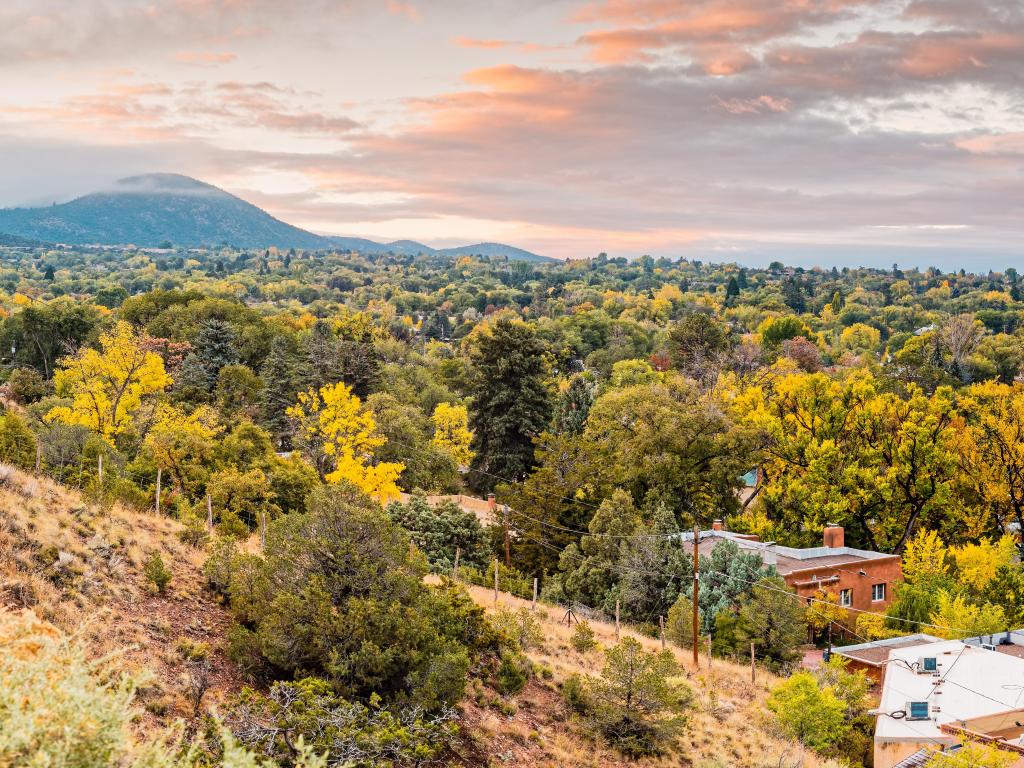 Monument Valley Route
Turquoise Museum - Anyone with a fondness for turquoise should make the trip to this unique museum. There will be minimal interaction with the tour guides due to the nature of the tour itself. Enlightening!
ABQ BioPark - The aquarium, botanical garden, zoo, and beach are among the exhibits at this museum dedicated to environmental preservation.
Cliff's Amusement Park - While not a huge amusement park, Cliff's Amusement Park has some fantastic rides that everyone, from toddlers to teenagers to adults, will enjoy.
Antelope House Overlook - This stunning view in Arizona is breathtaking. Enjoy canyon vistas or take the 0.4 mile loop trail around the rim to see the Antelope Ruins.
Glen Canyon National Recreation Area - There are tons of things you can do in the vast park, including water sports and great hikes. The area encompasses Lake Powell and offers stunning and rugged terrain with incredible views.
Black Hills Mining Museum - This is the place for you if you are interested in mining history and are passionate about exploration and development.
Roosevelt Park - This pleasant park is a great place to relax and take a rest from the roadside. There are comfortable places to sit and enjoy a picnic, while the large trees provide pleasant shade. Kids can burn off some energy on the available playground too.
Telephone Museum of New Mexico - The invention of telephones occurred around the same time in New Mexico's past. This fantastic museum, especially considering where it is, offers some great exhibits that make for a fun afternoon.
Monument Valley - The highlight of this route is Monument Valley, which is iconic thanks to its red-sand desert and towering sandstone buttes. The park is also a well-known filming location and is one of the most iconic landscapes in the whole of America.
Bluff - This small town in Utah offers a lot of amenities, as well as being close to the stunning Monument Valley and Sand Island Petroglyphs. Enjoy a walk alongside the Ancient Trails Scenic Byway or catch a sunset by the San Juan River that runs through it.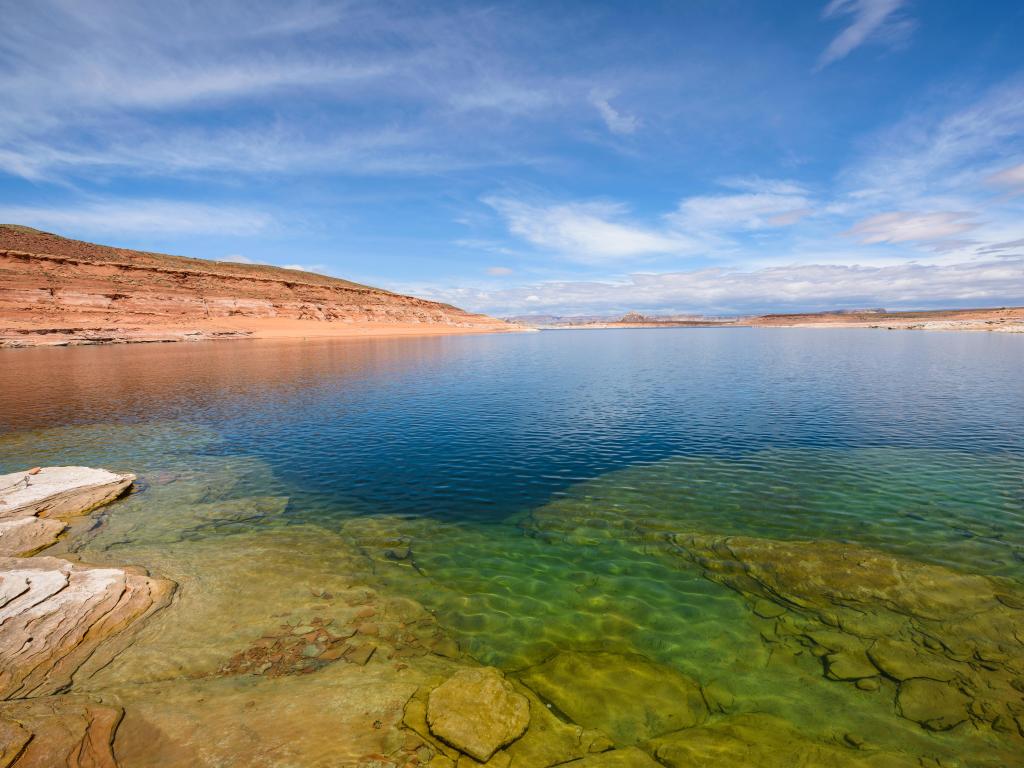 Best time to go on a road trip from Albuquerque to Moab
The most popular months to visit Moab are between September and October. While you can make the road trip year-round, the best time to visit will much depend on what you'd like to get out of it and the kind of places you'd like to visit along the way.
July is typically the hottest month in Moab. Overall, July sees highs of around 99 degrees Fahrenheit. The national parks near Moab can get even hotter and finding shade in the middle of the day can be challenging, so it's best to avoid them during the hottest part of the day.
Meanwhile, September still sees high temperatures but fewer visitors than the summer months, so if you'd like warm sunshine but with fewer crowds, you'll definitely want to avoid July and August.
In contrast, Moab can experience some very chilly temperatures in winter with lows of 52 degrees and dropping to around 26 at night. If you're looking to spend some time skiing in the mountains, this is a great time to travel, though remember to bring extra layers for the evenings.
April and May are great months to visit, not only will the spring offer the most pleasant weather (around 80 to 90 degrees), you'll get fewer crowds and be able to enjoy a wide variety of activities. Early fall is much the same, with stunning foliage to be enjoyed along the way.
There are some fantastic events held in Moab if you're looking to tie in a festival to your trip. In the summer, you can attend the Moab Free Concert Series or the 2022 Red Rock Arts Festival held in October, which is a four-day arts festival.