Road Trip from Albuquerque to New Orleans
It's time to hit the road on an epic road trip from Albuquerque to New Orleans. You'll get to experience mesmerizing desert canyons, sun-lit vistas, endless music and entertainment, the world-famous nightlife and cuisine of New Orleans, and so much more.
The 1,220-mile road trip from Albuquerque to New Orleans will take 19 hours to drive nonstop. You'll get to visit Santa Fe, Amarillo, Austin, Dallas, Shreveport, Natchez, Houston, Beaumont, Lafayette, Baton Rouge, Cadillac Ranch and Caddo Lake.
From top vacation destinations like Santa Fe to the music and endless fun of Texas' big cities, you will have the journey of a lifetime. Read on to learn more about the best routes, where to stay, and the spectacular highlights to explore on the way.
How far is New Orleans from Albuquerque, and how long will the road trip take?
Comparison of road trip routes between Albuquerque and New Orleans

| Route | Distance | Driving Time |
| --- | --- | --- |
| The Austin Route | 1,220 miles | 19 hours |
| The Dallas Route | 1,260 miles | 19 hours 40 minutes |
There are two great routes that will take you from Albuquerque to New Orleans. Both will take you from the desert southwest, through Texas, and into the culturally rich Gulf Coast.
On the Austin Route, you'll cover 1,220 miles with 19 hours of driving time. This route will take you through Austin and Houston, Texas, on your way to New Orleans.
The Dallas Route will take you 1,260 miles through cities like Santa Fe, Amarillo, and Dallas. You'll be on the road for 19 hours and 40 minutes without stoppi so much to see and experience along the way, we recommend taking five to seven days for this road trip. Continue on below to learn more about the routes, places to stay, and things to do along the way.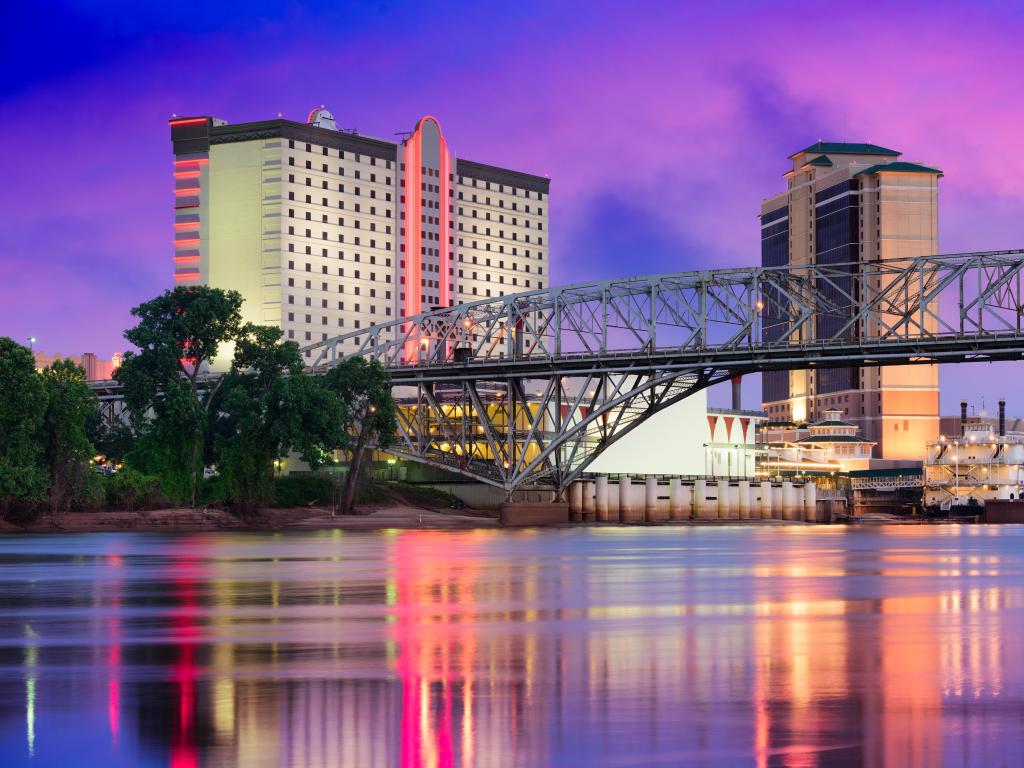 Best road trip route from Albuquerque to New Orleans
Along both routes, you'll encounter amazing landscapes, fun cities full of culture and nightlife, and beautiful natural areas to hike and pass time in. Depending on your agenda, both routes will be full of amazing highlights.
The Austin Route takes you through the heart of Texas to the state capital of Austin and Houston, the biggest city in the state. You'll also pass through other charming towns and small cities in Texas and Louisiana.
On the way, you'll get to see the vast diversity of the Texan Landscape. You will also experience the famous swamps and bayous of South Louisiana on this route.
The Dallas Route takes you through the food and art hub of Santa Fe, then into Dallas, and to the natural paradise of Natchez. This route is full of history, art, food, entertainment, and plenty of opportunities for hiking and camping.
You'll drive past bright red canyons and rock features before entering the long stretches of open spaces and then into one of the most beautiful wetland forests in North America.
Also, you have the option to drive part of the Natchez Trace Parkway on this route, a beautiful scenic drive stretching from Natchez to Nashville. Our detailed guide will give you all the information you need on planning a drive on this historic parkway.
The Austin Route
From the beautiful city of Albuquerque, head east on Interstate 40 (I-40) through the rugged and beautiful landscapes of New Mexico. Take a turn southeast towards the Texas border and drive into the charming town of Lubbock.
From here, continue southeast towards Austin. On the way, you'll pass several charming small towns and fun nature areas to explore. Continue driving on the route until you reach Austin.
After experiencing the music, food, and entertainment of Austin, head back on the route towards I-10. Once you get on I-10, drive east to the big city of Houston.
From Houston, continue on through Beaumont, Texas and into the state of Louisiana. Drive through the lush forests and natural areas into the cities of Lafayette and Baton Rouge. Continue on to your destination of New Orleans and the beautiful Mississippi River Delta.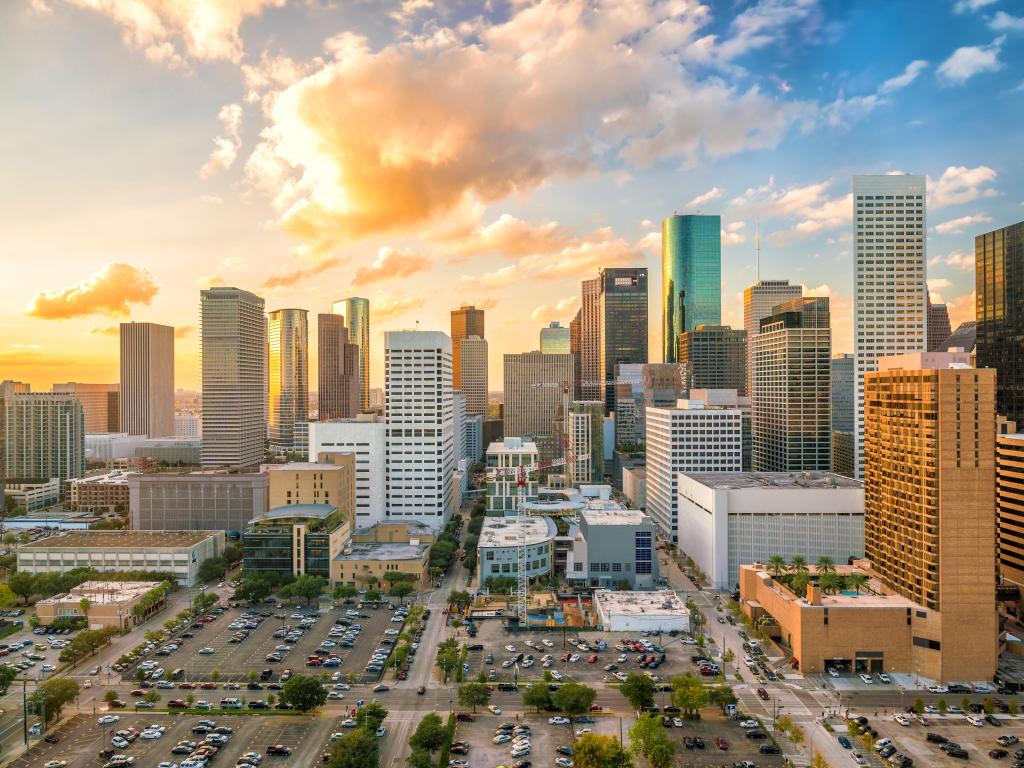 The Dallas Route
Starting from Albuquerque, head north into the historical city of Santa Fe. After getting lost in the food and art scene of Santa Fe, continue on to I-40 and drive into Texas.
From Amarillo, head southeast. Continue driving through the Texas panhandle and the beautiful small towns and communities of central Texas. Drive on further south and into the city of Dallas.
Enjoy your time in Dallas, Texas, and continue on the route. Take I-20 into northern Louisiana and the town of Shreveport.
From here continue on route to the natural paradise of Natchez, Mississippi. Drive along the beautiful shores of the Mississippi River, south into Baton Rouge.
From Baton Rouge, head southeast on I-10 along the winding Mississippi River. Continue on past the beautiful lakes of the Mississippi Delta and into the great city of New Orleans.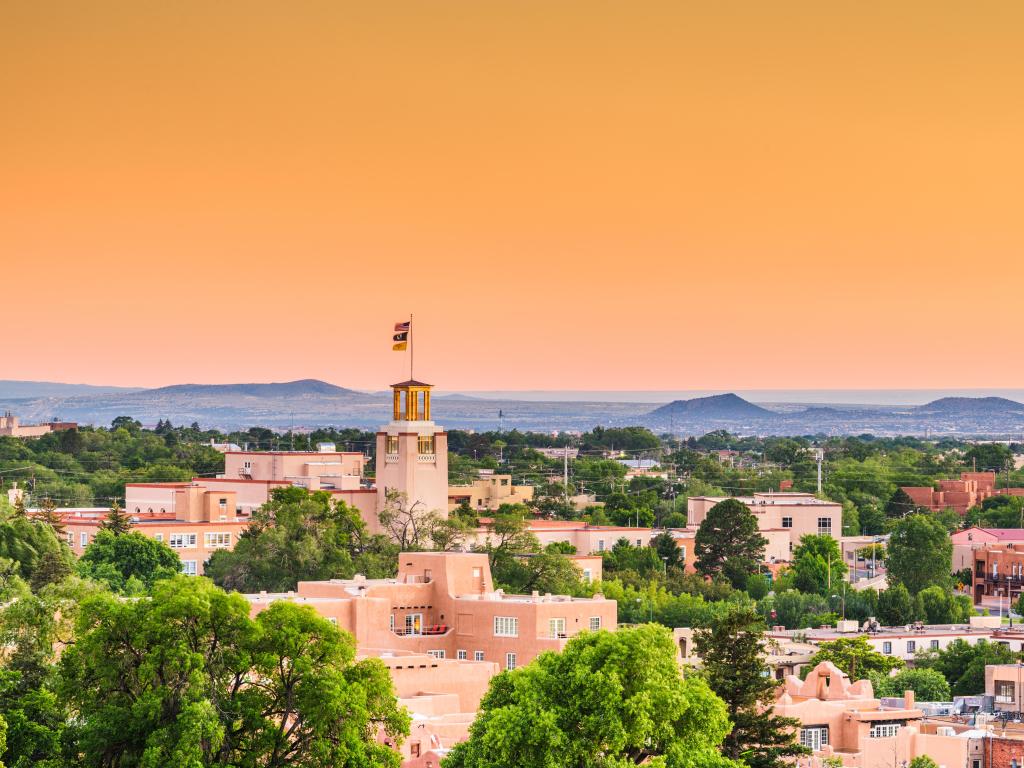 Best places to stop between Albuquerque to New Orleans
From Albuquerque to New Orleans, you'll have plenty to experience, from seeing the sun set over the red rock formations of New Mexico to dancing in the streets in New Orleans.
To get the most out of this road trip, you're going to want to make a few stops on the way. Below are our recommended stopovers and places to stay to help you make the most out of this one-of-a-kind journey.
Delve into the rich history of Austin
Just over halfway on the Austin Route is Austin, the capital of Texas. Not only is it the State capital, but many people consider it the Live Music Capital of the World. The city has the most live music venues per capita, and you can also be sure to find unlimited food trucks, restaurants, bars, and tiny eateries to help fill you up in between shows.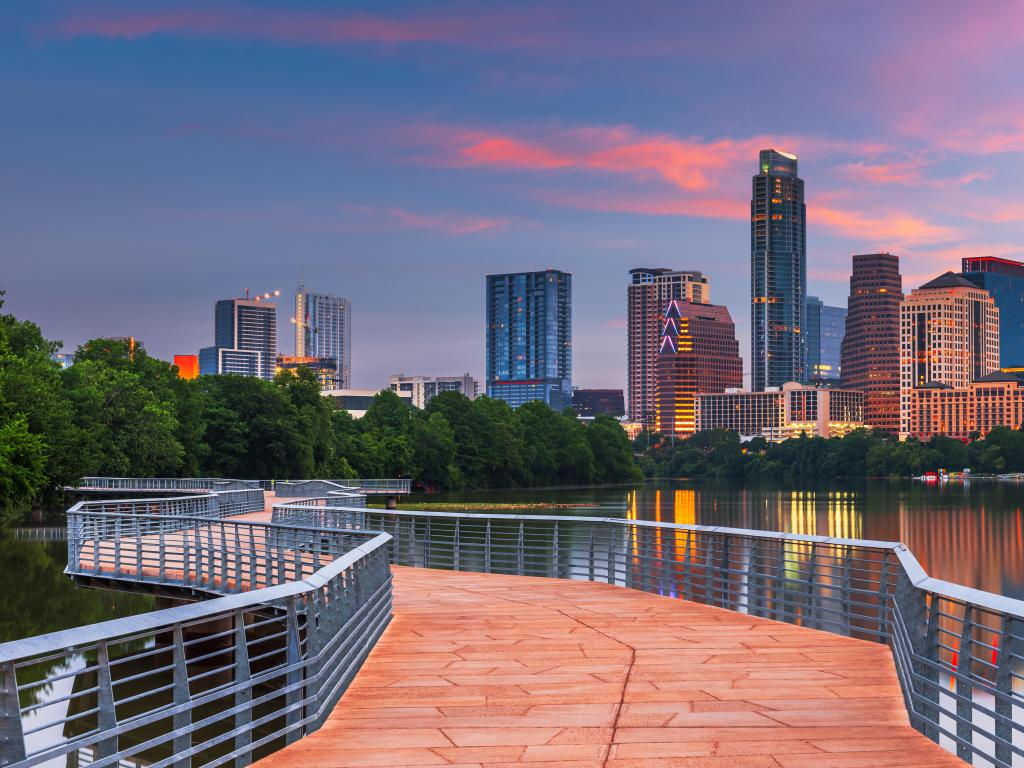 One of the most popular sites in Austin is the State Capitol and Visitors Center. Dating back to 1888, this impressive building is now a National Historic Landmark and is even taller than the US Capitol in Washington, DC.
Another fantastic addition to your tour of Texas history is the Bullock Texas State History Museum. Here, you can learn about the history of Texas through modern and interactive exhibits that are fun for the whole family.
If you need an escape into nature, you will find plenty of opportunities in Austin. The city has plenty of parks and fun activities inside the city and just nearby. One of the most beautiful places to get lost in nature is Lady Bird Lake. This beautiful recreational site has many walking trails to escape the big city.
Once you reach your destination, we recommend staying at the beautiful Archer Hotel Austin. The hotel's luxurious decor gives it a very personal feel and the location and amenities will surely impress.
To help you relax, you have access to the outdoor pool and lounge area, perfect to unwind after a day driving and to escape the city. Inside the hotel is a popular restaurant that serves locally sourced food in a farm-to-table style.
Nearby, you can access many restaurants, museums, bars, concert venues, and parks such as St Edward's Park and the Walnut Creek Metropolitan Park. With so much to see and do around the hotel, you're sure to have a jam-packed and fun time in one of America's top entertainment destinations.
Urban vibes and arts in Dallas
As you pass the halfway mark on the Dallas Route, you'll arrive at the city that gave this route its name. Dallas lies perfectly along the route and is a great location for taking a break from driving. If you love art, cuisine, and nightlife, Dallas is the place to be.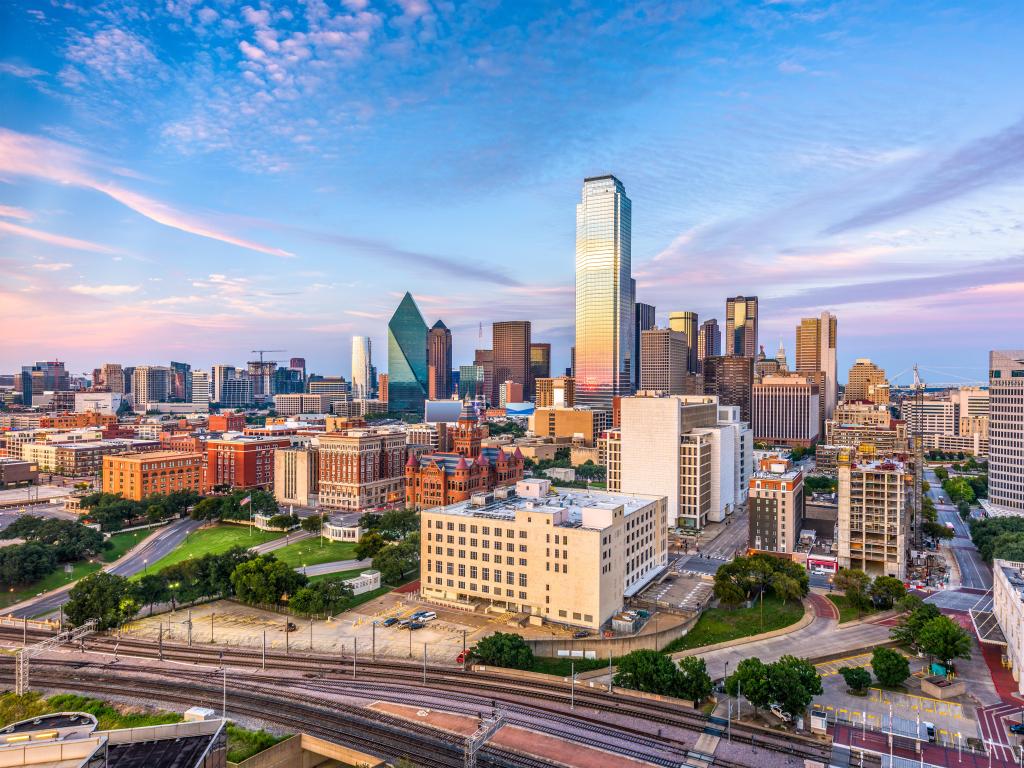 To start your exploration into the city's thriving arts scene, head over to the Dallas Arts District. Here you can experience the hub of Dallas' art scene and shop at cute pop-ups and support local artists.
For a more global take on the arts, head to the Dallas Museum of Art. A trip to Dallas wouldn't be complete without visiting its most famous art gallery, featuring various displays of art through the ages and across the world.
In addition to its art scene, Dallas has plenty of other museums to explore. One of the most popular is the Sixth Floor Museum. This iconic landmark tells the story of JFK's assassination from many perspectives. You can even stand at the window that Oswald fired from.
Dallas is a massive city, but it has plenty of natural areas too, just in case you need to get away. One of the most beautiful green spaces is the Dallas Arboretum and the Botanical Garden. This is a great place to escape the city with many gardens and beautiful plants from all over the world.
When you get to Dallas, we recommend resting at the luxurious 4-star Lorenzo Hotel. This uniquely designed hotel has plenty of amenities and has great spaces for relaxing, like open common spaces, and an onsite restaurant. Once you've unpacked, head to the on-site bar for some drinks or go for a swim in the outdoor pool.
If you value location, this hotel is perfect as you're only a walking distance away from many attractions, such as the Sixth Floor Museum, Pioneer Plaza, and the Dallas Museum of Art. You're also just a short drive from the major highway on your route, so getting back on the road will be incredibly easy.
Where to stay when you reach New Orleans
When you reach New Orleans, we recommend relaxing in style at the beautifully designed Hotel Peter and Paul. This hotel has a unique blend of antique and modern styles and is decorated with luxurious furniture and comfy beds.
Inside the hotel is a lovely restaurant and bar that serves delicious Cajun cuisine and adventurous cocktails. Guests rave about the hotel's beautiful terraces and open halls that are perfect for relaxing after a long drive.
Once you've had your relaxation, it's time to head out for the sights of New Orleans. The hotel sits just a few blocks from the Mississippi River, in the heart of the city and also close to the famous French Quarter. Your walking distance to many attractions such as View Carre Historic District, Louis Armstrong Park, New Orleans Jazz Museum and many more.
Things to see on a road trip from Albuquerque to New Orleans
This road trip will provide plenty of memorable stops, museums, viewpoints that seem endless, and lovely cultural gems along the way. Below is a list of our favorite stops along the way, to help you make the most out of this incredible journey of a lifetime.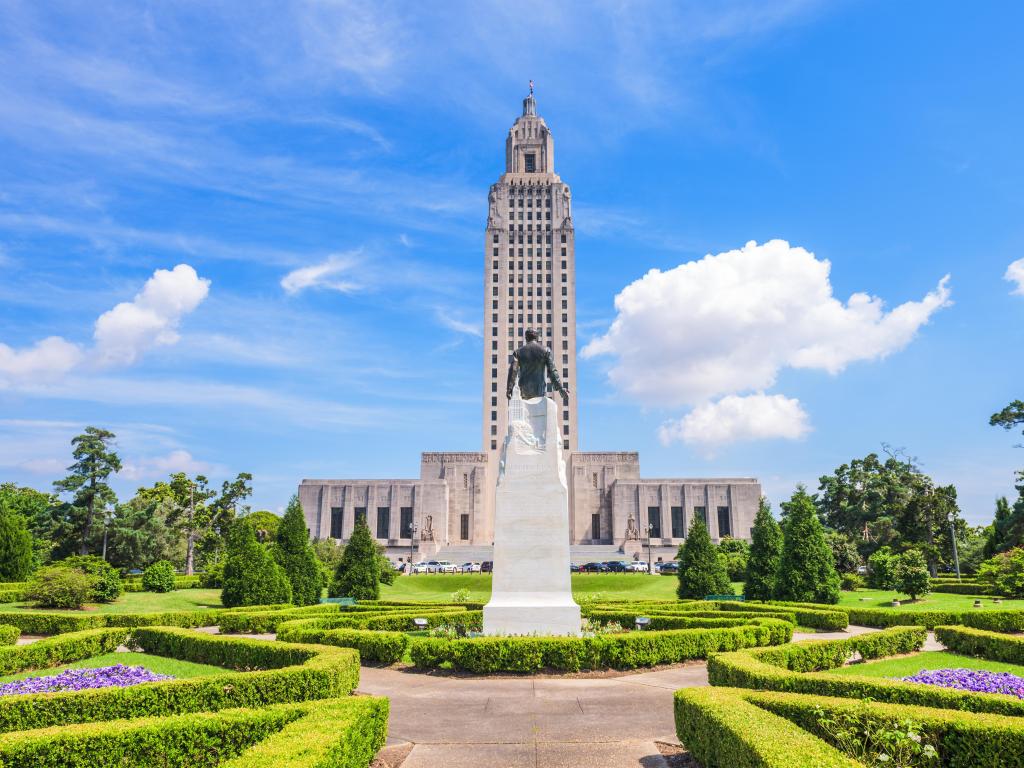 The Austin Route
Gator Country - See real life alligators and learn about how they live and feed and learn about these fascinating creatures from a safe distance.
Vermilionville Historic Village - 18th-century homes that have been restored into living homes with various events and tours. Perfect place to stop for history buffs and for a photo op!
Cajun swamp tours - Experience turtles, alligators, and various birds in their natural habitat as well as take a boat down the famous waterways of Louisiana.
Jungle Gardens - A huge 200 acres expanse of land full of flowers and trees and features a bird sanctuary and Chinese Garden. If you are looking to stretch your legs as you unwind, this is the place to visit en route.
TABASCO Factory Tours - Visit the place where the famous sauce is crafted and learn about the process. You can also buy souvenirs and sample the sauces.
Louisiana's Old State Capitol - Visit the old state house which is now turned into a museum in its amazing castle-style building.
Louisiana State Capitol - The tallest capitol building in the country and one you can enter for amazing views of the city.
Houmas House and Gardens - Old plantation which is now open to the public with beautiful gardens around a Greek-style building, you will feel as if you have been teleported in time.
Oak Alley Plantation - Former plantation with various exhibits on the history of the area and the cultivation of sugarcane.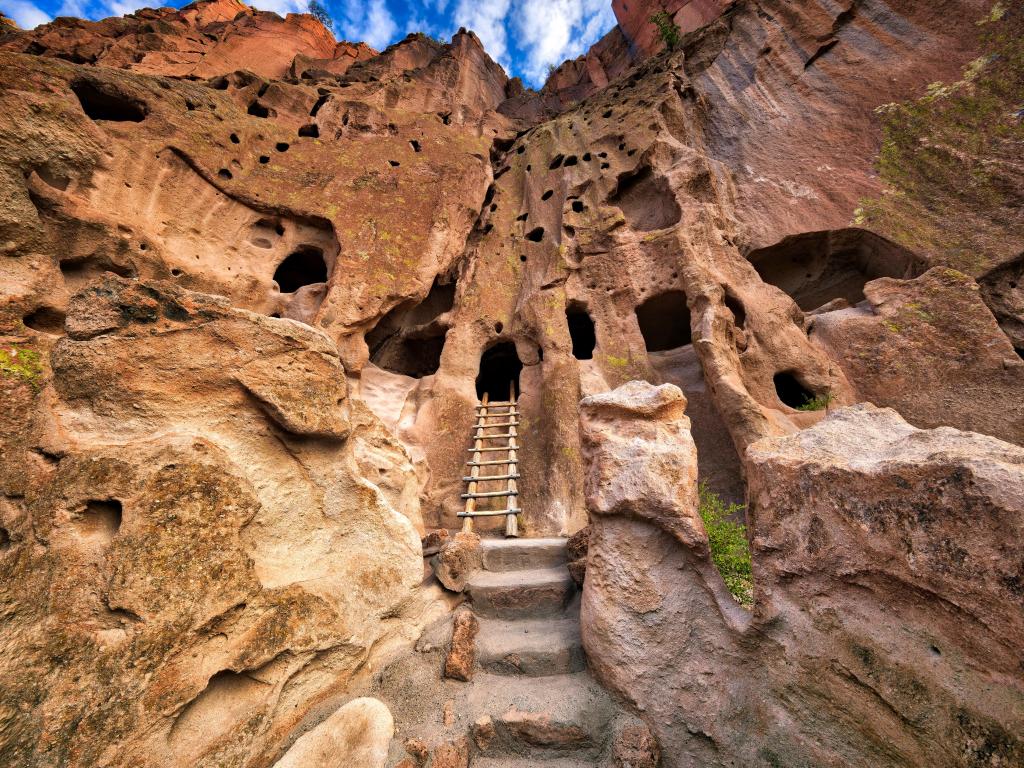 The Dallas Route
Bandelier National Monument - Dating back 11,000 years, these ancient human settlements can still be viewed today. Tours are available and are wonderful ways to learn more about the site's history from an expert.
El Rancho de las Golondrinas - Working and functioning Spanish village where you can see the life of the local Spanish population before being taken over by the British/States.
Georgia O'Keeffe Museum - Informative museum detailing the life and works of the poet with the same name.
Canyon Road - The center for Santa Fe's world-famous art scene featuring over 100 galleries.
Cadillac Ranch - Roadside art installation containing many vintage Cadillacs sticking out of the ground and covered in graffiti.
Palo Duro Canyon State Park - This incredible State Park features a 60-mile-long ravine with various activities, events, and hiking trails.
Lucy Wichita Falls Park - Pretty waterfall with a pool and hiking trails.
Purtis Creek State Park - Beautiful state park sitting on a small lake with opportunities to boat, fish, swim, hike, etc.
Splash Kingdom Paradise Island - Great for kids! Large waterpark with fast-moving slides and a wave pool.
Kilgore College East Texas Oil Museum - Learn about the Texan oil boom that took place in the 1930s.
Caddo Lake State Park - Experience the famous swamps of the area and all the wildlife that comes with it, including alligators, birds, and fishing opportunities.
Sci-Port Discovery Center - Huge interactive science museum for adults and kids stretching over 92,000sq.ft.
Cajun Pride Swamp Tours - Tour the famous swamps and stay in this private refuge where you will experience nature up close. Take a boat on the water and see where the bayou takes you.
Natchez Trace Parkway - A beautiful 444-mile scenic drive that stretches over three States. You can drive a small section of this amazing road without too much detour.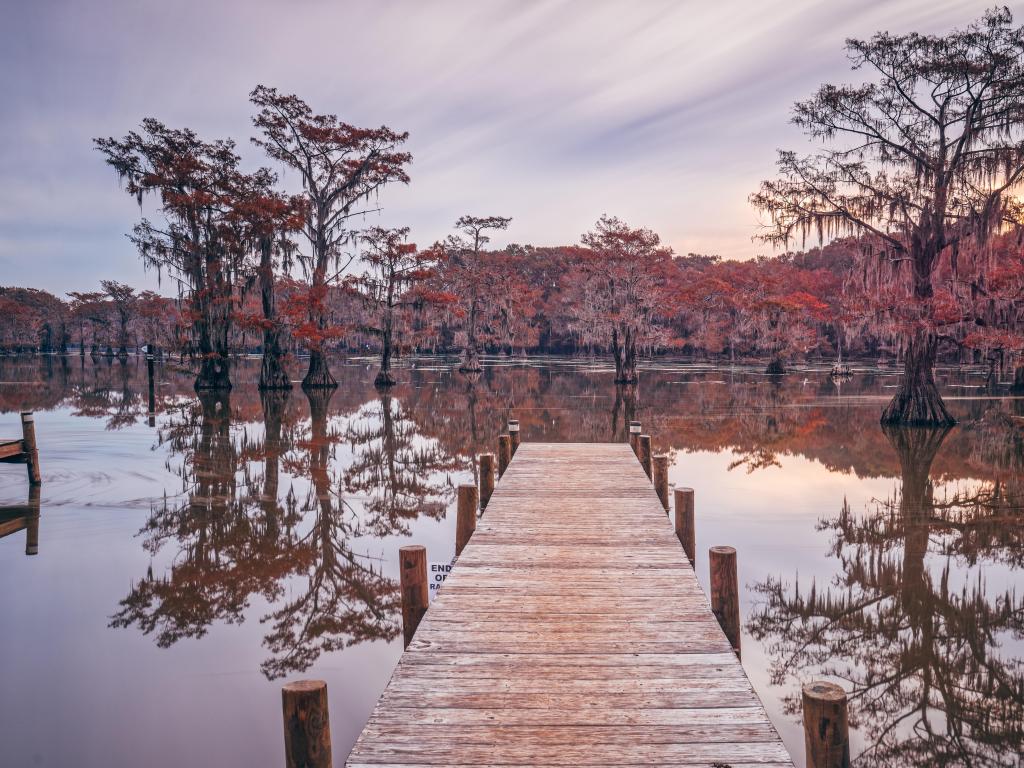 Both Routes
Route 66 Museum - Fun little museum with many old cars on display as well as Route 66 memorabilia.
Billy the Kid Museum - A great museum following the famous story of Billy the Kid, a wonderful place to stop by and take a break from the driving.
Best time to go on a road trip from Albuquerque to New Orleans
New Orleans is a great destination year-round. Temperatures are mild in the winter and there are many indoor attractions, such as jazz nights and museums to explore when the weather is bad. There is also always something going on in New Orleans, so you won't be disappointed whichever time of year you visit.
It gets very hot in the summer, with temperatures ranging from 76 to 92 degrees Fahrenheit. Summer also brings the most rainfall, so bring a raincoat, although the rain can be quite refreshing to escape the heat.
There will be countless festivals and markets during this season, and it is likely to be quite busy. Contrary to many destinations, the summer months are considered the 'off season' so it won't be too crowded.
Visitors and locals often describe New Orleans as 'magical' during the wintertime as the city decorates itself with bright lights that reflect in the water. There won't be many tourists in winter, so it is the perfect time to explore the city.
Temperatures can range from 50 to 70 degrees Fahrenheit, and it may rain a bit. That being said, there will still be many events around the city so you'll be sure to find plenty of fun and excitement.
With temperatures rivaling most places in summer (60 to 85 degrees), fall and spring are the most popular times to visit New Orleans. There will be many festivals happening around this time, and it may get busy, so factor that into your plan.
These seasons also have the lowest rainfall of the year, which is another enticing factor for people to visit this time of year.
New Orleans is famous worldwide for its love of festivals that happen throughout the year. Spring sees the world-renowned Mardi Gras celebration in March, the French Quarter Festival in April, and the New Orleans Jazz and Heritage Festival in May.
If you come in summer or fall, check out the Tales of the Cocktail festival in July, Satchmo Summerfest from July to August, the French Market Creole Tomato Festival in July, White Linen Night in August, and the incredibly fun Crescent City Blues and BBQ Festival in October.