Road Trip from Albuquerque to Salt Lake City
On this incredible road trip from Albuquerque to Salt Lake City, you'll witness unbelievable desert landscapes, magnificent mountains and culturally rich cities. This adventure is perfect for those wanting to immerse themselves in amazing scenery and national forests.
The 670-mile road trip from Albuquerque to Salt Lake City will take 12 hours to drive nonstop. Notable stops are Provo, San Juan National Forest, Million Dollar Highway, Moab, Arches National Park, Canyonlands National Park, and Grand Junction.
Each route has something special and unique to enjoy. Read on to learn about our recommended routes, what to see, and where to stay on your way from Albuquerque, New Mexico to Salt Lake City, Utah.
How far is Salt Lake City from Albuquerque, and how long will the road trip take?
Comparison of road trip routes between Albuquerque and Salt Lake City

| Route | Distance | Driving Time |
| --- | --- | --- |
| Million Dollar Highway Route | 670 miles | 11 hours 30 minutes |
| Arches National Park Route | 670 miles | 11 hours 30 minutes |
The Million Dollar Route will take 11 hours and 30 minutes of driving time and cover 670 miles.
The second route, Arches National Park Route, will take you exactly the same amount of time and miles to cover. However, if you are not planning on visiting Canyonlands National Park as a detour, the travel time will be an hour less.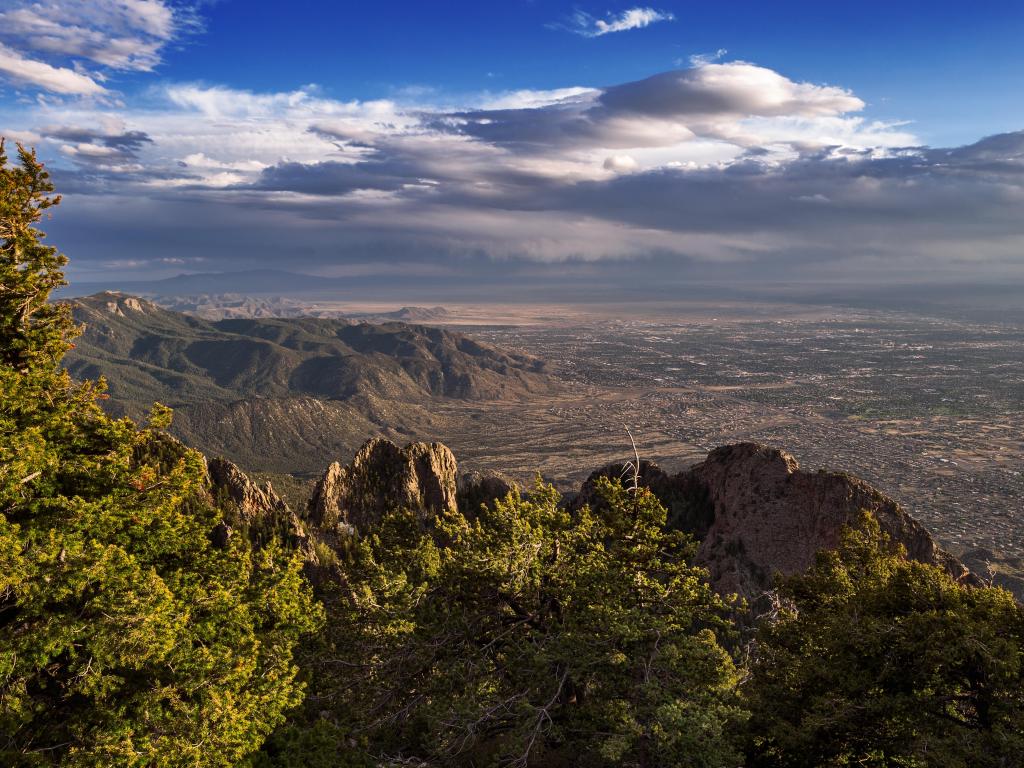 Because of the diverse landscapes and incredible sights you'll experience along the way, we recommend two to four days for this road trip.
Either route you choose, you'll be taking well maintained roads through some of the most incredible landscapes in the United States. Read on to learn more about our recommended routes to help you on your trip.
Best road trip route from Albuquerque to Salt Lake City
There are two excellent routes for this journey. The Million Dollar Highway Route will take you right through the heart of the Colorado mountains, providing many roadside viewpoints as well as hundreds of breathtaking hikes to enjoy.
On the Million Dollar Route, you'll drive down one of the USA's most famous roads, the Million Dollar Highway. You'll also see beautiful hikes and many incredible viewpoints on the way.
This route is a beautiful balance between the desert of New Mexico and the lush green forests of Colorado. What's more is that you'll visit some interesting towns along the way such as Grand Junction and Price and sample local wines when passing through Colorado's wine region.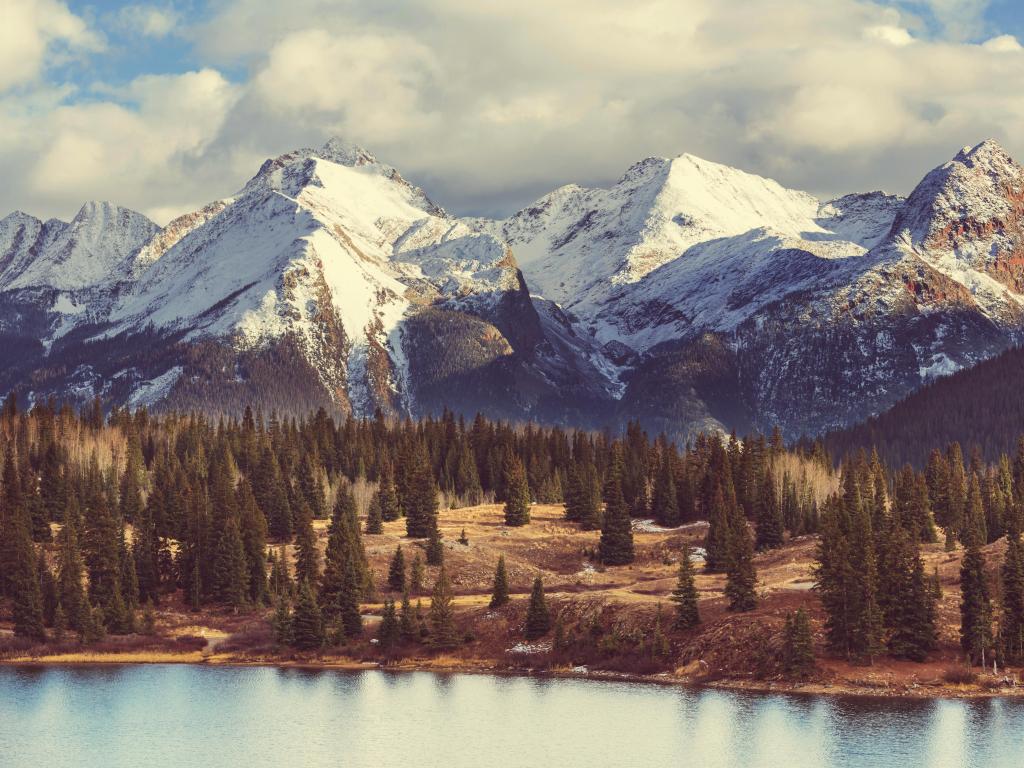 The second option, the Arches National Park Route, will give you a chance to dive deep into the desert landscape, seeing some unbelievable red rock formations and archways.
You'll get to explore Utah at its best, passing through many landmarks and towns. This route is perfect for experiencing the amazing desert scenery.
The highlight of this route is a visit to Arches National Park. This is one of America's most famous natural wonders. Another plus is a chance to spend time in Canyonland National Park and see many incredible canyons and natural structures.
The Million Dollar Highway Route
From Albuquerque, head north on US-550 north. Continue on through the town of Aztec, famous for its ruins.
Drive into the beautiful state of Colorado and get on the famous Million Dollar Highway. Take in the magnificent views as you wind your way through the Colorado Rockies.
Continue on into the city of Grand Junction in western Colorado. Explore the wild west culture and beautiful scenery before heading west on Interstate 70 (I-70).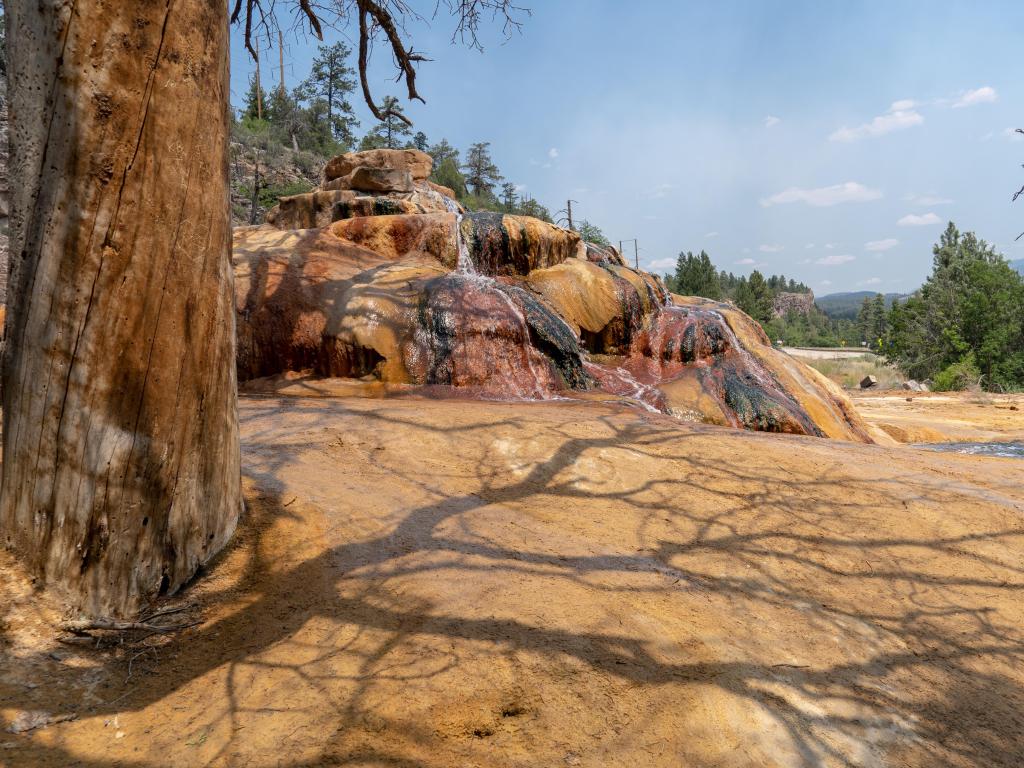 Drive into Utah and head north towards the Price Canyon Recreation Area. From here, drive through the beautiful landscape of Utah and into Salt Lake City.
Arches National Park Route
Starting from Albuquerque, head northwest, past the iconic Shiprock Natural Landmark. Continue on into the four corners region of Colorado and into Utah.
Continue on through the stunning high desert landscape of eastern Utah and into Moab and Arches National Park. After exploring this naturally unparalleled landscape, hit the road and head north.
Drive into Green River and jump on US-191. Continue on through central Utah and into Utah Lake. Continue on into your destination of Salt Lake City.
Best places to stop between Albuquerque and Salt Lake City
This is the American west at its finest. Below, we've included our favorite places to stop as well as our top destinations along the way so you can plan your trip easily.
Experience the mining culture in Silverton
On the Million Dollar Highway Route, about halfway through your trip, is the town of Silverton. Silverton sits in the middle of the mountains, providing panoramic views of the range.
Silverton marks the beginning of the incredibly scenic Million Dollar Highway and also boasts a cute historic downtown to explore. it is also known for its mining history, as well as its fantastic location with easy access to many hiking, biking and skiing routes.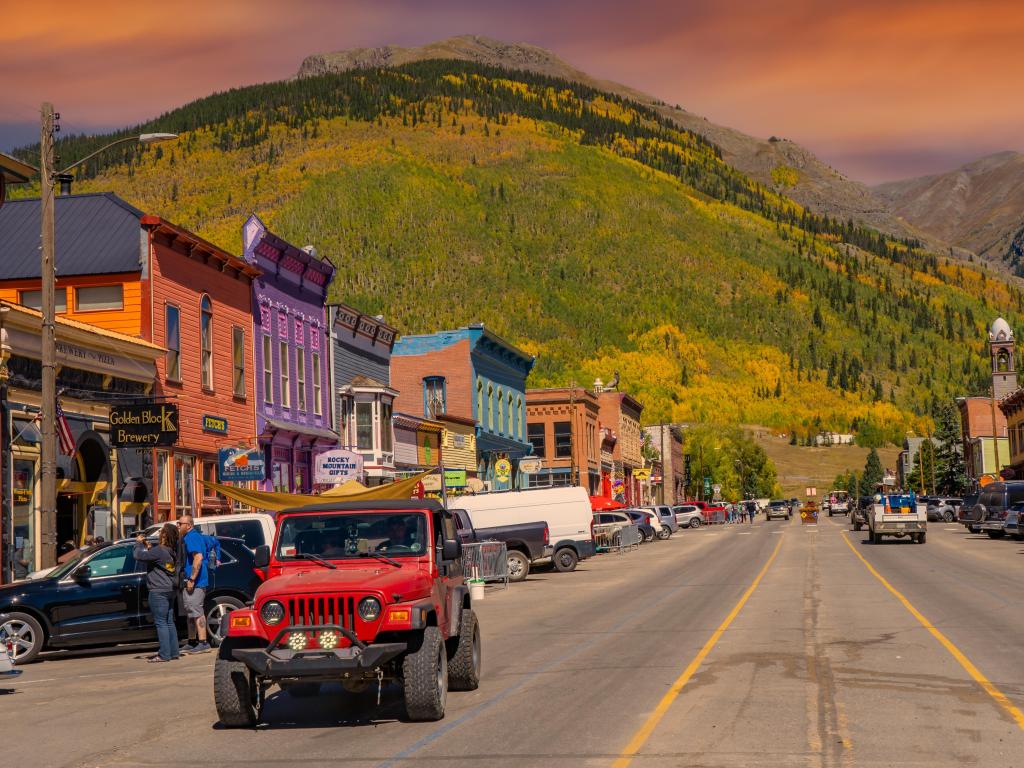 Nearby, you should check out the Daydream Mine if you feel like sightseeing. This fun and interactive museum gives you a lot of history on the mining industry in the area, as well as taking you through the processes of how to mine for gold.
Movie lovers should absolutely make a stop at the Mad Max Museum. A fun and quirky museum aimed at fans of the movie with the same name.
Once you reach Silverton, we suggest spending the night at the popular Teller House. This fabulous hotel features rooms with a mountain view, as well as free parking close to the property.
It is located right in the historic downtown and is easy to begin your journey the next morning. If you feel like exploring on this leg of the trip, Chattanooga Hot Spring is a short drive away.
Immerse yourself in nature in Moab
About six hours from Albuquerque on the Arches National Park Route, just over halfway on the trip, is Moab. This stunning landmark sits just on the cusp of Arches National Park and provides easy access to many incredible sights and red rock formations on the planet.
There are plenty of things to see in Moab. One of the first places you should visit is Bull Canyon Ridge, a scenic area where you can see real-life dinosaur prints perfectly preserved.
Of course, the start of the show is the nearby Arches National Park. One of the highlights along the route, here you will see some amazing red rock formations and archways. This is guaranteed to be a once-in-a-lifetime experience!
Check out the Museum of Moab. A great place to get some extra information on the area. This museum teaches you about the history, culture and geology of the area.
When staying in Moab, we recommend checking in at the stunning Radcliffe Moab. With free private parking, breakfast on-site and a pool and spa to unwind in after a long day driving, this hotel is perfect for a stopover in Moab.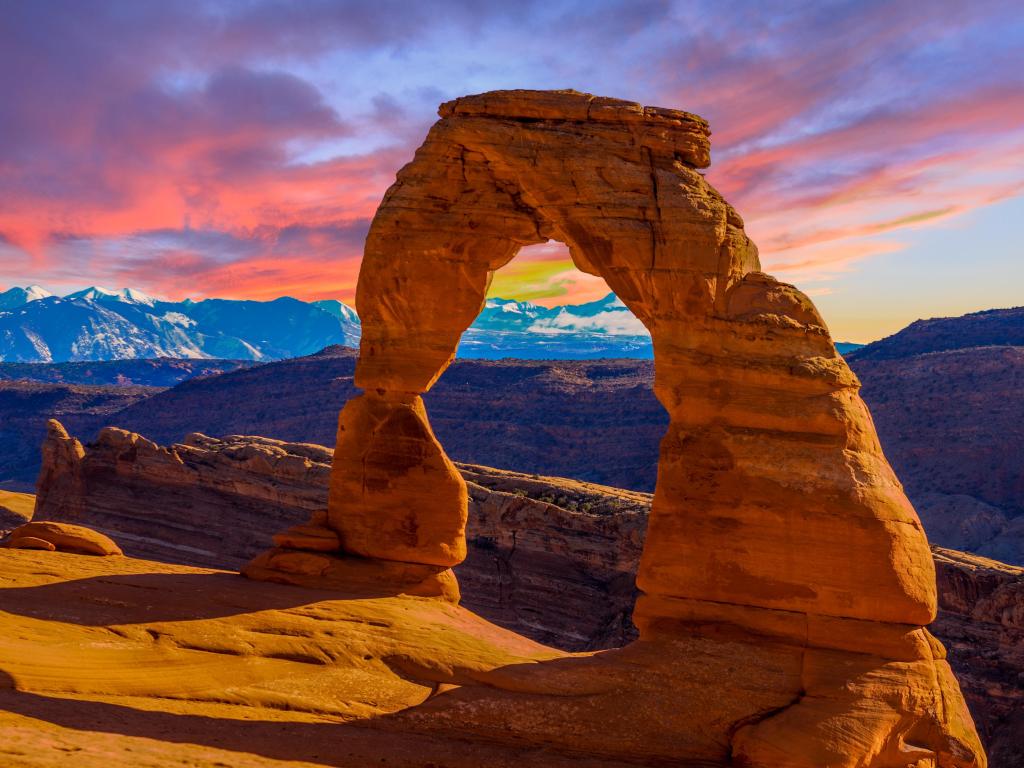 The hotel sits just south of the main town, right on the highway, making it an easy place to access as well as a great springboard for exploring the area. Nearby are many beautiful landmarks and open spaces. The hotel also has a lovely garden, perfect for an evening stroll.
Where to stay when you reach Salt Lake City
Once you reach your destination, we recommend staying at the Grand America Hotel. Sitting in the center of the city, but also just off the main road, this hotel features free parking and has easy access without having to pass through all of the potential city traffic.
This luxury hotel has a spa, pool, and sauna and is the perfect place to relax and use as a springboard for exploring this amazing city. What's more is the hotel's Garden Cafe, where guests can enjoy delicious American food before and after hitting the town.
Things to see on a road trip from Albuquerque to Salt Lake City
There are so many natural wonders and charming communities to see along both routes. Below, we've included our top picks for places to check out along the way.
Million Dollar Highway Route
Molas Creek - This beautiful creek flows directly into the fast-moving Animas River, sitting in the valley between snow-capped mountains.
Durango Hot Springs - These natural hot springs are a perfect way to relax the muscles for a few hours.
San Juan County Historical Society - A truly informative experience taking you through the journey of the mining industry in the area. It even includes an old jail!
Ice Lakes Trail - This 3.5-mile hike will take you through some of the most stunning scenery of the area, past crystal-clear lakes, flowing waterfalls and incredible mountains.
Museum of the West - This interesting museum takes you through the entirety of Colorado's history and is a must-see for anyone interested in history and culture.
Canyon View Park - A beautiful park with many activities and stunning views of the surrounding canyons.
Dinosaur Journey Museum - An interactive museum with many genuine dinosaur fossils, many of which were found in Colorado itself.
Arches National Park Route
Newspaper Rock - This well-preserved ancient rock features carvings and Utah's largest collection of petroglyphs, thought to be over 1000 years old!
Canyon Country Discovery Center - Dive deep into the incredible landscape around you and learn how these fantastic canyons were formed. This center features informative exhibits as well as some interactive sections.
The Windows and Turret Arch - You will pass through many stunning archways along this drive, but these two are definitely ones worth stopping at for a longer time.
Arches Scenic Drive - This truly sensational 19-mile stretch of highway is one where you will be wanting to stop at every pullover, and we highly suggest that you do just that.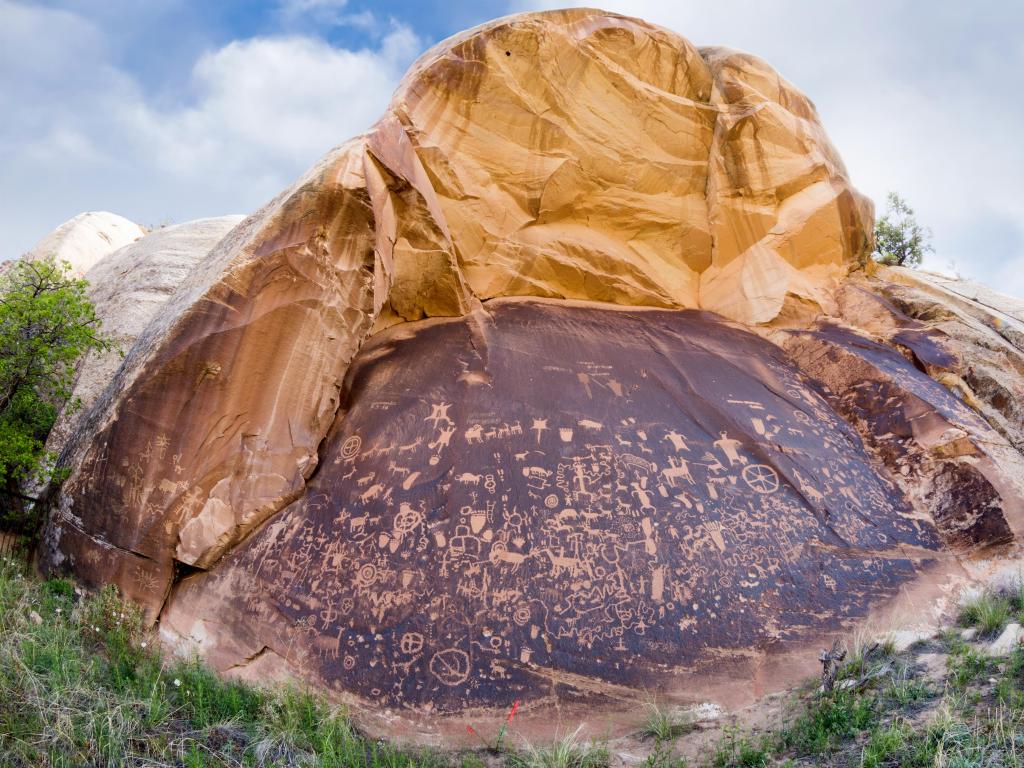 Both Routes
Salmon Ruins Museum - Walk around these ancient ruins dating back as far as 1090 AD and learn more about the indigenous cultures that built them.
Prehistoric Museum - With many interesting exhibits, as well as daily programmes and classes, this museum will take you through life in prehistoric times, explaining what life would be like for a dinosaur living in Utah.
Bridal Veil Falls - A beautiful waterfall looks as if it is a bride's veil, spraying sweetly over the rock face.
Monte L. Bean Life Sciences Museum - This eclectic natural history museum features animal shows, local and national history and fun exhibits for children and adults alike.
Provo Utah Temple - This architecturally interesting temple is a beautiful stopover to learn a little more about the Latter-Day Saints that settled in Utah.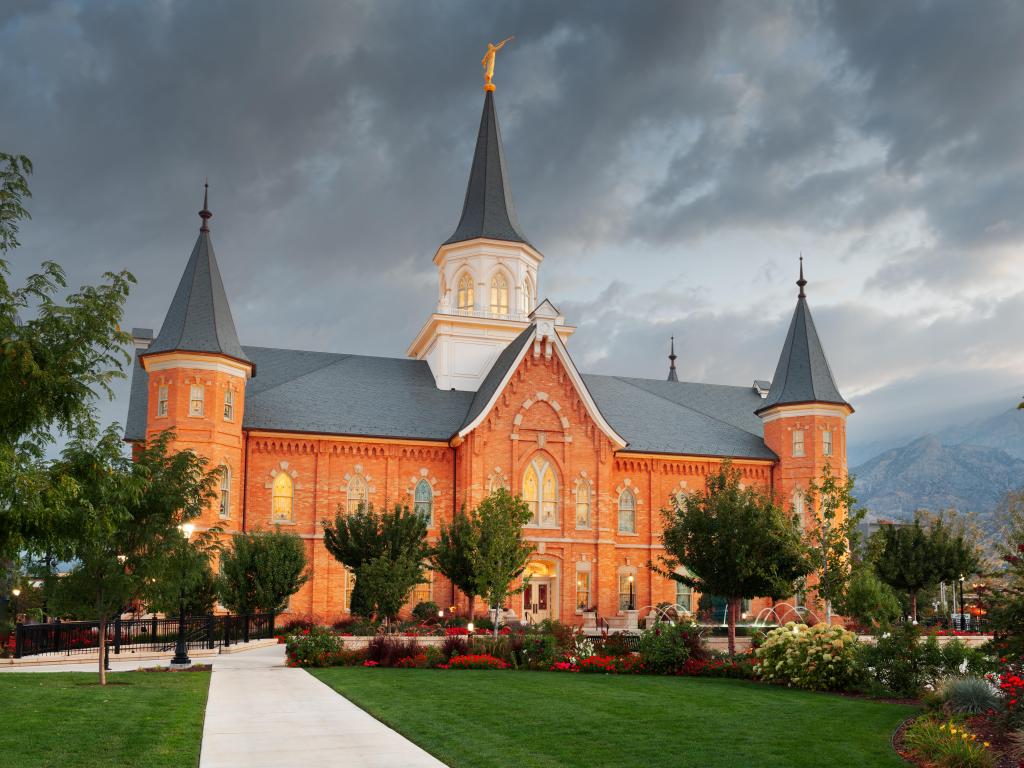 Best time to go on a road trip from Albuquerque to Salt Lake City
With scorching hot summers and below-freezing winters, the best time to do this road trip is during fall and spring. This will provide milder temperatures, making many of the hikes more accessible, but without you having to drive with the AC on the whole time.
Many of the activities will be outside so it is good to travel in the months when you can feel comfortable outside without having to keep layering up every time you leave your vehicle.
The summer will be very hot but mostly not unbearable, with highs of around 94 degrees Fahrenheit. There will be significantly more tourists but many of the areas you'll be exploring are vast and so it will be easy to find tranquility.
The winters will be cold and there will be snow along much of the route. This adds a whole new beauty to the landscape but you should be comfortable with driving in the snow, especially if you choose the Million Dollar Highway Route.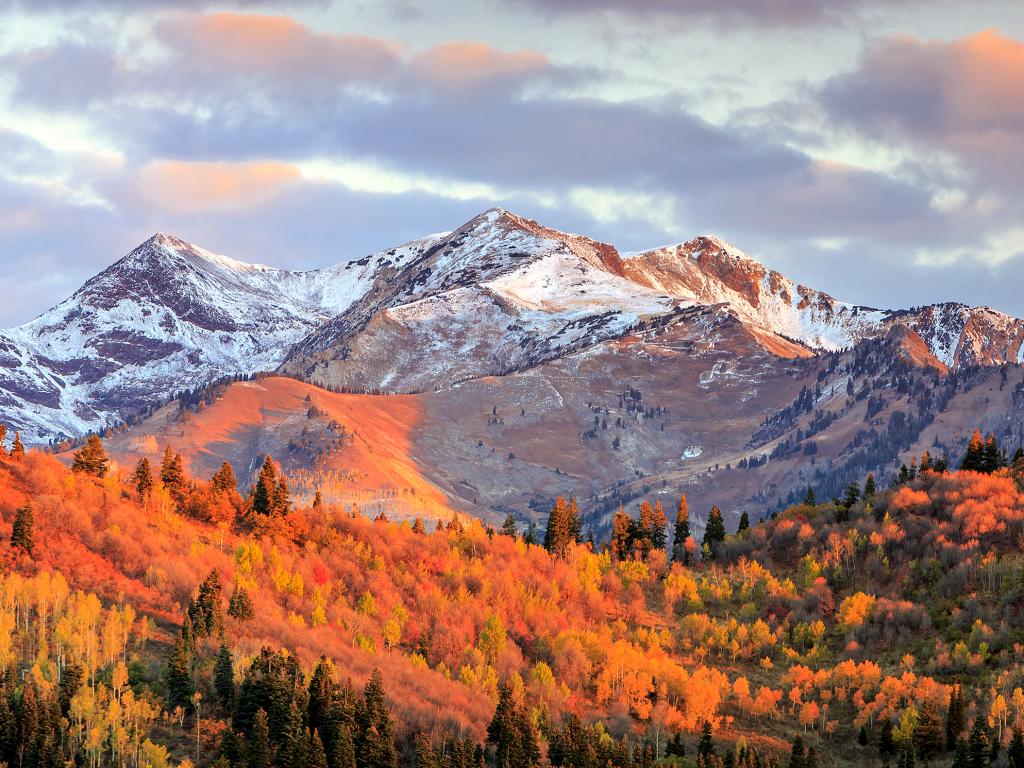 Days will be quite short as well and so you will lose precious time seeing the various landscapes on offer. Temperatures will be around 35-40 degrees Fahrenheit.
Spring and fall are the best times to visit, with fall being our top recommendation. If you are driving the Million Dollar Highway Route then you will see the leaves changing color which will add a whole new element of beauty to your road trip.
The temperatures will be more pleasant in these times, with the nights beginning to get colder but the days still being pleasant. The temperature range will usually be 40-60 degrees Fahrenheit in spring and fall.
Salt Lake City is a very active and artistic city, meaning there are many events and festivals happening year-round, with most of them taking place over the warmer months.
In the summer, you can enjoy the Utah Arts Festival, Days of '47 Parade, Utah Pride Parade and Festival, Loveland's Festival, Utah Blues Festival, and the incredible Wasatch International Food Festival.