Road Trip from Albuquerque to White Sands National Park
Get ready to experience the spectacular scenery and rich history of New Mexico on this fascinating road trip from Albuquerque to White Sands National Park. Along the way, you'll get off the beaten track to enjoy a stunning and diverse landscape, with interesting historic towns and lots of cultural highlights.
The 425-mile road trip from Albuquerque to White Sands National Park takes around 7 hours. Highlights include Cibola National Forest, Truth or Consequences and Las Cruces in the west plus Los Alamos, Santa Fe, Cloudcroft and Roswell in the east.
We've set out the best routes and our favorite things to see along the way, as well as our recommended places to stop overnight. You will also find out the best times of year to plan your road trip from Albuquerque to White Sands National Park.
How far is White Sands National Park from Albuquerque, and how long will the road trip take?
Comparison of road trip routes between Albuquerque and White Sands National Park

| Route | Distance | Driving Time |
| --- | --- | --- |
| The Direct Route | 225 miles | 3 hours 20 minutes |
| The Western Route | 425 miles | 7 hours 15 minutes |
| The Eastern Route | 535 miles | 9 hours 40 minutes |
The most direct way to White Sands National Park from Albuquerque covers 225 miles and takes just 3 hours and 20 minutes to drive. However, this means missing out on all the wonderful sights there are to see en route.
Our shortest recommended route is therefore the Western Route. This covers 425 miles, with a driving time of 7 hours and 15 minutes non-stop. This route is ideal if you want to discover New Mexico's stunning natural landscape and fascinating history, along with some charming small towns.
The Eastern Route is slightly longer at 535 miles, with a driving time of around 9 hours and 40 minutes. This route also includes magnificent scenery, as well as some interesting cities, quirky towns and historic sites.
Even though both routes are relatively short and could be driven in a day or two, we would recommend allowing three or four days for your road trip, so you have ample time to explore.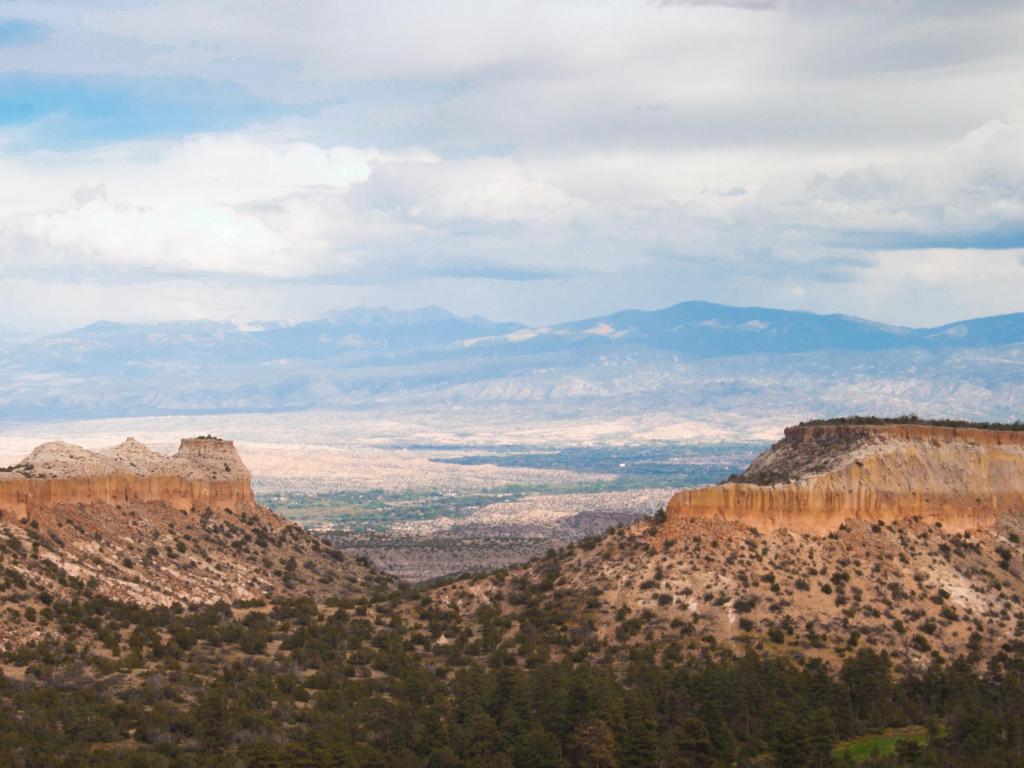 Best road trip route from Albuquerque to White Sands National Park
The Western Route is more oriented to natural sights, taking in such vistas as El Malpais National Monument and Cibola National Forest. However, you can also enjoy stops at the towns of Truth and Consequences and Las Cruces, which offer great shopping, arts and culture.
The Eastern Route takes in the vibrant city of Santa Fe, as well as the historic towns of Los Alamos and Roswell. Of course, you will also enjoy plenty of natural beauty, with Pecos National Historical Park and Lincoln National Forest among the highlights.
Given the length of this road trip, you might consider driving to White Sands National Park via one of our routes and returning by the other. This way, you can get a real feel for the state of New Mexico, from the colorful cities and small towns to the diverse landscape and unique culture.
The Western Route
Leave Albuquerque via Interstate-40 (I-40) West heading for El Malpais National Monument. The road is also called U.S. Route 66 and part of the journey runs adjacent to the famous Old Route 66 Road.
Drive south through El Malpais National Monument Conservation Area for Pie Town, where you can make detours to Apache-Sitgreaves and Gila National Forests. From here, pick up US-60 East and follow the signs for Cibola National Forest.
Continue towards the town of Socorro, then head south past Bosque Del Apache National Wildlife Refuge towards Truth or Consequences and Riverbend Hot Springs.
From here, head south following the Rio Grande and passing Caballo Reservoir, towards Las Cruces, where you will take US-70 East and follow this road to White Sands National Park.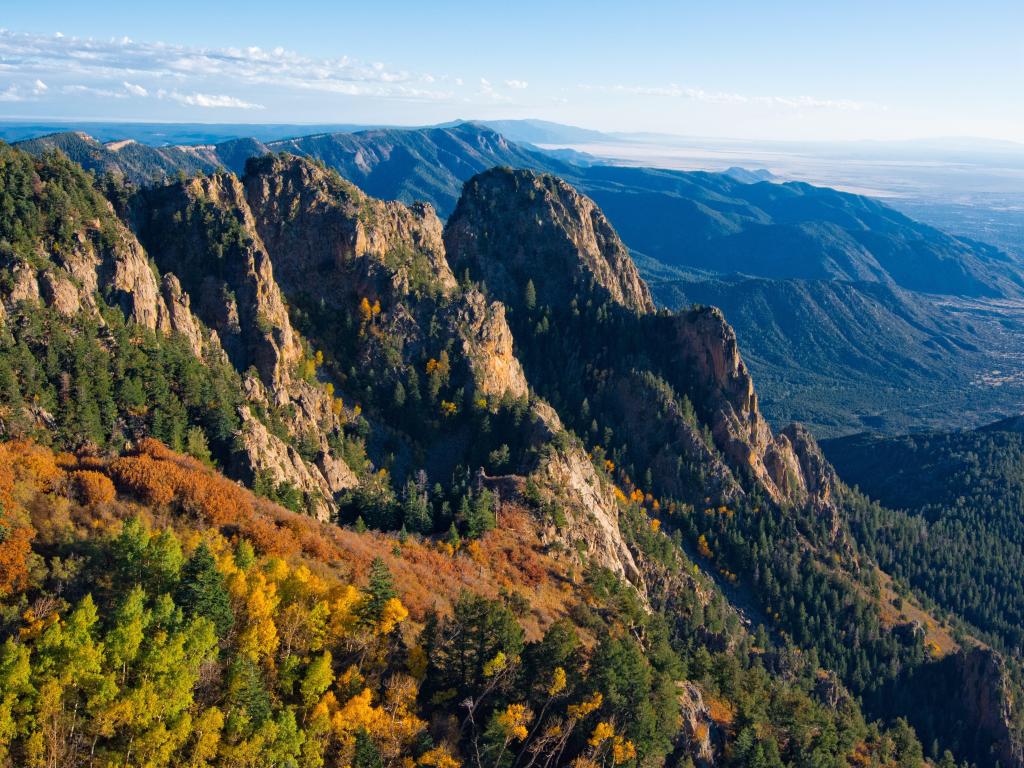 The Eastern Route
Leave Albuquerque via I-25 North towards the town of Bernalillo. Detour left through Santa Ana Pueblo and Jemez Springs to Bandelier National Monument.
After your visit, follow the signs to Los Alamos. You then continue west until you reach Pojoaque, where you turn left and head towards Santa Fe, passing by some spectacular mountain peaks along the way.
Leave Santa Fe via the Old Pecos Trail and continue to Seton Village towards Pecos National Historical Park, passing sights including Glorieta Mesa mountain peak.
Head south, following the signs for Santa Rosa. From this city, it's a short drive south past Lake Sumner towards Fort Sumner. Continue driving south to Roswell and pass through Lincoln National Forest and on towards Cloudcroft.
Leave Cloudcroft, heading west via the Tunnel Vista Observation Site, and on to Alamogordo. From here, it's a short drive on US-70 West to White Sands National Park.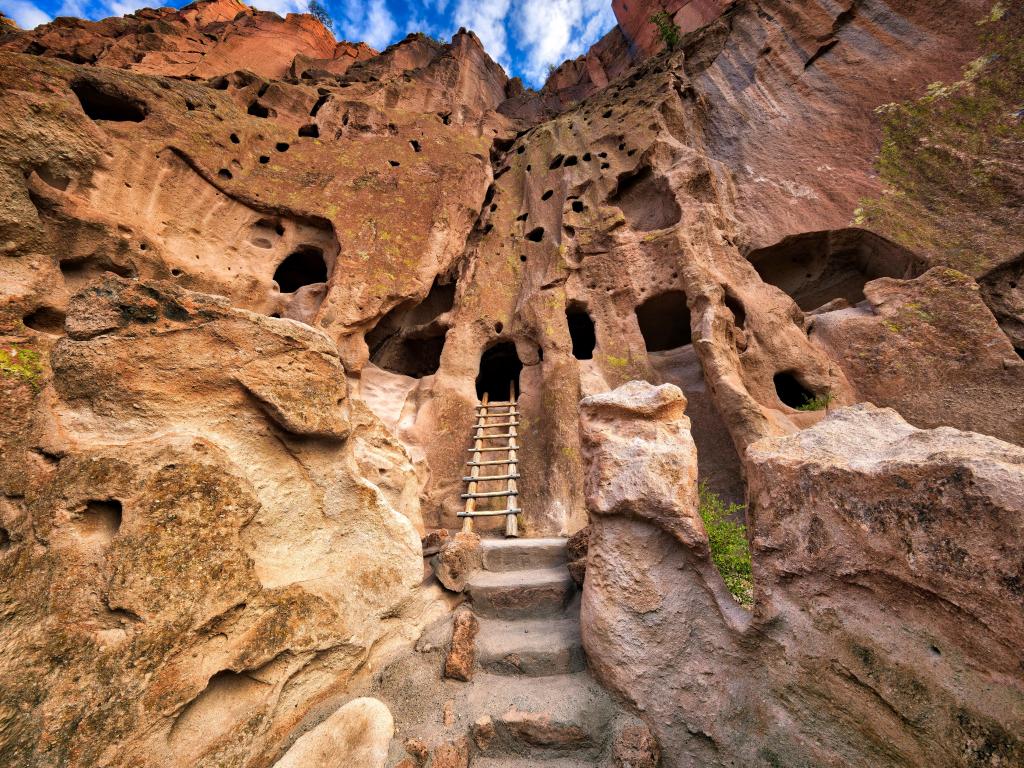 Best places to stop between Albuquerque and White Sands National Park
Along with awe-inspiring scenery, you will pass through several interesting towns and cities on both of our routes. We've picked two fantastic stops where you might like to stop for the night. You can also discover our recommendations for the best places to stay in both these towns.
Quirkiness and hospitality in Truth or Consequences
Our suggested overnight stop on the Western Route is Truth or Consequences, a quirky small city on the Rio Grande. You will reach the city about halfway through your trip, depending on how long you spend enjoying the other attractions along the route.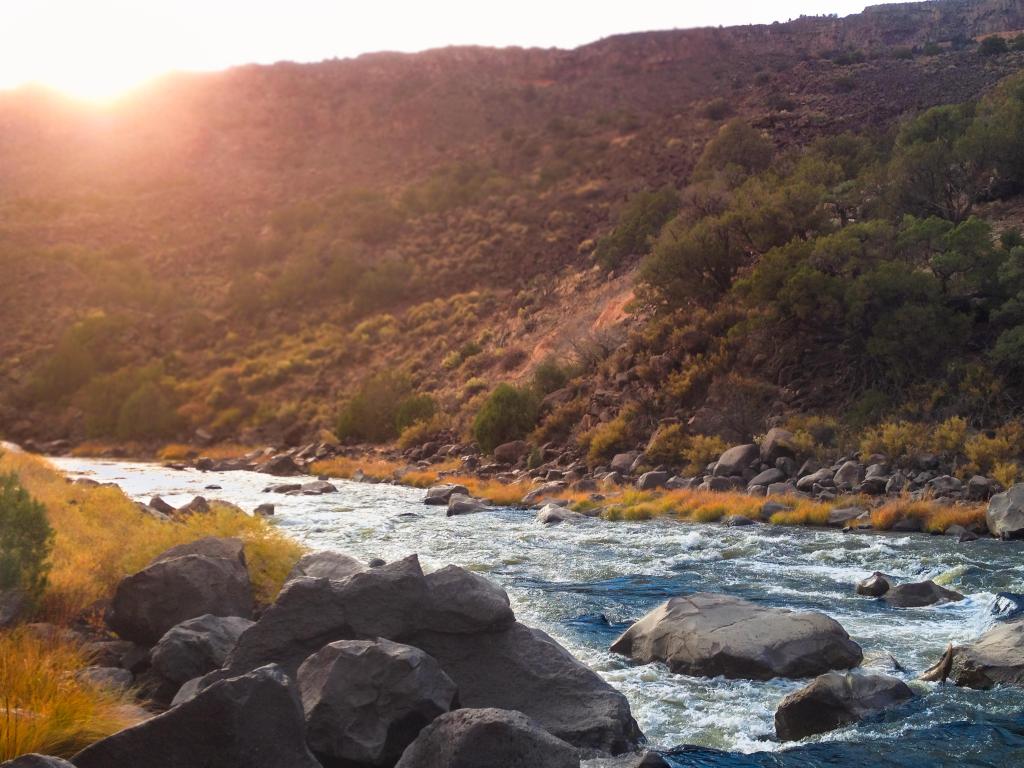 If you're looking for the full road trip experience, we highly recommend staying the night at the Rocket Inn. This classic roadside motel has been fully modernized to offer guests a comfortable stay. Expect great service, excellent attention to detail, and everything you need.
The hotel offers free parking, and with lots of restaurants and bars within walking distance, you can leave the car behind and take a well-earned break from the road.
Within walking distance of the hotel are Healing Waters Plaza and Geronimo Springs Museum. Nearby, you can find Spaceport America Visitor Center, Riverbend Hot Springs, and the charmingly named Elephant Butte Dam & Lake!
After a tiring day of exploring, take a seat on the lovely outdoor terrace when you return to the hotel and enjoy the fantastic mountain views before retiring to your well-equipped room for a good night's rest.
History and culture in Santa Fe
On our Eastern Route, we recommend an overnight stop in the characterful city of Santa Fe, the state capital of New Mexico. Here, you can learn about 1,000 years of local history and discover the buzzing arts scene.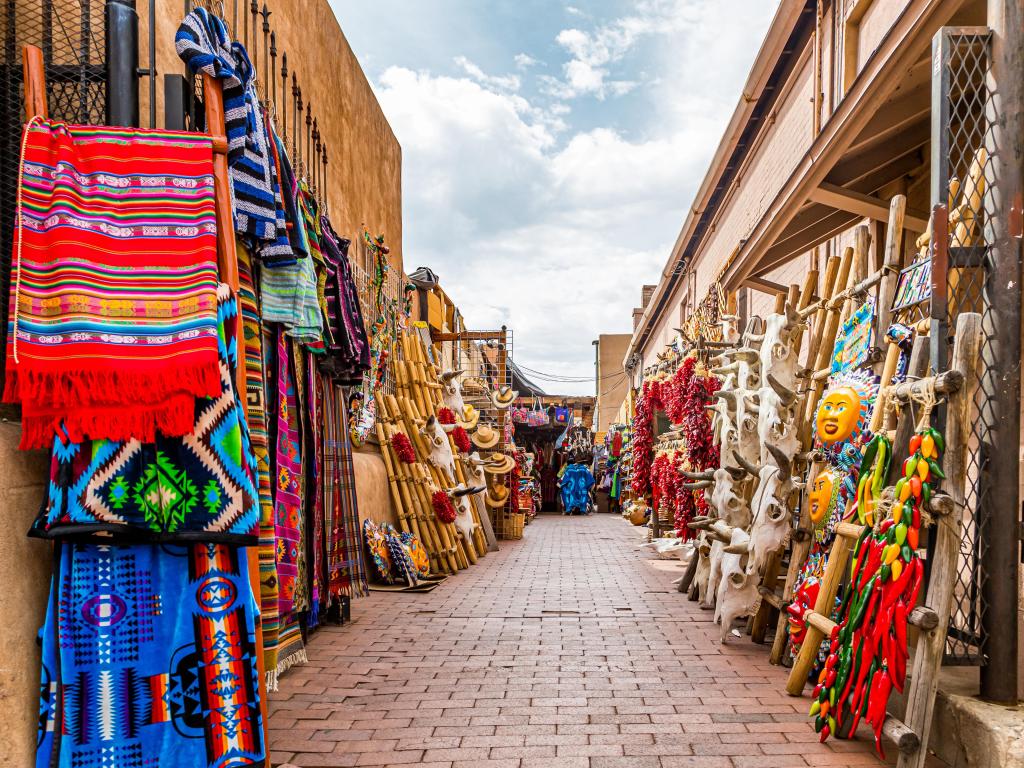 You will reach Santa Fe about 3 hours after leaving Albuquerque, a little longer if you spend time at Bandelier National Monument and Los Alamos.
An excellent choice for an overnight stay in Santa Fe is the wonderful Las Palomas hotel, conveniently located on the edge of the city. This welcoming hotel promises authentic Santa Fe hospitality and style, with comfortable and colorful rooms that are in keeping with the city's Hispanic heritage.
The guest rooms are cozy self-contained casitas and studios, some with a fireplace, which is ideal if you're visiting during the cooler months. As the hotel is within easy walking distance of plenty of great drinking and dining options, you can take a well-deserved night off from driving.
Santa Fe attractions you can easily reach on foot from the hotel include the IAIA Museum of Contemporary Native Arts and Georgia O'Keeffe Museum. You can also stroll to the historic Plaza and New Mexico History Museum to explore the 400-year-old Palace of the Governors.
Where to stay when you reach White Sands National Park
As there are no accommodation options inside White Sands National Park itself, The Classic Desert Aire Hotel in nearby Alamogordo is a fantastic choice for a stay at your destination stop.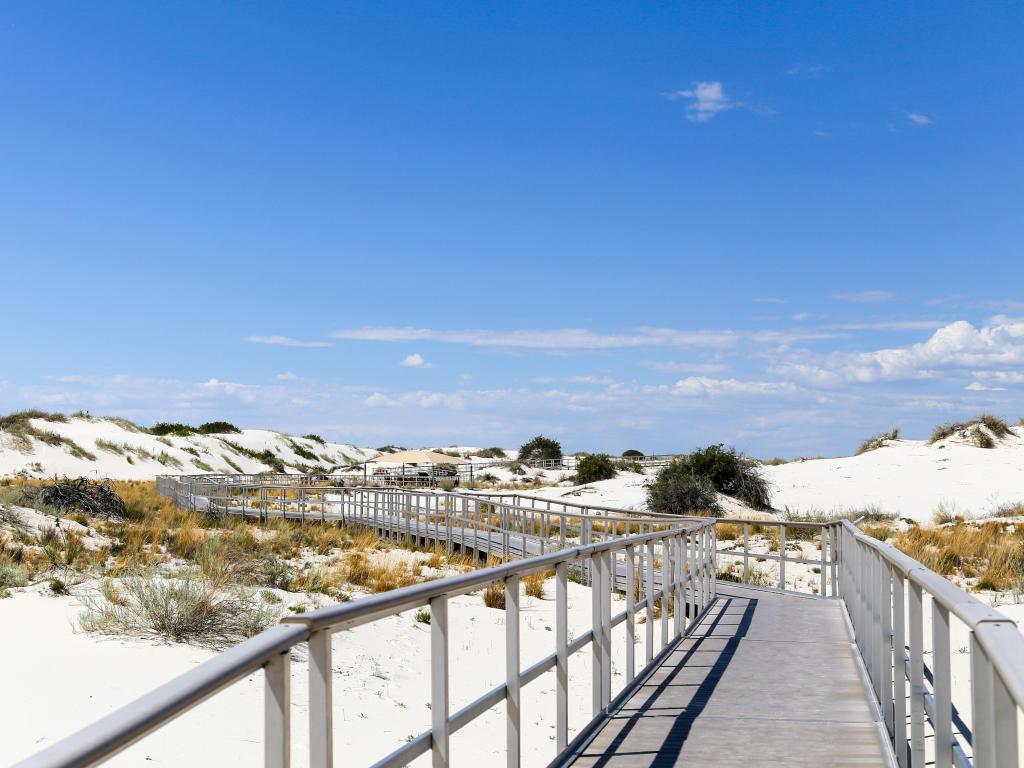 The hotel offers comfortable accommodation in a convenient location in the heart of Alamogordo, with White Sands National Park just a 15-minute drive away.
After a long day of driving and sightseeing, you can look forward to relaxing in one of the well-equipped guest rooms, which have been decorated in traditional New Mexico style and offer all you need for a restful stay.
You can also enjoy a cooling dip in the inviting on-site seasonal swimming pool and even hire a sled for a spot of popular sand sledding at White Sands National Park. You also have all the dining options, amenities and attractions of Alamogordo within a short walk or drive of the hotel.
In particular, you might like to visit Alamogordo's Museum of Space History, which recognizes the contribution New Mexico's deserts have made to major breakthroughs in space science.
Things to see on a road trip from Albuquerque to White Sands National Park
One of the reasons we love this road trip is that there are so many offbeat and quirky sights, combined with the chance to absorb the unique culture of New Mexico. Here are some of our highlights from both routes.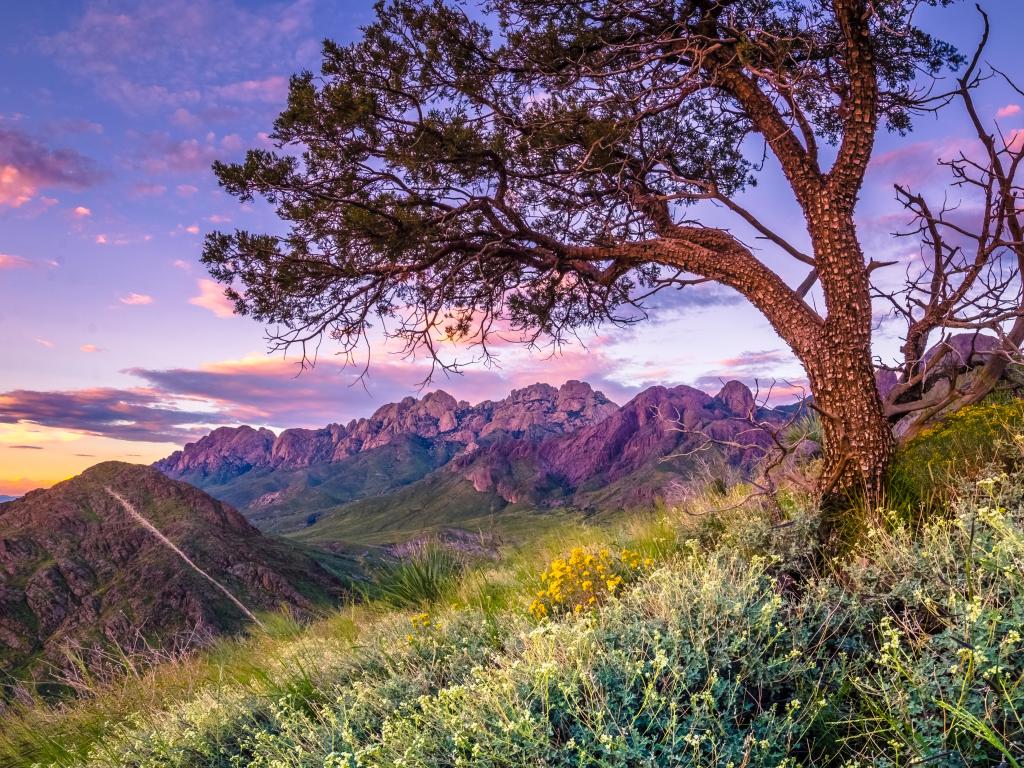 Western Route
El Malpais National Monument - With its striking volcanic landscape, this is one of the natural highlights of this route. You can hike, watch the bats come out at sunset, and enjoy fantastic views of the starry sky.
Pie Town - Named for a bakery, this small town is a gateway to Gila National Forest and the Plains of San Augustin and hosts an annual Pie Festival each September.
Cibola National Forest - Take a detour from the desert into the mountains for spectacular views and scenery, as well as great hiking opportunities.
Socorro - Home to several technology firms, in this small desert town, you can visit the Mineral Museum and Frank T. Etscorn Campus Observatory or spend some time at Bosque del Apache National Wildlife Refuge and Escondida Lake.
Elephant Butte Reservoir - Enjoy a stroll or even some watersports at this large lake, which also features an impressive dam.
Riverbend Hot Springs - Take a well-earned break from the road at this natural hot springs located next to the Rio Grande.
Caballo Reservoir - More stunning natural sights await at this Rio Grande reservoir, which is a great spot for boating, fishing, and bird spotting. Bald eagles, pelicans, jays and bluebirds are among the regular visitors.
Las Cruces - Stop off to explore New Mexico's second-largest city, which is surrounded by mountains and wilderness. Visit New Mexico Farm & Ranch Heritage Museum and the Museum of Nature & Science, enjoy the vibrant street art, or head out to hike at nearby Dripping Springs.
Mesilla - Take time to enjoy the boutiques and restaurants that now occupy this historic small town, which was a thriving trading center until the route of the railroad was moved.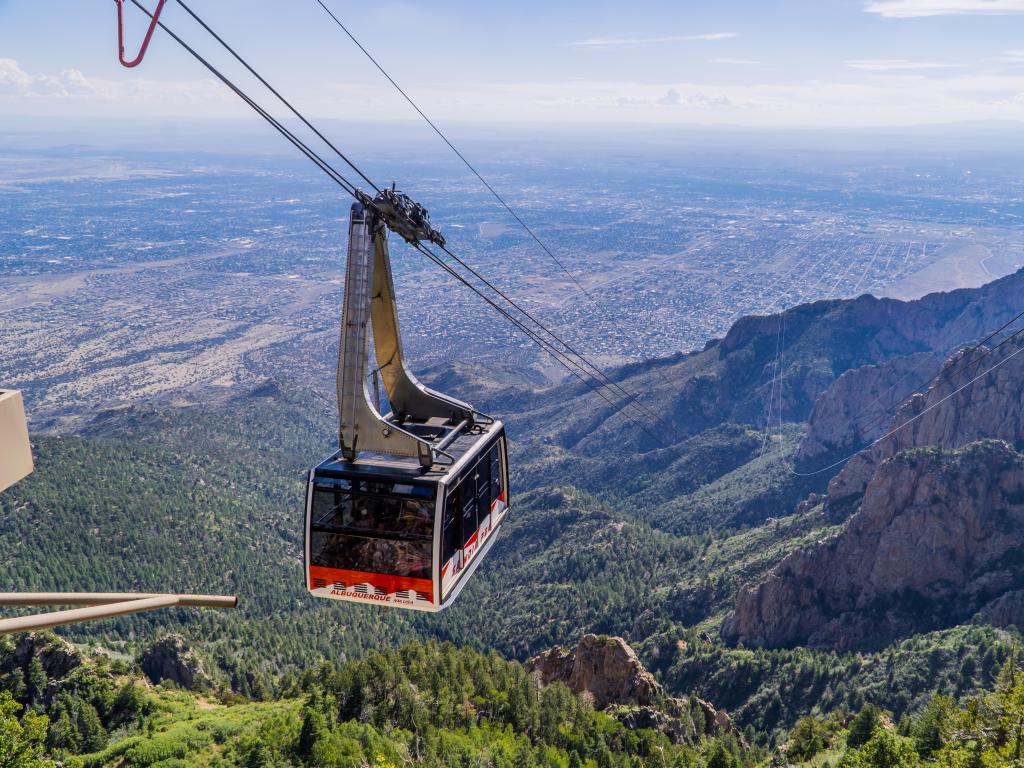 Eastern Route
Sandia Peak Tramway - Climb to the peak, if you're feeling energetic, or take the tramway. Either way, it's worth the trip up for the fantastic views across Albuquerque and surrounding areas.
Petroglyph National Monument - Follow one of the marked trails across the hillsides, where hundreds of petroglyphs (rock carvings) were left by Native Americans and early Spanish settlers.
Bandelier National Monument - Spend some time discovering the mesa landscape outside Albuquerque. A great spot for hiking, you can also see some ancient petroglyphs.
Los Alamos - A must-visit for science and history buffs, it was here the atomic bomb was developed. Learn more at Bradbury Science Museum, Los Alamos History Museum, or the Manhattan Project National Historic Park Visitor Center.
Pecos National Historical Park - Explore Pueblo settlements and abandoned Spanish mission buildings at this sizeable historic park.
Santa Rosa - This trip takes you along part of Historic Route 66 and in Santa Rosa, you can learn more about the iconic road at the Route 66 Auto Museum. You can also enjoy an hour or two at lovely Blue Hole Lake.
Fort Sumner - At Fort Sumner, you can visit the grave of outlaw Billy the Kid and learn more about him at the museum dedicated to his exploits.
Roswell - One of the quirky highlights of this route, in Roswell, you can watch the skies for alien activity and visit the International UFO Museum and Research Center to learn about the town's link with strange sightings.
Lincoln National Forest - Providing a wonderful break from the road, in Lincoln National Forest, you can hike or bike through the desert, forest and mountainous terrain.
Cloudcroft - A delightful town nestled in the Sacramento mountains, in Cloudcroft, you can hike the old railroad trail and hit the ski slopes during the winter. Learn more about the area at the Sacramento Mountains Museum & Pioneer Village.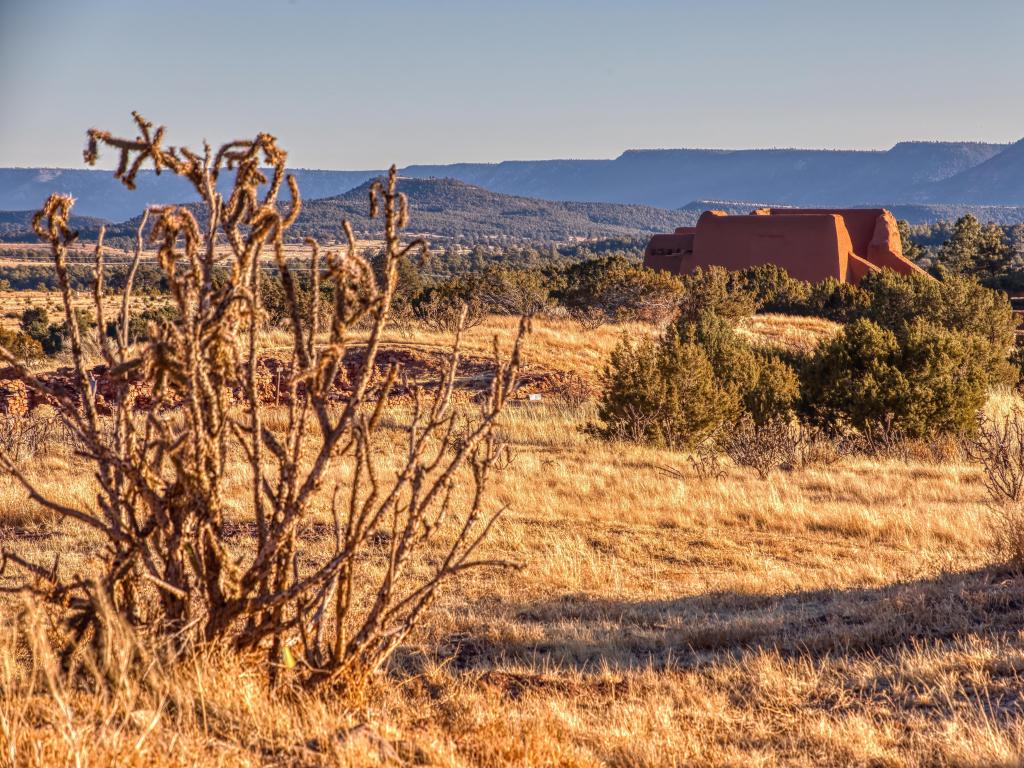 Best time to go on a road trip from Albuquerque to White Sands National Park
Another great aspect of this road trip is that you can enjoy it year-round. Indeed, unlike some US national parks, White Sands National Park remains largely accessible during the winter months.
Winter can be a great time of the year to visit, with a beautiful wintry backdrop and fewer visitors. You can expect daytime temperatures of between 50 and 60 degrees Fahrenheit along the route, with nights dropping to 25 degrees Fahrenheit.
Summer is a good time to visit but we suggest avoiding the midday heat at White Sands National Park.
In spring, expect temperatures of 90 degrees Fahrenheit in White Sands National Park. The evening temperatures drop to 40 degrees, so you might want to time your visit to see the sunset and then enjoy the cooler air.
Come fall, temperatures begin to drop from 85 degrees Fahrenheit in September to 60 degrees Fahrenheit in November. Overall, you can expect dry conditions and settled weather during this season without the high heat of the summer.
If you visit White Sands National Park between April to October, you can take guided treks across the dunes on full moon nights. This unique experience is accompanied by fantastic music on occasion, so it is a good idea to check the dates before you visit.