Road Trip from Amarillo to Denver
Set off on a road trip from Amarillo to Denver and have an unforgettable Southwest adventure. This trip has it all: from awe-inspiring pueblos to amazing ski resorts and artistic cities brimming with galleries to explore, you will have a plethora of things to do and experience!
The 440-mile road trip from Amarillo to Denver will take about 7 hours to drive nonstop. The notable sights include Albuquerque, Santa Fe, Taos Pueblo, Colorado Springs, Pagosa Springs, Trinidad, Pueblo, Garden of the Gods and Wolf Creek Ski Area.
Read on to learn about the best routes you can take on this road trip from Amarillo to Denver, beautiful places to visit and stopover on the way, unforgettable attractions to visit and the best time to set off on this colorful adventure.
How far is Denver from Amarillo, and how long will the road trip take?
Comparison of road trip routes between Amarillo and Denver

| Route | Distance | Driving Time |
| --- | --- | --- |
| The Direct Route | 440 miles | 6 hours 50 minutes |
| The Santa Fe Route | 840 miles | 14 hours 20 minutes |
If you take the more direct route through Trinidad, Pueblo, and Colorado Springs, you can expect this journey to take approximately 6 hours and 50 minutes, covering a straightforward and efficient distance of about 440 miles.
Alternatively, you can embark on the Santa Fe Route. This route covers a greater distance of approximately 840 miles and takes around 14 hours and 20 minutes to complete, but you'll be rewarded with the chance to see some real historic wonders.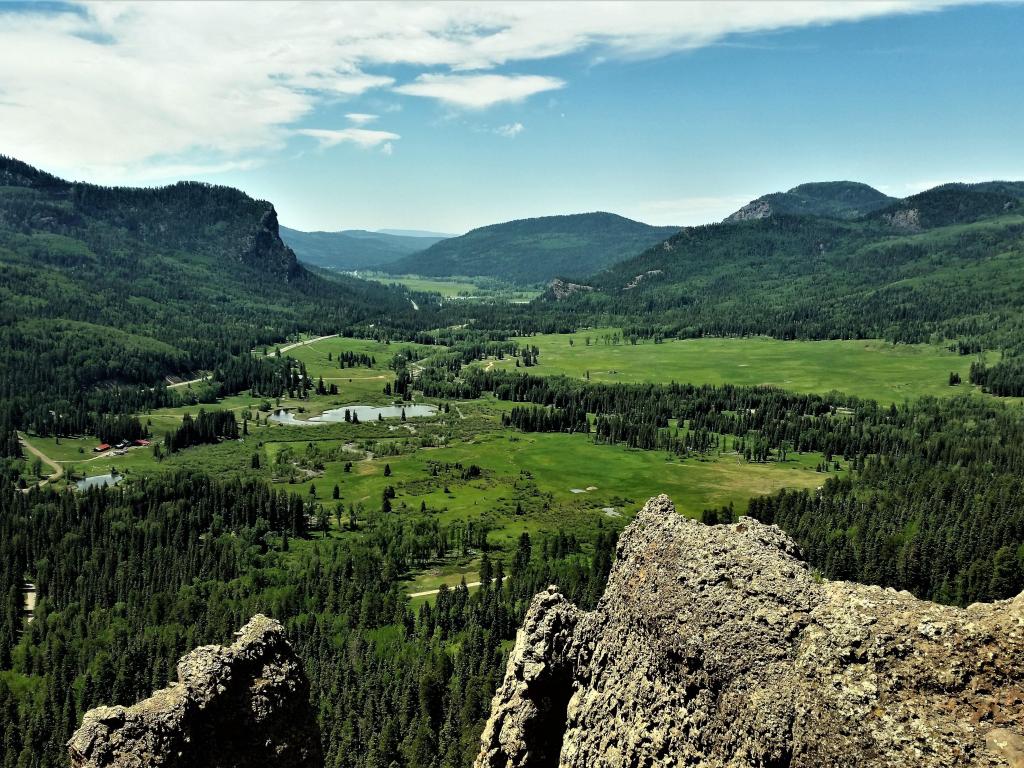 Both routes offer unique and interesting sights, from the awe-inspiring mountain landscapes on the Direct Route to the vibrant and historic cities on the Santa Fe Route. Therefore, we suggest allowing at least 2 days to truly soak in the experience - ideally 3 or 4 if you're taking the Santa Fe Route .
Best road trip route from Amarillo to Denver
Deciding on which route to take from Amarillo, Texas to Denver, Colorado depends on your personal interests and preferences, either diving into the rich historical and cultural backdrop of the Southwest or experiencing the grandeur of the Rocky Mountain landscape.
If you're drawn to the allure of history and culture, the Santa Fe Route is your perfect match. This journey invites you to delve into the heart of the Southwest, beginning with the vibrant city of Albuquerque, New Mexico.
From there, travel through the historic city of Santa Fe, known for its distinctive adobe architecture and thriving arts scene. Next up is Taos Pueblo, a UNESCO World Heritage site that offers a rare glimpse into the traditions and lifestyle of the Native American community.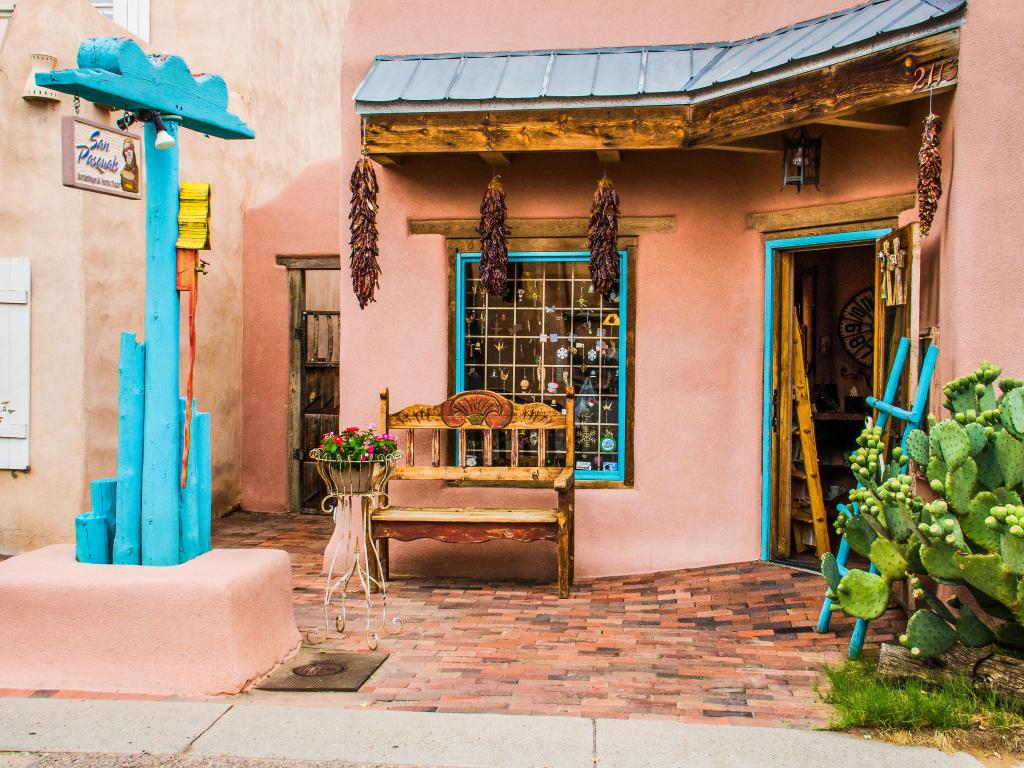 On the other hand, if you are captivated by mountain landscapes, the Direct Route through Trinidad, Pueblo, and Colorado Springs is an ideal choice. This route takes you through the Southern Rockies, offering breathtaking views at every turn.
Trinidad, known as the 'Victorian Capital of Colorado', is a charming stop with well-preserved historical buildings. Colorado Springs, the next city on the route, is a gateway to adventure with the iconic Garden of the Gods and Pikes Peak within its vicinity.
If you are visiting Rocky Mountain National Park, keep in mind that the national park uses a timed entry permit system. Please check the national park's website to see if you need to make a reservation before your visit.
How to drive from Amarillo to Denver
The map above shows our suggestions for the best road trip routes between Amarillo and Denver. Keep reading for detailed descriptions of both routes, where to stay on either, and the best things to do on the way.
The Direct Route
Start your trip by heading north on US-87, a road that takes you through the vast, open expanses of the Texas Panhandle. Take a break from driving with a stop in Raton, New Mexico, a small city known for the nearby Sugarite Canyon State Park, where you can enjoy a hike or some fishing before resuming your journey.
Next, you'll cross another state line into Colorado, where your first stop will be Trinidad. This charming city is nestled at the base of the iconic Fishers Peak. Here, you could take a detour to Trinidad Lake State Park.
From Trinidad, drive north on Interstate 25 (I-25) to Pueblo. Pueblo is a vibrant city, known for its rich cultural heritage, beautiful Riverwalk area, and the historic Union Avenue District.
Continuing on I-25, your next stop is Colorado Springs, home to the famous Garden of the Gods and the Pikes Peak. Your final stretch on the interstate will then take you to your destination in Denver.
The Santa Fe Route
Head west on I-40 towards Albuquerque, New Mexico, the largest city in the state. You can explore the historic Old Town, admire the unique Pueblo-style architecture, and learn about the city's history at the Indian Pueblo Cultural Center.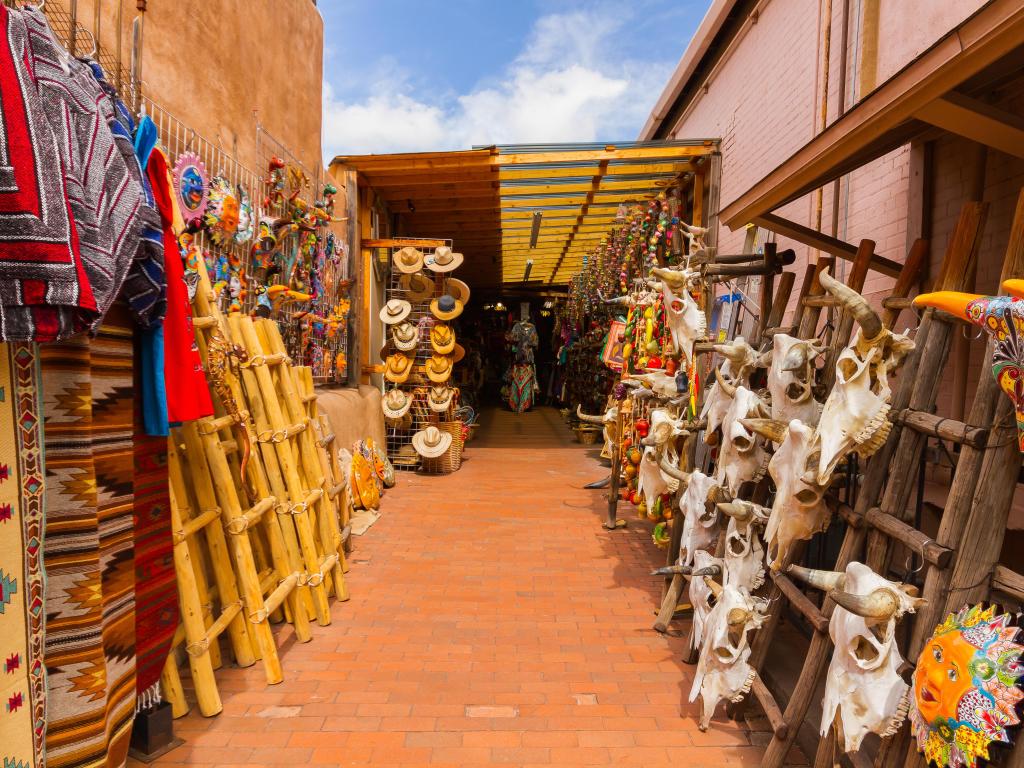 Upon leaving Albuquerque, you'll take I-25 north to Santa Fe, the capital of New Mexico. Here, you can explore the historic Santa Fe Plaza, visit the Palace of the Governors, and discover a wide range of art galleries along Canyon Road.
From Santa Fe, continue north to Taos Pueblo, a UNESCO World Heritage Site. Next, head north on US-64 to cross the state border into Colorado and reach the town of Pagosa Springs.
While here, you can relax in the hot springs, explore the surrounding San Juan Mountains, and enjoy outdoor activities such as hiking, fishing, and skiing. After your visit, drive east on US-160 and then north on I-25 to reach Denver,
Best places to stop between Amarillo and Denver
With quite a bit of miles to cover, and so many attractions on the way, you will want to split this road trip into manageable sections to enjoy your adventure to the fullest. Read on to find out about some of the best places to stay overnight on each route.
Explore the colorful history of Pueblo
Known for its rich history, vibrant arts scene, and picturesque riverwalk, Pueblo, Colorado, is a fantastic place to take a break along the Direct Route from Amarillo to Denver about 5 hours into the trip.
One of the must-visit sites in Pueblo is the Historic Arkansas Riverwalk, which is perfect for a leisurely stroll, with a variety of shops, restaurants, and art galleries lining the river. There are also boat rides available, offering a different perspective of this beautifully landscaped area.
Pueblo is also famous for its Union Avenue Historic District, where you can step back in time and explore the city's vibrant past. This district is home to many well-preserved buildings from the late 19th and early 20th centuries, and several locally owned boutiques and eateries that add to its charm.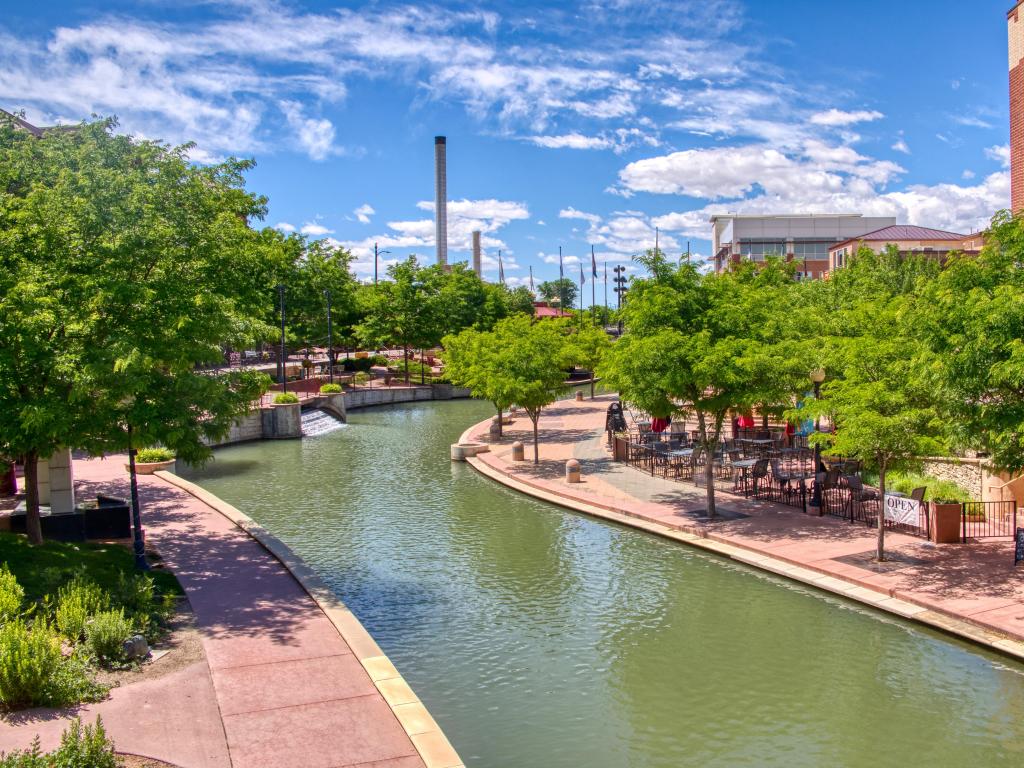 Art enthusiasts will find Pueblo's Creative Corridor a delightful surprise. This area is a hub for arts and culture, with numerous galleries, studios, and performance venues, showcasing the city's thriving local arts scene.
While visiting Pueblo, we suggest staying at the modern Wingate by Wyndham Pueblo. This lovely hotel has everything you might need after a long drive covered, including an indoor pool and a fabulous jacuzzi to unwind in.
During your stay, you will be located in close vicinity of downtown Pueblo, the Pueblo Zoo, and Elmwood Golf Course, if you are looking to practice your winning swing. Make sure to take advantage of the daily breakfast buffet before you set off on your way to Denver.
Admire the unique architecture in Taos
Renowned for its rich cultural heritage, stunning natural landscapes, and vibrant arts scene, Taos, New Mexico, is an exceptional place to pause along the Santa Fe Route, located about 6 hours from Amarillo.
One of the main attractions in Taos is the Taos Pueblo, a UNESCO World Heritage Site and a National Historic Landmark. This living Native American community has been continuously inhabited for over a thousand years, and it's a striking testament to the enduring culture of the Pueblo people.
While in the city don't miss the opportunity to visit the Taos Art Museum and the Harwood Museum of Art. These museums house impressive collections of works by the Taos Society of Artists and other notable figures in American art history.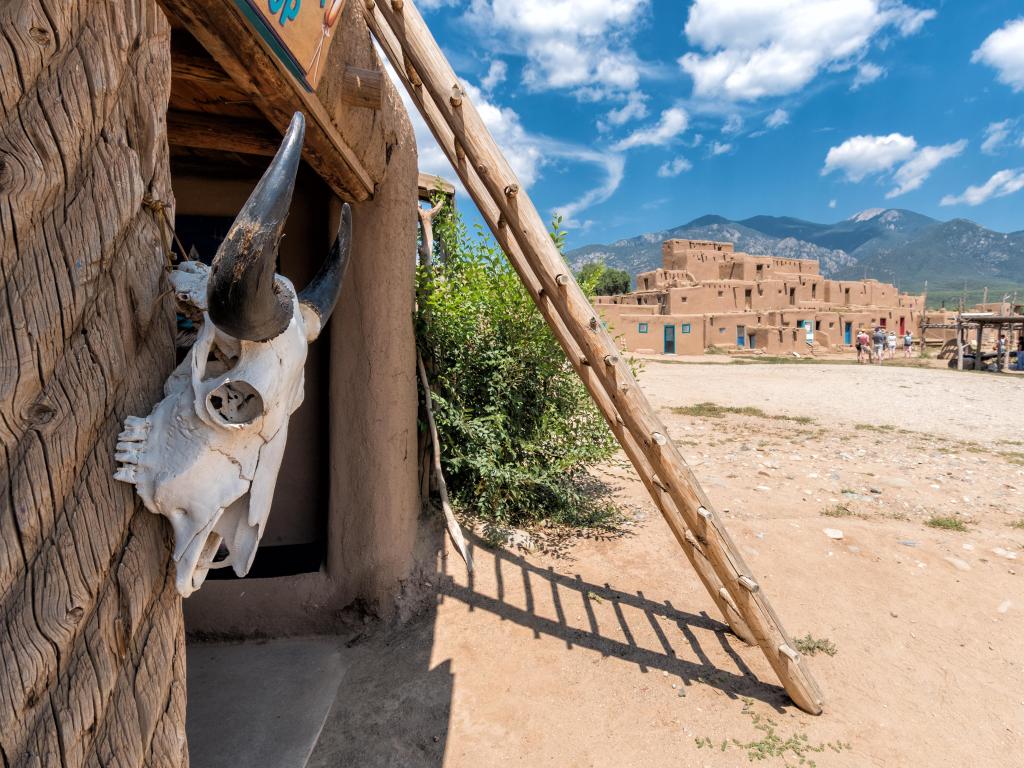 For outdoor enthusiasts, the Taos Ski Valley is a prime destination. Known for its challenging slopes and stunning alpine scenery, it's a fantastic place for winter sports. During the summer months, the area transforms into a hiker's paradise with trails winding through lush forests and meadows.
If you want a genuine Taos experience during your trip, there is no better place to stay than the Hacienda Del Sol. This beautiful hotel is located in the heart of the Historic District of Taos and features unique interior and architectural design elements, local to the area.
You will love the Southwest Kiva fireplaces in your room. Make sure to check out the view of the Taos Mountains from the beautifully manicured garden of the hotel before heading out to explore Rio Grande Gorge, and the Taos Pueblo area, located a short distance from the property.
Where to stay when you reach Denver
While in Denver, our ultimate favorite place to stay is the incredibly stylish Ramble Hotel. Everything about this property screams design and the panoramic views from the hotel's terrace will leave you in awe.
If you have worked an appetite during your drive, you can head to the upscale restaurant located on the property for a meal, prepared with fresh, local ingredients.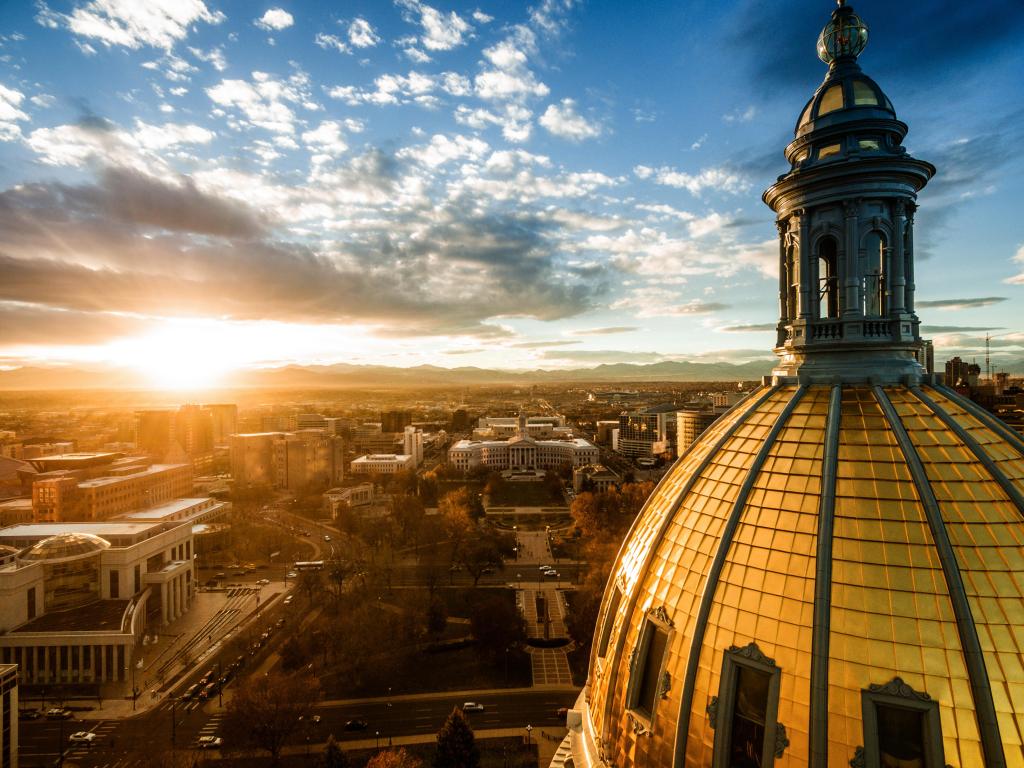 During your stay, you will be located a stone's throw from The Pepsi Center, Coors Field, and the popular 16th Street Mall. You can also reach LoDo and The Source easily.
Things to see on a road trip from Amarillo to Denver
There are so many amazing things to see and do on this scenic and historic road trip from Amarillo to Denver. To make your planning easy, here are some of our favorite places to visit on these routes:
The Direct Route
Palo Duro Canyon State Park - Known as the "Grand Canyon of Texas", this park offers beautiful hiking trails and stunning geological formations. It's the second-largest canyon in the United States.
Capulin Volcano National Monument - A dormant volcano offering a unique hiking experience to the crater. From the top, you can enjoy panoramic views of the surrounding plains.
Raton Museum - A quirky little museum filled with local memorabilia and artifacts. Its eclectic collection includes everything from mining tools to antique dolls.
Trinidad History Museum - This museum complex provides a deep dive into the history of Trinidad and the American West. The Victorian-era Bloom Mansion is particularly worth a visit.
Pueblo Riverwalk - A charming urban waterfront with boat rides, sculptures, and eateries. It's a great place to unwind and enjoy a meal or a leisurely walk.
Steelworks Museum, Pueblo - A museum dedicated to the history of the steel industry in Pueblo. You'll find a peculiar mix of industrial machinery and personal artifacts from steelworkers.
Bishop Castle, Rye - An extraordinary, hand-built stone castle complete with a fire-breathing dragon. It's a testament to one man's creativity and determination.
Garden of the Gods, Colorado Springs - A registered National Natural Landmark featuring dramatic sandstone formations. It offers walking, hiking, and rock-climbing options amidst picturesque views.
The Money Museum, Colorado Springs - Here you can see a $100,000 bill and learn about the history of money. It's a surprisingly interesting stop that's both educational and fun.
United States Air Force Academy, Colorado Springs - An active military academy with a beautiful campus, including the striking Cadet Chapel. Visitors can learn about the academy's history and role in the US military.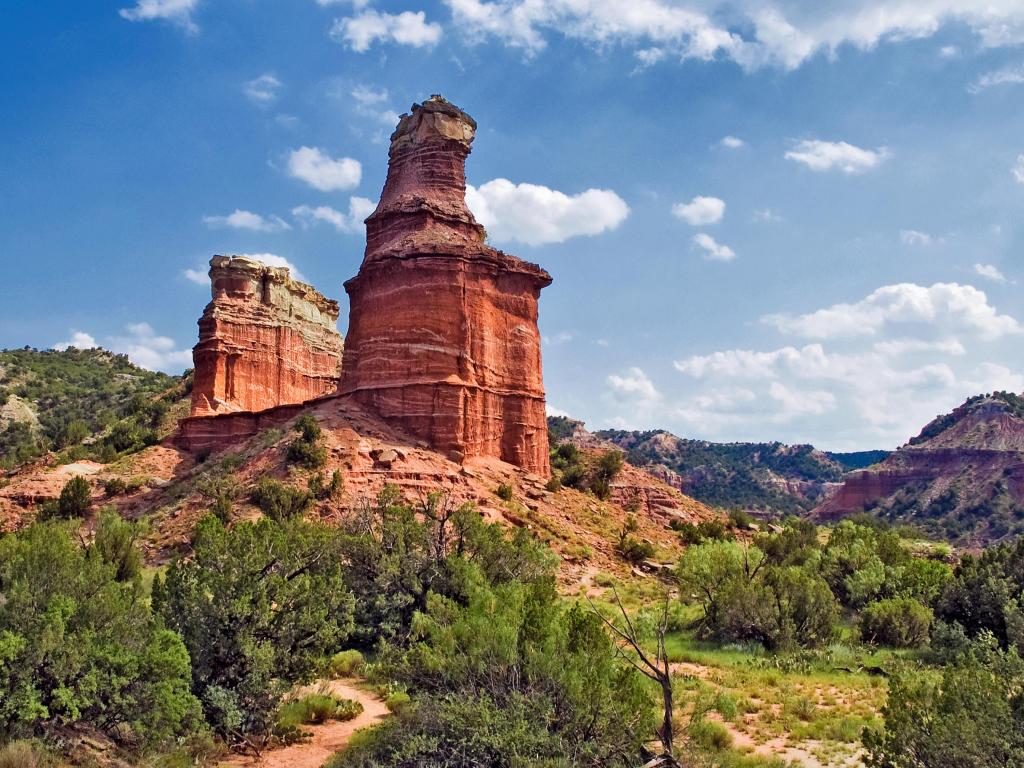 The Santa Fe Route
Indian Pueblo Cultural Center, Albuquerque - This cultural hub represents the 19 Pueblos of New Mexico, showcasing traditional art and history. Visitors can learn about the Pueblo people's history and culture while watching traditional Native American dances and art demonstrations.
Old Town Albuquerque - This historic district is known for its century-old adobe houses, charming shops, and traditional New Mexican restaurants. A key attraction is the historic San Felipe de Neri Church, dating back to 1793.
American International Rattlesnake Museum, Albuquerque - This unique museum is dedicated to rattlesnake species from North and South America. Visitors can learn about the life of these often-misunderstood creatures and get a close-up view of live rattlesnakes from different species.
Santa Fe Plaza - The heart of the city, Santa Fe Plaza is surrounded by galleries, historical sites, and restaurants. Must-sees include the Palace of the Governors, a National Historic Landmark.
Canyon Road, Santa Fe - Known for its half-mile stretch housing over a hundred art galleries and studios. Visitors can discover a vast range of art, from Native American to contemporary, attend an art opening, or simply enjoy the beautiful adobe architecture.
Meow Wolf, Santa Fe - An immersive, interactive art installation, Meow Wolf invites you into a multidimensional mystery house. Visitors can explore the unique, immersive, and interactive art installations while trying to solve the mystery of the Selig family who disappeared from the Victorian house.
Taos Pueblo - As one of the oldest continuously inhabited communities in the U.S. and a UNESCO World Heritage site, Taos Pueblo offers visitors a chance to experience the living history of the Pueblo people and admire the unique multi-storied adobe buildings.
Rio Grande Gorge Bridge - As the seventh highest bridge in the U.S., it offers stunning views of the Rio Grande Gorge. Visitors can walk across the bridge for breath-taking views or visit the rest area for photo opportunities and to meet local vendors.
Pagosa Springs Hot Springs - These natural hot springs are known for their therapeutic qualities. Visitors can soak in the "Healing Waters" and enjoy the beautiful mountain scenery, with several different pools of varying temperatures to choose from.
Wolf Creek Ski Area - Known for getting the most snow in Colorado, this area offers great skiing and snowboarding. Visitors can enjoy a day on the slopes suitable for all skill levels and take in the stunning mountain views while riding the chairlifts.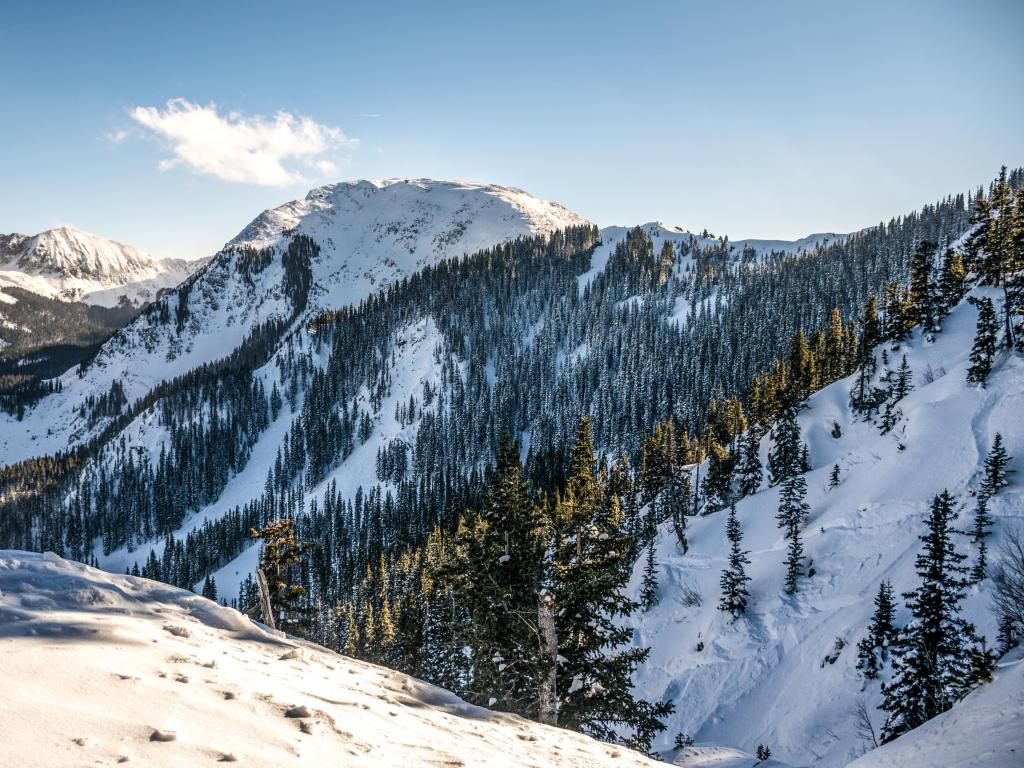 Best time to go on a road trip from Amarillo to Denver
The best time to set off on this road trip from Amarillo to Denver largely depends on what you want to experience on your journey. The city enjoys plenty of sunshine with more than 300 sunny days a year.
The summer season experiences average high temperatures in the 80s to low 90s degrees Fahrenheit, which means you might encounter crowds who are visiting to enjoy the great outdoors under the sunshine. This would also mean increased accommodation prices.
While this trip can technically be done year-round, the winter months can be challenging due to potentially harsh weather conditions. Denver experiences cold, often snowy winters, with average highs of 45 degrees in December and 44 degrees in January.
If you're a ski or snowboard enthusiast and plan to hit the slopes in Colorado, the winter months could be an exciting time for this trip. However, you should be prepared for potential road closures or difficult driving conditions in mountainous areas.
Visiting in January will mean that you can participate in the National Western Stock Show. A Denver tradition since 1906, this two-week event celebrates western heritage with one of the world's richest professional rodeos, a horse show, livestock and trade exhibits.
If you're interested in more temperate weather and avoiding potential snowfall in the higher altitudes of New Mexico and Colorado, the best time to embark would be late spring to early fall, approximately from May to September.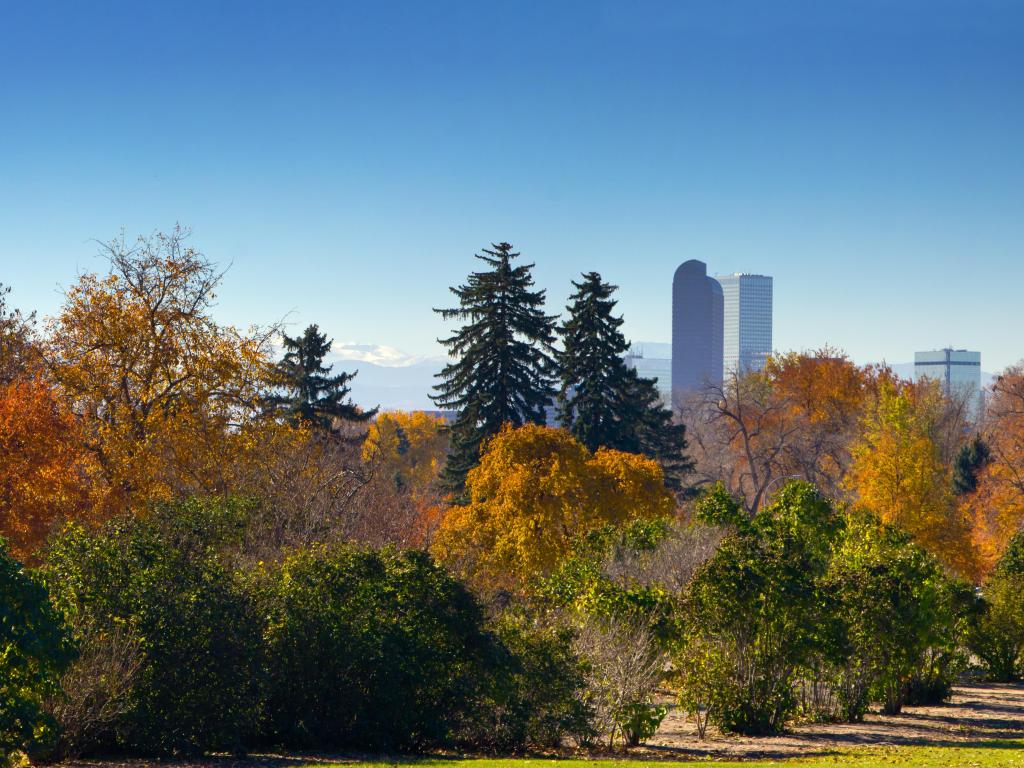 During these months, the weather is typically warm and conducive to sightseeing, with average highs in Denver ranging from 66 degrees Fahrenheit in May to 89 degrees Fahrenheit in July, and cooling down to 78 degrees in September.
In terms of affordability, the off-peak seasons, which are generally late fall (November) and early spring (March), might offer the best deals for hotels and attractions.
If you are visiting in March, you will catch the popular Denver St. Patrick's Day Parade. This is one of Denver's most-attended events, featuring elaborate floats, marching bands, dancers, and more in celebration of Irish culture and heritage.