Road Trip from Anaheim to Las Vegas
This epic road trip will take you from the iconic city of Anaheim, through the oasis and desert landscapes of Southern California, to Sin City, Las Vegas. This relatively short road trip is jam-packed with action, and you'll get the chance to visit ghost towns, desert lakes and national parks.
The 540-mile road trip from Anaheim to Las Vegas will take about 11 hours to drive. Highlights en route are Los Angeles, Santa Clarita, Bakersfield, Sequoia National Park, Death Valley, Palm Springs, Joshua Tree National Park and Lake Havasu City.
No matter what's on your agenda, this beautiful drive will be full of adventure and beauty around every corner. Continue on to learn more about our recommended routes, places to stay, and things to do along the way.
How far is Las Vegas from Anaheim, and how long will the road trip take?
Comparison of road trip routes between Anaheim and Las Vegas

| Route | Distance | Driving Time |
| --- | --- | --- |
| The Death Valley Route | 540 miles | 11 hours |
| The Palm Springs Route | 630 miles | 11 hours 45 minutes |
The Death Valley Route will take you 540 miles with 11 hours of driving time. This route will bring you through Death Valley, one of the most dramatic landscapes in the United States.
The Palm Springs Route takes you through outdoor paradises like Big Bear Lake and Lake Havasu City on your way to Las Vegas. You'll drive 630 miles in 11 hours and 45 minutes.
Regardless of the route you take, we recommend taking four days to make this trip. Continue reading to learn more about these incredibly scenic routes, places to stay on the way, and what to see and do on your way from Anaheim to Las Vegas.
Best road trip route from Anaheim to Las Vegas
The drive from Anaheim to Las Vegas takes you through some of the most breathtaking landscapes in America. Depending on what you want to see, both routes have something for everybody.
Leaving Anaheim on the Death Valley Route, you'll visit the home of the rich and famous Los Angeles. Here you can indulge in the tourist attractions of Universal Studios and the Hollywood sign.
Then, you'll enjoy an action-packed day at Six Flags. From there, the journey becomes more relaxed with lakes and national parks. You'll hike among huge sequoia trees and experience the vast desert landscapes of Death Valley as you drive through the heart of the national park. After exploring ghost towns, you'll reach Las Vegas.
As you leave Anaheim, the Palm Springs Route will take you to So-Cal cities. Here you'll visit both cosmopolitan districts and mountain hikes.
Along the way, you'll see national parks with famed Joshua trees and desert landscapes. You can make the most of the Arizona heat by spending a day on Lake Havasu enjoying water activities like fishing and boating.
While this road trip has a strong emphasis on nature, it isn't without quirks. You'll see the first McDonald's, colorful totems made of boulders, and hike through an old disused railway tunnel.
The Death Valley Route
From Anaheim, head north on US-95 towards Death Valley. You'll pass endless desert landscapes that are full of wildlife and beautiful desert plants.
Continue on through the base of the Sierra Nevada Mountains. Take a detour to Sequoia National Park to see some of the largest trees in the world.
From here, drive into Death Valley, one of the most unique landscapes in America. Then, hit the highway into Nevada and drive south to beautiful Las Vegas.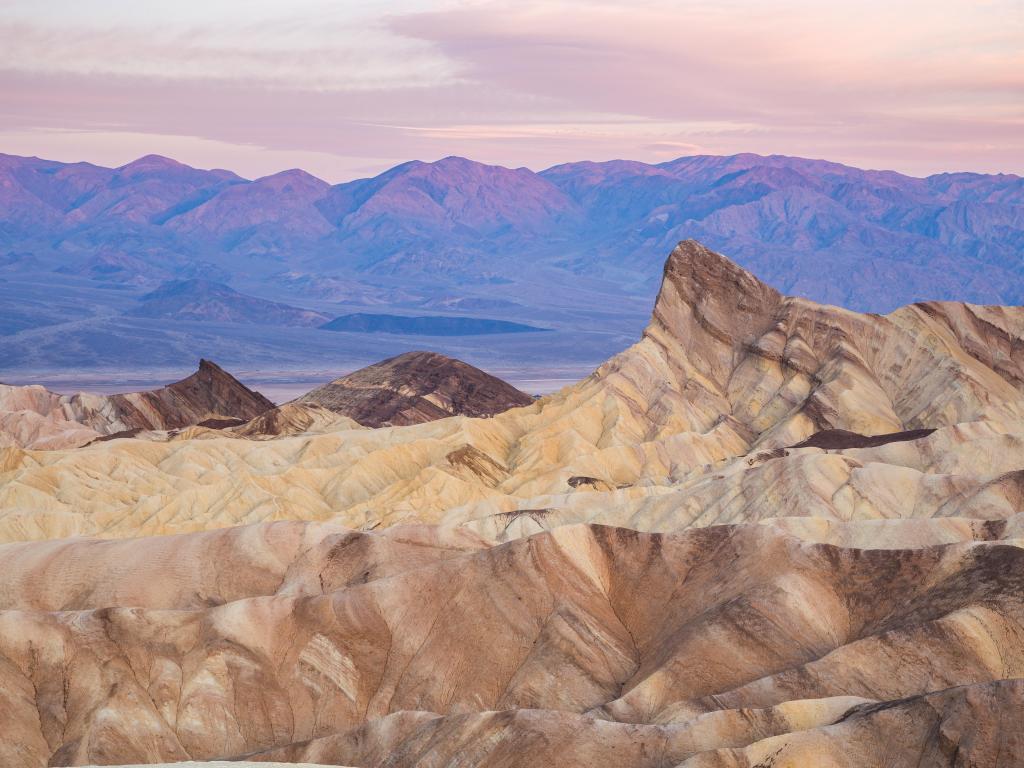 The Palm Springs Route
Starting from Anaheim, make your way to Palm Springs. From here, you can take a gorgeous detour to Big Bear Lake and experience one of Southern California's most beautiful wilderness areas.
After enjoying the mountain scenery, head back on route and make your way to Joshua Tree National Park. This gorgeous park is famous for its endemic Joshua Trees and some of the best hiking and rock climbing in America.
From here, continue heading east into Lake Havasu City. Enjoy the desert paradise and water sport capital.
After Havasu, you can take another detour to the Mojave National Preserve to check out the unbeatable natural landscape. Afterwards, get back on route and drive north into your destination, Las Vegas, Nevada.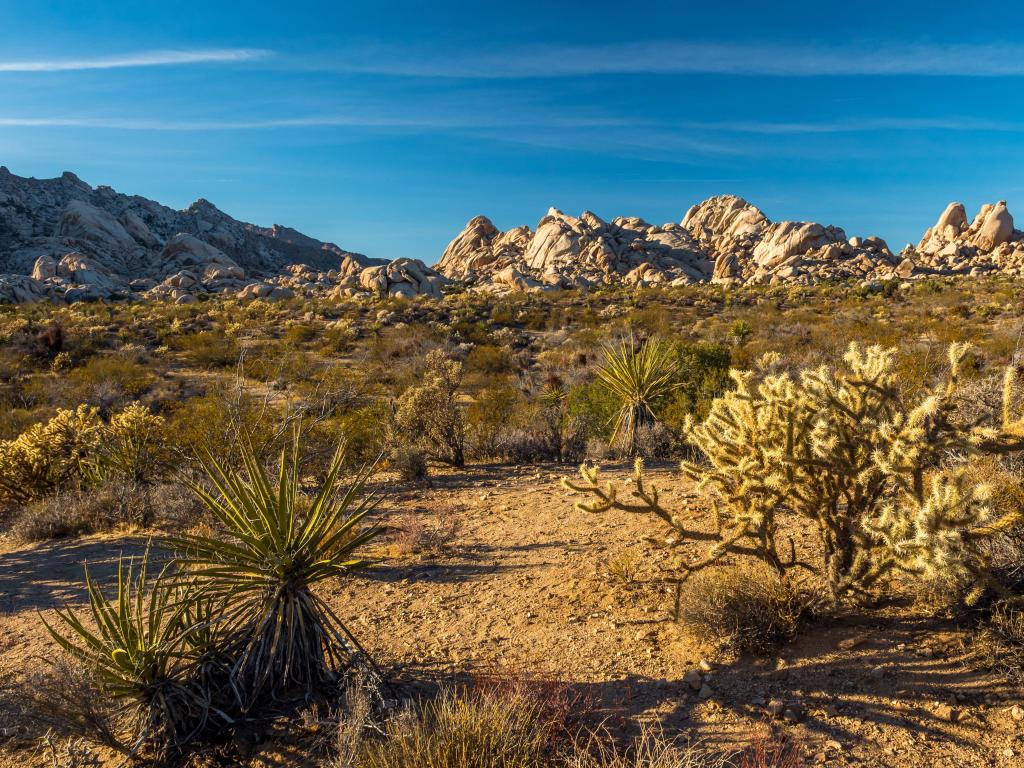 Best places to stop between Anaheim and Las Vegas
There's plenty to see and do along the way on both routes, so you'll want to take your time and make a few stops along the way. Below are our favorite stopovers and some amazing places to stay.
History and music in Bakersfield
About a quarter of the way along the Death Valley Route is the city of Bakersfield. Known as "Nashville West" city is famous for its musical culture and history tied to the early history of California.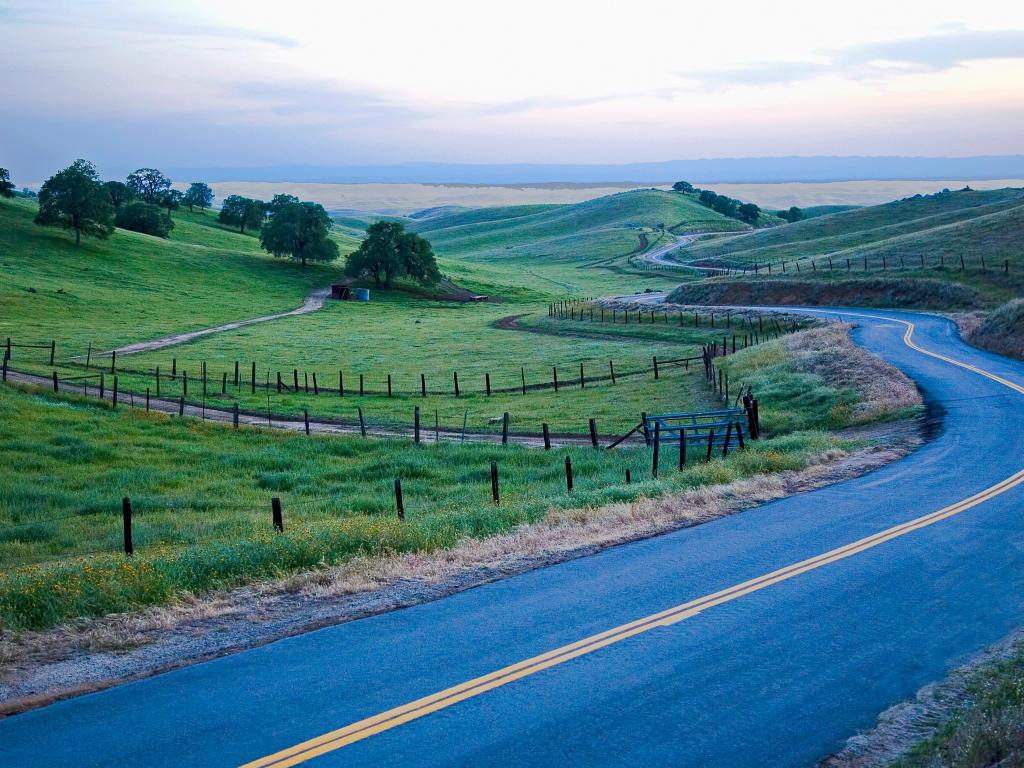 Merle Haggard was born nearby, and Buck Owens moved to Bakersfield, making it a notable place for country music. Owens even sang a song called Streets of Bakersfield.
For the first stop in the city, make your way to Buck Owens' Crystal Palace for delicious food and live country music. Big names in country music such as Willie Nelson and Brad Paisley have both given unexpected appearances at the venue.
Bakersfield was home to many Basque settlers during the Gold Rush. The legacy of Spanish families lies in the Basque Block, more commonly known as the Old Town Kern neighborhood. Head here to sample Basque cuisine or the Picon Punch. The number of Basque restaurants is the largest concentration in the States.
Next, walk over to Central Park at Mill Creek. What used to be an irrigation canal is now a walking path surrounded by landscaped spaces and benches, just walking distance from downtown.
While in Bakersfield, we recommend staying the luxurious Padre Hotel. Built in 1928, The Padre is a historic landmark in the city. The boutique hotel is the only 4-diamond hotel in town. Beautifully historic, its rooms have a luxurious and contemporary interior design.
Make sure to enjoy the on-site entertainment at the Farmacy Cafe, Prairie Fire, Prospect Lounge and Brimstone Bar. The Prairie Fire is a rooftop bar where you can catch live music every Thursday.
On top of its design, amenities, and friendly service, the hotel is close to many of Bakersfield's top sights. The Fox Theater, Buena Vista Museum of Natural History, Mill Creek Antique Mall, and Central Park at Mill Creek are all within walking distance.
Party on the lake in Lake Havasu City
Just over halfway on the Palm Springs Route is Lake Havasu City, Arizona. This halfway point makes for a great overnight stop with plenty of relaxation or adventurous water sports for you to enjoy.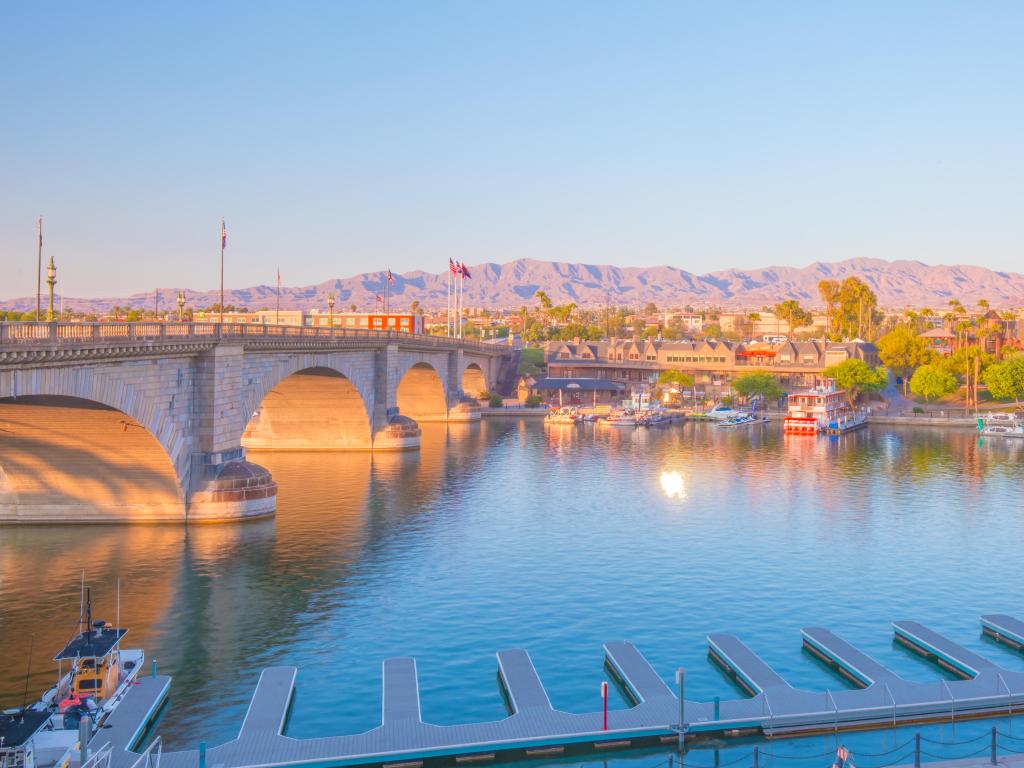 The area also has plenty of sights and experiences. First, make your way to see the London Bridge and learn how it traveled 5,400 miles to Arizona. It's one of Arizona's most popular built attractions, attracting photographers and history enthusiasts alike.
There's 400 miles of shoreline surrounding Lake Havasu. The clear waters and sandy beaches make it an ideal place to relax and swim. Also, the temperature makes sure it's comfortable to do so year-round.
While in the area, spend a day on the water. Whether it's a kayak, a pontoon, or a jet ski, you'll find every type of boat during your stay in Lake Havasu. You'll have plenty of options too, with many rental companies in the area.
Whether a short walk or a difficult sloping hike, there are many trails to follow in Lake Havasu. The Lake Havasu website has a directory of hiking options and is a useful tool for your stay.
While in Lake Havasu, the best place to stay is the beautiful and chic Heat Hotel. You'll enjoy the free parking on-site with an electric charging station if you need it.
Once you've finished relaxing, there's bike rental available to explore the local area. The friendly staff can also help you secure a boat rental as well. After your explorations, you can also take advantage of the luxurious bar area with outside seating.
The Heat Hotel is within walking distance of many sights, like the London Bridge, Lake Havasu Visitor Center, Lake Havasu Marina, Island Trail, and Body Beach.
Where to stay when you reach Las Vegas
Once you reach your destination in Las Vegas, we highly recommend staying at The Bellagio. After checking into your beautiful and spacious room, set out to enjoy the five outdoor swimming pools.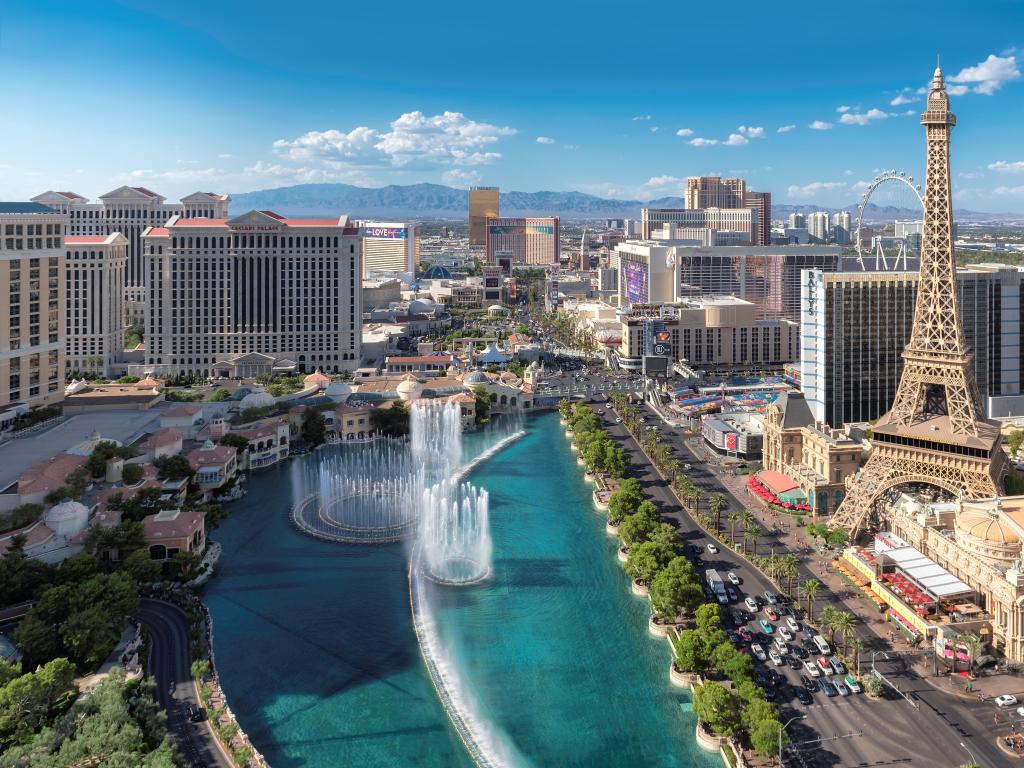 Afterwards, you have 18 dining choices on-site, including but not limited to, Prime Steakhouse, Lago Italian, Yellowtail Japanese.
To help you relax even more are amenities like a fitness center, spa and wellness center with massage package, hair treatments. There's also a steam room, hot tub, and sauna.
Inside the hotel are boutique shops, a famous casino, Bellagio Botanical Gardens and the famous Bellagio Fountains on-site. Some rooms have fountain views, so book early to make sure you too have one of the most astounding views in Vegas.
The Bellagio is located right on the Las Vegas Strip. Other landmarks close by include the Eiffel Tower at the Paris Hotel, Flamingo Habitat, Monorail, and the Shark Reef Aquarium.
Things to see on a road trip from Anaheim to Las Vegas
There are endless sights and landmarks to see on this epic road trip. Below are our top things to see to help you plan your journey and get the most out of this wonderful part of America.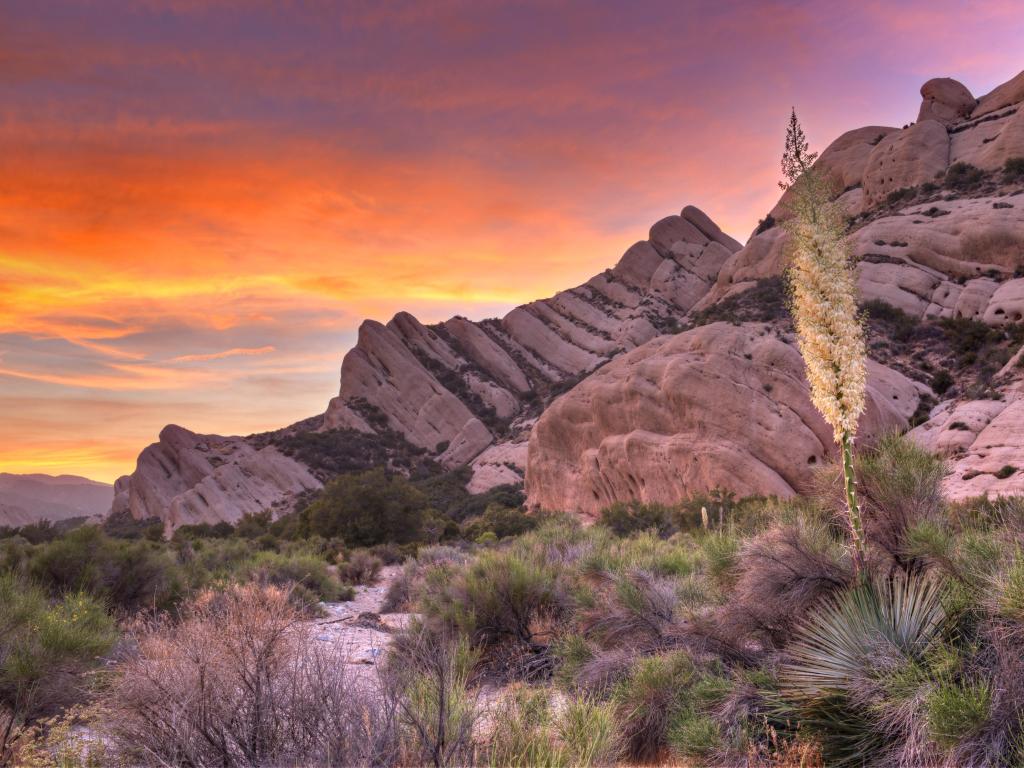 The Death Valley Route
Los Angeles, California - Take a picture of the iconic Hollywood sign and tour Universal Studios. Make sure to stop by Venice Beach and grab a bite at one of its famous restaurants afterwards.
Santa Clarita, California - Head to Placerita Canyon State Park to hike a rural part of Los Angeles County. Trail heads will direct you deep into the San Gabriel Mountains.
Six Flags Magic Mountain, California - If you've got a need for speed, Six Flags Magic Mountain will feed your thirst with an abundance of thrill rides.
Vaquero Beach at Pyramid Lake, California - If it's a warm sunny day, then spend a day at Vaquero Beach. White sandy beaches serve as the ideal spot for a picnic while kayaks, paddle boards and peddle boats are available for hire.
Fort Tejon State Historic Park, Lebec, California - This 1850s fort is now a museum. Pop by to learn more or just admire the scenery with the age-old oak trees.
Lake Isabella, California - There are some scenic campgrounds on the banks of Lake Isabella. With a short drive, you can also visit nearby hot springs to relax. Try Miracle and Remington Hot Springs.
Sequoia National Park, California - The Kennedy Meadows Trailhead is a quick detour. Here you can immerse yourself in the forested landscape and surround yourself with huge sequoia trees.
Olancha, California - You won't need a detour to see the Olancha Dunes. The rolling dunes with the Sierra Nevada mountains behind make for a special photo opportunity.
Death Valley National Park, California - You'll drive through the heart of Death Valley on this route. Take time to stop at Mesquite Flat Sand Dunes where the dunes reach 100-feet high.
Beatty, Nevada - Head to the eerie ghost town of Rhyolite. Don't forget to take some photos of the mysterious art installation across the street.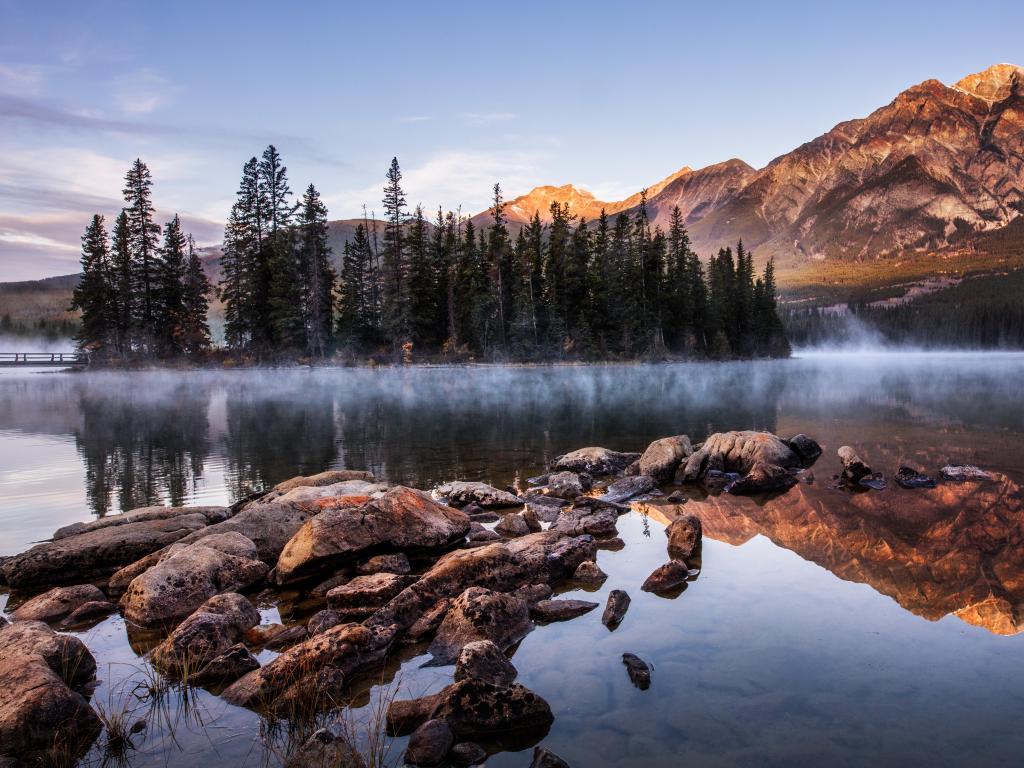 The Palm Springs Route
Riverside, California - Hike up Mount Rubidoux. There's a road to the summit but with no cars allowed, it's a safe walk to the top.
San Bernardino, California - Visit the first ever McDonald's restaurant on Route 66. It's free to enter and there's a museum with memorabilia and historic artifacts such as Happy Meal toys.
Big Bear Lake, California - There are luxury cabins to hire in Big Bear Lake. So whether skiing and snowboarding in winter, or kayaking and hiking in summer, you can escape in comfort.
Palm Springs, California - The cosmopolitan Palm Springs has both trendy hangouts and nature outings. Take a ride up the Palm Springs Aerial Tramway for a canyon ride.
Joshua Tree National Park, California - Without a huge detour, you can experience the Joshua Tree National Park by walking the gentle Bajada Nature Trail. The 0.5 mile hike will showcase the distinct Joshua desert landscape.
Havasu National Wildlife Refuge, Topock, Arizona - You can take a tour to spot the wildlife at Havasu National Wildlife Refuge. It's a brilliant spot for birdwatching, while coyotes, foxes, and bobcats are commonly sighted.
Mojave National Preserve, California - Experience the sand and gravel basins of the Mojave. Try the Cima Dome & Volcanic Field for distinct rock formations and a variety of fauna.
Seven Magic Mountains, Nevada - Make a quick stop at Seven Magic Mountains. The art installation comprises seven painted boulders stacked like totems.
Boulder City, Nevada - Here you can hike to the Historic Railroad Trail through tunnels. It's also the home of the Hoover Dam Museum. If you've got the time, go and see the Hoover Dam itself after!
Lake Las Vegas, Nevada - The luxurious Lake Las Vegas is a resort town with a distinct Mediterranean architecture. A relaxing spot with boutiques and hiking trails, quite the difference to its namesake.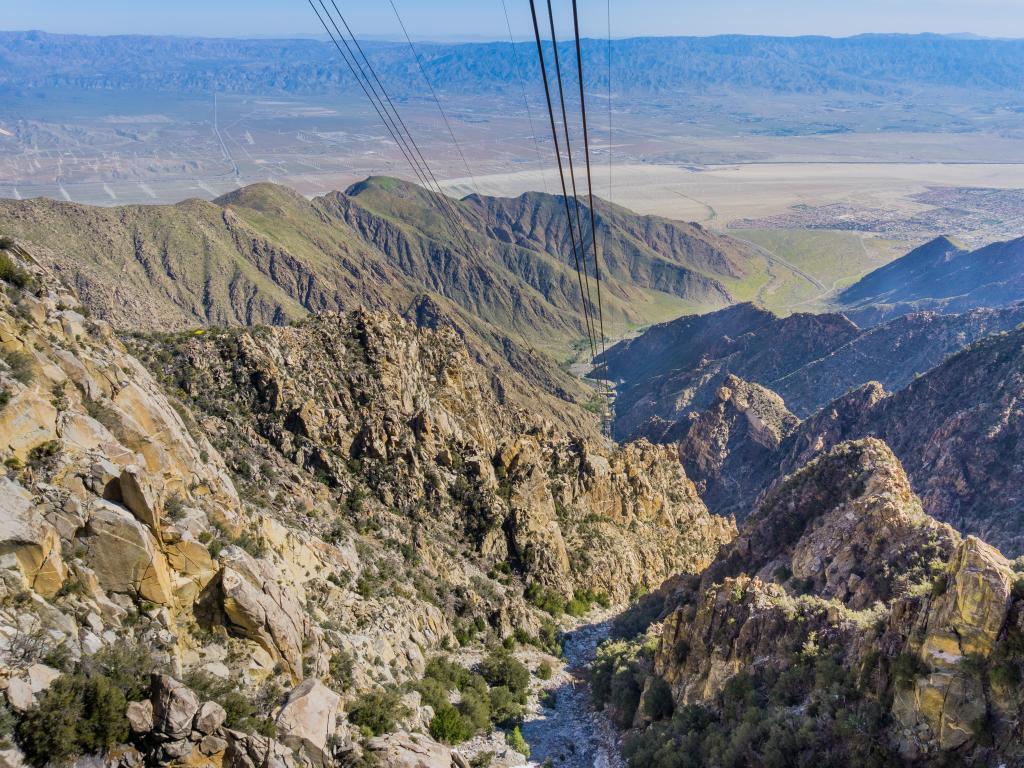 Best time to go on a road trip from Anaheim to Las Vegas
Las Vegas is an all year destination. Its attractions never close and the party never stops on the strip. However, certain times of year are busier than others. For cheaper deals regardless of time of year, avoid the weekends, or you may be shoulder to shoulder with people in all corners of the city.
Many people consider June to August the low season in Las Vegas, mainly because of the excessive heat. June, July and August have average temperatures of 87-90 degrees Fahrenheit and average highs during these months are above 100 degrees Fahrenheit.
On the other hand, you can hide from the heat in casinos and most Las Vegas hotels have epic pools to chill out at. Unlike many places in America, you can actually get good deals on hotels during summer.
In the winter, the desert climate gets cooler. January, February, November and December have average temperatures of 47-56 degrees Fahrenheit and sometimes it even snows.
January is the quietest time to visit Las Vegas, so there are bargain hotel prices. December can be a vibrant time in Las Vegas, with Christmas parties descending on the Strip.
Both Spring and Fall are considered high seasons. The temperatures are cooler than summer but still pleasant and are much more comfortable at night.
March, April, and May have average temperatures of 60-77 degrees Fahrenheit. September and October average at 82 and 69 degrees Fahrenheit, so you'll be comfortable, with cooler temperatures at night.
Las Vegas has plenty of year-round festivals and events, making it one of America's party capitals. The most famous weekend celebrations include New Year's Eve, Super Bowl Weekend, and Memorial Day Weekend.