Road trip from El Paso to Los Angeles and San Diego
The scenic road trip from El Paso to Los Angeles and San Diego is the perfect journey through the American Southwest, dotted with rugged mountains, unique rock formations, and sprawling cacti-studded plains, before giving way to the buzzing urban landscapes of Southern California.
The 900-mile road trip from El Paso to Los Angeles and San Diego takes around 14 hours to complete, taking you through Las Cruces, Tucson, Yuma, Phoenix, Palm Springs, San Bernardino National Forest, Anaheim and Disneyland Resort.
This road trip really has something for everyone as you make this stunning trip to some of the most renowned natural attractions and city sights. Keep reading to learn about the best routes and places we suggest stopping off to explore along this unforgettable drive.
How far are Los Angeles and San Diego from El Paso, and how long will the road trip take?
Comparison of road trip routes between El Paso, Los Angeles and San Diego

| Route | Distance | Driving Time |
| --- | --- | --- |
| The Southern Route | 880 miles | 13 hours 35 minutes |
| The Northern Route | 935 miles | 14 hours 35 minutes |
The Southern Route takes around 13 hours and 35 minutes to drive and covers 880 miles, passing through vast desert landscapes, historic towns, and cultural landmarks.
The alternative Northern Route travels around 935 miles and takes 14 hours and 35 minutes, showcasing a delightful blend of the Southwest's natural wonders and cultural gems.
Although both trips could feasibly be driven in a couple of days, the plethora of sights and experiences along the way beckon a more leisurely pace. Therefore, we recommend setting aside 3-4 days for the journey.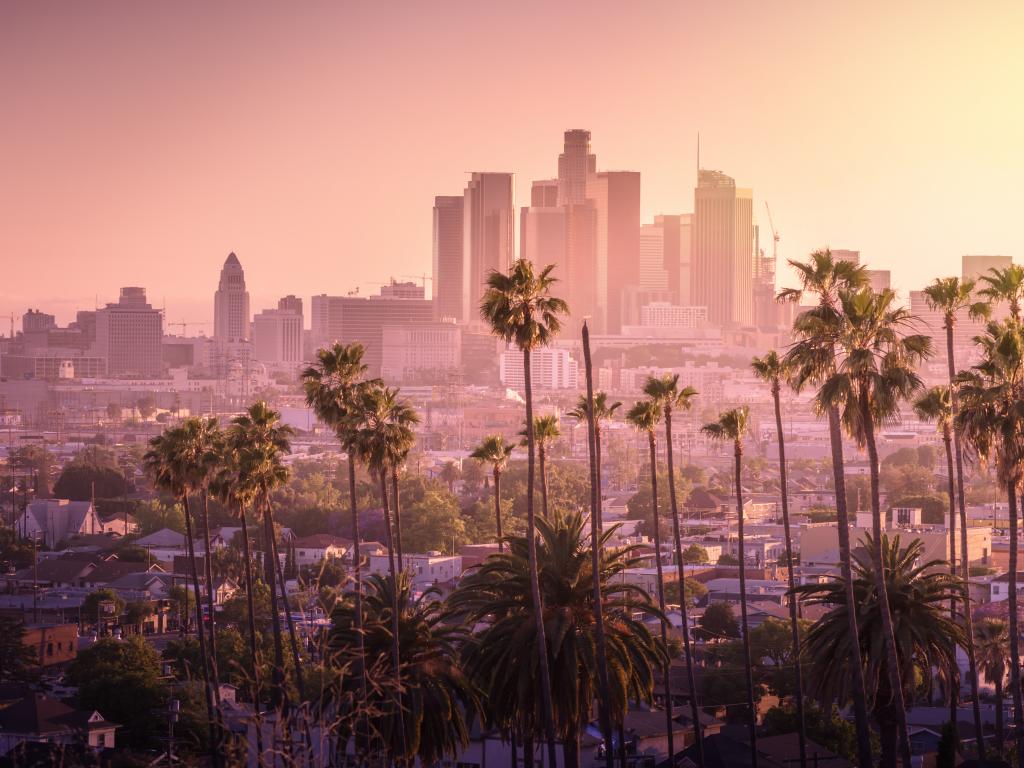 Best road trip route from El Paso to Los Angeles and San Diego
Both routes take you past amazing natural wonders, with some similar sights and experiences enjoyed on both, including iconic Disneyland. However depending on what route you take you will take on a slightly different terrain, with additional attractions on either depending on what route you take.
The slightly quicker Southern Route not only lets you meander through historical towns such as Tucson and Yuma but also ushers you near the international boundary, offering potential detours into border towns or the Mexican frontier.
This route also provides stunning vistas at Picacho Peak and the beauty of Jacumba Hot Springs.
Take the alternative Northern Route and you still weave through Las Cruces and Tucson, however, you also get to enjoy additional city stops in Phoenix and Palm Springs, making it a blend of urban retreats and natural splendors.
Stops like the Sunset Point Rest Area offer panoramic views, and Inspiration Point ensures a feast for the eyes, with a visit to San Bernardino National Forest ideal for adventurers.
This route also gives the potential to make detours to Mojave National Preserve and Death Valley National Park, an extension to your trip well worth making.
How to drive from El Paso to Los Angeles and San Diego
The map above shows our suggestions for the best road trip routes between El Paso, Los Angeles and San Diego. Keep reading for detailed descriptions of both routes, where to stay on either, and the best things to do on the way.
The Southern Route
Starting your journey in El Paso, first head west along Interstate-10 (I-10), arriving at Mesilla Valley Bosque State Park for bird-watching trails, and then shortly after Dripping Springs Natural Area, offering picturesque views and peaceful hiking paths.
From here, head to Tucson on the interstate, where your journey offers a rich blend of history and modern marvels. A visit to Pima Air & Space Museum is a must, along with Saguaro National Park and Sweetwater Wetlands Park.
Proceed westward to Yuma, home to the hauntingly intriguing Yuma Territorial Prison State Historic Park.
Afterwards, make a visit to Jacumba Hot Springs, a perfect place for a relaxing soak, before heading on the road again towards Imperial Beach. While here, the Tijuana River National Estuarine Research Reserve offers a unique blend of ecosystems and habitats to explore.
Continue north on I-5, taking in the city vibes as you journey through San Diego. A slight detour east at this juncture on I-405 will lead you to Lake Mission Viejo, a picturesque reservoir amidst urban sprawl, before continuing along the I-5 to Anaheim, home to the world-renowned Disneyland Resort.
Finally, head westward on I-10 will conclude your journey in the bustling metropolis of Los Angeles.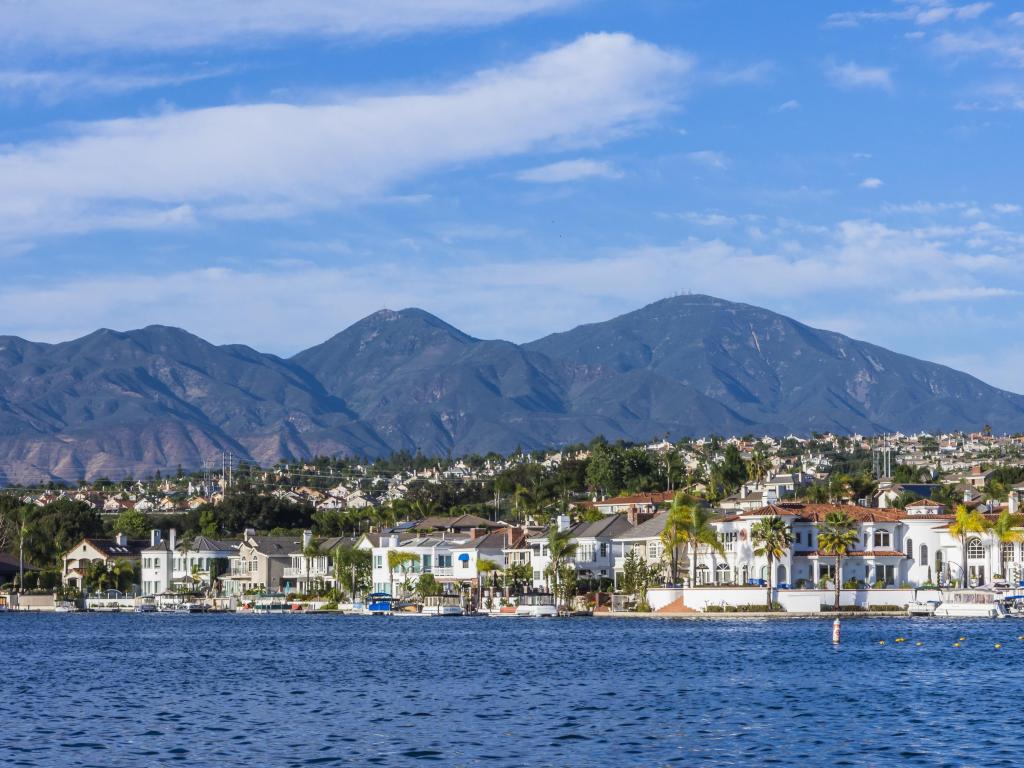 The Northern Route
As with the Southern Route, start from El Paso taking Interstate-10 (I-10), and make your way west, visiting beautiful Mesilla Valley Bosque State Park. Meander and then the scenic vistas at the Dripping Springs Natural Area. Shortly after, you'll then arrive at Saguaro National Park.
Afterwards keep driving where you'll shortly arrive at the Arizona-Sonora Desert Museum, offering you a rich insight into the area.
Forge ahead to Phoenix via I-10 West, where you can dive into history at the Heritage and Science Park and Historic Heritage Square. For those looking for an elevated view, Camelback Mountain offers hiking trails leading to panoramic vistas of the city and beyond.
Take I-10 West out of Phoenix, towards Palm Springs. The Palm Springs Aerial Tramway is the ideal place to head to first for amazing city views. Those more adventurous can also divert to explore Mojave National Preserve or the surreal landscapes of Death Valley National Park.
Back on your main route after a night or two in Palm Springs, you come across quirky attractions like the Cabazon Dinosaurs, and nature lovers can take another detour to experience the unique flora of Joshua Tree National Park.
Venture onwards to San Bernardino via I-10 West, where San Bernardino National Forest is the perfect stop off to explore. Your next stop will be the iconic Los Angeles.
After your visit to this ever-moving, ever-changing city, a slight shift south then I-5 leads you to Anaheim, before continuing southward to reach the coastal vibes of San Diego.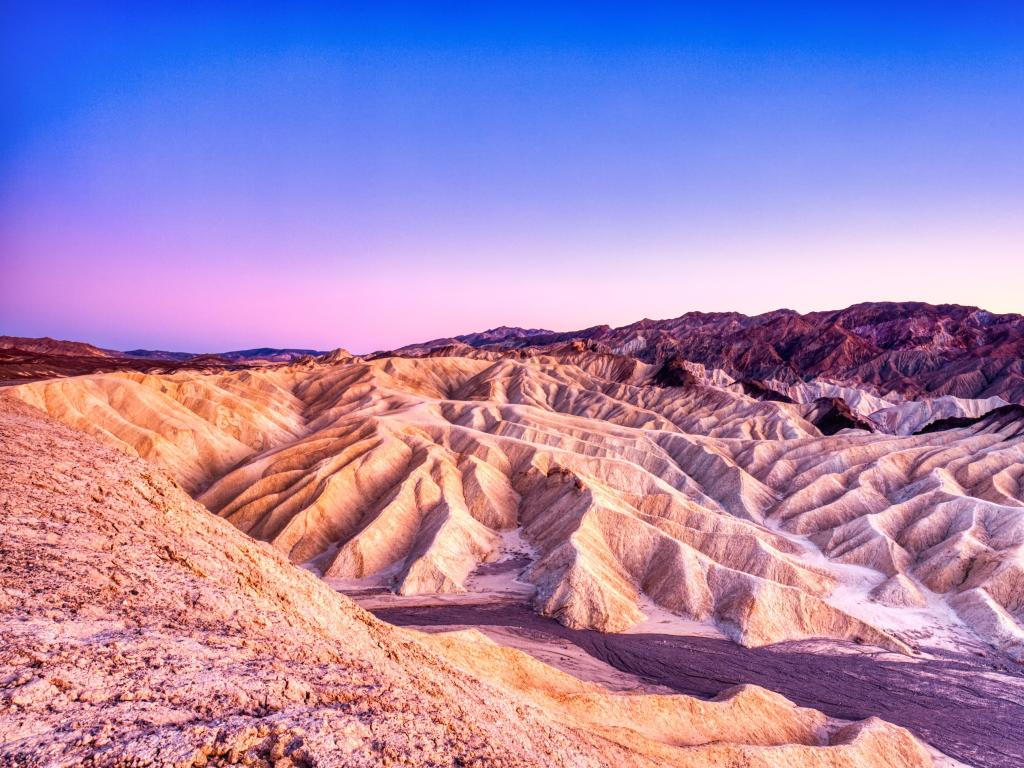 Best places to stop between El Paso, Los Angeles and San Diego
Whilst this journey could be made in a couple of days, we highly recommend taking your time with an overnight stop to explore the natural sights and historical attractions along the way. Here are some of our favorite places to stay.
Enjoy a warm welcome in Yuma
Along the Southern Route journey, approximately three-quarters of the way to Los Angeles, you will arrive at Yuma, known as the "Sunniest City on Earth." You'll be greeted with warmth and brightness, making it an ideal pit on this amazing trip.
Yuma has a rich history, so you can enjoy visiting sites, including Yuma Territorial Prison State Historic Park, which stands as a testament to the Wild West era. This prison housed some of the most notorious outlaws, so step inside and learn more about their fates!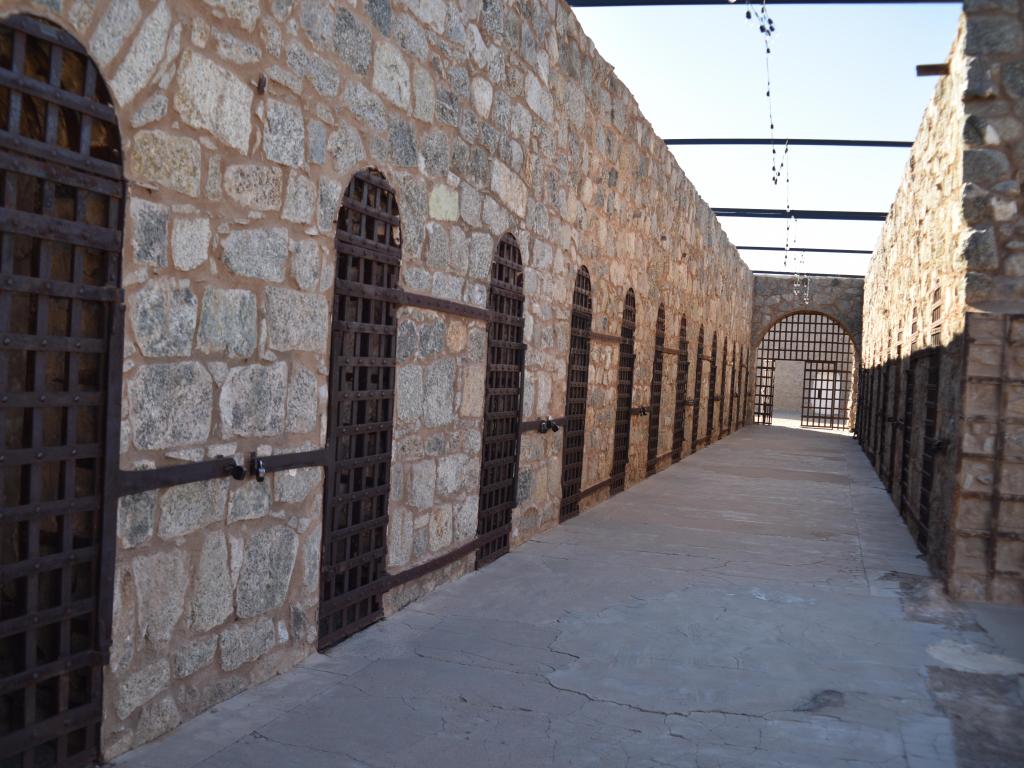 The Colorado River State Historic Park is another great visit, with the beauty of the Colorado River alongside the park's historical exhibits making for a stunning and interesting day trip.
If you fancy something off the beaten track, then The Castle Dome Mine Museum & Ghost Town is ideal for the history buffs and the curious alike. Step back in time to explore this ghost town, offering a peek into the bygone days of prospectors and miners.
During your visit to Yuma, a night stay at the traditional La Fuente Inn & Suites is just the ticket. This inn is packed with old-world charm and nestled just a stone's throw away from attractions like Roxaboxen Park and Library Grounds.
After exploring the area, head back to the comfort of the lodging to unwind by the swimming pool, or perhaps indulge in a pre-dinner aperitif during their famed happy hour.
Relax in the celebrity hangout, Palm Springs
Palm Springs stands as a desert gem on The Northern Route, around three-quarters of the way to San Diego. A beloved hideaway during Hollywood's 'Golden Age', the "Two-Hour Rule" for actors meant this city was a sanctuary away from the hustle of Los Angeles, without straying too far from the studios.
A trip to Palm Springs without experiencing the Palm Springs Aerial Tramway would be incomplete. Enjoy an unparalleled view of the Coachella Valley, taking visitors from the desert floor to the cooler sights of San Jacinto Peak.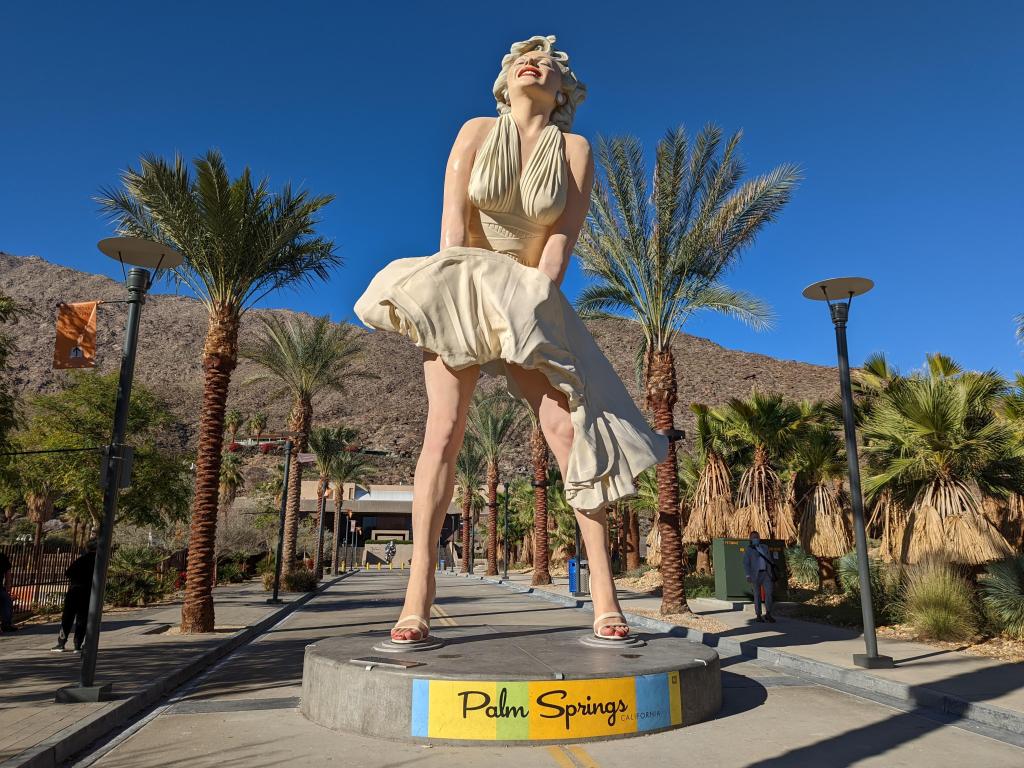 Make sure to visit The Living Desert Zoo and Gardens, which showcases the desert's rich biodiversity. And for art enthusiasts, the Palm Springs Art Museum is laden with art and design centered on the region's indigenous heritage.
For your night's stay, Dive Palm Springs promises an experience like no other and is a tranquil oasis. The private patio with a hot tub is surrounded by mountain vistas and a welcome sight to unwind and reminisce.
With its proximity to attractions like the Palm Springs Air Museum and Agua Caliente Park, Dive Palm Springs ensures you're never far from the city's wonders.
Where to stay when you reach San Diego
San Diego, bathed in sunshine and a balmy coastal breeze, is enjoyed for its pristine beaches, naval history, and many attractions.
Perhaps one of the most delightful quirks of San Diego is its illustrious title as the avocado capital of the US, with an annual avocado festival on the San Diego calendar! After all, is there a better place to enjoy that creamy avocado toast than right here?
The historic Gaslamp Quarter, Victorian-era buildings, and the USS Midway Museum are great sites to visit to understand more about San Diego's rich history and maritime legacy. A visit to the renowned San Diego Zoo, home to an astounding variety of wildlife and enchanting gardens, will also be a big hit.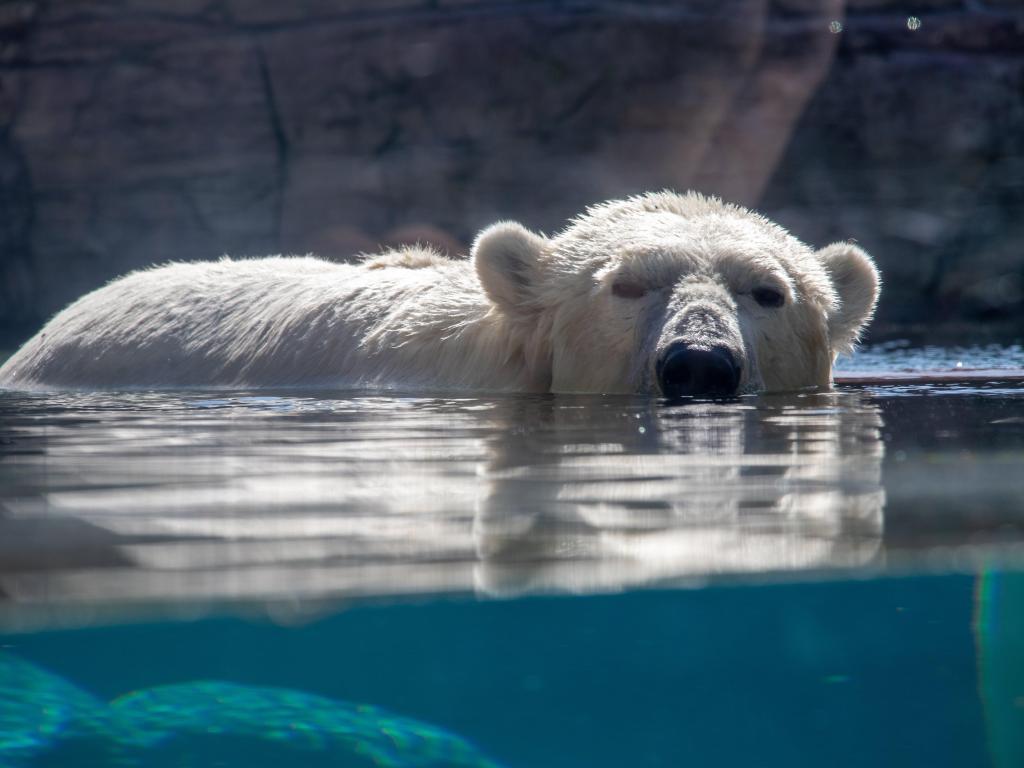 Nestled within this coastal paradise is the SpringHill Suites by Marriott San Diego Mission Valley. Once your day of exploring winds down, the hotel's sun terrace is the perfect spot to soak in the city's vibes.
The outdoor fireplaces ensure that even on cooler evenings, you can relax in the pretty gardens or dive into the year-round outdoor swimming pool.
Come morning, enjoy a sumptuous free breakfast that starts your day starts just right. And the best part? Attractions like the verdant Balboa Park and San Diego Aerospace Museum are just a short journey away.
Things to see on a road trip from El Paso to Los Angeles and San Diego
Whether you are looking for thrills and spills, ghost towns or parklands, museums or theatre shows, this journey has something for everyone, so be prepared to be wowed as you journey from El Paso to Los Angeles and San Diego.
Southern Route
Shakespeare Ghost Town - Steeped in Old West lore, this abandoned town whispers tales of outlaws and pioneers, offering visitors a hauntingly authentic glimpse into 19th-century life.
Pima Air & Space Museum - Home to one of the world's largest aircraft collections, this museum chronicles aviation history through its impressive array of preserved planes and space vehicles.
Sweetwater Wetlands Park - A tranquil oasis in Tucson, this wetlands park is a haven for birdwatchers and nature enthusiasts, teeming with diverse wildlife amidst meandering waterways.
Mission San Xavier del Bac - A testament to Spanish colonial architecture, this still-active mission stands pristine against the Arizona desert, its white façade and ornate interiors evoking centuries of history.
The Gaslight Theatre - Offering a quirky mix of melodrama and musical comedy, this theatre promises an evening of laughter and toe-tapping entertainment in Tucson.
Yuma Territorial Prison State Historic Park - Once housing the Wild West's most notorious outlaws, this former prison now offers a fascinating peek into the gritty history of frontier justice.
Jacumba Natural Hot Springs - Tucked near the Mexican border, these therapeutic springs provide a secluded retreat to rejuvenate amidst rugged desert beauty.
General Patton Memorial Museum - Paying tribute to one of World War II's most iconic generals, this museum offers a deep dive into military history set against the backdrop of the Colorado Desert.
Tijuana River National Estuarine Research Reserve - A vital sanctuary for both migratory birds and marine life, this reserve showcases the delicate balance of salt marsh ecosystems at the confluence of the Tijuana River and Pacific Ocean.
Lake Mission Viejo - A sparkling jewel in Orange County, this man-made lake offers serene waterside recreation, from boating to fishing, set against a backdrop of picturesque hills.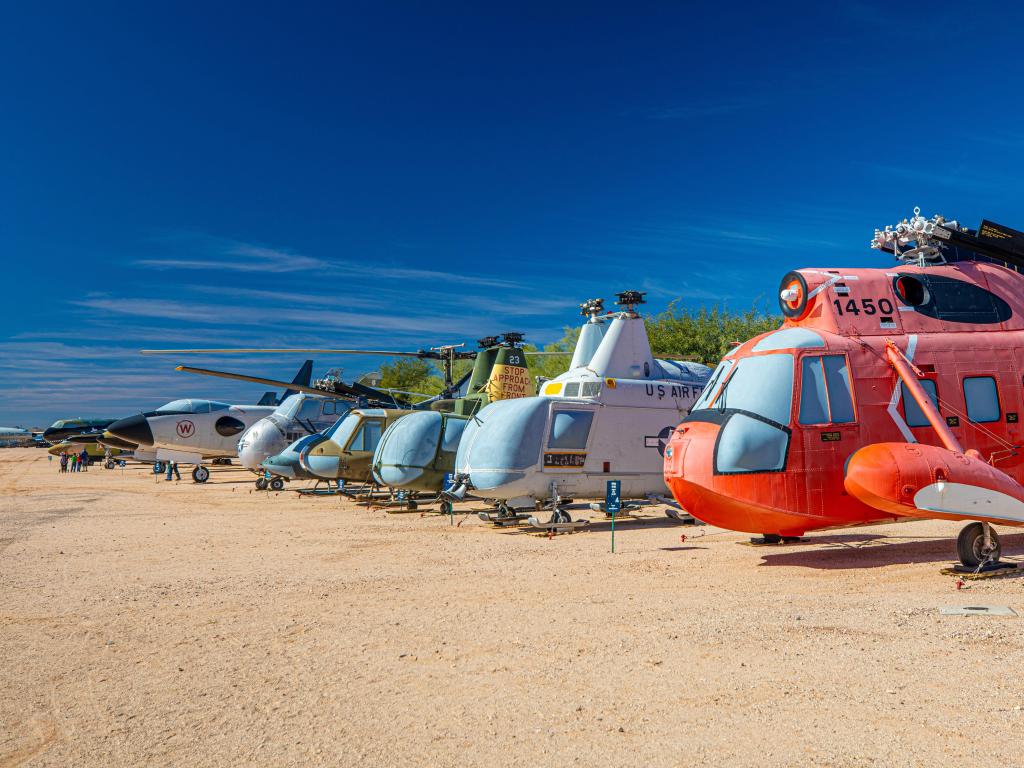 Northern Route
Arizona-Sonora Desert Museum - A fusion of zoo, botanical garden, and museum, this venue provides a comprehensive insight into the vibrant life and geology of the Sonoran Desert region.
Heritage and Science Park/Historic Heritage Square - Situated in Phoenix, this park offers a glimpse into the city's past with its preserved 19th-century buildings, alongside cutting-edge exhibits on science and technology.
Camelback Mountain - Dominating the Phoenix skyline, this mountain challenges hikers with its rugged trails but rewards with breathtaking vistas of the city and surrounding desert.
Palm Springs Aerial Tramway - Ascend from the desert floor to the cool heights of Mt. San Jacinto State Park, experiencing dramatic landscapes and sweeping views on this unique rotating tramway.
Joshua Tree National Park - Where the Mojave and Colorado deserts meet, this park celebrates the twisted Joshua Trees and rugged rock formations that dot its otherworldly landscape.
Cabazon Dinosaurs - A nostalgic roadside attraction, these gigantic dinosaur statues offer both kitsch and charm, beckoning travelers for a quirky photo op.
San Bernardino National Forest - A lush expanse of mountain ranges, dense forests, and serene lakes, providing an alpine escape in Southern California.
Universal Studios Hollywood - Step into the magic of the movies, where thrilling rides, shows, and behind-the-scenes tours bring cinematic dreams to life.
Santa Monica Mountains National Recreation Area - Stretching from the beach to the inland valleys, it offers a mosaic of habitats, hiking trails, and ancient rock art, reflecting California's rich biodiversity.
The Museum of Jurassic Technology - A curious amalgamation of fact and fiction, this museum invites visitors to question the very nature of knowledge through its eclectic exhibits.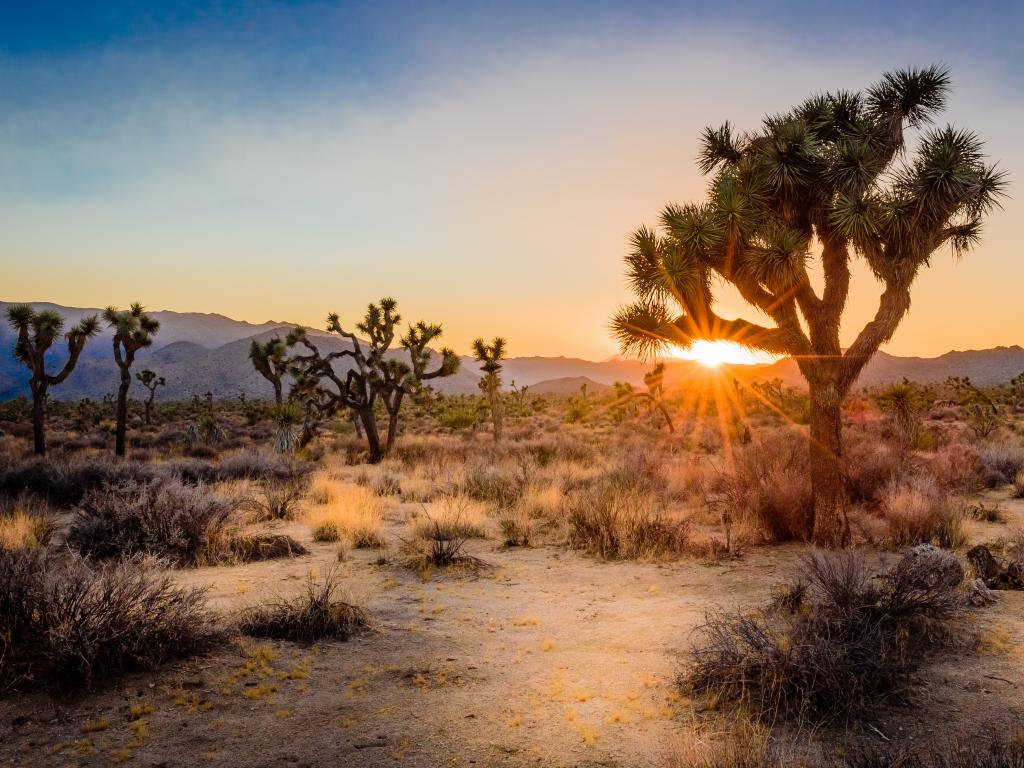 Both Routes
Mesilla Valley Bosque State Park - Nestled alongside the Rio Grande, this park offers a serene escape with diverse birdlife and trails that meander through a unique mix of wetlands and desert.
Dripping Springs Natural Area - Majestic cliffs and historic ruins frame this area, with scenic trails leading to its namesake springs, once a refuge for early settlers and Native Americans.
Saguaro National Park - Iconic for its towering saguaro cacti, this park captures the essence of the Sonoran Desert, painting a landscape of stark beauty and timeless wonder.
Disneyland Resort - The iconic "Happiest Place on Earth" beckons with its magical kingdoms, beloved characters, and thrilling rides, ensuring timeless memories for all.
Muzeo Museum and Cultural Center - Located in Anaheim, Muzeo immerses visitors in a rich tapestry of global cultures and local history through its dynamic exhibitions and community events.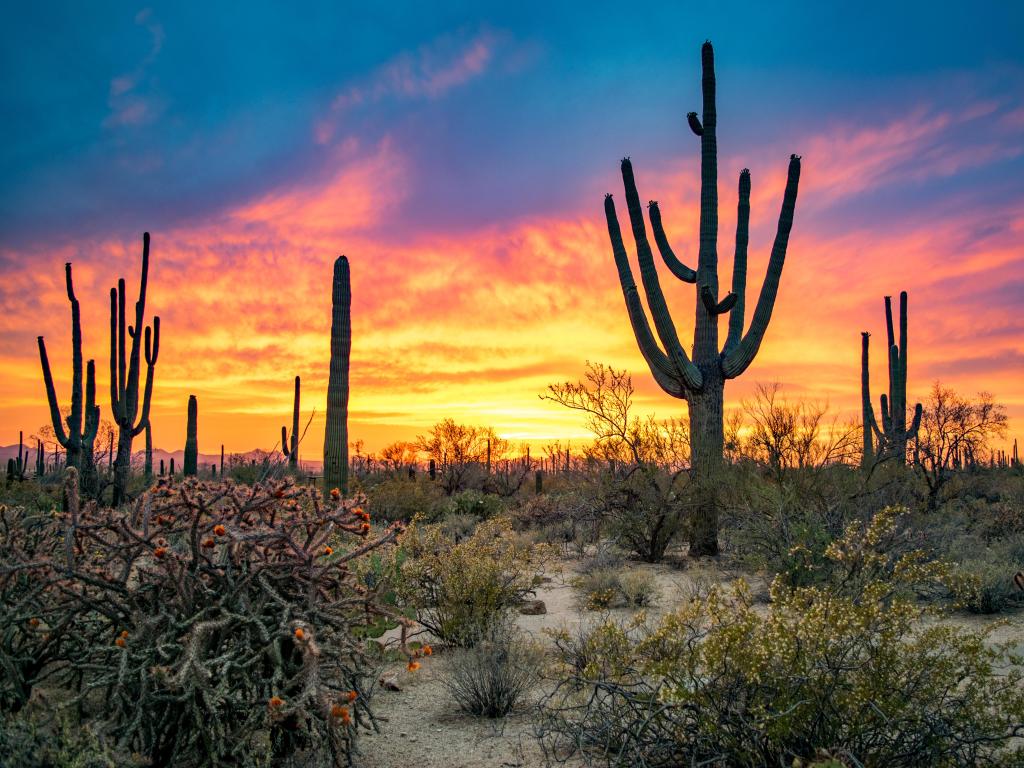 Best time to go on a road trip from El Paso to Los Angeles and San Diego
San Diego is an idyllic year-round destination, but the journey will differ depending on which season you decide on embark on this trip.
Setting off in the summer? The desert regions can reach scorching temperatures along both routes, often soaring above 100 degrees Fahrenheit, so make sure you travel with plenty of water and have efficient car air conditioning.
Travel slightly earlier in the year and spring has more moderate temperatures and wildflowers sprouting. Daytime temperatures range from the high 60s to mid-70s Fahrenheit, and nights can cool down to the mid-50s to 60s.
Come fall, daytime temperatures start in the high 70s in September and gradually cool down to the mid-60s by November, so as well as mild weather you get to see this journey against a backdrop of autumnal splendor.
Travel in winter, and even though you won't be able to enjoy a swim on the famous beaches of California, winters can be mild in both San Diego and Los Angeles and a great time to enjoy attractions like Disneyland without queues as long as those in the summer.
Your journey's timing could also sync with some iconic events. If you're following the Southern Route, April could offer a detour to the Coachella Valley Music and Arts Festival. Or along the Northern Route, there's the Palm Springs International Film Festival in January or Las Cruces International Film Festival in April.
Once you roll into San Diego, several events beckon. For those drawn to the allure of pop culture, San Diego Comic-Con International in July is an unmissable extravaganza. Or how about the San Diego Bay Wine & Food Festival in November for foodie travelers?
Head into Los Angeles, and you can catch the vibrancy of LA Pride in June or delve into the cinematic offerings at the Los Angeles Film Festival in September, but both cities are awash with exciting festivals and events to enjoy year-round.