Road Trip from Austin to Oklahoma City
If you are looking at the map, trying to decide where your next road trip from Austin will take you, look no further. This jam-packed drive from Austin to Oklahoma City will take you through the beautiful Red River Valley and the expansive landscapes of the Great Plains and its charming cities.
The 410-mile road trip from Austin to Oklahoma City will take 6 hours and 30 minutes to drive. Places you can visit include Georgetown, Belton Lake, Waco, Dallas, Fort Worth, Lubbock, Abilene, Sweetwater, Amarillo, Groom, Clinton and Weatherford.
This road trip will be full of exciting destinations, natural wonders, history, culture, and much more. Read on below to learn more about our recommended routes, top highlights, the best places to stop, and the best seasons to make the journey.
How far is Oklahoma City from Austin, and how long will the road trip take?
Comparison of road trip routes between Austin and Oklahoma City

| Route | Distance | Driving Time |
| --- | --- | --- |
| The Dallas Route | 410 miles | 6 hours 30 minutes |
| The Lubbock Route | 760 miles | 11 hours 40 minutes |
The Dallas Route will take you through the heart of Texas, with stops in Waco and Dallas. This route spans 410 miles and will take roughly 6 hours and 30 minutes.
Alternatively, the Lubbock Route takes you on a longer scenic drive, covering 760 miles over approximately 11 hours and 40 minutes through Abilene, Lubbock, and Amarillo.
While it's possible to complete either route in a day, we recommend stretching your road trip to over 2-3 days to take advantage of all the wonderful sights and attractions on the way.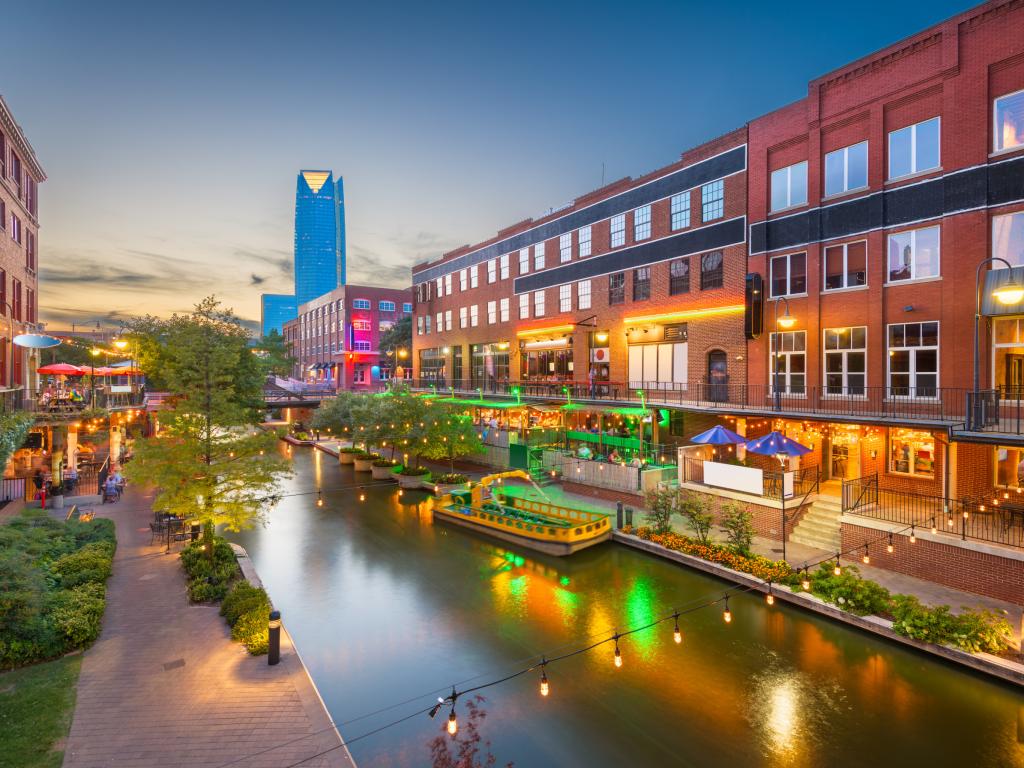 Best road trip route from Austin to Oklahoma City
While both routes offer distinctive attractions and landscapes, your ultimate choice depends on what type of scenery and the kind of experiences you want.
The more direct Dallas Route will take you from Austin to Oklahoma through expansive highways, whisking you through small southern towns and bustling cities like Dallas and Waco. You will also get to admire the scenery of the Red River Valley as you cross from Texas into Oklahoma.
As you get closer to Oklahoma City, you'll see the southern plains' drier and dustier terrains, hinting at the cowboy adventures awaiting in Oklahoma. However, this route offers fewer natural landscapes compared to its counterpart.
The longer alternative Lubbock Route passes through a wide array of imposing landscapes. You'll also get to take a detour to the beautiful wine country of Lubbock. Here, some of Texas' most famous wines are produced and where there's excellent wine, there's good food!
As you proceed, the route enters open desert terrain and expansive grasslands, offering beautiful open skies and sunsets.
The portion between Abilene and Amarillo lets you immerse in an otherworldly atmosphere with sprawling rocky and dusty landscapes, and a rural backdrop that feels like you're traveling back in time.
You will also get to travel on parts of the "Mother Route," Route 66, on the Lubbock Route.
How to drive from Austin to Oklahoma City