Road Trip from Austin to Orlando, FL
Whether you're looking for the ultimate musical heritage trip through Nashville and Memphis or find yourself drawn to pristine beaches, iconic cultural cities and stunning forests, then the drive from Austin to Orlando has you covered. Buckle up and get ready for a fun-filled adventure.
The 1,200-mile road trip from Austin to Orlando, Florida takes 19 hours to drive. Highlights include Houston, New Orleans, Tallahassee, Dallas, Memphis and Atlanta, plus Panama City Beach, Daytona Beach and Chattahoochee-Oconee National Forests.
Traveling across several iconic cities to the state of Florida, you'll get one of the best food, music and cultural experiences. Keep reading to find out the best routes, places to stop and time of year to make this epic drive from Austin to the theme-park central city of Orlando.
How far is Orlando, Florida from Austin, and how long will the road trip take?
Comparison of road trip routes between Austin and Orlando

| Route | Distance | Driving Time |
| --- | --- | --- |
| Gulf of Mexico Route | 1,200 miles | 19 hours 15 minutes |
| Musical Heritage Route | 1,560 miles | 23 hours 15 minutes |
There are two very different and equally interesting ways you can drive from Austin in Texas to Florida's Orlando. The quickest of the two routes takes you along the Gulf of Mexico and spans a distance of 1,200 miles. This option will take 19 hours and 15 minutes to drive.
A longer route which instead takes you through some of the most iconic music cities in America will take you further north from Austin through Dallas and Memphis. This option will take 23 hours and 15 minutes of non-stop driving, covering 1,560 miles in total.
Regardless of which fantastic route you pick, you'll need to dedicate at least a week to this trip. There are so many great places to stop at and explore along the way, that putting aside only a couple of days really won't do this epic drive justice.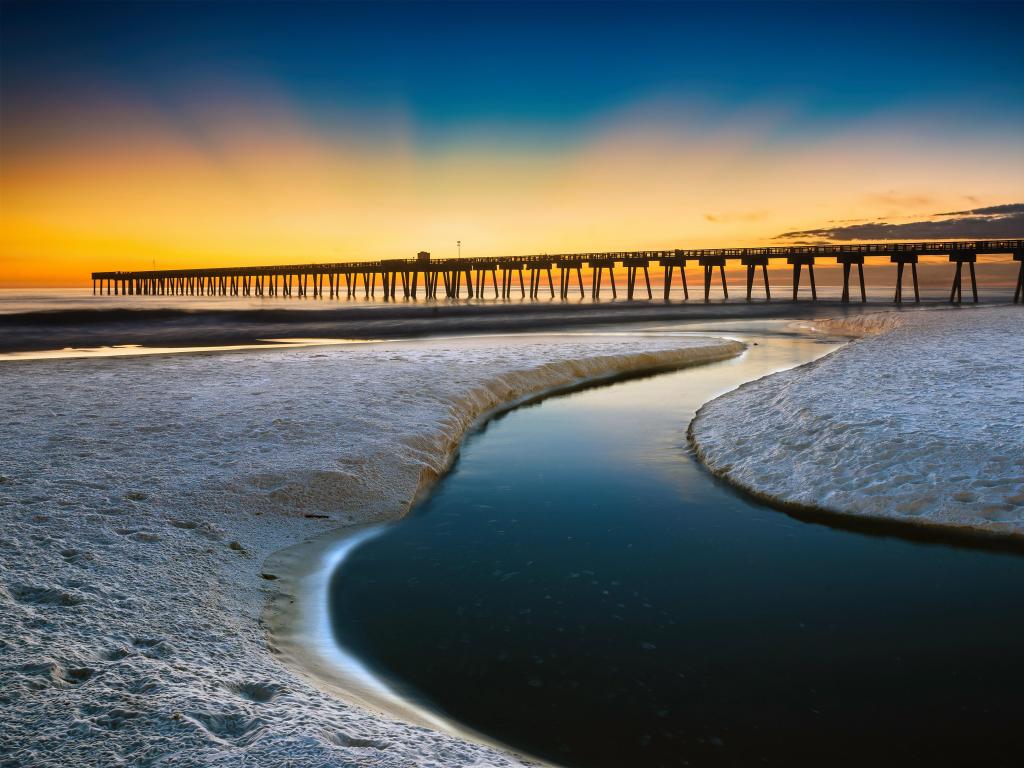 Looking to extend your trip? Our Ultimate Florida Road Trip Itinerary has got you covered!
READ MORE - Ultimate Florida Road Trip Itinerary
Best road trip route from Austin to Orlando, Florida
Our two route options are very distinct and different, so choosing one based on what you'd like to see and experience along the way should be easy enough.
The most direct route takes you along the stunning Floridian coast and through the states of Texas, Louisiana and Alabama. Along the way, you'll pass pristine beaches, iconic cultural cities, and even the NASA Space Center on your way to Orlando.
With particular highlights including visits to New Orleans, Lafayette, Houston and Beaumont, the Gulf of Mexico Route will also give you the opportunity to swap urban vibes for some outdoor recreation at Atchafalaya National Wildlife Refuge and Twin Rivers State Forest.
For music lovers, our alternative option is hard to beat. If you choose to follow this route, you'll drive through Texas, Mississippi, Tennessee, Atlanta and Florida, exploring America's Southern states and soaking up the atmosphere of some of the most iconic music cities in the world.
Including stops in Dallas, Arkansas and Atlanta, as well as the world-famous Memphis and Nashville, our Musical Heritage Route offers plenty of opportunities to explore museums and enjoy live music.
How to drive from Austin to Florida
The map above shows our suggestions for the best road trip routes between Austin to Orlando, Florida. Keep reading for detailed descriptions of both routes, where to stay on either, and the best things to do on the way.
The Gulf of Mexico Route
Heading east out of Austin, you'll pass Columbus before arriving in Houston. There are several great wildlife preserves here, including Sabine National Wildlife Refuge, that you can explore, otherwise, continue on the interstate to Lafayette.
Stop at Atchafalaya National Wildlife Refuge to explore the swamps of Louisiana, before landing at Baton Rouge. Next, continue east around Lake Pontchartrain to New Orleans where you should catch some jazz music or stop the night.
Head to Mobile, stopping along the way at Biloxi. Next, cross Mobile Bay and cross into Florida near Blackwater River State Forest. From here you can leave the interstate and join the Emerald Coast Parkway.
Driving alongside the stunning Florida Coast, you'll head to Panama City Beach, passing Miramar Beach and Laguna Beach along the way. After spending time beach hopping, you'll need to head inland and follow signs for Tallahassee.
Next, make your way east through Twin Rivers State Forest, Cypress Creek Management Area and Osceola National Forest to Gainesville.
From here head south alongside Ocala National Forest towards Orlando, where you can explore the city and surrounding wildlife parks and lakes at your own pace. If you want the essential Florida experience, check out our Ultimate Florida Road Trip Itinerary.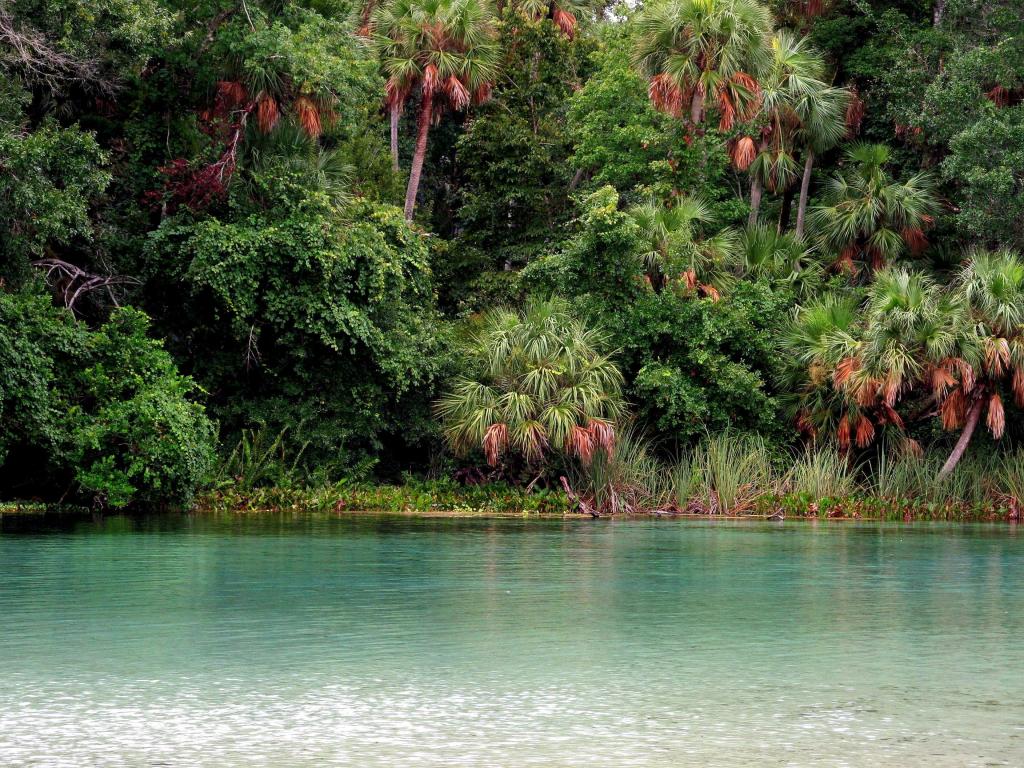 Musical Heritage Route
Head north out of Austin on Interstate 35 (I-35) through Waco and to Dallas, before following I-30 east to Little Rock, passing Mt Pleasant and Ouachita National Forest along the way, or enjoying a dip in the warm water at Hot Springs.
Continue east to Memphis where you'll get your first real musical trip back in time. After your visit, follow the interstate east to Nashville, before heading south to Chattanooga and Marietta and arriving at Atlanta.
Head south into Florida to Lake City. Stop here and head east to Jacksonville or continue on the interstate to Gainesville.
From here the route picks up the same final stretch as the Gulf of Mexico Route, taking you alongside Ocala National Forest to Orlando where you'll be kept busy with countless places to visit including the famous Universal Studios and several theme parks.
If you want to explore Florida further, here is the Ultimate Florida Road Trip Itinerary.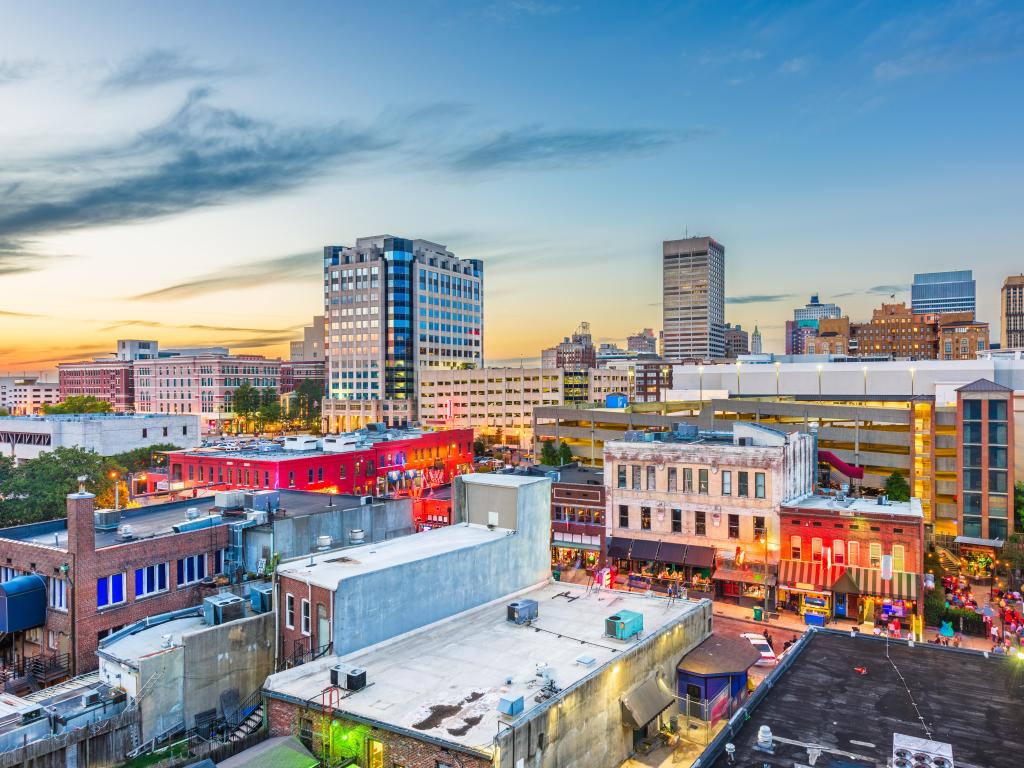 Best places to stop between Austin and Orlando
A road trip of this length needs a couple of overnight stops along the way to break up the journey. Thankfully you'll be spoilt for choice in fantastic towns and cities to rest in, in fact, you might struggle to pick which ones NOT to stay at.
Of all the spectacular places you'll pass, here are a couple of our favorites that you might want to consider for your own trip.
Stay in the French Quarter of New Orleans
A great overnight option on our Gulf of Mexico Route is The Big Easy. Located just 7 hours and 45 minutes into your trip, New Orleans is an ideal first stop on this long but exciting drive. You might even want to add an extra day to your trip to explore this iconic city.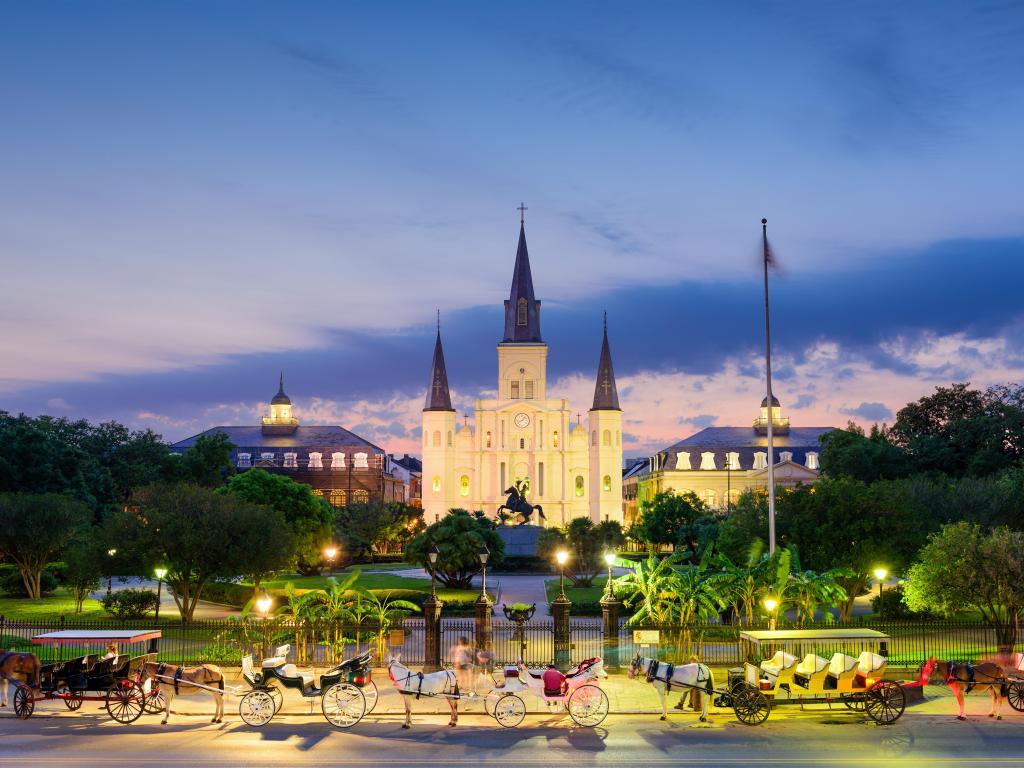 Famous for its music, art, food and culture, the city has a round-the-clock nightlife, popular live music scene and unique food that reflects the melting pot of cultures that call New Orleans home. There's something for everyone in this eclectic and exciting city.
After exploring its famous French Quarter where you'll see beautiful architecture, history, food, music and views of the Mississippi, you can take a walk to Bourbon Street to immerse yourself in historic New Orleans. This street is also where you'll find the best clubs and bars.
If you want to be located in the heart of the city, then an amazing hotel located in the French Quarter of New Orleans is the One11 Hotel. This beautifully styled hotel is the best place to soak up the atmosphere and charm of old New Orleans, while not compromising on luxury.
Guests can relax in the outdoor swimming pool or have a meal at the onsite restaurant, before starting your New Orleans experience. The hotel boasts rooms with city views and is just around the corner from Bourbon Street and the New Orleans Jazz Museum.
A music retreat in Nashville
Conveniently located at the halfway point between Austin and Orlando, and the perfect location if you've chosen the Musical Heritage Route because of its theme, Nashville is one of the top music destinations in the world and a great base for the night to explore all it has to offer.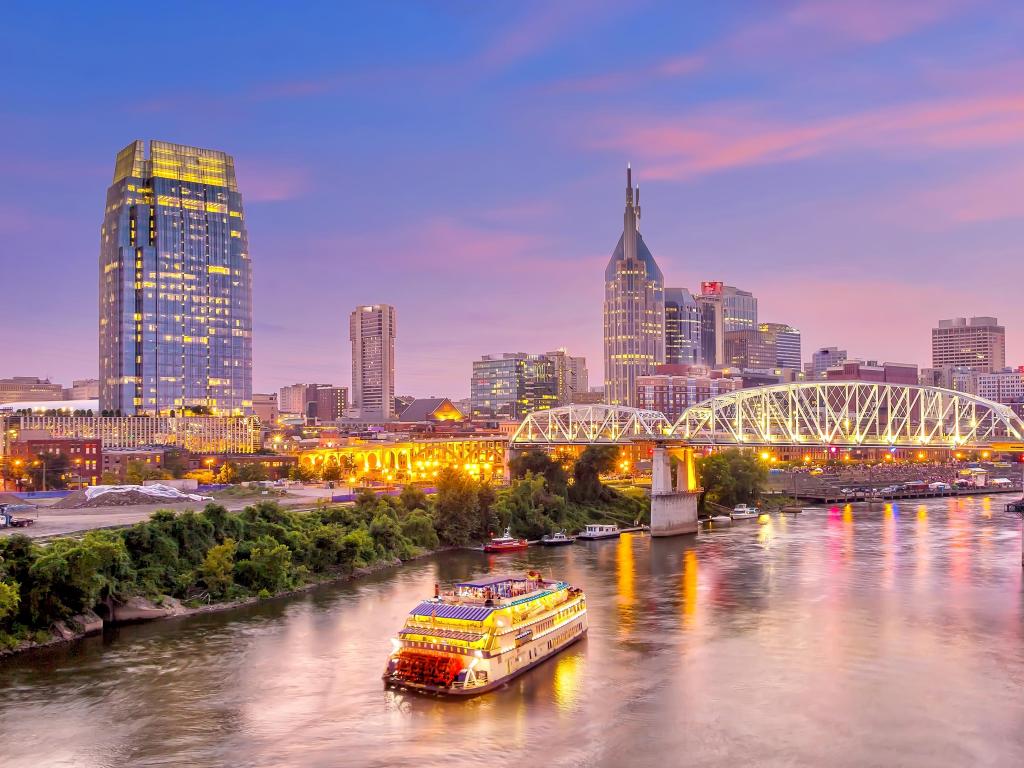 The home of country music, there is much to discover in Nashville. Highlights include a visit to the Grand Ole Opry where you can catch a show or take a tour of the stage and dressing rooms that have housed the incredible Dolly Parton.
You can also visit the famous Broadway which is the center of Nashville's downtown. Here you'll find several bars, clubs, restaurants, shops and boutiques.
Another famous street, and the heart of the Nashville music industry, is Music Row which is filled with venues, labels, radio stations and recording studios.
If you're looking for somewhere to stop and relax, then the Hutton Hotel is a great choice. This eco-friendly hotel offers spa treatments - the perfect way to unwind on this long road trip, plus a coffee bar, a flexible working space and an onsite live music venue.
Within walking distance of Music Row, this hotel is only a mile away from The Parthenon and the Country Music Hall of Fame, and a short drive away from the Grand Ole Opry. The Hutton Hotel also offers private parking and contemporary, modern rooms.
A royal stay in Orlando
When you arrive in Orlando you'll be spoilt for choice of fantastic resorts to stay in. Given that you'll be in the heart of Florida, it makes sense to stop at a tropical-style hotel. That's exactly what you'll find at the amazing 4-star Caribe Royale Orlando.
Close to SeaWorld, Walt Disney World, The Wizarding World of Harry Potter and other major theme parks, this hotel also has an onsite restaurant, three beautiful swimming pools and splendid grounds. There's also a hot tub and children's playground if you've brought the family.
Enjoy great seafood, cocktails or simply admire the view from your elegant and modern room, before exploring Orlando. This hotel will certainly leave you feeling like royalty.
Things to see on a road trip from Austin to Orlando
Get ready to pack plenty of activities and attractions into your road trip from Austin to Orlando - this adventure has it all! Here are just some of the highlights you'll pass along the way to help you plan your epic drive.
Both Routes
Gainesville - Famous for the University of Florida, this city is home to incredible fossil collections and a beautiful butterfly house where you can see hundreds of butterflies and birds.
Ocala National Forest - Where Sand Pines meet crystal clear turquoise pool waters, this might be one of the most beautiful national forests. Hike the Florida Trail and go wildlife spotting keeping your eyes open for Alligators, Manatees and rare birds in this ancient forest.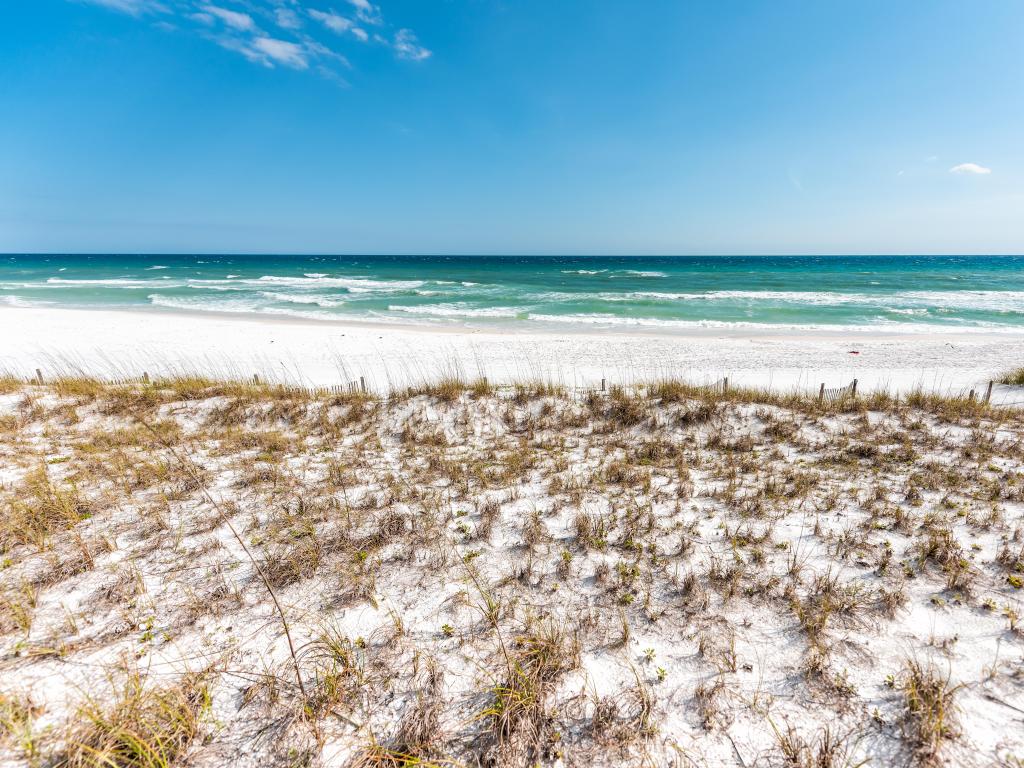 Gulf of Mexico Route
Houston - Hit the trails in Buffalo Bayou Park, see incredible art in the Museum of Fine Arts, and visit the Museum of Natural Science.
Space Center Houston - Visit this leading center for science and space exploration. This is the official visitor centre for NASA Johnson Space Center in Houston.
Lafayette - Take a food tour in the Happiest City in America, and walk through the ancient oaks of South Louisiana.
Atchafalaya National Wildlife Refuge - Explore the swamps of Louisiana in this National Wildlife reserve, keeping your eyes out for the Louisiana animals, birds and plants that call this area home.
New Orleans - Party the night away on Bourbon Street, jam with the Jazz bands, and immerse yourself in New Orleans' melting pot of cultures.
Mobile - Visit the WWII-era USS Battleship that is anchored here, and learn about Mardi Gras at the Mobile Carnival Museum.
Miramar Beach - Perfect White sands and the turquoise waters of the Gulf of Mexico make this a stunning beach town stop. Swim, sunbathe, fish and kayak with panoramic views of the Gulf.
Panama City Beach - Continue beach hopping and swim in the perfect calm and clear waters of the Gulf of Mexico. Hike in nearby St Andrews State Park, and shop till you drop at Pier Park.
Lake Jackson Mounds Arch - One of the most important archaeological sites in Florida, this is the center of Chiefdom and ceremony of the Fort Walton culture.
Twin Rivers State Forest - Go canoeing in this beautiful national park that spans more than 14,000 acres. Hiking and bike trails are also available for those that want to keep both feet on solid ground.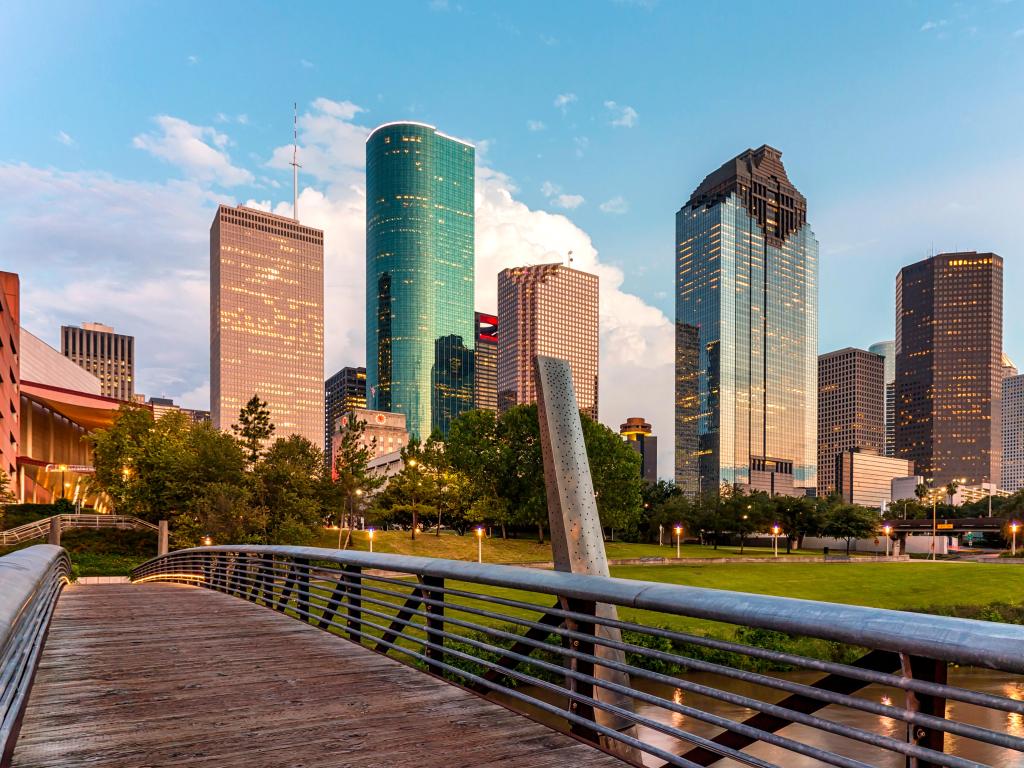 Musical Heritage Route
The Dr Pepper Museum - Pay homage to the famed soft drink, invented in Waco, TX. This museum pays homage to the family-favorite brand.
Dallas - Pay your respects at the site of President John F. Kennedy's assassination and check out a wealth of art in Dallas' many art museums.
Hot Springs, AR - Hidden away in the Ouachita Mountains of Arkansas, visit this resort city built around naturally heated springs. Hike the many hiking trails in the Mountain Park.
Little Rock - Visit the William J. Clinton Presidential Library and museum, and the Old State House Museum. This city is located on the river and is beneath Ouachita Mountain making it a city graced with natural beauty.
Memphis - Famed for its musical heritage, this city is home to Sun Studio where Elvis Presley, B.B King, and Johnny Cash recorded iconic albums.
Graceland - No visit to Memphis is complete without a trip to Graceland. Explore the home of the iconic rock and roll legend.
Nashville - Continue your musical journey by staying the night in Music City, the home of Country, Americana and Bluegrass.
Chattahoochee-Oconee National Forests - Hike or drive scenic routes through this beautiful national park which includes Georgia's highest point; Brasstown Bald.
Atlanta - An important part of the Civil Rights Movement, a visit to the Martin Luther King Jr. National Historic Site is a must, a museum dedicated to the life and times of the civil rights leader.
Daytona Beach - Take a detour out to the Atlantic Coast to enjoy 23 miles of white sandy beaches. This beach is a must for racing enthusiasts as it holds the annual Daytona 500 NASCAR race each February.
Best time to go on a road trip from Austin to Orlando
While you could visit Orlando year-round, much depends on what temperatures you're happy to travel in. For example, summer in Orlando is swelteringly hot and often affected by strong storms, which isn't ideal for sightseeing! Arguably the best of year to visit is the spring.
Summer temperatures can hit highs of 92 degrees Fahrenheit in this part of Florida, and you'll find that the weather is hot and humid. If you decide to travel during this time, be aware that the rainy season begins from June through to early October.
Winter in Florida is pleasantly mild with average highs of 73 degrees Fahrenheit, making it a popular time to visit. You'll get the best of the summer sun without the sweltering heat, though be warned, the hotels and crowds will be busier.
Spring is an ideal time to visit Orlando as you'll get to enjoy pleasant weather between 50 and 80 degrees and cheaper accommodation.
Late fall is also a good time to visit once the rainy season ends in October. Swapping spring blossoms for fall foliage, you'll get stunning views in the forests and landscapes along the way and cooler weather, ideal for driving and city exploring.
Finally, if crowds don't put you off then you could visit between July and mid-November when you can catch the famous Epcot International Food and Wine Festival held at the Walt Disney World Resort.