Road Trip from Austin to Washington DC
Get ready to experience a road trip that's full of spectacular scenery and distinctive cities. Whether you want to hike in the Appalachians or celebrate America's musical traditions, this exciting road trip from Austin to Washington DC promises to be a memorably diverse experience.
The 1,700-mile road trip from Austin to Washington DC takes around 27 hours to drive. Northern highlights include Dallas, Memphis, Nashville and Pisgah National Forest, with Houston, New Orleans, Atlanta and Talladega National Forest in the south.
Starting in the state capital of Texas and ending in the nation's capital, there is so much to see and do on this trip. We have found the best routes, must-see highlights and best times of the year to enjoy this fabulous road trip. So, join us, as we make our way from Austin to Washington DC.
How far is Washington DC from Austin, and how long will the road trip take?
Comparison of road trip routes between Austin and Washington DC

| Route | Distance | Driving Time |
| --- | --- | --- |
| The Northern Route | 1,650 miles | 27 hours |
| The Southern Route | 1,700 miles | 27 hours |
There are two great routes for this road trip, which are similar in length and cover a diverse landscape, from national forests to colorful cities.
The slightly shorter option is our Northern Route, which is 1,650 miles and takes about 27 hours to drive. This route takes in Texas Hill Country and the Blue Ridge Mountains. While this route includes a drive along the scenic Blue Ridge Parkway, this can be avoided to save time.
The Southern Route is a mere 50 miles longer, so will take around the same time to drive directly. On this route, you can explore historical sites related to the Civil War and Civil Rights Movement. There is also the option to detour into Florida, which would turn this into a 29-hour road trip.
The shortest amount of time needed to complete this trip is about four days. However, given all the things to enjoy along both our routes, we recommend making this an awesome 10-day road trip.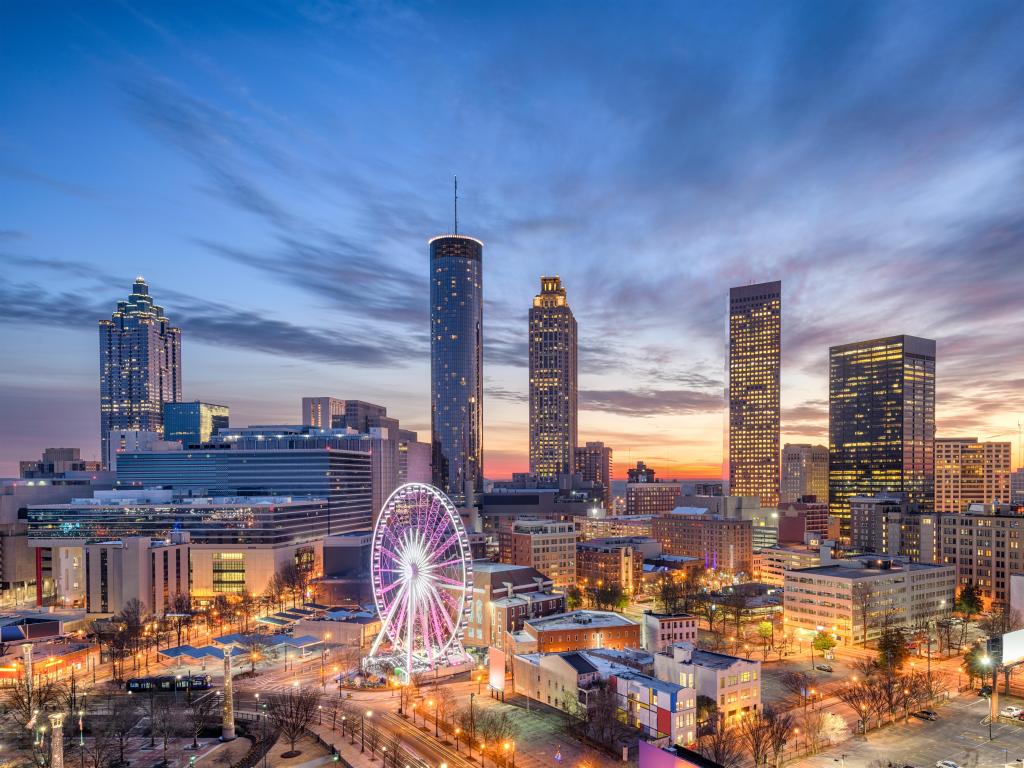 Best road trip route from Austin to Washington DC
Both our suggested routes are great options to follow, given the sheer diversity they each offer. The route you choose will therefore likely depend on how you like to spend your time.
The Northern Route offers plenty of great opportunities to explore America's natural beauty, with Pisgah National Forest, Great Smoky Mountains National Park, and Shenandoah National Park either on the route or as an easy detour.
This route also takes in the music cities of Memphis and Nashville. If time permits, we recommend taking the drive along Blue Ridge Parkway, known as "America's favorite drive" (unless you're travelling during the winter).
Meanwhile, the Southern Route includes the historic cities of Montgomery, Birmingham and Atlanta. You will also enjoy time in Baton Rouge and New Orleans, as well as some beautiful Gulf coast beaches and towns.
Again, we would suggest taking the two-hour detour to the Florida towns of Pensacola and Destin, if time allows. Other highlights of this route include Talladega National Forest.
The Northern Route
Leave Austin via Interstate-35 (I-35) North, passing through Waco on your way to Dallas. At Texarkana, you'll cross the state line into Arkansas. Continue north to Little Rock.
You'll span the Mississippi River and enter the state of Tennessee as you reach the city of Memphis and continue onto Nashville. After your visit, you can make a detour for a break at Edgar Evins State Park, on your way to Knoxville and Pigeon Forge, home to Dollywood.
From here, it's an easy drive south to Gatlinburg, the gateway to the Great Smoky Mountains National Park. Cross the state line into North Carolina and enjoy a scenic drive through Harmon Den Wildlife Management Area, as you make your way to Asheville.
You will enjoy more spectacular scenery as you journey towards Pisgah National Forest and Blowing Rock. Continue on the stunning Blue Ridge Parkway along the Appalachians. Continue winding your way north, through the towns of Galax and Woodlawn, crossing into Virginia.
Alternatively, if you're short of time, or you're travelling during the winter, you can reduce your drive on Blue Ridge Parkway or avoid it altogether. Head north back to the interstate at Blowing Rock or continue along I-40 East and I-81 East from Knoxville.
You'll join back up with the route at Fort Chiswell. Head towards Roanoke, where you can make a detour to Shenandoah National Park. Around Strasburg, you can visit Manassas National Battlefield Park, before continuing on to your destination stop, Washington DC.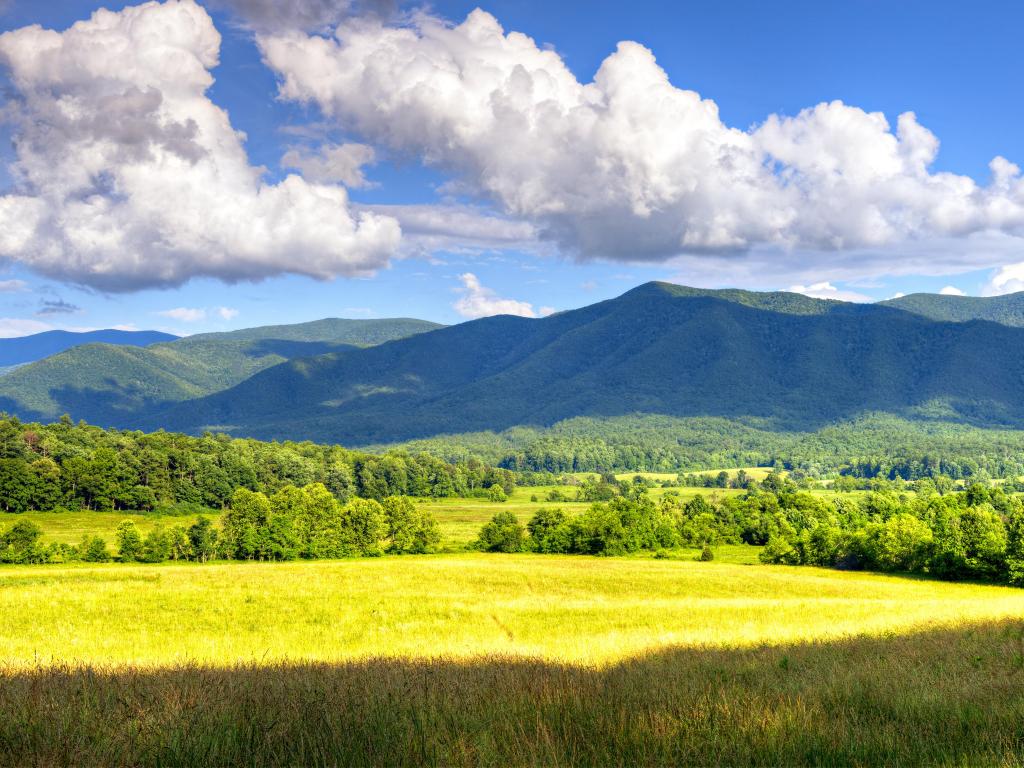 The Southern Route
For this route, leave Austin via State Highway 71 East on your way to Columbus and west towards Houston. Continue through the cities of Beaumont and Pinehurst and cross the state line into Louisiana and pass through Lafayette on your way to Baton Rouge.
The interstate then will take you to New Orleans. This leg of the trip takes you across the state line into Mississippi and along the Gulf Coast, including the towns of Gulfport and Biloxi. Cross the state line into Alabama, as you make your way to Mobile.
For the "Florida detour", continue west, crossing Mobile Bay, Continue on the interstate into Florida, stopping at Pensacola and Pensacola Beach. Then trace Santa Rosa Sound as you make your way to Destin.
From here, head north, crossing back into Alabama. Pass through Blackwater River State Forest and Conecuh State Forest and on to Montgomery and continue north to Birmingham, then head west towards Talladega National Forest and on to Atlanta.
Head towards Lake Hartwell and enter North Carolina on the way to Charlotte. Cross the state line into Virginia and continue on to Petersburg and Richmond for the final part of the trip before reaching your destination in Washington DC.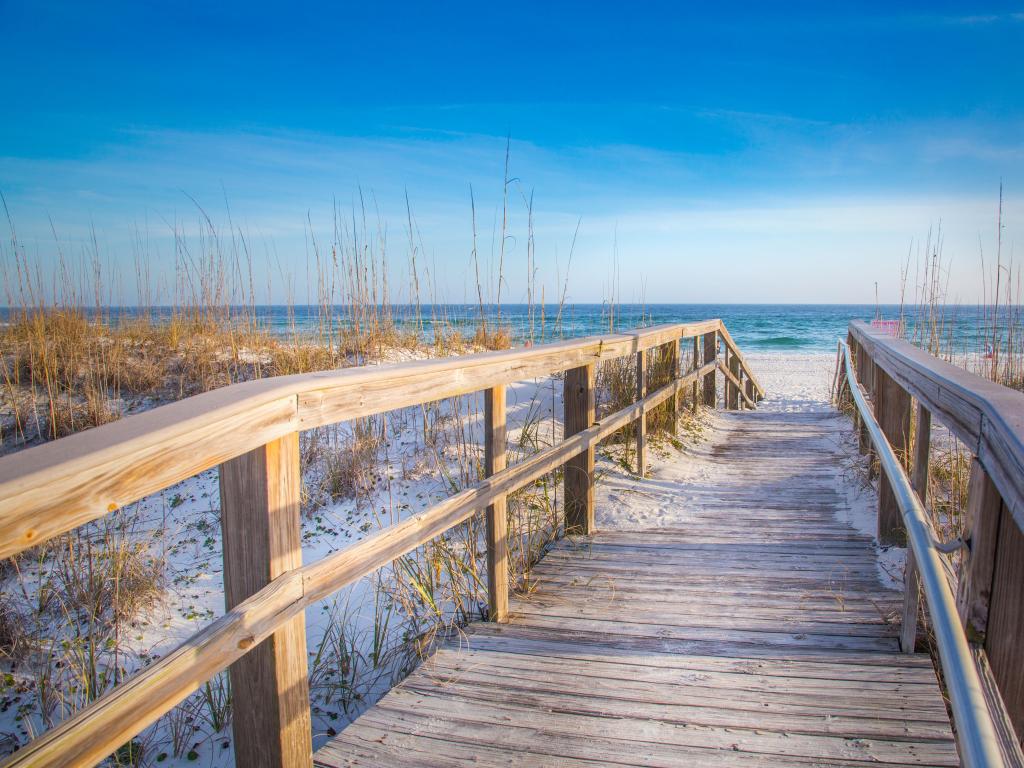 Best places to stop between Austin and Washington DC
As you can see, both our routes boast plenty of highlights. To help you make the most of your time on the road, we've selected just two places – one on each route – that we think make ideal overnight stops.
Chic comfort in Memphis
On our Northern Route, our recommended overnight stop is the exciting, historic and music-infused city of Memphis on the mighty Mississippi River. You'll reach this stop about a third of the way into the route.
Our suggestion for a hotel in this iconic city is the chic, centrally located ARRIVE Memphis. From here, you can walk to many of the city's attractions and to the banks of the Mississippi River to enjoy time at the lovely riverside park.
Housed in a stunning historic building, the hotel features a modern design, with well-appointed rooms, where you can take some much-needed downtime from the road.
After a well-deserved rest, you can stroll along the famous Beale Street, soaking up the atmosphere and enjoying the lively blues clubs and bars. Other highlights nearby include the Memphis Rock n Soul Museum and, of course, Elvis' home, Graceland.
After exploring the heart of this musical city, you can grab a bit downtown or head back to the hotel, which boasts several great on-site eating and drinking options, including a relaxed gastro pub, all-day bakery and café, and an elegant cocktail bar, featuring a happy hour and occasional live music.
French style and serenity in New Orleans
The recommended overnight stop on the Southern Route is the fabulous and unique city of New Orleans, which you can reach from Austin in about 8 hours. Enjoy a taste of the city's vibrant jazzy nightlife, centered around the famous Bourbon Street in the heart of the French Quarter.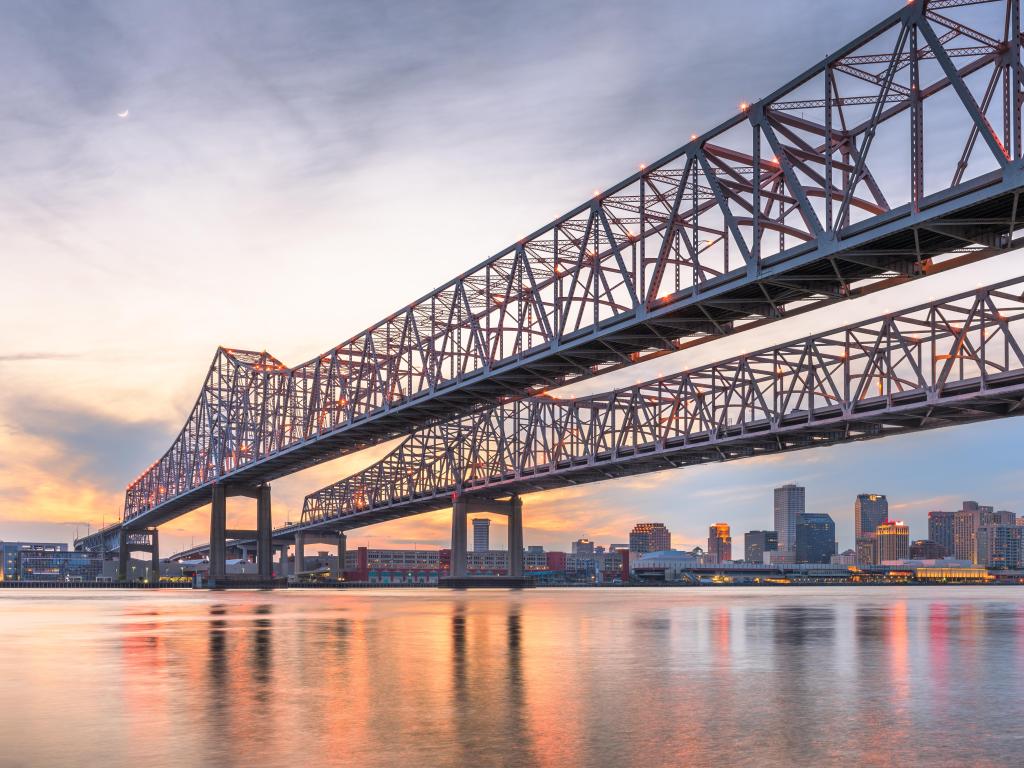 Make the most of your time in the city with a stay at the stylish Hotel Provincial, which offers wonderful French Quarter hospitality. Featured in the National Register of Historic Places, this charming hotel combines style with convenience.
The property boasts a stellar location and is within easy walking distance of many of the city's attractions, including Bourbon Street, the riverside walk, and Louis Armstrong Park.
Additional highlights in New Orleans include the National World War II Museum and Mardi Gras Museum of Costumes & Culture. You could also take a tour of the area's swamps and bayous or enjoy a steamboat cruise.
When you're ready to unwind, the hotel offers a welcome haven from the bustle of the city. Take a relaxing dip in the stunning courtyard pool or head to the French café or the characterful bar on-site, so you can enjoy a bite to eat or a drink.
Where to stay when you reach Washington DC
Washington DC is a great city for sightseeing, with so many of its main attractions concentrated in a relatively compact area, largely centered around the National Mall.
Just a short walk from the National Mall, the modern citizenM Washington DC Capitol is a great base for exploring the city. You can leave the car behind and sightsee on foot, with the Smithsonian Museums, Lincoln Memorial and Washington Monument all located nearby.
Back at the hotel, you can look forward to comfortable, well-designed rooms, which benefit from fluffy pillows and blackout curtains for a restful night's sleep. The rooms also feature widescreen TVs and superfast broadband, so you can unwind with a movie after a busy day.
Enjoy food and drink 24/7 at the smart bar and kitchen or relax in the communal lounge and browse the collections of books and art. Be sure to head up to the 12th floor for a well-earned drink at the chic rooftop bar, which boasts fantastic views across the city.
Things to see on a road trip from Austin to Washington DC
To help you plan your itinerary between Austin and Washington DC, we've picked some highlights on each of our routes.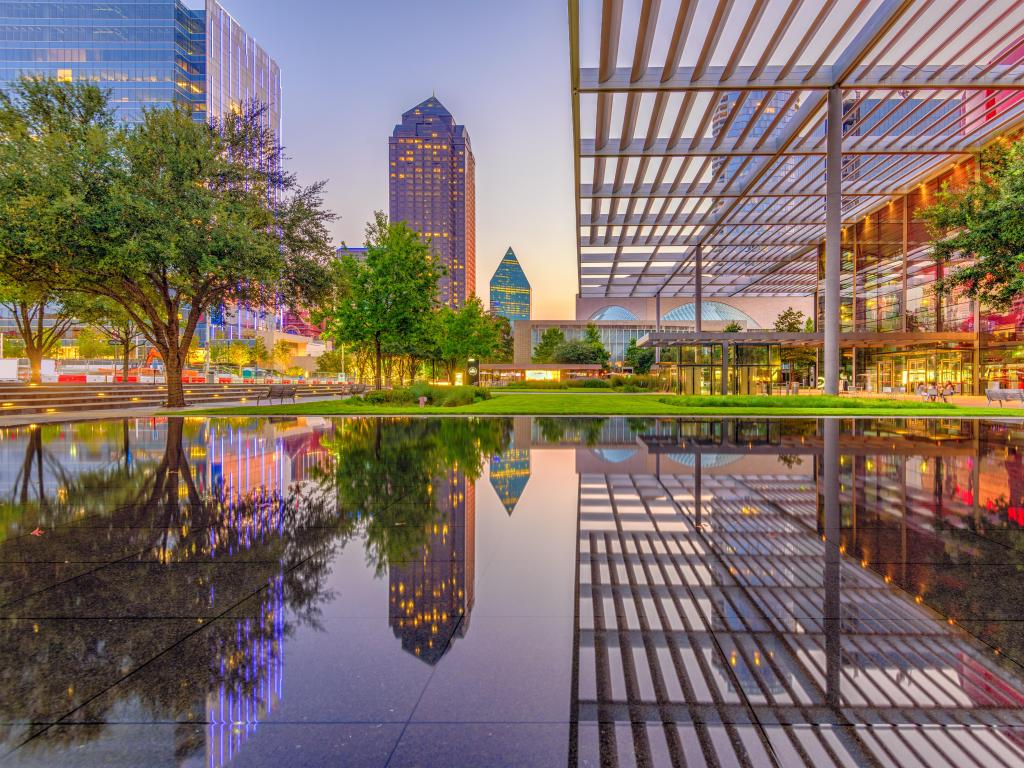 The Northern Route
Dallas, Texas - Lots to see here, especially for art lovers, with Nasher Sculpture Center, Dallas Museum of Art, and Crow Museum of Asian Art among the attractions.
Nashville, Tennessee - Music lovers can check out a performance at the Grand Ole Opry, walk along the famous Music Row, or visit the Country Music Hall of Fame and Storytellers Hideaway & Museum. You can also take an underground boat tour through the Lost River Cave.
Knoxville, Tennessee - Stroll around the city's historic buildings or take the short drive to nearby Pigeon Forge to visit Dolly Parton's Dollywood for fabulous amusement park rides and entertainment.
Great Smoky Mountains National Park - Be sure to spend some time at America's most popular national park, which crosses North Carolina and Tennessee, and is a great spot for hiking.
Pisgah National Forest, North Carolina - Another great space in which to take a break from the road. Hike the forested slopes or take a gentler amble to enjoy this stunning national forest.
Blue Ridge Parkway - Make the most of this stretch of the journey as "America's favorite drive" meanders for 60 miles through the Blue Ridge Mountains, which span Virginia and North Carolina, offering great views and charming small towns.
Roanoke, Virginia - Visit the State Transport Museum with its collection of vintage vehicles and keep an eye out for the Roanoke Star, the world's largest freestanding illuminated man-made star.
Shenandoah National Park, Virginia - We recommend a detour off the interstate to enjoy the stunning ridge-top Skyline Drive, where you can hike or simply take in the views. You will need an Old Rag Day-Use Ticket if you are planning to visit the Old Rag Mountain. Please check the national park's website for details.
Manassas National Battlefield Park, Virginia - Take a guided walking tour or self-guided app tour to discover the history of this site, where two Civil War battles took place.
The Southern Route
Nederland, Texas - Worth a stop to visit the Dutch Windmill Museum, which celebrates the settlers who came here from the Netherlands.
Baton Rouge, Louisiana - Enjoy some Cajun food and view the preserved USS Kidd in Louisiana's historic capital city, located on the Mississippi River.
Bayou Sauvage National Wildlife Refuge, Louisiana - Here, you can explore the trails to get a feel for the state's bayou landscape.
Biloxi, Mississippi - Spend time on the beautiful beaches and snap a photo of the historic lighthouse that keeps watch over the Gulf of Mexico.
Mobile, Alabama - In this charming waterfront city, you can stroll around Bayfront Park and the peaceful Botanical Gardens. You can also discover the GulfQuest Maritime Museum and tour the USS Alabama, a World War II warship.
Montgomery, Alabama - Pay a visit to Alabama's state capital, which was instrumental in the Civil Rights Movement. The Freedom Rides Museum is a great place to learn more about the key events and figures, including Rosa Parks.
Birmingham, Alabama - Here, you can discover Barber Vintage Motorsports Museum, and also Birmingham Civil Rights Institute, which spans more than 200 years of history in the South, from the time of slavery to the 1960s.
Talladega National Forest, Alabama - Take a break from the road and spend some time in this stunning Appalachian forest, which is great for hiking.
Atlanta, Georgia - You could spend several days in this vibrant city, birthplace and home of Dr Martin Luther King Jr. Learn more at the National Center for Civil & Human Rights. You can also enjoy time at the Botanical Gardens and Zoo Atlanta.
Lake Hartwell - Another restful stop is this large, man-made lake which crosses the border between Georgia and South Carolina. Swim, sail, paddleboard or kayak, or simply relax by the water.
Charlotte, North Carolina - While there are lots to enjoy here, motorsports fans in particular will relish the chance to visit the NASCAR Hall of Fame and Hendrick Motorsports Complex.
Durham, North Carolina - Durham and nearby Raleigh feature several interesting attractions. The Botanical Garden offers the perfect antidote to the road, while the Museum of Life & Science and Natural Sciences Museum are also worth a look.
Fredericksburg, Virginia - The city hosts regular Civil War reenactments, in tribute to the battles which were fought nearby.
Best time to go on a road trip from Austin to Washington DC
You can enjoy our routes year-round. However, given that snow and ice can lead to sections of the Blue Ridge Parkway closing, you might wish to avoid the Northern Route during the winter. Alternatively, you can take the detours from the parkway we highlighted above.
Washington DC can get quite hot, humid and busy in the summer, although there are lots going on (and ample air conditioning in public buildings!). There's a chance of snow in the winter, while fall and spring are great times to visit.
You can temperatures of around 75 degrees Fahrenheit in May, while September and October can see temperatures of 70 to 80 degrees.
On the Northern Route, Texas Hill Country and the Blue Ridge Mountains are especially pretty in the spring, while the fall brings beautiful foliage to the parkway (as well as lots of people coming to look at it!).
Expect hot summers along the Southern Route, with milder winters than in the north. The area sees temperatures of up to 80+ degrees into spring and fall. Hurricane season around New Orleans extends from June to September.
On the Southern Route, one key event is Mardi Gras in New Orleans. Preparations start in the New Year ahead of the festival, held in the two weeks leading to Shrove Tuesday. The city is busier and livelier during Mardi Gras.
In Washington DC, summer sees DC Jazz Fest and the family-friendly Smithsonian Folklife Festival. Each spring, the month-long National Cherry Blossom Festival draws crowds to DC – be sure to check ahead for predicted peak bloom dates if you want to see the trees in all their finery!