Road Trip from Baltimore to Chicago
If you're looking for a road trip that combines iconic cities, dynamic urban vibes and stunning outdoor attractions, then the journey from Baltimore to Chicago is sure to tick all your boxes.
The 730-mile road trip from Baltimore to Chicago will take around 12 hours to drive. Depending on your route you'll visit Pittsburgh, Cleveland, Toledo or Columbus and Indianapolis, as well as Lake Erie and Cuyahoga Valley National Park.
There's so much to see and do on this road trip from the Chesapeake Bay to the Great Lakes, so read on to make sure you plan the best possible trip. We'll also give our top tips on where to stay and the best time of year to travel between Baltimore and Chicago.
How far is Chicago from Baltimore, and how long will the road trip take?
Comparison of road trip route options between Baltimore and Chicago

| Route | Distance | Driving Time |
| --- | --- | --- |
| The Cleveland Route | 730 miles | 11 hours 30 minutes |
| The Columbus Route | 760 miles | 12 hours |
The quickest route to drive the 730 miles from Baltimore to Chicago takes around 11 and a half hours if you travel via Cleveland, not factoring in any time for rest stops.
You also have the option of taking a slightly longer route through Columbus, which takes 12 hours to drive and covers 760 miles.
It's just about possible to drive either route in a single day if you have two drivers, but that would mean missing out on all of the interesting places you pass along the way.
For this reason, we would recommend taking at least 4 days for this trip. That way you'll be able to spend most of each day enjoying the vibrant cities these routes take you through, with between 3 and 4 hours on the road each day.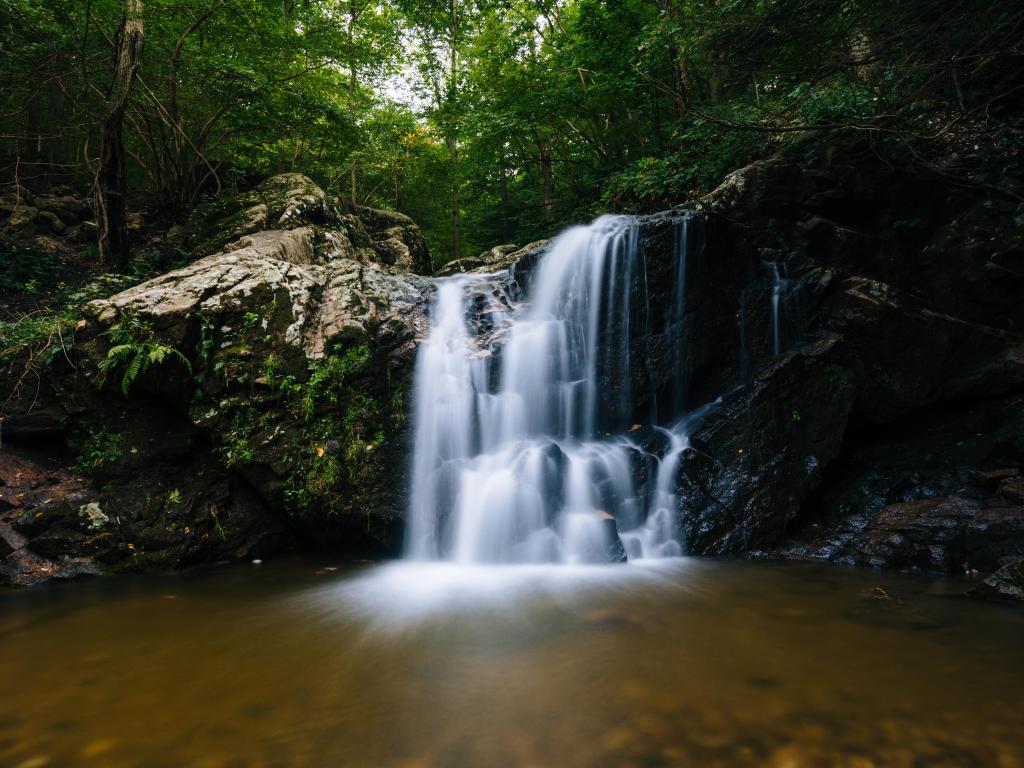 Best road trip route from Baltimore to Chicago
Both of the routes from Baltimore to Chicago are primarily interstate drives, so whichever route you choose will be fairly simple to navigate.
You'll start out making your way across the Appalachians before heading deeper into Ohio and then on towards Chicago, with the routes connecting some of the most iconic cities of Pennsylvania, Ohio and Indiana.
The Cleveland Route takes you through Pittsburgh and past Cuyahoga Valley National Park, then through Cleveland and along the south shore of Lake Erie. You'll then drive right away across Indiana before arriving in Chicago.
The clear distinction of this route is the chance to spend some time on the waterfront as well as in the cities that you'll pass by along the way.
Don't discount the Columbus Route, though. This road trip option takes you through Columbus and Indianapolis, with the option to extend your journey to visit Cincinnati as well.
Whichever way you go, you'll discover a whole host of fascinating stopping-off points, so carry on reading to help decide which route to take.
How to drive from Baltimore to Chicago
The map above shows our suggestions for the best road trip routes between Baltimore and Chicago. Keep reading for detailed descriptions of both routes, where to stay on either, and the best things to do on the way.
The Cleveland Route
Follow US-40 and merge onto Interstate 70 past Leakin Park, then continue on past Patapsco Valley State Park to exit the city.
Continue along I-70 through Frederick and past South Mountain State Park as well as Chesapeake and Ohio Canal National Historical Park. You'll then pass Hagerstown and Hancock before reaching Breezewood.
Next, take the exit onto Interstate 76 towards Pittsburgh, driving past Coral Caverns. Experienced climbers and nature enthusiasts should not miss out on making a detour to Laurel Caverns by following US-119 past Mt Pleasant.
From here, drive through Pittsburgh and keep following the I-76 out of the city. A few miles past Pittsburgh you can also make a detour to Cascade Park, known for its waterfalls, by following I-376 out of Big Beaver and then returning to I-76 along the same road.
You'll soon cross from Pennsylvania to Ohio, and I-76 becomes Interstate 80 soon after crossing the state border. As you head towards Cuyahoga Valley National Park and Brecksville Reservation, the I-80 will take you past Youngstown, Austintown and Lordstown.
Shortly after passing Cuyahoga Valley, turn right onto Interstate 77, which will take you past Garfield Park Reservation and Mill Creek Falls on the way into Cleveland Ohio.
When you're ready to carry on your journey from Cleveland, leave the city via I-71, merging briefly onto I-480
Follow Interstate 71 (I-71) and merge onto Interstate 480 (I-480) briefly before joining I-80 heading west. I-80 runs parallel to Lake Erie, which will give you plenty of scenic detour options, including following OH-4 past Bloomingville to the stunning Sandusky Bay.
For a longer detour, keep on OH-2 to tour to Lakeside Marblehead, Gypsum and Port Clinton.
Past Sandusky Bay, the I-80 becomes the I-90, which you'll follow through Toledo. Here you'll have the option to make a big detour to Detroit by following Interstate 75 north.
Otherwise, if you're not including Detroit in your trip, simply keep following the I-90 west.
This interstate will take you to the shores of Lake Michigan, where you can take another short detour to check out the stunning Indiana Dunes National Park, before taking you directly into Chicago, the Windy City.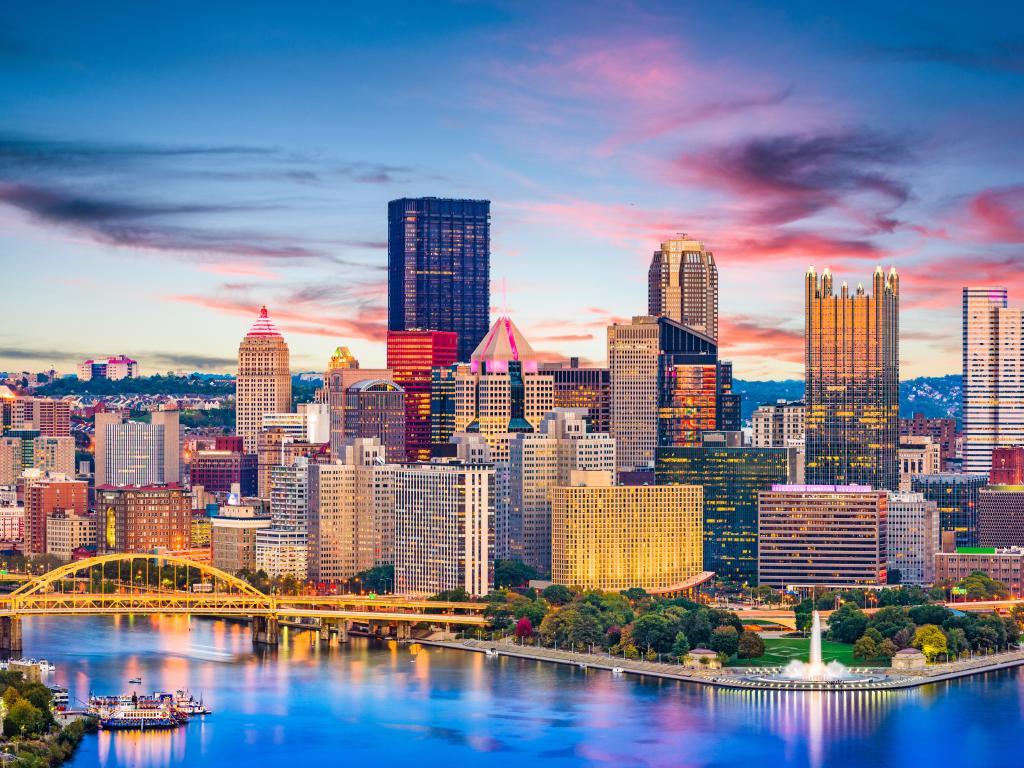 The Columbus Route
Follow the Cleveland Route as far as Hancock, then take Exit 1A for Interstate 68, which will see you driving past Canal Place and Savage River State Forest as you cross from Maryland into Pennsylvania.
Just before you cross the state border, turn right onto US-40. From here, drive across Yough River Lake and past Fort Necessity National Battlefield, merging onto US-119 to drive past Uniontown then joining PA-43 to carry on northwest.
Past the city of California, PA-43 merges onto the I-70 which you'll follow to cross into West Virginia.
From here, drive past Bear Rock Lakes Wildlife Management Area before merging onto I-470 in Bethlehem, where you can stop to visit Kruger Street Toy and Train Museum.
You'll arrive in Ohio when the I-470 takes you across the Ohio River, then after a couple of miles, merge back onto the I-70 past St Clairsville.
The interstate will then take you west, passing by Salt Fork State Park, Zanesville and Buckeye Lake before reaching Columbus.
After spending some time in Columbus, continue along the I-70 to Dayton, where you have the option to make a considerable detour to Cincinnati by following the I-75 south.
If not, continue on the I-70, crossing into Indiana on your way to Indianapolis. Follow I-65 out of Indianapolis and continue northwest.
This interstate will take you on through Lafayette for the last stretch of your journey, and the directly into Chicago in Illinois.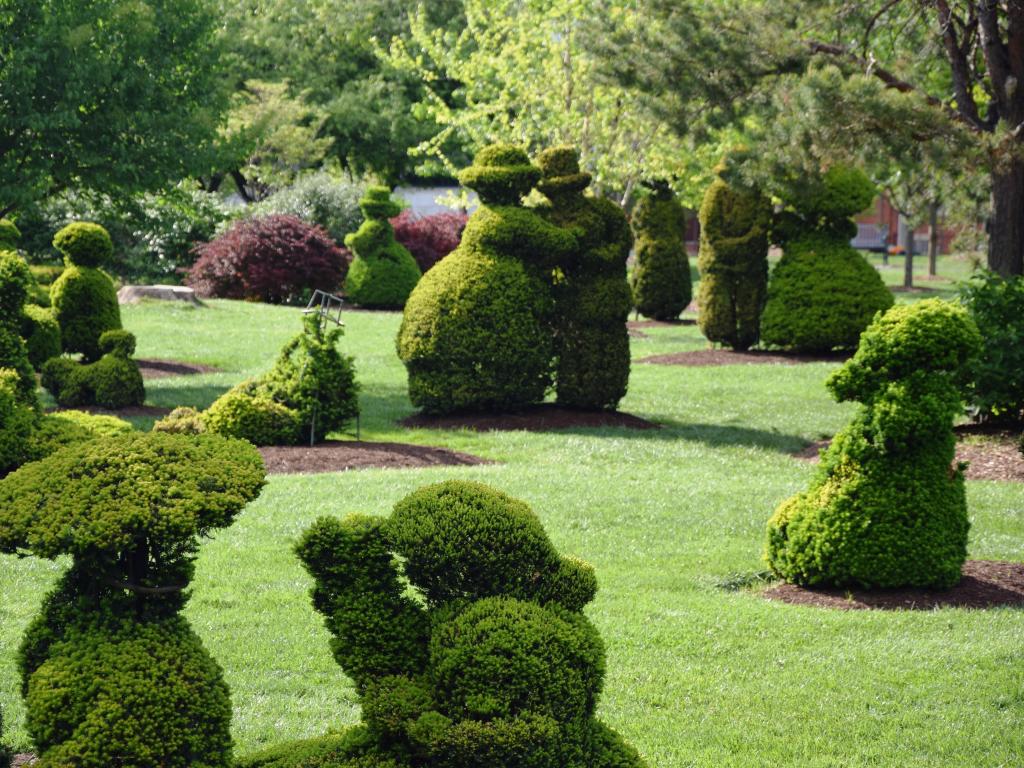 Best places to stop between Baltimore and Chicago
With up to 12 hours of driving and many places to stop and enjoy along the way, you're definitely going to want to make at least one overnight stop on this road trip.
Whichever route you take, there are some great options which let you pause to recharge your batteries before hitting the road again and continuing your journey.
The "Forest City", Cleveland
Just over halfway along the Cleveland Route, this beautiful city located on the shores of scenic Lake Erie is a major city that's worth spending a couple of days in if you have the opportunity.
You can enjoy an abundance of cultural attractions during your stay, with the Cleveland Museum of Natural History, Cleveland Museum of Art and the Glenn Research Center all highly recommended.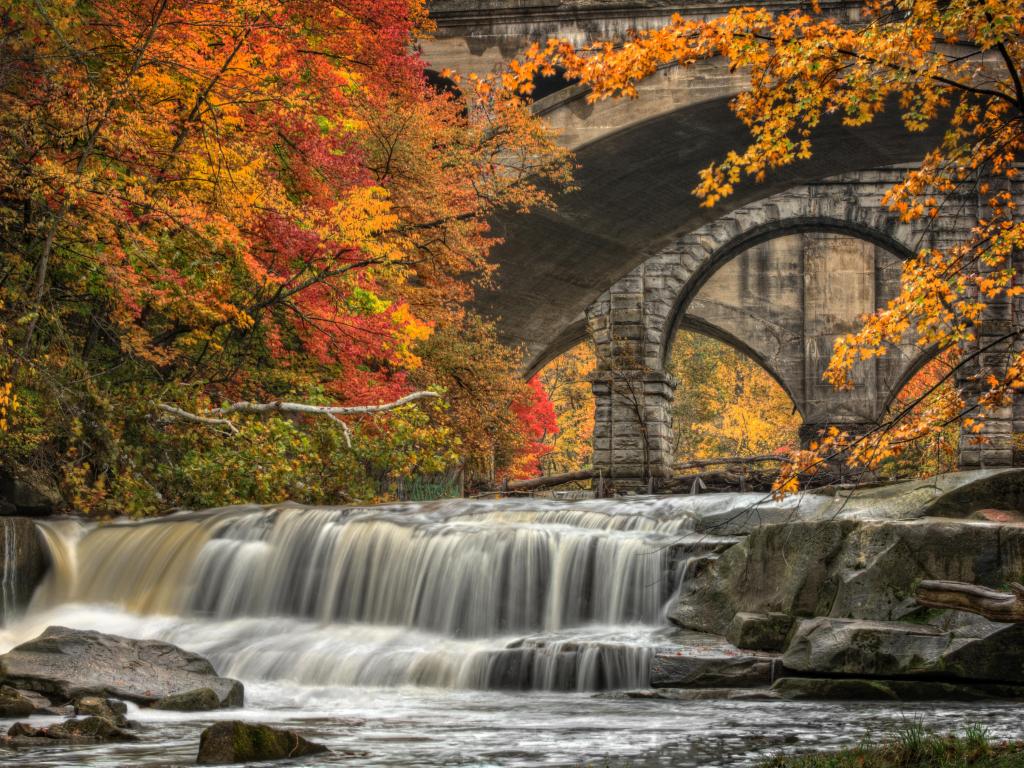 If music is more your thing, a trip to the Rock & Roll Hall of Fame is essential. Or catch a performance by the Cleveland Orchestra to enjoy a different musical vibe while you're in the city.
Of course, Cleveland isn't known as the "Forest City" for nothing. It has an impressive 23,000 acres of parkland as well as many lakeside attractions such as boating and other watersports.
Our top recommendation for somewhere to stay in Cleveland is the Kimpton Schofield Hotel. This modern and stylish boutique hotel is located in the heart of the city, with easy access to popular points of interest such as the Rock and Roll Hall of Fame and Playhouse Square.
This hotel is also affordable (less than half the price of The Ritz-Carlton while still being upmarket) and has a fantastic restaurant and bar, though you might also want to head out to investigate Cleveland's famous foodie scene while you're in the city.
Take in some history in Columbus
If you're taking the Columbus Route, it makes sense to spend a night in the city the route is named after, which is just past the halfway point of this road trip from Baltimore.
The state capital of Ohio is a beautiful and lively city, and it's known for its contribution to American history - the first permanent white settlers built this city when they moved into the Midwest around the 1700s.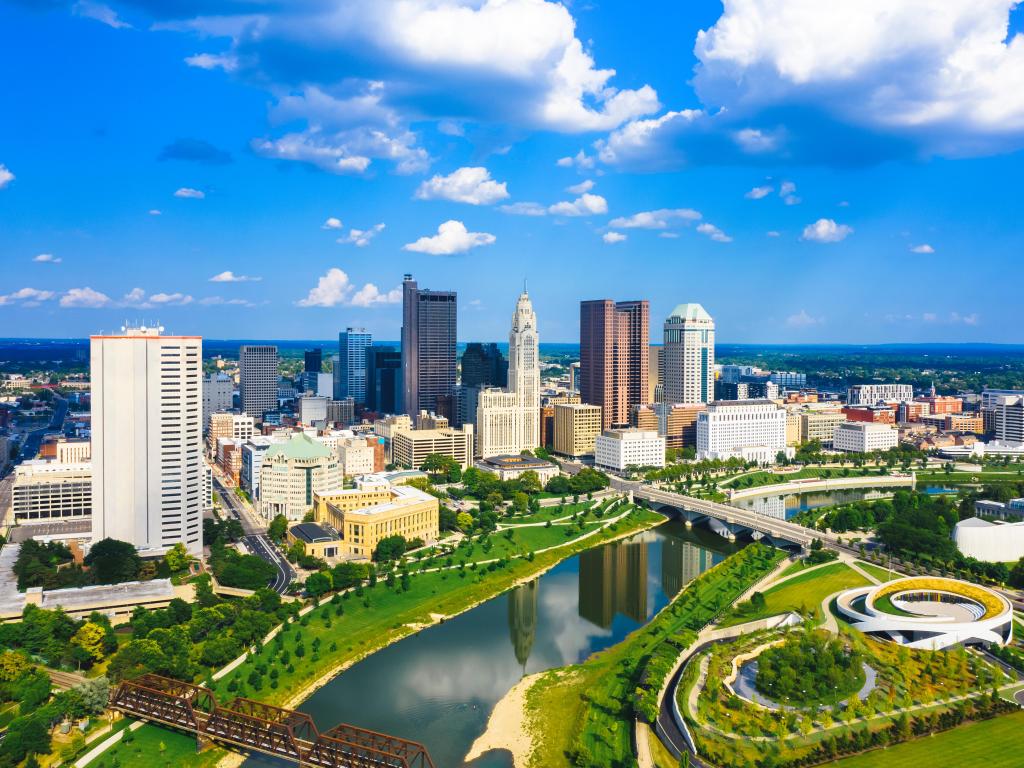 Columbus is a hub for nature lovers, history buffs, and animal lovers alike. It has beautiful parks and one of the country's top zoos, as well as the Franklin Park Conservatory and Botanical Gardens.
You can also enjoy spending some time in the German Village or the Italian Village, and check out what's on at the Ohio Theater.
You'll almost certainly be looking for somewhere to stay that's near to the city's main attractions, and Hotel LeVeque, Autograph Collection has a stellar location.
This chic and luxurious hotel has an onsite bar with food options and private parking on the premises. Ohio Theatre and Capitol Square are both within walking distance.
Where to stay once you reach Chicago
After your long drive you'll be ready to recharge your batteries when you reach Chicago, as well as wanting to enjoy the sights and sounds of this fabulous city.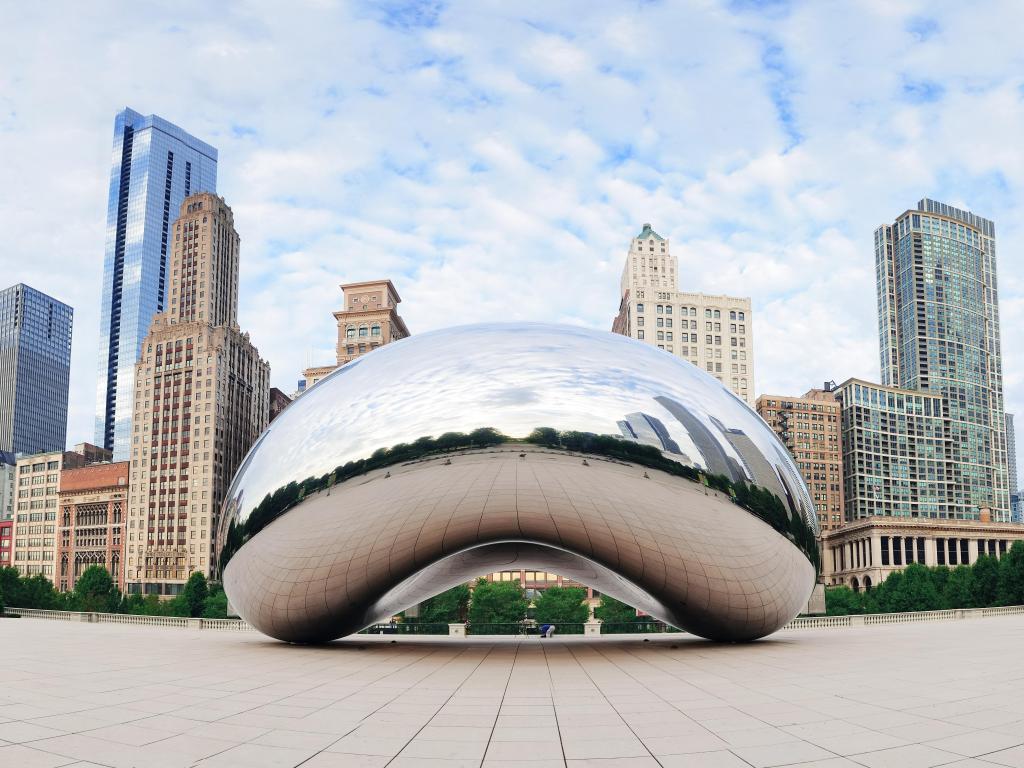 A great choice when you're thinking about where to stay is the Viceroy Chicago, a historic hotel that's centrally located, just minutes away from the beach in the Gold Coast neighborhood.
Competitively priced against its competitors, the Viceroy features a rooftop bar and a lounge as well as a fantastic pool with panoramic views - the perfect place to enjoy all that Chicago has to offer.
Things to see on a road trip from Baltimore to Chicago
Whichever route you take between Baltimore and Chicago, you'll be spoilt for choice when you're thinking about where to stop.
Whether you prefer to spend time outdoors or to visit interesting and varied museums, there's something for everyone to enjoy on this fantastic road trip.
Cleveland Route:
Patapsco Valley State Park - A beautiful park with vibrant flora and fauna, you can hike, fish, camp, canoe and horseback ride here.
Adventure Park USA, Frederick - This park offers extreme adventures for guests of all ages, and is a great destination to visit just as you start on your journey. You can enjoy thrilling roller coasters, go-karts, mini golf and ropes courses, among many other activities.
Road and Rails Museum, Frederick - A must-visit for history buffs and model railroad fans alike, this fascinating museum has one of the world's largest model railroads.
South Mountain State Park, Boonsboro - Part of the Blue Ridge Mountain Range, this state park features exciting geologic, natural, cultural, and historic experiences, where you can follow the footsteps of the Civil War soldiers.
Crystal Grottoes Caverns, Boonsboro - The only show cave in the state of Maryland, these caverns are formed by limestone build-up. You can take guided tours of the illuminated, majestic formations.
Pangborn Park, Hagerstown - You can stretch your legs in this urban oasis which features a fishing pond, lawn, pavilions and picnic spaces you can enjoy.
Chesapeake and Ohio Canal National Historical Park - Also known as the "Grand Old Ditch", this canal between Maryland and Ohio preserves America's early transportation history. Today, you can enjoy recreational activities here.
Coral Caverns, Manns Choice - This little-known set of caverns is sure to leave an impression as you admire the colorfully-lit rock formations. This facility is family-operated to this day.
Laurel Caverns, Farmington - Another stunning cave system, this area is home to Pennsylvania's largest cave, which features over four miles of passages. If you're feeling adventurous, you can also try rappelling.
Pittsburgh - Known as the "Steel City" or "the City of Bridges", Pittsburgh is home to Point State Park, Phipps Conservatory and Botanical Gardens, and Carnegie Museum of Art.
Hell's Hollow, Portersville - The 25-minute trail to reach these picturesque waterfalls is relatively easy, but keep in mind that it might be crowded due to its popularity.
Cascade Park, New Castle - You will be stunned by the gorgeous landscape of this park, which features waterfalls, fantastic wildlife, and opportunities for hiking, fishing and playing bocce.
Cleveland - This city is known as "The Forest City" for its stunning parkland. You can visit the Rock and Roll Hall of Fame, Cleveland Museum of Art, and Glenn Research Center during your visit.
Toledo - This city in Ohio is known as "the Glass Capital of the World". It's also home to the world-class Toledo Zoo, Toledo Museum of Art and amazing breweries.
Wild Winds Buffalo Preserves, Fremont - This fascinating preserve is home to more than 250 free-roaming wild bison. You can take a guided tour to learn more about the herd and its history.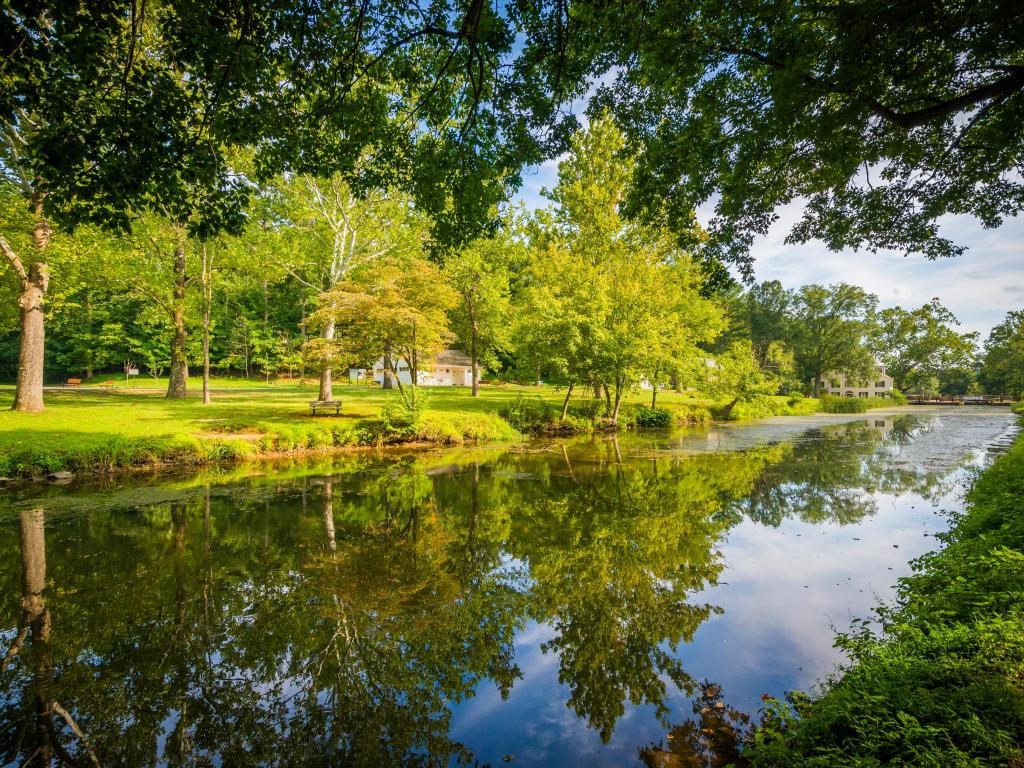 Columbus Route:
Savage River State Forest, Grantsville - This forest offers opportunities for fun all year round, such as hiking, biking, boating, canoeing and fishing, as well as snowmobiling and cross-country skiing in winter.
Cucumber Falls, Ohiopyle - This beautiful waterfall is surrounded by gorgeous scenery and leisurely walking trails if you want to stretch your legs as you take in the beauty of nature.
Bear Run Nature Reserve, Mill Run - Bear Run Nature Reserve is home to the UNESCO World Heritage Site of Fallingwater and this architectural masterpiece makes this area worth a visit on its own.
Kennywood, West Mifflin - A fascinating amusement park that offers fun for the whole family, Kennywood boasts adrenaline-packed rides and some of the most thrilling rollercoasters you will experience.
Bradford House Museum, Washington - This historic house is a landmark and home of the leader of the Whiskey Rebellion. In addition to the general guided tours, you can also join special tours, which include the Taste of the Tavern Tour.
Kruger Street Toy and Train Museum, Wheeling - Housed in a historic structure that was built in 1906, this museum boasts an impressive collection of tens of thousands of toys and trains.
Salt Fork State Park, Lore City - This stunning park is a public recreation area that consists of lush woodlands and colorful meadows, which makes it the perfect destination on a nice summer day.
Buckeye Lake Museum - Learn about the history of the area through the well-preserved memorabilia in the museum's collection of artifacts.
Columbus - Named after Christopher Columbus, the famous Italian explorer, the state capital of Ohio is home to Franklin Park Conservatory and Botanical Gardens, Ohio Theater and the famous Columbus Zoo & Aquarium.
Hartman Rock Garden, Springfield - One of Ohio's most unique attractions, this rock garden is crafted by Harry "Ben" Hartman and features sculptures and even castles.
National Museum of the US Airforce, Dayton - This museum is a must-see for all aviation fans as it's the world's largest military aviation museum featuring more than 360 aerospace vehicles.
Indianapolis, Indiana - Known for its vast farmlands and steel mills, Indianapolis is home to the famous Indy 500 and for having the largest children's museum in the world.
Black Rock Nature Reserve, Otterbein - This 45-acre nature preserve is dedicated to protecting the very rare sandstone and siltstone barrens. The trail is rugged, so make sure to bring your hiking gear.
White River State Park, Indianapolis - This natural and cultural hub boasts world-class attractions such as concerts and shows.
Wayne National Forest, Ohio - You can admire beaches and dunes in this forest, providing opportunities for climbing, fishing and horseback riding.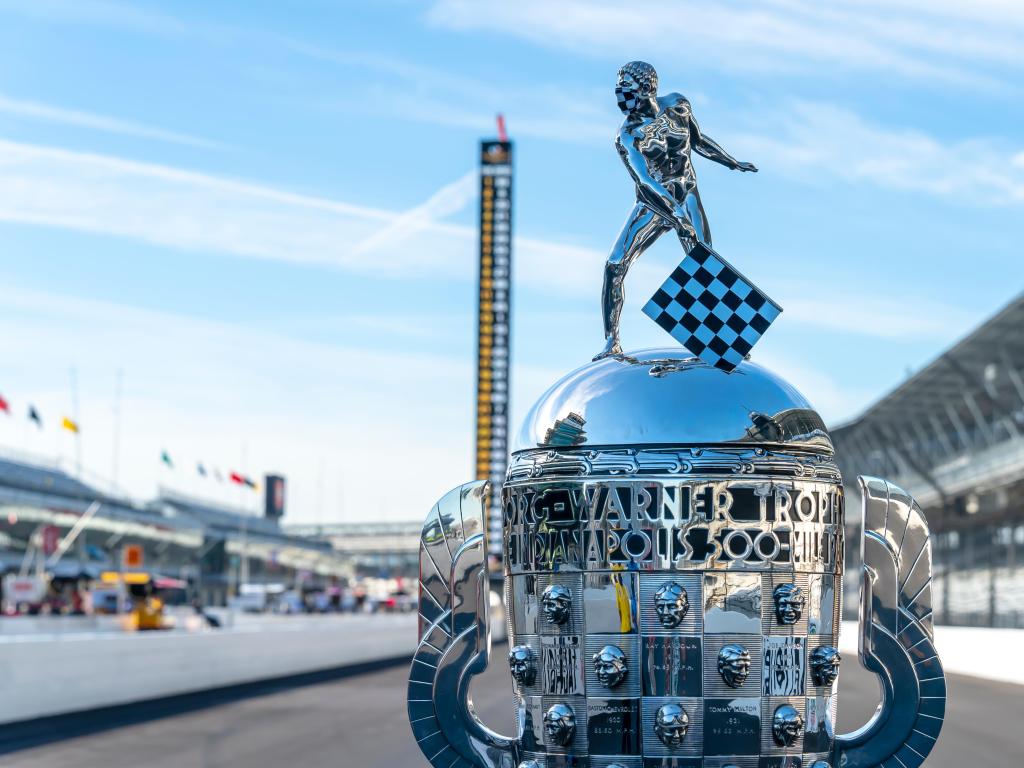 Best time to go on a road trip from Baltimore to Chicago
Many of the attractions on this epic road trip are outdoors, so weather plays an important part in planning when to travel.
Winter can be a challenging time to take this route as the region can experience significant snowfall. Although this is a primarily interstate drive so it should be passable for much of the winter, I-76 is prone to icing, so expect road closures. Roads in and out of Chicago can also get very slippery.
Chicago is beautiful but very cold in winter, with temperatures often dropping below 30 degrees Fahrenheit. If you aren't a fan of constant snow and wind, it's better to avoid visiting this city in the colder months.
Chicago is vibrant and lively all year round, but it does tend to get crowded in summer as this city is home to more than 400 festivals, which mostly take place in summer.
However, with temperatures averaging 75 degrees Fahrenheit, outdoor activities are enjoyable in spite of the crowds through the peak season of July and August are the peak season.
Late spring and early fall are great times to make this road trip, as they're not the peak seasons, meaning hotel prices will be lower and attractions less crowded. Also, the natural beauty of Lake Erie and Lake Michigan really shines during these seasons.
One thing to note, however, is that some of the roads near Cleveland by the lakes are prone to flooding in the spring, so you might have to take a diversion if there are closures.
Along much of this route, temperatures tend to reach the 70s and above from May to September, but the region cools down quickly from October onwards.
However, if you're prepared to pack an extra layer or two you might want to visit earlier in the spring to catch Chicago Culinary Week, which takes place in April - it's the biggest foodie event of the year.