Road Trip from Toronto to Washington DC
The epic road trip from Toronto to Washington DC takes us from the most populous city in Canada to the capital city of America, passing everything from forests, lakes and waterfalls to big cities and unique towns en route. And what a reward when you arrive at your destination: the chance to marvel at some of the most monumental architecture known to man.
The 772km (478-mile) road trip from Toronto to Washington DC takes 9 hours to drive. The route passes Hamilton, Buffalo, Baltimore, Allentown, Mississauga and Syracuse as well as Lancaster, Lake Ontario, Susquehannock State Forest and Niagara Falls.
There are some incredible places to visit and explore on this road trip, so please read on to learn more about what you'll see on this stunning journey.
How far is Washington DC from Toronto and how long will the road trip take?
Comparison of road trip routes between Toronto and Washington DC

| Route | Distance | Driving Time |
| --- | --- | --- |
| The Direct Route | 805 km | 9 hours |
| The Scenic Route | 1,050 km | 10 hours 30 minutes |
The road trip from Toronto to Washington DC covers a distance of at least 770 km and takes a minimum of 8 hours and 40 minutes to drive.
In order to make the most of the attractions on the way, we will suggest two marginally longer routes. At 805 km and 9 hours, the difference between the above and our Direct Route is pretty similar and yet you'll get a whole lot more to enjoy.
A second optional detour route will take you via Allentown and is longer at 1,050 km and 10 hours and 30 minutes to drive.
With both journeys being relatively short, you could consider this a road trip that could be completed in a day. However, while that is absolutely doable, rushing along too quickly could still make you miss out on some of the fantastic attractions along the way.
That's why we recommend spreading the trip out over several days at least, to include at least a couple of overnight stops, to give you a little more time to take everything in.
Regardless of which option you choose to follow, this road trip does involve crossing the Canadian border into the US. Therefore, you will need to ensure you have the correct documentation and proof of identity before crossing.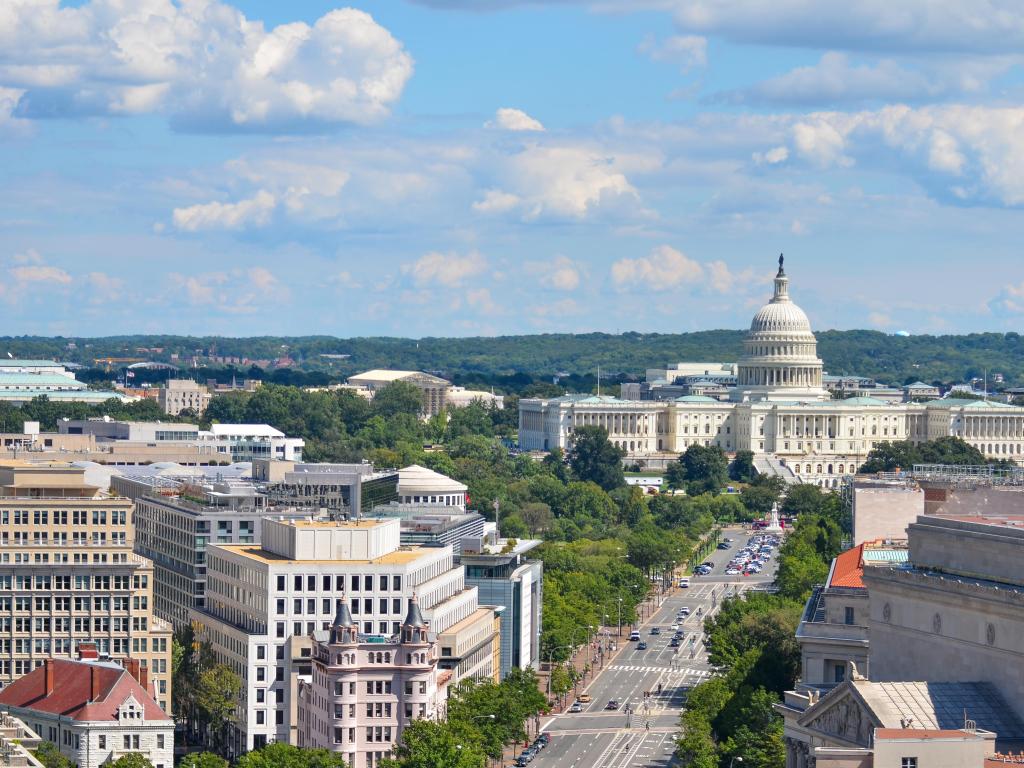 Best road trip route from Toronto to Washington DC
As mentioned above, there are several route options for this road trip from Toronto to Washington DC. Our Direct Route is certainly the quickest, but will still see you cross the US states of New York, Pennsylvania and Maryland, before arriving at the District Of Columbia.
Alternatively, the Scenic Route offers more cities to visit along the way, including Syracuse and Allentown. At slightly further, it will take extra time to drive but the scenery will more than make up for the journey.
Ultimately, the decision of which route you choose will be yours. If you have plenty of time, you could always do both and follow a different one back to Toronto.
How to drive from Toronto to Washington DC
The map above shows our suggestions for the best road trip routes between Toronto and Washington DC. Keep reading for detailed descriptions of both routes, where to stay on either, and the best things to do on the way.
The Direct Route
Begin by setting out on Queen Elizabeth Way and following it southwest, around the western point of Lake Ontario. Follow it all the way to Ontario Highway 420, which you'll use to cross Rainbow International Bridge and enter the US.
Once over the border, take Rainbow Blvd south for 1.3km (0.8 of a mile), where you'll turn right onto John Daly Boulevard before almost immediately crossing the roundabout onto Niagara Scenic Parkway.
You'll follow this its entire duration, along the bank of the Niagara River, until you come to North Grand Island Bridge, where you'll merge onto the I-190 going south.
Follow this until you reach Kaisertown, where you'll proceed to make a couple of quick changes, first onto I-90 south, then onto State Route-400, to East Aurora, before finally going west on US-20A. When you're just approaching the town of Leicester, go south before joining I-390.
Continue following the road, even after it becomes the I-86, until you reach Corning, where US-15 begins.
Consider taking a short detour to explore Susquehannock State Forest, before following the road to Harrisburg, where you will switch to the I-83 all the way to Baltimore.
If you don't plan on going into the city, exit west onto I-695 when you have the opportunity, which takes you around the outskirts. Once you cross the Patapsco River, go south on State Route 295, which eventually becomes the Baltimore-Washington Parkway.
This will bring you all the way to the District Of Columbia border, where you simply merge onto US-50 going west, until you arrive at your destination in downtown Washington DC.
The Scenic Route
Much like the above route, you will leave Toronto by setting out on Queen Elizabeth Way, past Mississauga and Hamiton and alongside Lake Ontario all the way to the Rainbow International Bridge where you will enter the US.
After spending time at Niagara Falls, you will then follow Interstate 190 east before merging with I-90 through pretty towns before arriving at Syracuse.
After spending time at this city in New York state, you'll head south on I-81 to Dickson City where you can visit Upper Delaware Scenic and Recreational River, before taking I-476.
Take a short detour to make a stop in Allentown, before continuing to head south. You could take another optional stop in Philadelphia, or follow I-95 south out the outskirts of the city and follow it as you cross Clarke Lake and head into Baltimore.
Finally, continue on I-895 south before merging with Baltimore-Washington Parkway and follow it all the way to your destination.
Best places to stop between Toronto and Washington DC
A road trip from Toronto to Washington DC takes you through some of the earliest settled areas in the United States. With rich history and culture abound, it's the perfect trip to incorporate at least one overnight stop along the way.
There are several options of places to stay, including cities and pretty towns, but these are the ones you won't want to miss out on:
Fall in love with Niagara Falls
Located on the border between the United States and Canada, Niagara Falls is one of the most stunning natural attractions in either country. Although this stop is quite early in both routes, its stunning setting makes in an obvious choice.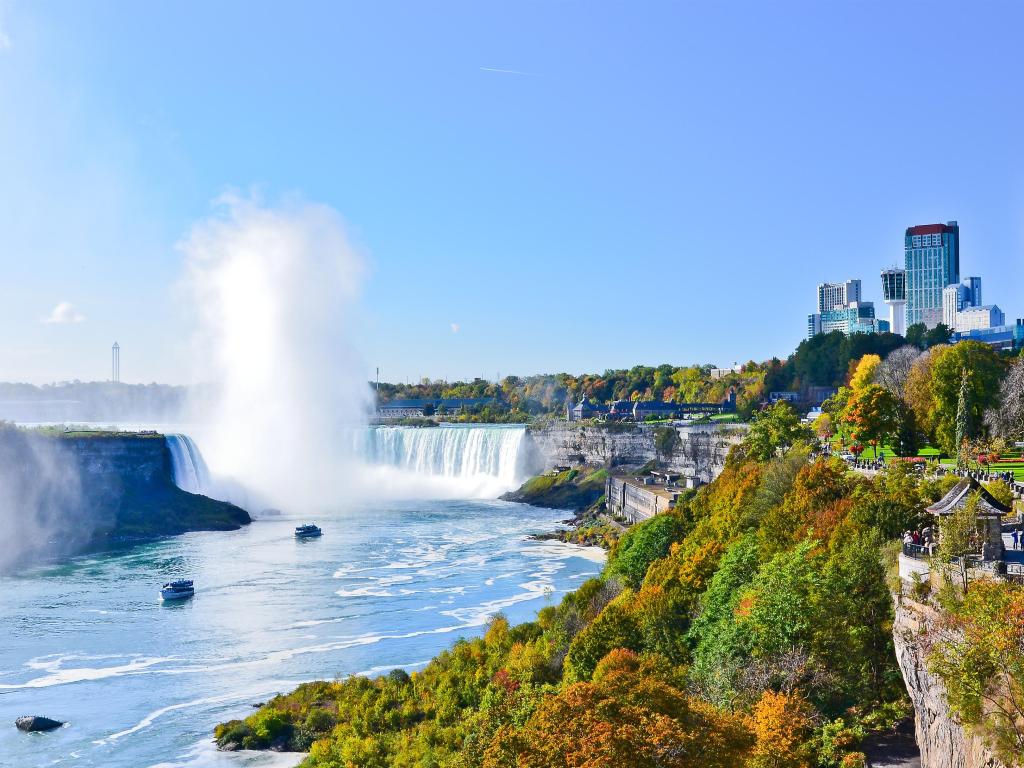 With over 28 million visitors annually, this incredible sight is more than worth taking a little extra time to stop and explore on journey. With walks, boat trips and rangers to tell you about the area, you can combine incredible views with an informative learning experience.
Considering its location, most people would stay in the city of Buffalo to visit the falls. Located just a short drive away and providing plenty of nightlife and additional attractions, it is a perfect location to fully flesh out your trip.
To make the most of your visit, you cannot go wrong with a stay at the Buffalo Marriott At LECOM HARBORCENTER. This beautiful 4-star hotel, situated right on the banks of the Niagara River, will provide you with the views the area is famous for.
As well as being fantastically located, the hotel itself provides a luxurious stay with rooms offering either a lake or city view. There's also a fantastic onsite bar and restaurant, ideal after a long day at Niagara Falls.
A city break in Philadelphia
If you decide to follow our Scenic Route, then a great optional overnight stop is at Philadelphia, Pennsylvania's largest city. At just under 3 hours from Washington DC, it's ideally located to get a final rest before embarking on the final part of your trip.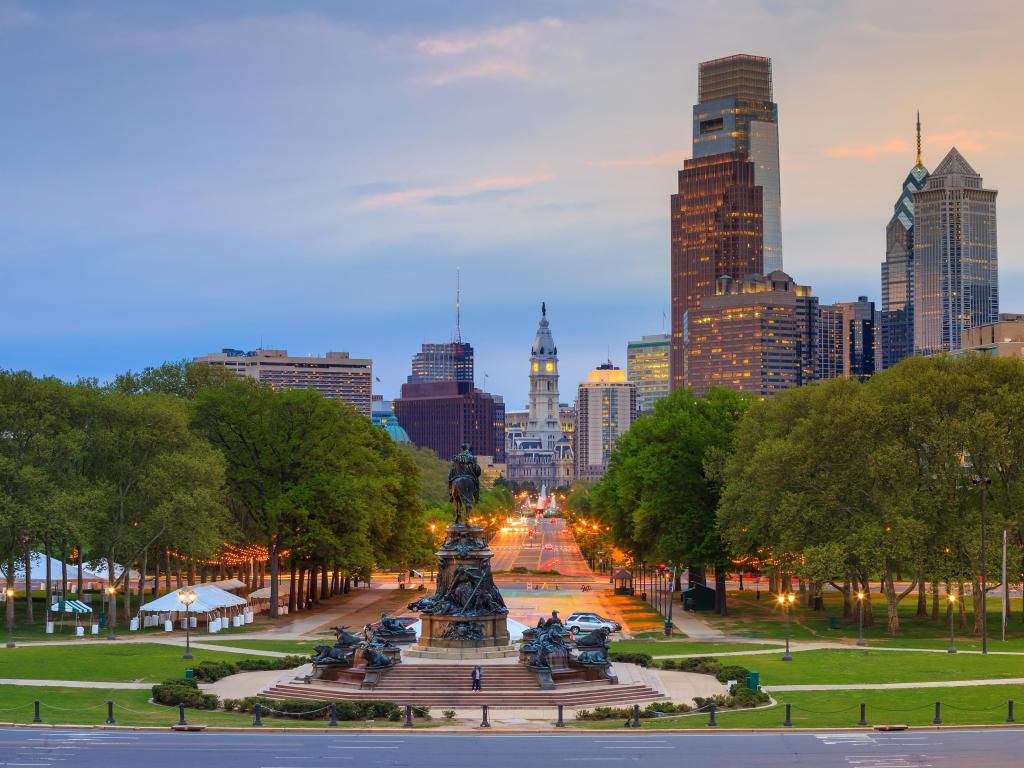 Notable for its rich history and fascinating places to visit such as the Liberty Bell, Independence Hall (where the Declaration of Independence and Constitution were signed) and other many other American Revolutionary sites.
As well as great restaurants and shops, this city is also iconic for its the steps of the Philadelphia Museum of Art, immortalized by Sylvester Stallone's triumphant run in the film "Rocky."
There are plenty of great hotels to stop in Philadelphia, but one of the best which combines great location with facilities is the 4-star Windsor Suites Philadelphia.
Set 700 yards from the City Hall Subway Station and The Barnes Foundation and only 1 mile from the 30th Street Amtrak, this modern and beautifully presented hotel features an outdoor rooftop pool with fantastic views, a terrace and balcony and multiple dining options.
For an experience at the heart of Philadelphia, The Windsor Suites is a fantastic option.
A historical expedition to Baltimore
Just over 8 hours from Toronto, Baltimore is one of the oldest, most historic cities in the entire country. An ideal final stop for the Direct Route, you can also include a overnight rest here if you take the Scenic Route too. Being so close to Washington DC, it's a great final rest before the final city.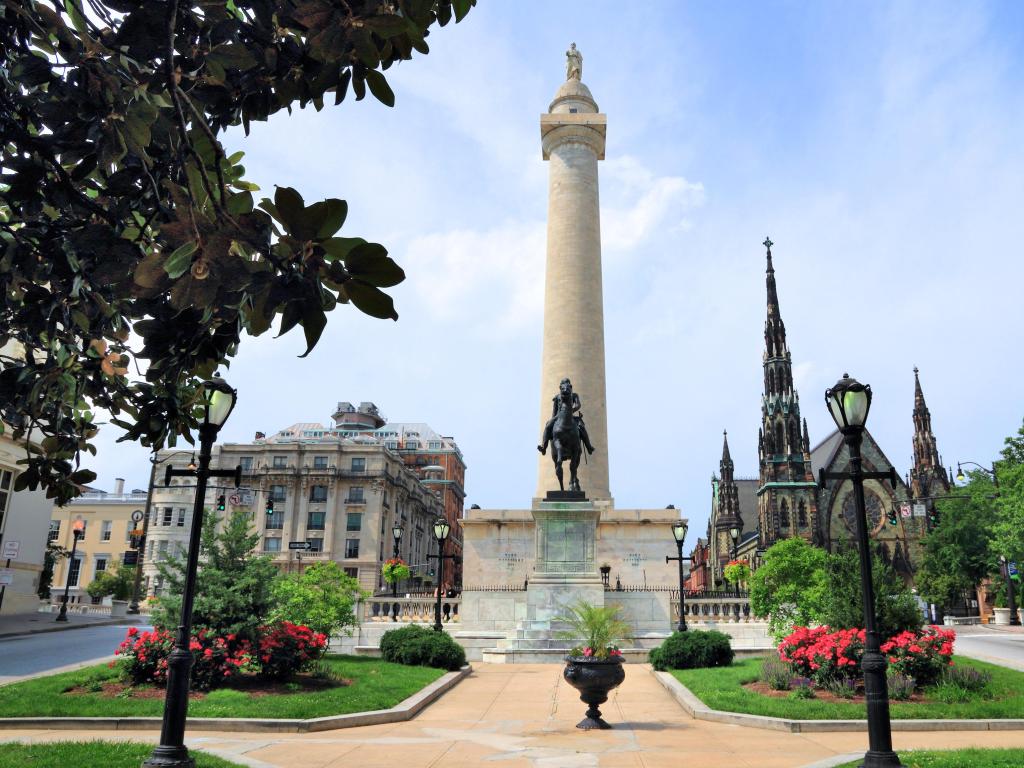 With stunning architecture across an incredible spectrum of styles, dating all the way back to the early 1800s, and historic landmarks relating to the country's earliest days, there are few cities in the US that will provide a visit as rewarding for history buffs as Baltimore.
After a day of sightseeing, you will be guaranteed the celebrity treatment with world-class service at the Four Seasons Baltimore. Located in the city's legendary harbor area, this hotel has incredible views as well as luxurious amenities.
After a swim in the rooftop infinity pool, guests can enjoy a delicious meal at the onsite restaurant, while enjoying those harbor views. The modern guest rooms at the Four Seasons Baltimore include floor-to-ceiling windows plus marble bathrooms with deep soaking tubs.
This 5-star hotel really is worth every penny, and being located so closely to Camden Yards and the historic neighborhood of Fell's Point, you just might find it hard to leave!
Things to see on a road trip from Toronto to Washington DC
While a road trip from Toronto to Washington DC isn't the longest journey in the world, that doesn't mean there isn't plenty to do and see along the way.
The following list is my personal top picks for attractions along the route, ranging from quick stops to some slightly longer expeditions.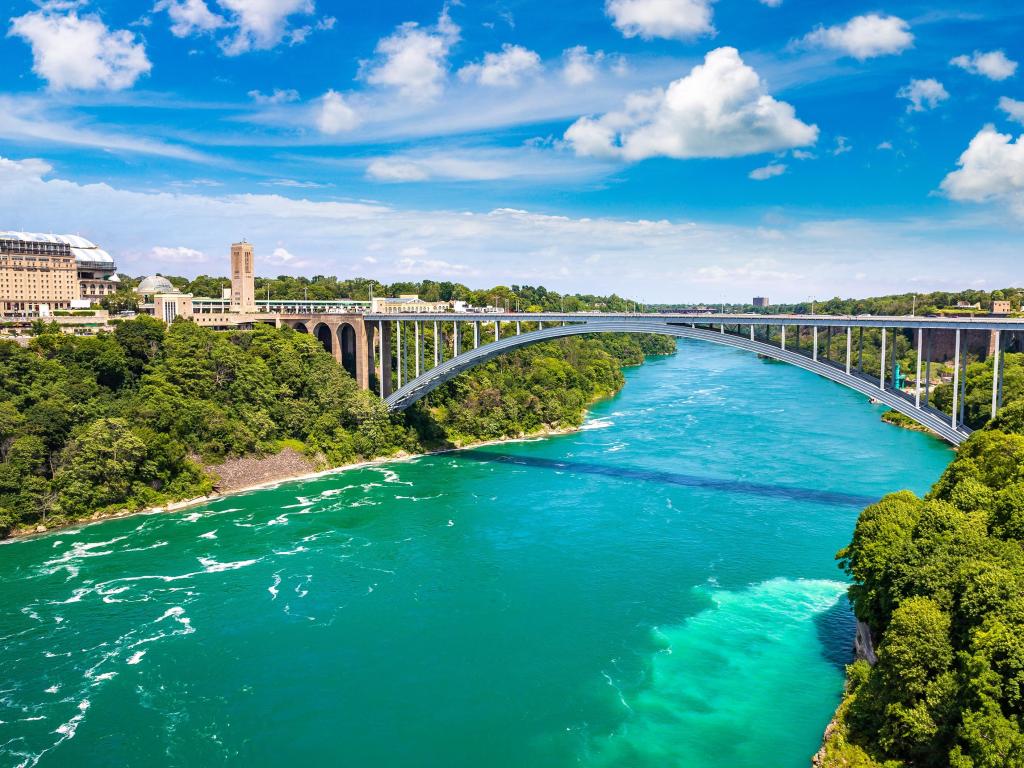 Both routes
Lake Ontario - The most eastern of the 5 "Great Lakes", this is also the only one not to border the US state of Michigan. Despite being the smallest of the group, at over 7,000-square miles, it still ranks as the 13th largest lake on Earth and is truly an incredible sight to behold.
Rainbow International Bridge - A 440-foot arch bridge, connecting Canada and the US across the Niagara River Gorge. Located just beside Niagara Falls, this is the perfect place to cross the border for those wanting to enter the country in style.
Niagara Falls - A famous collection of three waterfalls, made up of Horseshoe Falls, American Falls and Bridal Veil Falls. Featuring the highest flow rate and most power of any waterfall in North America, they are a spectacular sight to behold.
Buffalo, New York - The second largest city in the state of New York, laying on the eastern bank of the Niagara River, today it is perhaps best known as the gateway to Niagara Falls and for having the most northern major league sports teams in America.
Susquehanna River - At 708km (440 miles) it is the longest river on the eastern coast. Running through Maryland, New York and Pennsylvania, the Susquehanna is a popular location for tourists interested in activities such as boating and fishing.
Direct Route
Susquehannock State Forest - This national forest in Pennsylvania grows some of the most productive stands of black cherry trees in the world. It's very much a working forest and offers a great escape from the bust cities surrounding it.
Bald Eagle State Forest - With nearly 194,000 acres of forested ridges, valleys and streams, this state forest is ideal for those who enjoy hiking trails and rustic campsites.
Lancaster, Pennsylvania - Home to the largest Amish population in the US, this is a fantastic place to come and discover a culture unique from almost anything you will have experienced before.
Letchworth State Park - A stunning area which features scenic waterfalls and cliffs in a massive park with 66 miles of hiking trails, river rafting and much more.
Baltimore, Maryland - The most populous city in Maryland, Baltimore is famed for having one of the greatest collections of architecture from differing era's anywhere in the United States. This includes Baltimore Basilica, the oldest Catholic Cathedral in the country.
Patapsco Valley State Park - Extending along 32 lies of the Patapsco River, this park encompasses over 16,000 acres and eighth developed recreational areas. You'll spot local wildlife as well as be able to enjoy stunning views.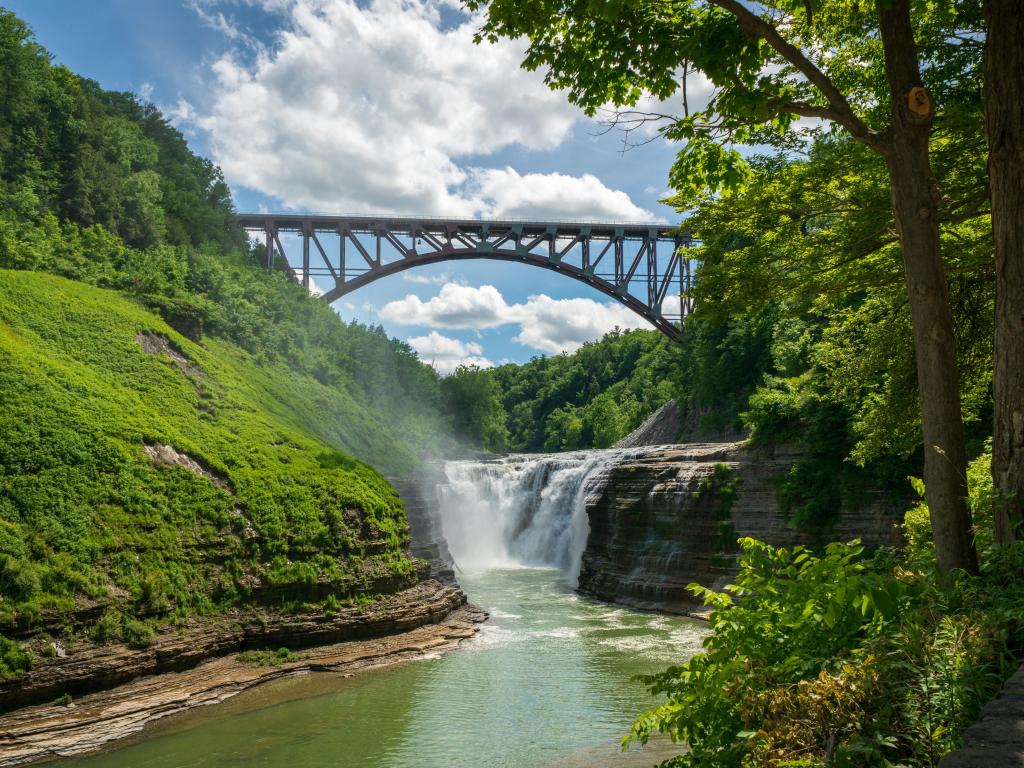 Scenic Route
Iroquois National Wildlife Refuge - Discover wildlife such as bald eagles and deer who make their home in this refuge. It's also popular with those looking to go fishing.
Rochester, New York - Situated on Lake Ontario in New York State, Rochester has great industrial buildings which cluster near the Genesee River's High Falls. Explore its many museums and discover its rich history.
Allentown, Pennsylvania - This city is rich in Pennsylvania Ditch history, as well as being known for its award-winning park system and baseball team.
Syracuse, New York - Home to the Erie Canal Museum, as well as art galleries and the opulent 1920s Landmark Theatre which hosts Broadway hits and concerts.
New Michigan State Forest - The 9000 acre state forest is located in the towns of Plymouth and Pharsalia and include trails and through its dense woodland.
Philadelphia, Pennsylvania - Famous for the Liberty Bell and the film "Rocky", it is also known for its revolutionary history in general and being the "City of Brotherly Love".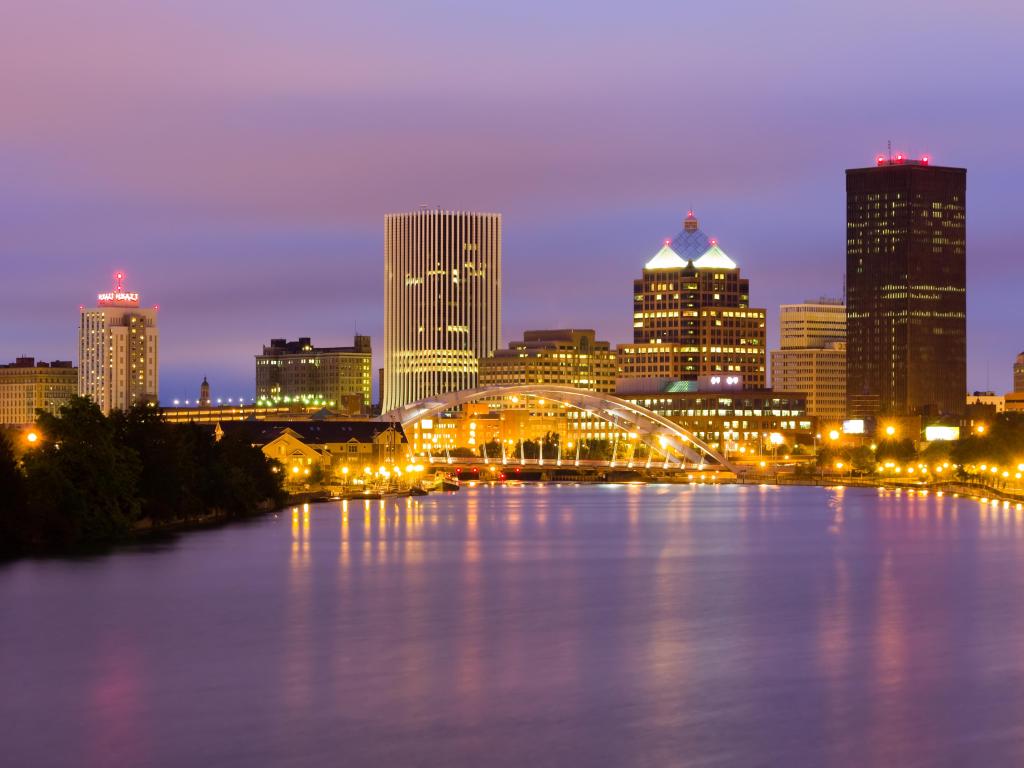 Best time to go on a road trip from Toronto to Washington DC
While the road trip from Toronto to Washington DC can be enjoyed in any season, the best time of year to travel will largely depend upon what attractions you want to enjoy en route.
Summer is a great time to enjoy some of the most famous attractions in DC, such as the Lincoln Memorial. It also offers pleasant weather when visiting the most popular attraction along the route, Niagara Falls.
With temperatures in the summer months around 70 degrees Fahrenheit in the falls and between 80 and 84 degrees in Washington DC, you'll certainly be able to enjoy being outside. That said, with summer drawing the largest crowds, you will find hotels and cities extremely busy.
Winter isn't an ideal time to visit either leaving Toronto or arriving in Washington DC. With bitterly cold weather and lows of around 30 degrees in January, it becomes a much less enjoyable trip if you're more focused on keeping warm than enjoying what you are seeing. That said, a frozen Niagara Falls is quite a spectacular sight.
Spring or fall are typically popular months for this road trip, giving you warm and pleasant temperatures early in the year, and stunning colors in the forests and parks from September onwards.
You could try combining your journey with a festival or two along the way. One such signature event in Washington DC is its National Cherry Blossom Festival held in March and April. There's also a popular Jazz Festival held in the summer and of course, its colourful Capital Pride in June.