Road Trip from Banff to Jasper
Discover two of Canada's most stunning parks on this road trip, which takes you from Banff National Park to Jasper National Park. On the way, you'll pass iconic Canadian cities and beautiful mountain towns on this road trip of a lifetime.
The 770 km road trip from Banff to Jasper will take around 9 hours to drive. You'll drive through Golden, Glacier National Park, Kamloops, Mount Robson Provincial Park, Calgary, Red Deer, Edmonton, Wabamun, Dawson Falls and Miette Hot Springs.
This adventure will take you past unforgettable landscapes and charming cities. Read on to learn about the best routes that you can take, awe-inspiring things to see, where to stay and the best time to visit.
How far is Jasper from Banff, and how long will the road trip take?
Comparison of road trip routes between Banff and Jasper

| Route | Distance | Driving Time |
| --- | --- | --- |
| The Direct Route | 190 km | 2 hours 10 minutes |
| The Edmonton Route | 770 km | 8 hours 50 minutes |
| The Kamloops Route | 970 km | 10 hours 40 minutes |
The road trip from Banff to Jasper can be completed in just 2 hours and 10 minutes, covering 190 km following the most direct route. However, this is more of a short drive than a journey, so we suggest taking your time to make detours to admire the stunning landscapes that span between the two cities.
The Edmonton Route will take you through the plains and mountains of Alberta and major cities including Red Deer, Edmonton and Calgary, covering 770 km. This route can be completed in 8 hours and 50 minutes.
The Kamloops Route is the longest, but the most scenic route which will take 10 hours and 40 minutes to drive and cover 970 km without any further detours.
Because of all the amazing sights and experiences along the way, we recommended taking 5-6 days to complete the journey. This will allow you to take your time and make the most out of this beautiful region.
Best road trip route from Banff to Jasper
Both routes offer amazing natural scenery and chances to experience Canada's Rocky Mountains, pristine forests, and vibrant cities. Therefore, the best route will ultimately depend on how much time you have and what you'd like to see en route.
Choose the Kamloops Route for the ultimate British Columbia nature experience and drive through the Canadian Rockies and visit Glacier National Park and Mount Robson Provincial Park.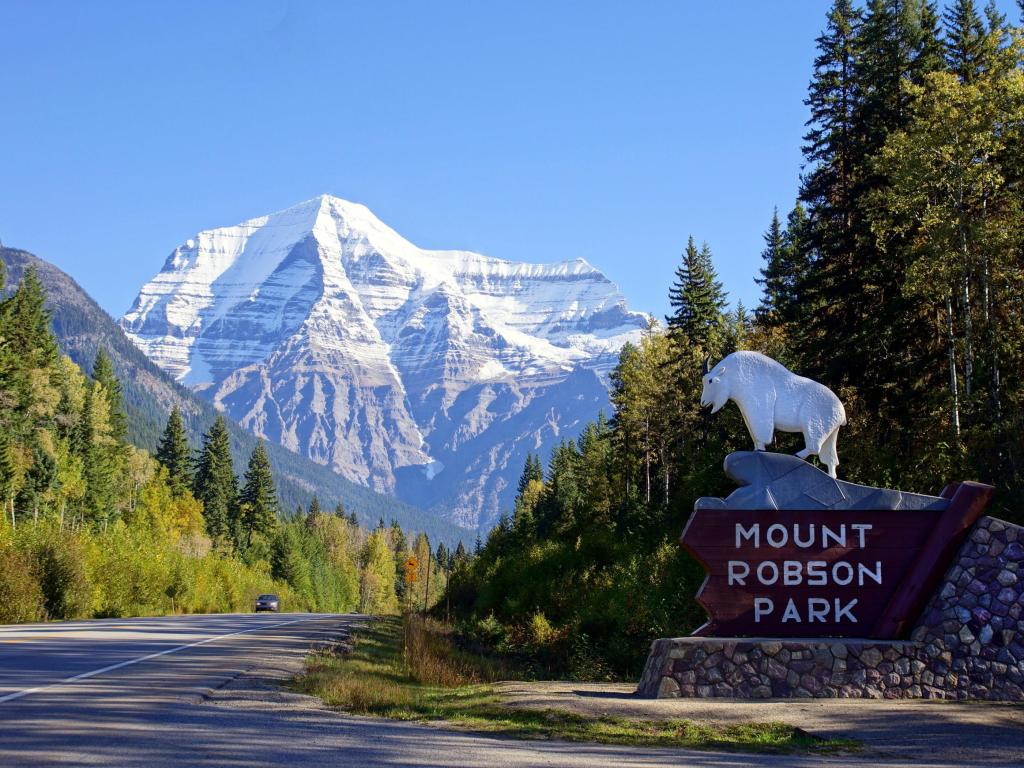 Although it doesn't go through any major cities and is a few hours longer, you'll be able to take in the best natural surroundings.
The Edmonton Route is shorter and more direct. You'll stop in several major Canadian cities, including Calgary and Edmonton. Take in the beautiful natural offerings of Alberta and visit the Miette Hot Springs, the hottest mineral springs in the Canadian Rockies.
The Kamloops Route
From Banff, enter BC on highway BC-93. Continue on through the mighty Rocky Mountains and enjoy the incredible views and stunning scenery.
Drive past the town of Golden and into Glacier National Park. Here you can get up close and personal with natural ice sheets and unparalleled wildlife.
Drive on through pristine Canadian forests, lakes, and wilderness on your way into Kamloops. Here you can experience the small-town vibe and cultural activities.
Continue north through charming towns and countryside until you reach Mount Robson Provincial Park. After experiencing another top Canadian wilderness destination, you'll be on your way to Jasper.
The Edmonton Route
From Banff, head east into Calgary, Canada's fourth largest city. This amazing city is full of history, culture, and great nightlife. After taking in the excitement of Calgary, head north on Highway 2 into Red Deer. Here, you can visit the Alberta Sports Hall of Fame.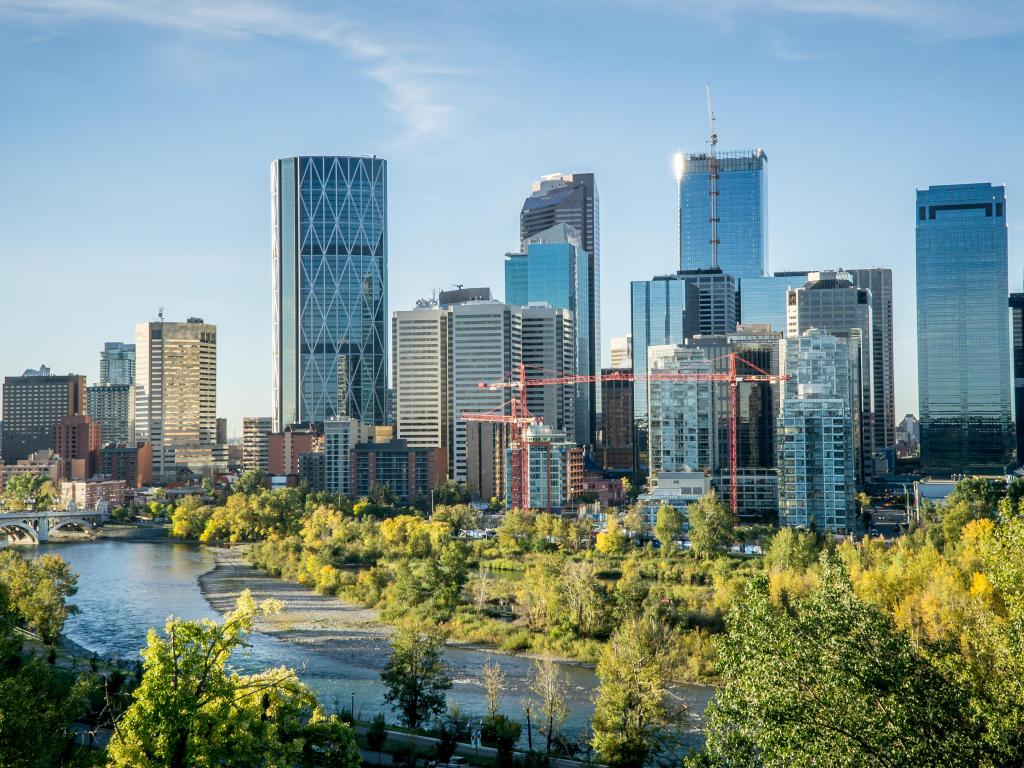 Continue on from Red Deer towards Edmonton. This beautiful city is full of museums and activities to enjoy. From Edmonton, continue on AB-16 west towards Jasper. On the way, make a stop at the relaxing and scenic Miette Hot Springs.
Best places to stop between Banff and Jasper
Whichever route you choose, you'll get to experience plenty of sights, scenery, and things to do. Whether you're looking for small towns or big cities, you'll get your fill of quintessential Canada along the way. Below are two of our favourite stops along the way for you to experience.
Take in the river scenery in Kamloops
About halfway on your journey is the beautiful town of Kamloops, BC. Kamloops is a relaxed city that's perfect for an overnight stop. It's also the largest city on the route that shares its name. Kamloops is famous for winter sports and has a popular ski resort.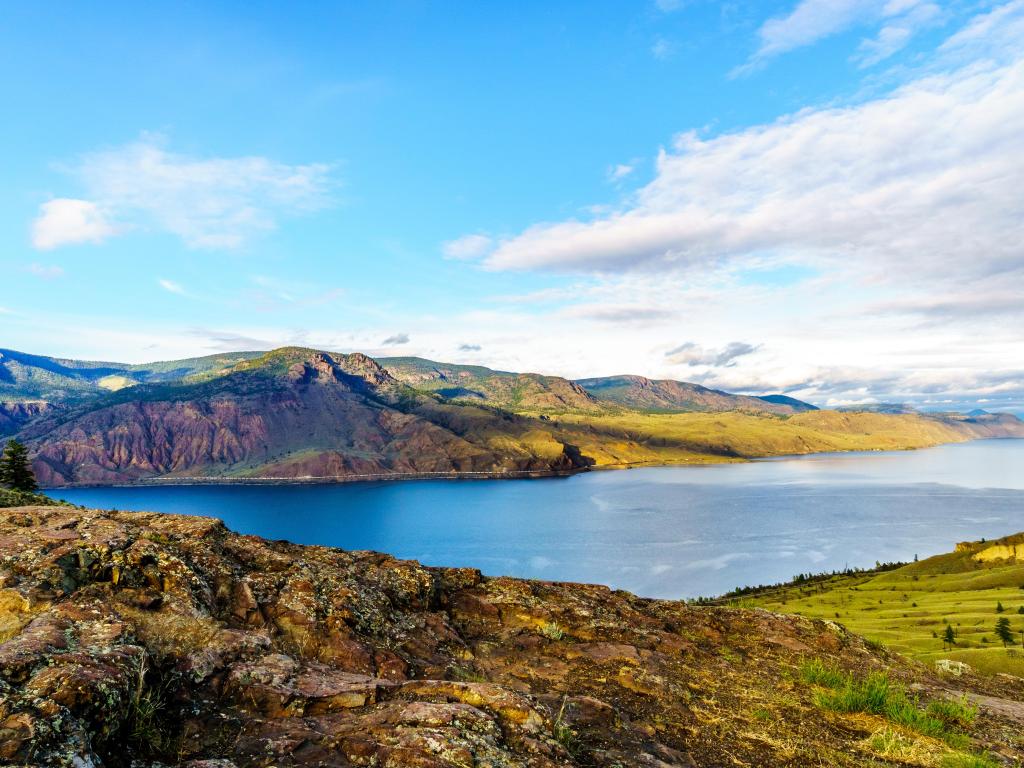 Kamloops is also an art town with a rich food scene. Why not visit the Kamloops Art Gallery which boasts a rich collection of Indigenous Art, before heading downtown to sample some of the delicious cuisine this city is famous for?
Wildlife is another draw to the area. Around the city, there are plenty of hikes, biking, and nature trails, which makes this the perfect stop for outdoor enthusiasts. Make sure to visit the BC Wildlife Park, a large zoo and animal rehabilitation centre with a focus on animals native to the area.
While in Kamloops, we highly recommend staying at The Plaza Hotel, a Trademark Collection by Wyndham. This historic and chic hotel is a 10 minutes' walk from Thompson River and its scenic beach and right in the city center, where you can base yourself as you explore this vibrant city.
There's a beer and wine shop located on-site, a nearby yoga studio, spa and fitness facilities that you can easily access from the property. The hotel is minutes from a variety of restaurants, parks, and attractions such as the Sandman Center Coliseum and many ski trails.
Shopping and food adventures in Edmonton
About halfway on The Edmonton Route is Canada's fifth largest city, Edmonton. The city is the capital of Alberta and a wonderful place to stop for an overnight stay.
The city offers both natural and city attractions. One of these must-see attractions is the West Edmonton Mall. This was the world's largest mall from 1981 to 2004, after which it became the largest mall in North America.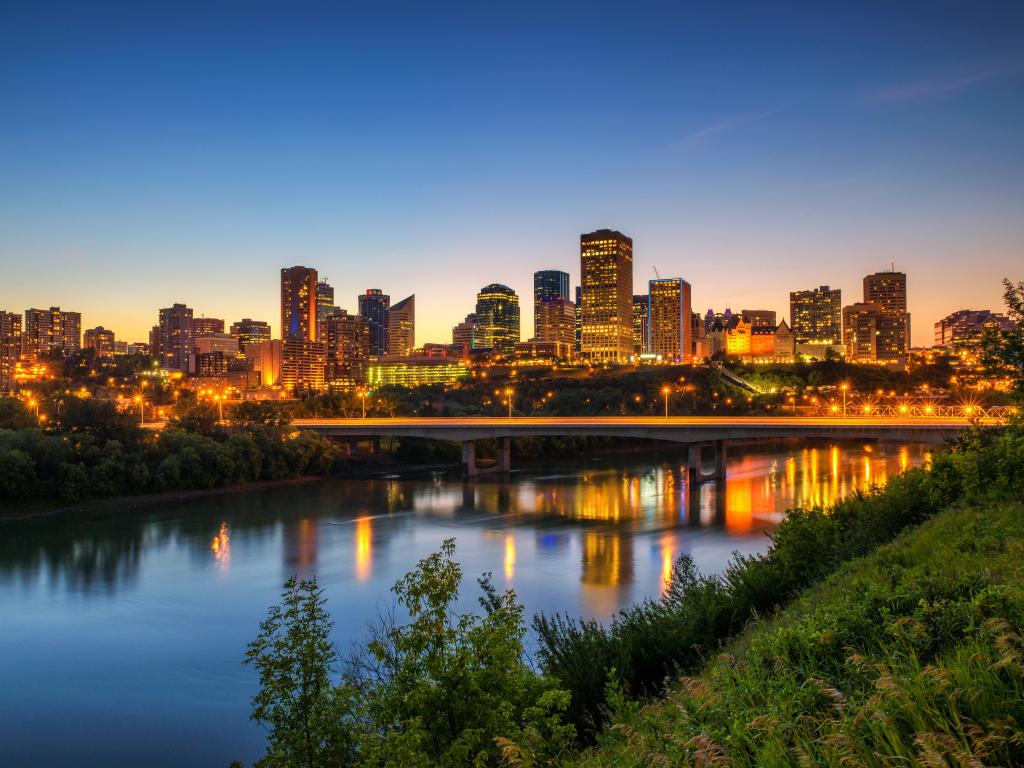 The city is famous for art, restaurants, and beautiful parks like Fort Edmonton Park. Art lovers should visit the Art Gallery of Alberta. This premiere art gallery is focused on local and Canadian art, boasting over 6000 artworks.
During your time in Edmonton, our top choice as to where to stay is The Fairmont Hotel Macdonald. This luxurious hotel is part of the iconic Fairmont line with a beautiful exterior, restaurant, and full-service spa.
The hotel is by the river, close to the highway route, and within walking distance of tons of green spaces and the Edmonton Valley Zoo. When you're not relaxing by the hotel's indoor pool, make sure to venture out and explore the stunningly scenic River Valley.
Where to stay when you reach Jasper
Once you reach your destination in Jasper, we recommend staying at the Whistler's Inn. This beautiful hotel is a short drive away from the Jasper Golf Course and in the middle of all the excitement.
Located within Jasper National Park, just a short drive from the Jasper tramway, this hotel features two on-site restaurants and a pub for a delicious meal without leaving the comfort of your own hotel.
Inside, explore several on-site gift shops and relax in the well-decorated and cozy rooms. For the ultimate relaxation after a long drive, head to the indoor hot tubs and have a soak to unwind before heading out to explore the awe-inspiring Jasper National Park.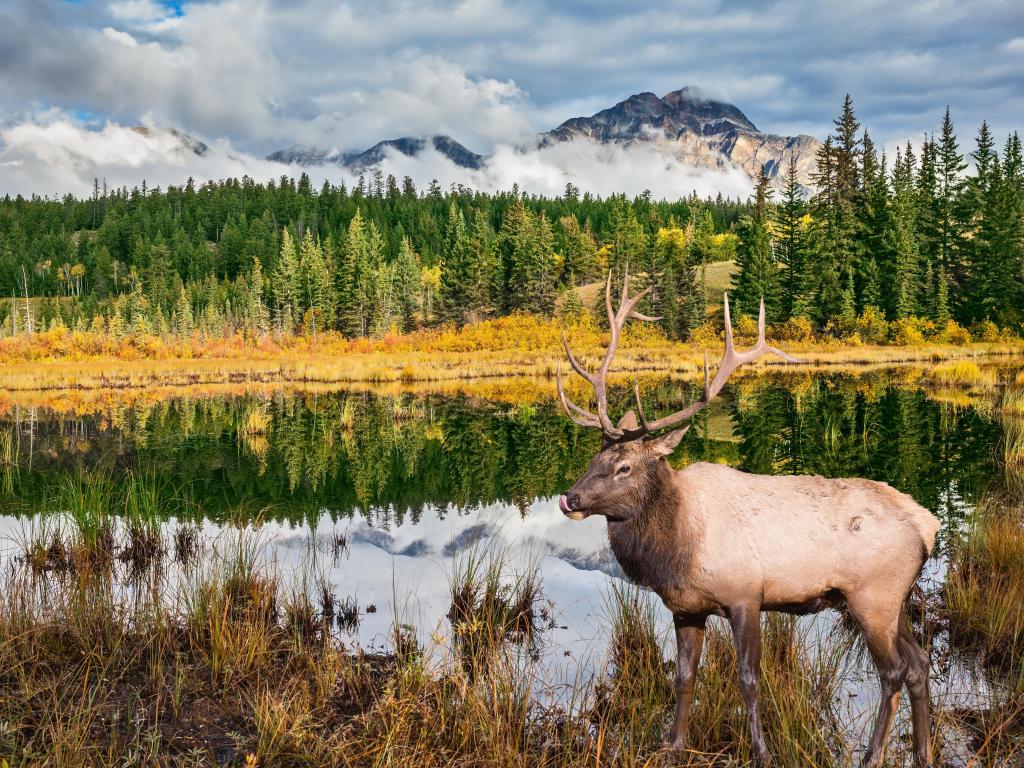 Things to see on a road trip from Banff to Jasper
Along the way from Banff to Jasper, you'll discover endless nature, cultural activities, and relaxing fun. We've selected our favourite things to see along the way to make sure you have the trip of a lifetime.
The Kamloops Route
Mount Revelstoke National Park - This beautiful park is a great spot to stop for a picnic or a stretch, offering flower-filled fields and stunning views of the nearby mountains.
Revelstoke Railway Museum - Continue your railway education at the Revelstoke Railway Museum, where you can view old train cars, engines and antiques.
The Last Spike - Discover the site where the last spike of the Canadian Pacific Railway was driven in 1885. This was one of Canada's most significant public infrastructure projects which linked the two sides of this great country.
BC Wildlife Park - This wildlife park is located outside Kamloops and is a large zoo and animal rehabilitation center that focuses on the fascinating animals that are native to the area.
Dawson Falls - Located within Wells Gray Park, you'll find these beautiful falls that are reachable via walking trails.
Wells Gray Provincial Park - Stunning forested park within the Canadian Rockies that offers waterfalls and scenic views.
Barkerville Historic Town & Park - This is a fascinating Gold Rush themed museum and village, which features over 125 heritage buildings, satellite museums, restaurants, period displays and shops. Keep in mind that this detour adds about an hour to your route!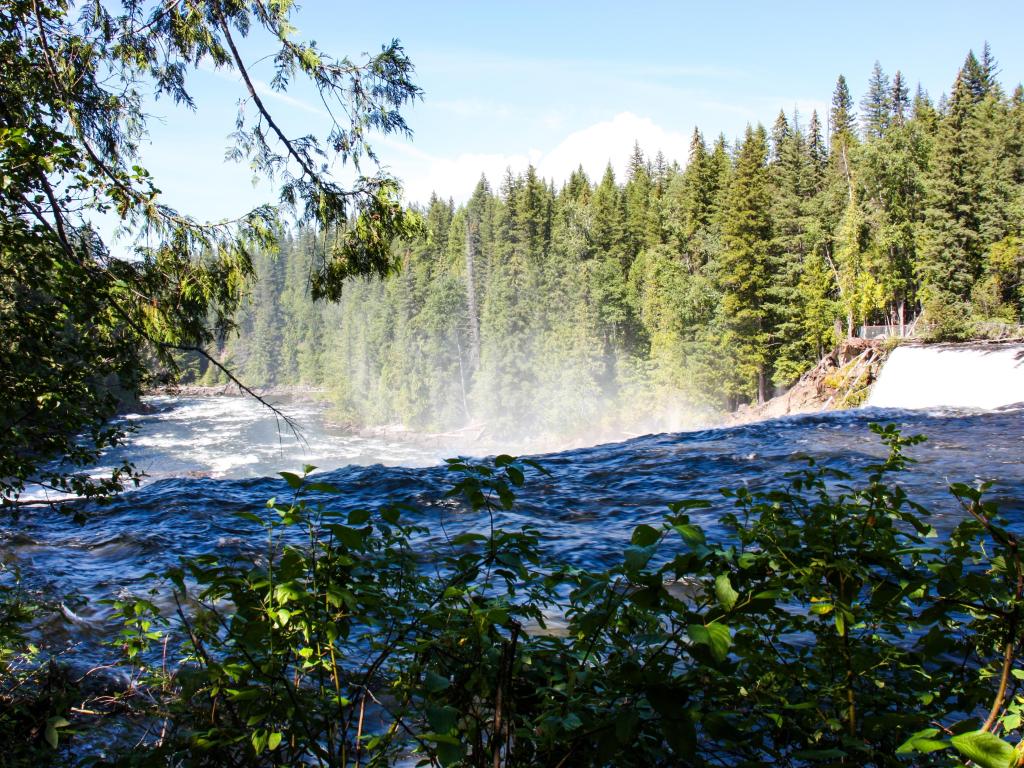 The Edmonton Route
Yamnuska Wolfdog Sanctuary - Offering interactive tours and sanctuary walks, this recently established 160-acre wolfdog haven is a slight detour for both routes.
Okotoks Erratic - The world's largest glacial erratic, this 18,200-ton quartzite formation ranges from light grey to pink and purple and is known commonly as Big Rock. Adds about an hour to the route!
The Grain Academy and Museum - Established in 1981, this agricultural museum explores the evolution of the grain industry. Located just 15 minutes off-route!
World Famous Gopher Hole Museum - The World Famous Gopher Hole Museum, found just 15 minutes off-route, is the perfect combination of cute and quirky, offering admission by donation to their fury exhibits.
The Danish Canadian National Museum - Dedicated to exhibiting the rich history of Danish immigration in Canada dating back over 1000 years, this museum also offers tours and good eats.
Fort Normandeau - Though the fort itself is a replica, this living historic site is considered the birthplace of Red Deer and is where the Native Americans, English and French, once met to trade.
Alberta Sports Hall of Fame - For sports enthusiasts, this museum explores Albertan sports history, offering hands-on exhibits and a Hall of Fame gallery.
Ellis Bird Farm - Just outside of Red Deer, you'll find this aviary sanctuary and working farm that also boasts a teahouse and picturesque gardens
Reynolds-Alberta Museum - Take in vintage cars, motorcycles and farming equipment at the Reynolds-Alberta Museum, dedicated to celebrating machines.
Muttart Conservatory - Located within Edmonton, the Muttart Conservatory is a collection of botanical gardens that offers tropical and arid biomes.
Beaver Boardwalk - Located in the charming town of Hinton, Alberta, this boardwalk offers exciting sightings of Canada's national animal, the beaver.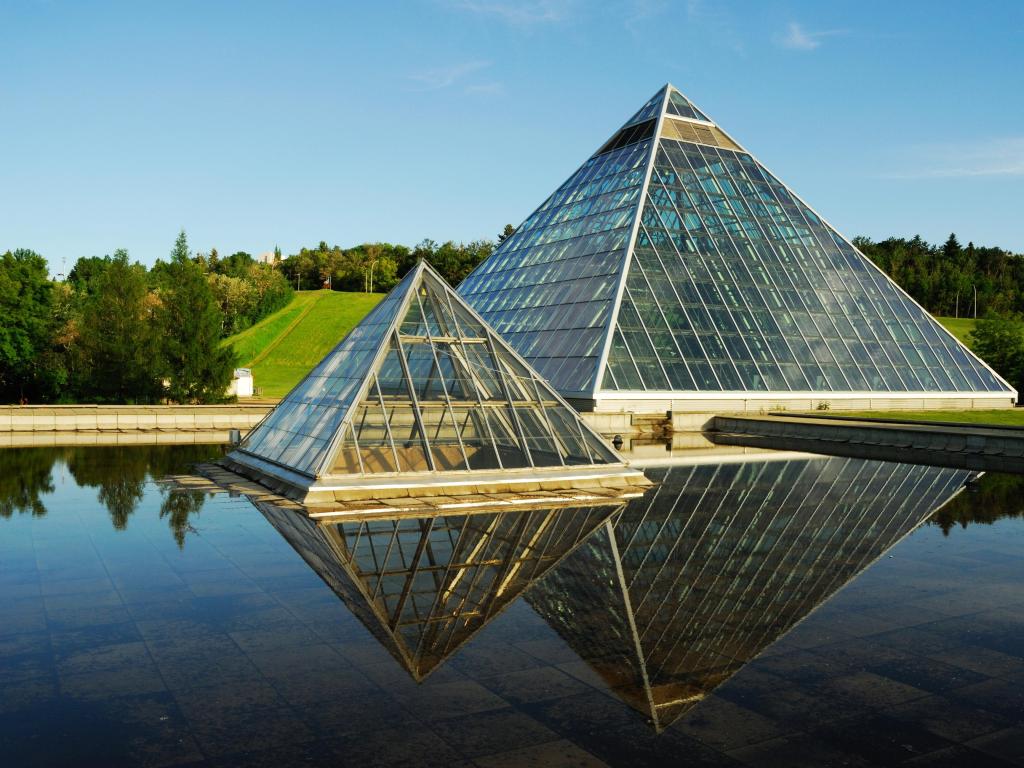 Best time to go on a road trip from Banff to Jasper
Jasper is absolutely a year-round destination, offering a variety of changing seasonal landscapes. It's really up to you what sort of sights you'd like to see when visiting this great park.
Visit in the winter for a more secluded and snowy experience or drop in during the summer for lush greenery and larger crowds.
Summers are the most popular season at Jasper National Park, meaning that you'll find the most people and most expensive accommodation prices during this time.
This season is the most popular for a reason, boasting warm weather, sunny blue skies, and picturesque sites. Typical temperatures range between 40 degrees Fahrenheit and 68 degrees Fahrenheit. Make sure to book in advance during this season.
Winter is a great time to visit Jasper; this is when the mountains and forests get covered with a beautiful blanket of snow and the lakes freeze over. You can take the Maligne Canyon Ice Walk Tour or try your hand at one of this park's many slopes. Typical temperatures range between -20 and -4 degrees.
Spring and fall are both great times to visit Jasper National Park if you're looking for a slightly less crowded experience but still beautiful natural sites. Hotels and attractions will be a bit more affordable during this time given the smaller crowds.
Typical temperatures during both seasons range between 14 degrees and 55 degrees. If you are in Jasper during spring and love the great outdoors, make sure to check out Jasper Canadian Rockies Half Marathon and Jasper Pride & Ski Festival in April.