Road Trip from Calgary to Vancouver
When you're traveling from Calgary to Vancouver through Alberta and British Columbia, you're guaranteed to make your way past plenty of stunning parks and scenic lookouts. But did you know there are also some fantastic cities and charming small towns along the way too?
This 1,155 km road trip from Calgary to Vancouver takes 14 hours and 30 minutes to drive, taking in Banff, Kamloops, Whistler, Banff National Park, Garibaldi Provincial Park as well as Kootenay, Yoho, Mount Revelstoke and Glacier National Parks.
This trip across the Canadian Rockies is packed full of stunning trails and spectacular views just waiting to be explored. Read on to find out how to turn this drive into an unforgettable adventure.
How far is Vancouver from Calgary, and how long will the road trip take?
Comparison of road trip routes between Calgary and Vancouver

| Route | Distance | Driving Time |
| --- | --- | --- |
| Banff Route | 1,155 miles | 14 hours 30 minutes |
| Border Route | 1,500 miles | 20 hours 20 minutes |
The two routes between Calgary and Vancouver are significantly different in time and distance.
The quicker route through Banff National Park takes around 14 and a half hours to cover 1,155 km. While you could technically do this drive in one long day of driving, especially if you're taking turns behind the wheel, you'd miss out on the chance to explore the stunning national parks and mountain lookouts that this route includes.
The Border Route is longer at 1,500 km. This route takes a little over 20 hours to get you from Calgary to Vancouver, not allowing for stops at the many viewpoints and charming small towns along the way.
Whichever route you take, we'd suggest allowing at least 3 days to make the journey, or longer if you plan on stopping to hike and exploring the places you pass along the way.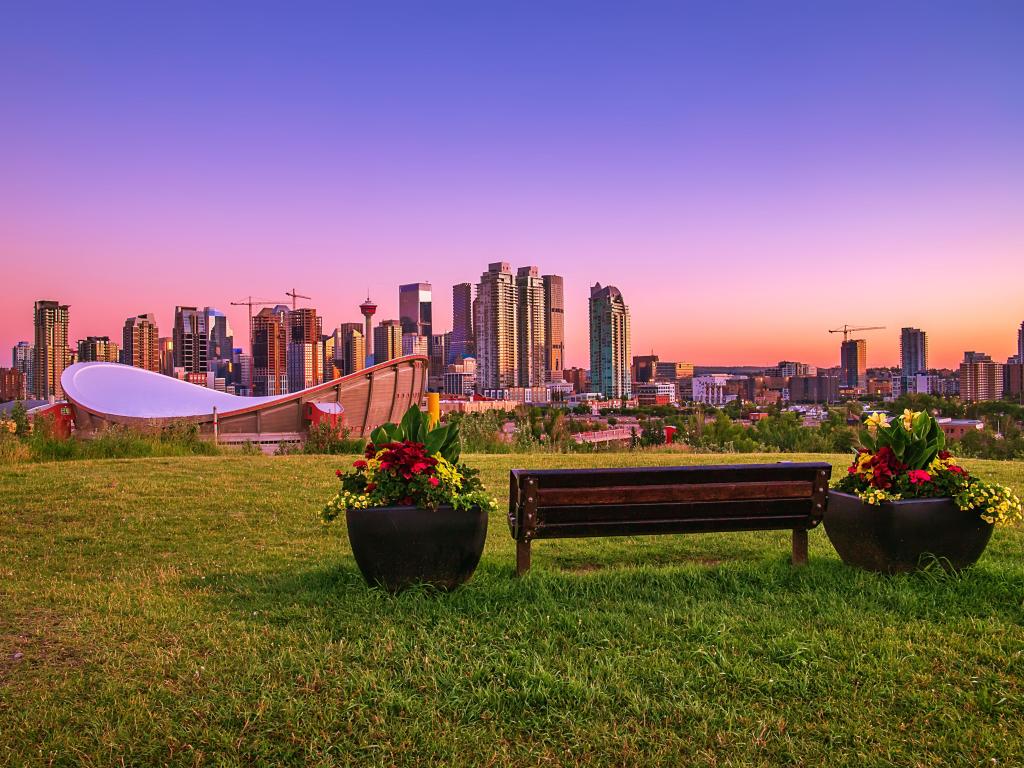 Best road trip route from Calgary to Vancouver
The two routes we've suggested for your road trip from Calgary to Vancouver are quite different in nature, but both incredibly scenic. They're also mostly easy to navigate, allowing for a little to-and-fro on the rare occasion that you enter a big town along the way.
On the Banff Route, you'll see five of Canada's stunningly scenic National Parks. Steel yourself for incredible scenery and fresh mountain air.
The Border Route doesn't take you past as many attractions, but you'll still get your fill of mountain views and scenic lake drives, as well as a couple of wonderful, short ferry rides.
You'll see a plethora of small towns and cities along your way, before approaching Vancouver from the west via the Fraser River. If you want to get away from the crowds and feel like you've been on a real adventure through the Rockies, this is a great option.
Whichever route you take, you're in for an amazing drive, so load up and head out on your trip across Alberta and British Columbia.
Banff Route
Although the Banff Route takes you over 1,000 km across five national parks, it's a relatively simple route to navigate.
Head west out of Calgary by taking Bow Trail SW and then Sarcee Trail SW to join up with Trans-Canada Highway 1, which you'll follow for more than half of your journey.
First, it will take you through the stunning surroundings of Banff National Park. Follow the exit to stop in the town of Banff, where you can take a break from the road and head up to the scenic Banff Gondola.
Next, make your way out of Banff along Mount Norquay Road and continue west along Trans-Canada Highway 1.
The highway follows the Bow River for a while here, then you have the option of exiting at Castle Mountain to take a scenic detour along AB-93, the Banff-Windermere Highway. This road takes you up into Kootenay National Park for some exceptional views.
Your route then takes you back on the AB-93 until you return to the highway to continue west towards Vancouver.
The next stop along your route is beautiful Lake Louise, where you'll find some fantastic ski runs as well as the picturesque lake. Then, after just a few more kilometers, you'll cross from Alberta into British Columbia.
Continue along the highway until you reach Field, where you'll find the visitor center for Yoto National Park, which is known for its fantastic hiking and more amazing views over the Canadian Rockies.
Your next stop, after crossing the Columbia River at Donald, is Glacier National Park. That's followed by Mount Revelstoke National Park, which you can access from the town of the same name.
Soon, the Trans-Canada Highway 1 starts to follow the Eagle River towards Sicamous. When you reach this waterfront town, keep right when you see the sign for Sicamous-Solsqua Road.
This will lead you to the right turn across the Eagle River then up onto a logging road - beware of potholes - which takes you up to Sicamous Lookout.
This wooden platform is a jumping-off point for hang gliders, who definitely have the right idea of taking off from here to enjoy the unforgettable view out over Shuswap and Mara Lakes.
Return to the highway and continue west, passing Sorrento and Chase before following the South Thompson River all the way to Kamloops, one of the major towns on this route.
You'll finally leave Trans-Canada Highway 1 at Cache Creek, turning right onto BC-97 towards St George. Then, after a few kilometers, take the left turn onto BC-99 South.
This road takes you across even more beautiful mountain scenery until you reach the renowned ski town of Whistler.
From here, simply follow the Squamish River along Highway 99 as it heads towards Vancouver. After one final stretch of stunning driving, the road will take you right into the heart of your destination, Vancouver.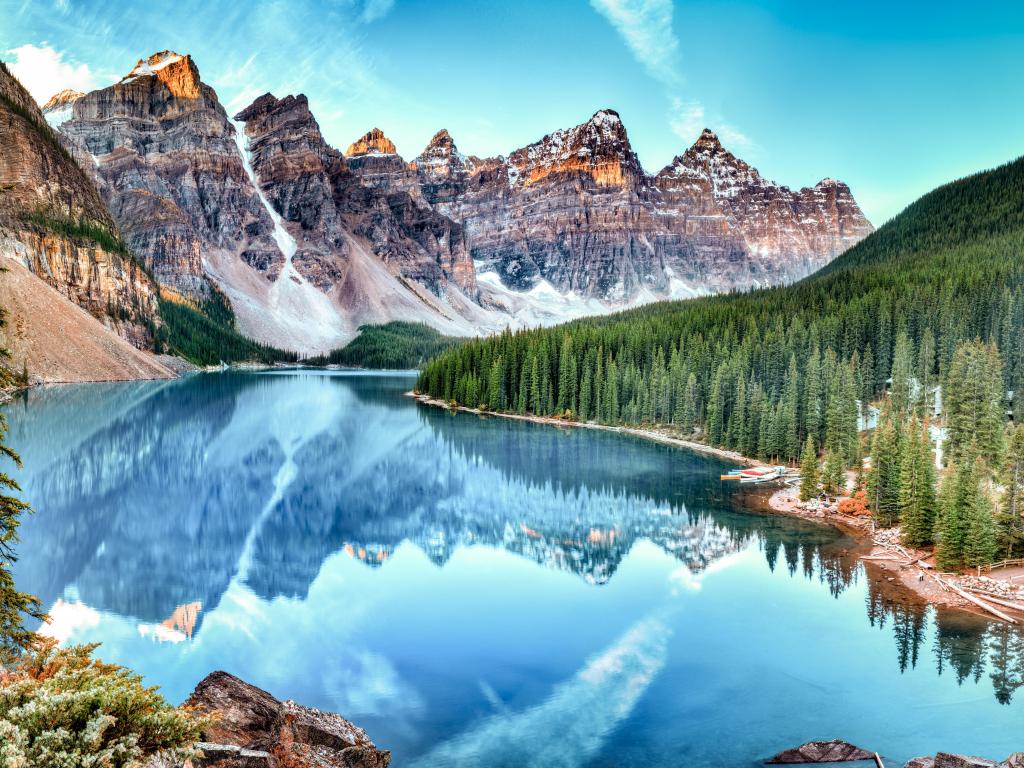 Border Route
Leave Calgary heading south on AB-2, before turning right onto AB-540 in Cayley. After a few kilometres you'll reach AB-22 - turn left here and follow the road until it ends in Lundbreck, where you'll turn right onto AB-3.
Continue along this road, which passes Lundbreck Falls and then follows the Crowsnest River. Take a break at Crowsnest Pass before you continue along the same road to cross into British Columbia.
The same road, now BC-3 or the Crowsnest Highway, winds its way between the mountains taking you past Fernie and Elko, before joining up with BC-93, which takes you past Jaffray and then across the Kootenay River at Wardner.
As you approach Cranbrook, the road joins up with BC-95. Turn left at this junction and continue to follow the Crowsnest Highway past Moyie Lake, before bearing right and continuing along BC-3/Crowsnest Highway where the roads divide again at Curzon.
After Creston, the road splits again - take BC-3A for a fabulous ride right along the shore of Kootenay Lake. The road ends at the town of Kootenay Bay, where you'll need to take the ferry across the lake to Balfour on its opposite shore.
At Balfour, join the Balfour-Kaslo-Galena Bay Highway, BC-31, heading north. You'll follow the stunning lake shore road as far as Kaslo, where you branch left onto BC-31A.
If you're feeling adventurous, past Kaslo you can take the first left turn along Kleen Creek Road to head up into the mountains for a drive through Kokanee Glacier Provincial Park. Then retrace your way back to the main highway and continue as far as New Denver.
Here, turn right onto BC-6, which you'll follow through Nakusp to Fauquier, where it's time for another ferry ride.
BC-6 continues on the far side of Upper Arrow Lake - keep going as far as Vernon then turn left onto BC-97 which takes you to Kelowna. After crossing Okanagan Lake - this time on a bridge! - follow BC-97 through West Kelowna then take the exit onto BC-97C.
After so many hours winding your way through the mountains, the road will start to feel considerably more urban in nature here.
Follow this road as far as Aspen Grove then join BC-5A heading south. This will take you to Princeton, where you should follow signs to Vancouver as you make your way through the town.
Here, the road merges with BC-3 again, taking you past E C Manning Provincial Park and then on as far as Hope, where you'll meet Trans-Canada Highway 1.
Follow the Trans-Canada Highway towards Vancouver, following the mighty Fraser River, passing Bridal Falls and Chilliwack before leaving at Exit 90 to make your way through Abbotsford on McCallum Road.
To navigate the center of town you'll have to turn left onto South Fraser Way, right onto Ware Street, and then right onto George Ferguson Way before rejoining McCallum Road, which takes you out onto BC-11, the Abbotsford-Mission Highway.
After crossing the Fraser River into Mission, turn left onto BC-7 West towards Vancouver. You'll continue along the Fraser River along BC-7 until the main highway turns off to the left as you approach Maple Ridge.
At this intersection, continue straight ahead towards the city center on the Lougheed Highway, before quickly turning right onto 112B Avenue then left onto 232 Street, the Trans Canada Trail.
When you reach the roundabout by Maple Ridge Park, turn right onto 132 Avenue and follow signs to Golden Ears Provincial Park, where you can follow the trails to Alouette Lake.
When you return to the same roundabout, turn right then first left onto 132 Avenue, left onto 216 Street then right onto 128 Avenue, the Golden Ears Way.
This will take you back across the Fraser River toward the Trans-Canada Highway. If you're heading straight into Vancouver from here, follow it onto Trans-Canada Highway 1.
Alternatively, turn right onto the Golden Ears Connector which leads you onto BC-17. Turn left onto Bridgeview Drive then left again onto King George Boulevard to spend some time in Surrey, British Columbia.
When you're ready to move on again, join 104 Avenue towards Guildford then hop onto 152 Street which takes you onto Trans-Canada Highway 1.
From here, it's a simple run along the highway past Burnaby, then onto 1st Avenue at Exit 27 which will take you right into the heart of Vancouver.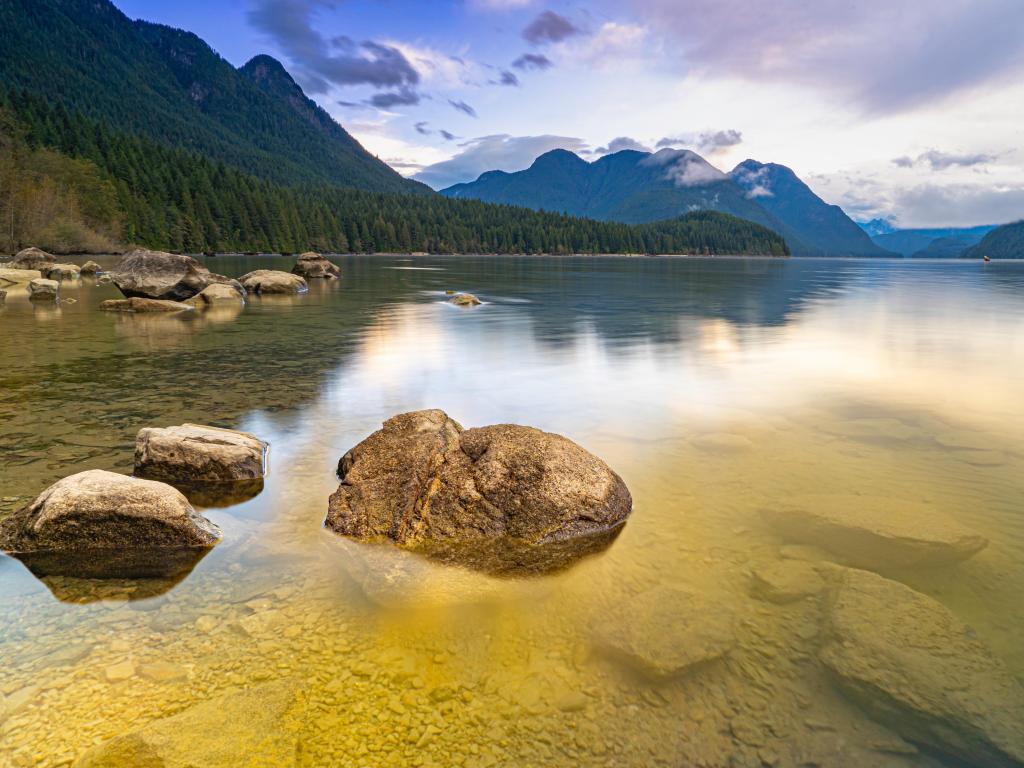 Best places to stop between Calgary and Vancouver
With a considerable distance to cover, you're going to need at least one night's accommodation as you make your way from Calgary to Vancouver in comfort.
Whether you head via Banff or along the Border Route, there are some great options to choose from. Read on to see our top picks.
Revel in Revelstoke
Located around halfway along the Banff Route about 6 hours from Calgary, Revelstoke is a small town which makes for a great base to explore the Mount Revelstoke National Park.
An amazing place to stay while you're in town is Sutton Place Hotel Revelstoke Mountain Resort. Sitting at the base of the Revelstoke Mountain Resort, this hotel features suites with private balconies and a stunning outdoor pool and offers ski in/ski out opportunities.
Skiing and hiking are clearly the big draws to the area, but if you'd like to experience a little more of what the Rockies have to offer, how about heading to Revelstoke Dam? This hydroelectric plant spanning the Columbia River has a lookout where you can get scenic views of the river.
Revelstoke Railway Museum is also located nearby. This transit museum has indoor and outdoor exhibits with old train cars, engines, and antiques.
Revelstoke Pipe Mountain Coaster is another amazing attraction that is worth a visit on your day out. This top summer attraction in Revelstoke is 1.4 km of twists and turns across ski runs and through a tunnel while it allows you to control your own speed.
Whether you want to relax after a long day of driving or to unwind after your adventures in Revelstoke, you can head to the hotel to soak in the hot tub overlooking the mountains. Get ready for some pampering as you will be greeted with wine and cheese as you step into the hotel.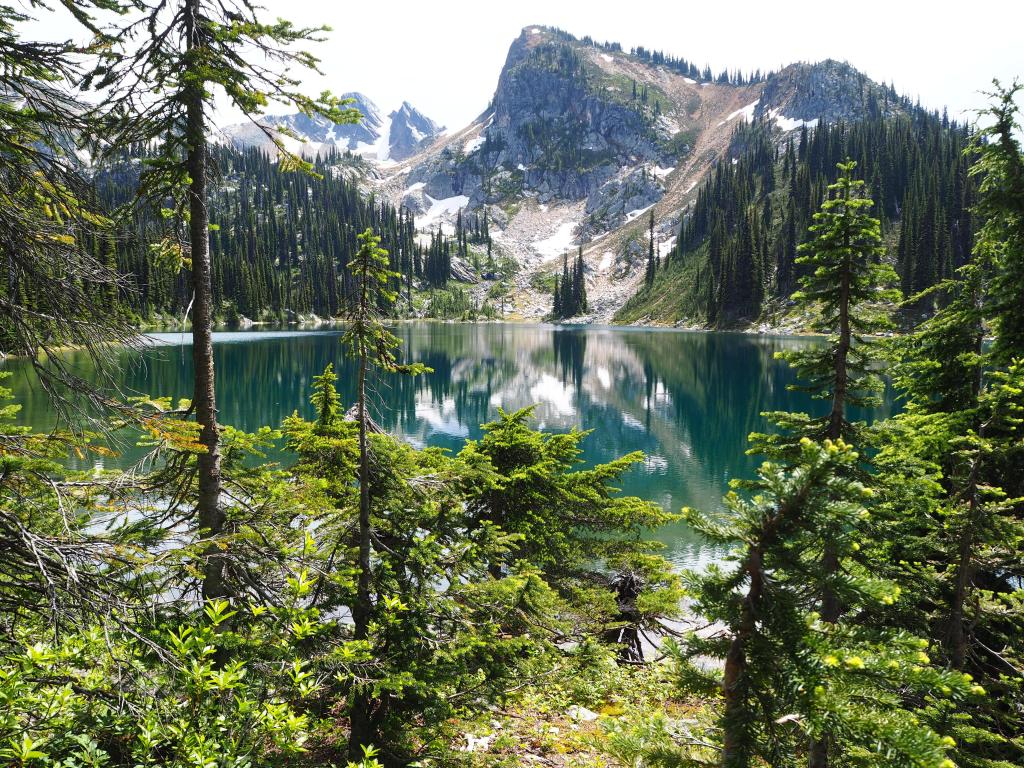 Hit the beach in Kelowna
If you're taking the Border Route we'd recommend an overnight stay in Kelowna, known for its kilometers of beautiful parkland and sandy beaches on Okanagan Lake.
This great city is located two-thirds of your way from Calgary to Vancouver, about 4 hours and 30 minutes from your destination, so it's possible to make the final leg of the journey in one day, after enjoying a great breakfast of course.
You'll find wine growing is big business up here too, so head to nearby Mission Hill Family Estate Wintery, which sits atop Mission Hill overlooking Okanagan Lake.
Also nearby is Bear Creek Provincial Park. Sitting on the west side of Okanagan Lake, this 178-hectare park was established in 1981 and offers waterfalls, hiking, beaches, and camping.
You can't go wrong with a resort only a 5-minute walk from the beaches of Okanagan Lake, so The Royal Kelowna is a great place to enjoy some luxury and comfort once you reach the town.
In each bathroom there is a spa bath and each balcony has a view of the lake. On top of all that, there is a rooftop infinity pool and hot tub in which to relax after a long day of shredding on the slopes or in the water.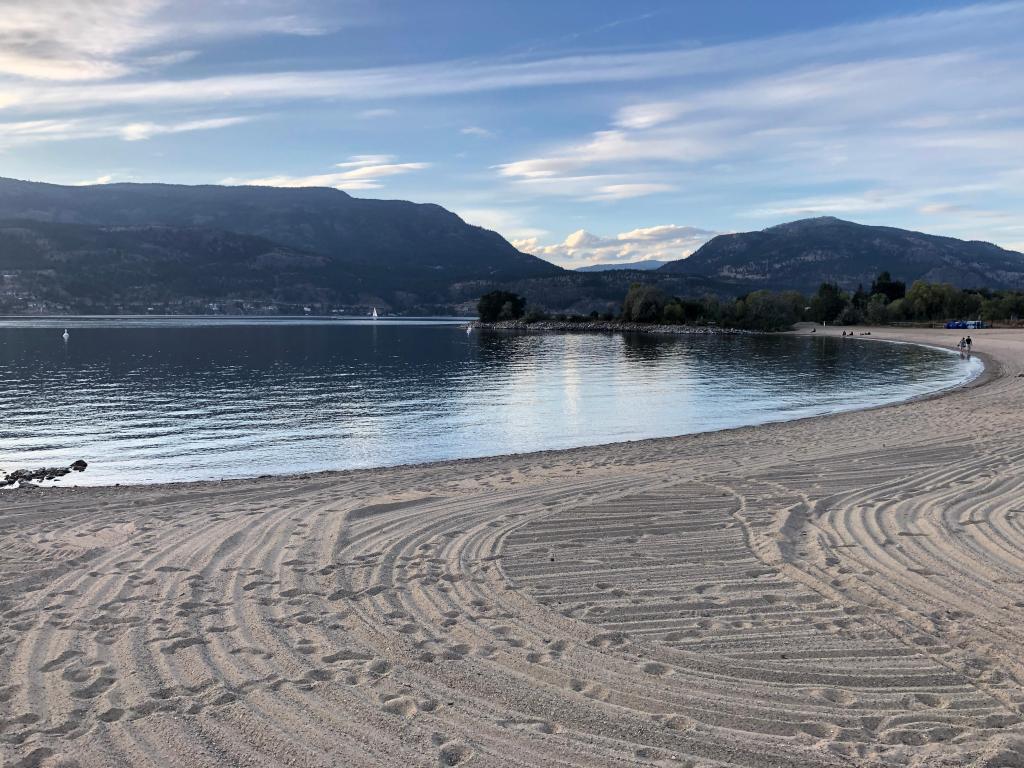 Where to stay when you reach Vancouver
After all the road tripping and strenuous activity, you've done the last few days, you deserve some unwinding time when you finally reach Vancouver.
You're going to want somewhere to stay with an indoor pool and spa, as well as great views, and the Paradox Hotel Vancouver is a great option for the end of your road trip.
This stylish and modern 5-star hotel is nothing short of luxurious. It's just a 17-minute walk from the beach and it sits in the city center. It has shopping, dining, and entertainment options all within walking distance.
Things to see on a road trip from Calgary to Vancouver
The stunning scenery of mountains, lakes and pine trees is a given on this road trip from Calgary to Vancouver but read on to find out what else you'll encounter along the way to make this trip so special.
Banff Route
Banff, AB - This resort town in Alberta has a Rocky Mountains skyline. This is the gateway to Banff National Park, with a mix of boutiques, restaurants, hotels, and souvenir shops.
Banff National Park - Canada's first national park and the world's third is known for its turquoise glacial lakes, wildlife, and picturesque views. It's one of the world's most popular mountain destinations because of all the outdoor adventures it offers.
Kootenay National Park - This park sitting in southeastern British Columbia consists of 1,400km of the Canadian Rockies. It has sites like Boom Lake, Marble Canyon, and Radium Hot Springs.
Yoho National Park - Sitting on the western slopes of the Canadian Rockies is a park with sites to see like Emerald Lake and Takkakaw Falls, the second highest free-flowing waterfall.
Glacier National Park - One of seven national parks in British Columbia, this park was established in 1886. It encompasses over 1,300km of land and offers waterfalls and hiking trails galore.
Mount Revelstoke National Park - This park is relatively small for a national park, covering only 260km. But within that land is the Giant Cedars Boardwalk Trail, which takes you through an ancient forest of giant cedar trees as old as 500 years.
Revelstoke, BC - This small town located within a rainforest is known for its downhill snow sports. It has the most uninterrupted length to ski in all of North America. Caribou, grizzly bears, wolves, and mountain lions can be spotted here as well so be careful!
Sicamous Lookout - This platform built for hang-gliders to take off is now enjoyed by locals and tourists as a scenic viewpoint. You can see Sicamous, Mara Lake, and Shuswap Lake in the valley below.
Kamloops, BC - This is a city in British Columbia where the North and South Thompson rivers meet. There is a resort here with hiking trails, a bike park, and multiple ski runs. Head up above Kamloops Lake to see the impressive clay hoodoos.
Whistler, BC - This town north of Vancouver is home to one of the largest ski resorts in North America. You can also snowshoe, ski jump and toboggan at the Olympic Park, which was the site for the 2010 Vancouver Winter Olympics.
Garibaldi Provincial Park - North of Vancouver sits a wilderness park in British Columbia named after its towering 2,600-meter peak, Mount Garibaldi. It was established in 1927.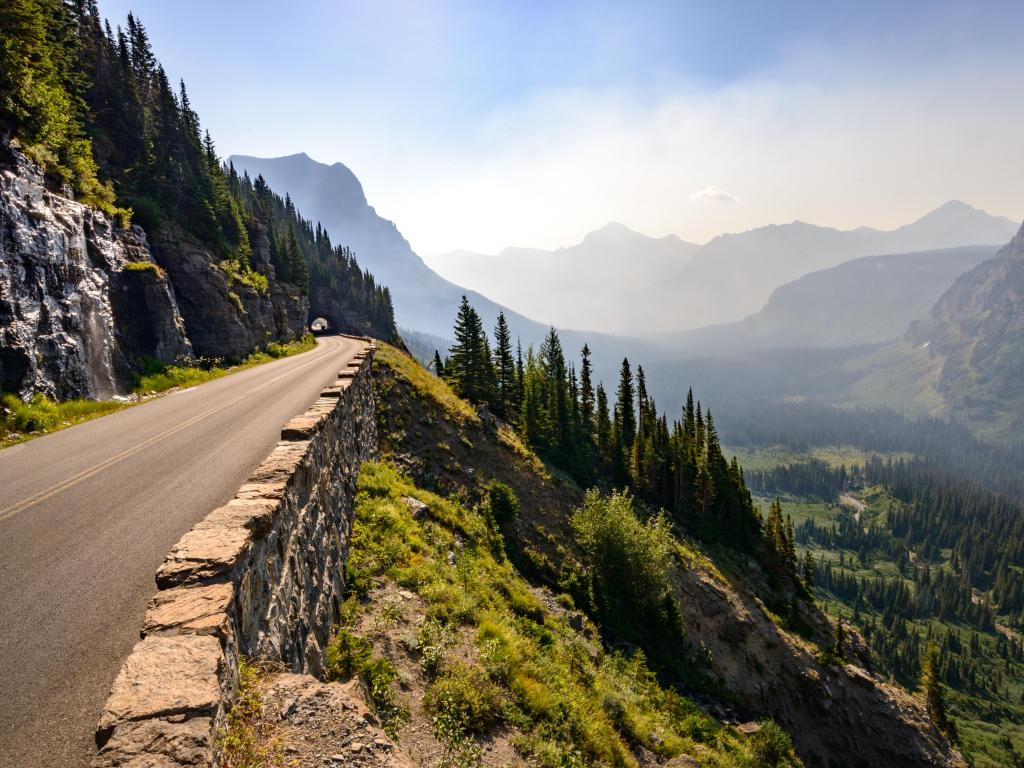 Border Route
Crowsnest Pass, AB - This area offers a lot of great views, but you need to pull over on the highway to see them. For example, Star Creek Falls. You can take the quick hiking trail to some waterfalls and a nice view of the area.
Fernie, BC - Known as a powder town with over ten meters of snow during the winter season, this town has a world-class ski and snowboard resort, Fernie Alpine Resort.
Kokanee Glacier Provincial Park - This is one of the oldest provincial parks in British Columbia and it was established in 1922. The park covers an area of 320km and is located in the Selkirk Mountains. You can hike the Kokanee Glacier, which is actually pretty quick and easy.
Kelowna, BC - Sitting in the Okanagan Valley, this city is surrounded by parks, pine forests, orchards, vineyards, and mountains. There is plenty on offer here.
EC Manning Provincial Park - Sitting at the core of this park is a resort and ski area, making it one of the most popular provincial parks in British Columbia.
Abbotsford, BC - Next to the Canada-US border is the second largest municipality in British Columbia outside of Vancouver. It sits in the Fraser Valley and is famous for its farm country, making it the berry capital of Canada.
Golden Ears Provincial Park - One of the largest parks in British Columbia features hiking and horseback riding trails. Alouette Lake is popular for swimming and other water sports.
Surrey, BC - This city lies between the Fraser River and the US border. A white arch in Peace Arch Provincial Park marks the international boundary between the US and Canada. A couple of things to do are the Ocean Point Shoreline Walk, Blackie Spit, and the Historic Stewart Farm.
Best time to go on a road trip from Calgary to Vancouver
Vancouver has both beaches and mountains, which makes it a great place for year-round exploration. It's recently been ranked as the best city to live in North America. It's easy for us to see why.
In the summer you can enjoy barhopping around the city, hiking, visiting the summer market, or a sunset harbor cruise. The weather will range from the mid-teens to the low 70 degrees Fahrenheit.
Summer is also the best time to visit Vancouver if you wish to attend the Honda Celebration of Light or the TD Vancouver International Jazz Festival, and we recommend you do.
The winter in Vancouver is pretty brisk but not as bad as other places we've seen in Canada simply because it's coastal. It can drop down to just above 30 degrees and go up to just below 50 degrees Fahrenheit.
Along the way, you'll be heading right through the Canadian Rockies, where you can expect heavy snowfall from November through to March and where January temperatures can sit stubbornly below freezing for days on end.
This is the peak season for skiers, so if you're keen on winter sports this would be a fantastic time to take this trip. Seeing as the Banff Route mainly follows the Trans-Canada Highway, this route is likely to be kept clear for as much of the winter as possible.
However, you might encounter more difficulties if you're traveling along the less busy Border Route.
Spring is the season that brings the most rain to Vancouver. You'll see temperatures from below 50 to the low 60 degrees Fahrenheit. This is one of the best times to visit Vancouver though because it has decent weather, cheaper prices, and smaller crowds.
The other best time to visit Vancouver is autumn, which brings one of the region's finest months weather-wise, September. During September you'll see temperatures between 50-60 degrees Fahrenheit, which is perfect for outdoor activities.