Road Trip from Calgary to Jasper
Chances are, if we ask you to picture Canada, you'll imagine stunning snow-topped mountains, clear blue lakes and wide-open plains. You won't be surprised to read that this fabulous road trip from Calgary to Jasper across Alberta is a combination of all three.
The 8-hour 30-minute road trip from Calgary to Jasper is a 490 km drive through Banff National Park, passing Icefields Parkway, Lake Minnewanka, Johnston Canyon, Bow Valley Provincial Park, Sulphur Mountain, Moraine Lane and the Athabasca Glacier.
With year-round attractions and a new and stunning view around every bend in the road, if you enjoy spending time in the great outdoors then this road trip certainly won't disappoint. Read on to discover what lies in store!
How far is Jasper from Calgary, and how long will the road trip take?
Comparison of road trip routes between Calgary and Jasper

| Route | Distance | Driving Time |
| --- | --- | --- |
| Icefields Route | 490 km | 8 hours 30 minutes |
| Edmonton Route | 700 km | 7 hours 30 minutes |
If you took the most direct route between Calgary and Jasper you could get there in around 4 and a half hours, but we don't recommend following this route because it isn't as scenic or action-packed as our two recommended routes.
The shorter of our two routes covers 490 km through the Icefields of Banff National Park. Winding through this wild and beautiful area, and allowing for some detours along the way, makes this a slow drive, so you should allow around 8 hours and 30 minutes of driving time.
The Edmonton Route covers 700 km but takes shorter to drive than the Icefields Route at 7 hours and 30 minutes. This is because this more straightforward route follows the main highways.
In theory, you could make either of these drives in a single day, watching the mountains and plains through the window. But to really experience the places you'll pass on the way we'd suggest taking at least 4 days for your trip or longer to explore Banff National Park.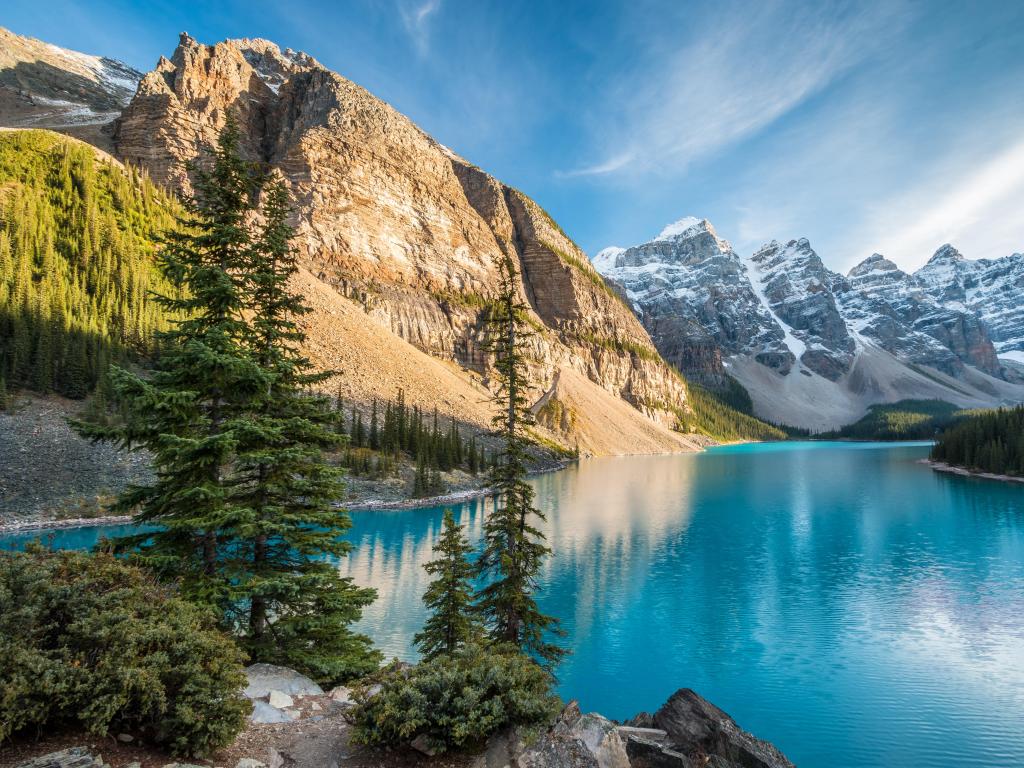 Best road trip route from Calgary to Jasper
Taking the shortest route available from Calgary to Jasper would mean that you'd miss out on soaking in the mountain views or city vibes that make our recommended routes so special.
Instead, we recommend two longer routes which are really different in character, so your choice of route will depend on what you're looking for in a road trip.
The Icefields Route offers stops throughout Banff National Park, making it the perfect trip if you've never visited the national park before - or even if you simply want to see its beauty again.
If you prefer the buzz around you to come from people rather than nature though, you're probably going to want to set out on the Edmonton Route. It'll take you through Red Deer and Edmonton and you'll still get your fix of mountain views on the way too.
Alternatively, seeing as how these are both relatively short routes, why not drive out through Edmonton and then loop back through Banff National Park once you've enjoyed some time in Calgary? That way you can get to experience the best of both.
How to drive from Calgary to Jasper
The map above shows our suggestions for the best road trip routes between Calgary and Jasper. Keep reading for detailed descriptions of both routes, where to stay on either, and the best things to do on the way.
The Icefields Route
Leave Calgary along Bow Trail SW then Sarcee Trail SW before Trans-Canada Highway 1 heading west.
Continue along Trans-Canada Highway 1, passing Ozada and Lac des Arcs before leaving at Exit and following Three Sisters Parkway. This will take you to Bow Valley Provincial Park.
When you're ready to continue along the route, return via the same road to Trans-Canada Highway 1 and carry on west. Exit the highway to make your way towards Lake Minnewanka, where you can enjoy a boat tour or a hike up to Stewart Canyon Bridge.
Return along the same road towards Trans-Canada Highway 1, but instead of re-joining the highway, continue straight ahead to follow Banff Avenue.
This takes you into the centre of Banff - why not take the gondola up to the top of Sulphur Mountain while you're in town?
Leave Banff along Mt. Norquay Road then join Trans-Canada Highway 1 again, passing Vermilion Lakes. If you want to spend a little longer admiring the scenery here you can drive out and back along Vermilion Lakes Road, which you'll find just before the highway entrance.
Exit the highway to join the Bow Valley Parkway, which runs alongside the Bow River past Sawback and Massive until you reach Johnson Canyon.
At Castle River you'll cross the Bow River and rejoin Trans-Canada Highway 1, following it as far as Lake Louise. Take some time to explore the village before heading up along Moraine Lake Road for more amazing views and the chance to hike.
Return past Lake Louise onto the highway, but after a short distance exit onto AB-93, the Icefields Parkway. This takes you past Bow Lake and Peyto Lake, which are both worth a visit, before continuing on along this road between the mountains.
As you make your way along AB-93 you'll be able to see parts of the Columbia Icefield and the glaciers it feeds without even leaving the road. To get closer to it, take the clearly signposted left turn towards the Athabasca Glacier, or park near the road and enjoy the trails.
From here, it's a simple but no less spectacular drive along Icefields Parkway until you reach Jasper.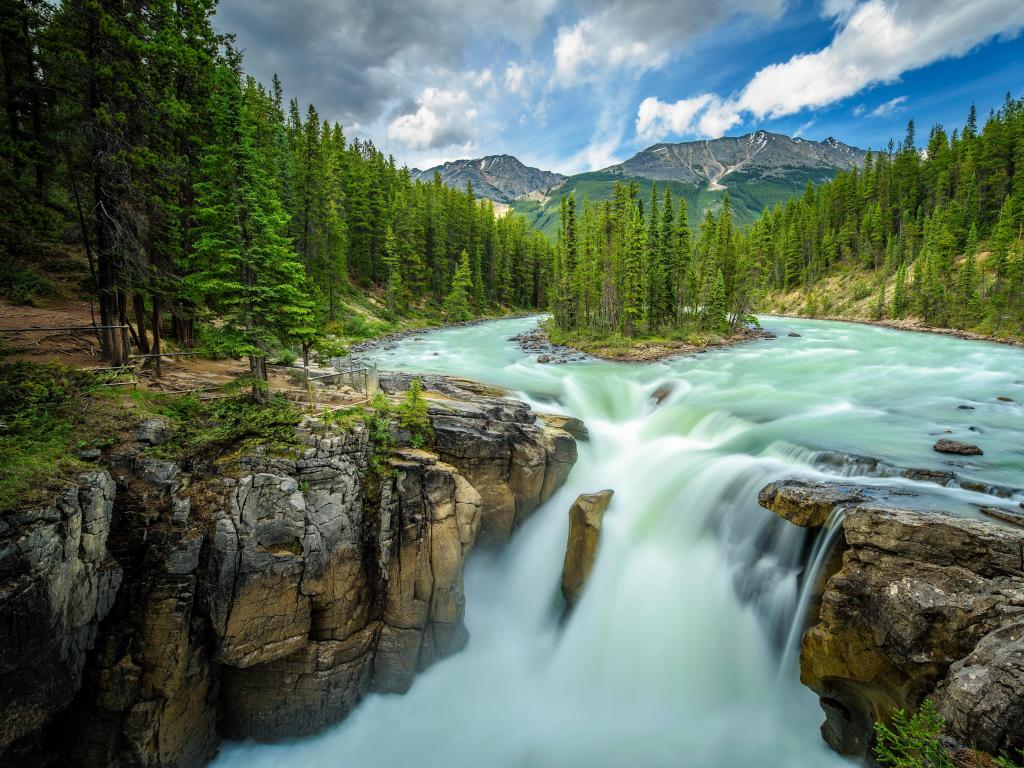 The Edmonton Route
The road to Edmonton past Deerfield has a completely different feel from the road through Banff National Park. First, you'll leave Calgary on AB-2 and follow it north across the wide, flat plains.
Stop off at Red Deer and hop back onto AB-2 when you are done with your visit. This highway will take you all the way to Edmonton.
When you're ready to move on from Edmonton, make your way up to the AB-16, the Yellowhead Highway, via 101 Street NW and Kingsway Highway NW, then follow it west out of the city.
Around 45 km west of Edmonton, take the turning for Wabamun Lake Provincial Park, then return to the highway and continue west.
Follow AB-16, passing Chip Lake, Edson and Pedley. Eventually, you'll reach the turning for AB-40 - follow this north to reach William A. Switzer Provincial Park.
Return back along AB-40 towards AB-16, which now starts to swing round to the southwest. You're on the last stretch of your trip now, following the course of the Athabasca River through stunning mountain scenery before turning right onto Hazel Avenue which takes you into Jasper.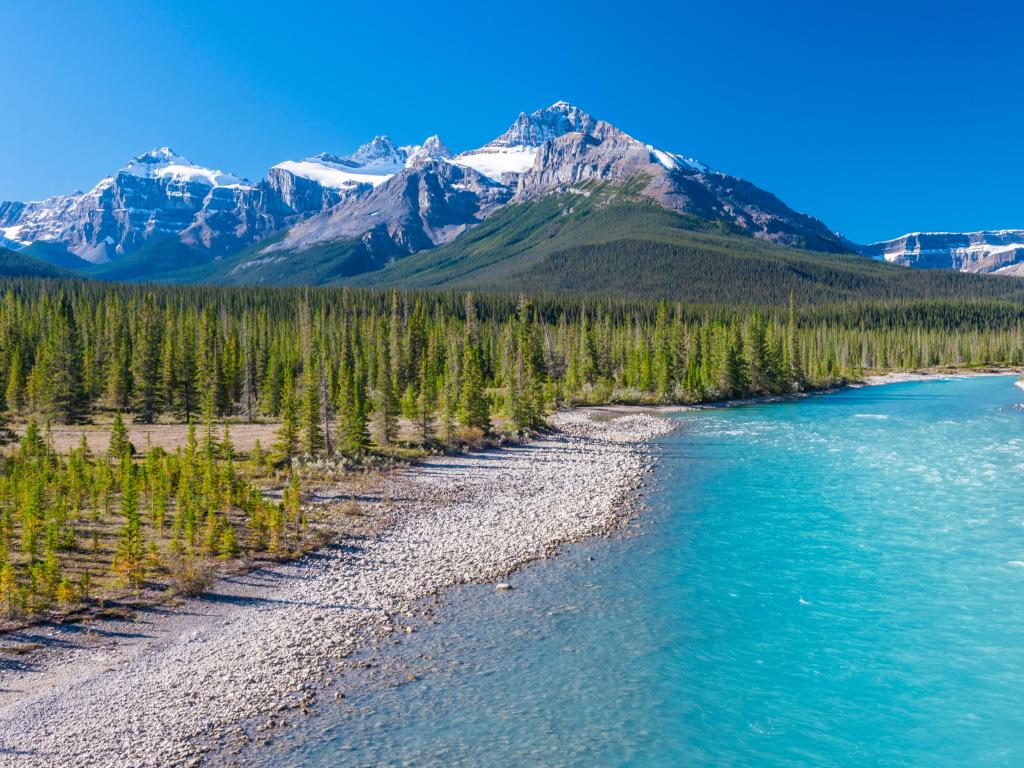 Best places to stop between Calgary and Jasper
While you could make either of these drives in a day, part of the fun of a road trip is the chance to take your time and get to explore new places along the way.
For that reason, we'd recommend at least one overnight stop on either route. Read on below for our top suggestions for where to stop.
Chill out in Banff
Banff is around one-third of the way along the Icefields Route, less than three hours from Calgary, but the rest of the drive is through national parks, so you'll be limited on where you can stay overnight.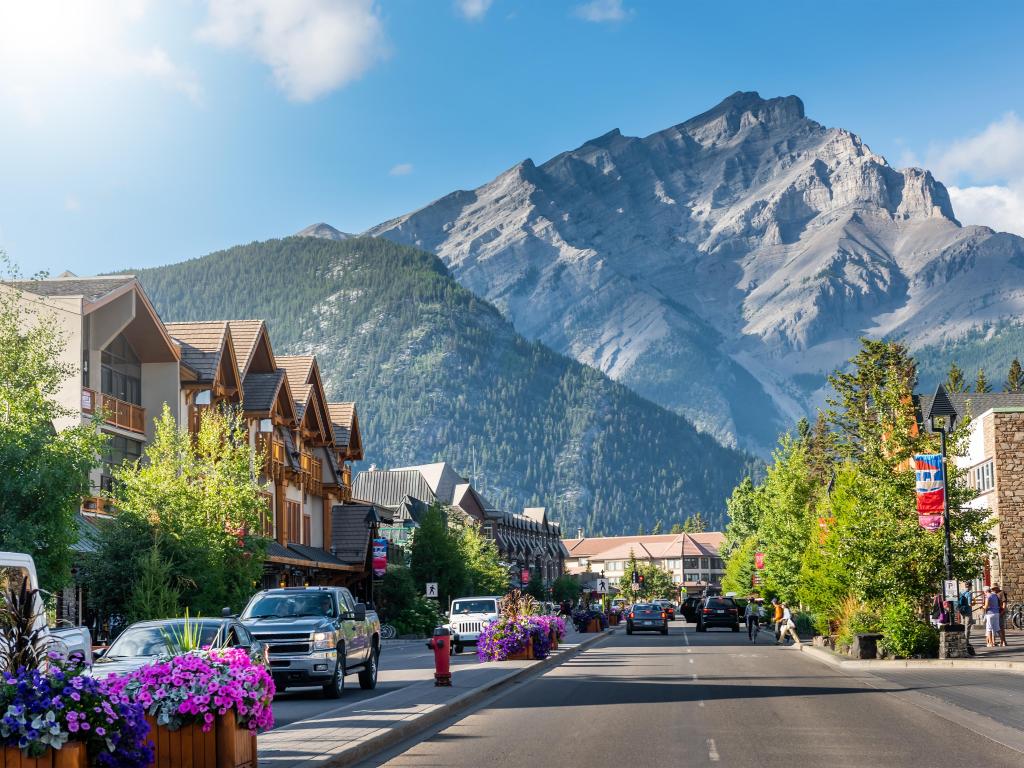 This lovely city is known primarily for the national park it shares its name with, but the town itself is one of the most popular places in Alberta, so you'll find plenty to do while you're here like soaking in the relaxing thermal waters of the Canadian Rockies.
Head to Banff Upper Hot Springs; this favorite among visitors allows you to look across the valley at Mount Rundle while sitting in a hot outdoor pool at the base of Sulphur Mountain. Located here, you'll also find Cave and Basin National Historic Site.
After a long day of exploring, what is better than staying in a cozy wooden lodge? A cozy wooden lodge with a warm blanket, comfortable socks, a good book and a mug of hot coffee while it's snowing outside-- and that's exactly what you can have at Buffalo Mountain Lodge.
With an onsite café offering coffee and pastries to-go and a wood-burning fireplace in your room, you'll find the perfect retreat from a cold day here. If you somehow find the willpower to leave the comfort of your room, the Mount Norquay ski area is located nearby.
Located on the slopes of Tunnel Mountain, Buffalo Mountain Lodge is also just a twenty-minute walk from downtown. You're also only a short drive from Banff Gondola. This ride takes you to the top of Sulphur Mountain for an amazing view of Banff and the surrounding mountains.
Feel the city vibes in Edmonton
Located a bit over 3 hours away from Calgary on the Edmonton Route at the halfway point mark, the city that shares the name with our recommended route is the perfect place to take a break.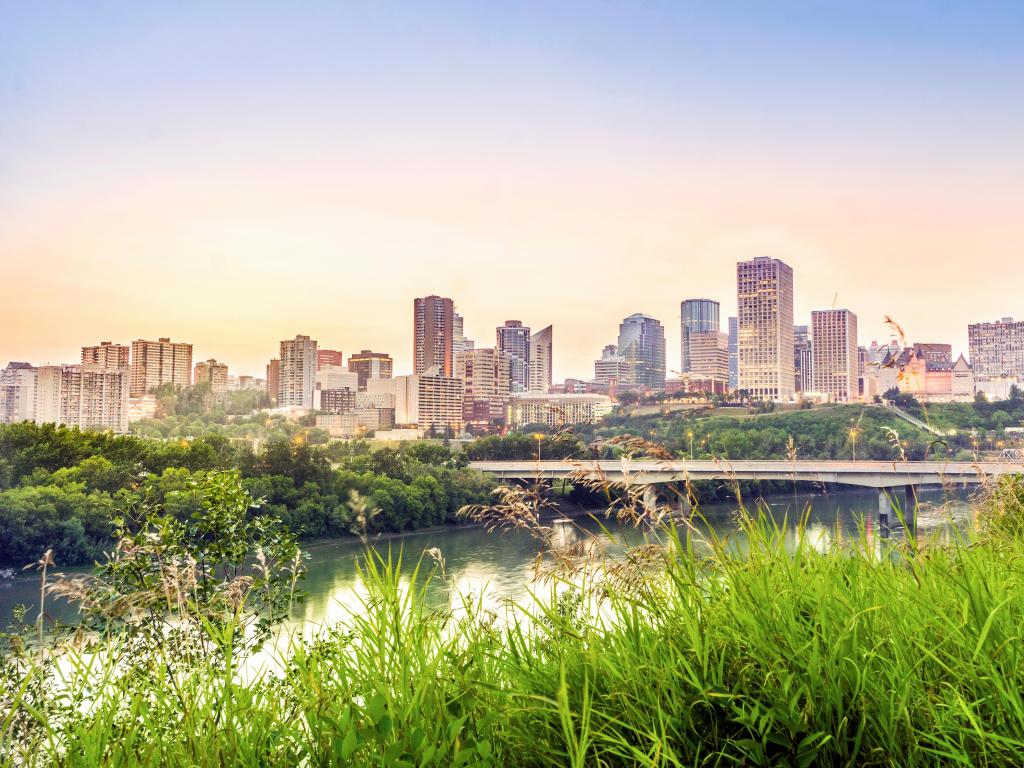 Edmonton's convenient location means that you can leave Calgary after work and be in Edmonton for a late evening meal for an amazing weekend trip. Or if you're in full vacation mode, arrive in Edmonton mid-morning so that you have most of the day to enjoy the city.
The capital of Alberta is known for its long summer days and sparkling snowy winters, so there's something here to enjoy all through the year.
As this is likely only to be a short stay, you'll want to stay right in the downtown area so that the main attractions are within walking distance. Canterra Suites Hotel is just the place with its stellar location, comfortable rooms and a fully equipped kitchen if you'd rather cook for yourself.
If you're new in town, or indeed new to Alberta, then the Royal Alberta Museum nearby is a great place to start. You can visit here to learn about the history of settlers and indigenous people in this part of Canada. History buffs can carry on their trip at Fort Edmonton Park.
Or if you'd rather appreciate the natural environment of this fabulous part of Canada, head to Elk Island National Park or North Saskatchewan River Valley, where, depending on the season, you can run, SUP, canoe, ski, snowshoe or skate.
Where to stay once you reach Jasper
Once you get to your destination, it's time for some relaxation. You will have been hiking, sightseeing and indulging in either snow or water sports for days so you've certainly earned a treat! At the Forest Park Hotel, you'll have everything you need right on your doorstep.
Enjoy a massage at the onsite spa, followed by a dip in the indoor pool. Later in the day you can relax with a cocktail in the lounge then enjoy some Canadian cuisine at one of the two onsite restaurants.
Whenever you're ready to venture outside, you'll be within driving distance of Jasper SkyTram and the countless lakes in the surrounding area. Jasper National Park of Canada is located in the vicinity if you want to try several different hikes for the adventurous souls.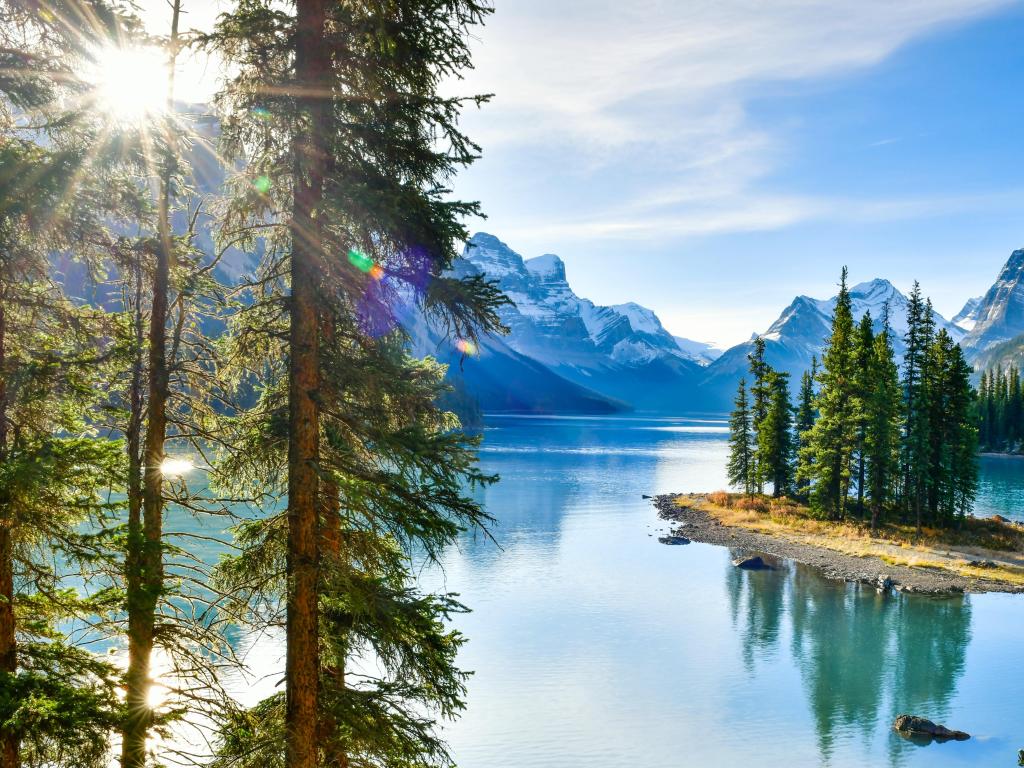 Things to see on a road trip from Calgary to Jasper
Although the road trip from Calgary to Jasper is relatively short, it really packs in the sights. To help you with your planning, here are our recommendations for best things to see and do on your journey.
Icefields Route
Bow Valley Provincial Park - This natural park offers hiking, kayaking, and picnic and camping facilities. It features scenic views and sits at the base of multiple mountains that surround it.
Lake Minnewanka - Also sitting between mountains, this glacial lake not far outside of Banff offers hiking, mountain biking, and seasonal scuba diving and boating.
Sulphur Mountain - Hitch a ride to the top of this mountain on the Banff Gondola. It offers sweeping views of the surrounding peaks and the town of Banff down below. At the top, there is also a museum and dining options.
Banff - This resort town is popular for its snow sports. You'll notice Mountains Rundle and Cascade, which are part of the Rocky Mountains. The town located in Banff National Park offers boutiques, restaurants, hotels, and souvenir shops. The land around it is home to wildlife like elk and grizzly bears.
Johnston Canyon - Located in Banff National Park, this scenic place boasts hiking trails, bridges, waterfalls, and blue spring pools. You can definitely waste the better part of a day here.
Moraine Lake - Arguably the most popular lake in Canada, this 50-hectare glacial lake is a dramatic and stunning blue-green color and sits not far off the highway so it's a must-see. You don't want to miss hiking or canoeing here, or even just a stop for photos.
Lake Louise - Another contender for the most popular lake in Canada, this turquoise, glacial lake surrounded by the Canadian Rockies sits in Banff National Park. It offers hiking trails leading up to viewpoints and becomes a skating rink in the winter when the lake is frozen.
Banff National Park - Although most stops on this itinerary are part of Banff National Park, we think it deserves its own bullet point because there are heaps of places to stop and see in this park. Known as Canada's first national park, it's famous for its scraggly peaks and stunning lakes, which can be enjoyed year-round, though the lakes may be frozen.
Icefields Parkway - If you're taking this route, then you're already driving along Icefields Parkway, which has been rated one of the top drives in the world. Pull over anytime you see something of interest or just enjoy the beautiful scenery around you (except for the driver).
Bow Lake - This small lake located on the Bow River in the Canadian Rockies was formed by runoff from the Bow Glacier. It offers scenic viewpoints and is a popular stop for tourists driving the Icefields Parkway.
Peyto Lake - Another glacial lake in the Canadian Rockies, it was named after Bill Peyto, an early Banff trail guide. It offers a viewpoint to see the brilliant turquoise water. Are you in Canada or Switzerland? You won't be able to tell. Either way, who cares? Both are fantastic!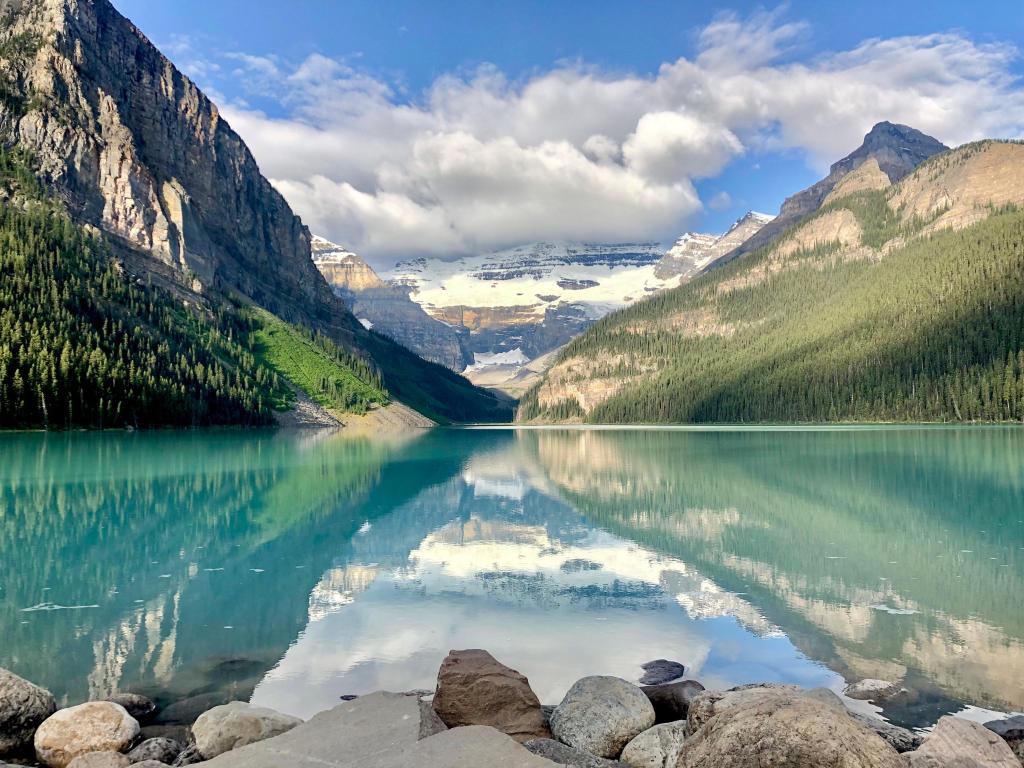 Edmonton Route
Red Deer - Located halfway between Calgary and Edmonton, this city founded in 1882 is home to the Alberta Sports Hall of Fame & Museum and the Red Deer Museum + Art Gallery.
Heritage Ranch - This ranch near Red Deer offers scenic views and horseback riding. It has walking and hiking trails and even a sleigh ride in the winter.
Bower Pond - This pond, closed off from but lying adjacent to Red Deer River, offers fishing and picnicking, and skating in the winter when it's frozen
Sylvan Lake - This lake sits in a town that shares its name. It's a summer hotspot that features shallow waters ideal for swimming. Here you can go boating, water skiing, and fishing.
North Saskatchewan River Valley - When you're in Edmonton you don't even need to leave the city to enjoy kayaking, stand up paddle-boarding, cross-country skiing or snowshoeing - just head to this vast park instead.
Elk Island National Park - Come to spot Canada's biggest land mammals - elk, moose, black bears, wolves and bison - in a stunning setting not far from Edmonton.
William A. Switzer Provincial Park - At this park, it's the lakes that are the real stars, though the mountains are never far away. Swim, hike, canoe or kayak in summer, or don your cross-country skis to explore the park in winter.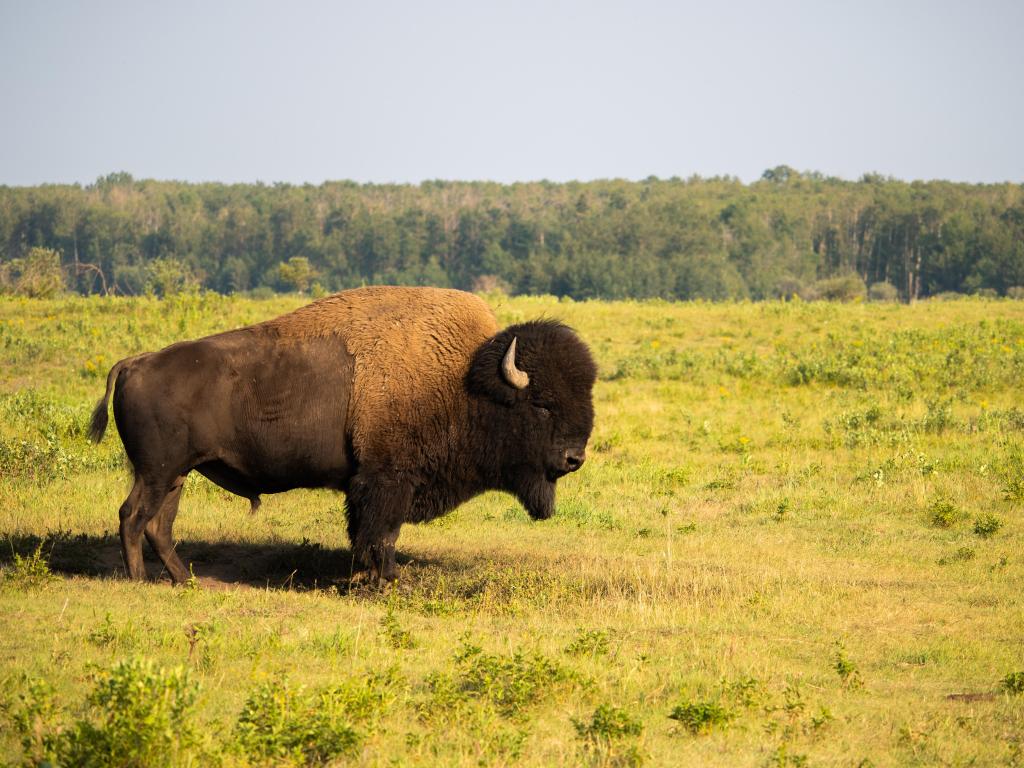 Both routes
Columbia Icefield - Here you'll see the Athabasca Glacier, a 10,000-year-old sheet of ice that's the most visited in North America. Sadly, it's also receding. Guided tours or hiking are offered here.
Jasper National Park of Canada - This 13,000-km national park is known for its scenic views, wildlife, camping, hiking, and more. It's the largest national park in the Canadian Rockies.
Best time to go on a road trip from Calgary to Jasper
Jasper is definitely a year-round destination, offering horseback riding, kayaking, and hiking in the summer and snow sports, sleigh rides, and seeing glaciers in the winter.
That said, winter in Jasper can prove harsh, with daily lows that can reach 25 degrees Fahrenheit. That's great for an environment that thrives on winter sports, but you'll need to make sure your vehicle is ready for the trip.
Winter is also the cheapest time to visit Jasper, and you can enjoy the two-week-long New Year's celebration in January as well. However, some of the roads through Banff National Park are closed during the winter, so check local information before setting out on this trip.
In contrast, summer visitors can take on whitewater rafting and mountain climbing, with waterfalls and plenty of stunning scenery to be seen. The temperatures fluctuate around 70 degrees Fahrenheit during the day but are still quite chilly at night.
This is a great place to escape the heat of summer, though you should expect to experience some rainy days as well. You'll also get to see how locals celebrate if you're here for Canada Day on 1st July.
Spring is considered by some to be the best time of year to visit Jasper because it has fewer visitors and the cooler nights are starting to give way to longer, warmer days. Beautiful wildflowers dot the area and non-snow-related outdoor activities begin.
During autumn, the crowds have quieted down from the summer rush and there's significantly less rain too. There is still hiking to do and wildlife to see, although temperatures will start to drop below the teens down to negative temperatures as autumn goes on.