Road Trip from Banff to Vancouver
A road trip from Banff to Vancouver takes you back to nature, with natural hot springs, beautiful landscapes, and an abundance of opportunities to hike, cycle and swim along the way. You can also get your metropolitan fix, with bustling tourist attractions and vibrant entertainment filling your senses after the calmer start of your journey.
A 960 km road trip from Banff to Vancouver can be driven in 11 hours. You'll get to visit Banff National Park, Kootenay National Park, Kaniksu National Forest, Radium Hot Springs, Harrison Hot Springs, Kamloops, Revelstoke, Spokane, and Seattle.
There are two excellent options for completing this road trip. Keep reading to find a detailed guide for each including directions, the best stopover locations, amazing things to see and when to visit.
How far is Vancouver from Banff, and how long will the road trip take?
Comparison of road trip routes between Banff and Vancouver

| Route | Distance | Driving Time |
| --- | --- | --- |
| The Kamloops Route | 960 kilometers | 10 hours 50 minutes |
| The Seattle Route | 1,260 kilometers | 13 hours 20 minutes |
The Kamloops Route clocks in nearly 11 hours of driving time, and covers 960 kilometers if you don't make any detours or stops.
If you fancy a route that's a little longer, and one that offers some city sights, The Seattle Route should take you about 13 hours and 20 minutes to drive the 1,260 kilometers.
You can easily stretch out both of these routes and you'll find plenty along the way to keep you occupied! We suggest taking 3-4 days to make the best of this amazing adventure.
Best road trip route from Banff to Vancouver
Taking The Kamloops Route only adds a couple of hours to the most direct road trip possible. It is a good few hours shorter than the longer scenic route via Seattle (see below).
This route takes in the Radium Hot Springs on the way, which you can relax and play in at your leisure. Abbotsford en route provides an excellent stop-off for some outdoor activities, just before you get to Vancouver.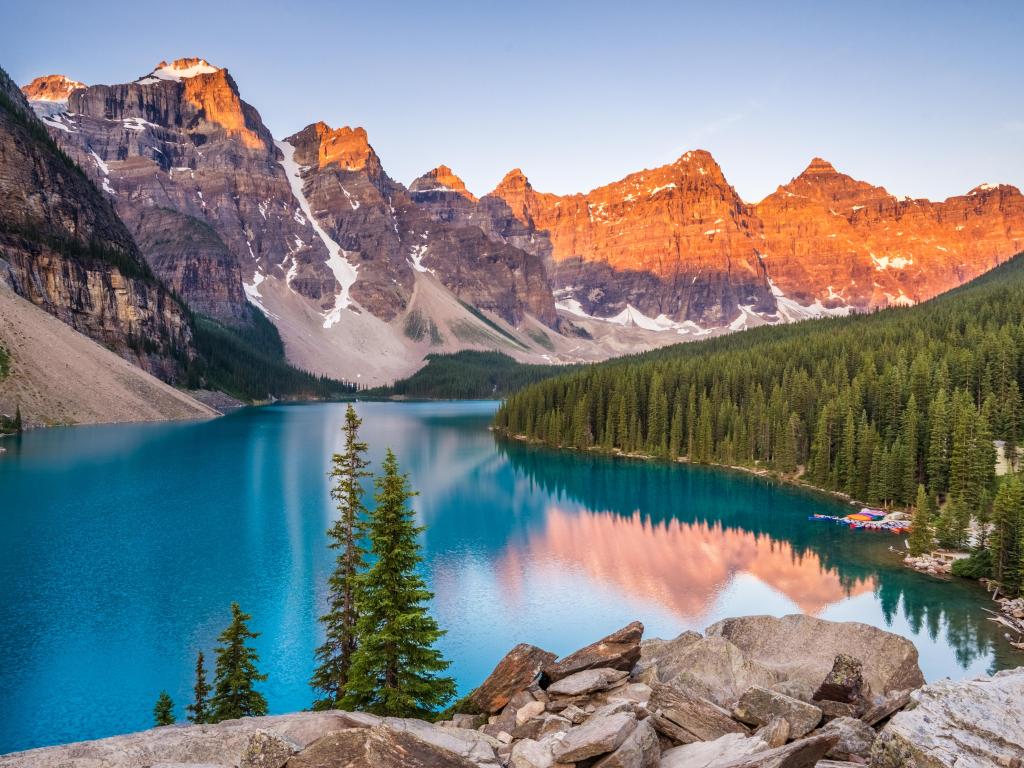 You pass through Kamloops itself with stunning scenery to admire while you stretch your legs. This route is a tad more rural and relaxed so you will miss the vibrancy and attractions that Seattle has to offer.
As an alternative, The Seattle Route provides you with the opportunity to cross the border to the US and visit some prominent landmarks such as Mount Vernon and the metropolitan sights of Seattle.
The end of this route provides a real difference in pace compared to the scenic landscapes and nature trails at the beginning. You really get the best of both; the hustle and bustle of city life, as well as enjoying the majestic natural sights in more rural areas.
The Kamloops Route
From Banff, get onto the Trans-Canada Highway. The first part of your road trip follows this route until you reach Kamloops, so it is very easy to follow.
You'll start off by zig-zagging your way through Banff National Park and Kootenay National Park with their stunning woodland scenery, turquoise blue alpine lakes and snow-capped peaks. It's a picture-perfect start to this road trip.
Radium Springs marks the spot where you turn northwest on BC-1. This is also a great spot to stop and have a dip! The highway will take you northwest for a short time before turning west into Revelstoke.
Continue west, winding your way through the mountains and lakes. Follow the shores of Shuswap Lake around towards Little Shuswap Lake. The lake will then turn into the South Thompson River, which will guide you to Monte Creek and Kamloops.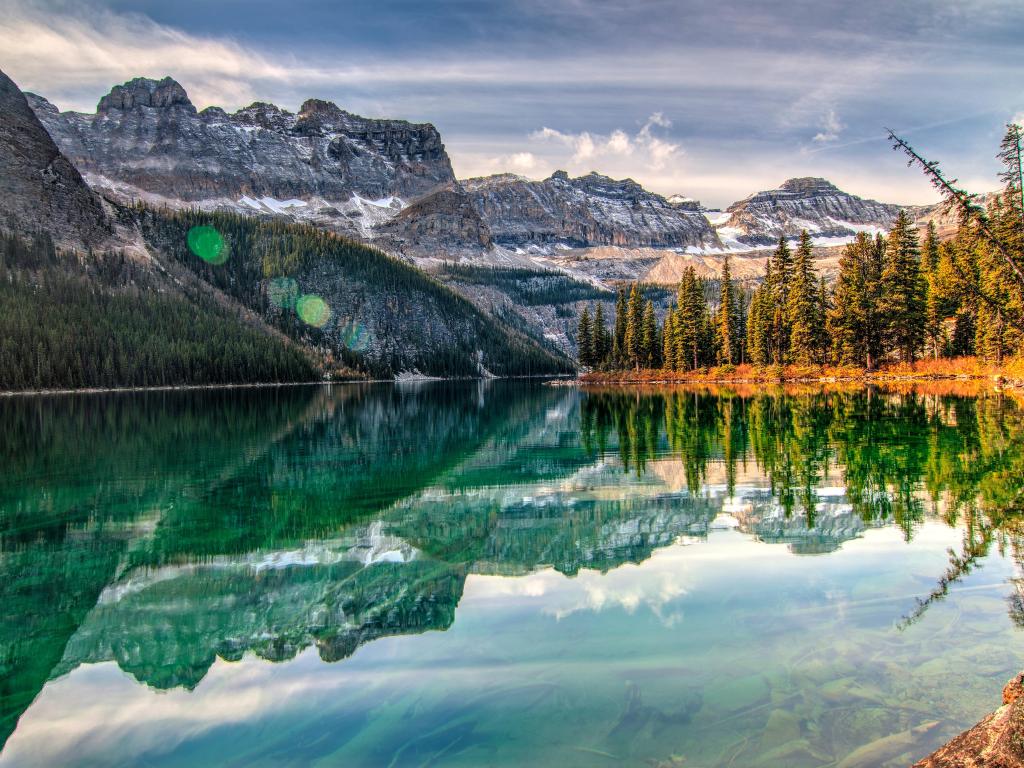 Shortly after you leave Kamloops on the BC-1, turn left, taking BC-5 south. Not long after this turn, you have the option to take a short detour to Logan Lake, where you can enjoy one of their all-season hiking or biking trails.
The final part of your road trip takes you south, where you'll rejoin the BC-1 and pass by Harrison Hot Springs on your right. You'll then drive through Abbotsford, which is a great stop if you want to do some outdoor activities. Continuing west, you'll pass through Surrey, cross the Fraser River and finally arrive in Vancouver.
The Seattle Route
Take the Trans-Canada Highway out of Banff, before turning onto BC-93 and wind your way through Kootenay National Park. When you get to Radium Hot Springs, turn left, heading south to Fairmont Hot Springs where you can enjoy a soak in their natural mineral hot springs.
Keep driving south, crossing the border into the US and passing over the Kootenay River at Bonners Ferry. You'll then arrive at Spokane, also known as Lilac City, which is a good place to stop for some retail therapy.
Next up is Seattle, which you'll get to by going west on I-90. Why not take a trip up the Space Needle while you're there?
Then, take Interstate 5 north along the coast, to Mount Vernon, where you can see the tulip fields when they are in bloom. Continue north, crossing the border back into Canada and head towards Richmond on BC-99.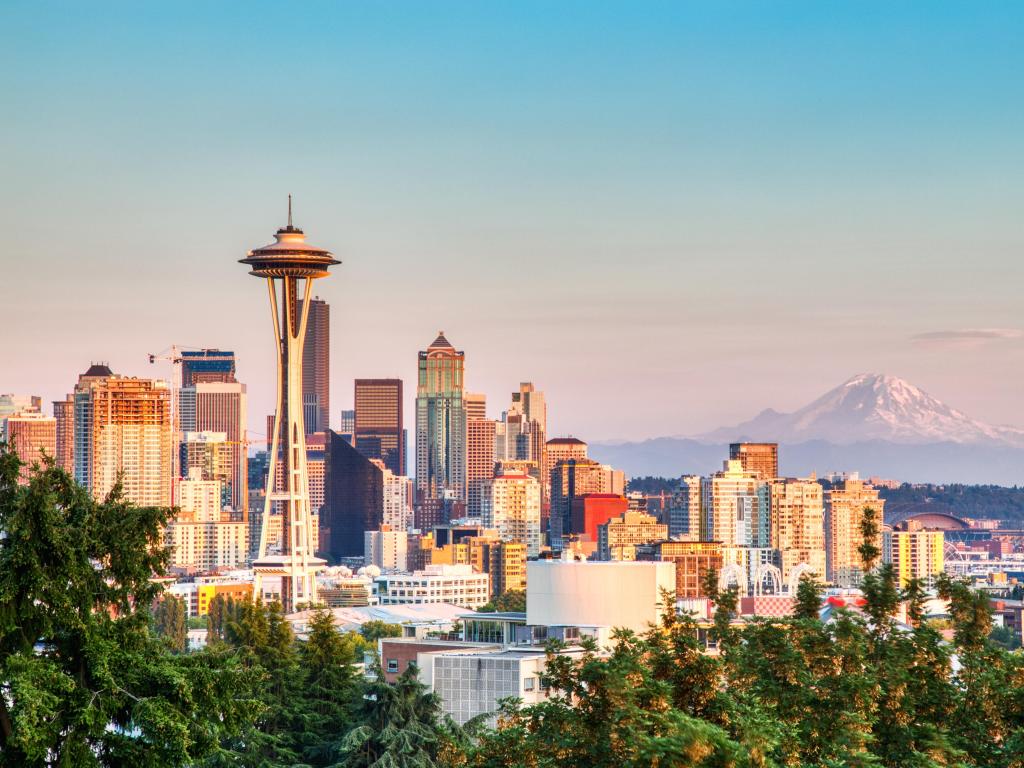 From here, you'll pass Sea Island and Vancouver International Airport on your left before arriving at your destination in Vancouver.
Best places to stop between Banff and Vancouver
With at least 10 hours of driving, an overnight stop or two is needed to really enjoy this road trip. We've picked one on each route and made sure to choose a location that showcases the best that each route has to offer.
Kickin' back in Kamloops
About two-thirds of the way along The Kamloops Route is Kamloops. With a good mix of activities and beautiful scenery, it's a great stopover to break up your driving journey. It has plenty of beautiful golf courses, ski slopes and relaxing getaways – something for all tastes.
After a long drive, Riverside Park offers an excellent opportunity to stretch your legs. Located in downtown Kamloops, the start point at the Japanese Gardens leads to an enjoyable walk through Riverside Park and onto the beach.
In summer months live music is free, so grab a picnic and get ready for an evening of dancing. For all budding sommeliers, a trip to Monte Creek Winery is a must. Set across a huge 1,200 acres, this beautiful ranch hosts tours and wine tasting.
Delta Hotels by Marriott Kamloops is a chic hotel with stunning mountain views to admire while sipping an aperitif. Its outdoor pool, jacuzzi and hot tub are ideal for relaxing after a busy day. For those who want to stay active, they also have a 24 hour fitness room.
Situated close to the city center, the bars and restaurants are close by and Riverside Park is only a 10 minute stroll from the hotel. For train enthusiasts, Kamloops Heritage Railway is only a short walk away.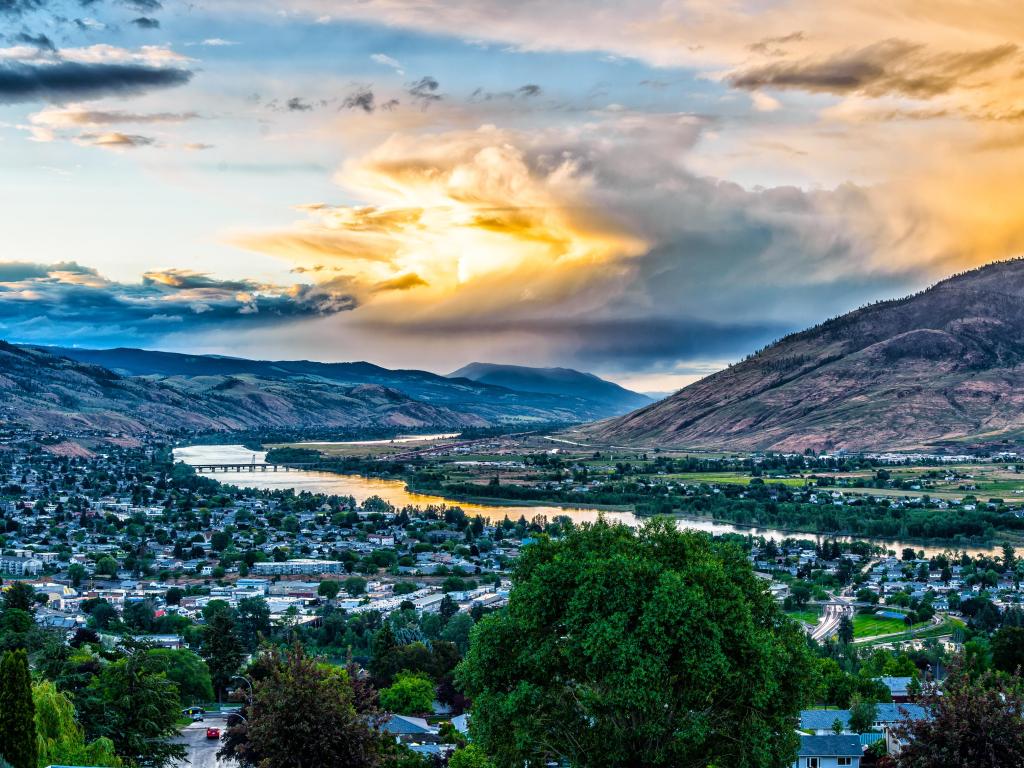 Fancy a flora and fauna-filled experience? Kamloops Wildlife Park will give you just that. Founded in 1965, this wildlife park looks after over 200 animals, with an ethos that not only supports those animals it looks after but also supports the natural wildlife habitats across Kamloops.
Admire the lilacs in Spokane
Halfway along The Seattle Route is Spokane. At midway, it offers a nice chance to break up the journey. Locally known as "Lilac City" due to the beautiful abundance of lilac bushes that bloom throughout the city.
In Downtown Spokane, you'll find Riverfront Park set across 100 acres of land and water. Only 50 years ago it was an old railyard, but it now houses one of the largest urban waterfalls in the country.
If you want to spend time on two wheels rather than four, biking the Centennial Trail is popular for visitors, particularly the Wilber Trailhead, where over 50 kilometers can be covered.
If you'd like something more sedate but just as rewarding, spend some of your trip stepping back in time at the Northwest Museum of Arts. Over 100,000 visitors come here annually to discover more about Spokane's culture and history.
Mirabeau Park Hotel boasts a stellar location and is our top choice for lodging in Spokane. An onsite all-year heated pool and hot tub can soothe your tired muscles after a day of driving or adventuring. Why not book a room with a terrace, so you can sit back and enjoy the view?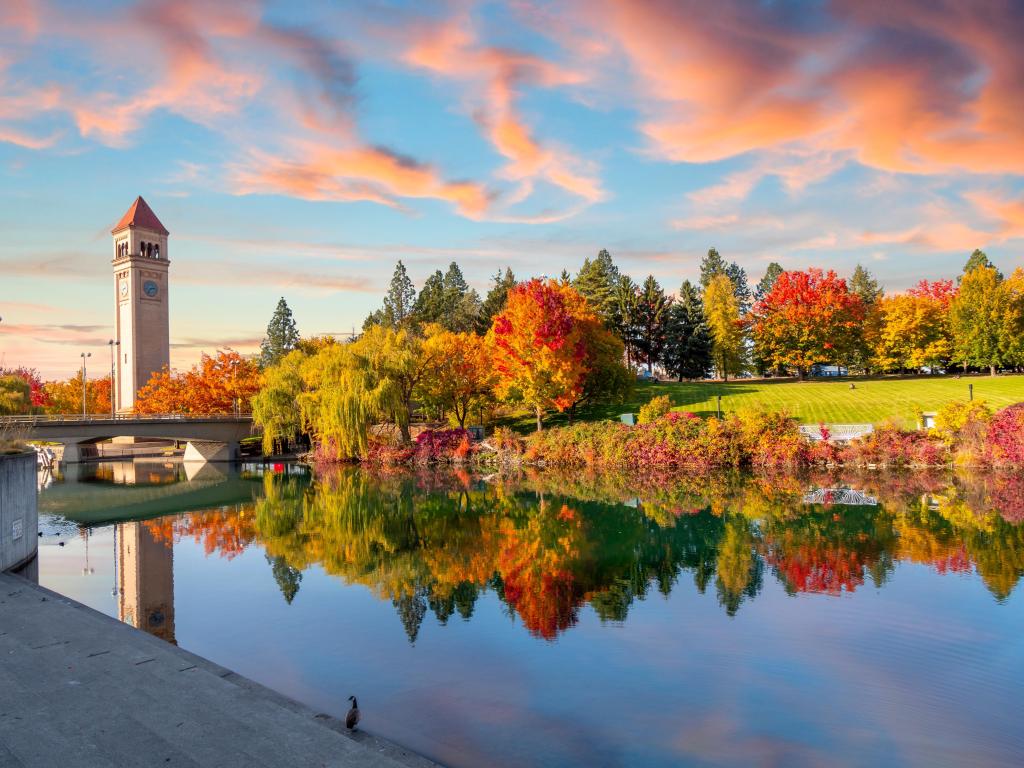 After a long day, you'll want an easy yet delicious meal. The excellent Max at Mirabeau Restaurant is onsite and serves American and international dishes. If you'd prefer to venture out, Spokane Valley Mall is nearby and for sports fans, the HUB Sports Center is only a short drive away.
Where to stay when you reach Vancouver
Guests are continually impressed at how well-located the Auberge Vancouver Hotel is. It can be found right at the heart of Vancouver city and at the center of all the action.
A large indoor pool, hot tub and unique Turkish bath are available to relax in after a busy day exploring, before heading to the on-site Lion's Pub for delicious English-inspired dishes to delight all senses.
Parking is available at the hotel and with this excellent location there is no need to worry about your vehicle, and instead take to the streets on foot to explore everything Vancouver has to offer.
Things to see on a road trip from Banff to Vancouver
How does a combination of hiking, biking, spectacular natural landscapes and a dip in a natural spring sound? Great? We think so too. Luckily for you, you can find all of these, and more, on both of our road trip routes!
The Kamloops Route
Glacier National Park Canada - Situated in southeastern British Columbia, it is about a 3 hour drive from Banff and serves as a great first stop-off. There are numerous hikes such as a 9.5km trail to Avalanche Lake, that is sure to take your breath away as you take in the stunning natural beauty.
Revelstoke - Revelstoke is a prominent mountain resort, which provides the opportunity for some winter sports. The home of ski jumping, those searching for a thrill descend on Revelstoke for its stunning downhill slopes and party atmosphere.
Revelstoke Railway Museum - For those with an interest in trains, this attraction is a must. You could spend a couple of hours here learning about the Canadian railway and even drive a diesel engine simulator.
Monte Creek Winery - While away an afternoon sampling world-class wines in the Thompson Valley, and learn more about the winery's mission to become as sustainable as possible.
Kamloops - There are many reasons to visit Kamloops and fall is the perfect time to witness the salmon run at Adams River. With many trails to walk through, stop and view the wonder of thousands of salmon spawning.
Logan Lake - A visit to Logan Lake may take longer than you expect given the variety of activities on offer. A great venue for fishing, golfing, and in winter months snowmobiling and skiing, it really does have something for everyone.
Harrison Hot Springs - Around two hours from Vancouver, these hot springs are one of the most popular destinations to get close to nature and relax. At any time of the year there is a large range of activities happening lakeside, with a backdrop of stunning parklands and mountains that you can also explore.
Abbotsford Castle Fun Park - A lively rural city, Abbotsford has over 130,000 residents and is one of the fastest growing regions, with the nickname 'City in the Country' a common reference. The Castle Fun Park is a real draw for visitors, which is an exciting amusement park for all ages.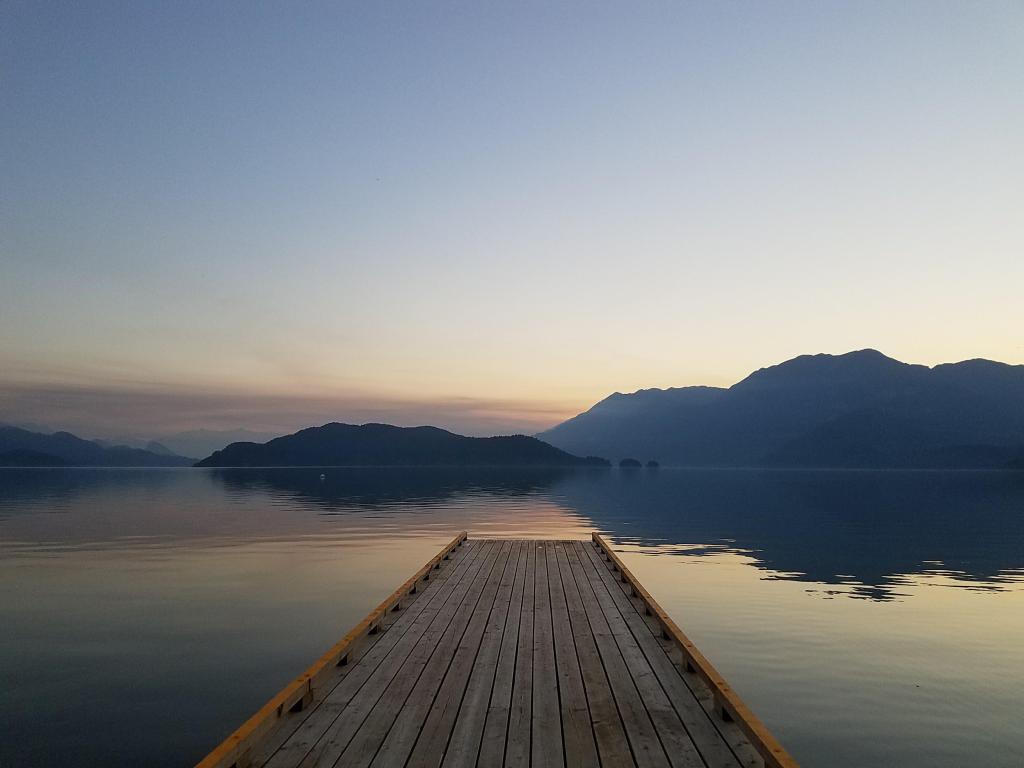 The Seattle Route
Fairmont Hot Springs - Natural mineral hot springs are a key draw to Fairmont, where visitors are able to relax in the clear waters and have a well-deserved rest. These are the largest natural springs in Canada and Fairmont is a real destination resort.
Bonners Ferry - Surrounded by the Selkirk Mountains, this natural beauty spot is home to a variety of outdoor recreation activities. It is also home to many shops and places to eat, with its downtown charm providing a unique place to stop for a while. Why not try out the steak and beers at Kootenai River Brewing Company when you visit?
Kaniksu National Forest - There are so many wonderful forests in this region, and Kaniksu is one of the best to explore. Hire a mountain bike and make the most of the hilly terrain to race through, taking in the sights across some of the million acres along the way.
Manito Park and Botanical Gardens - These public botanical formal gardens house an impressive conservatory and arboretum, and as they are free they are a great place to stop-off for a leg stretch. Desert plants and tropical plants can be seen year-round and bird watching is popular with tourists.
Colville Reservation - This huge Indian reservation spans over 1.4 million acres, with communities of both Colville tribe members and non-members living within. The Colville Tribal Museum can be found at Coulee Dam where the reservation's history is explained in more detail.
Seattle - This vibrant city has a huge amount of attractions to enjoy. The Space Needle is a 605-ft tall building which provides unrivaled views across the city. Plus a revolving restaurant on site gives the perfect place to have refreshments while you enjoy the view.
Steveston Harbour - Nestled in Richmond, this old fishing village is the main visitor destination with its unusual houses and bustling bars. This community in Richmond is diverse and lively and a stop-off here will provide you with great food and entertainment around the harbor edges.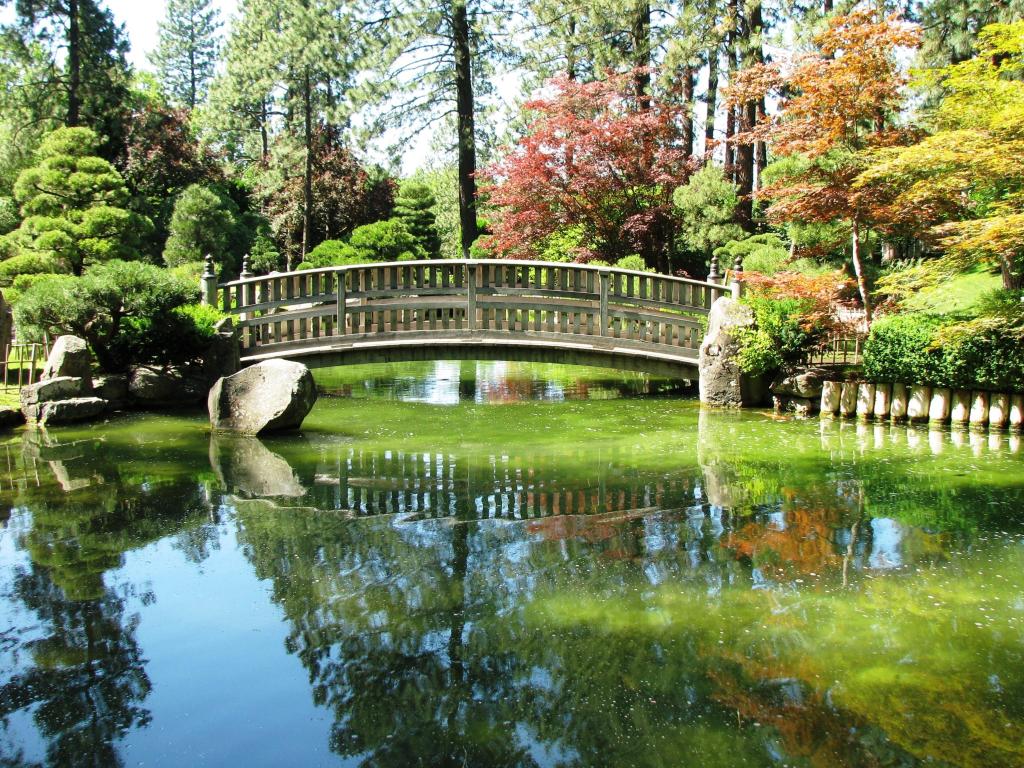 Both Routes
Banff National Park - Canada's first National Park, this is a real destination and gives you a stunning view of the Rocky Mountains and beautiful lakes.
Kootenay National Park – This National Park really does have it all, from hot springs to the snow-capped mountains that circle the park. A huge range of different trails take you through some incredible sights such as Marble Canyon. But watch out, grizzly bears are a common sight!
Radium Hot Springs - Commonly known as 'Radium' this stop-off allows you to rest or play at your leisure in the cool turquoise waters.
Best time to go on a road trip from Banff to Vancouver
Vancouver is a great year-round destination, with much to do throughout each season. Summer months are the best time to visit for the warmer weather, however, as expected it's usually busier during this time with accommodation at a premium.
Summer temperatures reach around 80 degrees Fahrenheit in Vancouver, so it's lovely and warm but not oppressively hot for exploring the city. Moderate levels of rain during the summer also means you can take better advantage of all the outdoor activities on offer.
The Celebration of Light at the end of July sees crowds gather to watch huge firework displays around the English Bay waterfront, where three countries aim to impress the Vancouver audience with their displays.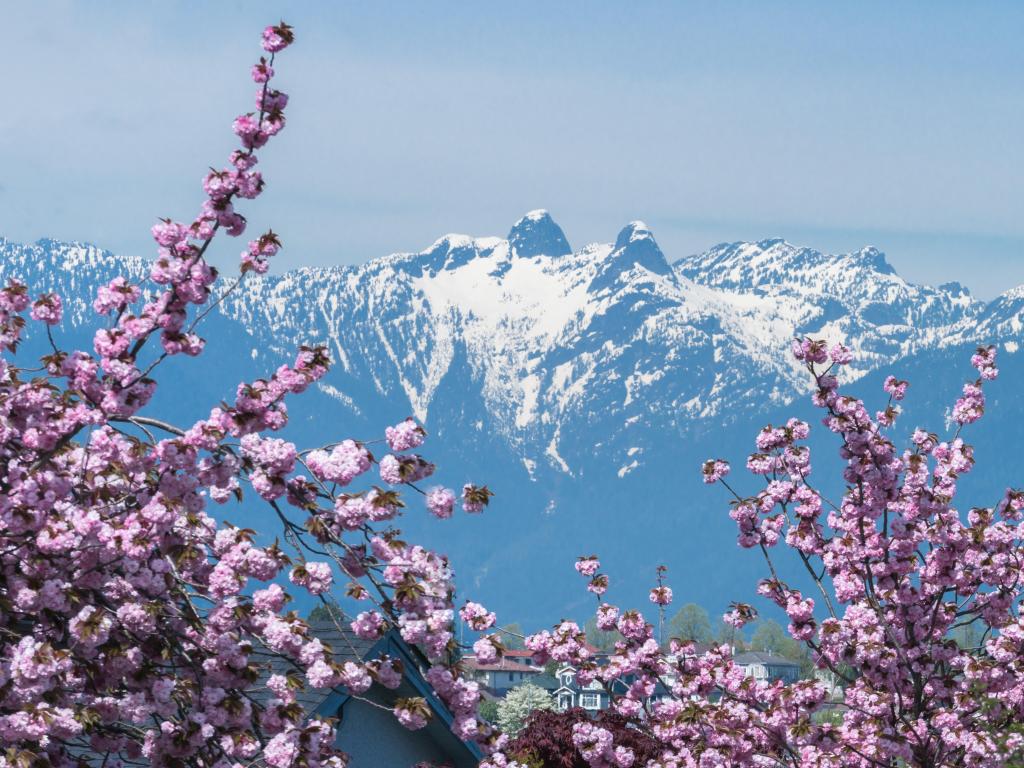 Vancouver remains lovely and mild in the winter so you can take advantage of both indoor and outdoor activities more easily than in some other cities where conditions can be harsher come winter.
Visiting in the later months such as December, gives a whole new Vancouver experience, where you can marvel at the beautiful snowy landscapes and scenery among fewer crowds.
Towards the end of the year the Capilano Canyon Lights at Capilano Suspension Bridge Park kick off the holiday season, with beautiful illuminations spanning the bridge and surrounding parks.
The weather remains pleasant in the spring and fall, however, the rainy season does run from October to June, so take wet weather gear during that time to keep yourself nice and dry. We would also recommend an extra layer of clothing during the evening for the cooler spring months.
Running from March to mid-April is the annual Cherry Blossom Festival, where 40,000 trees bloom and create a magical pathway across the city. This beautiful sight can be admired on many organized tours, bike rides and different activities.
The Vancouver International Film Festival in late September is world-renowned and screens the best films from Canada. Film lovers and critics flock to the city to take part.