Road Trip from Boston to Raleigh, NC
If you're looking for a road trip that combines fabulous mountain views, world-class museums and a journey from the country's past to its present, then the drive from Boston to Raleigh should definitely be top of your list.
The 730-mile road trip from Boston to Raleigh takes 11 hours 30 minutes and takes you past Philadelphia, Baltimore and Washington DC. Or take the scenic route via Hershey, Gettysburg, the Blue Ridge Parkway and New River Gorge National Park.
From the vibrant cultural life of some of the country's most memorable cities, past the scenic rivers, waterfalls and forested slopes of the Appalachians, this road trip will take you on an unforgettable journey through the country's eastern-most states. Read on to find out what star attractions and hidden gems await you when you set off.
How far is Raleigh from Boston, and how long will the road trip take?
Comparison of road trip routes between Boston and Raleigh, NC

| Route | Distance | Driving Time |
| --- | --- | --- |
| Direct Route (via major cities) | 730 miles | 11 hours 30 minutes |
| Western Route (via mountains) | 810 miles | 13 hours 30 minutes |
| Scenic Detour | 1,030 miles | 19 hours 30 minutes |
The quickest route between Boston and Raleigh should get you to your destination in around 11 and a half hours. However, although the Direct Route is a quick and simple way to make this 730-mile trip, you should factor in potential delays as you pass through congested city sections.
The Western Route covers 810 miles and takes significantly longer to drive, coming in at around 13 hours 30 minutes. This less-travelled route can offer you a relaxing way to explore the region's small towns, villages and stunning countryside.
If you have time on your side, you might like to consider the Scenic Detour, which adds around 220 miles and 6 hours to the Western Route. It's a fabulous journey which will create memories that will last a lifetime.
Whichever route you take, we'd recommend taking at least 2 or 3 days extra so that you can enjoy your journey to the fullest as your road trip will be packed with amazing scenic and cultural attractions. Keep reading to find out what you'll see along the way.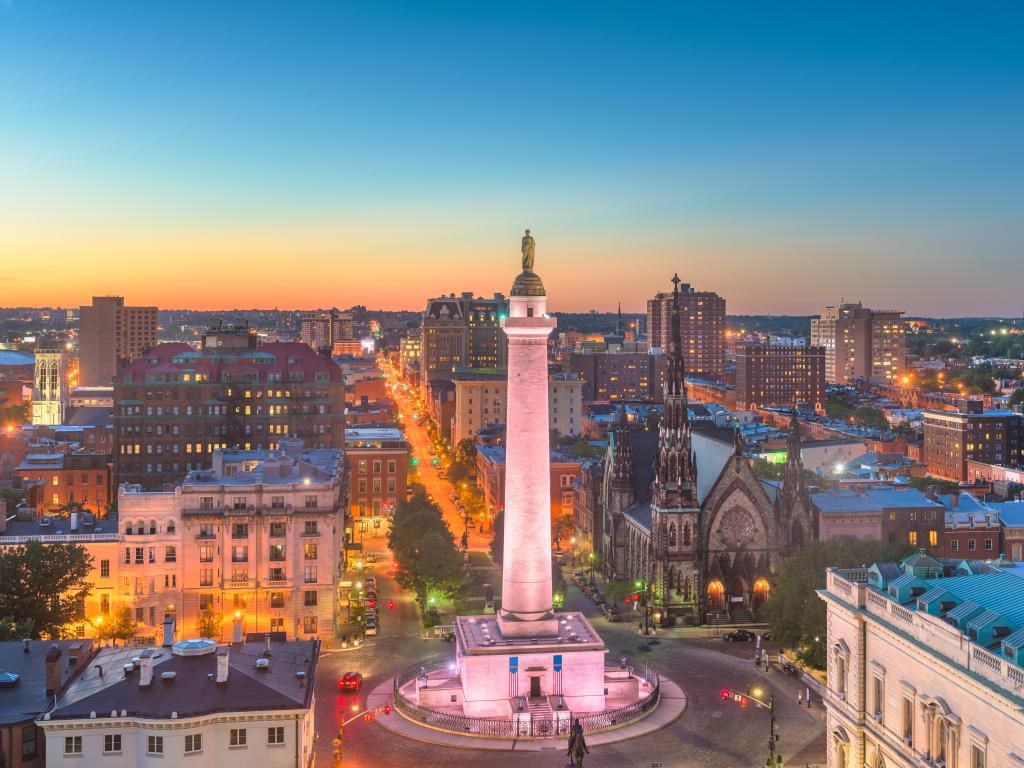 Best road trip route from Boston to Raleigh
The three road trip options we've selected for your journey from Boston to Raleigh all offer something different.
The Direct Route follows interstates past several major cities, so you'll have lots of opportunity to detour from the route to visit museums, art, cultural or historical sites along the way. However, you'll have to allow for a number of toll roads if you take this route.
The Western Route avoids the northeastern major cities and takes a more scenic passage out west through the foothills of the Appalachian Mountains before converging with the Direct Route in Washington DC.
This route skips the city crowds and gets you out into the countryside through forests, rolling hills, rivers, and waterfalls. It's a beautiful way to travel between Boston and Raleigh, but you'll be taking smaller roads, so you'll need to pay close attention to the many turns along the way.
With the extra time required, the Scenic Detour won't be the right road trip choice for every traveller, but it makes for an amazing add-on to the Western Route if you have the time.
You'll be travelling along smaller roads, so you'll want to plan ahead and make sure your vehicle is ready for the trip. Pack your hiking gear and camera because this route certainly won't disappoint you with the stunning views and beautiful landscapes you'll see along the way.
For most travellers, a preference for city or countryside will probably be the deciding factor when it comes to choosing a route, but even if you haven't made your mind up yet we've put together all the information you need to get started with planning your trip.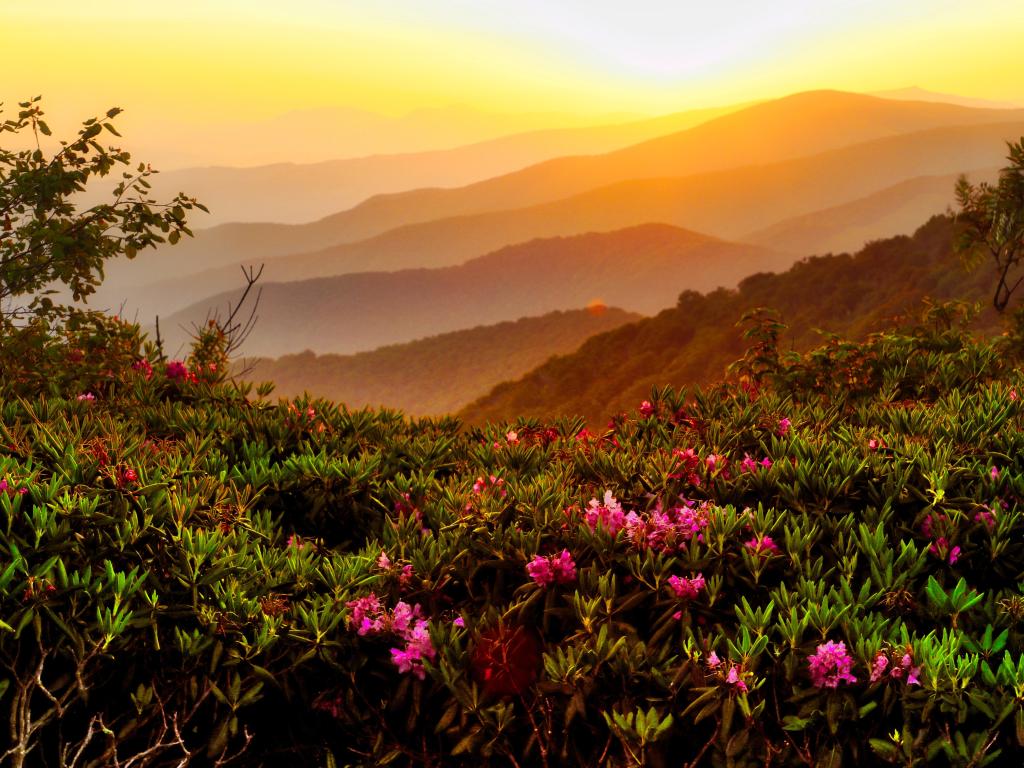 The Direct Route
From your starting point in Boston, make your way to Interstate 93 (I-93) South then switch to Interstate 90 (I-90) West to exit the city.
After around an hour, merge onto Interstate 84 (I-84) South, which takes you as far as Hartford. Here, exit onto CT-15 to cross the Connecticut River and join up with Interstate 91 (I-91) South.
If you'd like to visit New Haven, continue along I-91 to reach the city, then return to the main route via I-95 and Milford Parkway.
Or for a more direct journey, leave I-91 at Exit 17, which brings you back onto CT-15. This road takes you right the way across Connecticut, before becoming the Hutchinson River Parkway as you enter the state of New York.
Take the Cross County Parkway here, then after a couple of miles follow signs onto the Saw Mill River Parkway. Next, you'll join Henry Hudson Parkway, which becomes NY-9A and takes you through the northern end of Manhattan.
You'll almost certainly be detouring from here to explore the Big Apple, but when you're ready to continue your journey south, make your way back from your stopping point in the city via NY-9A so that you pick up Interstate 95 (I-95) to leave the city across George Washington Bridge.
Keep following signs for I-95 South as you start to head away from New York. For the most direct route south, continue along the New Jersey Turnpike.
Alternatively, if you're planning on visiting Philadelphia, stay on I-95 which takes you right through the city then on to Wilmington where you'll pick up the main route again.
If you're using the New Jersey Turnpike, eventually this road merges with US-40 and then Interstate 295 (I-295), crossing the Delaware River outside Wilmington before joining up with I-95 South again.
Follow I-95 for a while, then fork right onto Interstate 895 (I-895) South. After making your way through Baltimore Harbor Tunnel, join MD-295 South at Exit 4, and follow this road, the Baltimore-Washington DC Parkway.
Follow signs to continue onto MD-201, which becomes Route 295 when you cross into the District of Columbia. Then, at Exit 1B-C, follow Interstate 695 (I-695) into Washington DC.
When you're ready to move on from the nation's capital, pick up Interstate 395 (I-395) South which takes you across the Potomac River. Follow it before joining up with I-95 again.
Follow I-95 through Fredericksburg and Richmond, all the way to Petersburg. When you reach Exit 51, you'll join Interstate 85 (I-85) in the direction of Durham.
Continue along I-85, then join US-1 at Exit 218. On the outskirts of Raleigh, this joins up with Route 401 to take you right into the center of the city where you'll complete your drive.
The Western Route
This route leaves Boston via the I-90 and I-84, just like the Direct Route, but once you reach Hartford, continue along I-84 to take a more scenic route across the state of Connecticut.
After entering New York state, leave I-84 at Exit 52B to join Taconic State Parkway, then merge onto NY-55 in the direction of Poughkeepsie, where you can spend some time exploring the historic Hudson River Valley.
From Poughkeepsie, you'll cross the Hudson River then briefly pick up US-44 before turning onto US-9W S. After following the Hudson River south, you'll rejoin I-84 West via N Plank Road.
Outside Port Jervis, take Exit 1 onto US Route 6, which becomes River Road once you've crossed into New Jersey. Follow this road as far as Montague, where you'll join US-206 South.
Next, you'll take a scenic break from the highway that lets you explore Delaware Gap National Recreational Area. There are plenty of trailheads in this area, so take a little time to stop and explore if you can!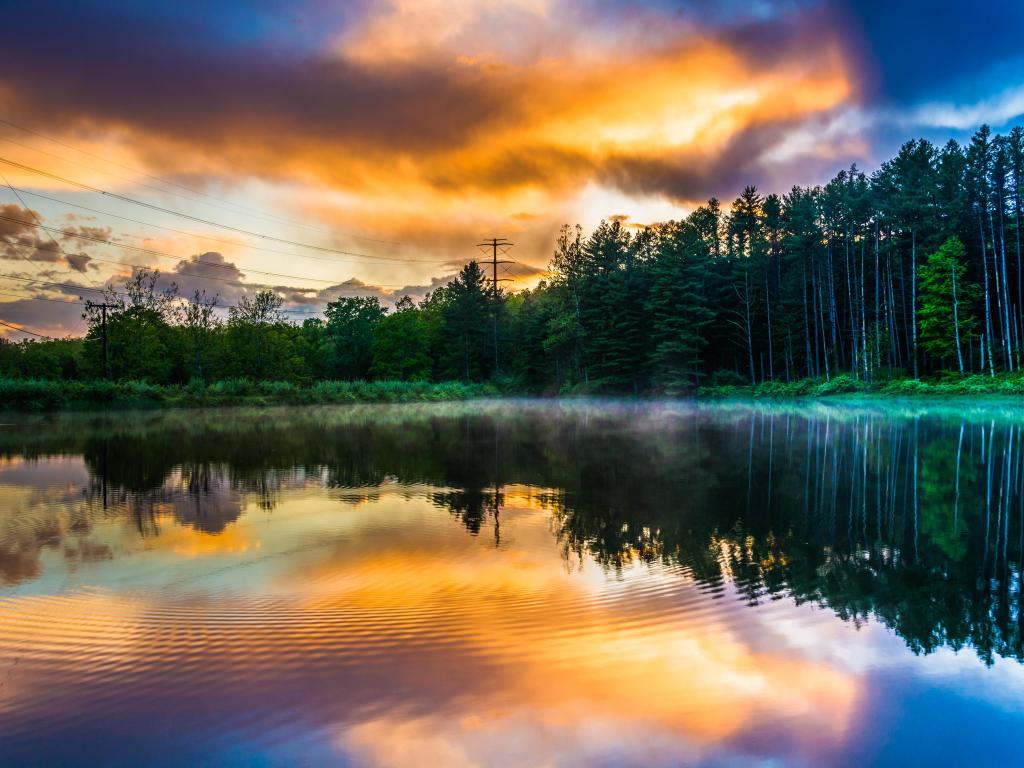 Take a right turn onto Taylor Bridge Road (watch out for the road name as this turn isn't signposted) then immediately turn left onto Layton Hainesville Road.
At Layton, turn right at the crossroads, following signs towards Walpack then Peters Valley. At Peters Valley Craft Village, take National Park Service Road 615, following it to the left as it forks towards Walpack Township.
Continue along this road before turning left on a small bridge across the Flat Brook River. Follow Old Mine Road as far as Milbrook Village, where you'll turn left towards Blairstown/NPS 602.
Turn left onto Maple Lane then left again onto Mohican Road, before turning right onto NJ-94 when you reach the end of this road. This will take you up to the Delaware River, which marks the border between New Jersey and Pennsylvania.
Once you cross the Portland-Columbia Toll Bridge into Pennsylvania, the road becomes PA-611. Follow this as far as Martins Creek, then follow signs towards Tatamy via Forks Township.
At Tatamy, turn left to join PA-33 South, following it until you join US-22 West. When this road merges with Interstate 78 (I-78), continue west as far as Exit 85, where you'll return to US-22 then turn left onto PA-743 before following Park Avenue into the center of Hershey.
When you've had your fill of chocolate-related activities, continue west by picking up US-422 then merge onto US-322. This will lead you onto Interstate 83 (I-83).
After crossing the Susquehanna River, exit onto PA-581 West then almost immediately join US-15 South heading towards Gettysburg.
At Frederick, switch onto US-40 briefly, which takes you onto Interstate 270 (I-270). You'll follow this road almost as far as Washington DC, but when the roads split as they approach the city, switch onto Interstate 495 (I-495) then join Cabin John Parkway at Exit 40.
Merge onto Clara Barton Parkway, which follows the Potomac River before becoming Canal Road NW, which takes you right into the city.
The Western Route joins up with the Direct Route from Washington, so once you've finished exploring the many attractions of the nation's capital, simply pick up I-395 and follow the Direct Route the rest of the way to Raleigh.
Scenic Route
This route starts out along the Western Route, which you'll follow as far as Hershey to begin with. Leave the town via I-83 and PA-581, but instead of turning south continue along PA-581 to join Interstate 81 (I-81) South.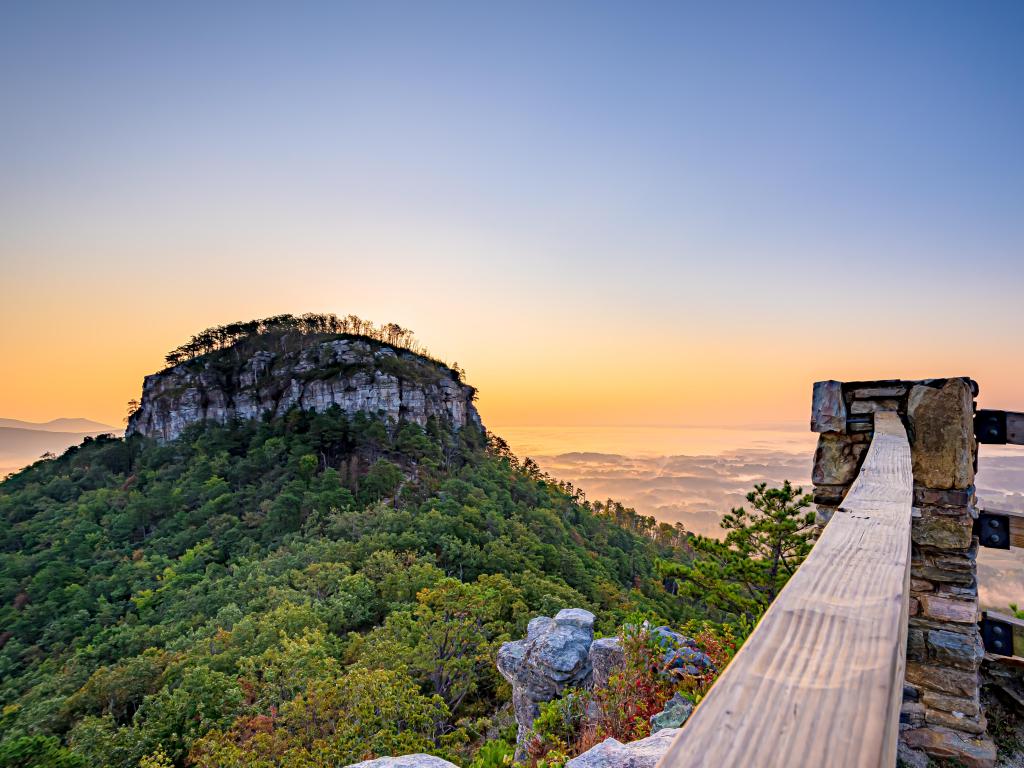 When you reach Harrisonburg, turn onto US-33 and follow it west through Brandywine and Franklin, before turning left onto WV-28 at Judy Gap.
As you approach Barton, turn left onto WV-92/WV-28 South, and continue along the road past Green Bank. Here, turn right onto WV-66. Next, turn left onto US-219, the Seneca Trail, which you'll follow it until it meets Interstate 64 (I-64) near Lewisburg.
Follow I-64 as far as Exit 139, then take WV-20 which runs alongside the New River for more fabulous views. You can pause here to enjoy New River Gorge National Park, before continuing south along WV-20 until it meets up with Interstate 77 (I-77), which you'll follow south.
If you're not planning on stopping at New River Gorge National Park, simply continue along I-64 until you reach I-77, then follow it south.
At Exit 52 you can detour off the route to explore the South Scenic Highway, before continuing on your trip south along I-77.
Continue along the Interstate where I-77 merges for a few miles with I-81, then take I-77 where the roads split. At Exit 8, turn left at the end of the ramp then right onto Fancy Gap Highway for the chance to pause and explore the Blue Ridge Parkway.
You can join the Blue Ridge Parkway - "America's favorite drive" - at Fancy Gap, where it's clearly signposted. This is another great detour opportunity, with stunning views and excellent hiking easily accessible from the road.
When you're ready to continue your drive towards Raleigh, simply retrace your route back to Fancy Gap, and continue south along US-52.
At Winston-Salem, turn onto US-421 South, then merge onto Interstate 40 (I-40). Then, after passing south of Greensboro, where I-40 and I-85 merge, simply continue to follow I-40 right the way into Raleigh, where your epic road trip ends.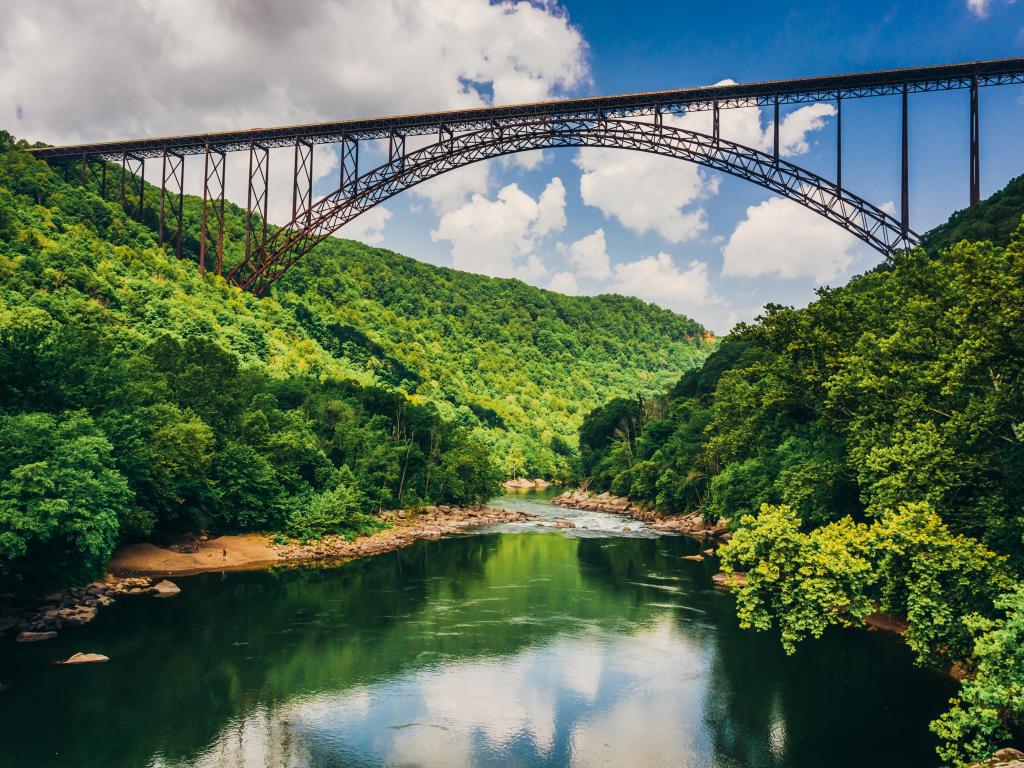 Best places to stop between Boston and Raleigh
With so many miles to cover and so much to see along the way, you're going to want to make at least two overnight stops as you travel from Boston to Raleigh.
Here are our top picks for places to stay:
Immerse yourself in history in Philadelphia
If you're taking the Direct Route, Philadelphia is almost exactly halfway along your trip. This iconic city is knee-deep in Revolutionary history, and you can visit the Liberty Bell and the Independence Hall, where the Declaration of Independence and the US Constitution were signed.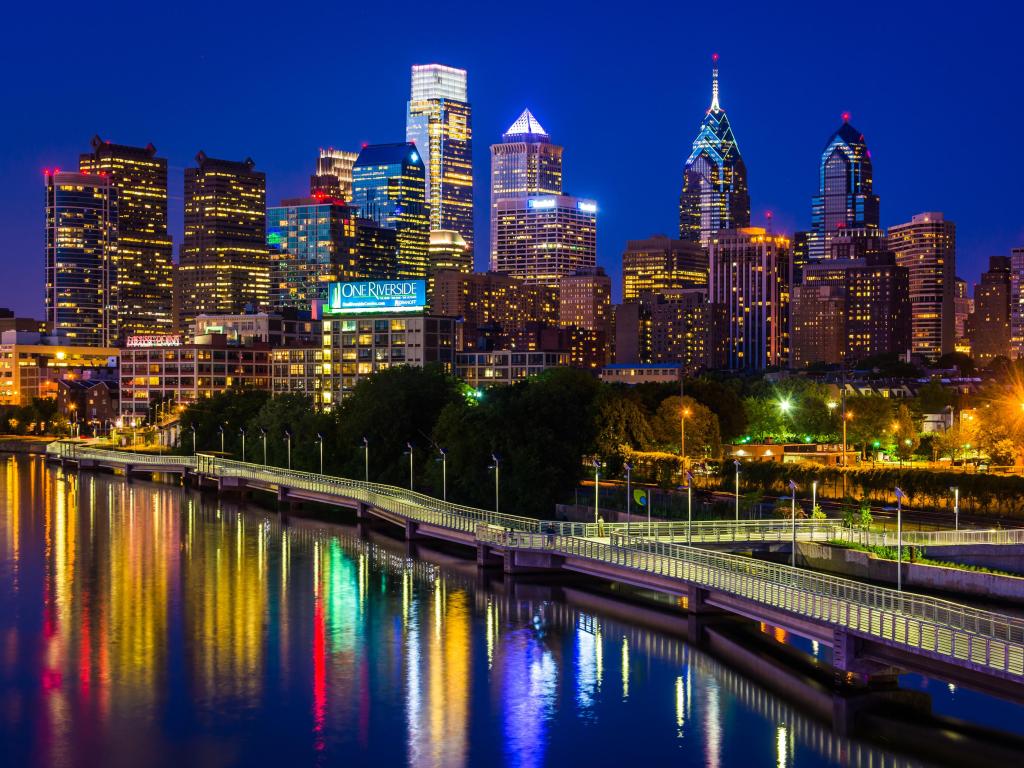 A less-known fact is that Philadelphia is also reputed to be the most haunted city in America, so watch out for things that go bump in the night!
While in the city, Kimpton Hotel Monaco Philadelphia is a superb and super stylish accommodation option, in a historic building that's walking distance to many of the city's main attractions.
While you're in town, we'd recommend a visit to the Philadelphia Museum of Art - Rocky fans will recognise the steps which were famously used in the movie. Then head to Love Park for a picture with the world-famous LOVE statue.
Bikes and scooters are provided by the hotel if you'd prefer, although you can get to the Liberty Bell and Independence Hall on foot in just a few minutes.
Once you've finished exploring the city, you can enjoy a meal at the famous Reading Terminal Market, or you could head to the hotel for a meal at its modern tavern, which gives local favorites a global twist.
Enjoy all things chocolate in Hershey
The Western Route and the Scenic Detour both head through Hershey, which is a little over 6 hours out of Boston, and as you might expect, you'll find a number of chocolate-themed attractions in this charming small city.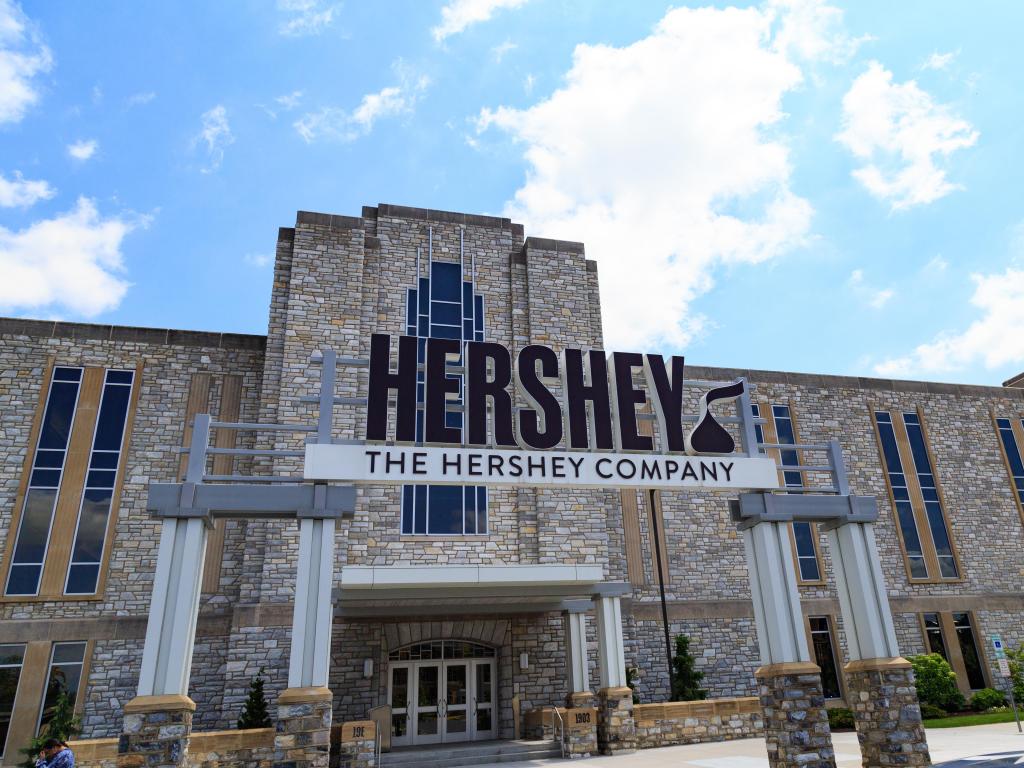 There's Hersheypark, a chocolate-themed amusement park with rides and rollercoasters, and Hershey's Chocolate World, where you can enjoy more rides, 4D shows, chocolate tasting and an enormous candy store. You can even create your own chocolate bar here.
When you've had your fill of candy, you might like to visit the Hershey Story Museum to find out about Milton Hershey's life, and how his chocolate legacy grew. Then head to Hershey Gardens for some time outdoors in these beautiful gardens with a butterfly house.
Sticking with the theme, Courtyard by Marriott Hershey Chocolate Avenue is conveniently located near Hershey Park and the Downtown area, with complimentary parking and easy access back to the highway to continue your drive the next morning.
With welcoming staff, comfortable rooms and a great location, you'll be sure to have a relaxing overnight stay here before you continue on your road trip from Raleigh to Boston
Tour the monuments and museums of Washington DC
The Direct Route and the Western Route converge in Washington DC, and with only 4 hours of driving between here and Raleigh, the city is the perfect place to spend the last night of your trip on either of these routes.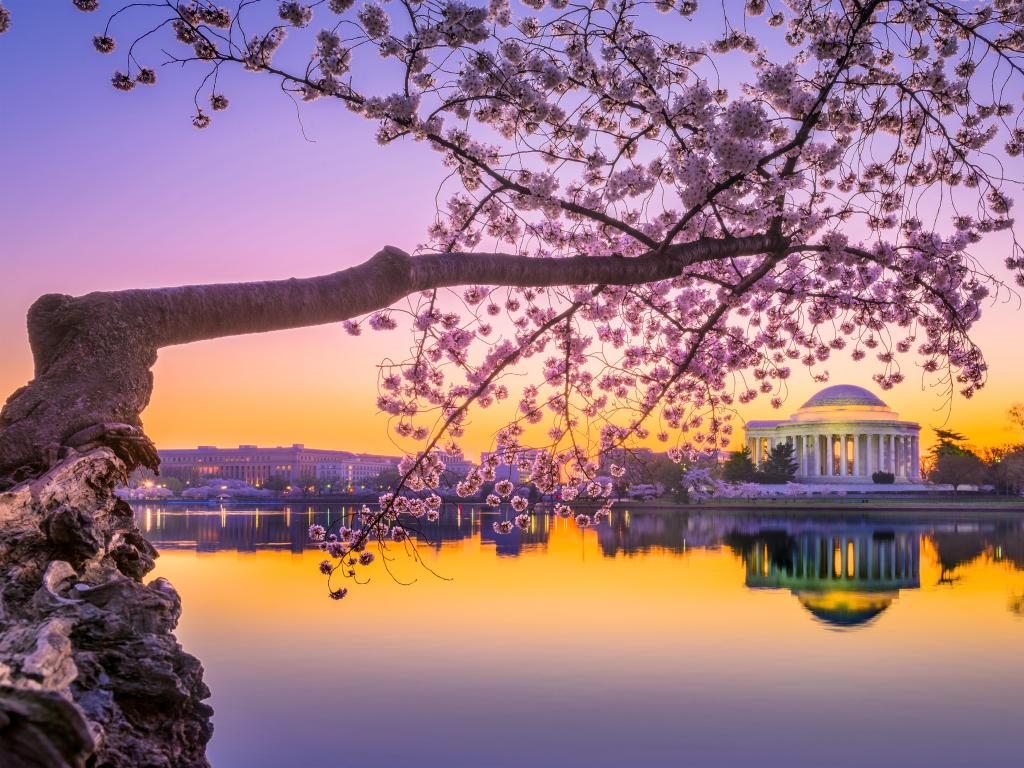 Like all major cities, hotels in Washington DC can often come with a premium price tag, so we think you'll be pleasantly surprised with the option of a stay at the affordable yet stylish citizenM Washington DC Capitol.
The hotel has a distinctly modern vibe to match its downtown environment and offers fabulous views across the city from its rooftop bar. It even has private parking available nearby, which can be hard to come by in the city.
Of course, most people who find themselves in DC are going to want to get a view of the city's most famous monuments before they leave town, and the good news is that you can reach all of them easily from the hotel, either on foot or via the subway system.
The Smithsonian Museum of National History nearby houses the largest such collection in the US, or if you're keen to carry on your journey of discovery about more recent US history, we'd recommend heading to the National Museum of African American History and Culture.
Once you've got a good look at the White House, head out across the river to see the Washington Memorial and walk around the reflection pool and park. Then make your way to the Lincoln Memorial, another iconic sight, before heading to the hotel for a well-deserved rest.
Where to stay when you reach Raleigh
Once you reach Raleigh, you'll probably be ready for some downtime in a fabulous hotel, especially if you've taken the longer Scenic Route to get here.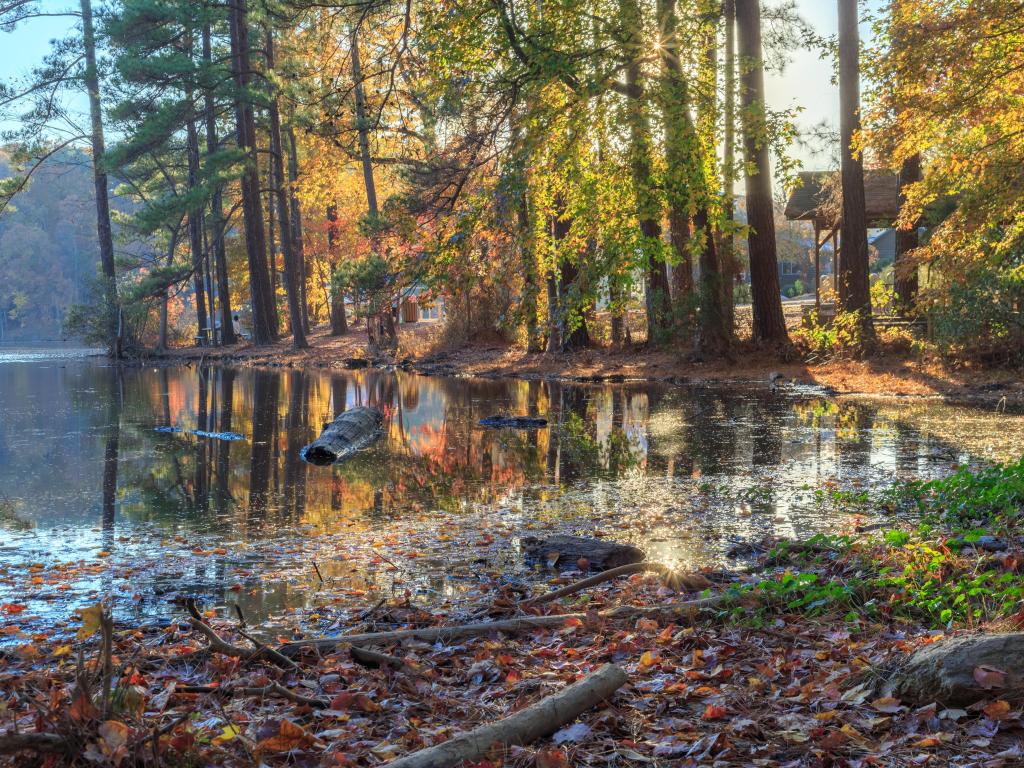 Located only a short distance from the Museum of Natural Sciences and North Carolina Museum of History, The StateView Hotel, Autograph Collection is an upmarket hotel with a sun terrace and fabulous outdoor pool that certainly ticks that box.
This stylish hotel has a fantastic bar where you can relax and enjoy your favorite drink after a long day exploring the city. It also offers a upscale and stylish restaurant, so while there's plenty to see and do in Raleigh, you wouldn't have to leave at all if you didn't want to.
Things to see on a road trip from Boston to Raleigh
One of the reasons that the road trip from Boston to Raleigh is such a great choice is that there's so much to see and do along the way.
We've selected our top picks for each route to get you started.
Direct Route
Lyman Orchards - Make a stop before getting to New Haven at this orchard for a snack and a fun experience of apple picking if in season.
New Haven, Connecticut - If you are making a detour to New Haven, and we suggest you do, you can visit Yale University or have some oysters on the coast as you drive through the city.
West Rock Ridge State Park - On the outskirts of New Haven is this large ridge with scenic views of Long Island Sound. Make sure you pack your camera to immortalize the awe-inspiring sights.
Manhattan Island, New York - Make a pit stop on the iconic island of Manhattan on your way through New York. See all the sites downtown from Central Park to the Empire State Building. You might want to even add an extra day or two to your trip to stay here.
George Washington Bridge - Cross this famous bridge into New Jersey before jumping on the NJ Turnpike to take you all the way to Philly.
Philadelphia, Pennsylvania - Visit the Independence Hall, Liberty Bell or Philadelphia Museum of Art. This city has so much to offer and would be a perfect overnight stop.
First State National Historical Park - See this park in Wilmington, Delaware, as the first state in the US and learn about early colonial history.
Baltimore, Maryland - This harbor city has much to offer. Visit the waterfront, the Fort McHenry National Monument and Historic Shrine, and the National Aquarium, or enjoy fabulous seafood at the historic seaport.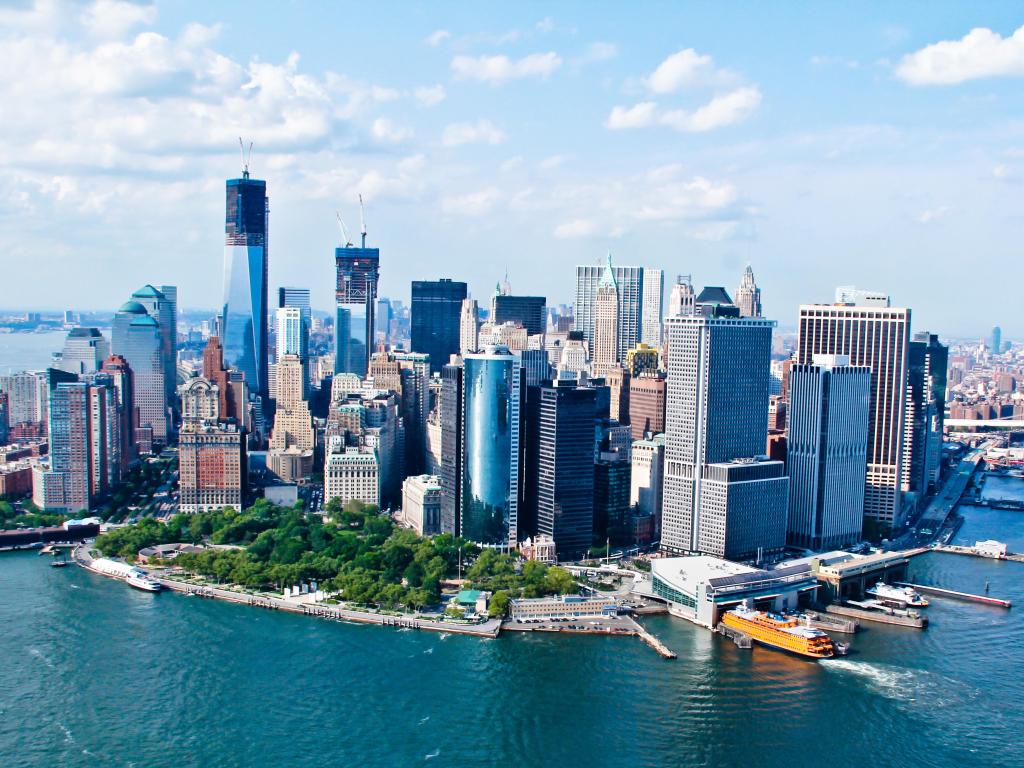 Western Route
Hartford, Connecticut - Visit the Mark Twain Museum, Elizabeth Park (the oldest municipal rose garden in the US), the Riverfront Plaza, or the Science Center.
Danbury Railway Museum - Located in Danbury CT, take a ride on a restored historical train and explore the railway museum.
Walkway Over the Hudson State Historic Park - Drive north to this scenic walkway over the Hudson on a pedestrian bridge built in 1889. Then drive over the Mid-Hudson Bridge, a beautiful suspension bridge.
Delaware Gap National Recreation Area - Stop near Milford, PA and see Hackers Falls or Raymondkill Falls on the Delaware River. Keep driving down Federal Rd to explore the Delaware Gap National Recreation Area.
Hershey, Pennsylvania - Stop in Hershey to see Hershey's Chocolate World or play at Hershey Park or Hershey Gardens amusement parks. See the historic town where Hershey's chocolate was invented!
Gettysburg National Military Park - See the Gettysburg Battlefield and Museum near Gettysburg PA. There are so many Civil War historical sites in this area, take time to explore as much as you wish.
Cunningham Falls State Park - Explore a lake and waterfall near this mountainous region and state park. The adjacent Catoctin Mountain Park has many options for hiking to stretch your legs as well.
Direct Route and Scenic Route
Worcester, Massachusetts - Worcester has many attractions that could make for a leisurely stop including dining at the Crompton Collective or visiting the Art Museum.
Washington, DC - The National Mall has it all! You can also visit Arlington across the river, or head out to the Smithsonian Air and Space Museum.
Fredericksburg, Virginia - Known for colonial history and home to 4 battleground parks, you can see live re-enactments of the civil war battles and tour historic plantations like Chatham Manor or the Mary Washington House.
Colonial Williamsburg, Virginia - Visit the 300-acre living history museum at Colonial Williamsburg. Walk along the streets and immerse yourself in 18th-century culture and architecture as if you were actually in colonial America.
Richmond, Virginia - Richmond is known for its Revolutionary War history and as the home of Jefferson Davis during the Civil War. History and war history buffs would love a stopover at one of the many museums here.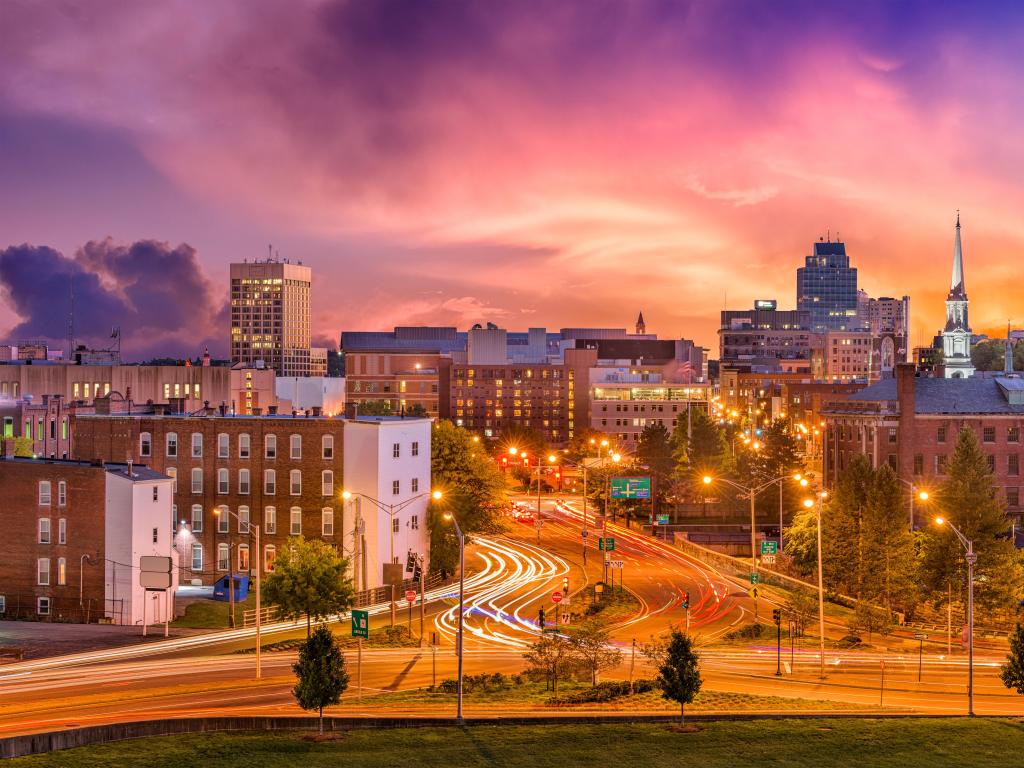 Scenic Route
Melrose Caverns Near Harrisonburg - Tour these historic caves that were used as a sheltering location for Union soldiers during the Civil War.
Shenandoah National Park - Although not on the main route, a short drive east would lead you into Shenandoah, where the Appalachian Trail follows the ridge line north to south. Jump on the Blue Ridge Parkway here (see below) to head south or keep heading west for the more scenic stop listed below.
Island Ford Cave - A quick stop along Highway 60 is this cave where you can park and explore.
George Washington and Jefferson National Forest - Drive down I-64 through this national forest and enjoy all the scenic views. Stop for a picture or a quick hike if you need to stretch your legs.
New River Gorge National Park: Sandstone Falls Recreation Area - Where I-64 crosses the whitewater New River and deep canyon gorge, there are many beautiful scenic spots to stop and explore in the National Park Service's newest National Park.
Bluestone State Park - Stop along Highway 20 as you travel south for scenic overlooks of Bluestone Lake along New River.
North Scenic Highway - You can either stay on Highway 77 South or jump over to the parallel N Scenic Highway which takes you from West Virginia into Virginia and south following Wolf Creek.
South Scenic Highway - Stay on the S Scenic Highway for a small detour through the scenic mountains and eventually back to Highway 77 near Wytheville.
Big Walker Lookout - Stop at this quaint country store and climb the viewing tower for panoramas of mountain peaks in the surrounding 5 states.
Blue Ridge Parkway - Feel free to take a detour on the Blue Ridge Parkway for as long as you want, then head back to the route south to continue onto Raleigh. The Blue Ridge Parkway won't take you south, but the detour is worth it for the picturesque scenery.
Pilot Mountain State Park - One more scenic stopover at this iconic towering mountain before heading into the city of Winston-Salem, almost to Raleigh.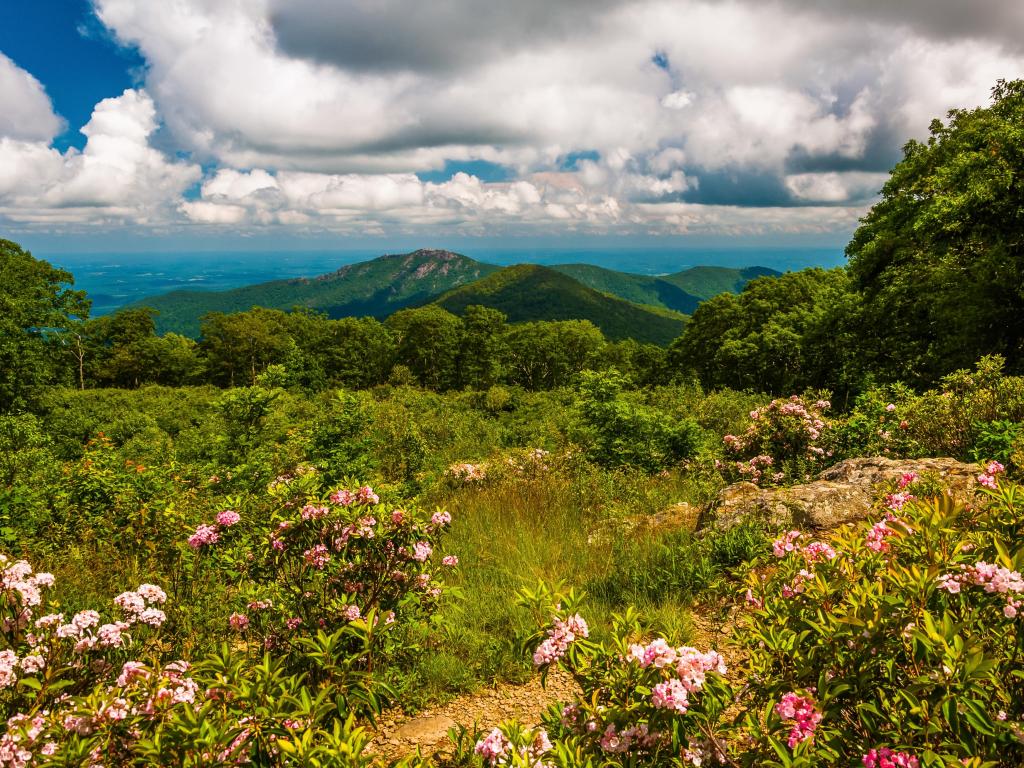 Best time to go on a road trip from Boston to Raleigh
Raleigh itself is a year-round destination, but if you're taking a road trip all the way from New England, you'll have a different experience depending on the time of year you travel.
We wouldn't recommend taking this trip in winter, as you're likely to encounter winter snow and potentially harsh weather delays. Raleigh has high temperatures of 50 degrees Fahrenheit during the winter but often freezes overnight.
In contrast, temperatures typically reach the high 80 degrees Fahrenheit in the summer. It can be humid in July and August though, so we'd suggest late spring or early fall as better times to travel.
If you travel in the spring, you could catch the Cherry Blossom Festival in Washington DC in March - watch out for large crowds visiting to see the trees in bloom.
With temperatures at this time of year ranging from the 60s to 70s, the mild weather allows for great outdoor recreation options.
If you're taking the Western Route or the Scenic Detour watch out for extra traffic through the fall as there are some foliage hot spots along the way.
You can also time a fall trip to reach Raleigh for the Bluegrass Festival in late September or early October. The largest free urban bluegrass festival in the world would be a buzzing way to end your long drive for sure.
With so much to offer on a road trip, and mild weather for much of the year, you're sure to be able to enjoy the many outdoor attractions along the route in style.