Road Trip from Boston to Toronto
For an epic drive taking you across the US to Canada, passing some of the best cities as well as culture-rich towns, the road trip from Boston to Toronto is a great adventure. Along the way, you'll encounter stunning scenery including natural parks, beaches and plenty of attractions.
The 600-mile road trip from Boston to Toronto takes 11 hours to drive. Key stops include Syracuse, Rochester, Buffalo, Albany and Kingston, plus Niagara Falls, Saratoga Springs, Green Mountain National Forest, Catskill Mountains and Lake Ontario.
To help you plan your drive, we've set out the best routes and places to stop overnight, as well as our favorite things to see and the best time of year to make this epic trip.
How far is Toronto from Boston, and how long will the road trip take?
Comparison of road trip routes between Boston and Toronto

| Route | Distance | Driving Time |
| --- | --- | --- |
| The Lake Ontario Route | 600 miles | 11 hours |
| The New York State Route | 700 miles | 13 hours 30 minutes |
There are a couple of great route options between Boston and Toronto. The quickest of the two takes you around the north shores of Lake Ontario. Covering 600 miles and taking 11 hours to complete, this isn't the most direct route to Toronto, but it offers fantastic scenery.
A slightly longer route that takes you through more New York state cities, including Rochester and Buffalo, spans a distance of 700 miles and will take closer to 13 hours and 30 minutes to drive without stopping.
Given the distance, even on our quickest route, you'll need to put aside at least two to three days to complete this road trip. The extra days will give you opportunities to explore the landscape, cities and towns along the way and include a couple of great overnight stops.
Regardless of which route you decide to follow, you'll need to cross the border from the US into Canada. Therefore, it's important to check ahead of travelling that you have the correct documentation and proof of identification in order to have a smooth journey.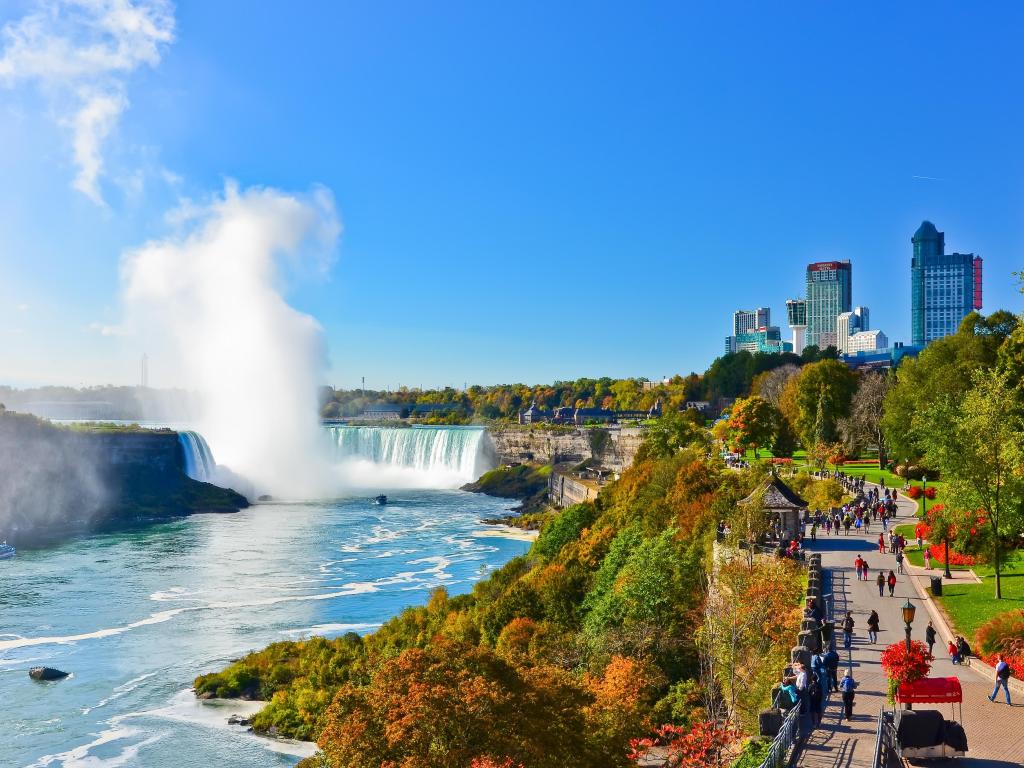 Best road trip route from Boston to Toronto
The best trip from Boston to Toronto will largely depend on what kind of scenery you'd like to enjoy along the way. If you're keen to explore the history and culture of New York State, then our longer of the two routes will suit you best.
Taking you through vibrant cities, both big and small in the US and Canada, the New York State Route offers a wealth of museums and cultural centres along the way, as well as stunning natural parks, wildlife spits and the stunning Catskill Mountains.
If you'd prefer a quiet route with more rugged scenery and quaint towns, then our Lake Ontario Route might be preferable. This option is also the quickest of the two, so if you're looking to fit a trip into a long weekend then this could be ideal for you.
As well as several great cities, including Springfield and Albany, this route also has the added bonus of passing through Buffalo and taking in the spectacular Niagara Falls - a great option if the falls are yet to be ticked off your bucket list. You'll also get to enjoy driving beside the shore of the stunning Lake Ontario.
The New York State Route
To follow the New York State Route, you'll need to leave Boston on Interstate 90 (I-90) heading west. Continue on the interstate past Auburn and to Sturbridge, where you'll take Exit 78 and merge onto I-84.
Follow this road to Exit 54 where you'll head into Hartford for your first major city stop. After taking in the city's great historical attractions, you'll need to continue on I-84 to Exit 39 and then take CT-4 West.
Follow this road to Torrington, before taking CT-63 and then CT-126. Next take US-7 and US-44 across into New York State. From here take NY-199 West before taking US-209 at Kingston.
Merge onto NY-28 and follow this road as it winds around the Catskill Mountains, through the Big Indian Wilderness and eventually onto State Route 55 West. Continue before taking NY-52 past the town of Liberty.
Next turn right onto NY-17B to Callicoon where you can stop to explore Upper Delaware Scenic and Recreational River. Afterwards, continue on NY-17 West past several towns before rejoining I-86.
At Binghamton take I-81 North through Whitney Point and Marathon to Exit 18 where you'll head into Syracuse, a great point for an overnight stop.
Once ready, resume your drive by taking Exit 25A and joining I-90 West. Take Exit 45 and I-490 West into Rochester, another great city in the state of New York.
Keep on I-490 West before taking the exit for I-90 all the way to Exit 51W for Buffalo. This is another great city to stop the night as you're surrounded by Lake Erie, fantastic city amenities and you're also close to the falls.
Next, take I-190 North and cross the border into Canada, from here the road will become Queen Elizabeth Way to ON-420 East as you drive past Niagara Falls.
Continue on the Queen Elizabeth Way as you drive alongside Lake Ontario and towards Burlington, making a short detour to also visit the city of Hamilton.
Merge onto ON-403 East to Oakville, before continuing on the Queen Elizabeth Way. Follow the signs for Toronto until you finally reach your destination, passing through Mississauga along the way.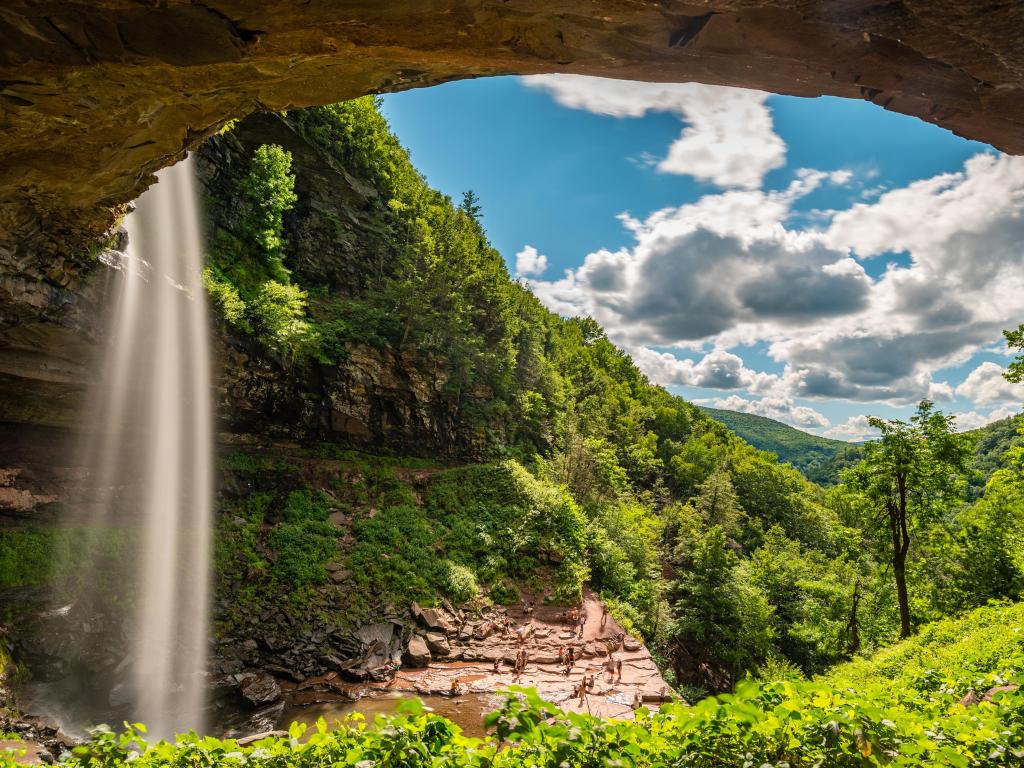 Lake Ontario Route
Our alternative route will see you leave Boston on I-93 before taking I-90 West through several towns. Take Exit 51 for I-291 all the way to Springfield.
After taking in this city, head towards Exit 1A-2A before reaching Exit 11 and rejoining I-90 west. You could stop at Stockbridge for a detour to Mt. Washington State Forest, or simply continue on the interstate as you cross into New York.
Keep heading west until you reach exit B1, then continue on I-90 West for a short retrench before taking the exit to visit Albany. Afterwards, take I-787 North to Exit 9W and merge onto NY-7 west before joining I-87 North.
Follow this road past Saratoga Lake to Exit 14, where you can follow NY-9P to Saratoga Springs and visit its nearby park for beautiful scenery. After take NY-29 West to Johnstown, before passing Lassellsville State Forest and Adirondack State Park on Co Rd 119.
Merge back onto NY-29 West before taking NY-28 North to Barneveld. From here take NY-12 north through several more forests. At Lowville take State Route 26, passing a few towns, and eventually to NY-37 East, NY-411 and then I-81.
Continue north as you cross onto Wellesley Island and cross into Canada, merging onto ON-137 North. Stop here to explore Thousand Islands National Park, before joining ON-401 West.
Follow this road until Exit 619 which will take you into Kingston, an ideal overnight stop to really enjoy the stunning scenery of this part of Canada.
Continue back on ON-401 West as you drive through several towns and alongside the shore of Lake Ontario, stopping along the way to enjoy the beautiful views.
You can take a short detour from the main route to visit Oshawa, before reaching Exit 375 to merge onto the Don Valley Parkway south which will take you to your destination of Toronto.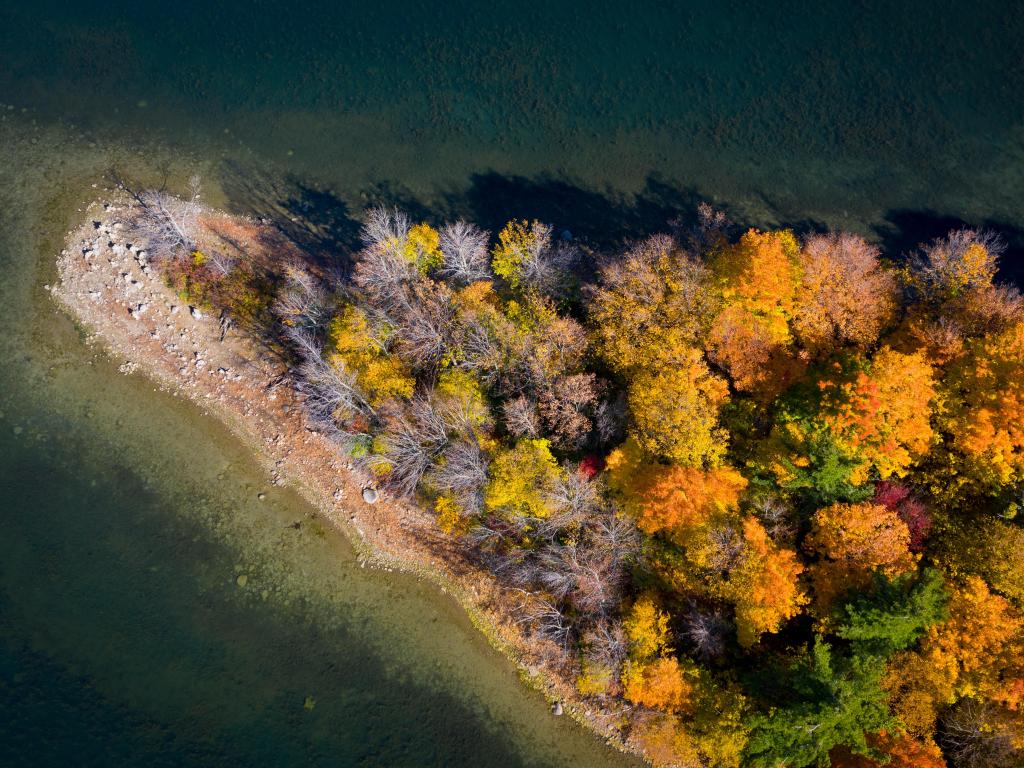 Best places to stop between Boston and Toronto
The distance between Boston and Toronto is simply too long to attempt this road trip in a single day. Given the number of stunning attractions you'll pass along the way, it's much better to plan a couple of overnight stops to make the drive more manageable and to get more from your trip.
Of all the beautiful hotels you'll pass on both routes, here are some of our favorite places to stop at:
Lake views at Syracuse
Conveniently located halfway between your start and end point, Syracuse on the New York State Route is an absolutely ideal city. Not only is it situated halfway, meaning you can comfortably split your trip over two days, but this vibrant city is also a great place to explore.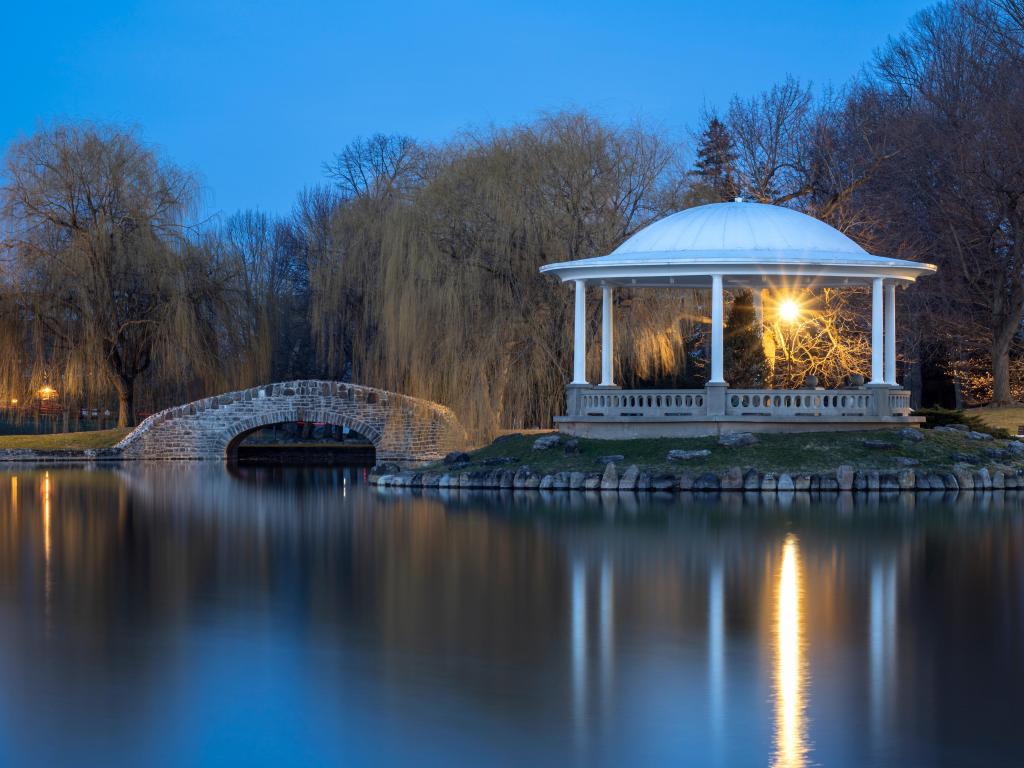 Combining the metropolitan bustle of Downtown Syracuse, and the stunning natural beauty of the city's surroundings, with lots of outdoor adventures on offer, this small city packs a punch.
Just some of the great attractions you could visit while staying locally is the Niagara Mohawk Building, an art deco architectural landmark built to be a "cathedral of light". There's also the Everson Museum of Art for those road trippers who love cultural attractions.
If instead, you prefer the great outdoors, then you can enjoy a walk around Onondaga Lake Park, which has seven miles of greenway with waterfront spaces and parks or visit Chittenango Falls State Park with its hiking trails and a 167-foot waterfall.
After all the exploring, an ideal base to relax and recharge is the Aloft Syracuse Inner Harbor. This chic and stylish hotel has an indoor swimming pool and an onsite bar and restaurant, making it a convenient hotel for those looking to unwind after a long drive.
There's also free parking available and you're perfectly placed to explore the city's main attractions, including Downtown Syracuse. The best bit is that you'll wake up and enjoy stunning views of Onondaga Lake - does it get much better than that?
Explore the islands at Kingston
If you've decided to spread your road trip over two to three days, then a great overnight stop on our Lake Ontario Route is in Kingston, Ontario. Just three hours' drive from Toronto, this city makes a great final resting point before tackling your final stretch of the journey.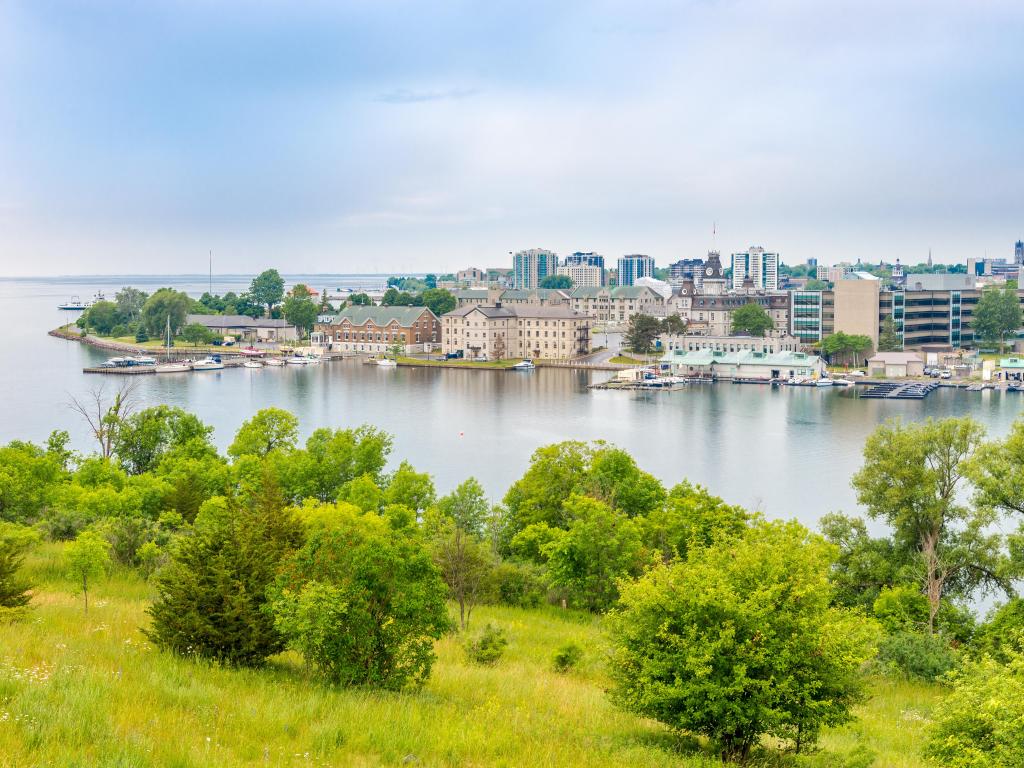 Not only is this a great city, but Kingston is also the perfect place to explore the Thousand Islands and Prince Edward County, both of which are known for their stunning landscapes, views and incredible wildlife. If you're looking for a final nature boost, then this stop is a must!
Nicknamed the "Limestone City" because of its historic limestone buildings, Kingston is a small city with a vibrant culture and entertainment industry and lots of tourist activities.
After exploring the stunning nearby islands and lush green lands of Prince Edward County, there's Fort Henry, a historic British military and UNESCO World Heritage Site to visit. For those looking for a great hike, you can also follow the Kingston Waterfront Trail which covers 8km of ground.
For a little luxury after a couple of days on the road, a great option is the Four Points by Sheraton Kingston. This fabulous 4-star hotel is located in the centre of Kingston and features an onsite bar, restaurant, indoor pool and hot tub - ideal for soaking those tired feet.
Given that you're in the heart of Downtown Kingston, you can enjoy leaving your car behind and exploring on foot all the great nearby bars, shops and cultural sites. You're also just a five-minute walk from the Thousand Island cruise boats.
Stay in the heart of Toronto
Once you reach the capital of the province of Ontario, Toronto, you will be spoilt for choice of things to do. This beautiful city features stunning skyscrapers, dwarfed by the iconic CN Tower, lush green spaces and overlooks the shores of the epic Lake Ontario.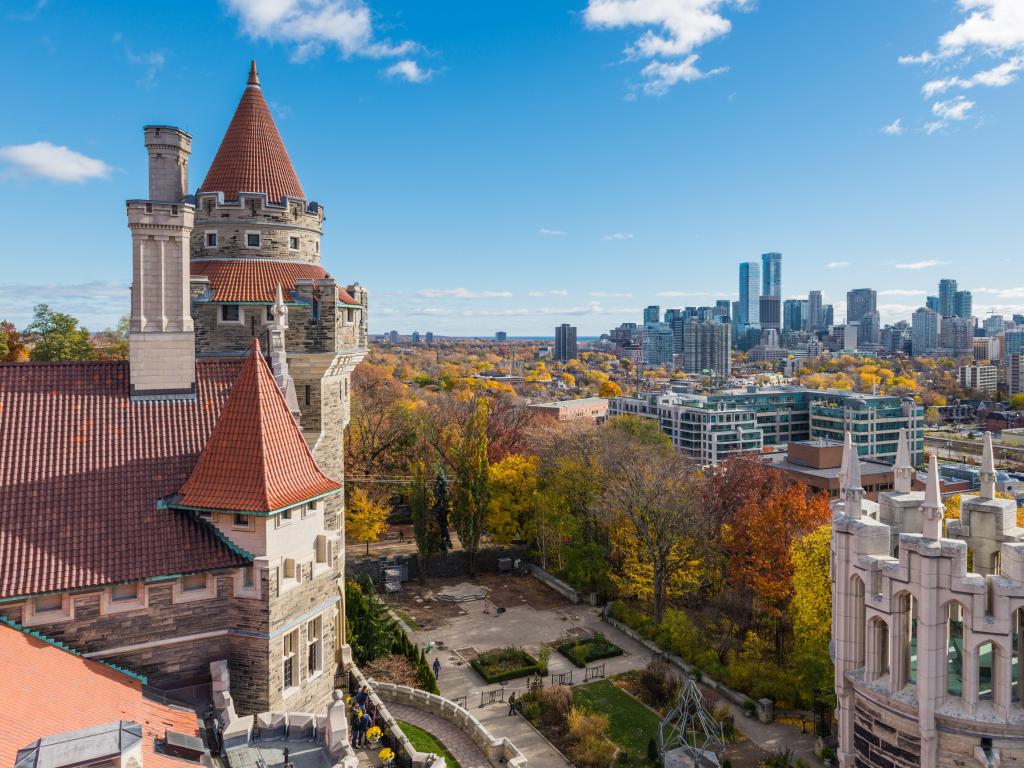 Famous for its bustling streets, ethnic and cultural diversity and world-class sports teams, Toronto is packed full of exciting attractions, fun festivals and adventure at every turn.
To really get to know this great city, an ideal hotel is the One King West Hotel and Residence. This fabulous 4-star hotel is located in the heart of the city and features private parking, a bar and restaurant and stylish, modern rooms.
The historic hotel, built in 1914, perfectly blends the old with modern elegance. If you can pull yourself away from its beautiful decor, you'll find you're just a short walk to the beach, St. Lawrence Market and the Hockey Hall of Fame.
Things to see on a road trip from Boston to Toronto
This great road trip takes you from Boston in the US, all the way to Toronto in Canada, passing an exciting range of attractions, fantastic scenery and outdoor adventure opportunities.
To help you decide what you'd like to visit along the way, we've included some of the highlights that you'll pass:
The New York State Route
Hartford, Connecticut - The capital of Connecticut, this great city is home to the Mark Twain House & Museum as well as great eateries and beautiful parks to visit.
Onondaga Lake Park - Eight-mile greenway with four walking trails, year-round events, waterfront picnics and skate and dog parks.
Rosamond Gifford Zoo - Home to more than 700 animals representing 216 different species, including many of which are endangered.
Big Indian Wilderness - Explore this parkland for great hiking trails, camping or wildlife spotting. It's also a great place if you like winter sports.
Catskill Mountains - This area is known for its rich wildlife and hiking trails. It's also a popular skiing destination and offers stunning views, waterfalls and scenic vistas.
The Strong National Museum of Play - An interactive, collections-based museum featuring the world's largest collections of toys and games.
Artisan Works - An old factory with a floor-to-ceiling collection of art, from paintings, prints and sculptures to taxidermy.
Genesee Valley Park - 534 acres combining water and wooded terrains, with lots of recreational activities.
Syracuse, New York - An ideal city for those who love indoor and outdoor attractions, stop here for a visit to the Onondaga Lake Park or the Everyone Museum of Art.
Buffalo and Erie County Botanical Gardens - National historic site featuring a unique collection of plants and fish, where visitors can find great peace and harmony.
Niagara Falls - Group of three waterfalls spanning the US-Canada border, the highest flow rate of any waterfall in North America.
Hamilton, Ontario - This Canadian port city has a strong industrial heritage. For those looking for an urban city, Hamilton is a great destination. Discover a vibrant art scene and bustling downtown, combined with access to beautiful nature trails and parks nearby.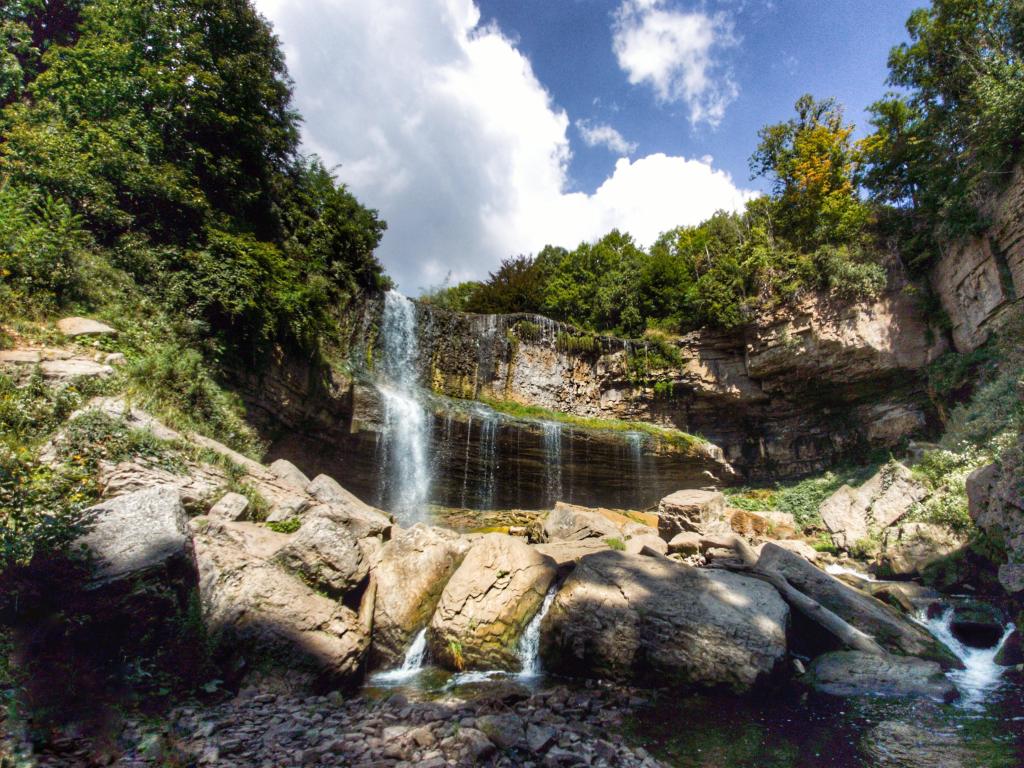 The Lake Ontario Route
Springfield, Maine - Situated alongside the Connecticut River, Springfield offers great attractions sick as the Naismith Memorial Basketball Hall of Fame and the Springfield Museums which feature paintings and sculptures, as well as scientific exhibits.
Albany, New York - The capital city of New York, Albany is a great city to visit if you're interested in history, culture and architecture. The city is also home to plenty of art galleries and a lively atmosphere.
The Palace Theater, Albany - Built in 1931, this historic cultural and entertainment venue with space for an audience of 2,800, and is the largest theater in Northern New York State and New England
Cohoes Fall - Second largest waterfall in New York State, located on Mohawk River, and measuring up to 90 feet high.
Green Mountain National Forest - 400,000 acres of diverse landscapes, with over 2,000 archaeological and historic sites and lots of outdoor activities from hiking to skiing.
Dr. Seuss Museum - A gallery, sculpture garden and museum devoted to the rich works of Dr Seuss and his beloved characters.
Naismith Basketball Hall of Fame - American history museum featuring a complete library of basketball, proudly located in the city it was invented.
Saratoga Spa State Park - State Park renowned for its classical architecture, mineral springs and touristic attractions.
Kingston, Ontario - An ideal stopping point to visit nearby Thousand Islands and Prince Edward County, Kingston is also a fabulous city to explore offering a vibrant culture and entertainment industry and plenty of tourist attractions.
Thousand Islands - Archipelago of 1,864 islands on the US-Canada border, hosting a range of recreational activities in nature, e.g. hiking, kayaking, biking and more.
Prince Edward County - A lush green island famed for its laidback atmosphere, a popular holiday getaway for Canadian residents.
Parkwood National Historic Site - A historic mansion and extraordinary setting in Oshawa, combines Georgian and art deco architectural features.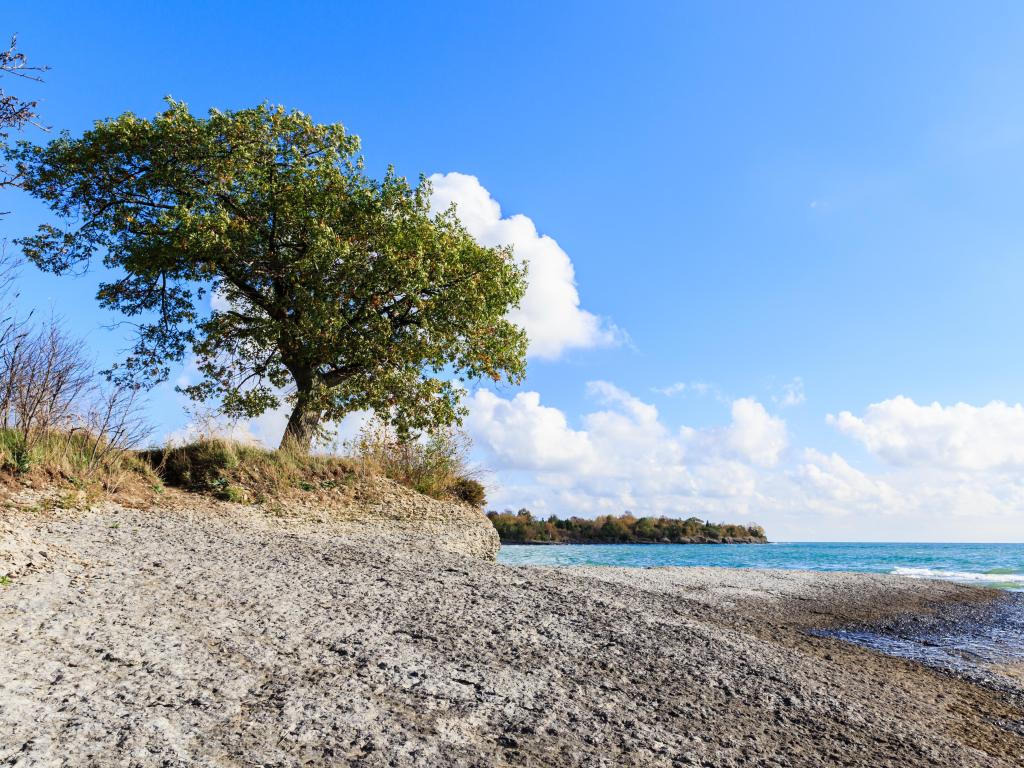 Best time to go on a road trip from Boston to Toronto
While you can plan a trip from Boston to Toronto all year round, the best time will definitely depend on what you'd like to get out of the trip. Given that both Boston and Toronto can experience very cold weather, for example, you may discount winter unless you're looking to ski.
The summer months between June and August are the best time to visit Toronto, despite the large crowds. During this time, the atmosphere in the cities will be at its best and warm temperatures between 68-95 degrees Fahrenheit mean you'll get to enjoy the beaches along the way.
In contrast, winters in Toronto are very cold, ranging from 15 to 30 degrees. While this makes it a good choice for those looking to ski or enjoy other snow sports, it is not such a good time for visiting the country's stunning natural parks, beaches and other outdoor landscapes.
Spring is the best time to come for wildlife watching, meanwhile as the ice melts the region comes alive with flowers. The weather is mild, without the humidity of the summer months of July and April, and cheaper deals are available outside of the school holiday dates.
Another great option is to visit during the fall. You'll get gorgeous foliage in the parks before arriving in Toronto at the perfect time to view the changing leaves.
If crowds and higher hotel rates don't put you off, a great option is to plan your visit around a festival. Luckily Toronto has plenty, including the Toronto Jazz Festival in summer, The Toronto Light Festival in winter and the Canadian Music Week in spring. There's something for everyone!