Road Trip from Brisbane to Melbourne
The journey from Brisbane to Melbourne uncovers two different sides of Australia. You can drive along the sandy coastline with its pristine beaches and sparkling water, or head inland and follow in the footsteps of early European settlers to discover the vast landscape dotted with small towns.
The 2,030 km road trip from Brisbane to Melbourne takes 24 hours to drive. On the way, you can stop at Byron Bay, Port Macquarie, Sydney, Port Jervis and Coffs Harbour, or detour inland to visit Toowoomba, Narrabri, Dubbo, Wagga-Wagga and Goondiwindi.
Whichever vibe you're looking for, it's a journey best explored by road trip - read on to learn about the best routes, places to stop and what to see along the way.
How far is Melbourne from Brisbane, and how long will the road trip take?
Comparison of road trip routes between Brisbane and Melbourne

| Route | Distance | Driving Time |
| --- | --- | --- |
| The Coastal Route | 2,030 km | 24 hours |
| The Inland Route | 1,680 km | 18 hours 40 minutes |
One of the most popular ways to do this road trip is to take the Coastal Route from Brisbane to Melbourne, which spans a distance of 2,030 km and takes 24 hours to drive.
This route is slower than the alternative but takes in some of Australia's best-known beaches and buzzing coastal towns and cities. However, if you are short on time it is possible to cut inland from Sydney via the Hume Highway, though you'll miss out on seeing Jervis Bay, Batemans Bay and Eden.
Alternatively, you can take the Inland Route which offers up a different side of Australia. This is a more direct option at 1,680 km long, which takes around 18 hours and 40 minutes to drive.
Whichever route you decide on, we recommend taking 10 days or so for this epic Australia trip so that you can soak up the landscape and enjoy the stops along the way.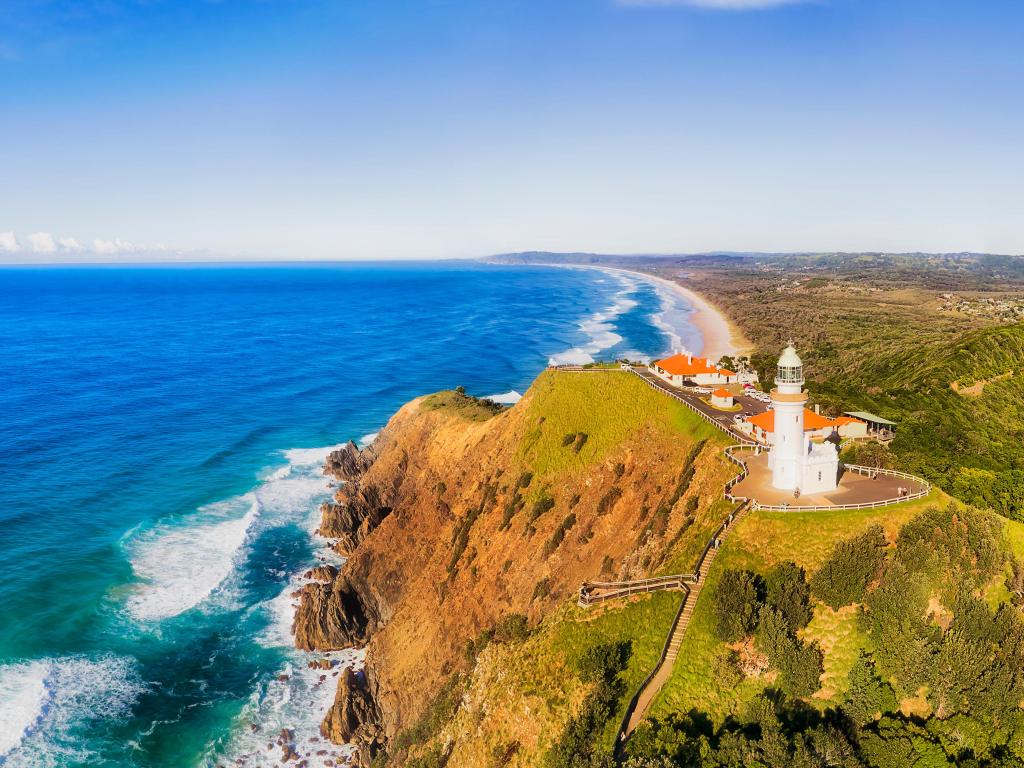 Best road trip route from Brisbane to Melbourne
Whichever route you take you'll be covering a considerable distance, so it's worth considering how you most want to spend your time on the road.
The Coastal Route is a well-trodden road trip, so you'll meet plenty of other travellers on the way. This route hugs the coastline almost all the way, so there is no shortage of stunning beaches and quaint coastal towns, dotted with lively cities like Newcastle and Sydney.
If you are short on time, it is possible to cut inland from Sydney via the Hume Highway, though you'll miss out on seeing Jervis Bay, Batemans Bay and Eden.
If you've already spent some time exploring the coast, then the Inland Route is a brilliant way to dig deeper into New South Wales. It takes you past national parks, some lesser-known inland cities, and countless small towns along the way.
However, it's worth keeping in mind that on this route there will be some fairly long stretches of driving where you won't find much to do.
The Coastal Route
Get on the M3 from Brisbane and continue on the M1 through the sunny Gold Coast - a great spot for surfing. Take the exit from M1 to Byron Bay.
Rejoin the M1 and follow it south, continuing onto the Pacific Highway/A1 which veers slightly inland. You'll hit the coast again at Woolgoolga, and from there it's a short drive to Coffs Harbour.
Rejoin the Pacific Highway to drive through Bongil Bongil National Park and take the exit for Port Macquarie. From here, head south on the same road until you see signs for Newcastle.
Take A15 out of Newcastle to join M1 heading south. Take the Pacific Hwy/A1 exit from M1 and merge onto the M2 to reach North Sydney. Take the A4/Bridge exit and take the Bradfield Highway to arrive in Sydney.
Follow A1 and M1 south and turn onto Forest Road to wind into the white sands of Jervis Bay. Retrace your drive to rejoin the A1 and follow it to the Old Princes Highway in Batemans Bay. Continue along the coast and wind inland on the A1 to rejoin the sea at Eden.
From Eden, take A1 south and turn onto C620 to Lucknow. Rejoin the A1 and take a brief detour via C105, before following the Princes Highway all the way to Melbourne.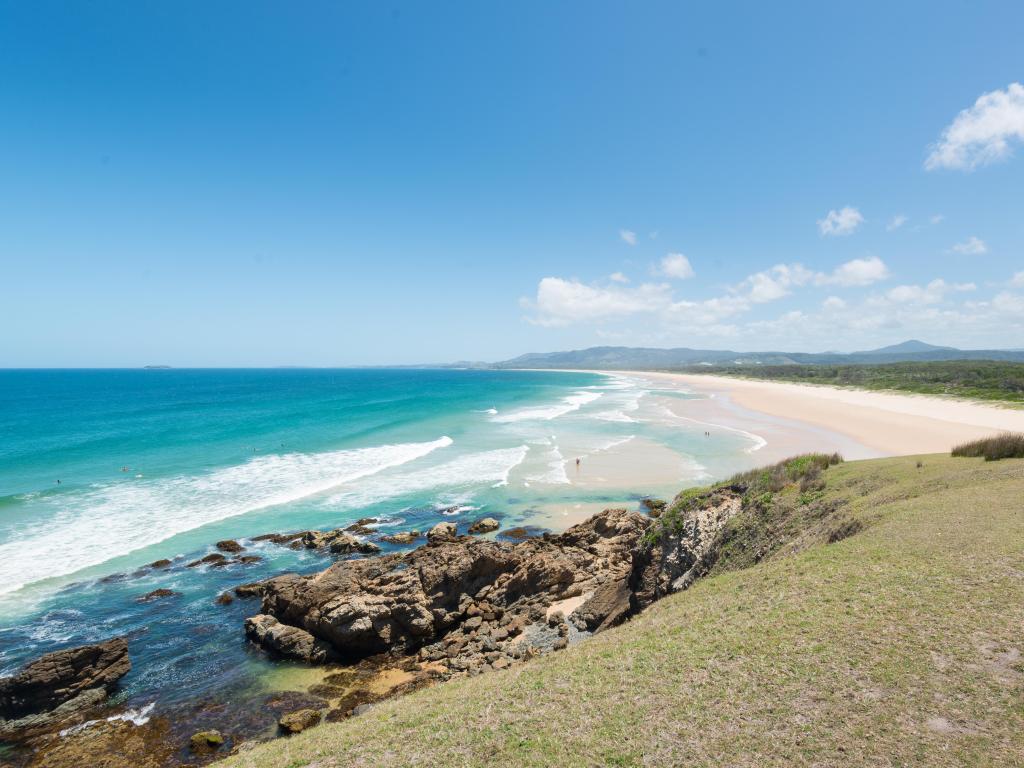 The Inland Route
Take M5 out of Brisbane and get on the Warrego Highway following signs to Toowoomba. Take A21 to arrive in Toowoomba City.
Follow State Route 85 as it becomes the A39 and follow this road south to enter New South Wales and reach Narrabri. Rejoin this road to head south through the Pilliga Nature Reserve, then turn onto Mendooran Road. Take Cobbora Road to reach B84, where you can take a break in the city of Dubbo.
Take A32 south to join B81 in Molong. Turn right to follow signs for Parkes and Forbes, then rejoin B81 and take A41 south. Exit A41 to follow signs for M31, with the option to take the exit for Wagga Wagga.
Rejoin M31 to arrive in Albury-Wodonga. Follow National Highway M31 to State Route 50 in West Melbourne and take exit 4 from M2. Continue on State route 50 and take Dudley Street and Queen Street to arrive in central Melbourne.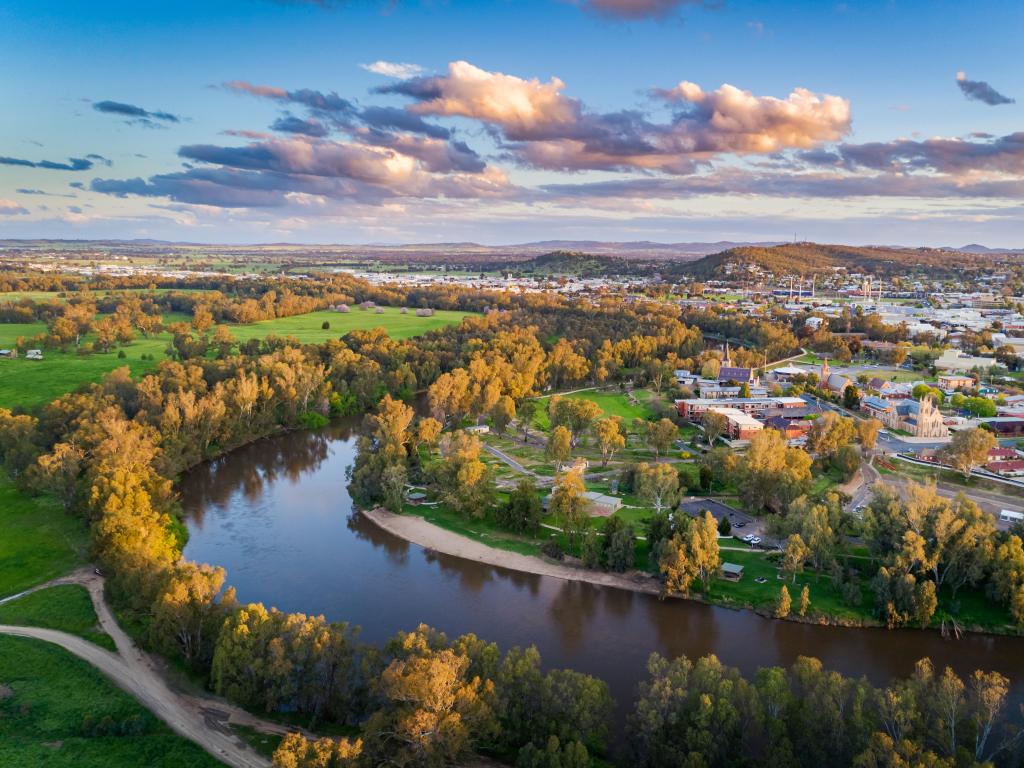 Best places to stop between Brisbane and Melbourne
Both routes are filled with breathtaking scenery and urban centres to explore, and you'll definitely want to make a few planned stops along the way - also leave yourself some free time to stop for incredible viewpoints and impromptu hikes!
We've chosen a few spots that are worth stopping at for a night or longer to soak up the atmosphere.
Be inspired by majestic sights in Sydney
Just under halfway along the Coastal Route, you'll arrive in Sydney, the iconic capital of New South Wales. Known for its sparkling harbour and glitzy skyline, the city is packed with things to see and do including beaches, museums and a fabulous food scene.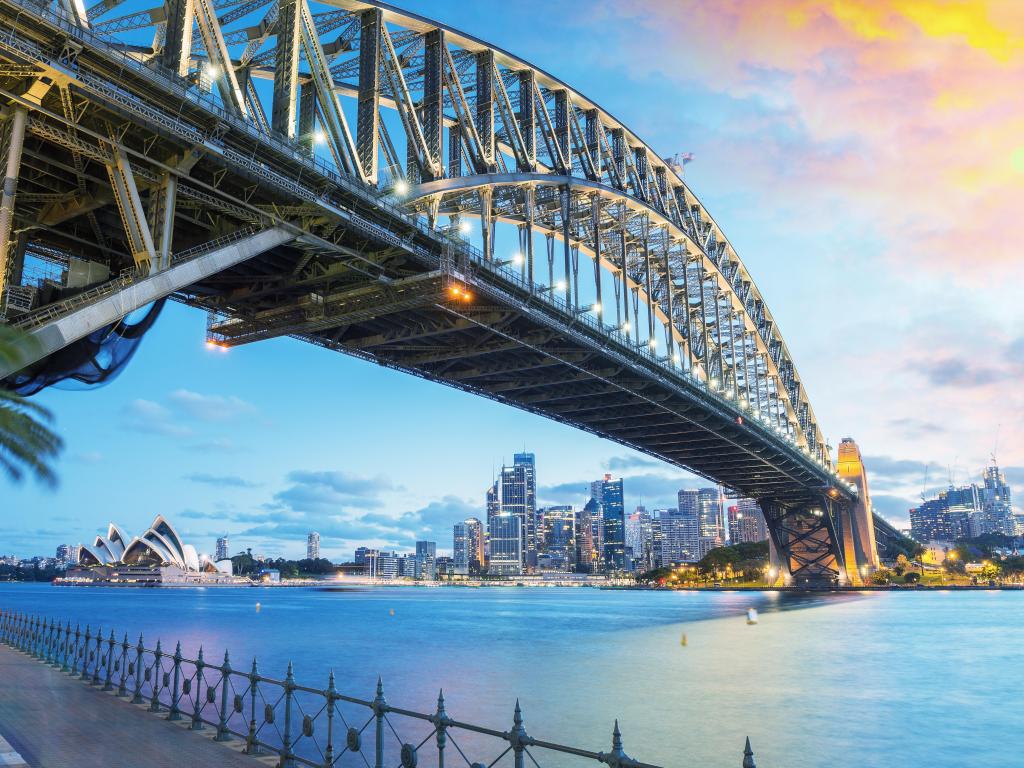 It's impossible to miss Sydney Harbour with its iconic architecture and beautiful outlook over the Opera House and Sydney Harbour Bridge - it's the perfect place to get a feel for the city and start your tour. From there, head to the Royal Botanical Gardens, an oasis of colour and calm with amazing views across the city.
Skip Manly Beach and head past it to Shelly Beach, which is tucked in its own small bay. The water here is calm and clear so that with just a mask and snorkel you can see amazing sea life just a stone's throw from the beach.
The Sebel Quay West Suites Sydney is a great base from which to explore everything going on in the city. Their contemporary rooms have spectacular views of Sydney Harbour Bridge and the Opera House, as does the on-site pool.
All rooms include a kitchenette so you can fix yourself breakfast before heading out to sightsee in this fascinating city before stopping by one of the amazing restaurants downtowns, or there is a fantastic on-site restaurant if you prefer to have a meal in the comfort of your own hotel.
The central location is the real selling point for these suites - you'll be within walking distance of lots of the main attractions, and just a few blocks from Circular Quay, where you can take a train or a ferry to visit other parts of the city.
Uncover the past in Dubbo
At the halfway point of the Inland Route, you'll reach Dubbo, one of the bigger cities along the journey. Situated on the Macquarie River, it offers plenty of interesting attractions including a famous zoo.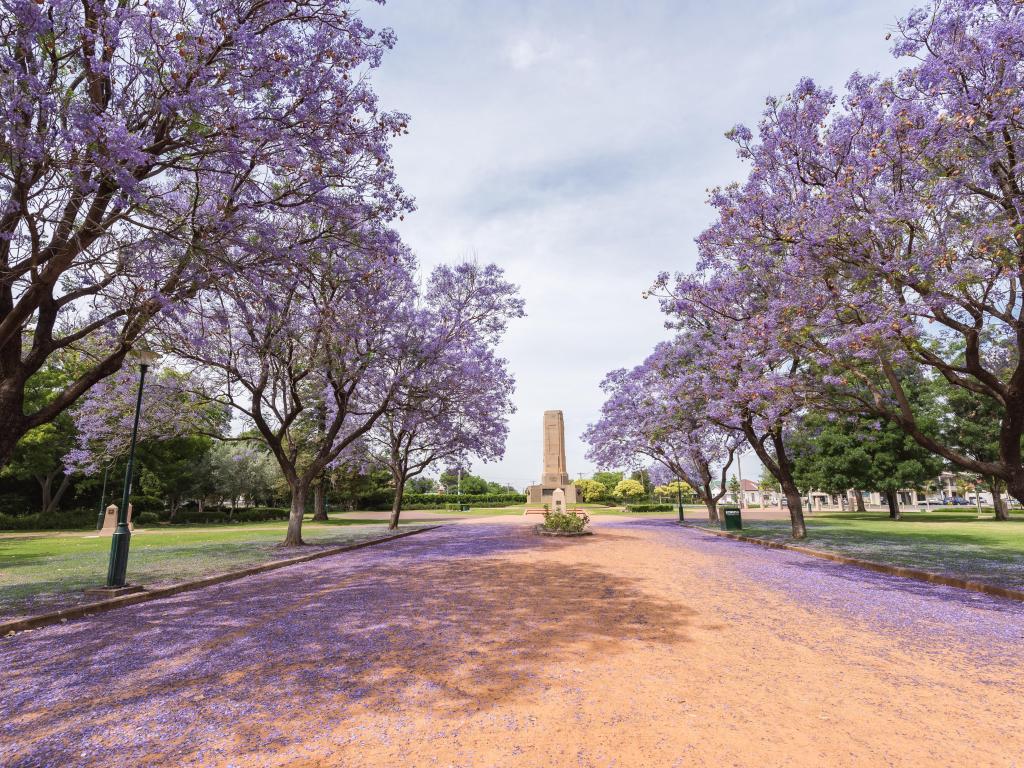 The Taronga Western Plains Zoo is a branch of the Taronga Zoo in Sydney with more space for its larger animals to breed. You'll find a pride of lions, a herd of elephants, rhinos, giraffes, zebras and tigers, all with plenty of space to roam at this large site.
To get a glimpse of what rural life was like here in the 1840s, visit Dundullimal Homestead or head to Dubbo Old Gaol where less law-abiding citizens of the town were detained. Executions even took place here until the early 1900s.
At certain times of day, you can meet characters who served out their time here and hear their stories, and there are ghost tours after dark.
The Macquarie River runs straight through the city, and there is a beautiful riverside trail that lets you enjoy views of the landscape on foot. It has plenty of places to stop and picnic along the way too.
In Dubbo, Orana Motel is a great option for an overnight stay - it has a swimming pool which is perfect for cooling down after a long day on the road. The rooms are spacious, and parking is free. It's located right by the highway, so is easy to navigate from the route and to hop back on the next day.
Where to stay when you reach Melbourne
Melbourne is the capital of Victoria, and packs a punch in terms of culture, music and artsy vibes as you can expect from a metropolitan city of its calibre.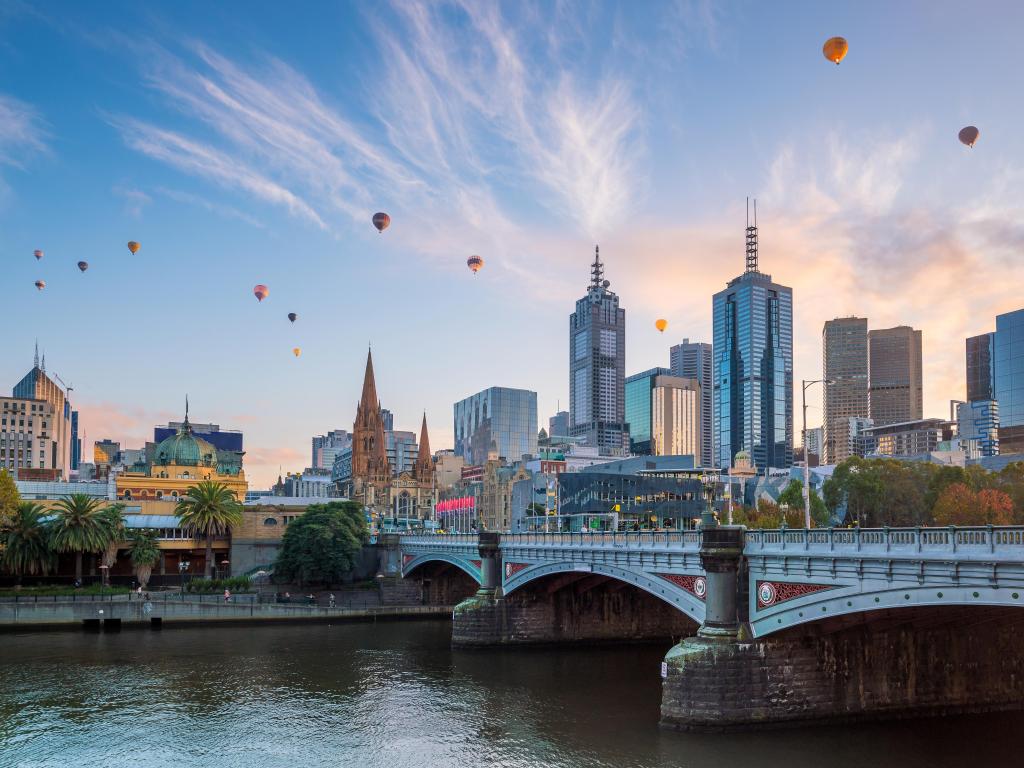 With so much to see and do, the Next Hotel Melbourne is a no-brainer for your stay. Like Melbourne itself, the hotel has a cool contemporary design with vintage touches, and some rooms have views right across the city.
It's located right in the heart of the city, just a short walk from the Yarra River and Fed Square, so you can step right out of your hotel into the action.
Alternatively, if you prefer to relax before setting off to explore Melbourne, there is an upscale restaurant on-site which serves delicious fare. It is quite popular, so make sure to make a reservation ahead.
Things to see on a road trip from Brisbane to Melbourne
This road trip winds through classic Australian scenery and stops at some of its most iconic towns and cities. If you're planning your route, we've chosen some of our favourite stops to consider making along the way.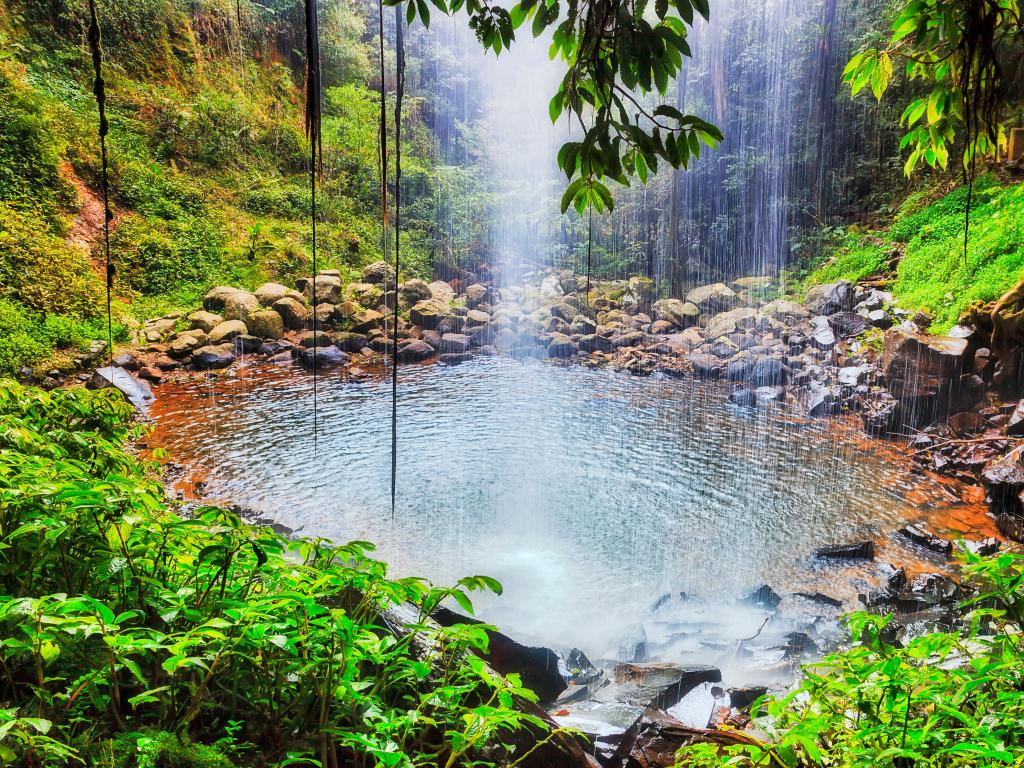 The Coastal Route
Byron Bay - Watch the sun come up on the beautiful beaches here before anywhere else in Australia, then enjoy swimming, surfing, or just relaxing in the bars of this unique and laid-back town.
Evans Head - For a break from the beach, check out the museum at the Memorial Aerodrome.
Bundjalung National Park - For sea views without the crowds, take a hike through this coastal national park, which includes areas of heathland as well as beaches. Right inside, the park you'll find 10 Mile beach, where you're sure to find a quiet patch of sand.
Coffs Harbour - This NSW town is known for the Big Banana, an iconic landmark attached to an amusement park. Head out of town to enjoy the sea views on one of the many waterfront trails.
Bundageree Rainforest Walk - Part of Bongil Bongil National Park, this enjoyable walk through the coastal rainforest isn't too taxing, so it makes for an easy break from the road.
Dorrigo National Park - Detour a few km inland along Waterfall Way to reach this national park, where you'll find Newell, Sherrard and Crystal Showers Falls as well as some fantastic hiking trails.
Nambucca Heads - Take a river cruise through this beautiful estuary area, where you can often find pods of dolphins, then head back into town to explore the independent cafes and displays by local artists.
Port Macquarie - Home to Billabong Zoo and the Koala Hospital, you can get your fix of adorable Aussie wildlife here before checking out another beautiful NSW beach.
Newcastle - Probably your last stop before you enter Sydney, make sure to spend some time at the beach before hitting the big city.
Sydney - With iconic views and a big-city buzz, Sydney is the perfect place to dust off the sand and recharge your batteries for a day or two.
Kiama - The Kiama Blowhole famously channels seawater up in an impressive spout on the edge of town.
Jervis Bay - Claiming the world's whitest sands, a walk by the ocean in Jervis Bay is peaceful and picturesque. You can also explore the nearby inlets and forests by kayak.
Batemans Bay - Follow Batemans Bay Snorkelling Trail to spot some of the coast's underwater inhabitants. The informative Batemans Bay Heritage Museum is a great place to learn about the region's Aboriginal cultures, as well as more recent European arrivals.
Eden - If you're travelling in winter or spring, this is a great place for whale watching. You can take a boat tour, and if you're really lucky you might even see whales or dolphins from land.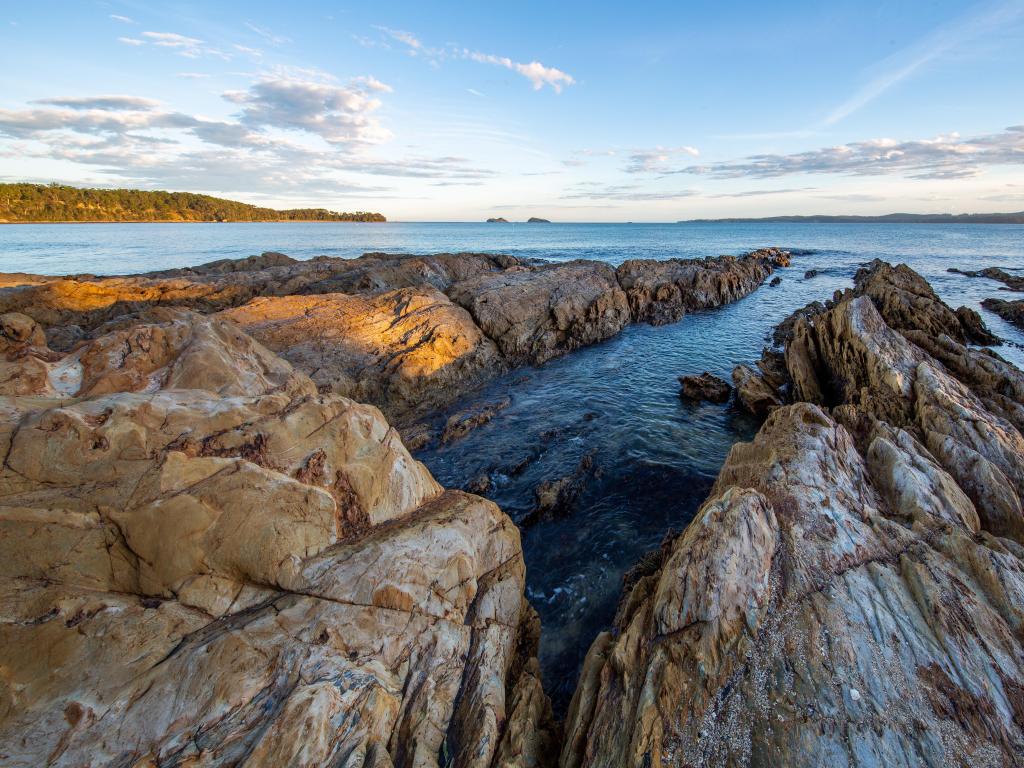 The Inland Route
Toowoomba - At 700m above sea level on the Great Dividing Range, inland Queensland's largest city is known for its beautiful parks and gardens and is surrounded by rolling hills.
Goondiwindi - Look out for the colourful array of native birds at the Botanic Gardens of the Western Woodlands, or visit the Customs House, which is heritage-listed, to get a feel for the history of this small town.
Moree - Stop here to enjoy a soak in relaxing hot spring water which is naturally heated underwater. Or, if you're looking for something more energetic, you can take a tour of the biggest pecan farm south of the equator.
Narrabri - Head out to nearby Mount Kaputar National Park where you'll get spectacular views from the summit or look to the skies at the CSIRO Telescope and observatory.
Coonabarabran - The country town of Coonabarabran is on the edge of Australia's first International Dark Sky Park, so it's the perfect place for stargazing. There are a number of observatories nearby if you want to get a closer look.
Dubbo - The main attraction here is Taronga Western Plains Zoo, but don't miss out on a visit to the Flying Doctor Centre or the chance to meet the ghosts at Old Dubbo Gaol.
Wagga-Wagga - There's something for everyone to enjoy at this fabulous town in NSW's Riverina. Catch a race at Murrumbidgee Turf Club, cool off with a dip at the town's river beach, head out for a bushwalk at nearby Livingstone National Park, or visit the National Art Glass Collection.
Shepparton - Take a slight detour off the route to tour some of the Goulburn Valley wineries or enjoy the local tipple with a meal while you're in Shepparton.
Albury-Wodonga - These twin cities, one in NSW and one in Victoria, face each other across the Murray River. You can visit the Murray Art Museum Albury, or follow the Yindyamarra Sculpture Trail to see indigenous art on display. Just outside the cities, Jindera Pioneer Museum gives a fascinating insight into life here in the past.
Bonegilla - For a taste of Australia's more recent history, visit Bonegilla Migrant Centre. Hundreds of thousands of post-war migrants began life in Australia, and you can learn about their stories here – tours run most mornings or you can make your own way around the buildings and exhibits.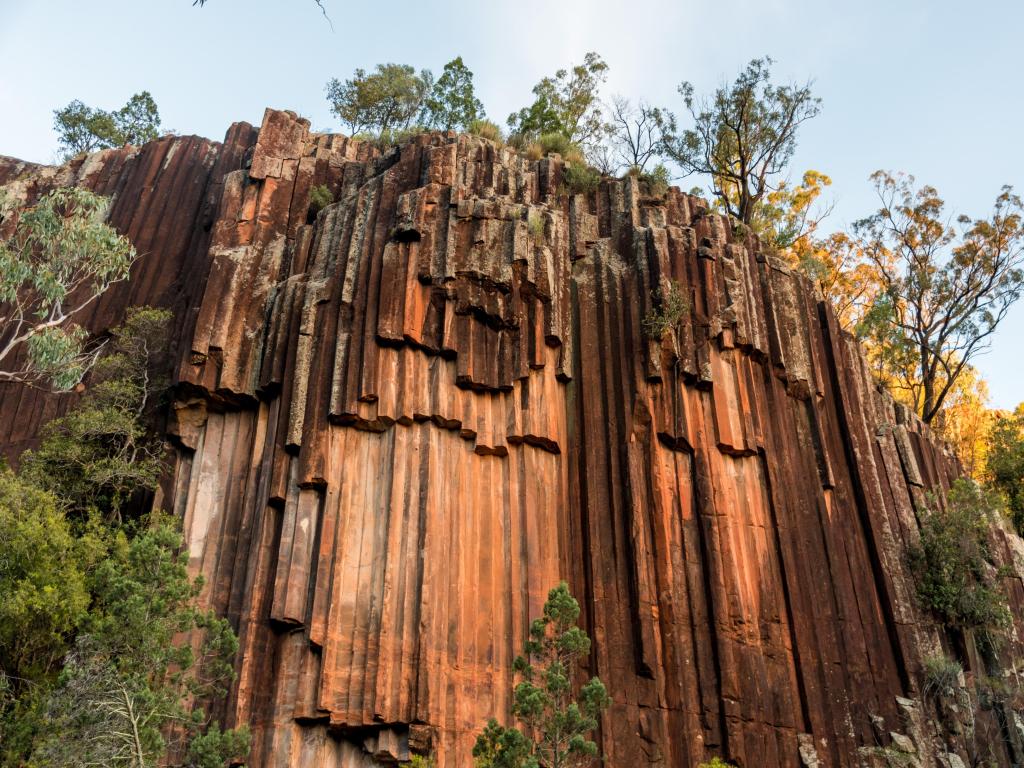 Best time to go on a road trip from Brisbane to Melbourne
Much of this route sees blue skies and sunshine all year round, but to enjoy the beaches of the Coastal Route at their best, October to April is your best bet.
The summer season is an extremely popular time to travel – and for good reason! With average temperatures reaching up to 30 degrees Celsius right along the coastal route (and often soaring much higher) it's the perfect weather to enjoy the beach.
Keep in mind that the ocean can remain chilly until high summer, and many places on the route may experience summer rain.
The inland route gets hotter, with average temperatures in the 30s and above in Dubbo, for example. Many travellers prefer to make long drives on this route outside of peak summer given the choice.
While winter isn't exactly cold on the coastal route – temperatures around 20 degrees in Byron Bay, 18 degrees in Sydney, and 14 degrees in Melbourne – it's still not likely to be warm enough to relax on the beach for long.
Winter also brings fog and rain to Melbourne, which is famous for its unpredictable weather. However, this is the best time of year to see the whales which travel along the Australian coastline. Temperatures will be similar on the inland route.
Crowds will be less in spring and fall, as long as you travel outside the January and late February school holidays. Prices are also likely to rise again during the school holidays.
Temperatures on the coast will sit around the mid-20s, creeping up to 30 degrees inland, though it will be cooler by the time you reach Melbourne.
There is plenty going on in Melbourne all year round, including the Australian Open and St Jerome's Laneway Festival in January – a massive music event that brings huge crowds to the city. In March, the city hosts the Australian Grand Prix, and the AFL Grand Final in September.
There is plenty of art and performance to see at the Melbourne Festival in October, while world-famous horse race the Melbourne Cup comes to town in November. If you're here for Christmas, however, you'll want to head to Sydney to catch the New Years Eve fireworks.