Road Trip from Brisbane to Uluru
If you're ready for a truly memorable Australian road trip, join us for this awesome adventure from Brisbane to Uluru. Whichever of our routes you choose, you will experience diverse landscapes with rugged coastline, mountain ranges, characterful towns, and beautiful beaches.
The 3,900-kilometre road trip from Brisbane to Uluru takes at least 43 hours. Highlights in the north include the Sunshine Coast, Carnarvon National Park, and Alice Springs, while the Gold Coast, Adelaide and Lake Gairdner are key stops in the south.
We've put together the most epic routes and must-see highlights, as well as suggesting the best times of the year to travel and where to spend one of your overnight stops. So, let's get going on this fantastic adventure from Brisbane all the way to Uluru.
How far is Uluru from Brisbane, and how long will the road trip take?
Comparison of road trip routes between Brisbane and Uluru

| Route | Distance | Driving Time |
| --- | --- | --- |
| Northern Route | 3,990km | 45 hours |
| Southern Route | 3,900km | 43 hours |
There's no escaping the fact that this is a long road trip! Both the routes we have devised are of similar length, with lots of great stops along the way to break up the kilometres.
The Northern Route covers 3,990 kilometres and has a drive-time of around 45 hours, non-stop. This route takes you up Queensland's beautiful Sunshine Coast before turning inland for the Northern Territory's Red Centre.
The slightly shorter option is the Southern Route, at 3,900 kilometres and 43 hours. This route takes you to the Gold Coast and through New South Wales, before heading north across South Australia.
Given the length of these routes, we would recommend taking at least seven days to enjoy this adventure. The minimum time needed to complete the trip would be about five days.
Best road trip route from Brisbane to Uluru
As both our routes offer a little of everything, the best route is likely to come down to personal preference. Whichever you choose, you will enjoy spectacular scenery and a chance to experience the sheer vastness of Australia.
If a highlight of the trip would be the chance to explore the Sunshine Coast, then our Northern Route is the best option. This route also takes you through "cattle country" and to Alice Springs, the heart of Australia's Red Centre. While this is our longer route, if you are short of time, avoiding the detour to Carnarvon National Park would reduce the driving time by about five hours.
Alternatively, the Southern Route takes in Queensland's stunning Gold Coast and the vibrant city of Adelaide. You also get to enjoy the landscape of New South Wales before heading to Uluru in the Red Centre. Other highlights include Lake Gairdner National Park and the wine towns of Mudgee and Red Cliffs.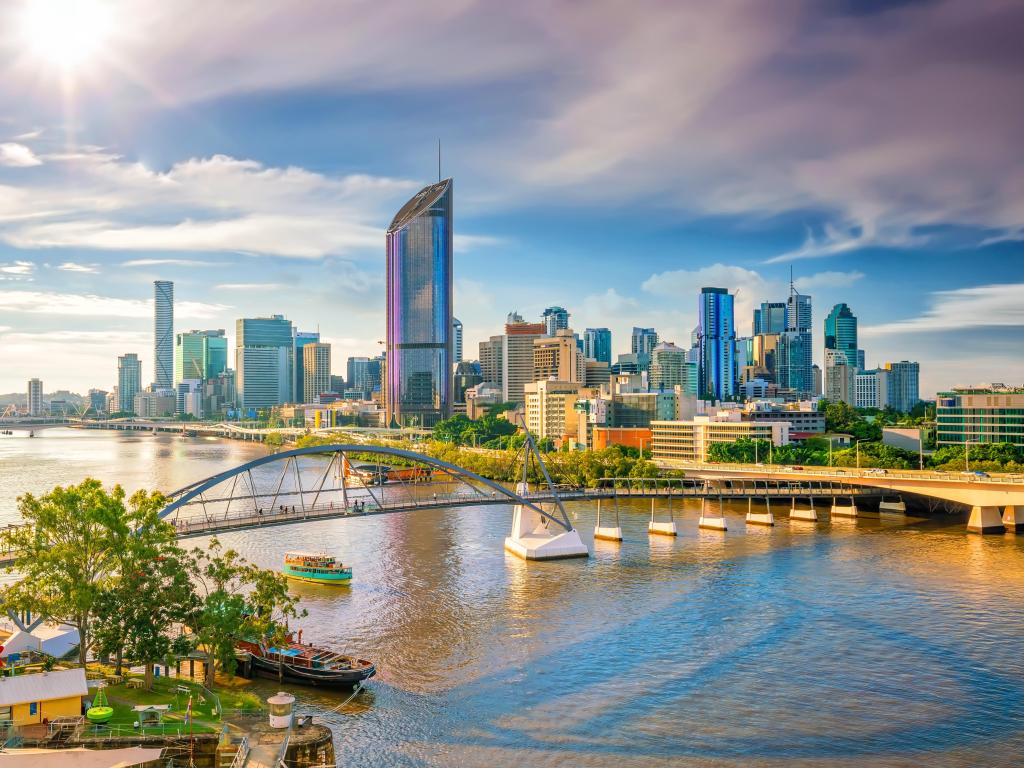 How to drive from Brisbane to Uluru
The map above shows our suggestions for the best road trip routes between Brisbane to Uluru. Keep reading for detailed descriptions of both routes, where to stay on either one, and the best things to do on the way.
The Northern Route
Head north from Brisbane towards the Sunshine Coast. When you've finished enjoying the beaches and maybe a visit to Great Sandy National Park, head for the M1 and continue north through Queensland. Just past the town of Chatsworth, take a left and drive west for Barakula State Forest.
Leave the state forest and join the A2. At the town of Roma, head north for Mount Moffatt, Carnarvon Gorge and Carnarvon National Park. If you wish to reduce the length of the trip, you can also just stay on the A2.
If you take the detour to Carnarvon National Park, rejoin the A2 and continue north. At Barcaldine, turn left for Longreach. From here, pick up A2 once more and cross into the Northern Territory. When you reach the crossroads at Wurumungu, turn left for Tennant Creek and drive south to Alice Springs in the Red Centre.
Take State Route 6 out of Alice Springs for Kings Canyon. From here, continue south on State Route 3 and then head for State Route 4 for the final stretch of the journey to Uluru.
The Southern Route
For this route, head south from Brisbane to the Gold Coast. Cross into New South Wales and continue on M1 past Byron Bay. Take the A1 and cross the Clarence River. At Tyndale, take B76. This will take you along the Clarence River and on to Guy Fawkes River National Park.
Continue south to the town of Mudgee and then on to Orange. From Orange, drive west for Red Cliffs, crossing into Victoria. When you've finished exploring the Red Cliffs region, continue west, crossing into South Australia. Keep heading west for the coast and the city of Adelaide.
From Adelaide, drive north to Port Pirie via A1 and A87 for Lake Gairdner National Park. From here, drive north on A87 through South Australia and into the Northern Territory. Continue north until you see the sign for Uluru and take a left for the final part of your journey.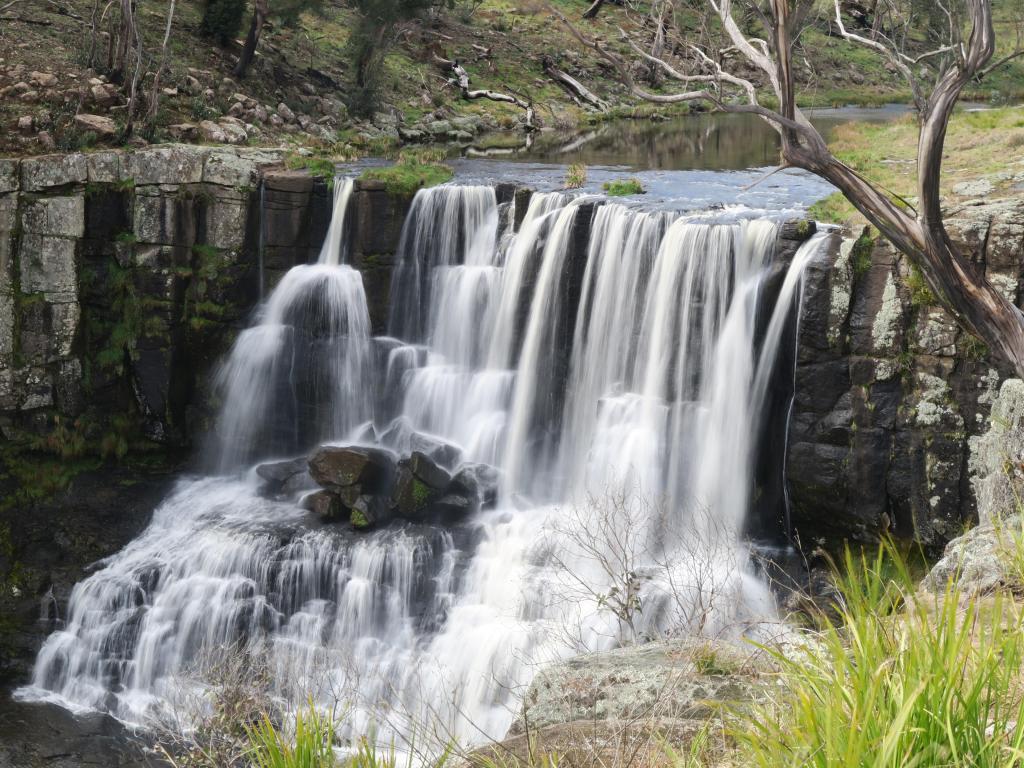 Best places to stop between Brisbane and Uluru
On a longer road trip like this, frequent breaks from driving are essential to keep you feeling fresh, energised and enjoying your time on the road.
Fortunately, both our routes feature fantastic options for overnight stops. We've chosen one on each route, plus a suggestion for a hotel once you reach Uluru.
Red Centre hospitality in Alice Springs
On our Northern Route, our choice for an overnight stop is the lovely town of Alice Springs in the Northern Territory. You'll reach Alice Springs just five hours before Uluru, making it a convenient final overnight stay on your journey.
Alice Springs is known as Australia's spiritual heart and it's the perfect place to discover the country's Red Centre. In fact, there are lots of amazing hiking trails in the surrounding area. Alice Springs Desert Park, Larapinta Trail and MacDonnell Ranges are all worth exploring.
It is also a great town for art-lovers, while everyone will enjoy a visit to the Kangaroo Sanctuary. Book ahead to take one of the late-afternoon guided tours of the 188-acre wildlife reserve (the residents are left to sleep undisturbed during the day!).
A wonderful choice for a hotel is the impressive Crowne Plaza Alice Springs Lasseters. The large and well-located hotel is a 15 minute-drive from Alice Springs Desert Park, but you could make use of the hotel's free parking and explore on foot. The renowned Olive Pink Botanic Garden is about a 20-minute walk away.
At the hotel, you can rest in one of the comfortable rooms, which feature art inspired by the region. The hotel also offers a welcoming pool, luxurious spa, and state-of-the-art fitness centre. Choose between the four on-site bars and three restaurants, one of which serves Outback-inspired fare.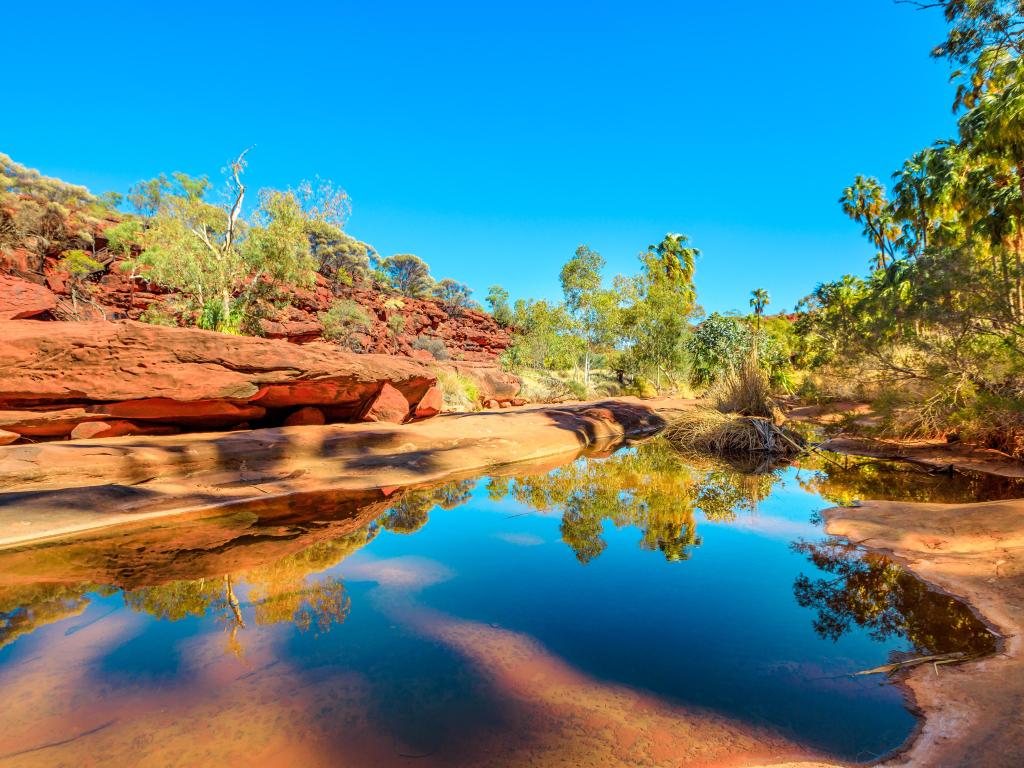 Modern elegance in Adelaide
Our recommended stop on the Southern Route is the coastal city of Adelaide in South Australia. You'll reach Adelaide with around 17 hours left of your road trip, depending on stops.
This cosmopolitan city on the banks of River Torrens is a bustling hub of arts, culture, and food and drink. There is a wide array of museums, cultural centres, and nightlife. You can also take a dolphin-watching cruise or check out the fresh local produce at the Adelaide Central Market.
While you're here, you might also like to visit the Art Gallery of South Australia or enjoy some time at Glenelg Beach, with its white sand, turquoise water, boutiques, and eateries.
Our favourite hotel in the city is the stylish and modern Pullman Adelaide. Located at the heart of the city, the hotel is a convenient base for sightseeing. The Adelaide Oval and bustling Rundle Street are within a 15-minute walk.
Overlooking the beautifully kept gardens of Hindmarsh Square, the hotel offers al-fresco dining in the on-site restaurant and bar. You can also swim in the lap pool. The comfortable guest rooms are well-equipped and offer city or garden views.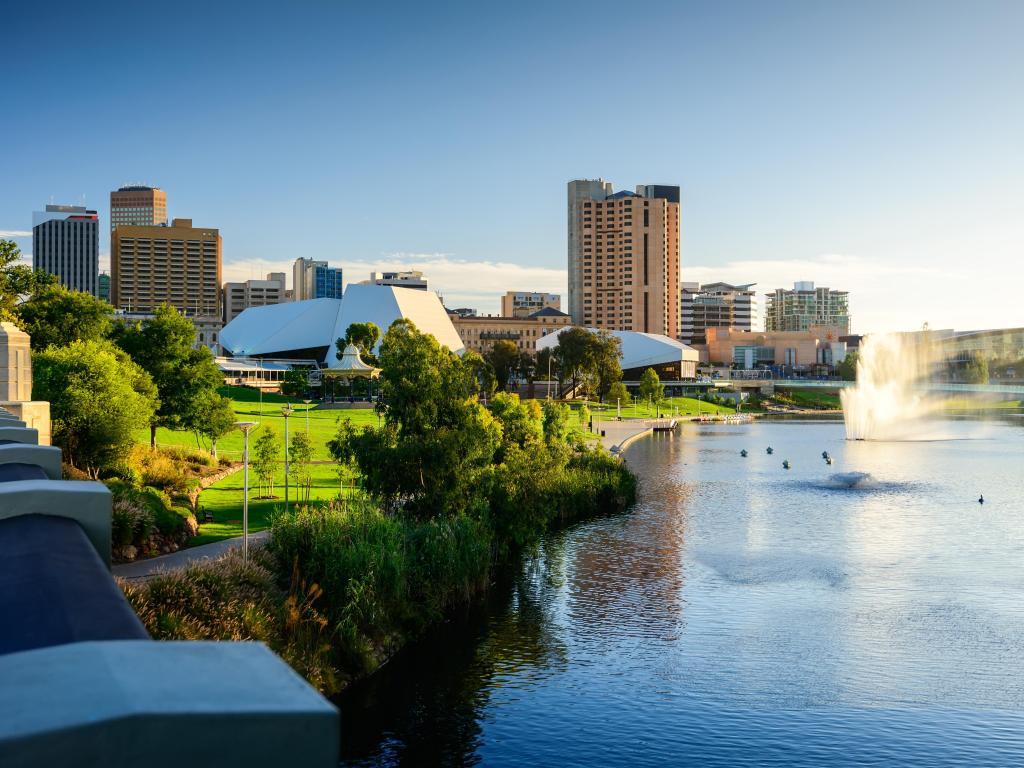 A desert oasis near Uluru
Once you reach your destination, relax at the excellent Desert Gardens Hotel, which is just 20 minutes from Uluru. You can take a welcome dip in the outdoor pool or explore the beautifully maintained native gardens.
Some of the elegant, well-appointed rooms feature private balconies or views of Uluru. The hotel also has a bar and restaurant on-site, which will be convenient after a full day of driving or exploring the local area.
Walk, or use the hotel's handy free shuttle bus, to the neighbouring Ayers Rock Resort and Resort Town Square, where you can find cafés, shops, tours, lookouts, and a spa: everything you need to make your Uluru stay luxurious and fun.
Things to see on a road trip from Brisbane to Uluru
There are plenty of highlights on both our routes. We've picked out a selection of our favourites, so you can plan the perfect itinerary for your epic Aussie road trip.
The Northern Route
Sunshine Coast - Home to prime surfing spots, coastal cities, and rural hinterland, the popular Sunshine Coast stretches from near Brisbane to the Great Sandy National Park. Spend time enjoying the white sandy beaches and turquoise waters.
Great Sandy National Park - There is so much to do in this stunning national park. Go four-wheel driving on sandy dunes, hike through rainforest remnants, and marvel at the towering cliffs and rainbow sands.
Barakula State Forest - Famed for its wildflower meadows and cypress pines, this state forest is the largest in the southern hemisphere.
Roma - Roma is situated in the heart of sheep and cattle grazing areas and is home to the largest store cattle market in Australia. Stop here to enjoy a taste of the relaxed Outback lifestyle.
Mount Moffatt - Situated in Carnarvon National Park, Mount Moffatt features sculpted sandstone outcrops and stunning scenic views from Queensland's highest plateau. There are also several Aboriginal rock art sites.
Carnarvon Gorge, Carnarvon National Park - Hidden away in Queensland's rugged ranges, Carnarvon Gorge is a display of towering sandstone cliffs, rainbow rock sides, and Aboriginal rock art.
Australian Stockman's Hall of Fame - Located in Longreach, this museum showcases the history and culture of rural life in Australia. Longreach has its own unique and interesting history, from Aboriginal heritage to activism.
Winton - Winton is the dinosaur capital of Australia, and home of the unofficial Australian anthem, "Waltzing Matilda".
Mount Isa - Take a break from the road to explore the pretty lake shores and gorges or to hunt for fossils.
Tablelands - In the heart of cattle country, you can enjoy the vast green grasslands that extend out towards Tennant Creek.
Davenport Ranges - This national park displays the living culture of the traditional owners, the Alyawarr, Wakaya, Kaytete and Warumungu. A magnet for four-wheel drivers, it is also a great spot for swimming.
West MacDonnell National Park - At this lovely national park, you can hike through 161 kilometres of scenic Outback beauty, which is home to many plant and animal species.
Mount Zeil - The Northern Territory's tallest mountain towers 1,500 metres above sea level. The summit boasts spectacular views across Australia's Red Centre.
Kings Canyon - Popular with hikers, the diverse landscape includes red cliffs, desert scenery, and lush vegetation. The area also attracts an abundance of native birds.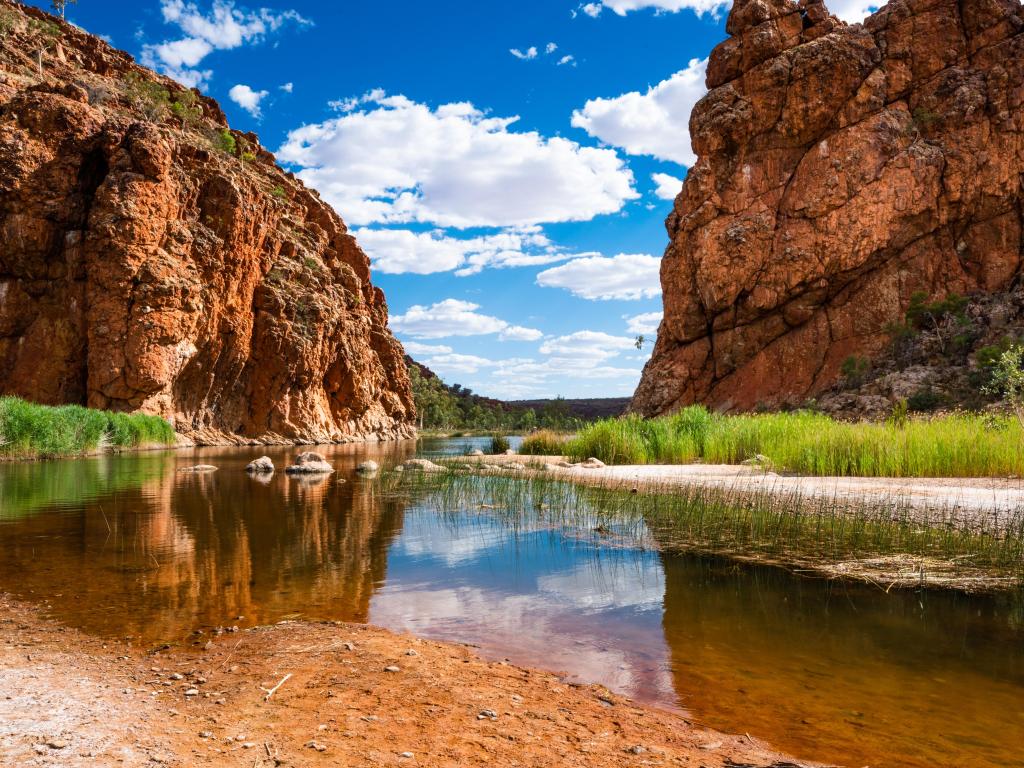 The Southern Route
Gold Coast - Head to one of Australia's premier holiday destinations for world-class surfing, pristine beaches, and theme parks, along with fantastic shopping and buzzing nightlife.
Springbrook National Park - The park boasts six magnificent waterfalls, lush rainforest, and ancient trees. It also features an abundance of wildlife, including the elusive songbird Albert's Lyrebird, as well as monitor lizards, pythons, and tree frogs.
Kingscliff, NSW - Home to the annual Australian Longboard Surfing Open, this beautiful sandy beach also boasts restaurants offering delicious produce and great views.
Byron Bay - Known for its iconic lighthouse, Byron Bay is Australia's most easterly point. The coastal region boasts stunning beaches, fantastic surf, and vibrant scuba diving sites.
Broadwater National Park - This national park features coastal rainforests, swamps, and fragrant eucalyptus forests that provide refuge to many species of migratory birds. Visitors can hike, swim, camp, and canoe.
Guy Fawkes River National Park - Explore this wild paradise, popular for bushwalking, birdwatching, canoeing, and swimming. This national park is also home to some impressive waterfalls.
Mudgee - A quaint 19th century town boasting a flourishing food and drink scene, Mudgee is well worth a stop. One of Australia's great wine towns, it features numerous wineries that line the banks of the beautiful Cudgegong River.
Orange - Orange is well established as a food and wine destination, boasting impressive vineyards, fine dining restaurants, and delectable local produce.
Yanga Lake - Enjoy a tranquil stop on the banks of Yanga Lake. This is a popular spot for fishing and birdwatching, but also a great place to stretch your legs as you make your way through the Murrumbidgee Valley.
Red Cliffs - Taking its name from the neighbouring Mallee Cliffs, this town is famous for its cultivation of grapes and citrus. It's also home to some outstanding vineyards and wineries.
Port Pirie - Located on the shores of Spencer Gulf, this historic seaport has a rich industrial history and some lovely heritage buildings, all set against the backdrop of the southern Flinders Ranges.
Mount Remarkable National Park - This wild national park features a dramatic landscape of red cliffs, gorges, mountain ranges, and valleys.
Port Augusta - We recommend a stop at this small city, where you can explore Australian Arid Lands Botanic Garden and Wadlata Outback Centre.
Lake Gairdner National Park - The country's third largest salt lake, Lake Gairdner is a stunning site, surrounded by red sandy hills.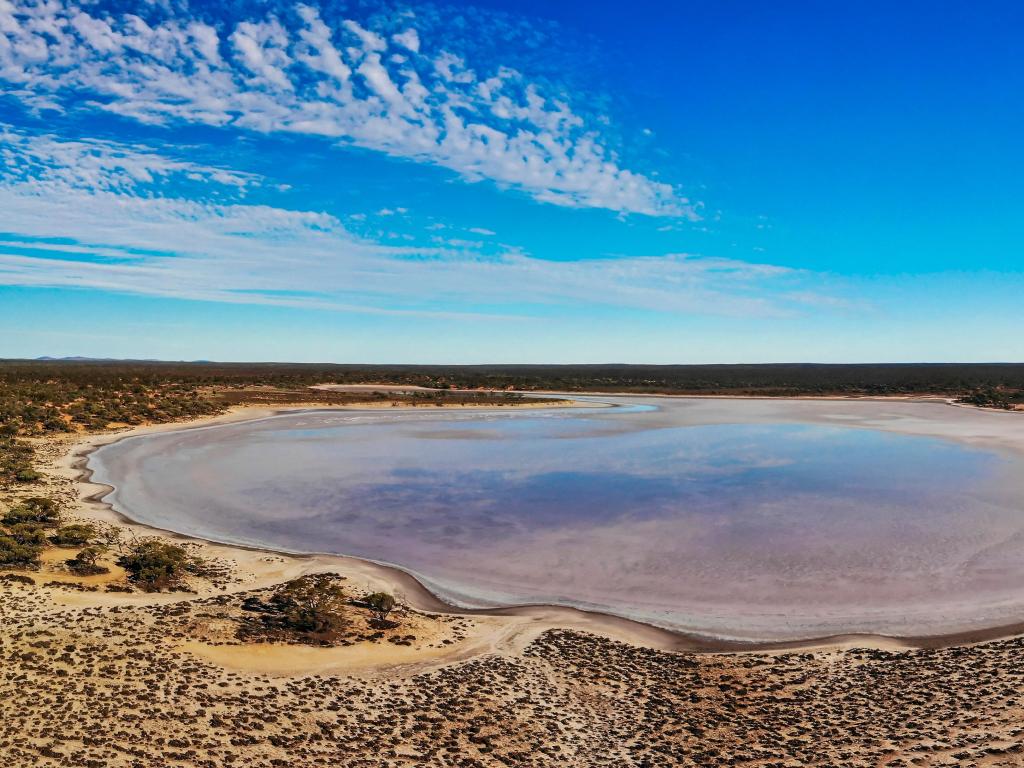 Best time to go on a road trip from Brisbane to Uluru
Uluru-Kata Tjuta National Park is open to visitors all year round. Winter is a great time to visit Uluru, with temperatures around 30 degrees Celsius and fewer flies compared with the summer months. Night-time temperatures can fall to zero degrees.
During the summer, temperatures can reach close to 40 degrees Celsius, with the risk of rain and storms. Whilst the thought of rain might put you off at first, be aware that rain fills the waterholes and triggers Uluru's waterfalls. This spectacular sight is truly something special to behold!
Spring and autumn are also great times to visit Uluru, with reliably dry conditions and daily highs of around 30 degrees Celsius. There are fewer visitors during these seasons and, importantly, hiking trails remain open.
You might want to visit Uluru in April to enjoy the Tjungu Festival: a celebration of Indigenous culture featuring film, art, music, food, and sport.
Alternatively, for a really unique experience, time your trip so you can visit Uluru on the last weekend in May for the Uluru Camel Cup Race. There is a fabulous range of activities spread across this weekend of festivities, with the race itself taking place on Saturday.