Road Trip from California to New Jersey
If you are looking for a cross-country road trip that covers desert landscapes, pretty coastlines, vast plains, bustling cities, bucket-list sites, world-famous national parks and historic landmarks, then this unforgettable adventure from California to New Jersey is the road trip for you!
The 2,915-mile road trip from California to New Jersey will take 43 hours of nonstop driving, passing Las Vegas, Moab, Denver, Chicago, Pittsburgh, Flagstaff, Albuquerque, Santa Fe, Oklahoma City, Memphis, Nashville, Washington and Philadelphia.
Take an epic journey from California to New Jersey and you will visit some of the most memorable and iconic sites in America. You are sure to have many tales to tell once you complete this amazing trip, so keep reading to see all the adventures you can have along the way.
How far is New Jersey from California, and how long will the road trip take?
Comparison of road trip routes between California and New Jersey

| Route | Distance | Driving Time |
| --- | --- | --- |
| The Northern Route | 2,915 miles | 43 hours |
| The Southern Route | 2,960 miles | 44 hours |
If you take the challenge of heading from California to New Jersey, you are in for an epic treat! One option, the Northern Route, sees you traveling 2,915 miles and driving for around 43 hours without any detours.
Alternatively, you can take the Southern Route, a slightly longer journey covering 2,960 miles with a non-stop drive time of 44 hours.
This is one memorable journey from California to New Jersey, and to soak up all the wonderful sights and explore what both routes have to offer, we recommend dedicating at least 7-8 days to this road trip.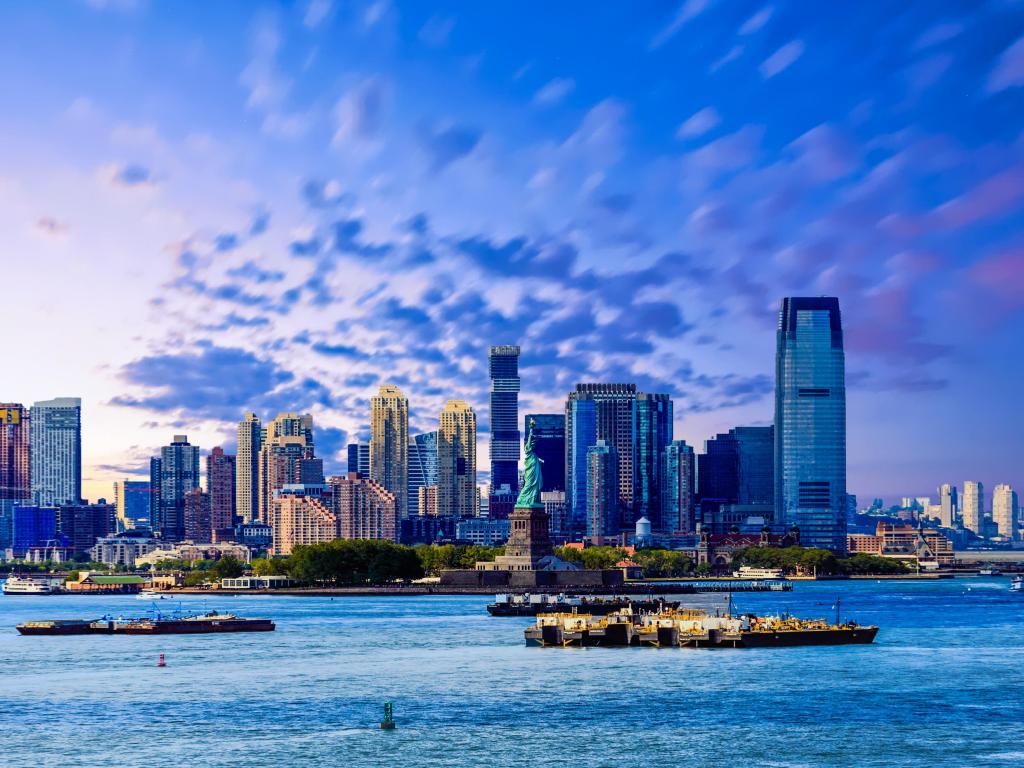 Best road trip route from California to New Jersey
While both routes promise a journey bursting with natural attractions, amazing scenery and bucket-list experiences, your decision will depend on the kind of backdrop you prefer for your drive.
The Northern Route takes you past the glitz and glam of Las Vegas to the stunning red rocks of Moab. You can enjoy the plains of the Midwest, the urban vibes of Chicago, and breathtaking views at Dead Horse Point near Moab.
The route also features the spectacular vista from Lookout Mountain in Golden, Colorado, where on a clear day, the Rocky Mountains' snowy peaks can be seen.
If you want to get a closer look, reserve a ticket to visit Rocky Mountain National Park because there is a timed entry permit system in place.
The Southern Route takes you on a musical and historic journey. Just a short drive from Flagstaff, Walnut Canyon National Monument has stunning views of ancient cliff dwellings, with Island Trail or Rim Trail giving you the very best canyon views.
As you continue east, you'll enjoy a musical journey through Memphis and Nashville - a must-visit for blues and country fans.
During this route, you can also detour as you approach Nashville towards Look Rock Tower, where sweeping views of the Great Smoky Mountains greet you, before reaching the historic landscapes of Washington and Philadelphia.
How to drive from California to New Jersey