Road Trip from California to Yellowstone and Mount Rushmore
Experience the great American west on a road trip to Yellowstone National Park and Mount Rushmore from the beautiful state of California. Travel through breathtaking wild scenery and get the chance to see enchanting Yellowstone, Mount Rushmore, Las Vegas, Lake Tahoe, and so much more on this road trip of a lifetime.
The 1,840-mile road trip from California to Yellowstone National Park and Mount Rushmore will take about 30 hours to drive. Highlights include Las Vegas, Lake Tahoe, Reno, Death Valley, Zion National Park, Dixie National Forest and Salt Lake City.
You'll get to explore some of the most stunning places in America on your way from California to Yellowstone and Mount Rushmore. Read on to discover the best routes to travel, our favorite places to stay, and the many must-see stops along the way.
How far is Yellowstone and Mount Rushmore from California, and how long will the road trip take?
Comparison of road routes from California to Yellowstone and Mount Rushmore

| Route | Distance | Driving Time |
| --- | --- | --- |
| The Los Angeles Route | 1,840 miles | 30 hours |
| The Bay Area Route | 1,890 miles | 33 hours |
If you're departing from Los Angeles getting to Yellowstone and Mount Rushmore will take you 30 hours, and covering 1,840 miles if you don't make any detours.
Starting from San Francisco in the Bay Area our suggested route will take you through Boise and Lake Tahoe, a somewhat more relaxed vibe but still jam-packed with unique attractions along the way. You'll drive for 33 hours and cover 1890 miles.
Because of all the amazing destinations and things to see along the way, we recommend taking seven days to make this journey. Continue on to learn more about our recommended routes, where to stay, and what to see along the way.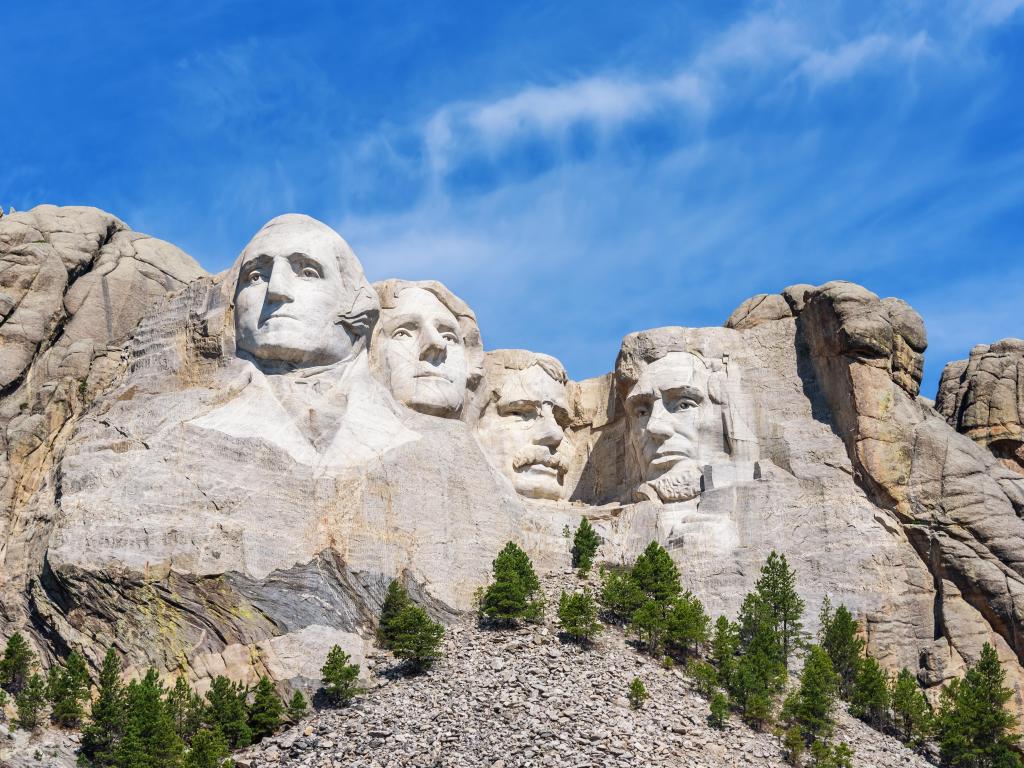 Best road trip route from California to Yellowstone and Mount Rushmore
The Los Angeles Route will take you to Yellowstone and Mount Rushmore faster. This shorter and more direct route will take you through two major cities: Salt Lake City and Las Vegas.
You'll get to visit Zion National Park and Dixie National Forest along the way as well as the small but beautiful city of Idaho Falls. You'll pass strikingly beautiful mountain scenery and desert landscapes that will make any professional or amateur photographer fall in love.
The longer Bay Area Route will take you from San Francisco to Yellowstone and Mount Rushmore. You'll wind your way through the Californian Sierra Nevada Mountains and discover the largest alpine lake in North America, Lake Tahoe.
On top of that, you'll pass through the smaller town of Sutcliffe as well as the city of Boise. On the way, stop at Craters of the Moon National Monument, a unique natural attraction that boasts an ocean of blackened lava and unique rock formations
Either route you choose, you will drive through Yellowstone National Park, one of the most celebrated parks in the US and a favorite for lovers of the outdoors. Then drive onwards to the iconic Mount Rushmore, just make sure to account for the additional 8 hours it takes to get there!
The Los Angeles Route
From the fun-in-the-sun city of Los Angeles, get on I-15 towards Las Vegas. Drive through the wild Mojave Desert until you reach Sin City, Las Vegas.
After living it up in one of the world's party capitals, continue on I-15 until you reach UT-9. Drive into beautiful Zion National Park and explore the wondrous natural rock formations and wilderness.
Continue on US-89 north until you get to Dixie National Forest. Explore the endless hiking trails of this one-of-a-kind natural area.
Drive north and get back on I-15. Drive north through Utah and into Salt Lake City. Explore the museums and the Great Salt Lake before hitting the road to Yellowstone.
Head north into Idaho and drive through the beautiful community of Idaho Falls. Continue on and head east into Montana and Wyoming and into your destination of Yellowstone.
Continue on through Wyoming and see Bighorn National Forest. After exploring the area, drive east into South Dakota to see the iconic Mount Rushmore.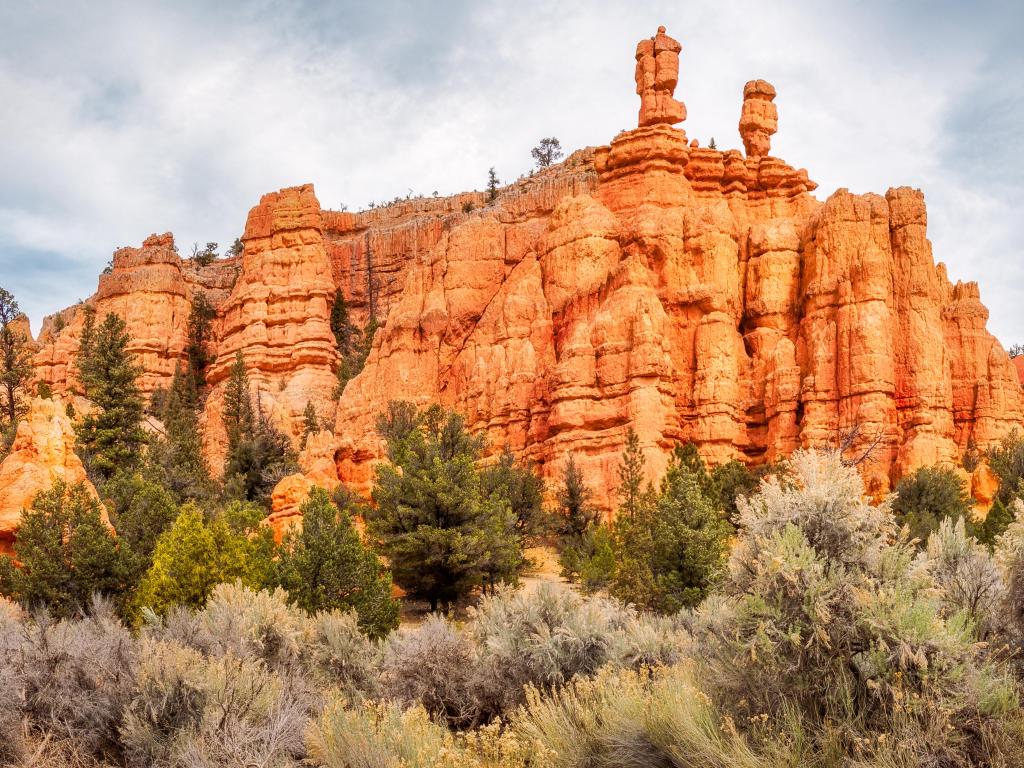 The Bay Area Route
From the city by the bay, San Francisco, head east on I-80 towards California's capital Sacramento. Continue on through the central valley and up into the foothills of the Sierra Nevada Mountains.
Take a detour to explore the coastline and mountain scenery of Lake Tahoe. Get back on the route and head into Reno, Nevada.
After Reno, you can drive on a detour north to see Sutcliffe. After seeing the beautiful Pyramid Lake, continue back on route and travel up I-80 and US-95 north into Boise, Idaho.
From Boise, travel on through Montana and Wyoming and into your first destination of Yellowstone. After that, drive through Wyoming and Bighorn National Forest before heading east into South Dakota and the famous American landmark Mount Rushmore.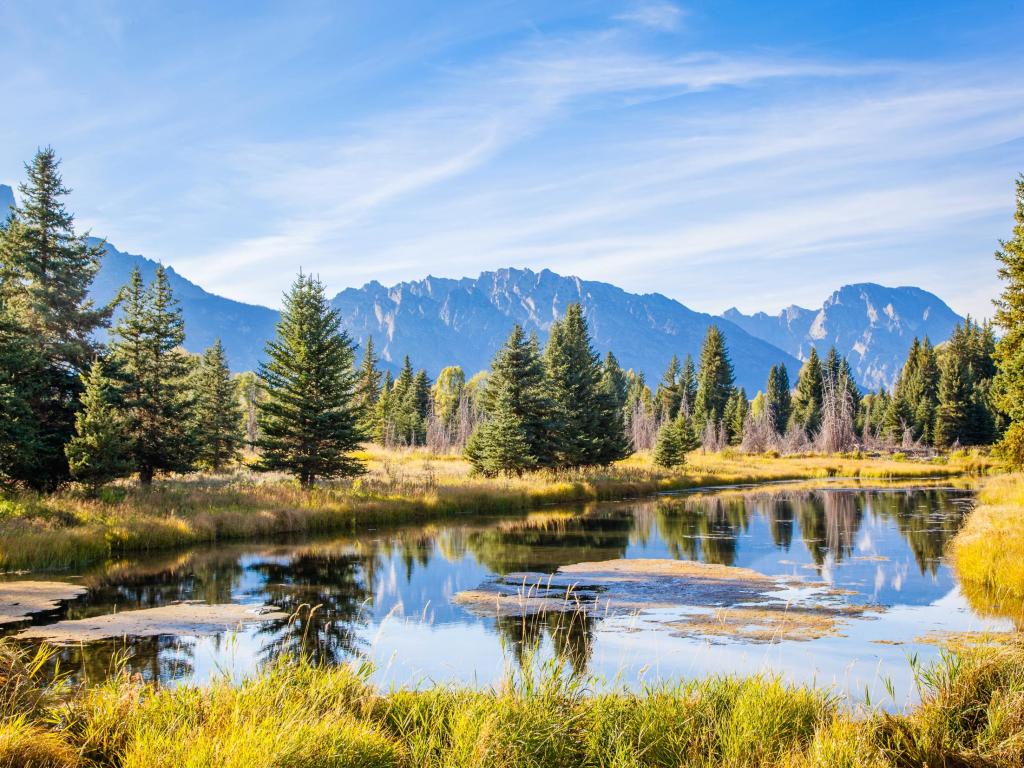 Best places to stop between California and Yellowstone and Mount Rushmore
On your drive, you'll have several incredible places to rest and explore. Below, we've included our picks for the best overnight stops so you can get the most out of your trip.
Hit the slopes in Salt Lake City
About halfway along the Los Angeles Route you will reach Salt Lake City. This beautiful city and its surrounding area offer endless activities and stunning natural landmarks including the Great Salt Lake. On top of that, there's plenty of nightlife to enjoy after your long drive.
Every year, tens of thousands of tourists come to the region's ski slopes to enjoy the world-famous snow and slopes. Visitors can also experience watching sports teams like the Utah Jazz in their home stadiums.
The first thing to see in Salt Lake is, of course, the Great Salt Lake! This salty inland sea is known as America's Dead Sea. Surrounding its multicolored waters is the Spiral Jetty, a famous sculpture made by the famous sculptor Robert Smithson.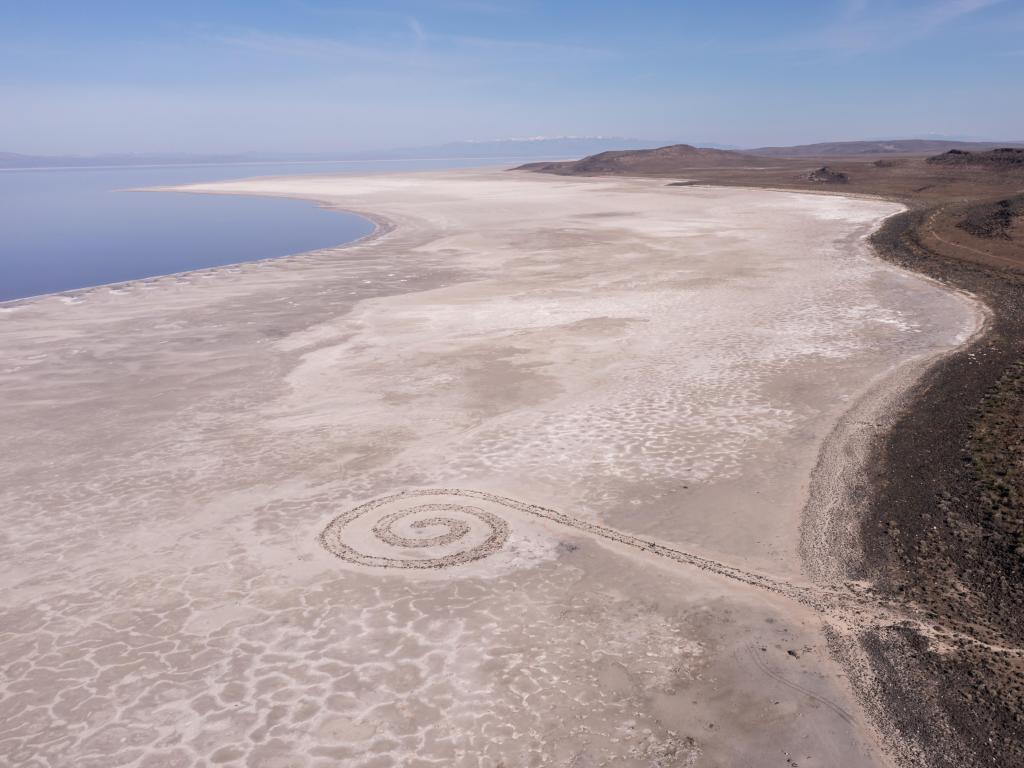 If you'd like to unwind and relax in luxury, there is no better place to stay than the Grand America Hotel. This incredible hotel, voted #1 Best Hotel in Salt Lake City, is just minutes from the city's attractions including the Museum of Church, Salt Lake City Hall, and Washington Square Park.
You can enjoy tons of amenities and opportunities to relax after a long day of driving, including indoor and outdoor pools, a gym, and a five-star spa. Before sightseeing, check out its award-winning Sunday Brunch served at their Laurel Brasserie and Bar.
Take in the city vibes of Boise, Idaho
About halfway on the Bay Area Route is Boise, Idaho's capital and the largest city on this route before reaching Yellowstone. The city boasts some stunning architecture and unique cultural attractions that give an interesting contrast to the natural attractions in Yellowstone and Mount Rushmore.
Boise is known as the "City of Trees" for its many outdoor spaces boasting gorgeous trees. The nearby Bogus Basin Mountain Recreation Area has great hiking and skiing as well.
While in Boise, we recommend visiting the Idaho State Capitol Building and making a stop at the Old Idaho Penitentiary Site. A must-visit if dropping by Boise, this historic prison boasts daily tours that detail the lives of its famous inmates.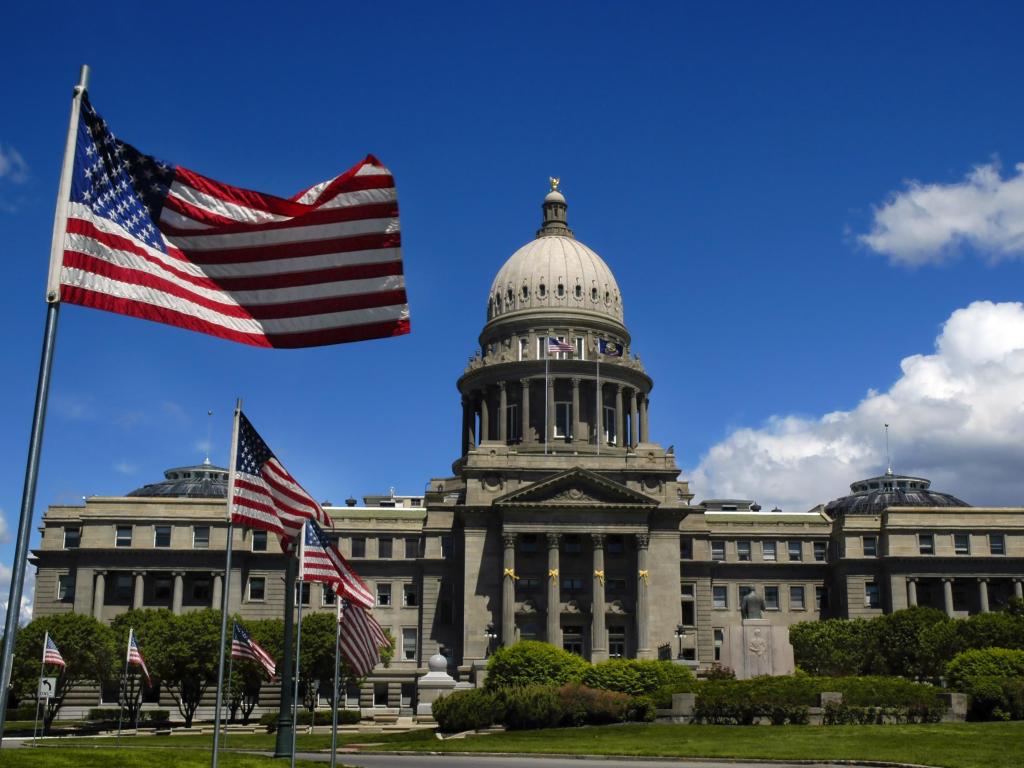 When you reach Boise after your long drive, rest in luxury at The Grove Hotel. Located downtown, the hotel is within easy access of the Idaho Black History Museum, Zoo Boise, the Morrison Center for Performing Arts, and the Old Idaho Penitentiary either on foot, or via a short drive.
Make sure to enjoy the free Wi-Fi and on-site bar as well as the on-site restaurant. There are free rental bikes, a fitness center, and an indoor pool as well so you can really make the most of your stay.
Where to stay when you reach Yellowstone
When you reach your destination of Yellowstone National Park, we recommend staying at the highly rated and luxurious Bentwood Inn.
About an hour's drive from Yellowstone National Park's main entrance, this cozy and comfortable accommodation has tons of luxurious amenities, including spacious rooms and private fireplaces.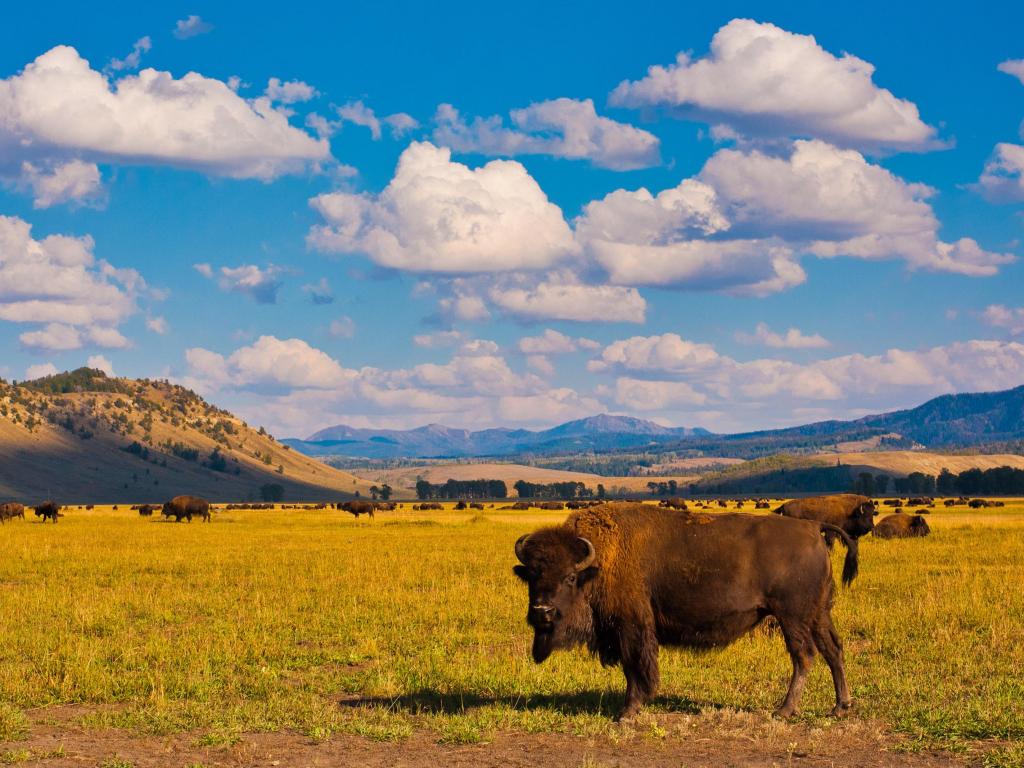 Take advantage of the free breakfast before heading out to explore the nearby green spaces. In nearby Wilson, you have tons of incredible restaurants and bars to choose from.
Things to see on a road trip from California to Yellowstone and Mount Rushmore
Driving from California to Yellowstone and Mount Rushmore will take you through almost endless sights and worthy destinations. Below, we've chosen our favorites for you to choose from.
The Los Angeles Route
Mojave National Preserve - Discover this stunning desert wilderness, spanning over 1.6 million acres and offering tons of opportunities for outdoor sports like hiking and 4WD.
Death Valley National Park - This National Park is known for its scorching heat and vast expanses of the desert; it's located about an hour off-route but definitely worth visiting!
Las Vegas - It doesn't get more iconic than Sin City, located right along your route and boasting live entertainers, casinos, and world-class hotels and dining.
Maqui Cave - Enjoy this former speakeasy turned natural history museum, Moqui Cave has a wonderful collection of rocks in its extensive gift shop.
Temple of Sinawava - Check out this natural amphitheater in Zion National Park. Walk along its paved trail that follows the Virgin River and become absorbed in the flower gardens and waterfalls.
Parowan Gap Petroglyphs - Make sure to visit these Native American Petroglyphs. They are free to visit and thought to be almost a thousand years old.
Giant Soda Cans - Just 20 minutes off route are the massive and quirky art installations resembling giant soda cans.
BYU Museum of Paleontology - This unbeatable museum belonging to Brigham Young University offers exhibits featuring fossils and ancient rocks. If you love dinosaurs, you'll love this museum.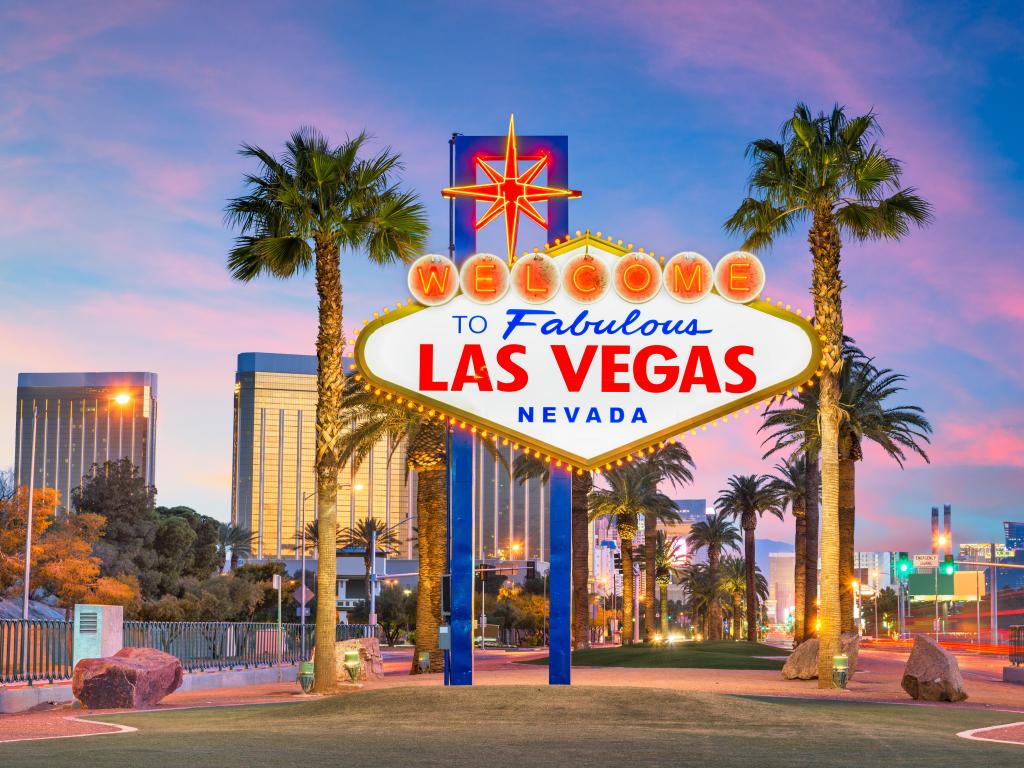 The Bay Area Route
Sacramento, CA - California's Capital, Sacramento is located right along your route and boasts tons of cultural attractions, including the California State Railroad Museum and the California State Capitol.
Lake Tahoe - Straddling the border of California and Nevada, Lake Tahoe is the largest alpine like in North America and a favorite vacation spot for locals.
Reno, NV - Located close to Lake Tahoe, Reno is a stunning city surrounded by beautiful mountains and boasts a rich casino and tourism industry.
Thunder Mountain Monument - Assembled by American Architect Frank Van Zant in the sixties, Thunder Mountain Monument consists of a series of outdoor art sculptures.
Humboldt Museum - Located in Winnemucca, Nevada, the Humboldt Museum explores the history and culture of North Central Nevada.
Paradise Valley Hot Spring - Take a deep in these mineral-rich soaking pools, the ultimate relaxation experience on your route.
Pillars of Rome - So named because of their resemblance to Roman Ruins, these imposing rock formations are a must-see.
Salmon-Challis National Forest - Covering over 4.3 million acres in east-central Idaho, the Salmon-Challis National Forest is one of the largest parks in the lower 48 states.
Both Routes
Helena-Lewis & Clark National Forest - Enjoy this pristine forest and park on your way to Yellowstone. The area is full of beautiful hikes, fields full of wildlife, and mountain vistas. You can also hike along the Missouri River.
Pictograph Cave State Park - Come see the caves and their famous 2000-year-old pictographs.
Bridger-Teton National Forest - Over 3.4 million acres of wilderness and hiking trails cover the area around the Bridger-Teton National Forest. It is a must-see for hikers and nature lovers keen on seeing wildlife.
Jackson Lake Dam - This concrete dam dates back to 1916 and has panoramic views of Jackson Lake and the Grand Teton mountains.
Cress Creek Nature Trail - This 1.25-mile trail winds along the Snake River and is the perfect spot to take a breath of fresh air after a long drive. It's also partially wheelchair accessible.
Caribou-Targhee National Forest - The Caribou-Targhee National Forest offers outdoor activities year-round and covers over 3 million acres of wilderness.
Granite Hot Springs - Come enjoy the 100 degrees Fahrenheit natural hot springs. The springs are surrounded by rock formations and pine forest and are the perfect place to rest after a long drive.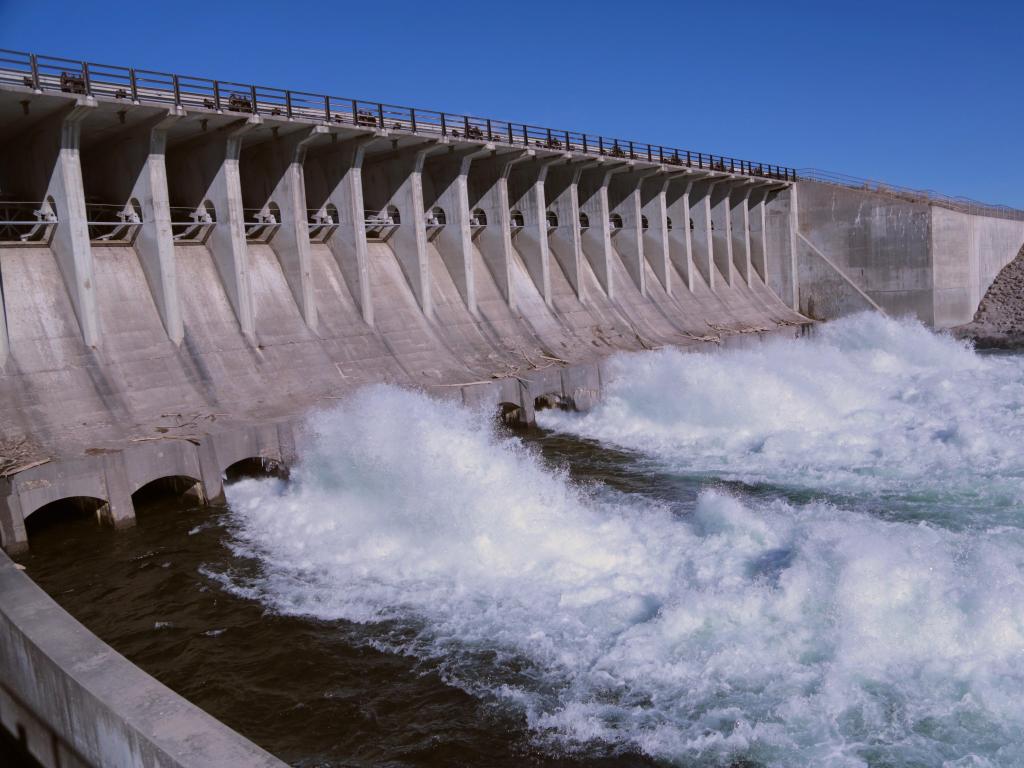 Best time to go on a road trip from California to Yellowstone and Mount Rushmore
You can visit Yellowstone National Park and Mount Rushmore year-round but keep in mind that some roads will be closed to driving in Yellowstone during winter.
It is also good to keep in mind that while Mount Rushmore National Memorial is open all year, the Sculptor's Studio closed from October - April, so plan your visit accordingly.
Depending on what you're interested in experiencing, you can experience a wintery wonderland or a summer outdoor paradise. The colder months see fewer people and are still very beautiful. You can still explore the national park on a snowmobile or a snowcoach.
The warmer months see larger crowds yet often great weather, so if you aren't bothered by crowds, late spring and summer might be the best times to visit.
Summer is the busiest tourism season. You can expect the clearest skies during this season and temperatures between 38 degrees and 76 degrees Fahrenheit lasting between mid-June and mid-September.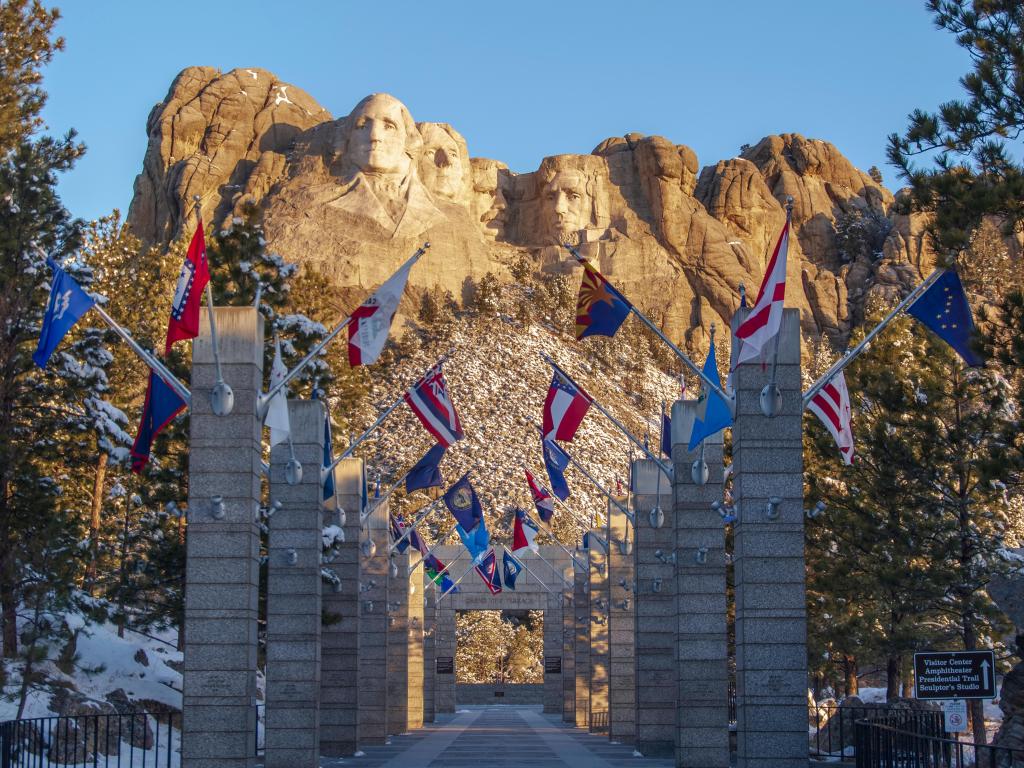 Winter sees the fewest tourists and the area's accommodation is generally cheaper. During this time, you'll get to enjoy this natural wonder covered in snow which is one of the most prized sights for nature photographers.
Temperatures during the winter season lie between 4 degrees and 30 degrees Fahrenheit. Be aware, as the lows can drop as far as -15 Fahrenheit. Parts of the park close during the winter! Keep this in mind when planning your trip.