Road Trip from Chicago to New Jersey
If you are looking for a beautiful cross-country journey taking in amazing scenery and outdoor adventures, learning about old traditions alongside panoramic city views and fascinating landmarks, then look no further than this unforgettable road trip from Chicago to New Jersey.
The 870-mile road trip from Chicago to New Jersey will take about 15 hours to drive, passing through Allegheny National Forest, Moshannon and Tuscarora State Forests as well as Cleveland, Erie, Indianapolis, Pittsburgh, Lancaster and Philadelphia.
This road trip is a real mix of the great outdoors and memorable city landmarks will keep you enthralled as you make your way to 'The Garden State' to sample beautiful gardens, sandy beaches, boardwalks and natural wonders. Keep reading to see exactly where to stop and stay along this impressive trip.
How far is New Jersey from Chicago, and how long will the road trip take?
Comparison of road trip routes between Chicago and New Jersey

| Route | Distance | Driving Time |
| --- | --- | --- |
| The Lake Erie Route | 870 miles | 14 hours 45 minutes |
| The Pittsburgh Route | 960 miles | 15 hours 25 minutes |
You will pass beautiful landscapes and quirky attractions if you head along the Lake Erie Route, covering 870 miles and taking around 14 hours and 45 minutes to travel there directly.
If you take the alternative pretty and interesting Pittsburgh Route, you will travel around 960 miles, taking 15 hours and 25 minutes without accounting for any detours.
There are plenty of places along the way to stop at and explore, and you'll want to be taking your time, so we suggest spending 5-6 days to make this amazing journey and stopping off for a night along the way.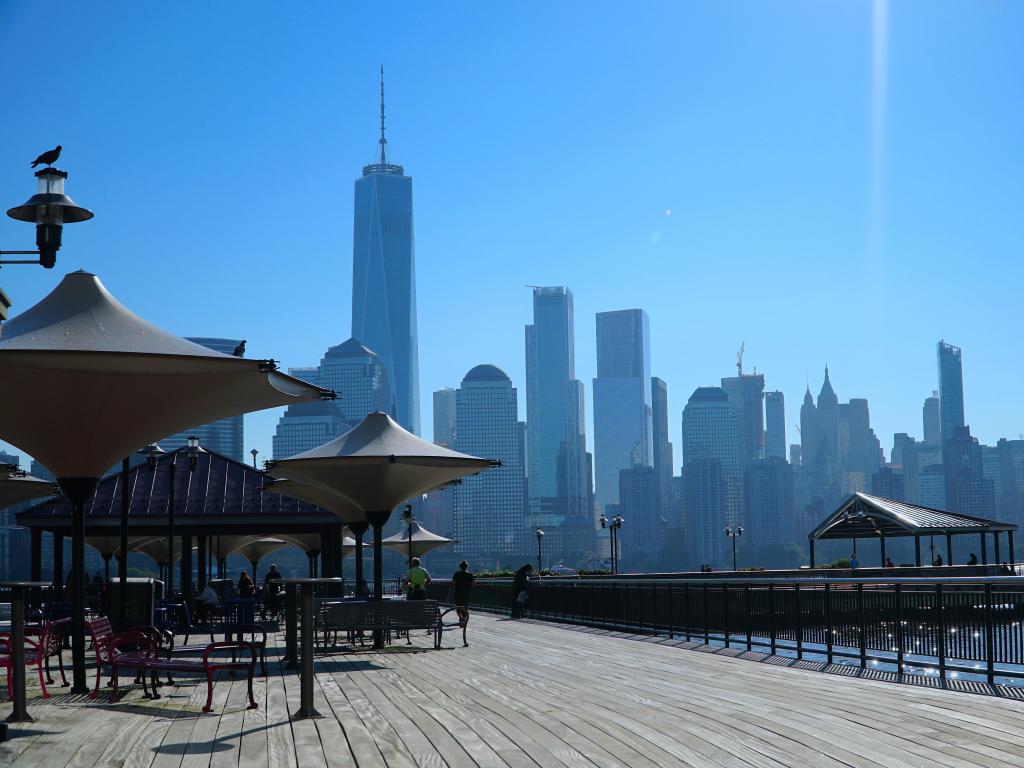 Best road trip route from Chicago to New Jersey
Take this amazing road trip between Chicago and New Jersey and you can be sure of a mixture of scenic sights and memorable landmarks as you head towards 'The Garden State' of New Jersey.
What can you expect from the Lake Erie Route? Well, if hiking and wildlife watching are on your to-do lists, then this gives you a chance to visit both Allegheny National Forest and Moshannon State Forest, as well as cultural stops including the National Museum of the Great Lakes and Toledo Museum of Art.
Take instead the Pittsburgh Route and you can expect stunning cityscapes and attractions with stop-offs in Pittsburgh and Philadelphia, beautiful hikes through Tuscarora State Forest, and a chocolate fix at Hershey Chocolate World!
You will also get to visit the Amish Country of Philadelphia on this route. Here is our detailed guide on the best road trip to Amish Country if you'd like to learn more.
How to drive from Chicago to New Jersey
The map above shows our suggestions for the best road trip routes between Chicago and Jersey City, New Jersey. Keep reading for detailed descriptions of both routes, where to stay on either, and the best things to do on the way.
The Lake Erie Route
Heading out of Chicago, take the Interstate-90 (I-90) east, towards Toledo, before the 1-280 then I-90 travels to Cleveland to enjoy historic sites and market.
Continuing along I-90 and then I-79 takes you up to Erie, where you can admire Lake Erie and Presque Isle State Park before following State Highway 8 and PA-89, US-6 to the beautiful sights of Allegheny National Forest then Moshannon State Forest.
From here PA-948 and I-80 east travelling past Hickory Run State Park and Wissahickon Valley Park to your destination, Jersey City in New Jersey.
The Pittsburgh Route
Heading out of Chicago head along I-90 and I-94, before I-65 south to Indianapolis, where you can stop at the urban oasis of Eagle Creek Park.
From here, take I-70 east to Columbus and all the way to Pittsburgh, where you can enjoy historical sites and panoramic views. After an overnight stay head along I-376 east and then I-76 to continue your journey.
After Mechanicsburg, take US-322 to Hershey for thrills, spills and chocolate, before continuing along PA-283 to Lancaster. US-22 and I-76 takes you to Philadelphia where you can explore sites including Liberty Bell and City Hall.
After Philadelphia take I-95 and track alongside the Delaware River, before crossing over and continuing along the interstate to Port Newark. I-78 then leads you to your destination of Jersey City in New Jersey.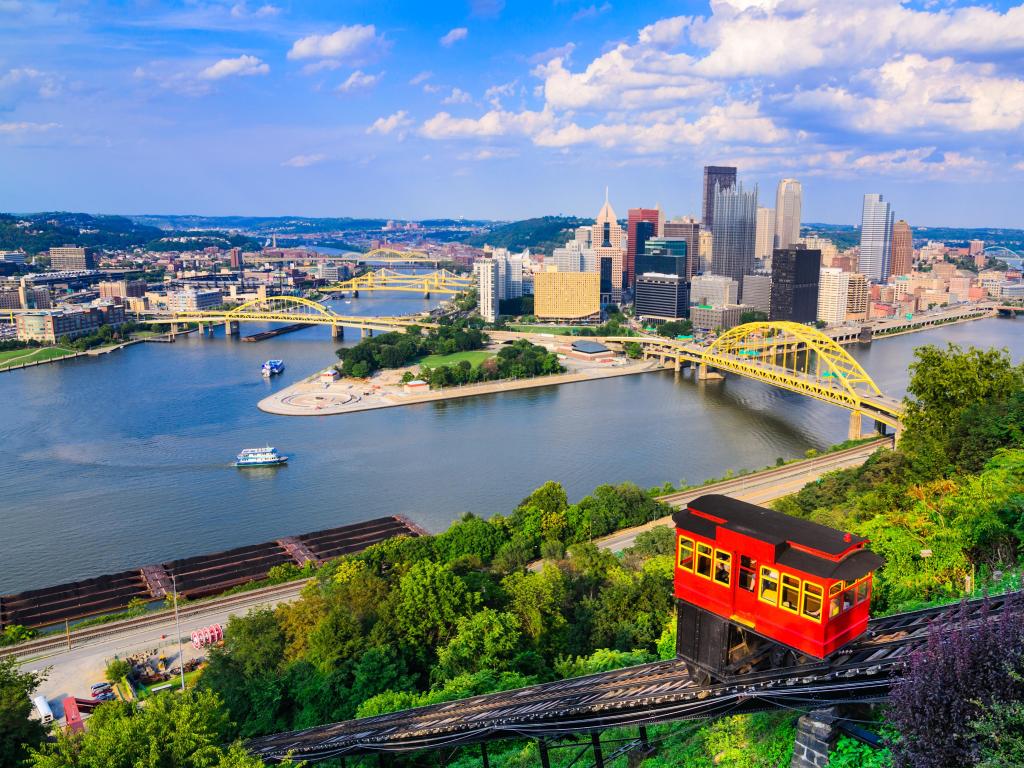 Best places to stop between Chicago and New Jersey
Choose this amazing journey between Chicago and New Jersey and you will get the chance to visit fascinating sites, beautiful parklands and forests.
It's a packed road trip and so definitely worth a night or two to stay on the way. Here are some of the best places to explore and stay during your travels.
Exploring Erie
If you are taking the Lake Erie Route then around midway, you'll find Erie itself a great stop off. Often referred to as the 'Flagship City', as Oliver Hazard made its home port here, this buzzing city is renowned for its maritime history and Lake Erie beauty.
With many great sites to explore, make sure to add Presque Isle State Park to the list. This stunning natural attraction offers miles of sandy beaches and scenic trails spread over a 3,200-acre peninsula. Enjoy swimming, hiking and boat tours.
Afterwards, take more time out exploring Lake Erie, the second smallest Great Lake. Here you are surrounded in stunning natural beauty, popular for fishing, watersports and wildlife watching. Head here at sunset and you will be welcomed by stunning scenery.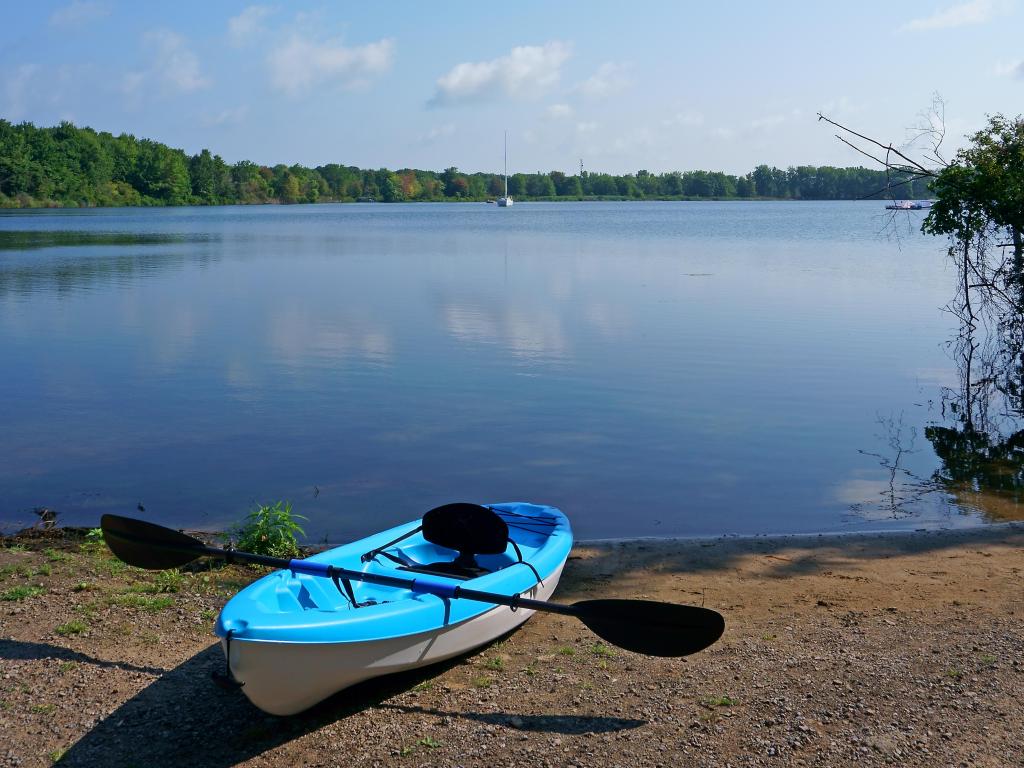 A must for maritime fans is a visit to Erie Maritime Museum and U.S Brig Niagara. Visitors can explore exhibits, artifacts, and learn about shipbuilding and battles. The U.S. Brig Niagara, a reconstructed historic warship, is docked by the museum.
Another great stop is Waldameer Park and Water World, a family-friendly amusement park with various exciting rides, including roller coasters, water slides, and plenty of thrills and spills.
It'll take a day or two to explore Erie and a great place to stay overnight is Hampton Inn & Suites Erie Bayfront, with striking lake and marina views from the rooms and lounges.
This hotel is in an amazing location right in the heart of all the action, both attractions and beaches, with Erie Maritime Museum, Erie Art Museum and Port Erie Bicentennial Tower all within walking distance.
Make sure to check out the great, modern indoor swimming pool open all year round, or how about the state-of-art fitness center, before relaxing in the pretty outdoor gardens.
Enjoy a cultural and artistic fix in Pittsburgh
If you are heading from Chicago to New Jersey via the Pittsburgh Route, what better place to stop off than Pittsburgh, around halfway along this route?
This city is renowned for steel and bridges, which you get the perfect panoramic view of from the top of a city incline, so make sure Duquesne Incline tops your list of things to do. Traveling over 400-foot, you get unrivaled views across the skyline and three rivers (Allegheny, Monongahela, and Ohio).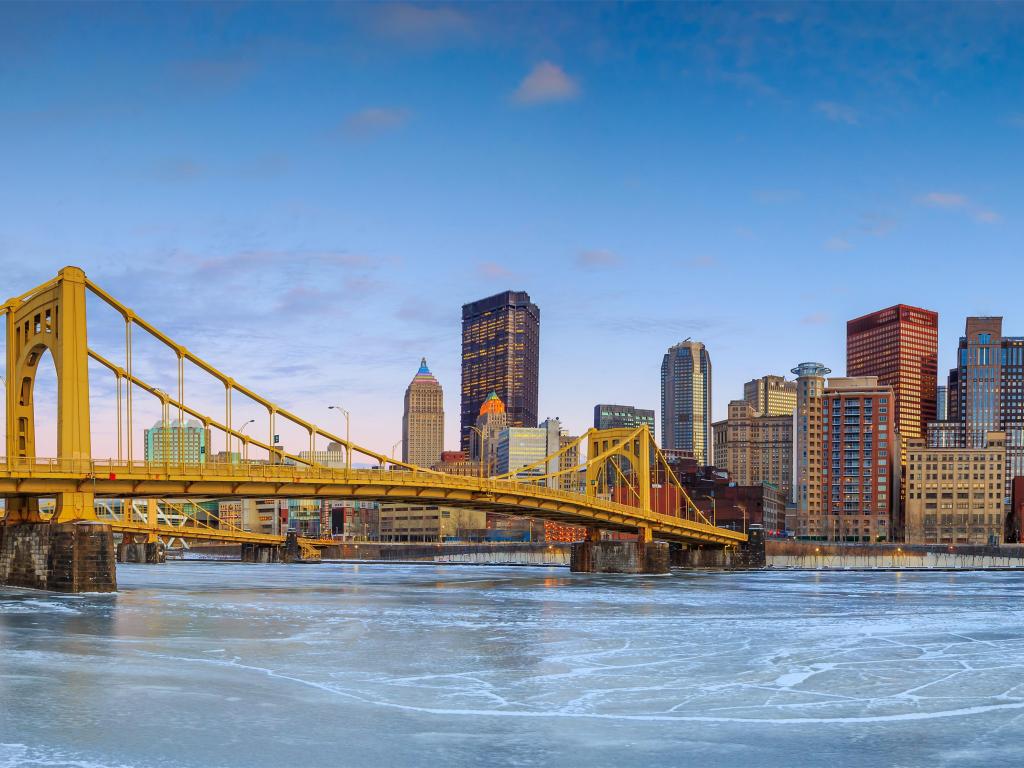 The Andy Warhol Museum is also an impressive site to visit. This museum is packed with artwork and information about this iconic artist, where you can view interactive exhibits and fantastic art displays.
If you fancy more even culture, then head to the Carnegie Museum of Art or Carnegie Museum of Natural History. The first houses classical and contemporary pieces, with the later packed with dinosaur and ancient civilization exhibits.
The best place to base yourself in to explore Pittsburgh is at The Industrialist Hotel, Pittsburgh, Autograph Collection, a stone's throw from top attractions including Liberty Avenue Park, Andy Warhol Museum and Senator John Heinz History Center.
What a hotel! This fabulous and stylish hotel is perfect for enjoying amazing city views, the perfect spot to sit back for a pre-dinner aperitif with stunning scenery.
Afterwards head to the renowned Rebel Room, a great option for dinner. Make sure to make a reservation to try out some of the tasty American dishes on offer during your stay at this fabulous hotel.
Where to stay when you reach New Jersey
New Jersey is known for its beautiful beaches, parklands and boardwalks, but it also holds cinematic history, being home to the world's first drive-in theater in Camden – costing only 25 cents a car!
With a lead on entertainment and sharing of local arts, it's fitting to stay the night at a hotel with much artistic flair. Canopy By Hilton Jersey City Arts District is located in the heart of the Powerhouse Arts District.
This stylish and artistic hotel enjoys a beautiful outdoor terrace for breakfast and cocktail hour, and make sure to enjoy a visit to Canopy Central Bar & Bistro, serving up delicious modern American cuisine daily.
Things to see on a road trip from Chicago to New Jersey
This stunning journey from Chicago to New Jersey takes you through a myriad of natural surroundings, interesting museums, pretty gardens and city sights. Keep reading to see all the unforgettable places you can visit on the way.
The Erie Route
Hall of Heroes Superhero Museum, Elkhart - The Hall of Heroes Superhero Museum is a must-visit destination for comic book enthusiasts. Explore an extensive collection of rare memorabilia. Unleash your inner hero as you immerse yourself in the thrilling world of superheroes.
Fawn River Nature Reserve - Explore the lush trails, meandering through towering oak trees and alongside a babbling river. Keep an eye out for rare bird species and enjoy the peaceful ambiance that this secluded sanctuary provides.
National Museum of the Great Lakes - Explore interactive exhibits, including a full-size replica of a 617-foot iron ore freighter Col. James M., and learn about shipwrecks, lighthouses, and the Great Lakes' crucial role in shaping America's past.
Toledo Museum of Art - This museum is home to significant collections of glass art and 19th and 20th-century European and American artworks, complemented by modest yet notable collections of Renaissance, Greek, Roman, and Japanese art.
West Side Market - This historic market is the oldest indoor/outdoor market in Cleveland, with its stunning architecture and bustling atmosphere, offers a cornucopia of fresh produce, artisanal cheeses, delectable pastries, and mouthwatering delicacies.
A Christmas Story House - Step into the iconic home where Ralphie Parker's hilarious and heartwarming adventures unfolded, and explore the authentic props from the movie in the museum that is located right across the house.
Paine Falls Park - Paine Falls Park is a hidden gem in the heart of Ohio, offering a breathtaking 25-foot tiered waterfall cascading into a serene gorge. With its lush greenery, scenic hiking trails, and picnic spots, this tranquil oasis is a great place to unwind.
Warner Theater - The Warner Theater, located in the heart of downtown Erie, is a historic gem that has been entertaining audiences for almost a century. With its stunning architecture and ornate interiors, this theater will transport you to a bygone era of grandeur.
Allegheny National Forest - Allegheny National Forest is home to stunning landscapes, including lush forests, sparkling rivers, and rolling hills. Here, you can enjoy hiking, camping, fishing, and wildlife spotting in this picturesque wilderness.
Moshannon State Forest - Explore the extensive trail system, including the renowned Quehanna Trail, and discover hidden gems like the picturesque Bilger's Rocks, perfect for rock climbing enthusiasts.
America on Wheels Museum - Admire a stunning collection of vintage cars, motorcycles, and trucks, including iconic vehicles. Immerse yourself in the rich history of American transportation and be amazed by the evolution of these mechanical marvels.
Hickory Run State Park – A picturesque natural oasis nestled in the heart of Pennsylvania, boasting scenic hiking trails, crystal-clear streams, majestic waterfalls, and dense forests, offering visitors an enchanting escape into untouched beauty.
Wissahickon Valley Park - Explore the enchanting Forbidden Drive, passing by the Thomas Mill Covered Bridge, and be captivated by the stunning views of the Wissahickon Creek flowing through the picturesque wooded valley.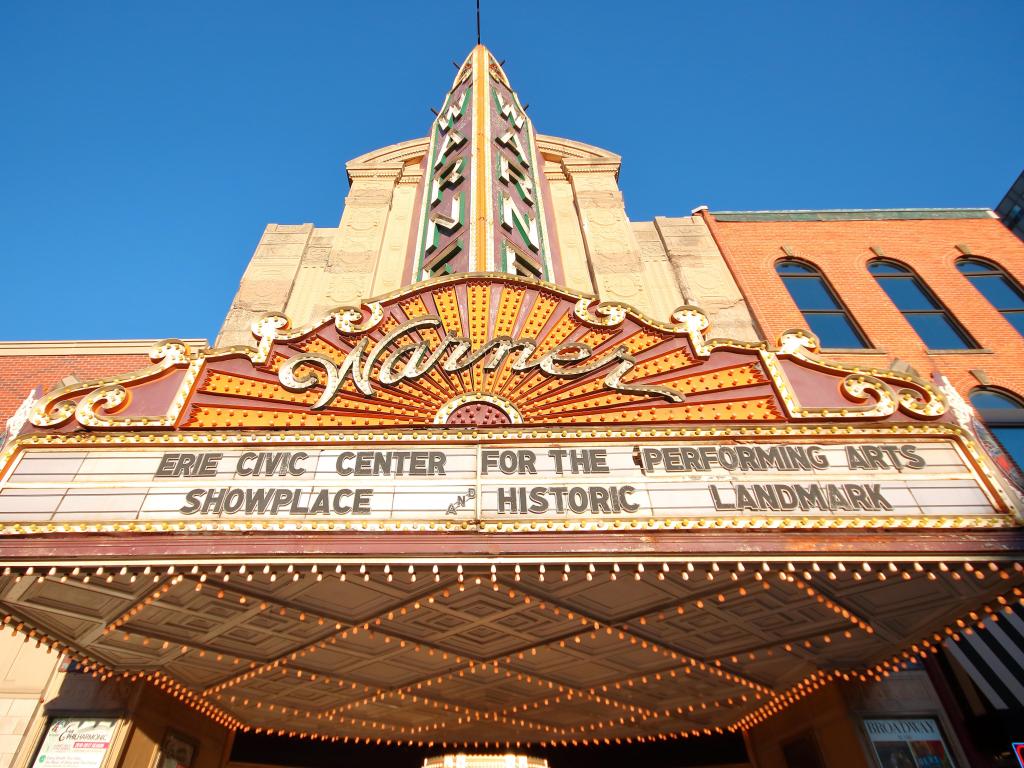 The Pittsburgh Route
Eagle Creek Park, Indianapolis - Eagle Creek Park, Indianapolis, is a sprawling urban oasis offering glistening lake views, miles of hiking trails, and fascinating wildlife. It's an ideal spot for outdoor enthusiasts seeking tranquility amidst the city's hustle and bustle.
Lewisburg Haunted Cave - Descend into the darkness, encountering ghostly apparitions and mysterious sounds that will send shivers down your spine. Note that this attraction is seasonally open in fall (usually September-October).
Franklin Park Conservatory and Botanical Gardens - Explore the glasshouse, home to exotic plants from around the world, and wander through the enchanting outdoor gardens, featuring a vibrant butterfly habitat and a serene Japanese garden.
Bradford House Museum - Step back in time as you explore the beautifully preserved 18th-century home, complete with original furnishings and intriguing artifacts, providing an immersive experience for history enthusiasts.
Strip District, Pittsburgh - The Strip District in Pittsburgh is a bustling, historic shopping area. With its array of fresh produce, artisanal foods, and unique boutiques, it's a foodie's paradise. The lively atmosphere and riverfront views make it a must-visit destination.
Duquesne Incline - Perched on Mount Washington in Pittsburgh, this ride offers breathtaking panoramic views of the city's skyline and three rivers. As you ascend to the observation deck, you will admire an unforgettable vista that captures the essence of Pittsburgh.
Coral Caverns - Coral Caverns unveil a mesmerizing underground world adorned with delicate stalactites and stalagmites. Traverse through winding tunnels, marvel at the ethereal glow of colorful lights, and witness the spectacle of an underground waterfall.
Tuscarora State Forest - With its sprawling 95,000 acres of lush forests, cascading waterfalls, and abundant wildlife, this hidden gem beckons visitors to hike its scenic trails, fish in its pristine streams, and camp under a star-studded sky.
Hershey's Chocolate World – Indulge in a mouthwatering tour where you'll witness the mesmerizing chocolate-making process, create your own candy bar, and even meet the iconic Hershey's characters.
Hersheypark - Let your inner adventurer out in chocolate-themed rides, explore the exhilarating roller coasters, and cool off at the refreshing water park. Take the chance to meet the iconic Hershey's characters and savor mouthwatering treats.
Lancaster Central Market - Sample mouthwatering Amish treats, savor farm-fresh produce, and immerse yourself in the lively atmosphere as vendors share stories passed down through generations. A culinary adventure awaits at this iconic landmark.
Philadelphia City Hall - Philadelphia City Hall is an architectural marvel that dominates the city's skyline. Inside, you can explore the opulent corridors and even ride an elevator to the observation deck for an unforgettable experience.
The Liberty Bell, Philadelphia - This symbol of American independence, cracked yet resilient, invites you to witness its storied past and stand in awe of the very bell that once rang out to proclaim freedom to the nation.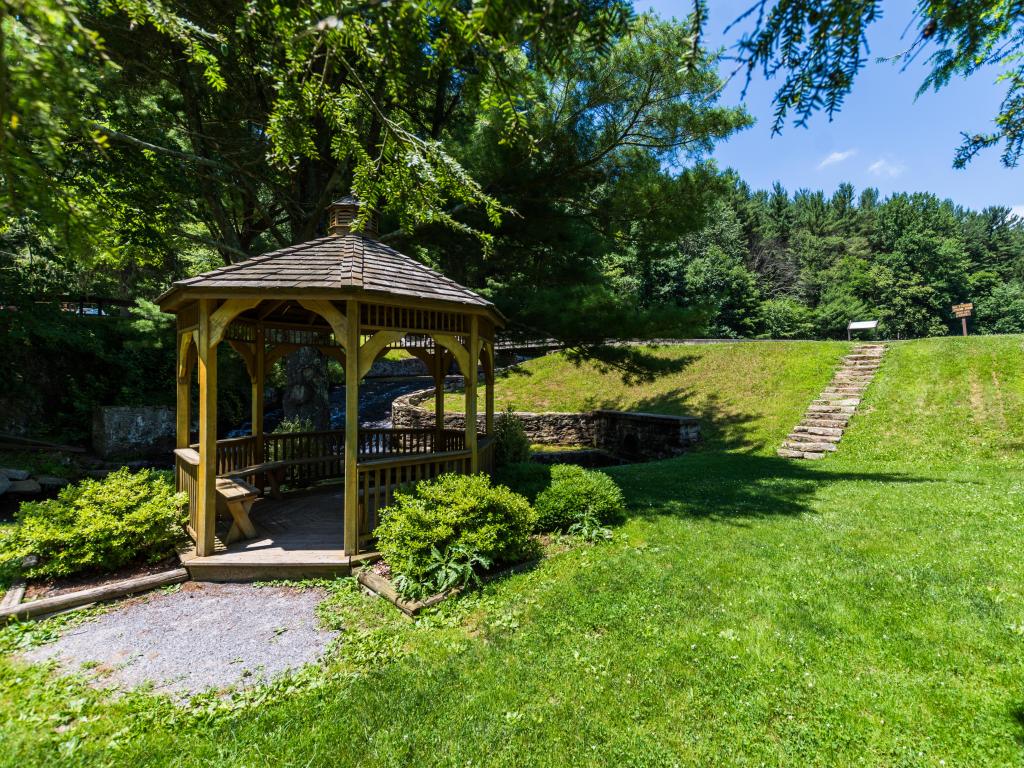 Best time to go on a road trip from Chicago to New Jersey
With so much to do year-round, New Jersey is certainly a destination you can visit any season as long as you are prepared.
Arrive in the summer and you can make the most of the beautiful beaches along the Jersey Shore, with abundant swimming, sunbathing, and water sports. There are also plenty of seasonal events and festivals in summer.
However, between July and August, temperatures can top 80 degrees Fahrenheit, so heading to the beach is a popular decision and get busy. Book well ahead for any attractions and accommodation if you visit during summer, the priciest time.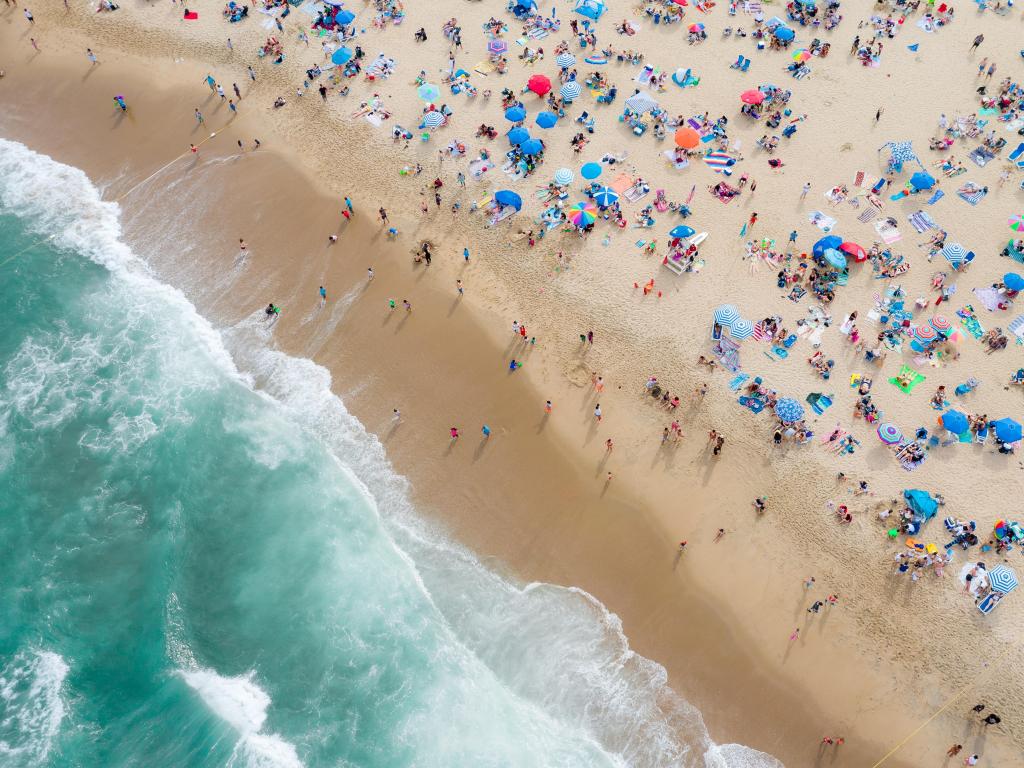 It can be particularly cold in New Jersey come winter with temperatures falling to around 25 degrees Fahrenheit along the coastline. Much of Jersey Shore closes from October, so check in advance to ensure sites are open.
But don't be put off by winter! There is still plenty to enjoy, with skiing possibilities close by, and indoor museums and shopping outlets to head to.
Springtime in New Jersey is stunning and ideal for hiking through wildflower meadows and across coastal areas. It's a great time to visit for mild temperatures and lower visitor numbers to enjoy the sites.
Likewise, fall is known for its pretty landscapes and is great for visiting parklands and forests. Temperatures range around 60-70 degrees Fahrenheit, so plenty mild to be out exploring, with sunshine still likely.
Visit in June and the week-long Jersey City Jazz Festival is in full swing, with a week-long festival celebrating jazz. Sit back and enjoy performances from local and international jazz musicians, including contemporary jazz and fusion styles.
The Jersey City Pride Festival is a popular annual event in the heart of the city, with a bright parade, performances and food stalls, held every August. The All About Downtown Street Fair held in the Historic Downtown district is also a vibrant local event with a lively atmosphere to celebrate local communities.
For any art fans, then visit in October, when you can enjoy a unique opportunity to explore Jersey City's thriving art scene, with galleries open to the public showcasing paintings, sculptures, installations, and performances.