Road Trip from Chicago to Philadelphia
Are you ready to explore the beautiful American Midwest while traveling to the beautiful Northeast? This scenic road trip from Chicago to Philadelphia will take you through some of the cutest towns, iconic cities, glittering shores of the Great Lakes and the charming Amish Country.
The 820-mile road trip from Chicago to Philadelphia will take 13 hours and 40 minutes to drive. Highlights on the way are Indianapolis, Dayton, Amish Country in Lancaster, Washington, DC, Baltimore, Toledo, Sandusky, Cleveland, and Hershey.
If you love culture, history, entertaining cities, and rural landscapes, then this road trip is the perfect adventure for you. Read on below to learn more about our recommended routes, places to stop, top highlights, and best seasons to set off on your adventure.
How far is Philadelphia from Chicago, and how long will the road trip take?
Comparison of road trip routes between Chicago and Philadelphia

| Route | Distance | Driving Time |
| --- | --- | --- |
| The Pittsburgh Route | 820 miles | 13 hours 40 minutes |
| The Columbus Route | 900 miles | 14 hours 40 minutes |
The Columbus Route will take you around 14 hours and 40 minutes to complete and covers about 900 miles. On this route, you'll pass through iconic cities like Indianapolis, Columbus, Washington, Baltimore, and Wilmington before reaching Philadelphia.
The Pittsburgh Route covers roughly 820 miles and 13 hours and 40 minutes. This scenic path takes you through Toledo, Sandusky, Cleveland, Pittsburgh, Hershey, and Lancaster en route to historic Philadelphia.
We recommend taking at least 3-4 days for the adventure so you can make the most out of this beautiful region.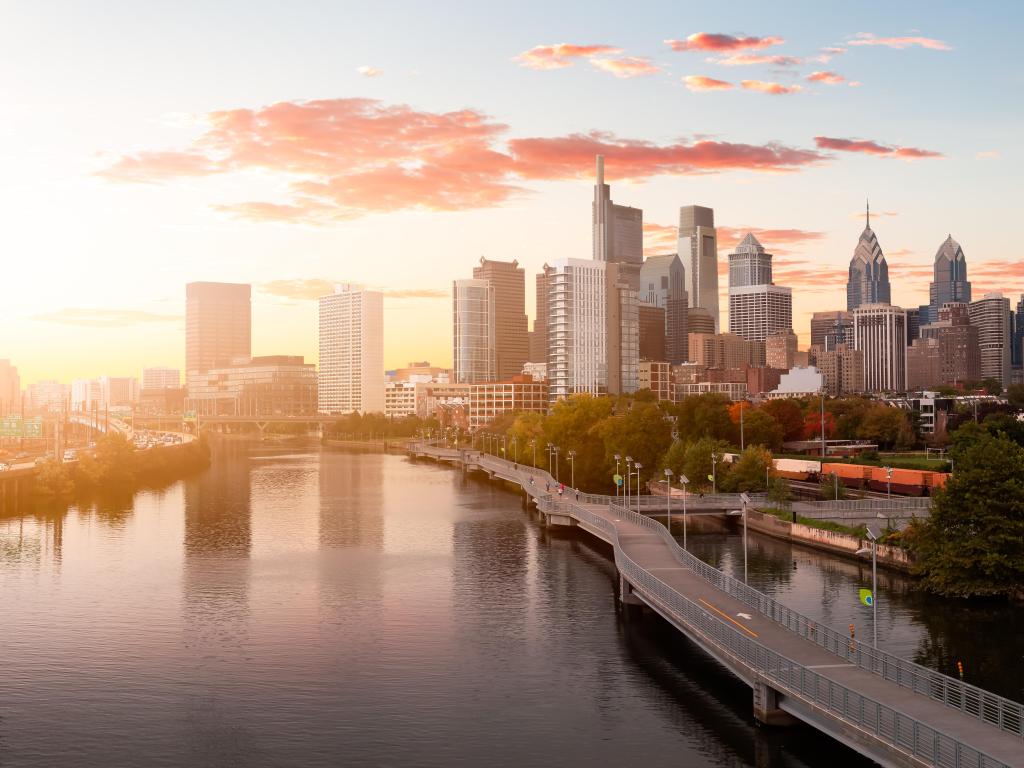 Best road trip route from Chicago to Philadelphia
While both routes are full of amazing sights and experiences, they each have their own unique vibe. Which one you choose will depend on what you want to see and experience the most.
The Columbus Route will bring you from Chicago through cities rich in highlights like Indianapolis, Columbus, Washington DC, and Baltimore, and into Philadelphia.
However, this route is not all about the iconic cities. As you drive from Flintstone to Myersville, making your way through Green Ridge State Forest is nothing short of mesmerizing, especially during fall.
Once you exit DC towards Philadelphia, you can take the George Washington Parkway. This iconic stretch of road runs alongside the Potomac River and gives you a relaxing break from the congested I-95 and see the lush landscapes of Virginia and Maryland.
The alternative Pittsburgh Route is a voyage through the Great Lakes basin. Along this route, you'll see beautiful coastlines, rolling forests, fun cities, and beautiful landscapes.
You can detour to admire the many lighthouses or even pause for a wine-tasting session at a local winery. If you'd like to venture further, you can also take a ferry ride to Put-in-Bay.
After Cleveland, this route takes you into the heart of the Cuyahoga Valley National Park and its breathtaking scenery.
As you travel further, the route drifts through the rolling hills and dense forests of eastern Ohio and western Pennsylvania. This terrain is a delight if you're looking for a bit of mountain driving excitement, especially with the Appalachian foothills as a backdrop.
You will also get to visit the Amish Country as you drive through Lancaster on this route. Click here if you'd like to learn more about the road trip to Amish Country.
How to drive from Chicago to Philadelphia
The map above shows our suggestions for the best road trip routes between Chicago and Philadelphia. Keep reading for detailed descriptions of both routes, where to stay on either, and the best things to do on the way.
The Columbus Route
Starting in Chicago, head southeast on Interstate 65 (I-65) to your first major destination, Indianapolis. Once in Indianapolis, visit the Eiteljorg Museum, Downtown Canal Walk, and, if traveling with family, don't miss The Children's Museum of Indianapolis.
From Indianapolis, continue east on the interstate and visit the National Museum of the US Air Force and the Dayton Aviation Heritage National Historical Park.
Next, you will head eastwards and visit beautiful Columbus. Then, continue on through the rolling hills and charming countryside of Pennsylvania.
From here, make your way to Washington DC, the nation's capital. Visit sights such as the Arlington National Cemetery, the National Museum of African American History and Culture, the Holocaust Memorial Museum, the Lincoln Memorial, the US Capital, and many more.
Continuing northeast, make your way to Baltimore. While here, take some time to explore the vibrant Baltimore Inner Harbour. Finally, head towards Philadelphia. On the way, check out the Longwood Gardens and the Brandywine Museum of Art.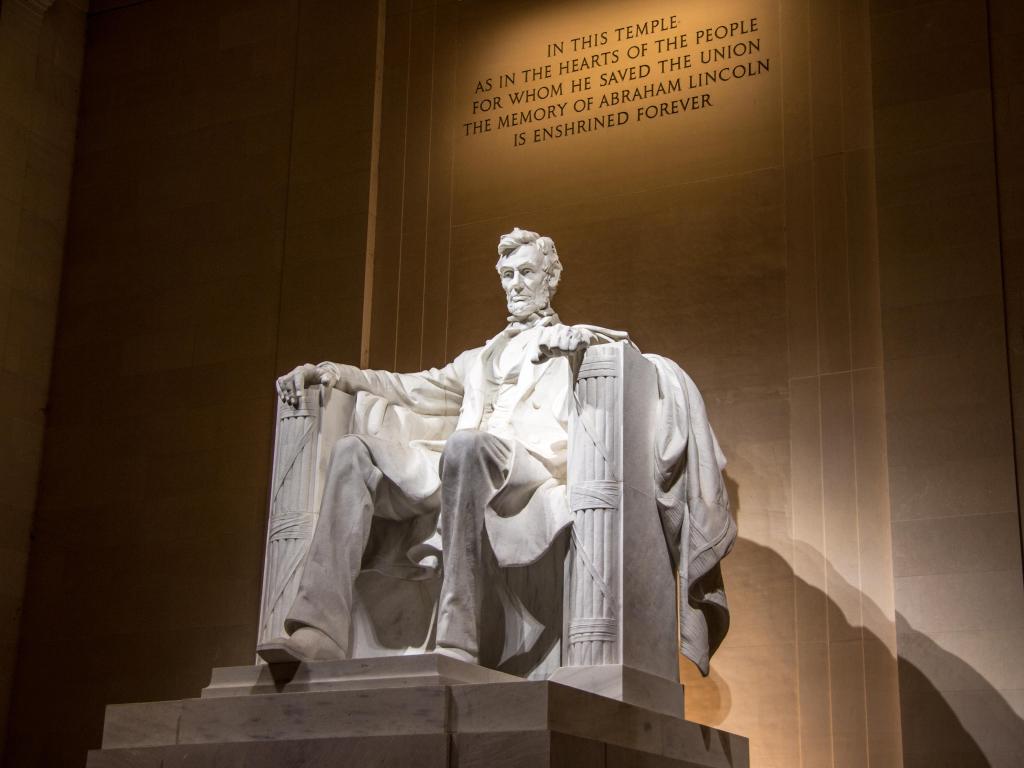 The Pittsburgh Route
From Chicago head eastwards on I-90 to Toledo, Ohio. Begin with exploring the Wolf Lake Boardwalk, the Toledo Museum of Art, or the National Museum of the Great Lakes.
From Toledo, head northeast to the lakeside city of Sandusky and visit the Maritime Museum of Sandusky and the iconic Marblehead Lighthouse. Here you can make a detour to Put-in-Bay. After, you'll continue on marveling at the beautiful views of the Lake Erie Scenic Highway.
Your next leg on I-90 takes you to the fun-filled city of Cleveland. Visit the Cleveland Botanical Garden and the world-famous Rock & Roll Hall of Fame.
From Cleveland, head towards Pittsburgh. Near Pittsburg, take a detour to Fort Necessity National Battlefield, a landmark from the early days of American history.
Then, head east on I-76 to Hershey, the sweetest town on earth. Indulge in some chocolate, visit the beautiful Hershey Gardens and the Echo Dell Indian Echo Caverns nearby.
Your next stop will be Lancaster, where you can relish in Pennsylvania's countryside charm and learn about Amish traditions. After winding through the Appalachian foothills, you'll make your way to the historic city of Philadelphia.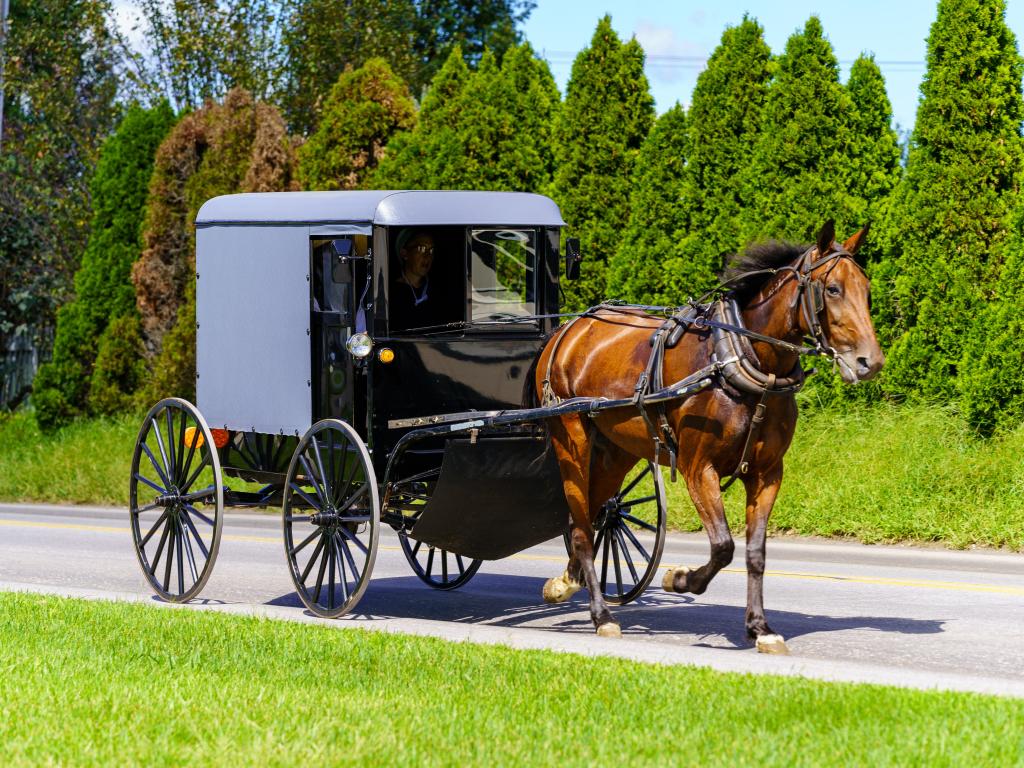 Best places to stop between Chicago and Philadelphia
Both routes have tons of cultural landmarks, fun stopovers, and beautiful natural areas to experience along the way. Below are our top destinations to stay the night in so you can make the most out of all these highlights.
Botanical delights in Columbus
Columbus, the state capital of Ohio, is an ideal pit stop along the Columbus Route, about 5 hours and 30 minutes into the drive.
Downtown is full of amazing nightlife, restaurants, and things to do. Yet, the city's crown jewel is arguably the Columbus Zoo and Aquarium. This sprawling destination has a diverse range of wildlife and experiences.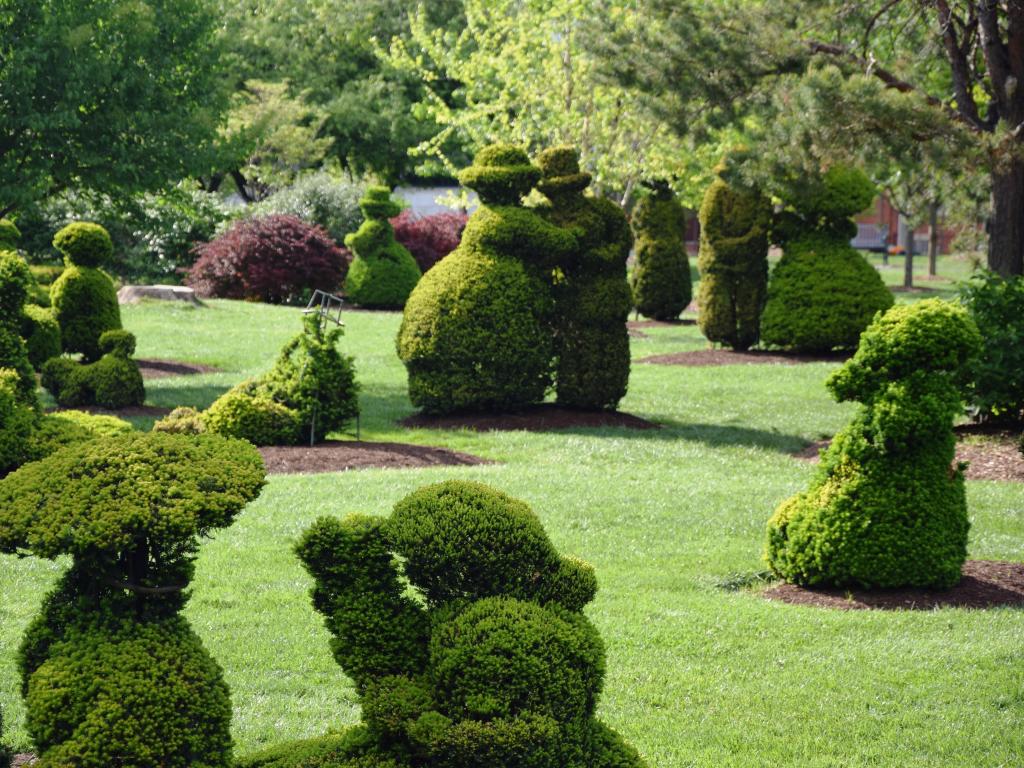 The Franklin Park Conservatory and Botanical Gardens is another beautiful and peaceful spot, showcasing plant life from different parts of the world. Wander through themed gardens, witness seasonal exhibitions, or simply relax in nature.
Once you get to Columbus, we recommend staying at the comfortable and highly-rated Graduate Columbus. Perfectly nestled in the heart of the Short North arts district, this hotel echoes the city's artistic spirit.
The quirky modern decor with an Ohio State theme, adds a unique charm. You'll also enjoy the hotel's bikes for rent, secure valet parking, free Wi-Fi, and other wonderful amenities.
While staying at the Graduate Columbus, the city's attractions are just a stone's throw away. A 4-minute walk gets you to the Short North Arts District and the Center of Science and Industry is an 8-minute drive away.
Live it up in Pittsburgh
At roughly 6 hours and 50 minutes into the Pittsburgh Route, is the beautiful city of Pittsburgh. At the confluence of three majestic rivers, this "Steel Town" is famous for its more than 400 bridges, architectural brilliance, and deep-rooted sports culture.
While in Pittsburgh, immerse yourself in the wonders of the Carnegie Museum of Natural History. You'll see rare gems, fossil displays, and interactive exhibits that will bring out your inner child.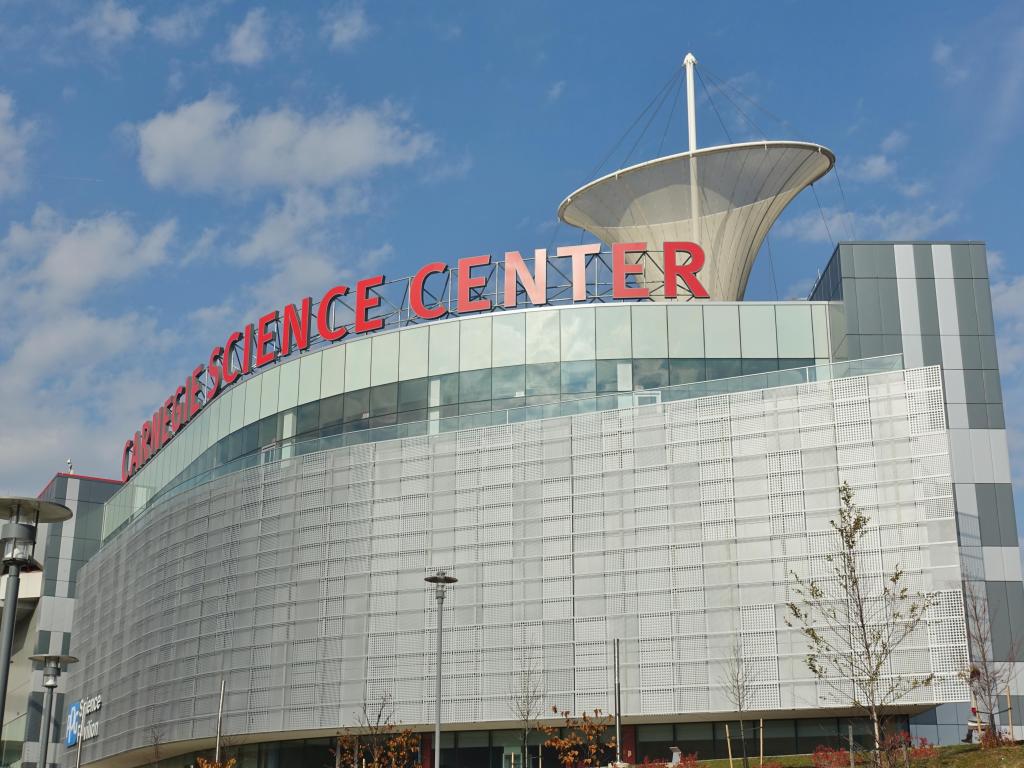 If you are a history buff, your next should be the Rivers of Steel: Carrie Blast Furnaces National Historic Landmark. This iconic symbol of Pittsburgh's steelmaking legacy is like a journey back in time.
No visit to Pittsburgh would be complete without visiting the Phipps Conservatory and Botanical Gardens. This oasis, in the city's heart, offers tranquil landscapes, exotic plants, and seasonal flower shows.
For your stay, we recommend the luxurious Landing Hotel at Rivers Casino Pittsburgh. This modern hotel, on the banks of the River Ohio, offers more than just a comfortable stay. Guests in even-numbered rooms can wake up to serene views of the river. Continue your mornings with a complimentary buffet breakfast.
The Landing Hotel is only a 4-minute walk from the Carnegie Science Center. The Acrisure Stadium (formerly known as Heinz Field) is just a 5-minute stroll away, so try to catch a game.
Where to stay when you reach Philadelphia
Philadelphia holds the title of being America's first World Heritage City. Revered as the birthplace of the United States, it was here where the Declaration of Independence and the Constitution were signed.
As you explore this historic city, make your way to the Independence National Historical Park. This location offers a deep dive into the USA's early history.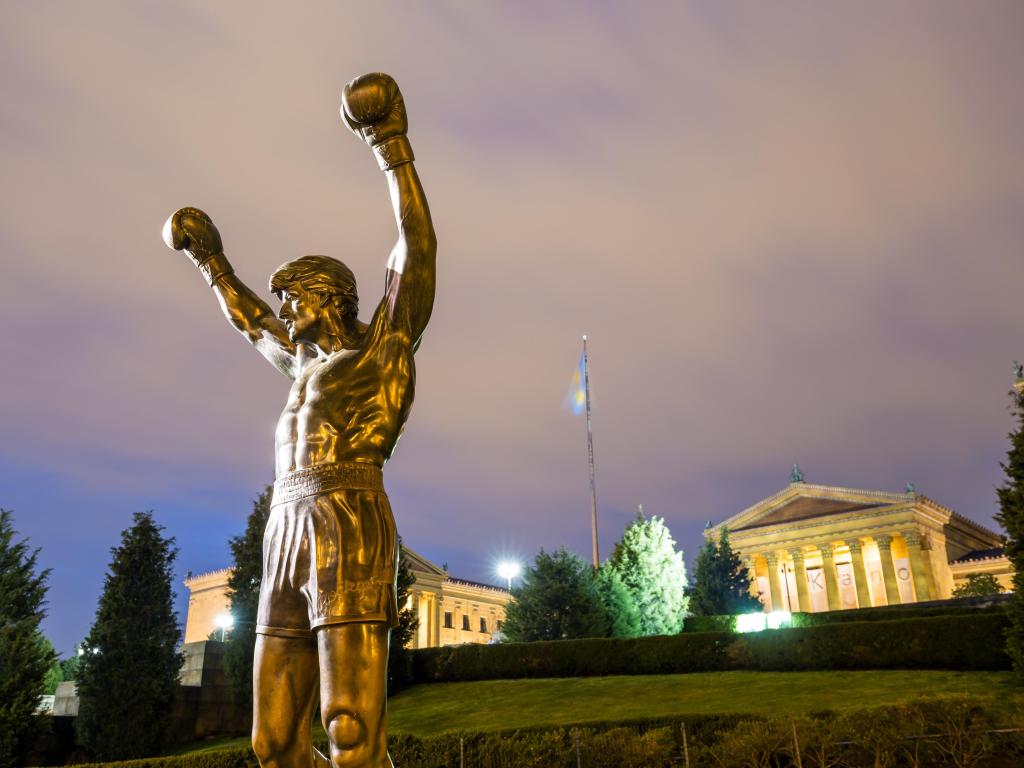 If you love art, check out the Philadelphia Museum of Art. Beyond its iconic "Rocky Steps," the museum houses artistic masterpieces from around the globe.
One street you can't miss is Elfreth's Alley. As America's oldest residential street, the cobblestones here bring you back to the country's early past.
For an offbeat piece of Philadelphia, step into Philadelphia's Magic Garden. Created as a protest against the construction of an expressway, Isaiah and Julia Zagar's sprawling mosaic art installation, which began in 1968 and opened to the public in 2008, is a testament to the power of creativity.
Your stay in Philadelphia deserves nothing but the best. That's why we recommend staying at the Rittenhouse Hotel. Located on the picturesque Rittenhouse Square, this prestigious hotel blends luxury, comfort, and proximity.
After your long drive, you can relax in style at the spa and seawater swimming pool, or enjoy afternoon tea with live harp music.
If you're a foodie, you'll be in for a treat at Lacroix, the in-house award-winning restaurant. Afterwards, you can easily get to downtown's world-famous bars and nightlife.
Things to see on a road trip from Chicago to Philadelphia
On both routes from Chicago to Philadelphia, you'll have an almost endless list of highlights and worthy sights to experience. To make your planning easier, we've included our favorites below.
Columbus Route
Eiteljorg Museum - A unique museum dedicated to the art and cultures of the American West and Indigenous America.
Downtown Canal Walk - A scenic, pedestrian-friendly pathway in Indianapolis lined with fountains, art installations, and historic landmarks, perfect for leisurely strolls or boat rides.
The Children's Museum of Indianapolis - The world's largest children's museum, offering interactive exhibits spanning natural history, world cultures, and the arts, fostering learning through play.
National Museum of the US Air Force - Located in Dayton, Ohio, this museum provides a comprehensive look at the history of American aviation through its vast collection of aircraft and missiles.
Dayton Aviation Heritage National Historical Park - Celebrating the achievements of Wilbur and Orville Wright, this park showcases the history of aviation and the story of the Wright brothers' pioneering flights.
Belmont County Victorian Mansion Museum - A stunning 26-room mansion, it offers visitors a glimpse into the opulent world of the Victorian era.
Arlington National Cemetery - A solemn and historic site near Washington, DC, this cemetery honors the United States' military personnel with its sea of white tombstones and memorials, including the Tomb of the Unknown Soldier.
National Museum of African American History and Culture - Located in Washington, DC, this Smithsonian institution celebrates the rich history, culture, and achievements of African Americans, showcasing artifacts, photographs, and multimedia exhibits.
Lincoln Memorial - An iconic monument in Washington, DC. It is a tribute to Abraham Lincoln, the 16th U.S. president, where you can view the Reflecting Pool and the National Mall.
The US Capitol and Library of Congress - The Capitol serves as the home of the U.S. Congress, boasting neoclassical architecture, while the adjacent Library of Congress is the world's largest library, housing millions of books, recordings, and manuscripts.
National Museum of the American Indian - A Smithsonian museum in Washington, DC, it celebrates the diverse history, art, and cultures of Native peoples from across the Western Hemisphere.
Baltimore Inner Harbor - A vibrant waterfront area in Baltimore, Maryland, it offers a mix of historic ships, restaurants, shops, and attractions, making it a popular destination for both tourists and locals.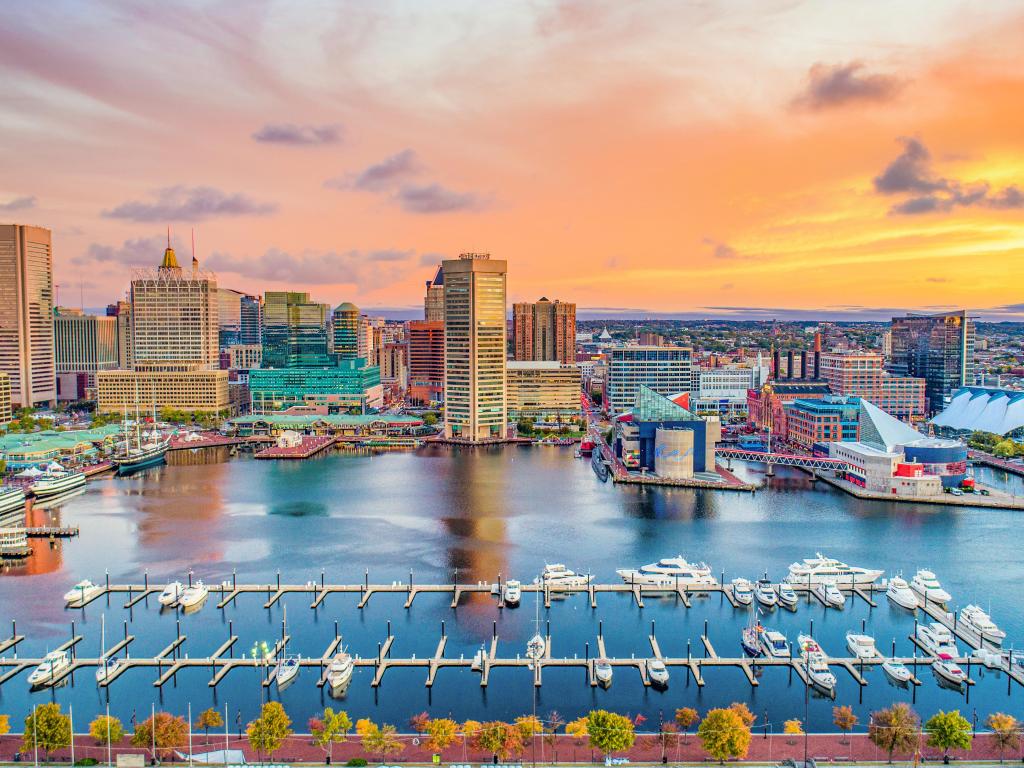 Pittsburgh Route
Wolf Lake Boardwalk - A tranquil boardwalk trail offering picturesque views of Wolf Lake, ideal for bird-watching, photography, and leisurely walks amidst nature.
Toledo Museum of Art - Located in Toledo, Ohio, this renowned museum boasts an impressive collection of global artworks spanning ancient to contemporary, housed in a beautiful neoclassical building.
National Museum of the Great Lakes - A fascinating museum in Toledo, Ohio, dedicated to the rich maritime history of the Great Lakes, featuring exhibits on shipwrecks, lighthouses, and the region's naval heritage.
Imagination Station - A hands-on science center in Toledo, designed to spark curiosity in kids and adults alike through interactive exhibits, demonstrations, and educational programs.
Liberty Aviation Museum - Situated in Port Clinton, Ohio, this museum preserves the history of aviation, showcasing a collection of vintage aircraft and memorabilia.
Maritime Museum of Sandusky - Celebrating the maritime heritage of the Sandusky Bay area, this museum offers exhibits on shipbuilding, shipping, and the fishing industry.
Marblehead Lighthouse - The Marblehead Lighthouse is one of the oldest continuously operating lighthouses on the Great Lakes, offering panoramic views and a rich history.
Follett House Museum - Located in Sandusky, Ohio, this 19th-century home-turned-museum offers a glimpse into the region's history, from the War of 1812 to the modern era.
Cleveland Botanical Garden - A lush urban oasis that features diverse plant collections, themed gardens, and the stunning Eleanor Armstrong Smith Glasshouse with tropical and desert biomes.
Rock & Roll Hall of Fame - Located in Cleveland, this famous museum celebrates the history and cultural impact of rock & roll, featuring exhibits on legendary artists, iconic memorabilia, and interactive experiences.
Fort Necessity National Battlefield - This historic site commemorates the historic events of the French and Indian War.
Hershey Gardens - Spread over 23 acres in Hershey, Pennsylvania, this beautiful garden offers a diverse collection of plants, themed gardens, and the interactive Butterfly Atrium.
Echo Dell - Indian Echo Caverns - Located near Hershey, Pennsylvania, these natural limestone caverns offer guided tours that reveal stunning geological formations, echoing chambers, and a deep history that dates back thousands of years.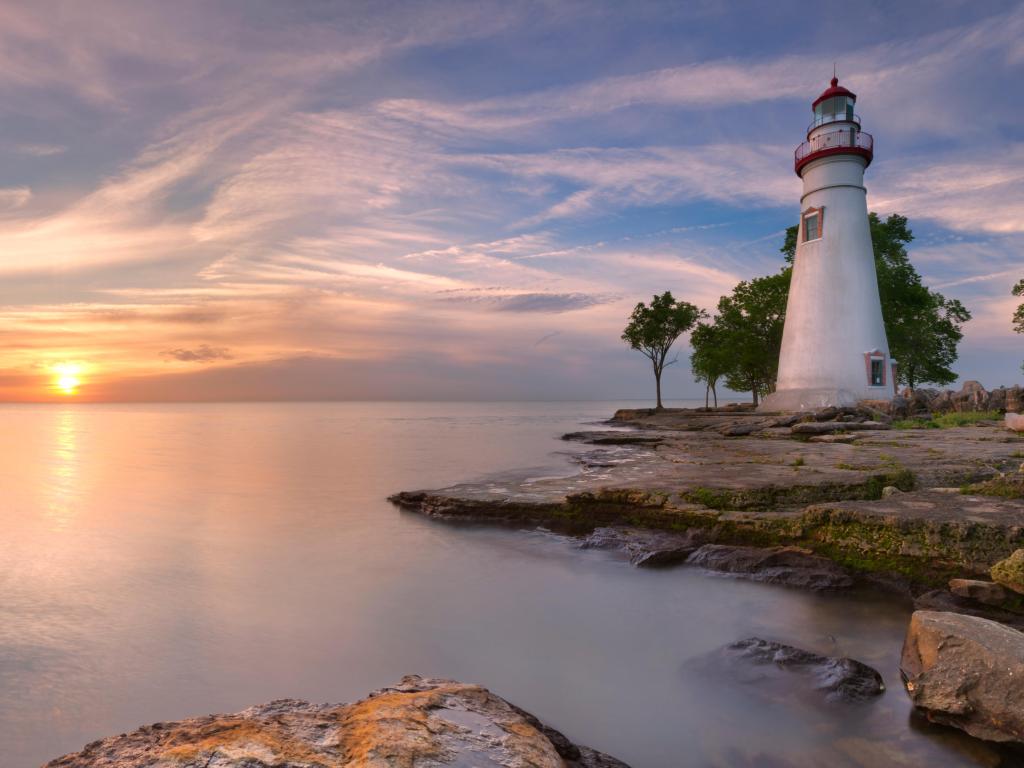 Both routes
Longwood Gardens - This is one of the world's premier botanical gardens, showcasing exquisite plant collections, fountains, and seasonal displays across its vast grounds.
Brandywine Museum of Art - Nestled in Pennsylvania, this museum has a wonderful collection of American art with works of the Wyeth family and American illustrations.
Best time to go on a road trip from Chicago to Philadelphia
Philadelphia, America's first World Heritage City, offers a rich experience regardless of the season. However, when you go depends on the weather you like and the festivities you'll enjoy the most.
If you take the Columbus Route in winter, you could get tons of snow, especially in cities like Chicago, Indianapolis, and Columbus. As you get closer to Washington, DC, and Philadelphia, you'll generally get less snow.
The Pittsburgh Route takes you through the Great Lakes region and during the winter, there's lots of lake-effect snow leading to possible road closures. There are still plenty of festivities to enjoy in winter like the National Christmas Tree Lighting in November and December.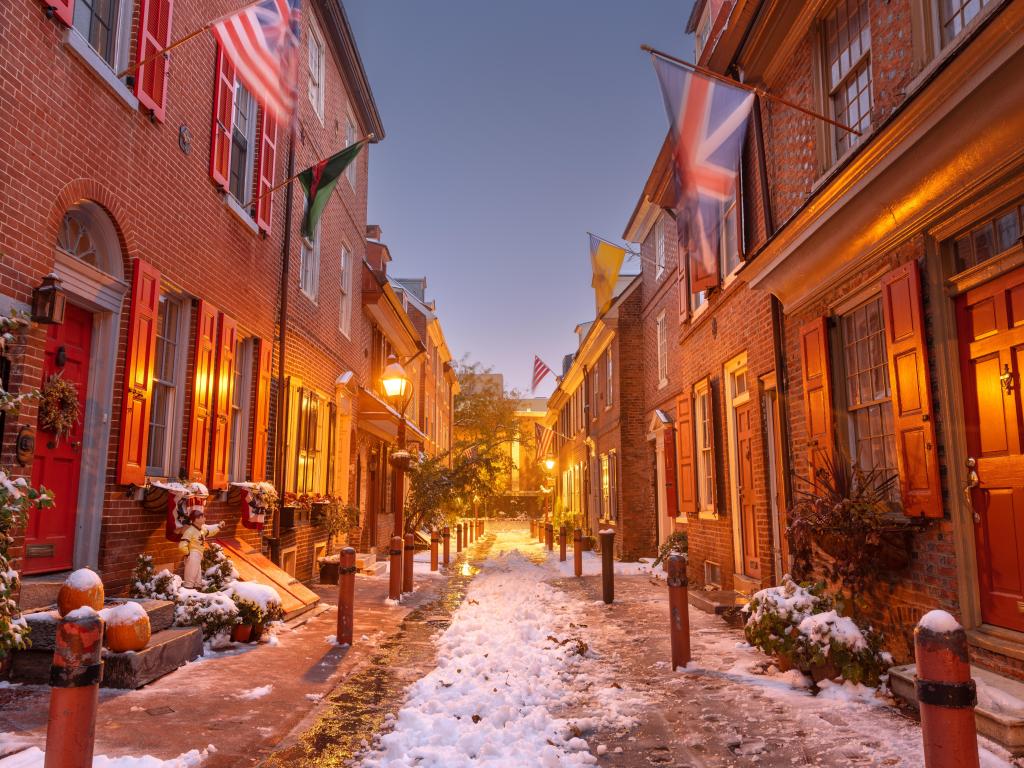 Spring is a lovely time to travel on both routes, with mild weather and plenty of spring flowers to enjoy. There are also lots of exciting events like the Pittsburgh Fringe in April.
If you travel in fall, the milder temperatures and stunning fall foliage make autumn the perfect season to drive. Also, you can add events such as the Pittsburgh International Jazz Fest in September to your itinerary. If you love wine, check out the Philly Wine Fest in October.
Summer brings potential traffic during holidays and the possibility of thunderstorms, especially around Cleveland and Pittsburgh.
However, summer is the time when most festivals and events happen. Don't miss the Smithsonian Folklife Festival if you travel in June or July and the Roots Picnic in June.
Regardless of when you decide to hit the road, this amazing road trip will be filled with diverse experiences, both en route and at the destination, making every mile a highlight.