Can you Drive to Put In Bay?
Put-in-Bay is a popular holiday destination on South Bass Island, just three miles offshore of the Ohio coast. Situated in the middle of Lake Erie, this quaint village boasts great restaurants, hotels, wineries, and festivals. It's a beautiful setting in which to get active on the water or relax with breathtaking lake views.
It is not possible to drive directly to Put-in-Bay, which is only accessible by boat. There is no bridge, but visitors can take passenger or vehicle ferries from Catawba Island, Port Clinton or Sandusky. The vehicle ferry takes 15 minutes to cross.
Read on to discover all of the available travel options for exploring this lively village on the bay, and decide which is the best time, method and itinerary for you.
Can you drive to Put-in-Bay?
Put-in-Bay is situated west of Cleveland, on South Bass Island in Lake Erie, which is divided between the United States and Canada. Put-in-Bay is on the US side of the lake and is separated from the mainland entirely.
It takes two hours to drive from Cleveland to Put-in-Bay. The route hugs the shore of Lake Erie for 80 miles, which takes 2 hours to cover without accounting for any stops on the way.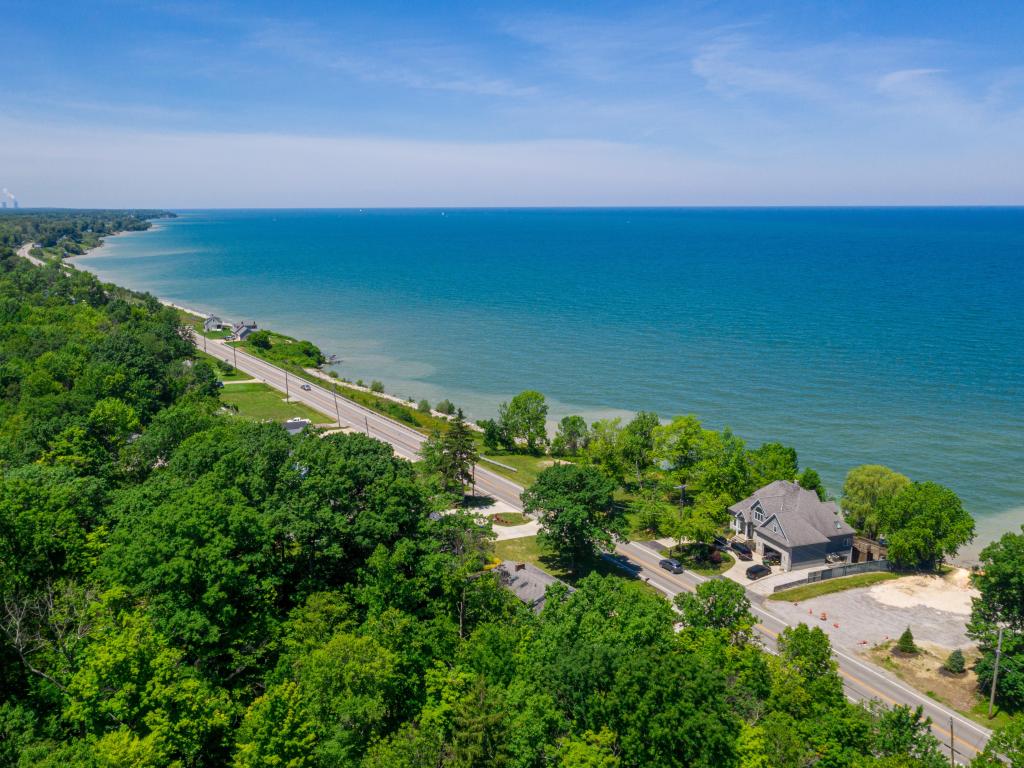 The main way to reach Put-in-Bay is to use one of three ferries that operate from the mainland. There is one vehicle ferry and two passenger ferries. The vehicle ferry runs from ​​the tip of Catawba Island, while the passenger ferries run from Port Clinton and Sandusky, which are slightly longer trips.
You can take a flight to Put-in-Bay using the small airport on the island.
However, the airport is used for private and chartered flights, which have to be individually organized and are very expensive. Driving is the most economical and environmentally-friendly way to reach the destination from Cleveland.
How to get to Put-in-Bay from mainland USA
Overview of the main ways you can get to Put-in-Bay
Departure Port
Mode
Operator
Distance (Time)
Fare
Catawba Island
Vehicle ferry
Miller Ferry
5 miles (15 minutes)
$57


including 1 vehicle

Port Clinton
Passenger ferry
Jet Express
10 miles (25 minutes)
$40.79
Sandusky
Passenger ferry
Jet Express
20 miles (45 minute)
$42.50
*Price calculated at the time of writing, for 1 adult
It is a relatively short drive west from Cleveland to Put-in-Bay, passing through several neighboring towns and Lake Erie resorts. The route crosses the Edison Bridge to reach Catawba Island, where you can board the vehicle ferry.
From Cleveland, head west on Interstate 90 (I-90) and continue onto OH-2 W. Cross over Sandusky Bay on Edison Bridge, then continue onto OH-53. Drive to the very tip of Catawba Island, then drive on board the Miller Ferry to cross Lake Erie and arrive at Put-in-Bay. Helpfully, the Edison Bridge is toll-free.
You'll pass landmarks including the village of Milan, famous as the birthplace and childhood home of Thomas Edison. The city of Sandusky is perfect for a classic beach day out, with plenty of family attractions including roller coasters.
Just before you cross Edison Bridge you can visit the Lagoon Deer Park and pet animals from all over the world. On the other side of the bridge, you'll find the Liberty Aviation Museum where you can see historical aircraft and vehicles.
It's worth getting out of the car at East Harbor State Park, a scenic lakeside recreational area with wetlands, a sandy beach and lots of wildlife.
Once you reach the tip of Catawba Island, take the Miller Ferry. The ferry drop-off point is Lime Kiln Dock on Bass Island. From here it is a short drive north to reach the Put-in-Bay settlement.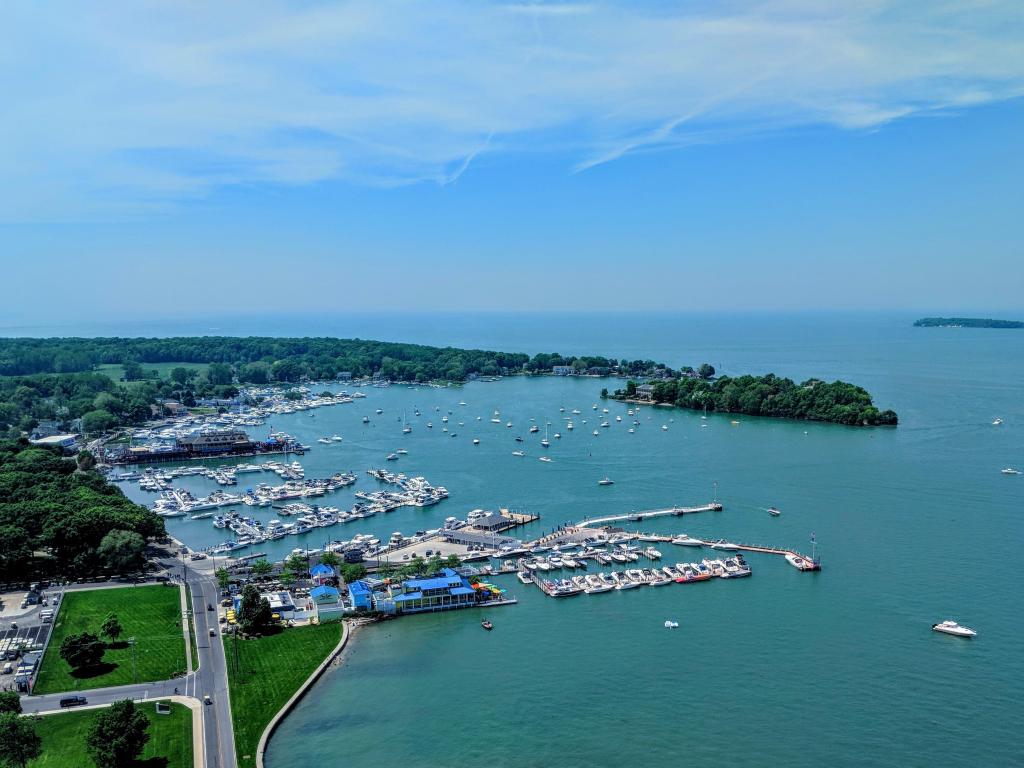 The frequency of the Miller Ferry varies by season, with less frequent service in early spring, autumn, and winter. In the summer, they run every half an hour between 7am and 7pm.
Alternatively, you can choose to take one of the passenger ferries across Lake Erie to reach Put-in-Bay. Both passenger ferries are run by Jet Express - one departs from Port Clinton and one departs from Sandusky.
These ferries run 5 times a day during operating seasons, excluding the winter. Passenger ferry is the cheapest option if taking your car with you isn't your priority.
How long does it take to get to Put-in-Bay?
As mentioned, any drive to Put-in-Bay involves a journey by ferry. Door-to-door travel times will therefore vary by ferry times according to the season, and whether you're able to coordinate your journey to align with the ferry timetables.
If you plan ahead, you can expect the following average journey times when traveling from the major nearby cities, which are set out in the table below. Each distance estimates the drive to the Miller Ferry vehicle crossing.
Slightly closer than Cleveland, if driving the 50-mile distance from Toledo you'll travel the opposite way around the shores of Lake Erie from the east to reach Catawba Island. This drive should take around 1 hour 40 minutes.
From Cleveland, the 80-mile drive should take around 2 hours, though this may be dependent on traffic exiting the city.
From Detroit, you'll take I-75 south to Toledo, then continue east to the ferry point over a distance of 110 miles. This drive takes around 2 hours 30 minutes.
If you're traveling all the way from Windy City, you'll follow I-90 east for the majority of the 290-mile journey, then take OH-53 north to arrive at the tip of Catawba Island. This drive can take anywhere from 5 to 6 hours depending on traffic.
Once you get to Catawba Island, the total distance on the Miller Ferry is just 5 miles, which takes about 15 minutes to travel. From your arrival point, it's only a short drive to Put-in-Bay.
Travel times to Put-in-Bay from major cities in the USA via Catawba Island

| Starting Point | Distance | Travel Time |
| --- | --- | --- |
| Cleveland | 80 miles | 2 hours |
| Detroit | 110 miles | 2 hours 30 minutes |
| Columbus | 130 miles | 3 hours 10 minutes |
| Pittsburgh | 200 miles | 3 hours 40 minutes |
| Chicago | 290 miles | 5 hours 10 minutes |
Which port should you arrive at on Put-in-Bay?
There are two arrival ports on South Bass Island, both of which are near to each other on the relatively small island. It doesn't really matter which port you arrive at because the island is so small, but if you are traveling without a car then it is probably more convenient to take the Jet Express ferry into downtown Put-in-Bay.
The passenger ferry takes you straight to the heart of downtown Put-in-Bay, leaving you conveniently placed for the restaurants, activities and shopping.
The vehicle ferry takes you to the ferry dock on the southern tip of South Bass Island, which is located 2 miles from the village of Put-in-Bay. From here you can drive up to the resort and park your car to explore on foot, or drive to one of the state parks.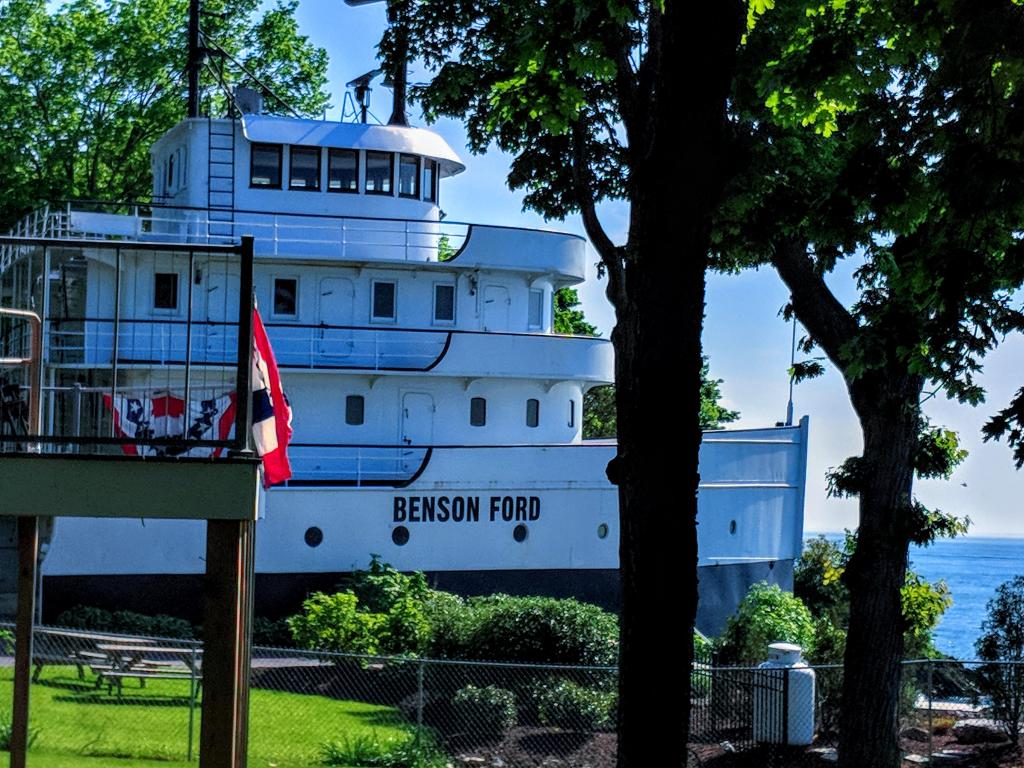 Things you need to know about driving to Put-in-Bay
The drive to Put-in-Bay is relatively straightforward, though you should plan ahead to make sure your journey aligns with ferry times and to check for any adverse weather that might affect the crossing. Plan ahead when leaving one of the major cities to avoid rush hour congestion.
It is very easy to reach Put-in-Bay using roads west of Cleveland, primarily I-90 and OH-2. This route is toll-free, but includes crossing Edison Bridge and paying to use the ferry. It is advisable to book ferry tickets online in advance - though the price isn't any cheaper, you'll avoid any extra waiting time if you purchase in advance.
Here are our top tips when it comes to preparing for a drive to Put-in-Bay:
● The ferry might not sail if the weather is bad, so check ahead to see if there are any adverse conditions that might affect your crossing.
● Though flying is costly, it takes you directly to the island without having to take the ferry - if you get seasick this might be the option for you!
● The ferry to Put-in-Bay is often open air, so you should bring some additional clothes for the windy crossing if you want to head up on deck for the view.
● You don't need a passport to visit Put-in-Bay, as the island is on the USA side of Lake Erie.
Things to see once you reach Put-in-Bay
Put-in-Bay is a great family destination, with activities, beaches and plenty of brilliant restaurants to eat fresh seafood. We've got some recommendations to help you make the most of your time on the island.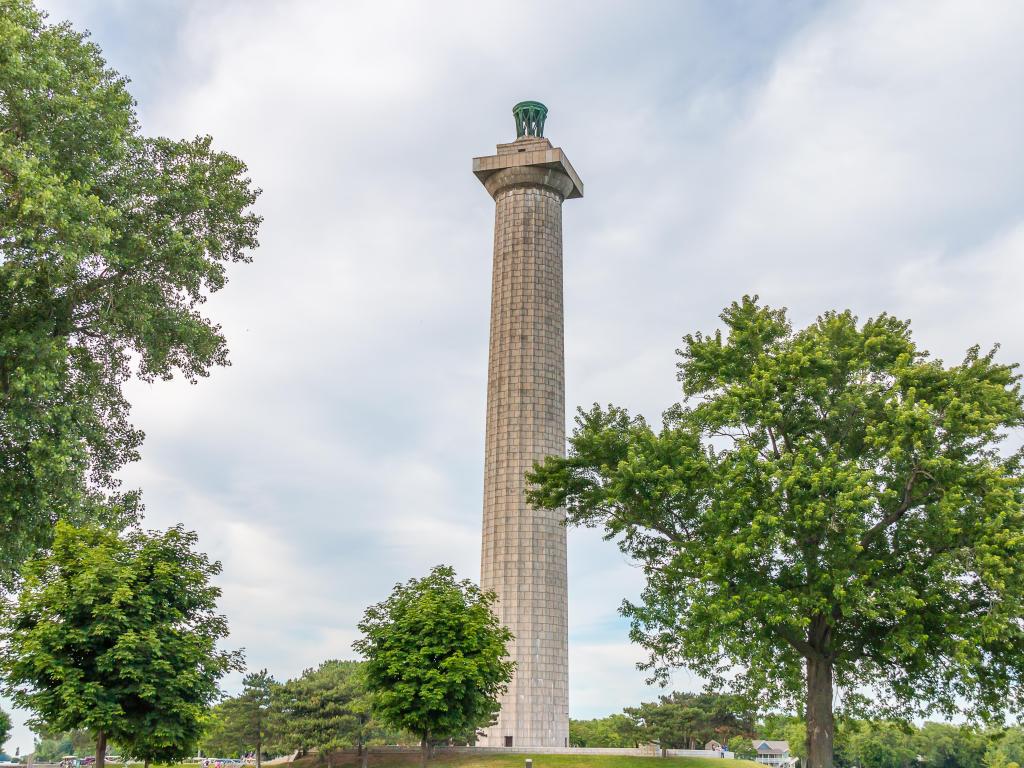 Victory and International Peace Memorial – This pillar-shaped memorial commemorates the 1813 naval victory over British forces, and there is a visitor center which you can visit for free.

Crystal Cave – This magical cave is home to stunning crystals and the largest geode in the world. It has a winery next to it so you can combine the two!

Perry's Cave Family Fun Center – This is the largest cave on the island, made of natural limestone. It is famous for its butterfly house, and is super educational for kids!

Lake Erie boat rides - Though you'll have taken the ferry on the way over, if you're keen for more time on the water then hop on a boat ride to see a view of the island from afar.

Enjoy endless walks around the island - There are two parks on the island, South Bass Island State Park and Oak Point State Park. Take some time for a relaxing stroll around to take in the green space and spot some native wildlife.
A trip to Put-in-Bay offers a chance to dive into the heart of Lake Erie and escape the real world for a day or two. Now you have all the information you need to get there, pack your swimsuit and get planning!