Road Trip from Chicago to Yosemite National Park
A road trip from Chicago to Yosemite National Park is a truly unique and epic experience where you will be traveling across middle America, passing through iconic wild west destinations, beautiful scenery, and sights you'll remember for a lifetime.
The 1,960-mile drive from Chicago to Yosemite National Park takes 29 hours of continuous driving. Best stops include Springfield, Kansas City, Denver, Deer Valley, Salt Lake City, the Rocky Mountains, the Nevada Desert, and the iconic Rainbow Falls.
Continue reading to learn more about this fabulous trip, with ideas on the best routes, the best time to go, the best places to stay over, and our recommendations for things to see and do along the way.
How far is Yosemite National Park from Chicago and how long will the road trip take?
Comparison of road trip routes between Chicago and Yosemite National Park

| Route | Distance | Driving Time |
| --- | --- | --- |
| The Direct Route | 1,960 miles | 29 hours |
| The Scenic Route | 2,270 miles | 34 hours |
The road trip from Chicago to Yosemite National Park will take you a minimum of 29 hours and cover 1,960 miles. However, it is impossible to drive this distance all in one go, and it is worth planning the trip over several days.
Our alternative Scenic Route, exploring the wonderful state parks, forests, and other beautiful sights, covers 2,270 miles and will take around 34 hours of driving, so be sure to take plenty of stops along the way and live the adventure to the fullest.
Best road trip route from Chicago to Yosemite National Park
The best road trip route from Chicago to Yosemite National Park will depend on what you would like to see and do on this trip of a lifetime. We have suggested two routes that deliver the best that this journey has to offer.
Our Direct Route leaves Chicago and heads to Iowa, with spectacular sights of the Midwest, then into Nebraska, through Wyoming, and then onto Nevada, as you make your way to Yosemite.
The Scenic Route will take you through the great plains of Kansas, the beautiful mountains of Colorado, and past wonderfully scenic forests and national parks before the deserts of Utah and Nevada lead you to Yosemite National Park.
If you are visiting Rocky Mountain National Park, keep in mind that the national park uses a timed entry permit system. Please check the national park's website to see if you need to make a reservation before your visit.
Whichever route you choose, you will need to plan several overnight stops, taking at least a week or more to give you the best opportunity to take full advantage of all the attractions and amazing natural wonders along the way.
How to drive from Chicago to Yosemite National Park
The map above shows our suggestions for the best road trip routes between Chicago and Yosemite National Park. Keep reading for detailed descriptions of both routes, where to stay on either, and the best things to do on the way.
The Direct Route
Leaving Chicago, join Interstate 88 W passing Aurora and continue on this highway before forking right onto Interstate 80, leaving Illinois and entering Iowa as you cross the famous Mississippi River.
Continue past Davenport and Iowa City until you arrive at Des Moines. In the capital of Iowa, you can enjoy stunning architecture at the Capitol Building and enjoy a fantastic day out at Iowa State Fairgrounds.
Back on I-80 E, drive through Omaha and continue into Nebraska with its breathtaking views, open plains that stretch as far as the eye can see, and incredible natural rock formations and towering dunes.
You'll pass the Pawnee National Grassland and Cheyenne before reaching the Medicine Bow-Routt National Forest, where you can enjoy the many hiking trails, waterfalls, and scenic vistas.
Head onwards past Elk Mountain and Rock Springs and through Deer Valley, where you can spend the night. You will then arrive at Salt Lake City.
Head west out of Salt Lake City on the I-80 before taking a left down the US-92 to Ely. This remote mountain town was famous for copper mining and is now a great place for outdoor adventurers.
From Ely, the US-6 W takes you all the way through the heart of the Nevada desert and then to Benton where you'll join the CA-120 W. This road will take you to the gates of Yosemite National Park.
The Scenic Route
Leaving Chicago, you will take the Interstate 55 heading southwards, passing Bloomington before arriving at Springfield, the childhood home of President Lincoln, and an ideal place to take a break and explore.
From Springfield take the Interstate 72 W until you reach Hannibal before merging onto Interstate 35 S towards Cameron, where you'll head south on the I-35 to Kansas City, an ideal place for an overnight stop.
From Kansas City, take the Interstate 70 W and start your journey through the dynamic and beautiful Great Plains. You'll have uninterrupted views across the vast Kansas landscape and discover Kansas is undeniably flat.
A slight detour north to Wamego will allow you to visit Dorothy Gale's white-shingled house, bringing to life the world-renowned Kansas farm girl from the Wizard of Oz.
Back on I-70, continue west where you can take a break at Wilson State Park and Reservoir. Kansas' premier recreation hotspot offers many outdoor activities and a chance to stretch your legs, take a hike, or even a swim.
Continue along the I-70 until you reach Denver, where you'll be a little over halfway through the trip. It's an excellent place to spend the night and recover before the exciting days of driving ahead.
Leaving Denver, take I-70 W heading through the stunning scenery of Roosevelt and White River National Forests, continuing to Grand Junction and Thomson Springs where a short detour south will take you to Moab and Arches National Park.
Leaving Moab, head back to the I-70 and head through the Utah desert past Salina to Sulphurdale where you'll take the Interstate 15 south to Las Vegas.
From Las Vegas take the US-95 N passing Indian Springs and entering the Death Valley National Park, take a left onto NV-266.
Continue through Dyer, passing White Mountain Peak before merging onto US-6 W to Benton and then follow CA-120 to Yosemite National Park.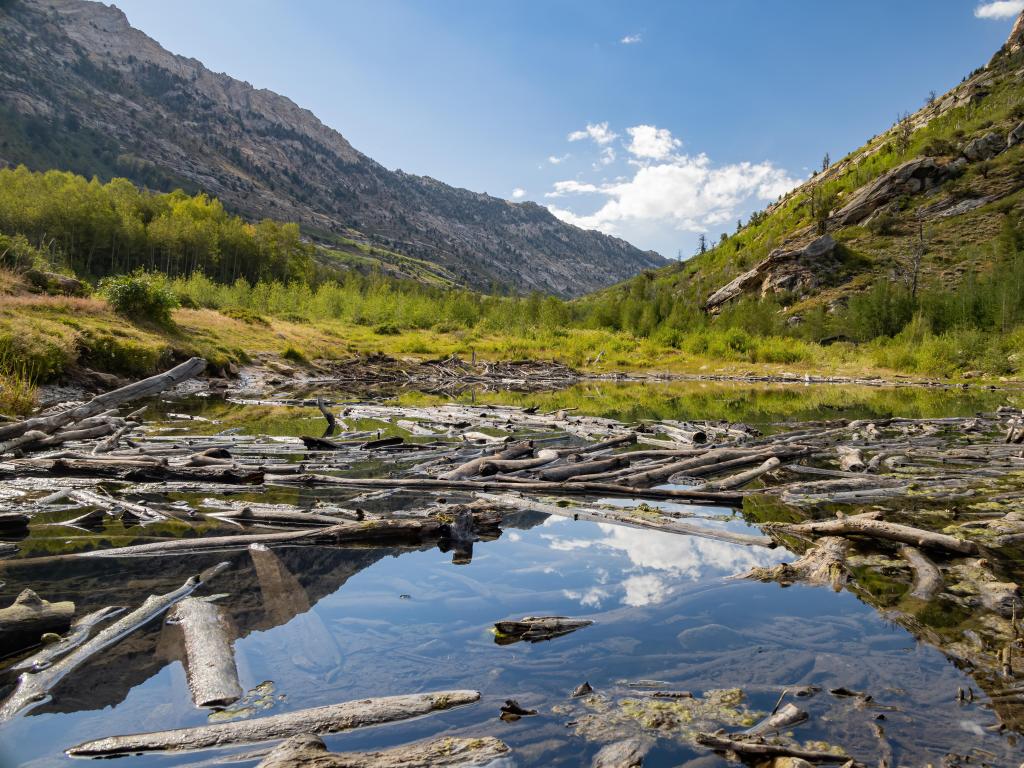 Best places to stop between Chicago and Yosemite National Park
It is recommended that you take a few overnight stops between Chicago and Yosemite National Park. On a trip of this magnitude, it's important to recharge your batteries and allow yourself time to enjoy the places along the way.
Ultimately, it's your decision on how many stopovers you decide to take, and we have recommended some of our favorites to help you with your planning.
Reconnect with nature at Deer Valley
Located about 9 hours from Yosemite on the Direct Route, Park City Mountains and Deer Valley Resort are a combination that can make any adventurous person excited. The luxurious Chateaux Deer Valley is located steps away from the Deer Valley Resort.
The Chateaux Deer Valley provides a fantastic experience nestled in the Park City Mountains and this 4-star hotel is a favorite with winter sports lovers for its skiing offers; mountain bikers and hikers in the summer; and vacation lovers all year round.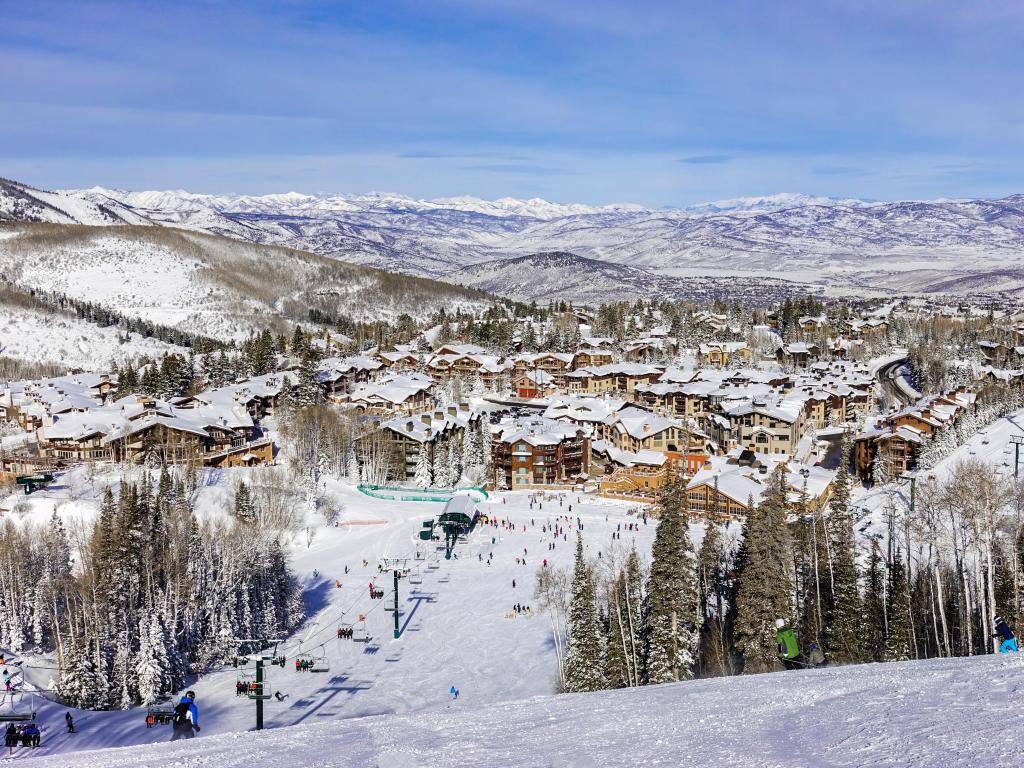 The hotel offers a host of attractions close by including the Egyptian Theater, Alpine Coaster, Guardsman Pass Scenic Backway, and many more.
Experience the finest house-made Italian cuisine with delightful seasonal menus at Cena Ristorante or relax in the Cena Lounge with its livelier dining ambience before enjoying mountain views from your balcony and a wonderful night's sleep.
Boutique BBQ charm in Kansas City
Located a little over 7 hours from Chicago on the Scenic Route, Kansas City is famous for its barbeques, fountains, and jazz, which makes this well-rounded city an excellent overnight stop being around a quarter of the way into the trip.
Located in the heart of Kansas City is the Crossroads Hotel, a boutique hotel in a historic downtown site offering luxurious rooms with exposed brickwork and beams adding to its unique charm.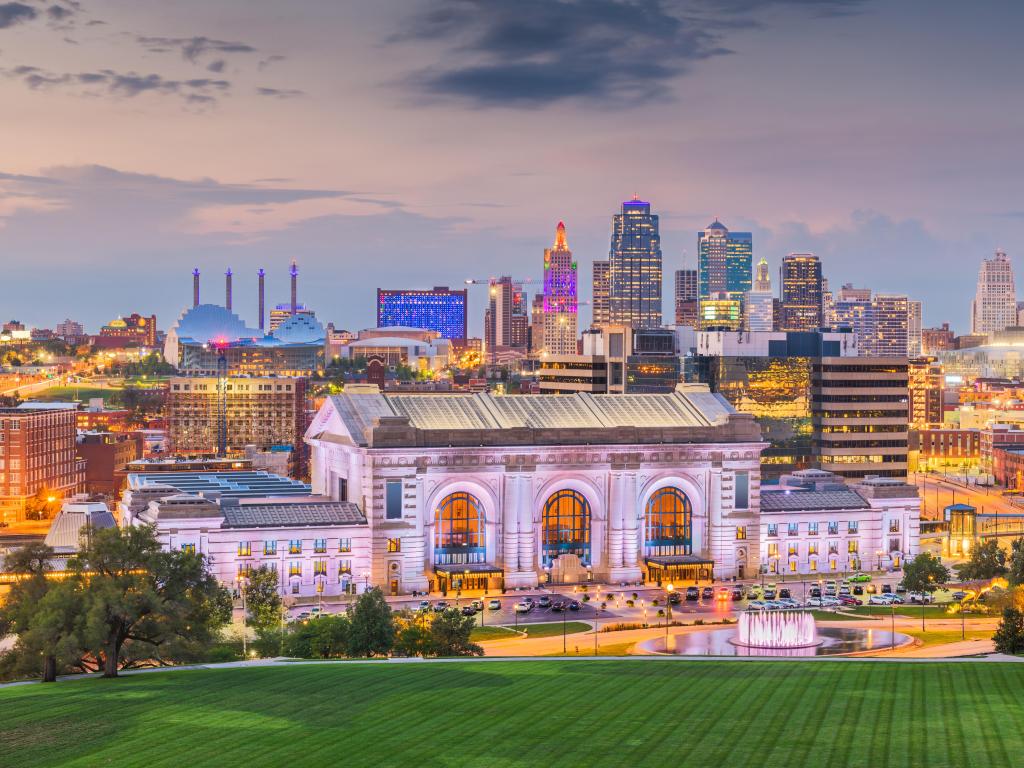 Situated in the heart of the Arts District, the Crossroads is perfectly located to explore everything Kansas City has to offer. The Kaufam Center for Performing Arts is right on the doorstep where you can enjoy the Kansas City Ballet, Lyric Opera and the City Symphony, and much more.
The most popular attractions in the hotel's vicinity include the Kansas City Convention Center, Sprint Center, and the National World War I Museum at Liberty Memorial.
Experience the delights of the Power and Light District, with its variety of local, regional, and international restaurants, shops, entertainment, and bustling nightlife. If you'd rather relax in the comfort of your hotel, book a meal at its Lazia Restaurant or enjoy a sunset at its rooftop bar.
Relive history in Denver
Denver is located about 14 hours from Chicago on the Scenic Route and is best known for its historical buildings, museums and architecture. The Colorado National Bank building boasts unique architecture and is now home to the Renaissance Denver Downtown City Center.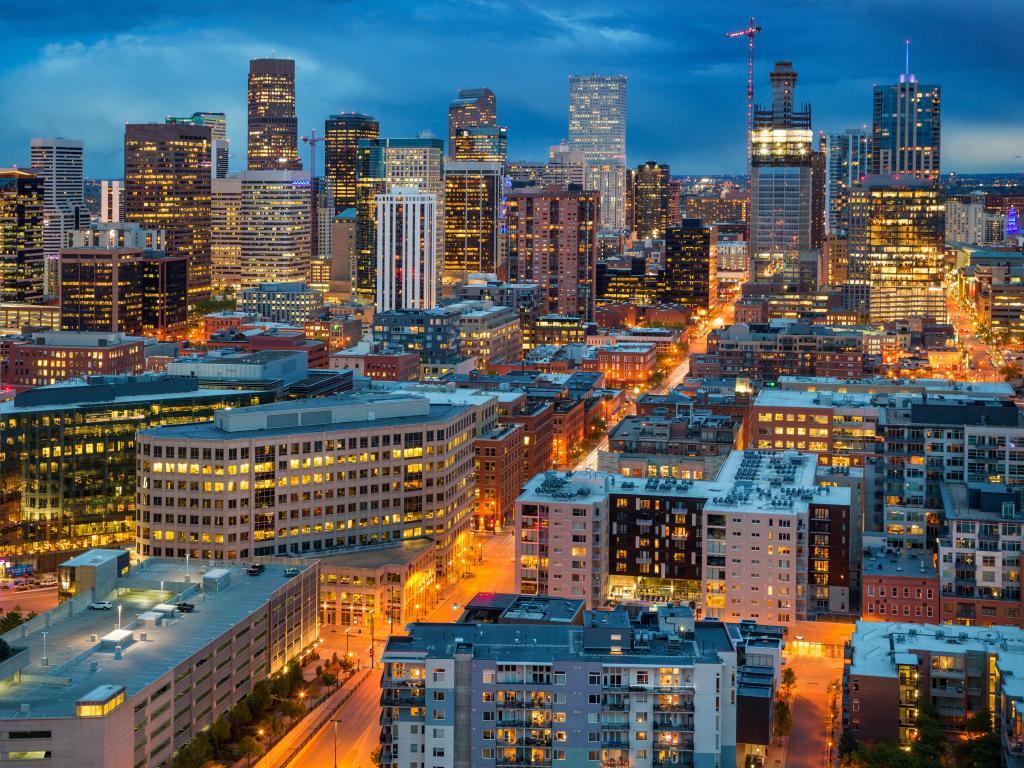 The hotel's lobby was coined the most beautiful room by Denver Post. This historical hotel features three original bank vaults that are now used for private dining and meetings.
The hotel is also just a few steps away from dining, entertainment, shopping, and the Colorado Convention Center. Denver Zoo, Denver Museum of Nature and Science and the City Park are only a short drive away.
The Denver Center for Performing Arts and Paramount Theater are within easy walking distance of the hotel, and you can finish the night off in style at Stranahan's whisky distillery and cocktail bar.
Things to see on a road trip from Chicago to Yosemite National Park
You will get the most out of this road trip by taking at least 5 days or more to explore the incredible places and attractions on the way. Here are some of our recommended sites and attractions that you should add to your to-do list.
Direct Route
Grotto of the Redemption, Iowa – The largest man-made grotto in the world, described as the eighth wonder of the world, a truly stunning creation.
Crystal Lake Cave, Dubuque – A beautiful place to visit with pristine stalagmites, helictites, and rare anthodites in this stunning cave system.
Des Moines, Iowa – Capital of Iowa, and home to its most popular attractions such as the Iowa State Fairgrounds, Blank Park Zoo, and the Pappajohn Sculpture Park.
Omaha, Nebraska – Famous for its pioneer history and museums and home to the Henry Doorly Zoo. See the big cat complex, indoor jungle, rainforest, and desert habitats.
Medicine Bow-Routt National Forest - This beautiful forest, along with the Thunder Basin National Grassland, spans nearly 2.9 million acres and offers recreational activities all year round.
Deer Valley Resort, Utah – A popular ski resort in winter that offers many fun activities in summer, such as mountain biking, hiking, and scenic chairlift rides.
Salt Lake City, Utah - Known for its Olympic past, religious history and unique architecture, Salt Lake City is home to the famous Salt Lake Temple, City Creek Center and Natural History Museum of Utah.
Ashley National Forest - Take a break and stretch your legs in this gorgeous forest which features some of the most beautiful views of lush greens and crystal-clear lakes.
The Great Salt Lake – The largest saltwater lake in the western hemisphere. Take a swim and experience the unique experience of floating at Antelope Island State Park.
Great Basin National Park - Known for its incredibly diverse habitat, Great Basin National Park is also an amazing dark sky area where you can learn about astronomy.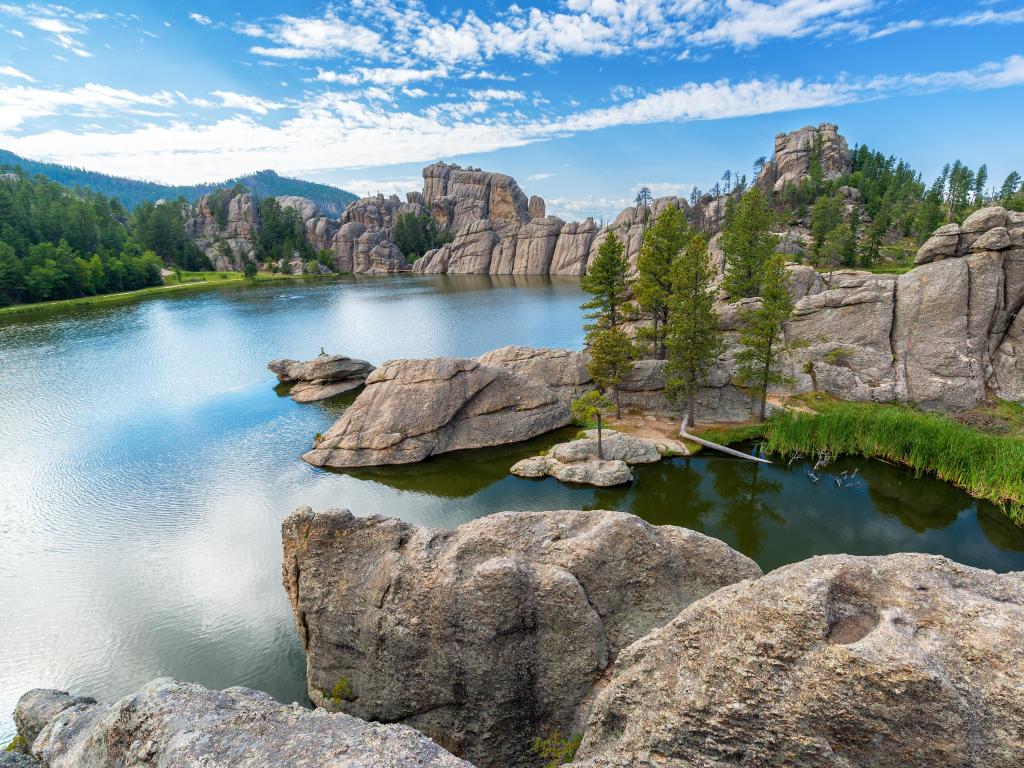 Scenic Route
Arches National Park – Housing over 2000 natural sandstone arches, hundreds of soaring pinnacles, and massive rock fins. You might need to make a reservation for a timed-entry permit while visiting Arches National Park. Please check the national park's website for up-to-date information.
Moab, Utah - This great city is the perfect gateway to the famous Arches National Park. It is also located nearby Canyonlands National Park, which makes it a perfect stop for any outdoors and nature lover.
Pikes Peak – At 14,115 ft this pink granite peak in Colorado hosts a famous race to the top, with fabulous hiking trails and mesmerizing views.
Denver, Colorado - Also known as the "Mile-High City", you can visit Denver to see the famous Larimer Square, Red Rocks Park and Amphitheater, Coors Field and Denver Botanical Gardens.
Arapaho and Roosevelt National Forests - These incredibly scenic forests provide opportunities for hiking, biking, fishing, horseback riding and even winter sports, if you are visiting in the right months!
Rocky Mountain National Park – Discover the rugged scenery of the Colorado mountains, and keep an eye out for elk, black bears, and moose.
Death Valley – With epic driving views and landscapes that are other-worldly, from the Mesquite Flat Sand Dunes to Badwater Basin Salt Flats, and an incredible place for stargazing.
Topeka, Kansas – Visit the Evil Knievel Museum and learn all about the legendary motorcycle daredevil.
Hanging Lake – This Colorado treasure is a rare example of a travertine geological formation located in the heart of Glenwood Canyon. The 1.2-mile trail is steep rigorous and rocky but exceptionally rewarding.
Las Vegas, Nevada – Set in the heart of the Mojave Desert, the gambling capital of the world and an excellent base from which to see the Grand Canyon and Hoover Dam.
Both Routes
Rainbow Falls – Beautiful falls within the lush forests of the Ansel Adams Wilderness, dotted with sparkling lakes, glacially sculpted gorges, and imposing peaks, ranging in altitude from about 7,000 feet to 14,000 feet.
Ely – Remote Mountain town where you can ride the Nevada Northern Railway. Visitors flock from all over the world to ride on its historic steam and diesel engines.
Mammoth Mountain Ski Area - California's best resort for skiing, Mammoth Moutain is a must-stop for any winter sports lover before visiting Yosemite National Park.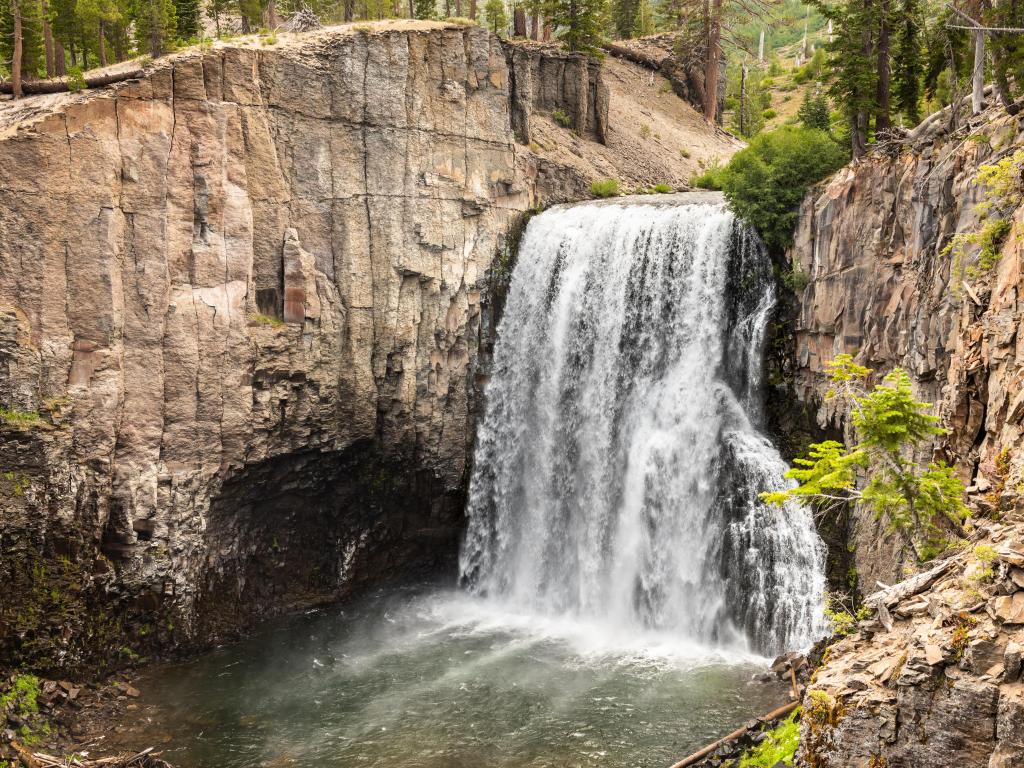 Best time to go on a road trip from Chicago to Yosemite National Park
Whilst you can take a road trip from Chicago to Yosemite National Park at any time of year, certain seasons are preferable to undertake the journey.
Some of the best times to visit Yosemite are the spring months of March and April, or later in September and October in the fall, where the temperature averages around 60 degrees Fahrenheit.
You can beat the crowds and enjoy the Park in its glorious spring bloom or enjoy crisp days and freezing nights in September hiking in Tuolumne Meadows.
In the summer months, the desert areas will see a sharp rise in temperatures, and Death Valley has reached a record high of 134 degrees Fahrenheit.
If you're planning on visiting Yosemite between May and September, you should check if you need a reservation during the peak hours. This is simply to manage congestion and ensure a quality visitor experience for all.
Taking the trip in winter may appeal if you are a lover of winter sports, with several ski resorts along the route making an ideal stopover, such as Aspen, Deer Valley, and indeed Yosemite Ski itself at Badger Pass.
If you are traveling at this time of year, it is worth remembering that many of the mountainous routes are subject to closure depending on snowfall.
Regardless of when you plan to travel, a trip of such proportions has so much to offer, leaving you with memories that will stay with you long after the wheels have stopped turning and the engine's turned off.