Tioga Pass Entrance, Yosemite National Park
Tioga Pass Entrance provides access to Yosemite National Park from the east - the only entrance to do so. This entry point is only open from May to October, but during this period, Tioga Pass offers the most convenient option for those traveling from areas around Death Valley, Las Vegas and Reno.
A quick overview of Tioga Pass Entrance to Yosemite National Park
Street Address
📍Tioga Road, Lee Vining, CA 93541, USA (Located on CA-120)
Facilities in the Area

🕒 Entrance opening hours (May to October)

🎟️ Ticket office

ℹ️ Information station (Located at Tuolumne Meadows)

🚻 Public restrooms

🍽️ Picnic area

⛽ 12.7 miles to nearest gas station (Located in Lee Vining)
Attractions Nearby

⭐️ Glacier Canyon (0.7 miles away)

⭐️ Tioga Lake (1.0 mile away)

⭐️ Ellery Lake Lookout (3.1 miles away)

Important Information

🔴 Tioga Pass is one of the most seasonally dependent entrances to any U.S. national park, and as specific dates can vary make sure to check in advance.

🟡 The approach to the pass, especially from the east, is winding and steep, and challenging for larger vehicles, or those with less mountain driving experience.

🟢 If you're planning to enter or exit Yosemite via Tioga Pass, make sure you have plenty of supplies and gas as services are limited.
Where can I find the Tioga Pass Entrance to Yosemite National Park?
Yosemite's Tioga Pass Entrance is the only entrance to be found on the east side of Yosemite National Park.
Just before you head into Tioga Pass you'll find Lee Vining, a small town on the eastern slope of the Sierra Nevada, where you can stock up. Make sure to visit the popular Whoa Nellie Deli, with gourmet delights and views overlooking Lake Mono.
Although only open seasonally, this entrance is definitely worth the summer wait, with jaw-dropping views, stunning granite domes and plenty of outdoor activities and adventure - a must-entrance for the thrill-seekers. With Tuolumne Meadows, plus Tioga and Ellery Lakes, all just 8 miles away from the entrance, the landscape really is unique and beautiful.
Lee Vining, a popular gateway town you can visit before heading into Yosemite, can be found just 8 miles away. Here you will find everything you need to make sure you and your vehicle are well stocked before entering the Park via Tioga Pass.
Benton can be found around 60 miles away from Tioga Pass, an hour and 10 minute drive, where historic, Old West charm awaits. Here you can explore natural hot springs and scenic desert landscape, as well as topping up supplies at the small range of shops and gas stations.
To learn more about the entrances available to use when entering Yosemite National Park, check out our detailed Yosemite entrance guide.
Driving to Tioga Pass Entrance from nearby cities
Distance between major towns and cities and Yosemite's Tioga Pass Entrance

| Origin City | Distance | Driving Time |
| --- | --- | --- |
| Lee Vining | 12 miles | 17 minutes |
| Benton | 62 miles | 1 hour and 10 minutes |
| Death Valley | 255 miles | 4 hour 20 minutes |
| Las Vegas | 340 miles | 5 hours 25 minutes |
Visiting Yosemite National Park from Las Vegas and still figuring out your itinerary? Take a look at our dedicated guide detailing an epic road trip from Las Vegas to Yosemite National Park for inspiration.
How will I know when I arrive at Tioga Pass Entrance and Yosemite National Park?
It's helpful to have some landmarks to look out for as you make your way to Tioga Pass Entrance for the first time. These attractions and scenic sites should help guide you as you head towards the Tioga Pass Entrance, and help guide you in the right direction.
Around 10 miles away from Tioga Pass Entrance
Mono Lake Vista Point - Panoramic views of the ancient and vast Mono Lake, renowned for its unique limestone tufa towers.
Gibbs Canyon - A rugged and scenic area, well known for it's hiking opportunities.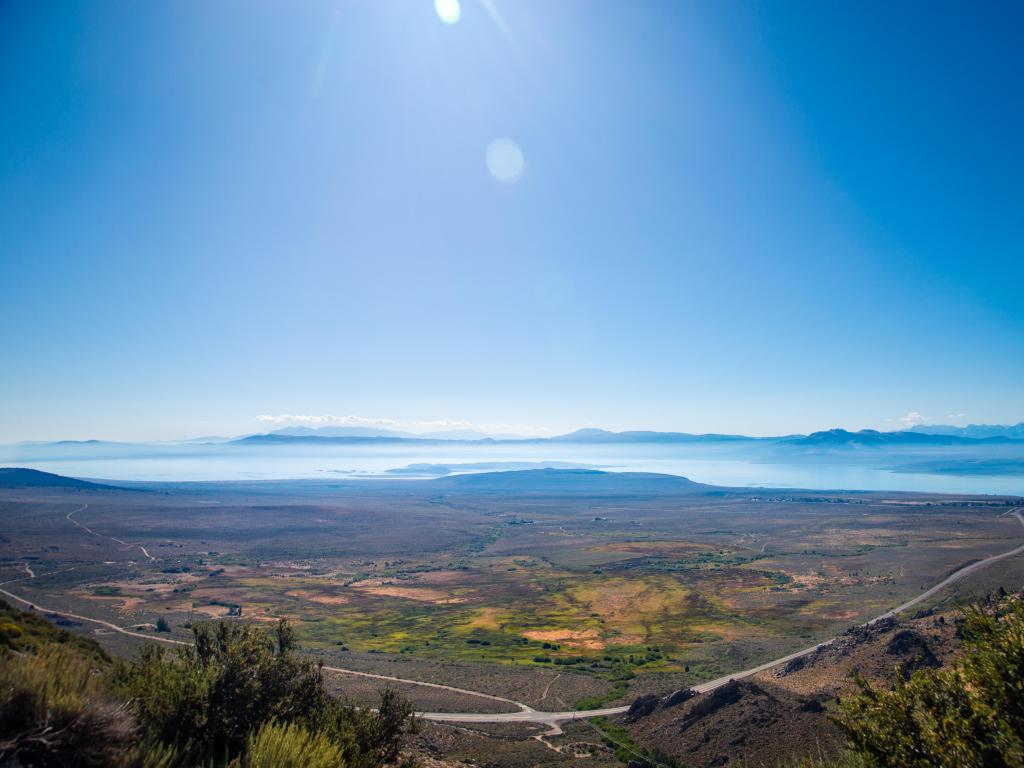 Around 5 miles away from Tioga Pass Entrance
Tioga Pass Road Valley View - Offers a breath taking panorama of Yosemite's vast landscapes, showcasing the park's iconic granite cliffs and valleys.
Ellery Lake - A beautiful lake framed by rugged mountain peaks.
Just before you reach Tioga Pass Entrance
Just outside the park's entrance you will pass Tioga Lake, a picturesque alpine lake with views of the surrounding granite peaks.
You'll then arrive at Tioga Pass Entrance Station, where they can pay your Park fee and have a short rest stop, before heading onto a memorable alpine adventures at nearly 10,000 feet!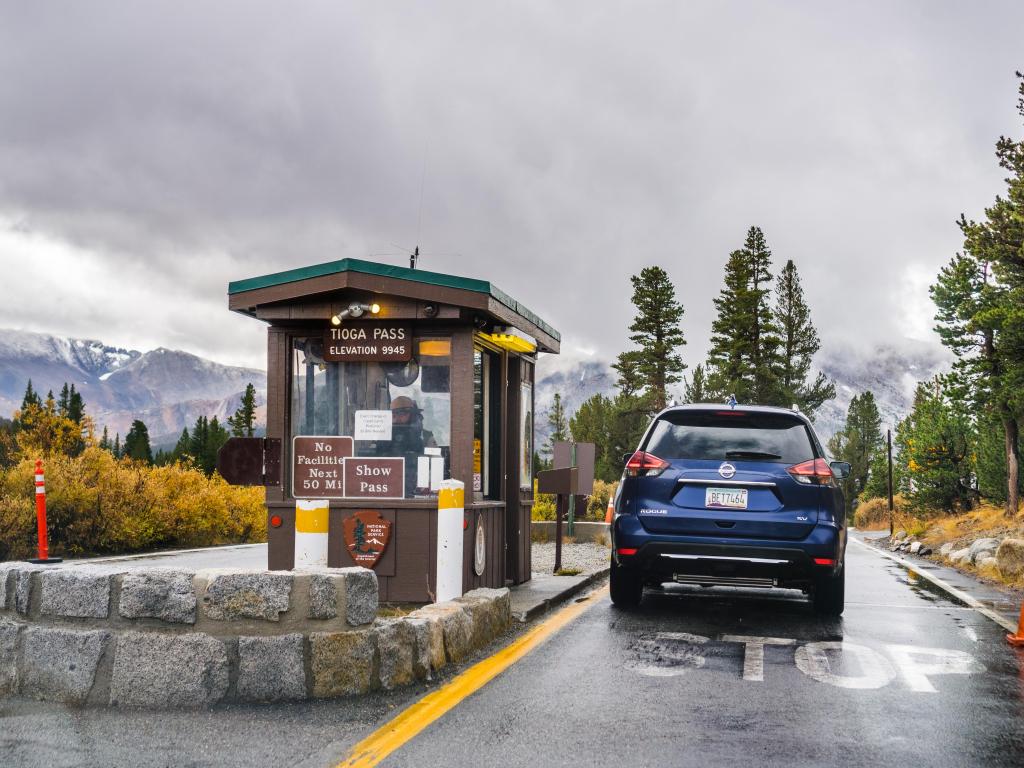 What is there to see near Tioga Pass Entrance?
Tioga Pass Entrance is an amazing high-altitude entrance point to start exploring some of Yosemite's less-known but still stunning attractions and scenic viewpoints.
Glacier Canyon - A glacially-carved valley offering breath taking views of rugged granite cliffs, cascading waterfalls. (0.7 miles from Tioga Pass Entrance)
Dana Meadows - Located at the base of Mount Dana, this area offers a serene alpine landscape with meadows, streams, and views of the high peaks. (1.2 miles from Tioga Pass Entrance)
Lembert Dome - A prominent granite dome offering a relatively short yet challenging hike with panoramic views of Tuolumne Meadows and the surrounding Sierra peaks. (6.7 miles from Tioga Pass Entrance)
Soda Springs & Parsons Memorial Lodge - Soda Springs is a naturally carbonated spring, and nearby Parsons Lodge is a historic stone structure offering interpretive displays. (7.2 miles from Tioga Pass Entrance)
Tuolumne Meadows - A vast subalpine meadow surrounded by granite domes and peaks; it's a central feature of the High Sierra region in the park. (8.4 miles from Tioga Pass Entrance)
Tenaya Lake - A beautiful, large alpine lake surrounded by granite peaks; it's a bit further than some other spots but is within the approximate range from the Tioga Pass entrance. (14.9 miles from Tioga Pass Entrance)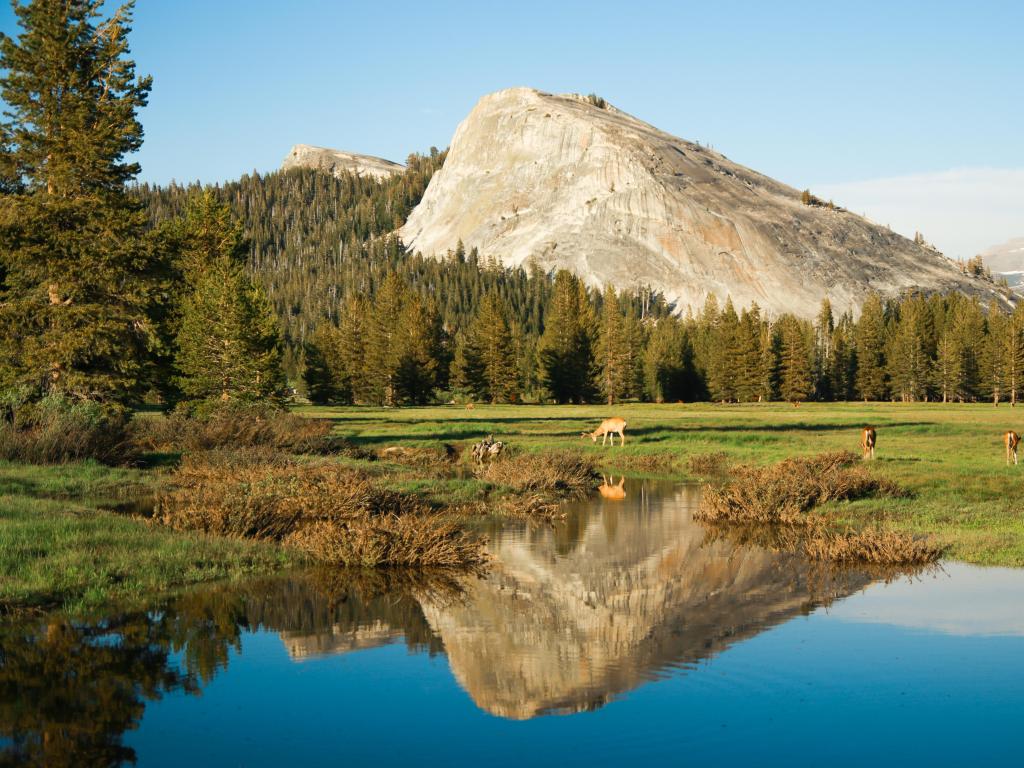 What facilities can I find at Yosemite's Tioga Pass Entrance?
Facilities available at Tioga Pass Entrance, however it is best to ensure you have enough provisions for the day.

| | | |
| --- | --- | --- |
| Entrance Station | Yes | For ticket checking and purchase |
| Visitor Center | No | Available further into the Park |
| Refreshments | No | Available further into the Park |
| Restrooms | Yes | Available at the Entrance Station |
| Gas and EV Charging | No | Gas stations in Lee Vining. Closest EV Charging at Gus Hess Community Park, 129 Mattly Ave, Lee Vining |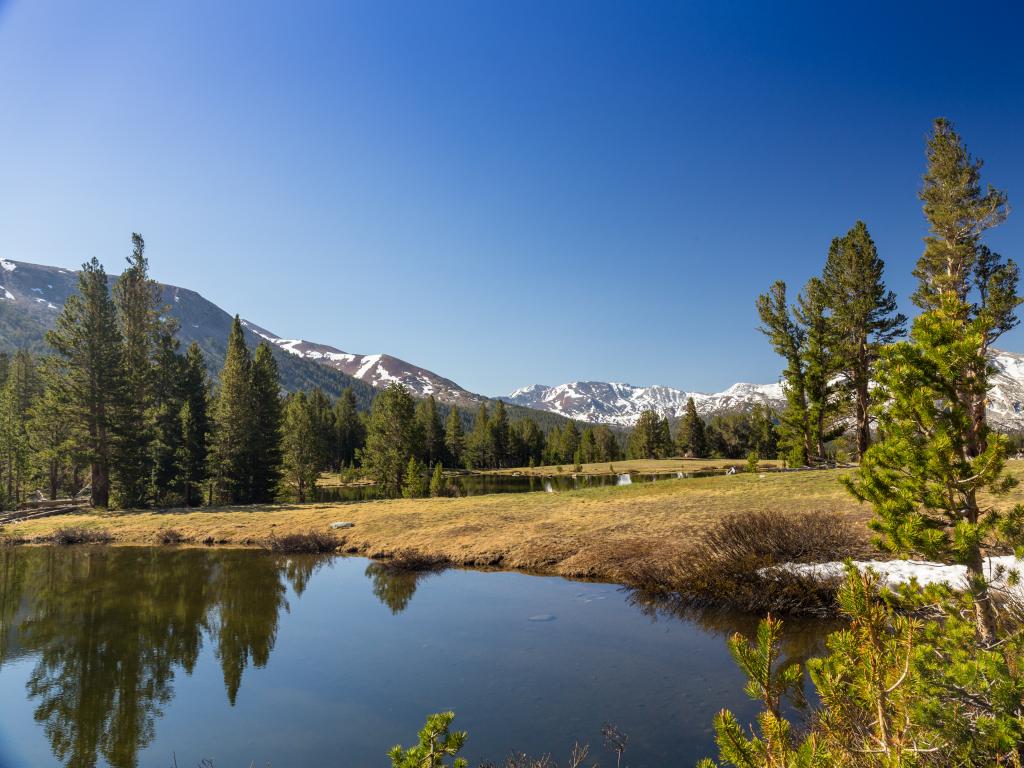 Is Tioga Pass Entrance open year-round?
Yosemite's Tioga Pass Entrance is not open year-round, and can be more tricky to navigate that other Yosemite entrances.
As the Tioga Pass Entrance is at a high elevation this also means there are plenty of outdoor activities to enjoy at the higher ground. Rock climbing is particularly popular here, where the high country around Tioga Pass offers its own set of climbing challenges, and there are plenty of fishing possibilities along the Tioga Road, such as at Tenaya Lake.
Although the entrance is closed in the winter, the area can also be accessed on skis or snowshoes, and still offers some outdoor fun.
As Tioga Pass can be one of the more trickier entrances to head through, take a look at our considered article about what to watch out for when you are making this amazing trip through Yosemite.
Things to check before traveling to Yosemite's Tioga Pass Entrance
As this entrance is more remote than others, and further from Yosemite Valley which is around 1 hour 30 minutes away, make sure you have stocked up on gas and supplies ahead of your visit.
The opening days for this entrance can vary by snow levels and poor weather, so make sure to check in advance of arriving.
The road is winding with steep sections. If you're not used to mountain driving, take it slow and use pull-outs to let faster vehicles pass. Or if you are planning to visit with a larger vehicle or RV, you may find another entrance more appropriate for entering Yosemite.
How much does it cost to access Yosemite National Park at Tioga Pass Entrance?
The entry fees to Yosemite National Park are the same whichever entrance you use. If you are arriving by car, then you will pay per vehicle, rather than per person.
Costs for entering Yosemite National Park.

| | |
| --- | --- |
| Private vehicle | $35 |
| Motorcycle | $30 |
| Individual (walking, biking, public transport) | $20 |