Road Trip from Cleveland, Ohio to Niagara Falls
The amazing road trip from Cleveland, Ohio to the world-famous beauty of Niagara Falls will take you through incredibly lush parks, charming towns and cities as well as past some incredible architectural landmarks and cultural attractions.
The 240-mile road trip from Cleveland, Ohio to Niagara Falls will take 4 hours of nonstop driving. Notable stops are Lake Erie, Chautauqua, Meadville, Bradford, Allegheny National Forest, Paine Falls Park, Allegany State Park, Attica and Buffalo.
Whichever way you choose to follow, you'll end up at Niagara Falls, home to one of the largest waterfalls in the world and endless attractions, amusement parks, and iconic views. Read on to learn about our recommended routes, places to see along the way and the best time to visit.
How far is Niagara Falls from Cleveland, Ohio, and how long will the road trip take?
Comparison of road trip routes between Cleveland and Niagara Falls

| Route | Distance | Driving Time |
| --- | --- | --- |
| The Direct Route | 240 miles | 4 hours |
| The Scenic Route | 340 miles | 7 hours |
The Direct Route will bring you 240 miles with 4 hours of driving time. This is the most direct route from Cleveland, Ohio to Niagara Falls, and follows the southern coast of Lake Erie.
The Scenic Route runs 340 miles, with 7 hours of direct driving time. This route takes you through vast landscapes of forests, rivers and lakes on your way to Niagara Falls.
Whichever route you choose, we recommend taking two days to complete your journey. Read on to learn more about these routes, what to see, and our recommended places to spend the night on your way.
Best road trip route from Cleveland, Ohio to Niagara Falls
Both routes are full of adventure and unbeatable North American scenery. From the Great Lakes to the forested countryside, these routes are perfect for people looking to experience the northern United States, so best route will depend on what you'd like to see.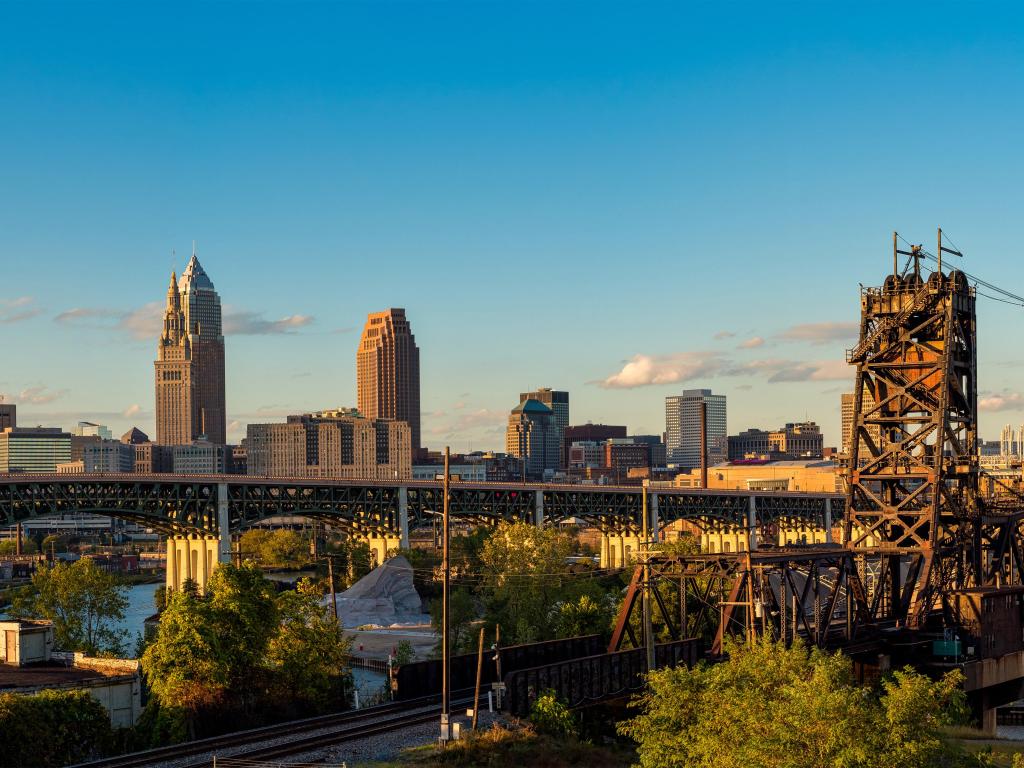 The Direct Route takes you along Lake Erie, with beautiful sandy beaches and old lighthouses, past Lake Chautauqua, Jamestown, and through the bustling city of Buffalo.
Visit famous and historic sites along the route such as the 1873 lighthouse at Presque Isle State Park, Midway State amusement park, or Buffalo Museum of Science.
Enjoy the amazing landscapes, including the beaches, dunes, lagoons, and scenic trails, along this route. You'll also get to experience other bigger cities like Erie, Chautauqua, and Buffalo.
The Scenic Route takes you through stunningly green landscapes and past the charming town of Bradford and to the city of Buffalo. You may visit Allegheny National Forest (driving through the scenic Route 666) and Allegany State Park, for trail walks, scenic drives, camping, as well as swimming and kayaking spots in the summer months.
Along the route you can stop at historic, quaint towns such as Meadville, which is the oldest permanent settlement in Northern Pennsylvania. Other great stops include Bradford, home to the famous Zippo lighter, or Attica, where rodeo is a popular sport.
The Direct Route
From the beautiful city of Cleveland, take Interstate 90 (I-90) east towards the city of Erie. Follow the beautiful coastline of Lake Erie along the way and check out the lighthouses and beaches on its shoreline.
After enjoying Erie, continue east into Chautauqua, New York. Enjoy the wonderful lakeside and forests along the way.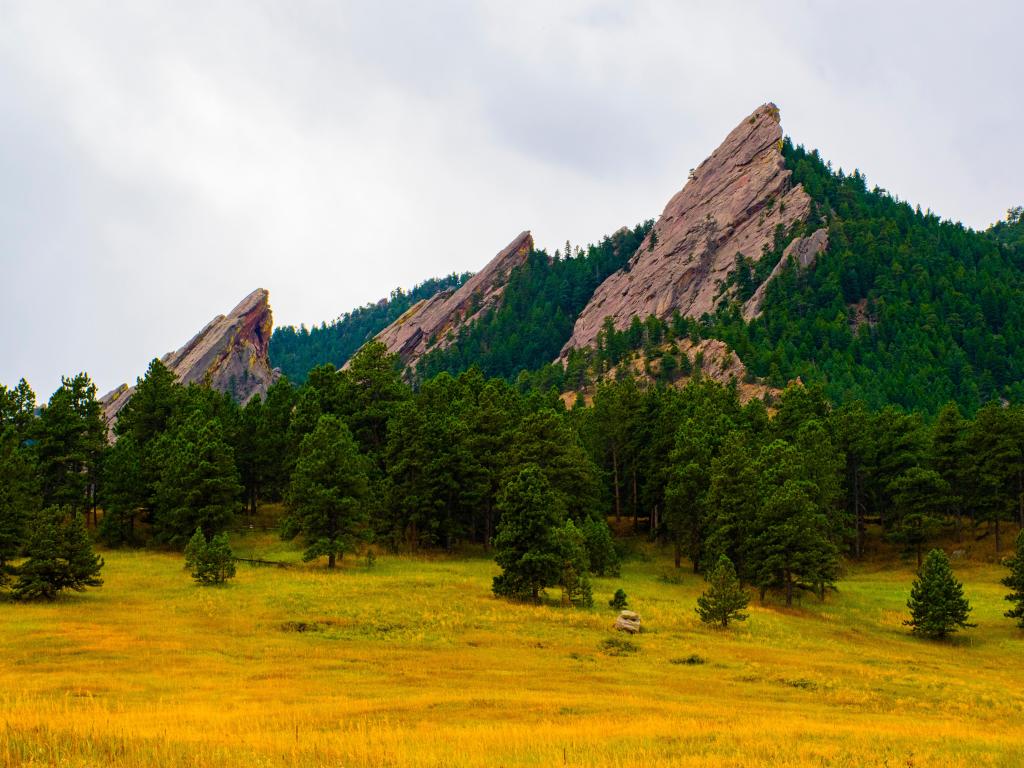 From here, head north and get back onto I-90. Drive further along the lake shore and into the city of Buffalo. After your visit, head north along the Niagara River until you reach your destination of Niagara Falls.
The Scenic Route
From Cleveland, head east on I-90. Once you get to Plymouth, head south and then east into Pennsylvania.
Drive through the beautiful towns of rural Pennsylvania until you reach the scenic highway PA-666. Take this beautiful road through the forests of central Pennsylvania until you reach Minister Creek.
From here, you'll drive further along the small country highways through Allegheny National Forest. When you cross into New York, continue north until you reach the town of Darien and the River Spring Lodge.
From here, it's a quick drive into Buffalo, NY. After experiencing this wonderful lakeside city, you'll head north into the iconic city of Niagara Falls.
Best places to stop between Cleveland, Ohio and Niagara Falls
There are excellent rest stops along both routes that are perfect for spending the night. Below we've chosen our favorites, plus our recommended hotels where you can rest up in luxury.
Enjoy comedy and nature in Jamestown
On the Direct Route is the vibrant city of Jamestown. The city is slightly off the route, about halfway from Cleveland, Ohio, to Niagara Falls, making it a perfect overnight spot on this road trip. This city offers beautiful views over Chautauqua Lake.
Jamestown is known as the "funniest town in the United States"; it is home to the National Comedy Center. It is also known for the wonderful opportunities for outdoor activities that the lakeside environment offers-so this city truly has something for everyone.
The city has plenty of attractions to explore. Make sure to check out the Lucille Ball Desi Arnaz Center/Museum, a place to admire incredible sets and costumes.
If you are an outdoorsy person, you will be happy to learn that the area is also full of nature to explore as well. There are wonderful spots for birdwatching and outdoor recreational activities around Lake Chautauqua.
Once you arrive in Jamestown, the Chautauqua Harbor Hotel - Jamestown is hard to beat as far as lodging goes. This hotel is just a small drive away from the highway to Niagara Falls. Overlooking Chautauqua Lake, the hotel boasts beautiful interior decoration.
If you'd like to admire the lake views, there are terraces from which you may admire the views, and fireplaces indoors to sit by for a cozy and romantic evening.
The hotel also has a restaurant, an outdoor swimming pool, and to top it off, a fabulous hot tub. Nearby, downtown Jamestown has restaurants, bars, and shops, all within walking distance or a short drive away.
Set off on a kayak adventure near Darien
About one hour from Niagara Falls on the Scenic Route is the town of Darien. This town is just one hour's drive away from the destination Niagara Falls, making it easy to start early and reach Niagara Falls in no time to explore the magnificent waterfall.
Nearby, Allegheny National Forest and Allegany State Park are wonderful places to visit on the way to this location. A short drive from Darien is the "rodeo town" Attica as well as plenty of sights to see in town and around the area.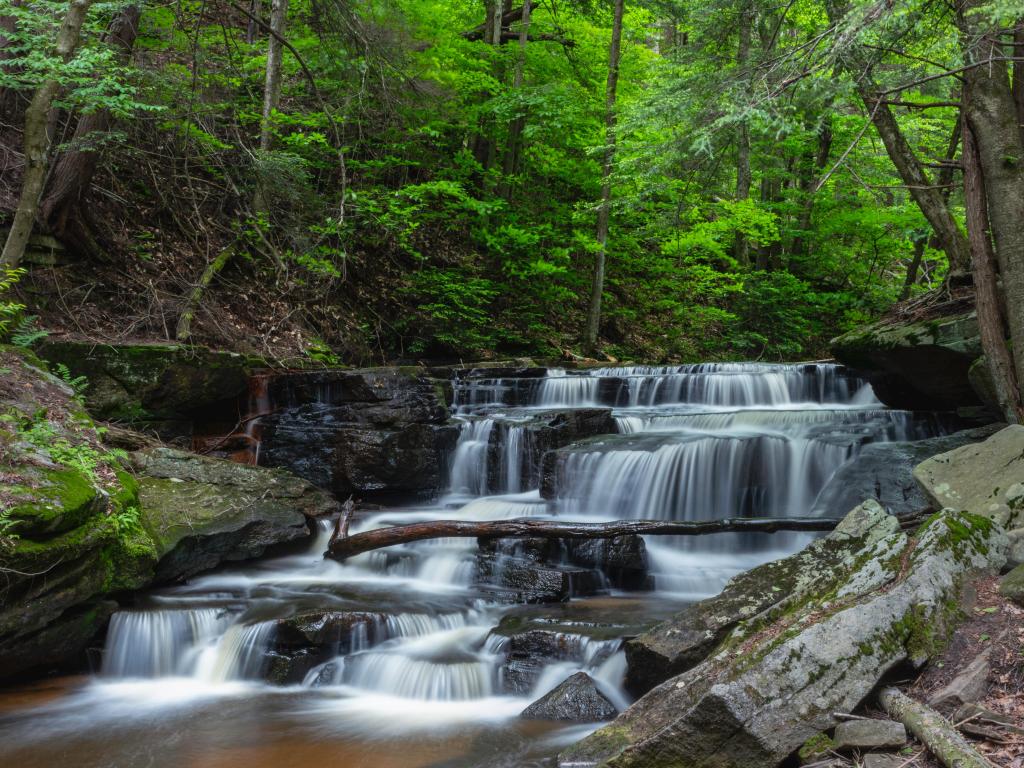 In Attica, if you come through in August, you may visit the Attica Rodeo Show Association's annual rodeo event. This fun event for all ages brings you up close and personal to one of the country's most timeless cultural activities.
Once you reach Darien, we highly recommend staying at the River Spring Lodge. After a day of driving past the beautiful forests of Allegheny National Forest and Allegany State Park, the River Spring Lodge offers you a peaceful and comfortable stay.
The hotel has several kinds of rooms to choose from, and they offer views of a beautiful garden. There is also free parking, a sun terrace and outdoor fireplace to be enjoyed outside. If the weather prompts you to stay inside, there is a fantastic restaurant on-site you should stop by for a meal.
Where to stay when you reach Niagara Falls
Once you reach your destination, we recommend resting at the incredible Comfort Inn & Suites Niagara Falls Blvd USA. Close to the waterfall and places for shopping, this hotel has wonderful amenities including various indoor swimming pools, a fitness center, free parking, and a great breakfast.
On top of the amenities, great service, and comfortable rooms is the hotel's location. You're just a few miles away from downtown and the American side of the falls. If you need anything or have any questions, the friendly staff will be able to assist you.
Things to see on a road trip from Cleveland, Ohio to Niagara Falls
Between the falls and the charming towns, there is plenty to see and do along both routes. Below, we've included our favorites along the way to keep your road trip exciting.
The Direct Route
Headlands Beach State Park - Have a stroll on the largest sandy beach in Ohio or nearby dunes, or enjoy a picnic by the beachfront.
Paine Falls Park - A beautiful waterfall with well kept walking paths and picnic tables.
Erie - In Erie, visit Presque Isle State Park with a lighthouse on the coast, Waldameer & Water World amusement park, Erie Zoo, or Burch Farms Country Market
Jamesville - Crossing into the state of New York, visit Jamesville for a walk at Chautauqua Harbor, to explore the shops and restaurants in this vibrant city, or visit the National Comedy Centre.
Barcelona Lighthouse - Visit this beautiful lighthouse by Lake Erie for a walk by the water or to explore the lighthouse's history at the museum.
Dunkirk - This coastal town hosts some amazing places to visit, including Dunkirk lighthouse, the sandy Wright Park Beach, several local vineyards, as well as shops and restaurants.
Cattaraugus Creek Harbor - Cattaraugus Creek river mouth and harbor present some amazing views over Lake Erie, whether you arrive in the morning or at sunset.
Frank Lloyd Wright's Graycliff - Visit Frank Lloyd Wright's Graycliff house for a historic tour or a beautiful stroll along Lake Erie.
Eternal Flame Falls - Just off the NY State Thruway, this secluded, peaceful place harbors a mile-long hiking trail down to a natural gas spring and waterfall - a mysterious experience you won't want to miss.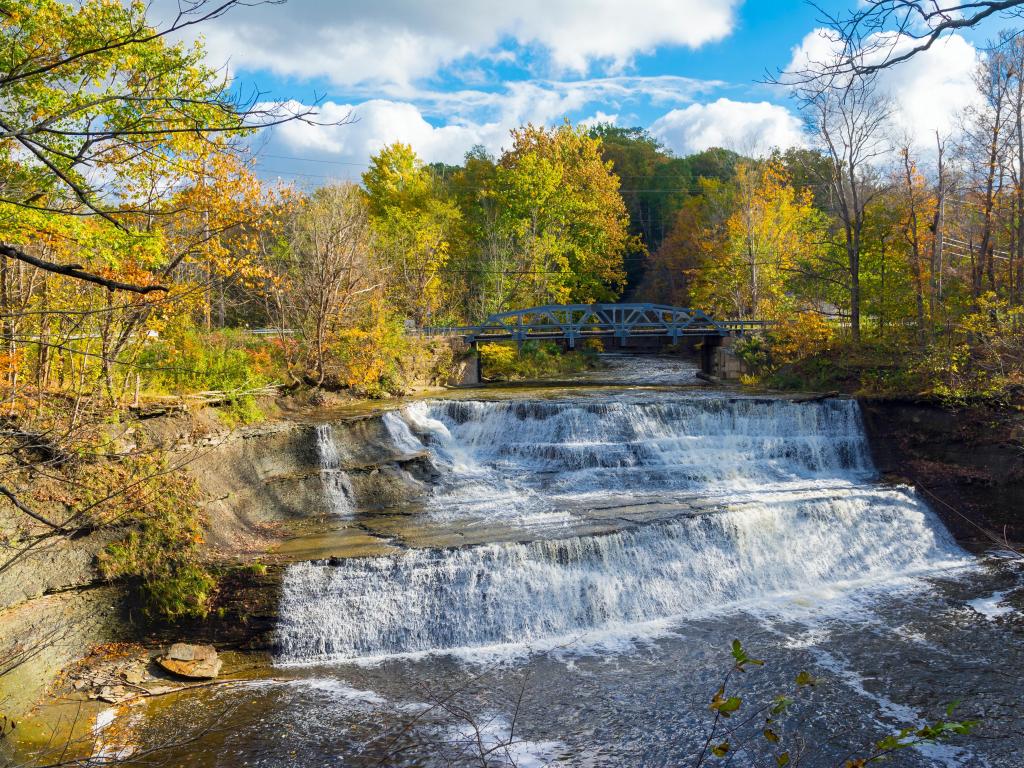 The Scenic Route
Meadville - This town was the first permanent settlement in northwestern Pennsylvania, and now hosts the Baldwin Reynolds House Museum, parks and a number of restaurants where you can enjoy breakfast or lunch.
Erie National Wildlife Refuge Admin Building And Visitor Contact Station - If you are feeling like a short rest or a beautiful walk in a natural setting with diverse habitats, this is a wonderful option to stop at.
Allegheny National Forest - A place of forests, rivers, waterfalls and lakes, there is much to explore in Allegheny National Forest whether you go on foot or rent a kayak. The walkways and facilities are well kept, and restaurants are found in most towns surrounding the area.
Bradford - This is a must-stop along your route. Bradford is home to the world-famous Zippo-lighter, so do visit the Zippo/Case Museum, or find out more about the surrounding forest landscape at the Allegheny National Forest Visitors Bureau.
Allegany State Park - The natural beauties of Allegany State Park can be enjoyed by visiting the hiking trails, renting a kayak, or finding a swimming spot along the many lakes or rivers of the area.
Attica - Visit this small town for some local bakeries, markets, and to visit the Attica Rodeo Show Association.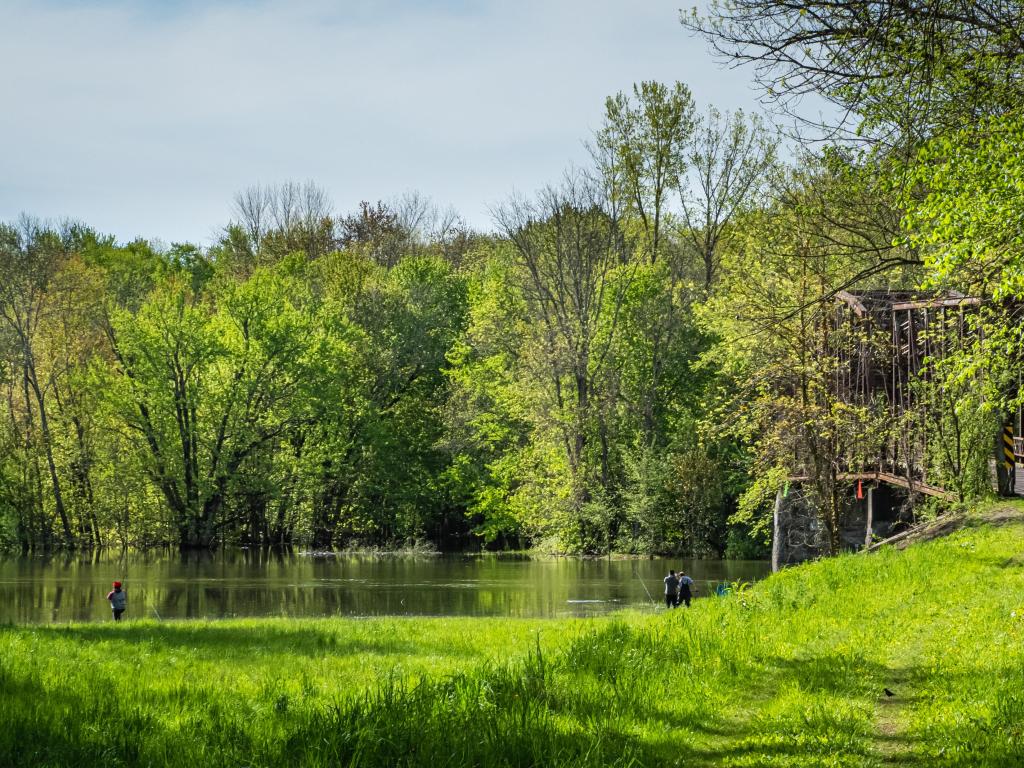 Both Routes
Headlands Beach State Park - The largest sandy beach in Ohio, where you can enjoy a walk on the beach or the dunes, or have a picnic by Lake Erie.
Buffalo - This city has something to offer to anyone, from restaurants, markets and casinos to walkways along Lake Erie, a botanical garden, zoo, and nature preserves such as Reinstein Woods Nature Preserve where you can visit the educational center or spot wildlife along the peaceful walking trails.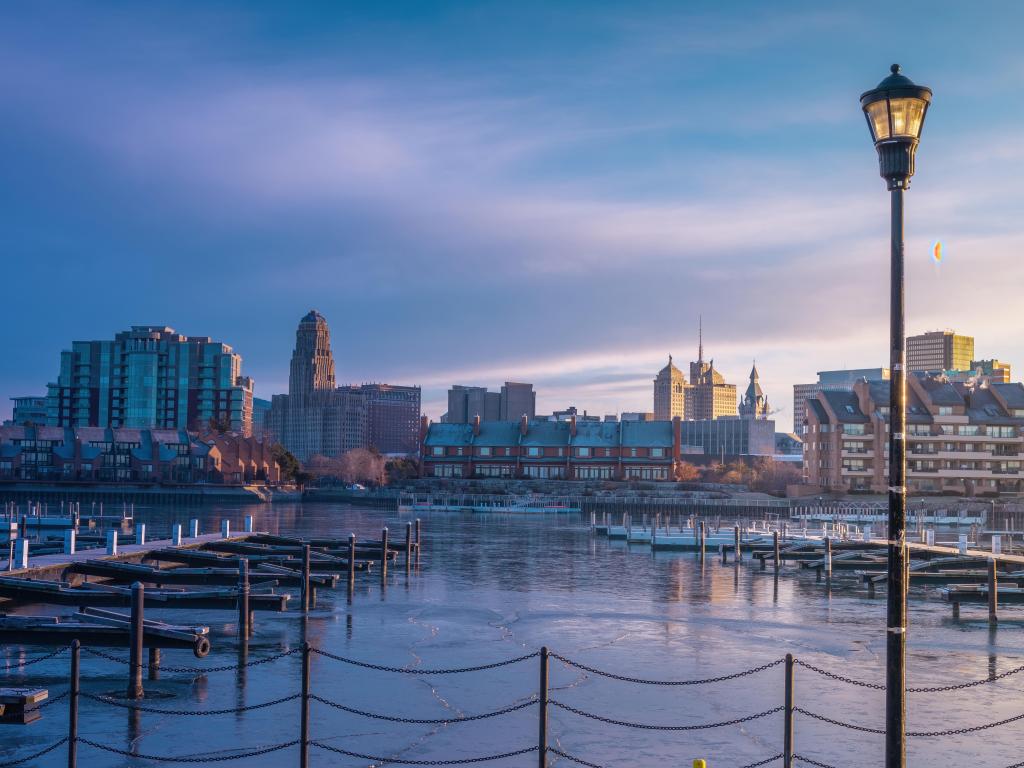 Best time to go on a road trip from Cleveland, Ohio to Niagara Falls
The area between Cleveland, Ohio and Niagara Falls can be enjoyed at any time of the year. In the summer months, there are summer activities at various waterways, such as by Lake Erie, or by the lakes and rivers of the Allegheny National Forest.
Along Lake Erie, as well as in Allegheny National Forest or Allegany State Park, summer months may be the most favored times to visit, due to the possibility of enjoying the wonderful sandy beaches, lakeside walks, or forest trails and kayaking, to the fullest.
The temperature is on average 69 degrees Fahrenheit in this region in the summer months.
However, in winter, temperatures may drop to between 20 and 30 degrees with plenty of heavy snow. Of course, the landscapes along this route are beautiful in winter, and there are cozy accommodations to choose from. Plus, seeing the partly frozen Niagara Falls in winter is something incredible.
Spring or fall may be the best times to visit Niagara Falls, should you wish to avoid the biggest tourist crowds. In this season, there are also a great number of events, festivals and programs happening at Niagara Falls.
Along Lake Erie, temperatures also still remain fairly warm into the fall, and the Allegheny National Forest is beautiful in its autumn colors, so fall may be your best bet for doing this road trip altogether.
Niagara Falls is a very popular tourist destination, and if you wish to avoid the biggest crowds, August and September may be the best months to visit. If you visit in August and choose the scenic route, you may catch Attica's Annual Rodeo Show in action!
Niagara Falls hosts plenty of festivals throughout the year. In the winter and fall time, you can experience the Winter Festival of Lights in November and The Annual Poinsettia Show during the winter holiday season.
During the summer, you can enjoy the Fireworks over the Falls events. Plus, from April to December, you can check out the zipline to the falls.