Road Trip from Columbus to New York
For an epic adventure taking you across several great states, through fascinating cities and towns and exploring America's great history, the road trip from Columbus, Ohio to New York is a real journey through time.
The 560-mile road trip from Columbus to New York will take about 10 hours to drive. Key stops include Cleveland, Lake Erie, Buffalo, Niagara Falls and Rochester, as well as Pittsburgh, Lost River Caverns, Washington DC, Baltimore and Philadelphia.
There's a huge choice of places to visit on this adventure, so please keep reading to learn about the best routes to take, time of year to travel and our favorite things to do along the way on this trip from Columbus to New York.
How far is New York from Columbus, and how long will the road trip take?
Comparison of road trip routes between Columbus and New York

| Route | Distance | Driving Time |
| --- | --- | --- |
| The Pennsylvania Route | 560 miles | 10 hours |
| The Capitol Route | 660 miles | 12 hours 10 minutes |
| The Great Lakes Route | 830 miles | 14 hours 30 minutes |
There are several notable ways to travel from Columbus in Ohio to New York. The quickest route spans a distance of 560 miles and will take 10 hours of non-stop driving.
There are two further route options you could follow, one spanning a distance of 660 miles and a slightly longer trip taking 830 miles. As you would expect, these routes will take you longer to drive, ranging from 12 hours to 14 hours and 30 minutes for the longest distance.
Given the range in distances, this trip can be completed in as fewer days as two or up to five days if you follow the longer Capital Route. Either way, you'd be much better off including a couple of overnight stops in order to fully appreciate the range of attractions you'll pass.
If you opt to follow the Great Lake Route, crossing the Canadian border to explore more of Niagara Falls and the nearby scenery, you will need to check ahead that you have the correct documentation and remember to bring proof of identification.
Best road trip route from Columbus to New York
With a great choice of cities and towns between Columbus and New York, you could easily spend several weeks driving between them. In order to pick out the best route, we've selected three options which each offer a great choice of fantastic places to visit along the way.
The quickest of the three, our Pennsylvania Route, is the most direct. Taking you through Pittsburgh and Allentown, this route also gives you the chance to explore natural cabers and stunning state parks. There's also a plethora of great towns en route.
If you have an extra day or two to spend on this trip, a great option would be to follow the Capital Route. Spanning a distance of 660 miles, this journey will see you pass through iconic Washington DC and Philadelphia, giving you a fantastic taste of American history.
Finally, our most scenic and arguably iconic option, the Great Lake Route will take you alongside Lake Erie and Niagara Falls, as well as pass Seneca Falls and Buffalo. This indirect route allows further exploring of America and even Canada and will guarantee a memorable trip.
Ultimately the best route option for you will be based on the type of attractions you would like to visit and the time you have to complete it in. Whichever one you choose, this trip won't disappoint.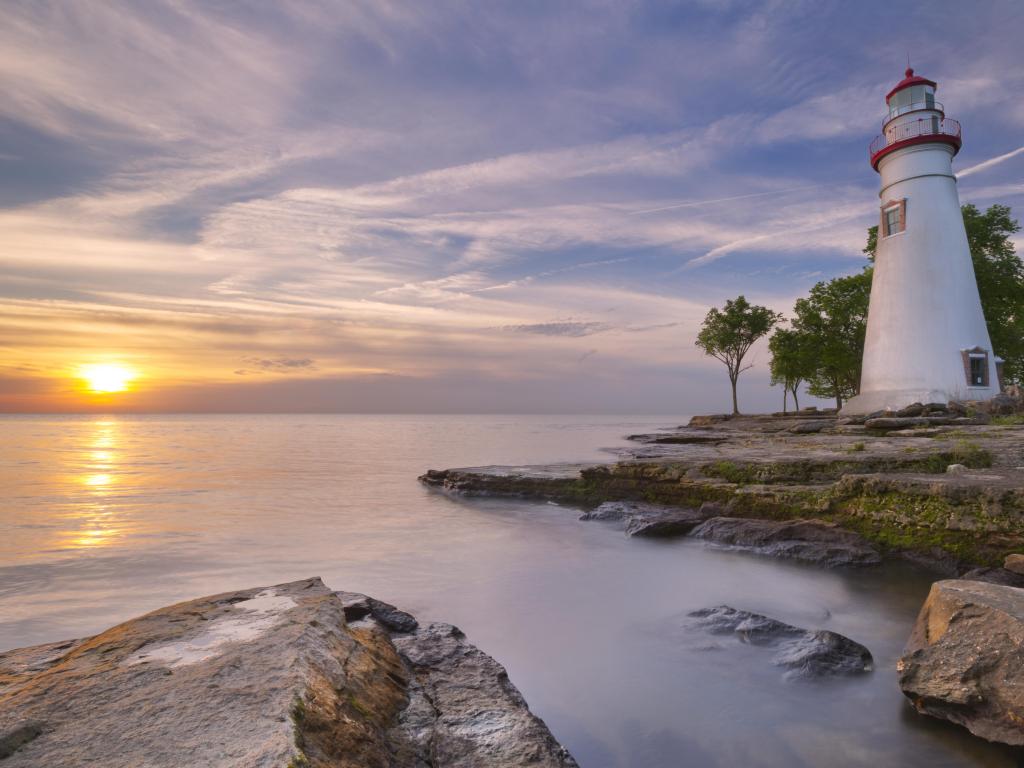 How to drive from Columbus to New York
The map above shows our suggestions for the best road trip routes between Columbus and New. Keep reading for detailed descriptions of both routes, where to stay on either, and the best things to do on the way.
The Pennsylvania Route
The Pennsylvania Route is the most direct option, which still includes several stopping points. Leaving Columbus on Interstate 70, head east to Zanesville before taking US-22 and passing by Salt Fork State Park.
Continue to head east through Weirton before arriving at Pittsburgh and your first major city to explore. When leaving, follow I-76 through several pretty towns before arriving at Newburg. From here you have Tuscarora State Forest in the north or Michaux State Forest in the south.
Take Exit 236 and follow the road across the river to Hershey, made famous by the popular chocolate named after it. On leaving, take exit 89 to join I-78 and continue east to Allentown, another great overnight stop option.
Take a drive to Lost River Caverns, before continuing on I-78 where you could take an optional detour to Delaware Water Gap National Recreational Area or simply continue following the interstate to New York.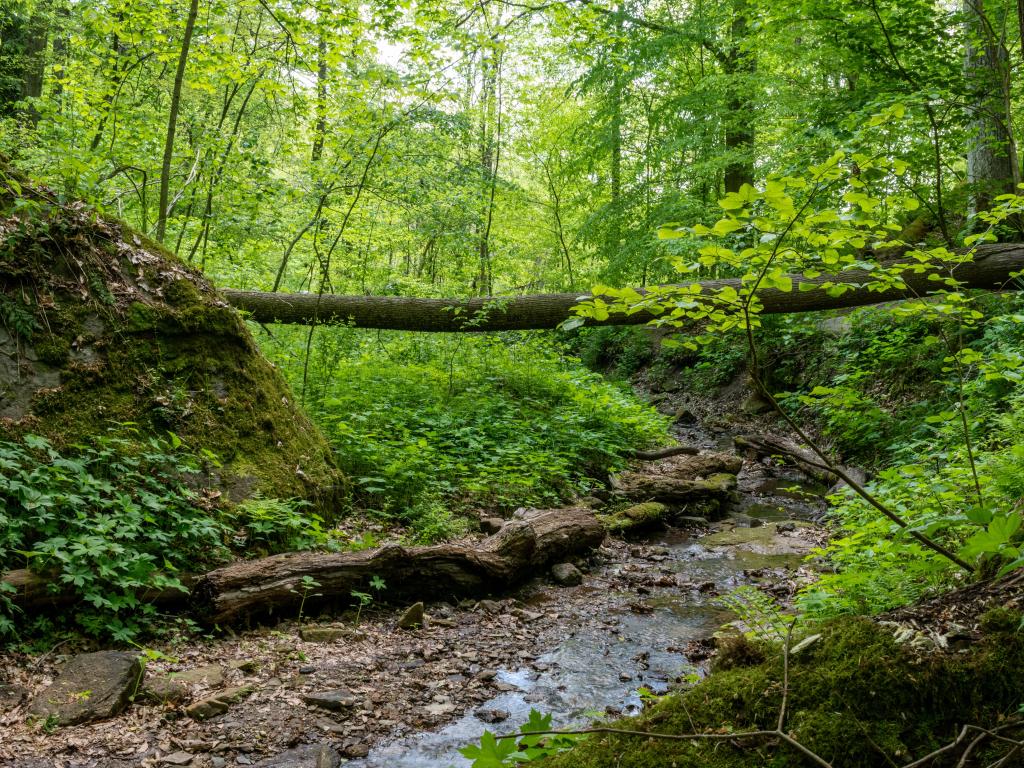 The Capitol Route
Similar to the route above, you'll leave Columbus in Ohio via I-70 and head east, but rather than heading towards Pittsburgh, the Capitol Route then takes you further south.
Leave the interstate by taking the exit onto PA-43 before following US-40 east a short distance to Hancock. Here you'll take exit 82B and join I-70, just below Michaux State Forest.
Follow I-270 through to Arlington and then Washington DC. This is a great place to stop to explore a fantastic city full of fascinating history.
When you leave you will follow the Baltimore-Washington Parkway to the city of Baltimore in Maryland. Spend some time visiting the museums and art galleries or take a drive to Patapsco Valley State Park.
Continue north on I-95, past Christiana and Wilmington, before taking exit 22 to Philadelphia, another iconic city full of history. Continue on I-95 before taking I-295 and US-1 north, past Trenton and make a stop en route to visit Princeton University.
Follow US-1 until you rejoin I-95 which will lead you to I-278 and I-478 and see you arrive at your destination.
The Great Lakes Route
The longest of our three routes will see you follow Interstate 71 heading north from Columbus in Ohio, passing by the outskirts of Mansfield, Ashland and Medina before arriving at Cleveland on the shores of Lake Erie.
After spending some time exploring the stunning lakeside or visiting nearby Cuyahoga Valley National Park, head east on I-90 through several towns to Bicentennial Tower.
Continue alongside Lake Erie until you reach Exit 57 and then follow NY-75 and NY-5 north to Buffalo - a great overnight stop to explore the stunning Niagara Falls. From here you can cross over into Canada if you'd like to see more of the scenery.
Otherwise, follow I-190 back before taking the exit to follow I-90 east. Take exit 47 for I-490 to Rochester. Rejoin I-90 and continue east before taking the exit for Seneca Falls, a beautiful natural area encompassing Seneca Lake.
Back on I-90 and you'll drive north of Syracuse and close to Oneida Lake. Continue following the interstate until you reach Exit 30 whereby you will follow NY-28 south for a short stretch.
This section passes a couple of towns and gives you the chance to detour to visit Big Indian Wilderness off NY-206.
You will follow the winding route south, initially on NY-17 and then US-6 before taking I-87 right beside Harriman State Park. Afterwards, take Exit 15 and follow NJ-17 all the way to your destination in New York.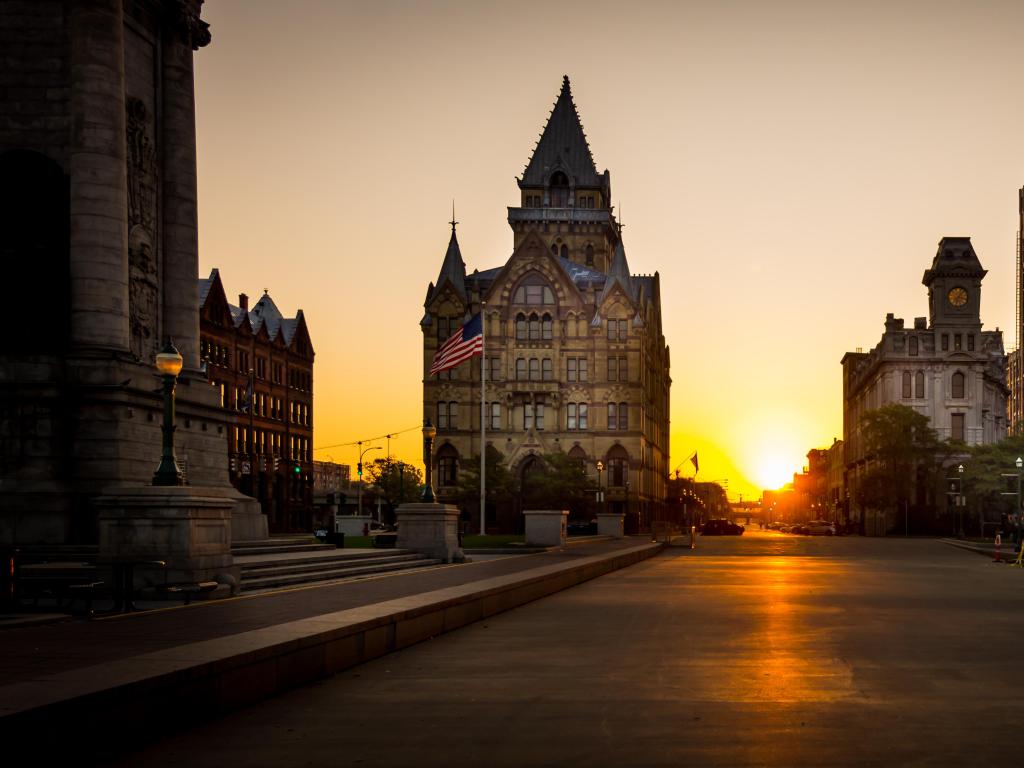 Best places to stop between Columbus and New York
Given the distance and various options for driving between Columbus and New York, there are going to be plenty of great choices for places to stop along the way.
Of all the great hotels you'll pass en route, these are the ones we think you should look out for:
An iconic stop at Niagara Falls
One of the most iconic places to visit is the stunning natural wonder of Niagara Falls. Set roughly halfway on our Great Lakes Route, it is also the perfect location to stop and rest for the night before continuing with your road trip to New York.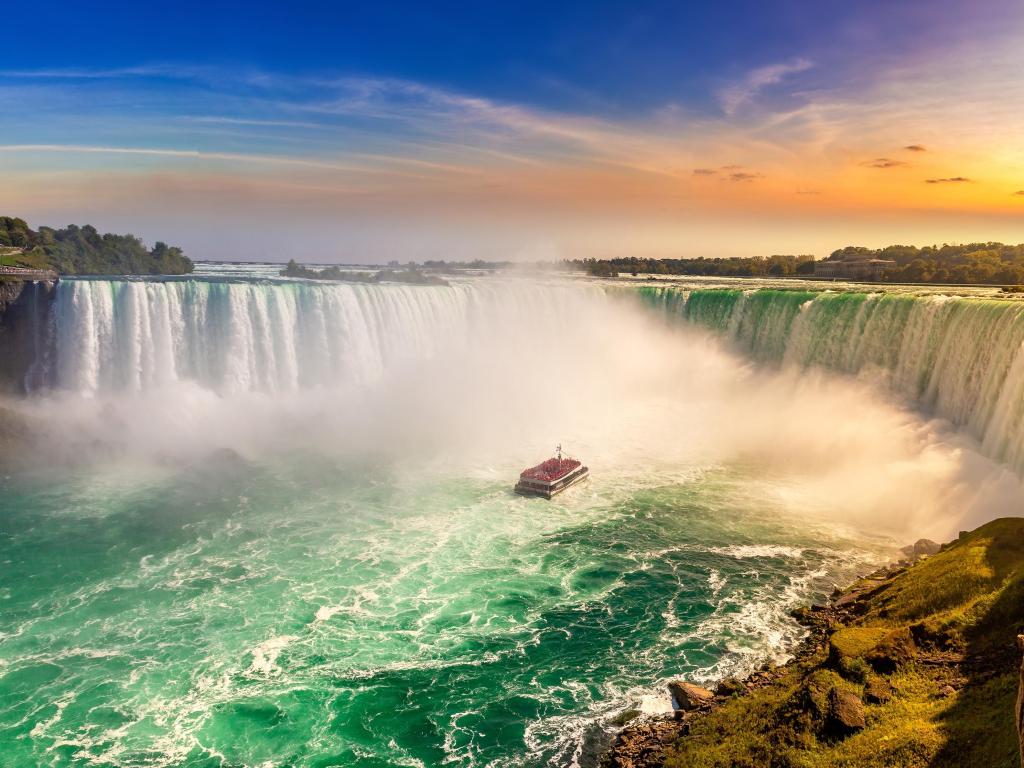 Fed by the famous Great Lakes, Niagara's roaring waterfalls can be seen from both the US and Canada. Over eight million people visit Niagara Falls each year, it's also a major source of hydroelectric power and has been around since the Ice Age, over 12,000 years ago.
If you have a little extra time to devote to your trip, from Niagara Falls you can cross the Canadian and visit nearby Toronto - that is if you're feeling adventurous and have remembered to bring your passport!
Of course, when visiting Niagara Falls, it's a huge bonus to have the Falls less than a mile away from your hotel. For one of the best hotels in terms of locations, look no further than Seneca Niagara Resort & Casino.
This fabulous hotel not only has a great location, but with an onsite casino and spa with massage services, a sauna, an indoor pool, and a hot tub available for use, there are plenty of amenities to keep you entertained and relaxed.
Stay at the Steel City - Pittsburgh
If you are looking to break up the Pennsylvania Route into several days, a great early overnight stop location is the city of Pittsburgh. At just over three hours into your trip, this city provides an early opportunity for a rest and exploration before continuing your trip.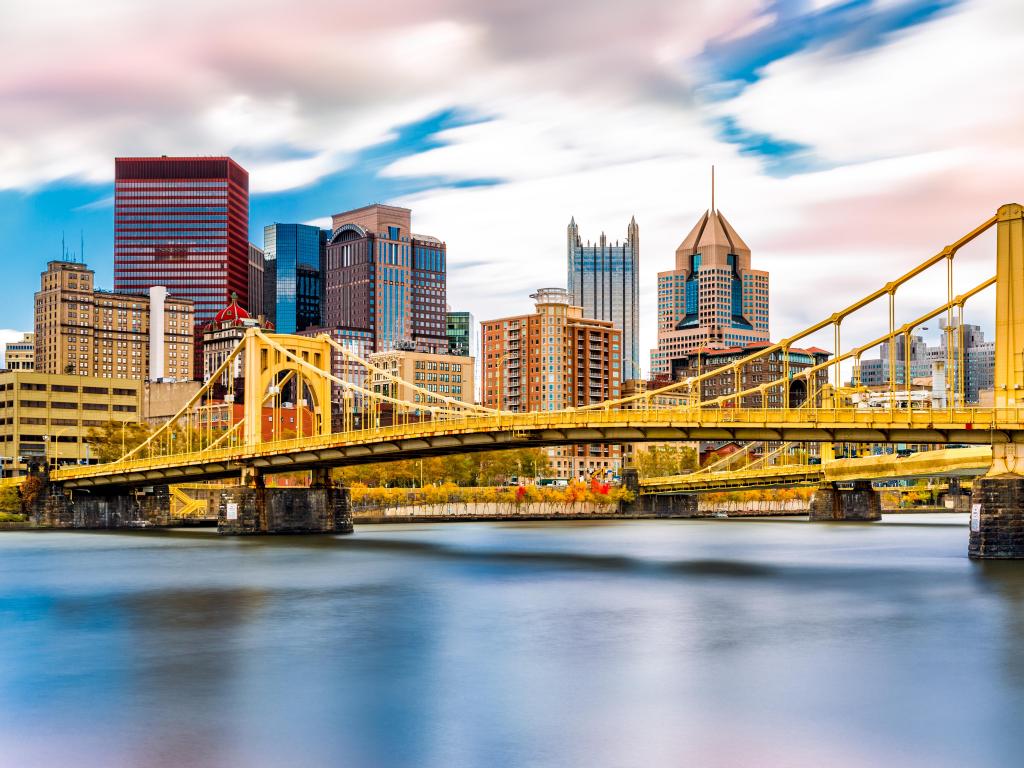 As the only major city on this particular route, Pittsburgh is a great destination in its own right. Known both as the "Steel City" and the "City of Bridges", because of all of its steel structures and countless bridges, it's also home to the popular football team, the Steelers.
Full of great attractions, including the Carnegie Museum of Art and The Andy Warhol Museum, as well as sporting sites such as PNC Park (a baseball stadium) and Heinz Field (the 2001 NFL football stadium), this is a city with a wide appeal.
Of all the great hotels in Pittsburgh, a stay at Kimpton Hotel Monaco Pittsburgh, an IHG Hotel is a fantastic option. Here you can relax with a beer or a light snack on the rooftop terrace of this chic boutique hotel in downtown Pittsburgh and enjoy the great views.
Complimentary bike rentals will come in handy for the sights you want to see around the city, while PNC Park is within bike-riding distance! This 4-star hotel also offers onsite dining options, parking and stunning rooms. It's a great spot for making the most of the city.
Get the celebrity treatment in Washington DC
For a real cultural and historic experience on our Capitol route, a stop in Washington DC simply is a must. Roughly halfway to New York, this city is already one of your stops on the trip and makes an ideal longer stay.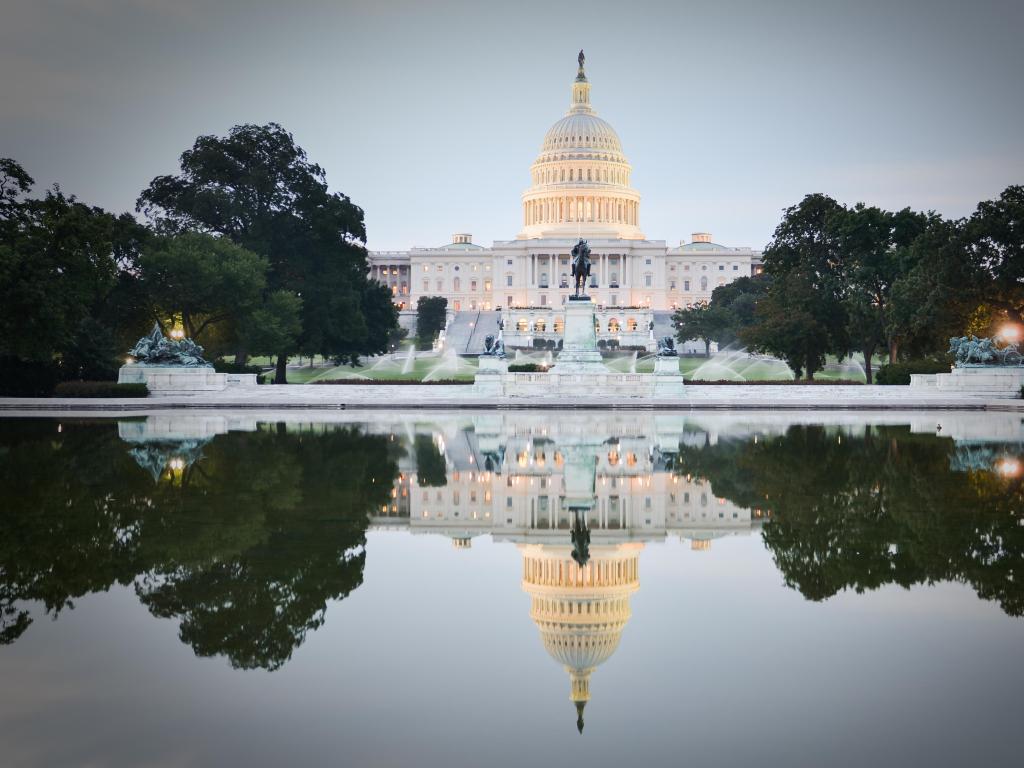 Known for being home to many US government buildings, monuments, and officials, Washington DC is iconic, not the least because it's the home of the US President, who lives in the White House.
After visiting the most famous home in the city, there's the US Capitol, Lincoln Memorial and Martin Luther King Jr. Memorial to see. As well as these great iconic spots, there's a great choice of museums, art galleries, restaurants and outdoor recreation places to explore.
After a busy day of sightseeing in the city, you can book a room at Conrad Washington DC. This 5-star hotel is located a short walk away from the city center and is a truly luxurious stay, with a rooftop terrace with views of The Capitol and other DC monuments.
With modern and stylish rooms offering views of the city, a great onsite restaurant and bar area, parking and beautiful gardens, this hotel has it all. With the White House around the corner, you'll be sleeping within jogging distance of the President - how about that for a memorable stay?
Stay in the heart of New York
New York City is about as iconic as you can get. From famous shopping malls to incredible restaurants and world-famous buildings, this city is a tourist hotspot for the right reasons.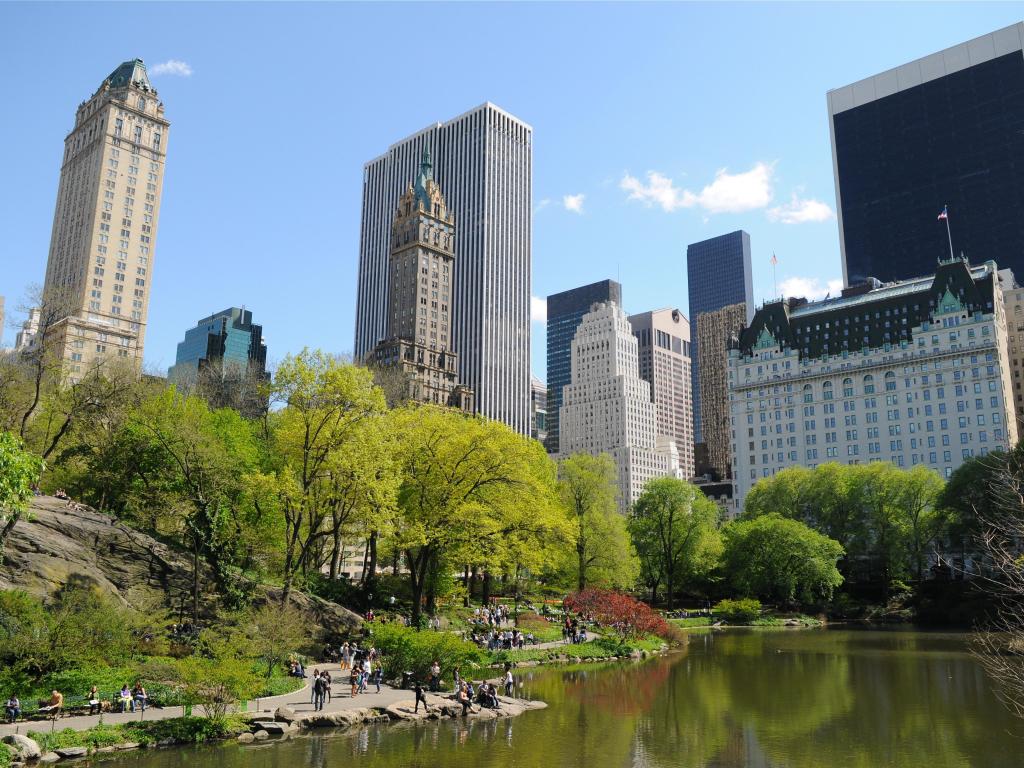 Built around the stunning Central Park, an oasis in the middle of skyscrapers and busy streets, there is so much to see and do in this historic and cultural city.
A great base to really get to the heart of New York is The Langham, New York, Fifth Avenue. This super sleek and modern 5-star hotel sits in midtown Manhattan between Bryant Park and the Empire State Building (literally two streets away).
Featuring a Michelin-star restaurant onsite that serves Italian cuisine inspired by both the Italian and French Rivieras, you'll find that no expense is spared to create this luxurious hotel.
Offering fantastic views of the city, parking and a stylish and cool bar/lounge area, The Langham is a popular hotel and given its fantastic location, this is one you'll definitely want to book in advance of your trip.
Things to see on a road trip from Columbus to New York
There is so much to see along the way on this road trip from Columbus, Ohio to New York, including great towns, fantastic cities, beautiful state parks and natural wonders.
Of all the fantastic attractions, here are just some of the best ones you'll pass along the way: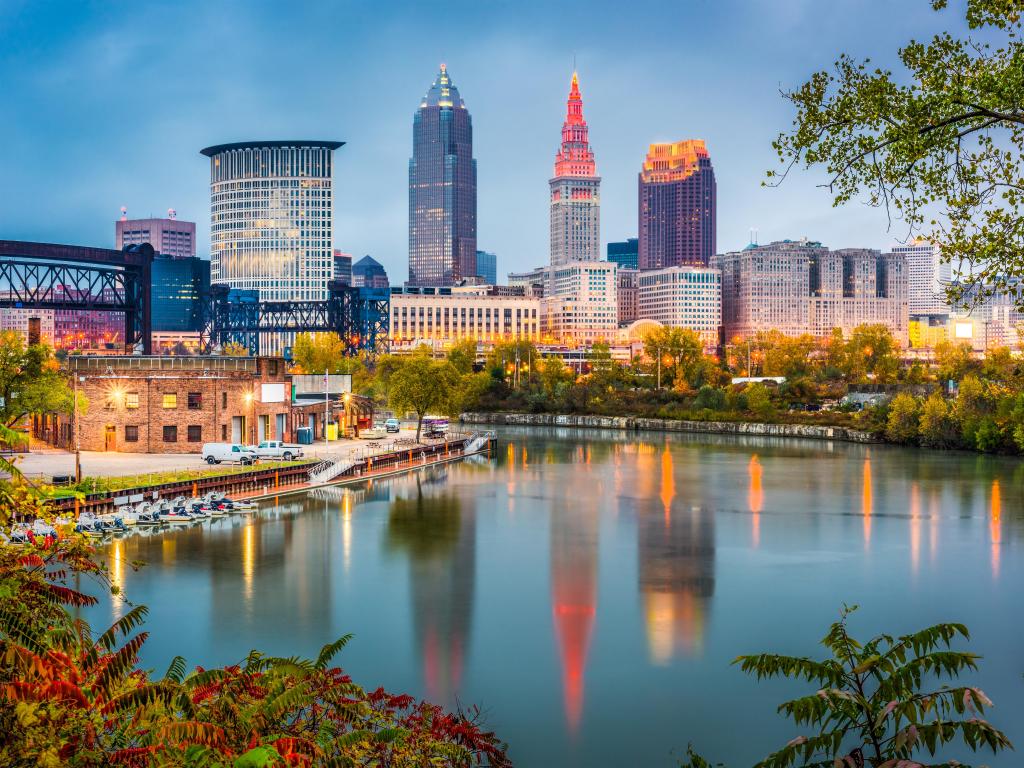 The Great Lakes Route
Cleveland, Ohio - Located on the northern shore of Ohio, Cleveland is a huge city where you can visit the Rock & Roll Hall of Fame, catch a ball game, and even see the house from A Christmas Story! No matter your interests, there's plenty to do in Cleveland.
Lake Erie - The second smallest lake of the five Great Lakes but the eleventh-largest lake in the world, Lake Erie offers kayaking, fishing, and plenty of beaches for scenic views.
Bicentennial Tower - This 187-foot tower has an observation deck which allows for panoramic views of Lake Erie and the surrounding town, Erie.
Buffalo, New York - The second-largest city in New York State sits at the start of the Niagara River, which feeds into Niagara Falls. It sits across from the second-largest Canadian province of Ontario.
Niagara Falls - These are the famous roaring waterfalls that sit on the border between the US and Canada. The Great Lakes feed into them through rivers and estuaries flowing downstream. Over eight million tourists visit Niagara Falls each year.
Rochester, New York - Sitting on Lake Ontario, here you can visit the Susan B. Anthony Museum & House. You can also visit another one of the five Great Lakes, Lake Ontario!
National Baseball Hall of Fame - This historical museum in Cooperstown honors some of the legends of baseball, such as Babe Ruth, Mickey Mantle, and Jackie Robinson.

Seneca Falls, New York - Known as the "Birthplace of Women's Rights", here you can visit the Women's Rights National Historical Park, the National Women's Hall of Fame, and the Elizabeth Cady Stanton home (one of the leaders of the women's suffrage movement).
The Pennsylvania Route
Salt Fork State Park - This 17,000-acre park is mostly surrounded by Salt Fork Lake. It offers marinas, boat ramps, hiking trails, and a beach to relax on.
Pittsburgh, Pennsylvania - This large city in western Pennsylvania sits at the junction of three rivers: the Monongahela River, the Ohio River, and the Allegheny River. It features attractions like the Carnegie Museum of Natural History and for sports lovers: PNC Park!
Hershey, Pennsylvania - Why does that sound familiar? Because this is the town where the famous chocolate company, Hershey, was started by Milton S. Hershey. Things to do include Hersheypark, Hershey Gardens, and the Hershey Story Museum.
Allentown, Pennsylvania - Next to the Lehigh River in eastern Pennsylvania sits a city called Allentown. It has the Allentown Art Museum, The Liberty Bell Museum with a full-size replica of the iconic bell, and its own Minor League Baseball team.
Lost River Caverns - These natural limestone caverns have been hosting visitors since 1930. Walking tours occur underground, while above ground there is a trail, a gem mill, and a museum.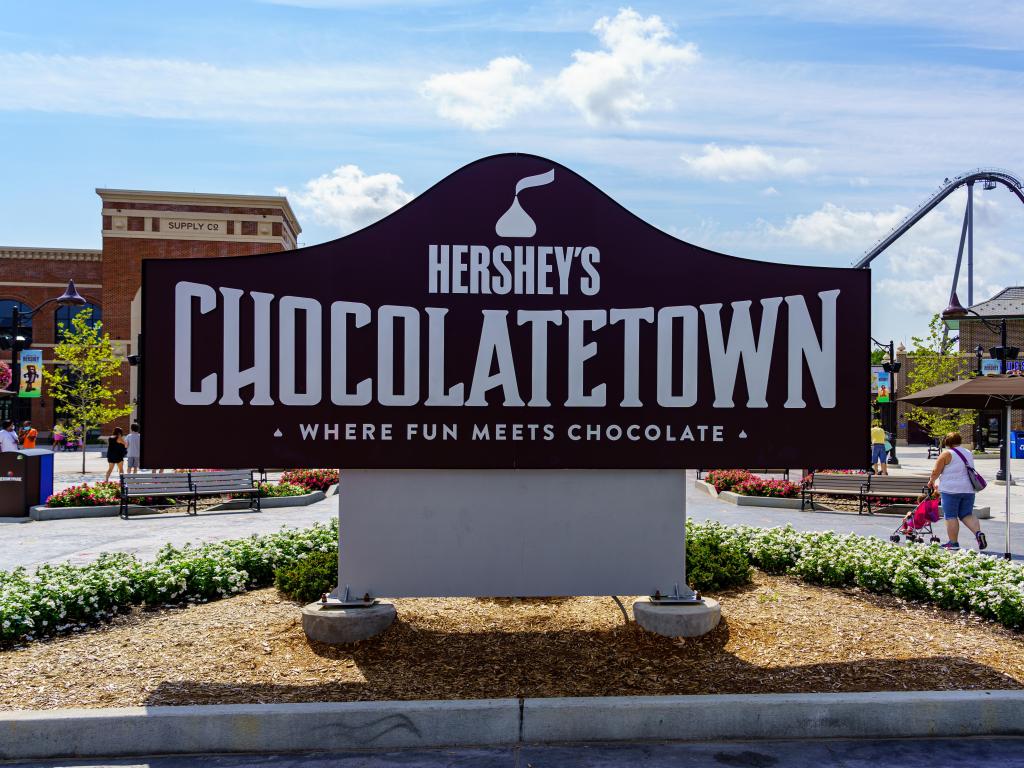 The Capitol Route
Arlington, Virginia - This city in northern Virginia sits across from Washington DC on the Potomac River. Famous sites here include the Arlington National Cemetery, the Pentagon, the US Marine Corps War Memorial, and Arlington House - the Robert E. Lee Memorial.
Alexandria, Virginia - Sitting south of both Arlington and Washington DC on the Potomac River is the city of Alexandria. Here you can visit its Old Town, walk the King Street Mile and step into a place called Gadsby's Tavern, where the US Founding Fathers dined.
Baltimore, Maryland - This major city in Maryland contains an important piece of US history. This is the birthplace of the US national anthem, "The Star-Spangled Banner", where you can visit the Fort McHenry National Monument and Historic Shrine.
Washington DC - Important sites of note here are the US Capitol, the Library of Congress, the Lincoln Memorial, the Washington Monument, the Vietnam Veterans Memorial, the World War II Memorial, the Martin Luther King, Jr. Memorial, and the National Mall.
Philadelphia, Pennsylvania - Most notable for its American Revolutionary sites, Pennsylvania's largest city is overflowing with history from the Liberty Bell to Independence Hall, where both the Declaration of Independence and the Constitution were signed.
Trenton, New Jersey - This capital city of New Jersey served as the US capital for almost two months at the end of 1784. Here you can visit the Old Barracks Museum and 1719 William Trent House Museum.
Princeton University - One of the eight Ivy League universities in the US, Princeton University hosts campus tours that are open to the public and showcase fantastic architecture and history.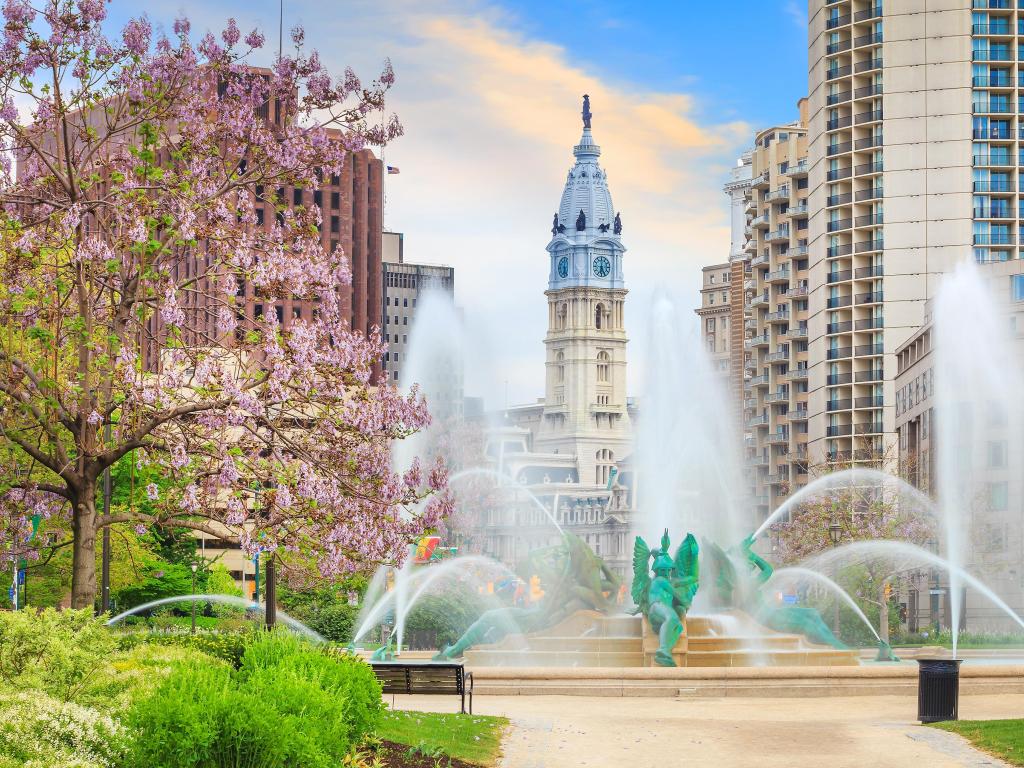 Best time to go on a road trip from Columbus to New York
The road trip from Columbus to New York is definitely one that can be enjoyed all year round. As the most popular city in the US, New York has millions of visitors in all-weather thanks to its multitude of outdoor and indoor activities.
That said, the city does get really cold in winter with temperatures dropping to less than 38 degrees Fahrenheit. Expect snow, ice and the need for extra layers.
However, as one of the most popular times to visit NYC due to its Macy's Thanksgiving Day Parade and popular skating opportunities around the huge Christmas tree at Rockefeller Center, it's still worth the chill.
To make the most of the beautiful lakes and outdoor attractions, such as Niagara Falls and Lake Erie, you might want to consider a summer trip. Summer in New York is characterized by warm, sunny days and later sunsets, while the falls enjoy temperatures around 80 degrees.
With the warmer weather, however, you are more likely to get caught by large crowds potentially spoiling your views of the best landmarks these routes offer.
Another great option is to visit in either spring or fall. Both seasons will not only give fantastic views of the parks along the way, but they offer the best weather for enjoying hikes and wildlife spotting with temperatures around 55 degrees Fahrenheit.
You won't be disappointed if you'd like to time your visit with a festival, New York has a full calendar's worth of events happening throughout the year including the Tribeca Film Festival in June, LGBT Pride in March and its annual fashion show held in February and September.