Road Trip from Dallas to Big Bend National Park
If you're looking for a road trip full of the fascinating history of the pioneers and the wild west, Tex-Mex culinary delights, musical landmarks and breathtaking canyon, forest and desert landscapes, then the road trip from Dallas to Big Bend National Park is the adventure you have been craving for!
The 680-mile road trip from Dallas to Big Bend National Park takes 11 hours to drive non-stop. You will get to travel via Hillsboro, Austin, San Antonio and Amistad National Recreation Area, or via Abilene, Lubbock, and Carlsbad Caverns National Park.
This road trip offers you the chance to experience the best Texas has to offer, from small towns with Victorian architecture and rich wild west heritage, to vibrant bigger cities with lots of cultural and culinary attractions to enjoy, and amazing nature areas to explore with landscapes of deserts, forests and rugged canyons.
How far is Big Bend National Park from Dallas, and how long will the road trip take?
Comparison of road trip routes between Dallas and Big Bend National Park

| Route | Distance | Driving Time |
| --- | --- | --- |
| Austin Route | 680 miles | 11 hours |
| Lubbock Route | 840 miles | 14 hours |
The road trip from Dallas to Big Bend National Park is 680 miles long and takes 11 hours to drive non-stop, when taking the Austin Route through central and southern Texas.
Alternatively, the Lubbock Route is 840 miles long and takes 14 hours to drive without stopping. This route option takes you across north-central Texas and briefly into New Mexico before taking you to southwestern Texas and Big Bend National Park.
In order to give justice to the fascinating towns and cities and their historic attractions dotted along the way, and explore the wondrous nature areas around lakes, canyons and other landscapes, we recommend you take at least 3 days for doing this road trip.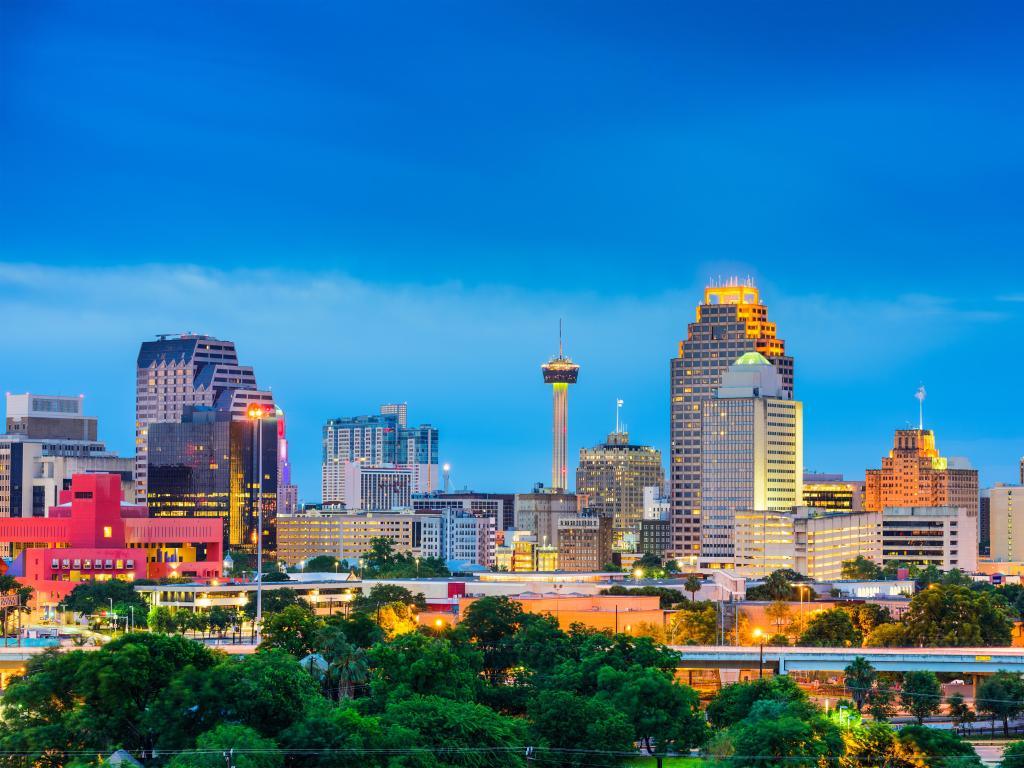 Best road trip route from Dallas to Big Bend National Park
You may choose from two route options. They both allow you to explore towns and cities full of Western, pioneer, and Native American history, Victorian architecture, and enchanting natural areas with canyons, lakes, rich wildlife and even ancient rock formations.
Which route you choose depends on which particular cities, landmarks and natural wonders you wish to see and explore.
The Austin Route takes you from Dallas across eastern and southern Texas. You'll drive through towns and cities with lots of historic buildings and landmarks.
These include Hillsboro with Victorian-style buildings, Austin with its vibrant live music and cultural scene, and San Antonio and Uvalde with interesting historic districts.
On the way you'll also get to visit Canyon Lake, known for its stunning water-based recreation and activities, and Amistad National Recreation Area with opportunities to hike, view wildlife, and visit ancient cave paintings.
The alternative Lubbock Route takes you across north-central Texas, into New Mexico, and then on to southern Texas.
On this road trip route, you'll get to visit captivating historic landmarks such as the Old Jail Museum Complex and Fort Stockton, explore the US's storybook capital Abilene, and learn about Western and cowboy heritage at the colorful Lubbock.
The route also allows you to visit Carlsbad Caverns, a cave complex with some of America's largest underground caverns, and the nearby Carlsbad Caverns National Park.
Austin Route
To start your road trip along this route, first follow Interstate 35 (I-35) south from Dallas, via Austin to San Antonio.
After visiting San Antonio, a vibrant city with rich history and a lovely pedestrian riverwalk area, drive towards the west along US Route 90. You'll pass by several small historic towns such as Uvalde, and can stop off and do water sports, explore or relax by Amistad National Recreation Area.
Finally, turn south at Marathon onto US Route 385. This road will lead you to Big Bend National Park.
Lubbock Route
First, drive west from Dallas along I-20, past Fort Worth and Abilene. After Sweetwater, you'll turn northwest onto US Route 84.
This road will lead you to Lubbock, where you may explore rich Western heritage and history and enjoy local Texas cuisine.
Afterwards, drive southwest along US Route 62 in the direction of Carlsbad, New Mexico. From there, you can visit the magnificent Carlsbad Caverns, before continuing southeast on your road trip, back into Texas.
You'll follow US Route 285 into Fort Stockton, then US Route 385 south towards Marathon. From there, keep on driving south to reach your destination, the place of rugged beauty yet highly diverse fauna and flora, Big Bend National Park.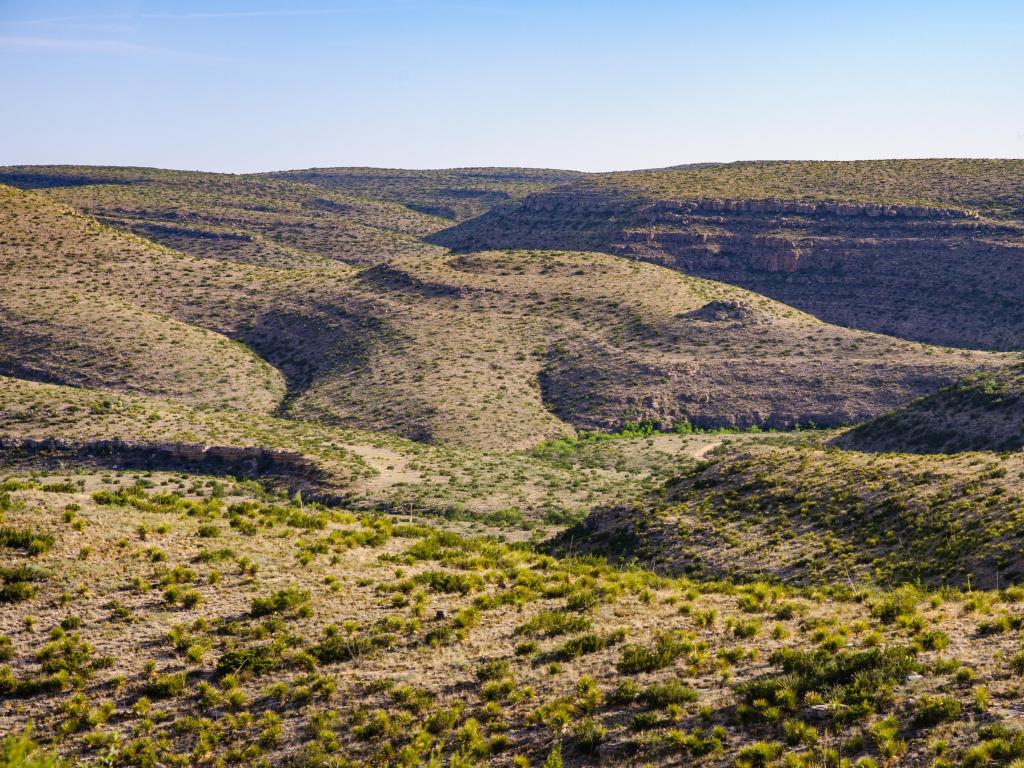 Best places to stop between Dallas and Big Bend National Park
There are lots of amazing cultural, historic and natural landmarks and sites to visit during this Texas road trip. Continue reading to find out our recommendations for the best places to stay overnight during your road trip.
Stop over at the capital of Texas and major cultural hub, Austin
Austin is located about one-third of the way along the Austin Route option. As an important cultural and economic center in the region, and the capital city of Texas, Austin is a fantastic place to stay over and explore during your road trip. The city is particularly known for its superb country, blues and rock music scene.
Notable sites and attractions in Austin include for example the Blanton Museum of Art, a University of Texas museum that contains an amazing array of permanent and temporary collections.
You might also wish to visit Austin's famous bat colony. It roosts under the Congress Avenue Bridge, and at 1,5 million, it is the world's largest urban bat colony.
Another attraction you shouldn't miss while in Austin is the Continental Club, a historic live music venue that has hosted beloved music acts since 1955.
Of the many wonderful hotels in Austin, we recommend ARRIVE Austin as a superb place to stay overnight. The hotel has beautifully decorated, spacious rooms. It also features a great restaurant, a fantastic bar, and a terrace for guests to enjoy.
ARRIVE Austin is located right in the city center, along your road trip route through Austin. It is also within a 20-minute walk to many popular attractions, including the Blanton Museum of Art and Congress Avenue Bridge.
Visit colorful Lubbock, the city of Buddy Holly and rich Western heritage
Lubbock is located about halfway along the Lubbock Route option. It is an interesting city full of cultural and culinary attractions to explore. The city is especially known for its deep wild west roots. It is also famous for being the birthplace of rock n roll legend Buddy Holly.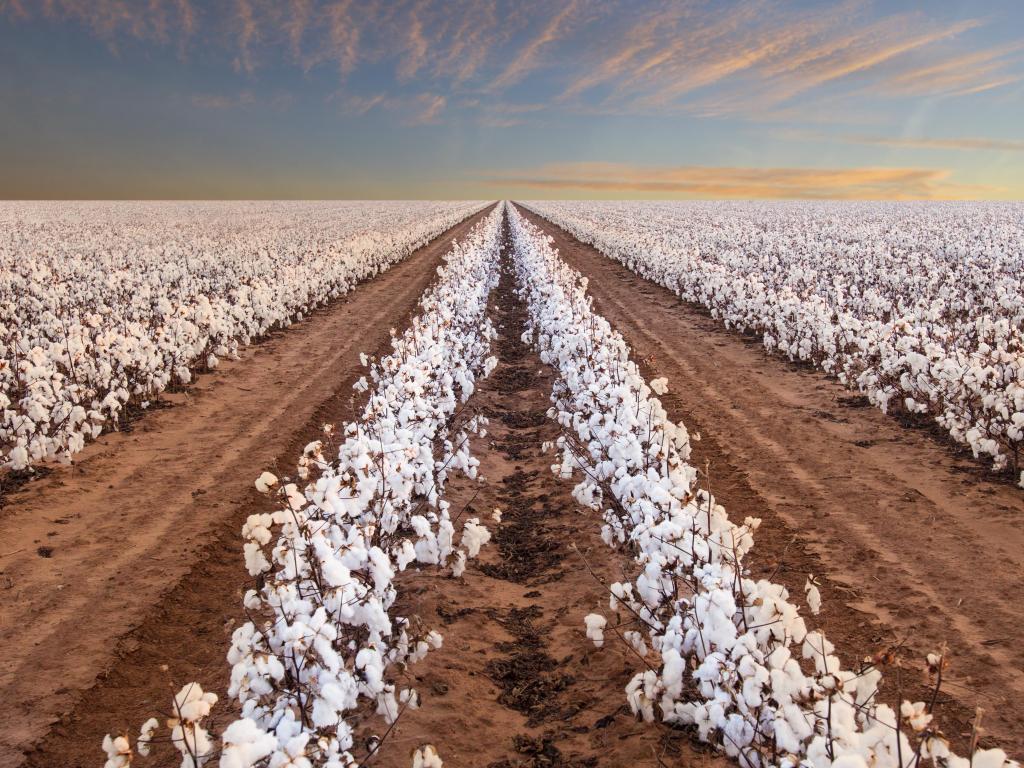 While visiting Lubbock, do make sure you'll take some time to explore the National Ranching Heritage Center. It is a fascinating place, with almost fifty authentic buildings showcasing the area's western and ranching heritage.
You might also enjoy visiting the Buddy Holly Center, a performance and visual arts center dedicated to Buddy Holly and the music of West Texas.
Furthermore, the Museum of Texas Tech University has collections and laboratories – altogether several million objects - related to sciences such as natural sciences and astronomy, perfect for any science buff!
For a place to stay overnight, our top choice is Cotton Court Hotel, by Valencia Hotel Group. This is a new hotel with rooms of modern design, facing a peaceful courtyard. There is free parking, a wellness center, and a lovely, free outdoor pool available for guests at the hotel.
The hotel is located in central Lubbock, and right off the highway bringing you into Lubbock and out again the next day. It is also just over a mile away from the National Ranching Heritage Center, Buddy Holly Center and Museum, and for example the exciting Panhandle South Plains Fairgrounds.
Where to stay when you reach Big Bend National Park
Big Bend National Park, close to the Mexican border and on the Rio Grande River, harbors a highly diverse fauna and flora, magnificent canyons, harsh deserts and the Chisos Mountains. This park can be explored for example via hiking trails or stunning scenic drives.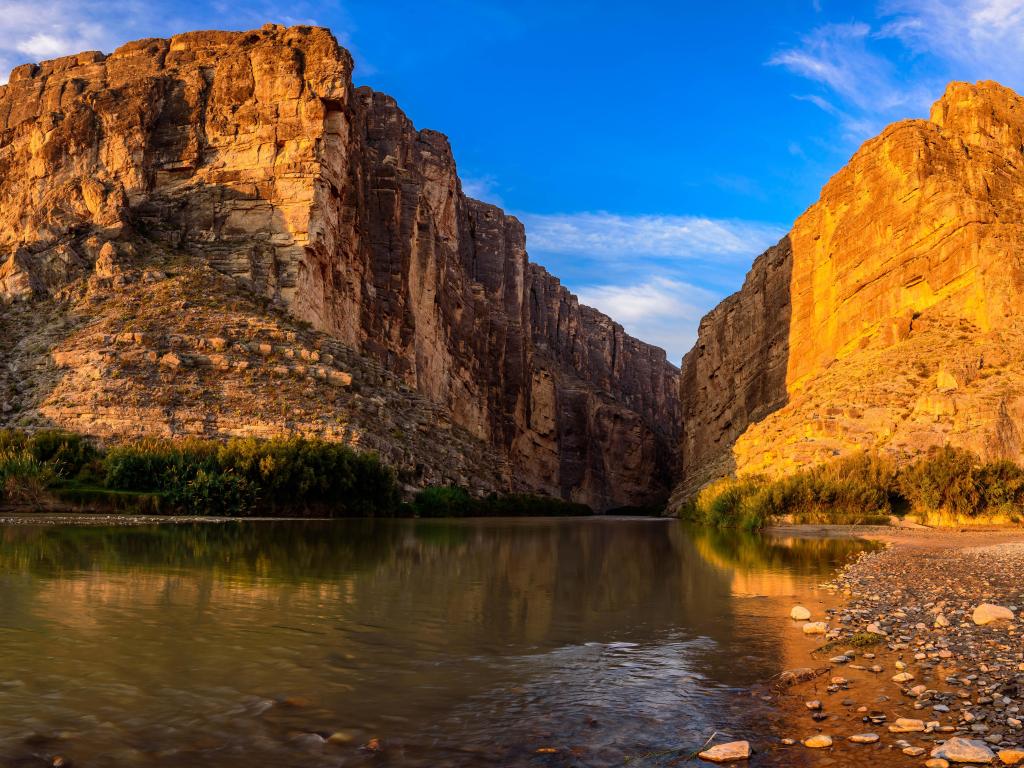 A great hotel recommendation for exploring Big Bend National Park is Lajitas Golf Resort, which features beautiful facilities set in historic buildings, and the rooms are tastefully decorated in the local design style.
This gorgeous hotel features a wonderful restaurant, outdoor swimming pool, patio and outdoor areas with mountain views, as well as a wellness center.
It is located about 20 miles from Big Bend National Park, and also just a few miles from Big Bend Ranch State Park, a nature area with similar rugged canyons and mountain views as Big Bend National Park, albeit smaller in size and with slightly more challenging roads for an adventurer to tackle.
Things to see on a road trip from Dallas to Big Bend National Park
During this road trip, you'll drive through small towns with fascinating history, bigger cities with museums, theaters and other attractions to enjoy, and lovely natural areas showcasing some of Texas's diverse wildlife and plant life.
Below you can discover some of our recommendations for the best things to see and do during this road trip.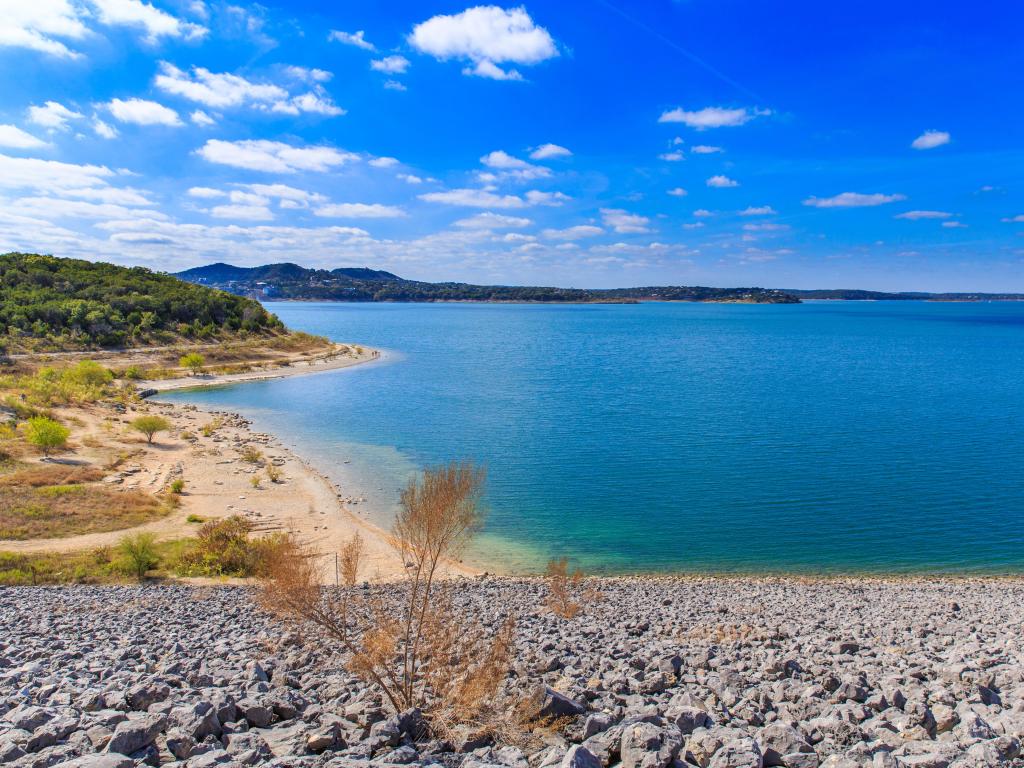 Austin Route
Hillsboro, Texas - Hillsboro is a small town that contains an array of historic Victorian homes, such as its impressive county courthouse. Even the main street of Hillsboro is dotted with historic buildings, now serving as shops and restaurants.
Waco, Texas - Waco is home to the famous soft drink Dr Pepper, and there is a museum dedicated to this in the city. Other attractions in Waco include the Waco Mammoth National Monument, a site of mammoth fossils, and the fascinating Texas Ranger Hall of Fame and Museum, a historical center of the famed law enforcement agency.
Austin, Texas - The capital city of Texas, Austin is a place of a lively country, blues, and rock music scene, and wonderful hiking, biking and swimming by its many parks and lakes. Popular attractions include the Paramount Theater, set in a historic building, Franklin Barbecue restaurant serving food in Texas style, and the Mexic-Arte Museum.
Canyon Lake, Texas - Canyon Lake reservoir and the surrounding area is home to stunning hiking trails and a wonderful place for practicing water sports. You may spot an abundance of wildlife here too, including deer, bighorn sheep and javelina.
San Antonio, Texas - San Antonio is home to Alamo, an 18th-century mission now serving as a museum, a range of other historic buildings and museums, and the River Walk pedestrian promenade that stretches for miles along the San Antonio River, and includes lovely shops and cafés.
Uvalde, Texas - Uvalde is a small city with interesting historic buildings and museums to explore. Just to the north of Uvalde, you'll also find Garner State Park, located in the beautiful Texas Hills Country. The park offers views over the Frio River and the surrounding hills, and is a magnificent spot for hiking and camping. Nearby, you may also visit Frio Bat Flight Tours, home to millions of Mexican free tailed bats.
Amistad National Recreation area, Texas - Amistad recreation area is best known for wonderful water-based sports, camping, and hiking. There are also amazing opportunities to view rock art, especially in the adjacent Seminole Canyon State Park and Historic Site, accessible via Amistad National Recreation Area.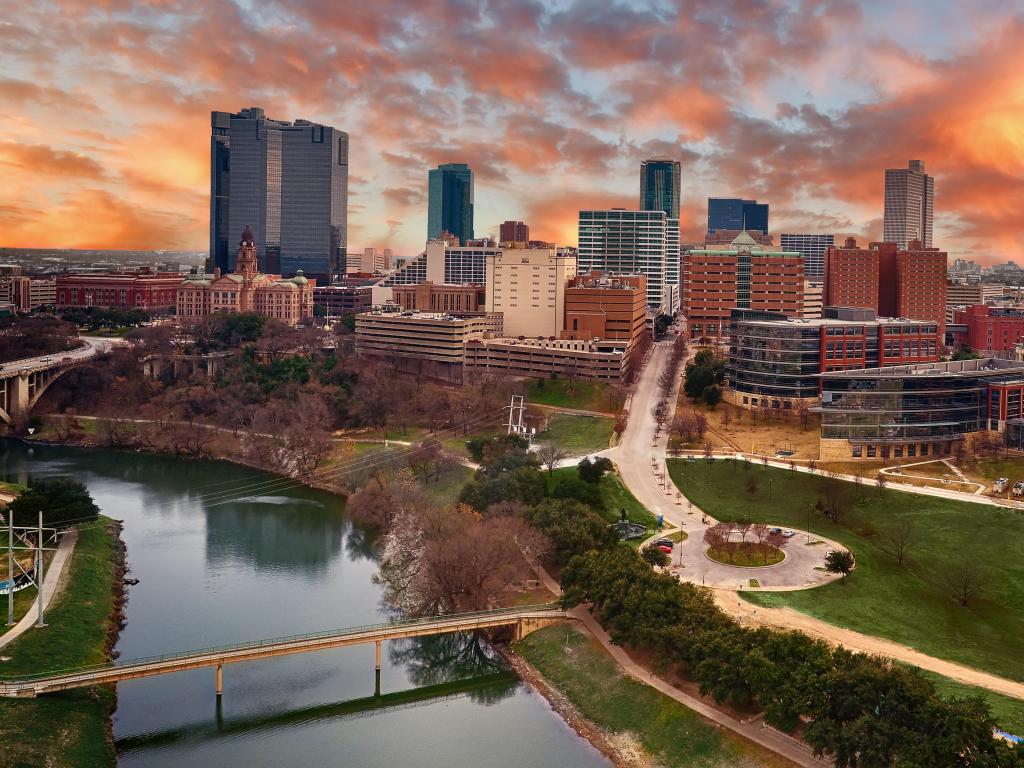 Lubbock Route
Fort Worth, Texas - Fort Worth, a city right next to Dallas, is home to several attractions, including Kimbell Art Museum, National Cowgirl Museum and Hall of Fame honoring the historic pioneers, and the Stockyards, home to rodeos and cattle drives.
Old Jail Museum Complex, Palo Pinto, Texas - The Old Jail Museum Complex in Palo Pinto, just a few miles north from Interstate 20 and your road trip route, is a fascinating museum complex to explore. It includes the jail, yard, pioneer cabins, and lots of artifacts detailing life and events at this historic site.
Abilene, Texas - There are plenty of fascinating attractions in Abilene. You may, for example, visit the fantastic Adamson-Spalding Storybook Garden, Frontier Texas! History Museum, or Abilene's Downtown Cultural District where you may enjoy shopping, dining, visiting live music venues or admiring historic architecture.
Lubbock, Texas - In Lubbock you'll find plenty of cultural and culinary sights and activities. You may for example like to visit Lubbock Memorial Arboretum with beautiful gardens and walking paths, National Ranching Heritage Center and museum with authentic ranching buildings and history, and the many restaurants in the city offering West-Texas/cowboy-style barbecues and foods.
Carlsbad, New Mexico - Though the city of Carlsbad is most well known as the gateway to the Carlsbad Caverns, it also harbors interesting history, art and culture. For example, enjoy recreational activities by Lake Carlsbad, find southwestern art and relics at Carlsbad Museum, or visit Pecos River Flume historic landmark.
Carlsbad Cavern Natural Entrance, New Mexico - Carlsbad Cavern National Park's main attraction is the Carlsbad Caverns, containing beautiful, large limestone caves that you may enter via the Natural Entrance or via a visitor's lift. The national park, part of the Guadalupe Mountains, also harbors diverse wildlife and hiking opportunities.
Fort Stockton - This city is the site of the historic fort, active at the end of the 19th century. You may also tour the city's historic district or for example view the well-known roadrunner statue, Paisano Pete.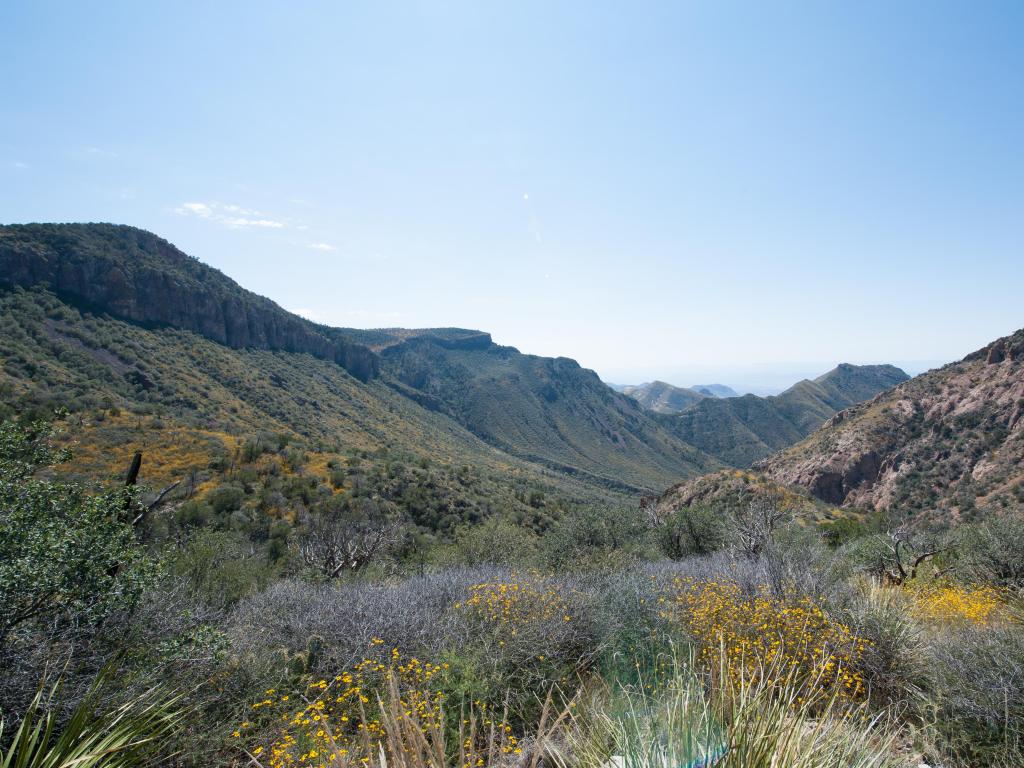 Both Routes
Marathon, Texas - Marathon is a town best known as the gateway to Big Bend National Park, but it also contains lovely shops, restaurants, and sites of local history, as well as the beautiful Gage Gardens. The film Paris, Texas was filmed in Marathon.
Best time to go on a road trip from Dallas to Big Bend National Park
You may visit Big Bend National Park at any time of the year, but due to extreme heat in summer and cold nights in winter, fall and spring are considered the most favored times of year to visit this national park.
In the summer months, especially June-August, temperatures often reach 100 degrees Fahrenheit during the daytime. Thus, if you visit in summer, do try to hike in the early mornings or late afternoons to avoid the scorching heat.
However, due to the heat, the national park doesn't experience very big crowds during these hot months.
It can be wonderful to visit here in winter, in that daytime high temperatures can reach 70 degrees Fahrenheit, making it thus a pleasant time of year to hike and explore the park. However, nights can often get near freezing temperatures, which you may wish to take into account when packing for this road trip, if visiting in winter.
Spring and fall are indeed the most popular times for visiting Big Bend National Park, because temperatures then are moderate and thus good for hiking and exploring the park. Should you wish to avoid the biggest crowds, avoid the busiest month March, and rather visit in April-May or October.
Something further to take into account when planning the timing of your road trip is the wonderful, annual Viva Big Bend music festival. It takes place in several locations around the Big Bend area and southern Texas.