Road Trip from Dallas to Broken Bow, Oklahoma
Grasslands, forests, and wetlands teeming with wildlife await you on this amazing road trip from Dallas to Broken Bow, Oklahoma. This road trip is relatively short, which is perfect for a short getaway as it packs a punch with vineyards, beautiful lakes and many outdoor activity opportunities.
The 190-mile road trip from Dallas to Broken Bow, Oklahoma will take 3 hours and 30 minutes to drive nonstop. Inspiring sights on the way include Sulphur Springs, Paris (Texas), Caddo National Grassland, Manchester (Texas), Mt Pleasant and Mt Vernon.
This amazing road trip is manageable for a weekend adventure, and packs a punch with many sights to see and unique attractions to visit. Read on to find out about the best routes, where to stay if you'd like to break the trip into parts, and the best time to visit.
How far is Broken Bow, Oklahoma from Dallas, and how long will the road trip take?
Comparison of road trip routes between Dallas and Broken Bow, Oklahoma

| Route | Distance | Driving Time |
| --- | --- | --- |
| Caddo National Grassland Route | 190 miles | 3 hours 30 minutes |
| Sulphur Springs Route | 210 miles | 3 hours 50 minutes |
The Caddo National Grassland Route is the shorter of our two options at 190 miles. This route will take you about 3 hours and 30 minutes to drive without accounting for any stops.
The Sulphur Springs Route is slightly longer, covering 210 miles in 3 hours and 50 minutes if you were to drive nonstop without making any detours.
While it is not the longest road trip if you drive directly from your origin to your destination in Broken Bow, Oklahoma, 1-2 days is suggested so that you can take your time and see some of the interesting sights along the way.
Best road trip route from Dallas to Broken Bow, Oklahoma
With the options being about the same length of time, there isn't really a best, simply a preference. If you are really into quirky sights, the Caddo National Grasslands Route would be your best bet, so you can see the Eiffel Tower replica in all its cowboy-hatted glory.
If you have a little extra time and the weather permits, a boat trip from the Sapphire Bay Marina is a must, or you can try your hand at kitesurfing or waterskiing. Prefer to stay out of the water? Fishing at Lake Crook is a popular stop for anglers, or you can visit Caddo National Grassland to observe the abundance of wildlife.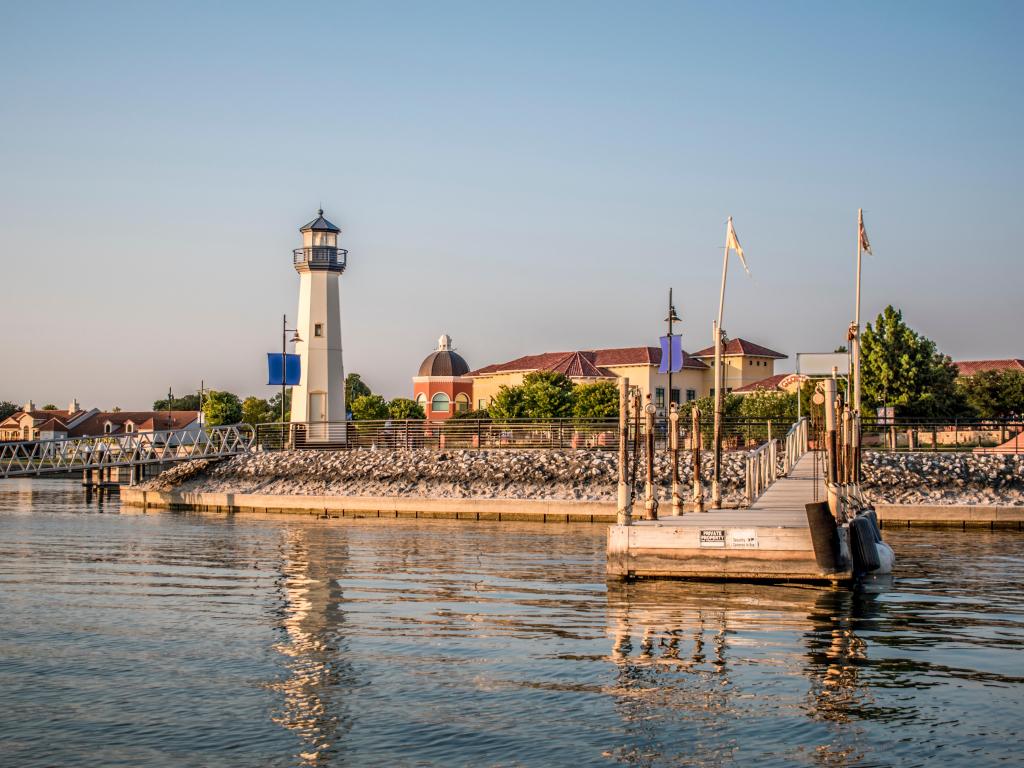 The longer route of the two, the Sulphur Springs Route, should be done at a slower pace, and is more nature-focused than quirky. Sulphur Springs, also known as Celebration City, is a fun pit stop for some drinks, dancing, and probably one of their many events.
On this route, you will have a selection of parks to wander through such as Coleman Park and Lake or Bedford Park. Why not hire a boat and spend the afternoon on the waters of Lake Ray Hubbard or Lake Tawakoni? This route is a nature lover's dream.
If you haven't had your fill of the beautiful lakes in Dallas's vicinity, read our article about other stunning and scenic lakes you could visit near Dallas.
The Caddo National Grassland Route
Take US-75 out of Dallas on this route and follow it to Melissa and then Bonham. You will soon reach Caddo National Grassland and then head east to Paris, Texas.
Follow the highway to Manchester, Texas (you might be feeling like you are on a trip around the world at this point) and cross the Red River into Oklahoma. Driving through Idabel, you will soon reach your destination in Broken Bow.
The Sulphur Springs Route
As you leave Dallas, drive across Lake Ray Hubbard and head towards Lake Tawakoni on TX-276. After your visit to this beautiful lake, drive past Lake Fork and look for the signs for Sulphur Spring.
After your visit, take Interstate 30 (I-30) out of the city and drive through Mt. Vernon and Mt. Pleasant. You will start driving north at this point, and arrive in Broken Bow after passing through Idabel.
Best places to stop between Dallas and Broken Bow, Oklahoma
Even though this is a relatively short road trip, there are some amazing places to stop en route, so we suggest making at least one overnight stop on each route. Read on to find out about our top suggestions as to where to stay.
Enjoy the quirkiness of Paris, Texas
You might imagine yourself on another continent, seeing the road signs for Paris, but this quirky and beloved Texan city is located about halfway on the Caddo National Grassland Route.
In Paris, you will find some really unique sights that you wouldn't expect to see in Texas, such as the replica Eiffel Tower (equipped with a cowboy hat, nonetheless!). Built in 1993, this replica is only a tenth of the actual tower in France, which means you will not have to struggle to take a photo up close.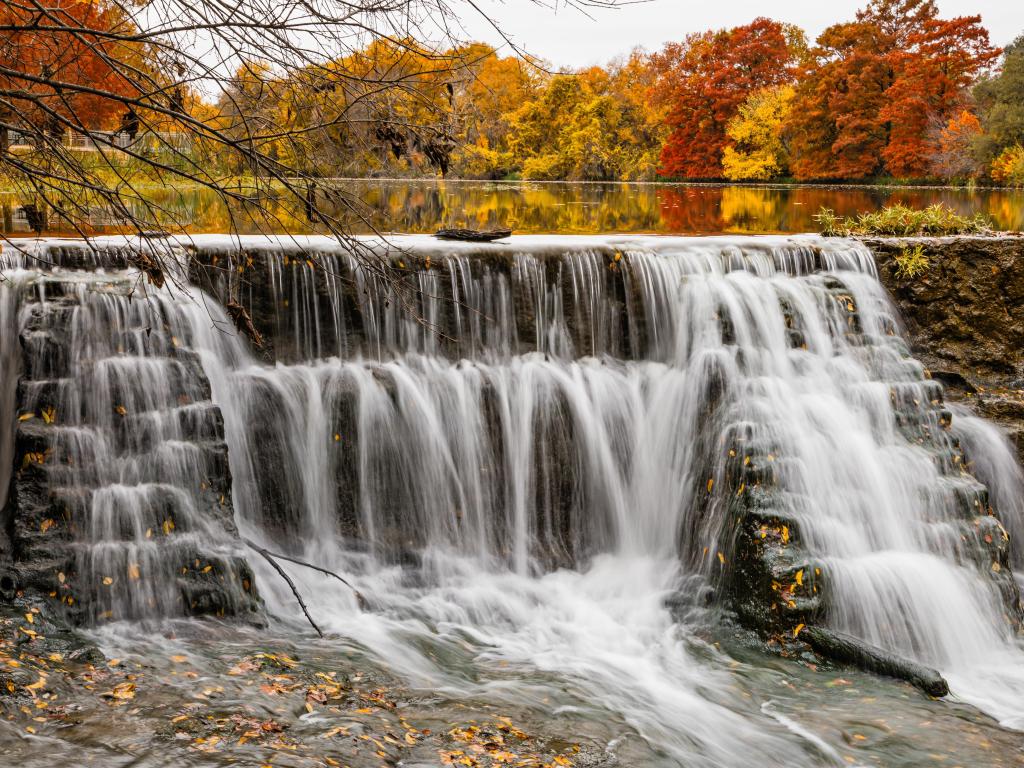 Our choice as to where to stay in Paris, Texas is undoubtedly the Hampton Inn Paris. The hotel boasts a fantastic location very close to many of the interesting things to see and visit, including Veterans Park and Dragon Park.
Featuring modern decor and great amenities, you will find an outdoor pool and wellness and fitness center on-site for the ultimate relaxation in the hotel. There is also free parking, and you can leave the car there and go by foot to nearby coffee shops and restaurants nearby.
The charming Paris Town Square is also located a short drive from the hotel and you can head here for a stroll and a chance to admire the impressive building architecture and pretty fountains around. There are also plenty of antique and craft stores to explore here.
Sulphur Springs
If you are following our Sulphur Springs Route, you will find the namesake city halfway to your destination in Broken Bow, Oklahoma. Known as the 'Celebration City', Sulphur Springs is home to many events and festivals held every year to celebrate anything from craft decorations to craft beer.
Get a feel of small town Texas by visiting Hopkins County Museum and Heritage Park, where you will feel as if you have stepped back in time. You will find several relocated historic buildings in this park.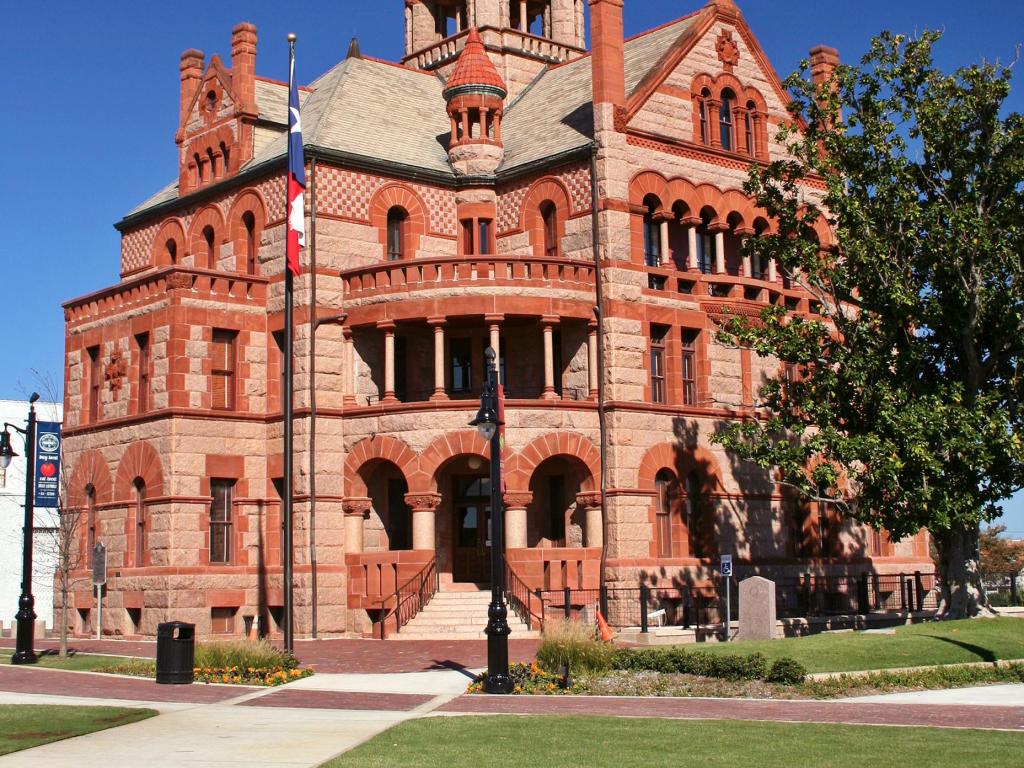 If you are looking for something a little more eccentric, visit the Glass Bathrooms in the downtown area. The first of their kind in America, you will be able to enjoy a panoramic view of the outdoors in a place you'd least expect! You will be relieved to hear that the bathrooms are completely opaque from the outside.
Among the lodging options, we highly suggest staying at Clarion Pointe Sulphur Springs. Only a couple of miles to the city center, you will be located in the heart of all the action. The modern hotel features beautiful rooms and a fabulous outdoor pool and a hot tub, perfect remedy after a busy day sightseeing.
If you would rather venture and explore, you will be located close to many of the most popular attractions such as Coleman Park and Lake Coleman, which will give you the opportunity to spend a great day outdoors.
Where to stay when you reach Broken Bow, Oklahoma
Located only a short drive from the center of Broken Bow, Comfort Suites Idabel is a great place to base yourself in as you explore the area before reaching your final destination.
The hotel is located just off the interstate, so you won't have to make a detour to get to it. With great ratings, this accommodation is a favorite among couples. With a fantastic outdoor pool and a hot tub, it is easy to see why this hotel is a great getaway location.
You will be located close to many of the popular attractions such as Museum of the Red River and Pine Creek Lake, so why not take advantage of the delicious free breakfast before setting off on the last leg of your journey to Broken Bow?
Things to see on a road trip from Dallas to Broken Bow, Oklahoma
Even though a shorter road trip, there are many unique and inspiring sights to enjoy on this adventure from Dallas to Broken Bow, Oklahoma. To make your planning easier, we have listed a few of our favorite attractions en route.
The Caddo National Grassland Route
Landmark Museum at Heritage Crossing - Some of the historical items found here date back to the 1800s, so you really feel like you are stepping back in time. This interactive museum is great if you are a history buff wanting to learn a bit more about the area.
Arbor Hills Nature Reserve - Grab your picnic basket and find a place in this reserve to relax for a while. Watch out though, you might have some wildlife join you.
Historic Downtown McKinney - Specialty antique shops for those who love to browse for unique pieces.
Barnhill Vineyards - For wine lovers, these vineyards are a short trip from Melissa. Sample some delicious wines in a beautiful setting.
Bonham State Park - Feeling adventurous? Rent a paddle boat here, or go for a hike on one of the many trails. This park has 260 acres so there is plenty to see!
Caddo National Grassland - These 17,000 acres of grassland are home to deer, red fox, and waterfowl, most of which you can spot as you explore.
Gambill Wildlife Refuge - Grab a map and explore the rambling trails in this wildlife refuge. We suggest heading towards Lake Gibbons for the scenery.
Lake Crook - For the fisherman, an afternoon here angling in the waters is a fun activity.
Paris - Get yourself a selfie with the Eiffel tower and its big red hat!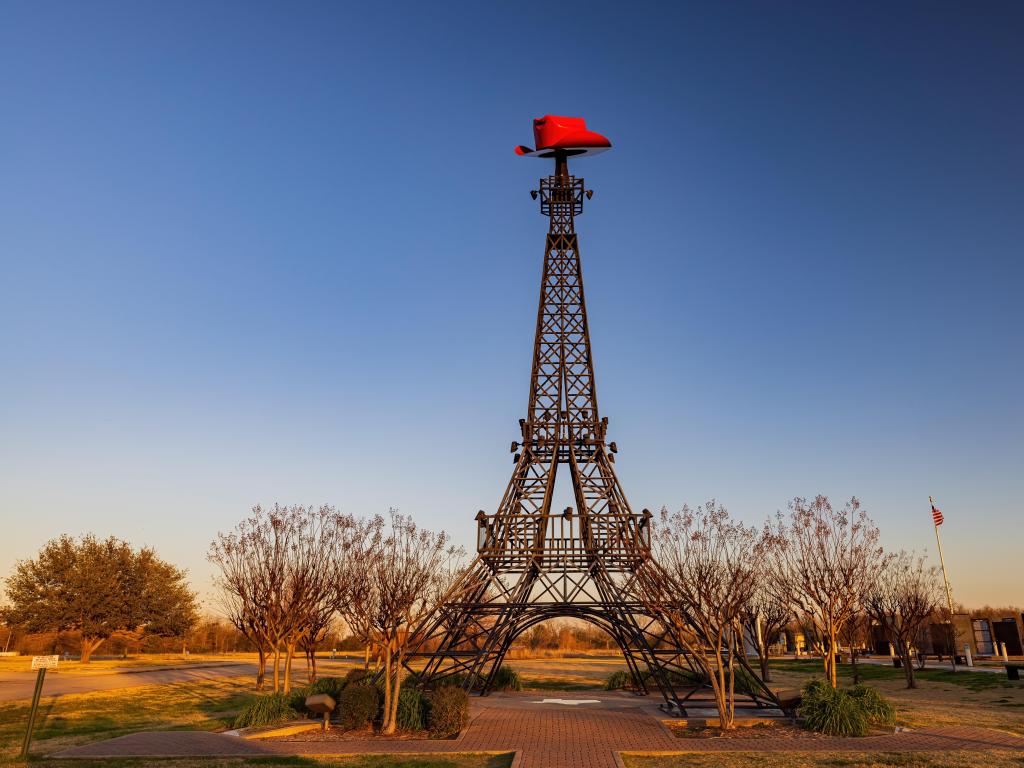 The Sulphur Springs Route
Sapphire Bay Marina - For those who like to be on, and in the water. Boating, waterskiing, you name it, there is an aquatic activity here to try.
Union Valley - Our pick for lunch, a great spot to stop and have some wine too.
Lake Tawakoni - Weather permitting, a picnic and a swim in the lake makes for a lovely summer afternoon.
Buford Park - An accessible park with easy trails for a wander around.
Mount Vernon - One of few 'Texas Treasures', visit the nearby Lake Cypress Springs which is one of the nicest ones around.
Mount Pleasant - Here you will find the Mid America Flight Museum, with a large collection of planes to view and learn about. A must for aviation fans.
Broseco Ranch Hunting and Fishing - 13,000 acres with animals, and large lakes full of Florida Bass make this a great spot to stop for hunting and fishing.
Dalby Springs - A cute little town with interesting things to see. Grab a bite at Los Pinos Ranch for local food and wine.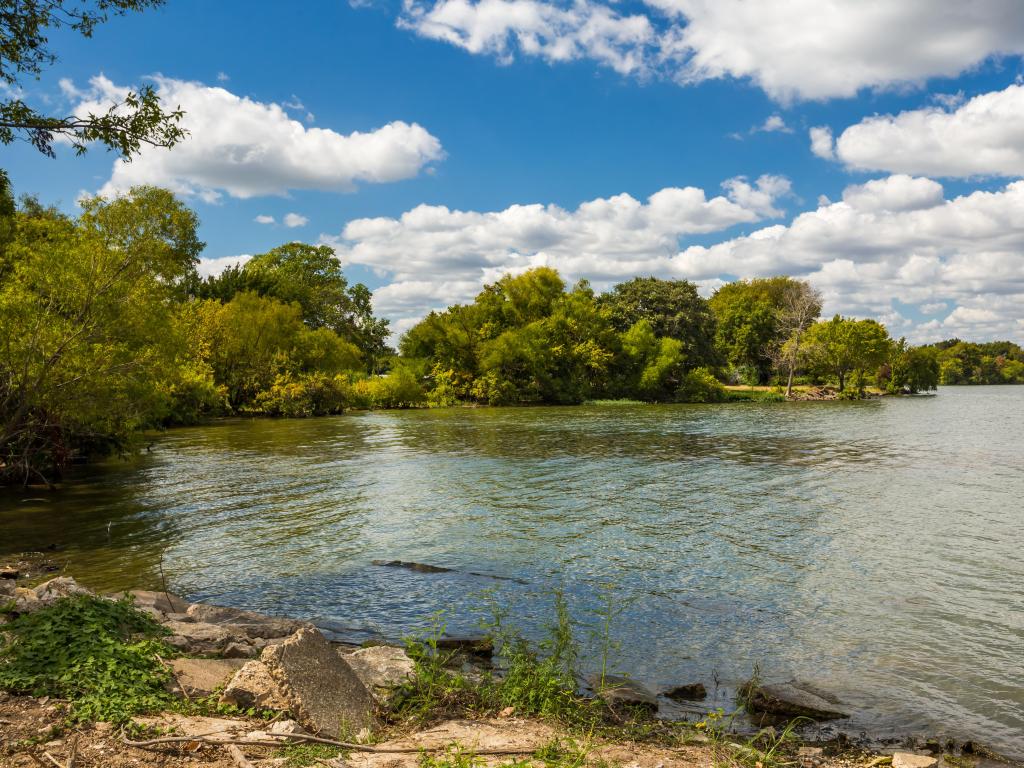 Best time to go on a road trip from Dallas to Broken Bow, Oklahoma
Broken Bow is a year-round destination, mainly because the weather remains quite mild even in winter. The best months to visit are June and September, avoiding the hottest part of the year.
July is around 86 degrees Fahrenheit, which isn't unbearable, but some could find it too hot to explore. In winter, the average is around 55 Fahrenheit, which really is not bad at all.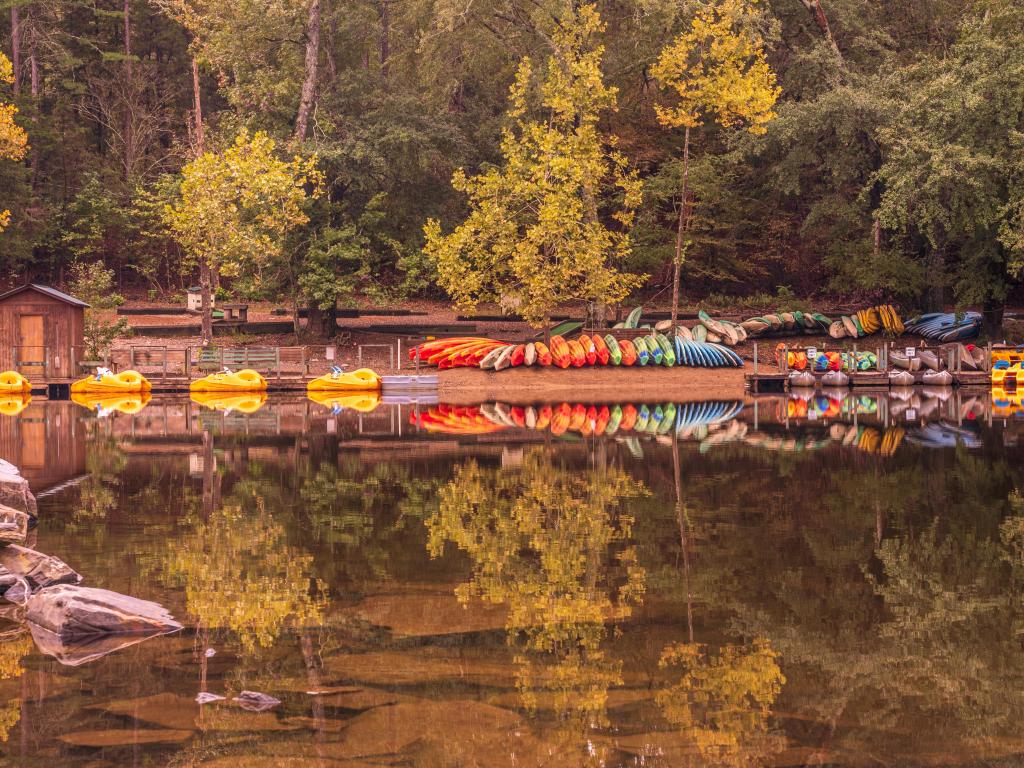 There are still many attractions, and being off-season, accommodation is usually a little cheaper. Spring and fall sit between 60 and 80 degrees, which is perfect for a getaway. The scenery during fall, with the changing leaves, is pretty spectacular too.
Broken Bow has events year-round. MAYnia, which is obviously in May, is a popular art and storytelling event. That month there are also Cool Cars and Crazy Cones, with live music, art, and classic cars.