Road Trip From Dallas To Denver
If you love the beautiful American South and want a lengthy but rewarding journey, consider a road trip from Dallas to Denver. You'll have the option of checking out some of New Mexico, Oklahoma, and Kansas' highlights, not to mention the beautiful Rockies in Colorado.
The 795-mile road trip from Dallas to Denver takes 12 hours to drive. Stops include Carson and San Isabel National Forests, Oklahoma City, Fort Worth, and Colorado Springs, as well as Lake Thunderbird and Rocky Mountain National Park.
There's a lot to unpack when it comes to this road trip – read on to get an idea of what you're in for.
How far is Denver from Dallas and how long will the road trip take?
| Route | Distance | Driving Time |
| --- | --- | --- |
| The Texas Panhandle Route | 795 miles | 12 hours |
| The Oklahoma/Kansas Route | 880 miles | 12 hours 40 minutes |
There are two main routes from Denver to Dallas worth considering - the first cuts through New Mexico before taking you along the Colorado national forests, while the other cuts through Oklahoma and Kansas before getting you into Denver from the east.
Before entering New Mexico, the former route will take you through the so-called Texas Panhandle, the state's flat, arid northwestern part. This route covers around 800 miles and takes 12 hours to drive, meaning you have to split your trip into at least 2 days.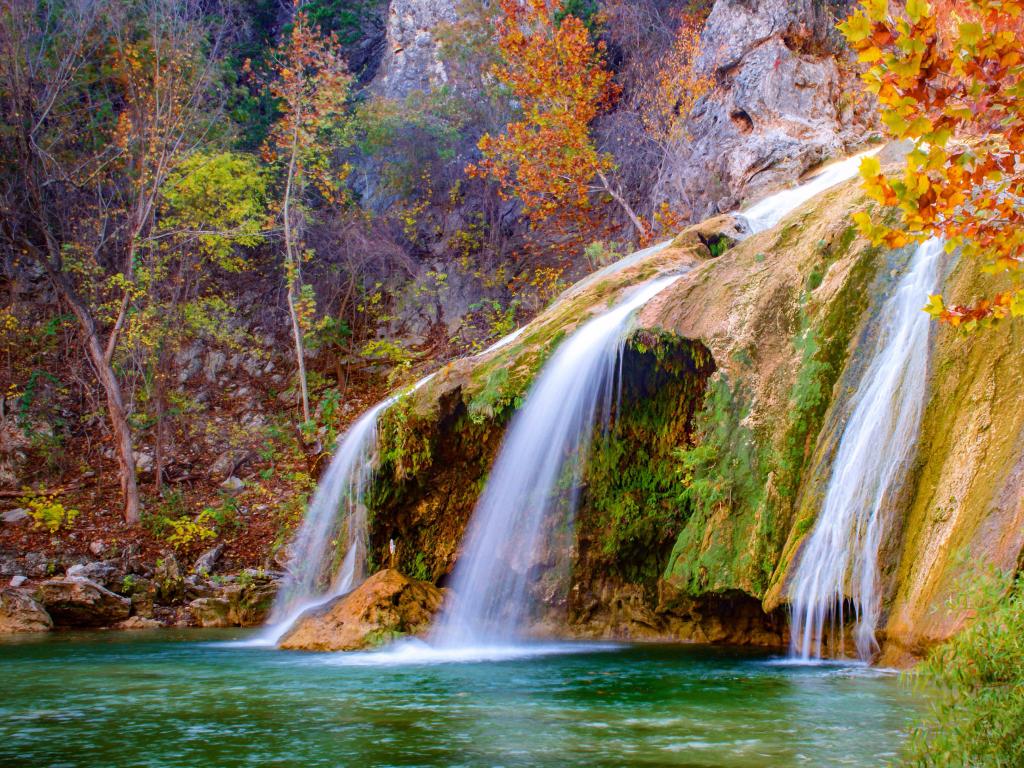 If the weather is bad or you're just looking for a smoother ride, another option is to drive along various interstates through Oklahoma City and cutting through the heart of Kansas.
This route covers around 880 miles of ground, but the trip takes as long as it would on the other route, given that the interstates let you drive a lot faster.
Best road trip route from Dallas to Denver
There is no best road trip route from Dallas to Denver – both of the routes outlined above have their own unique highlights, the key ones being the forests west of Denver. If the conditions allow for it, consider taking one route on the way to Denver and the other on the return trip.
With that said, if you're looking for an easier drive, the Oklahoma/Kansas route is arguably a much safer bet. Not only will you never leave the interstate, but you also get to avoid the traffic leading into Denver from Colorado Springs.
If you are visiting Rocky Mountain National Park, keep in mind that the national park uses a timed entry permit system. Please check the national park's website to see if you need to make a reservation before your visit.
How to drive from Dallas to Denver
The map above shows our suggestions for the best road trip routes between Dallas and Denver. Keep reading for detailed descriptions of both routes, where to stay on either, and the best things to do on the way.
The Texas Panhandle Route
Taking the Texas 183 Express, leave Dallas by going east and entering Fort Worth. From there, take Route 287 and follow it past Lake Arrowhead State Park and through Wichita Falls. After driving through Amarillo, pass Rita Blanca National Grasslands on your way into New Mexico via Route 87.
Be sure to check out Taos and Carson National Forest before passing Sugarite Canyon State Park and entering Colorado via Interstate 25. Get your bearings here before you continue along the interstate.
Coming up is a long string of optional but highly recommended detours to the west – Great Sand Dunes National Park, as well as Rio Grande, Gunnison, and San Isabel National Forests form a beautiful chain of landmarks all the way to Denver.
The Oklahoma/Kansas Route
Leave Dallas by going north along Interstate 35, passing Lake Murray, Lexington Wildlife Management Area, and Lake Thunderbird State Park before reaching Oklahoma City. Rest up here before continuing along the interstate, passing Lake McMurtry Friends before entering Kansas.
Make a stop at Wichita, then get onto Interstate 135, following it all the way to Salina. From there, take Interstate 70 west, past places like Cheyenne Bottoms Refuge before entering Colorado. Still on the interstate, stop by Pawnee National Grassland before entering Denver.
Best places to stop between Dallas and Denver
You'll definitely want to find a place to stop when doing the long drive from Dallas to Denver. Luckily, both routes come with some amazing options for your consideration. Here are some of our recommendations:
Marvel at the unique beauty of Taos
If you're taking the Texas Panhandle Route and are in the market for something completely different, you can't pass up on Taos. There are plenty of amazing (not to mention incredibly unique) hotels in town, but Adobe and Pines Inn Bed & Breakfast is the most elegant one by far.
With walls and decorations that come in every color of the rainbow (and many more), this resort is nothing if not unique. No expenses are spared in terms of comfort, either – besides the cozy furniture, guests will have an indoor fireplace and an outdoor hot tub at their disposal.
The area also happens to be great for recreational activities, and a quick walk will take you to the nearest ski areas, hiking trails, rivers and rafting equipment, and much more.
Best of all, this resort offers you a once-in-a-lifetime stay for a meager price by Taos standards. Take full advantage of that and explore as much of the historic town as you can.
Enjoy the vacation of a lifetime in Denver
Denver is home to some truly luxurious hotels, but you don't need to overspend to enjoy a great vacation here. If you want to wine and dine at one of the finest accommodation options in the area, The Ramble Hotel is the place for you.
The rooms at this hotel are everything they need to be – stylish, spacious, and comfortable. As is usually the case when vacationing in a large city, you'll want to get a room with a beautiful garden view or a balcony. If you want to take the views in from high up, the hotel has a fabulous terrace as well.
You can enjoy delicious American cuisine meals at the on-site restaurant, or enjoy a sip of your favorite cocktail at the stylishly decorated bar on the property.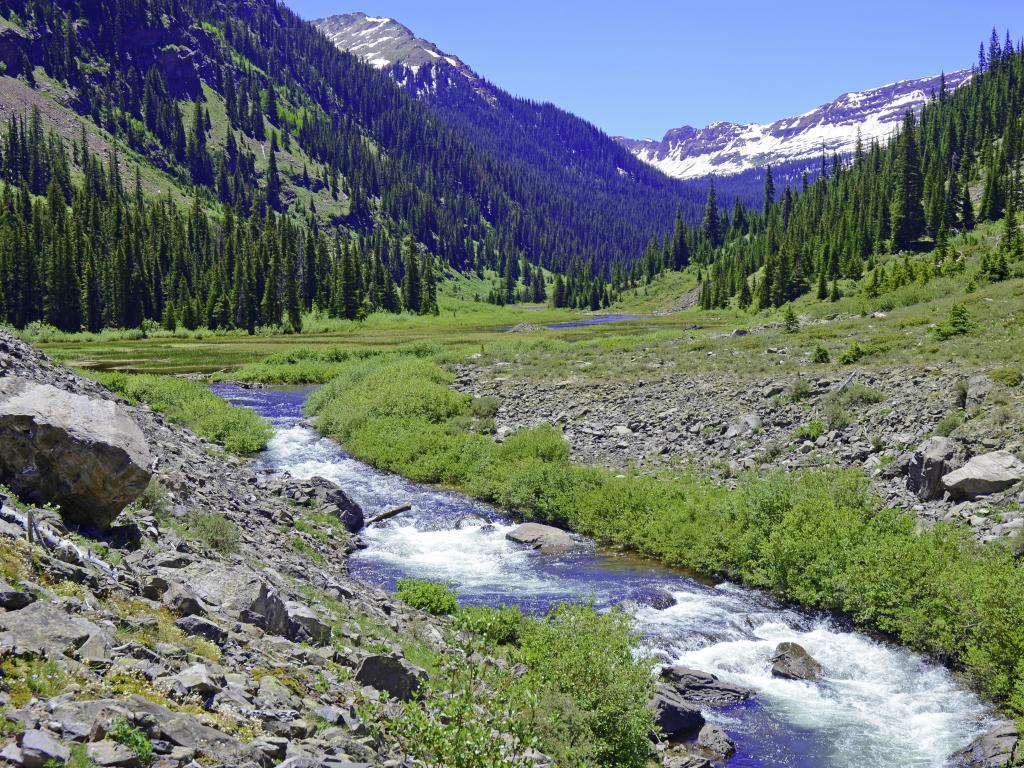 Finally, all of this is topped off by a great location – you'll literally be a stone's throw from the heart of Denver. Pepsi Center, 16th Street Mall, The Source and LoDo are all a short distance away. All these things, in conjunction with the great price, make this particular hotel hard to beat.
Things to see on a road trip from Dallas to Denver
Fort Worth – A gorgeous Texas metropolis deeply rooted in the arts and cowboy culture.
Caprock Canyons State Park – Located near Amarillo, this is one of Texas' largest and most scenic state parks.
Taos Pueblo – A Puebloan settlement boasting unique architecture and a rich history.
Great Sand Dunes National Park and Preserve – One of the centerpieces of the San Luis Valley that features the tallest dunes in all of the States.
San Isabel National Forest – Featuring beautiful grasslands, scenic hiking trails, and sweeping mountains, this forest is a must-see.
Arapaho and Roosevelt National Forests – These beautiful forests are among the definitive camping and hiking spots in Colorado.
Gunnison National Forest –With over 2 million acres of ground to explore and countless fishing, hunting, and hiking spots, this forest manages to stand out among its already impressive surroundings.
Colorado Springs –When visiting this gorgeous city along the Rocky Mountains, be sure to check out the Cave of the Winds and the red rocks at The Garden of the Gods.
Rocky Mountain National Park – The beautiful combination of mountains, forests, and alpine lakes is what makes this among the most visited national parks in North America.
Pawnee National Grasslands – This area features stunning buttes and prairies, as well as a wide assortment of rare bird species.
Ray Roberts Lake State Park – A large lake surrounded by parks, biking trails, and lodges.
Turner Falls Park – This park features numerous caves for you to explore, not to mention the biggest waterfall in Oklahoma.
Lake Thunderbird State Park – Featuring everything from beautiful campsites to sunny beaches and archery ranges, this is one of the most popular lakeside retreats in the region for a reason.
Oklahoma City – Oklahoma's capital is also among its most unique cities, largely owing to its well-preserved cowboy aesthetic.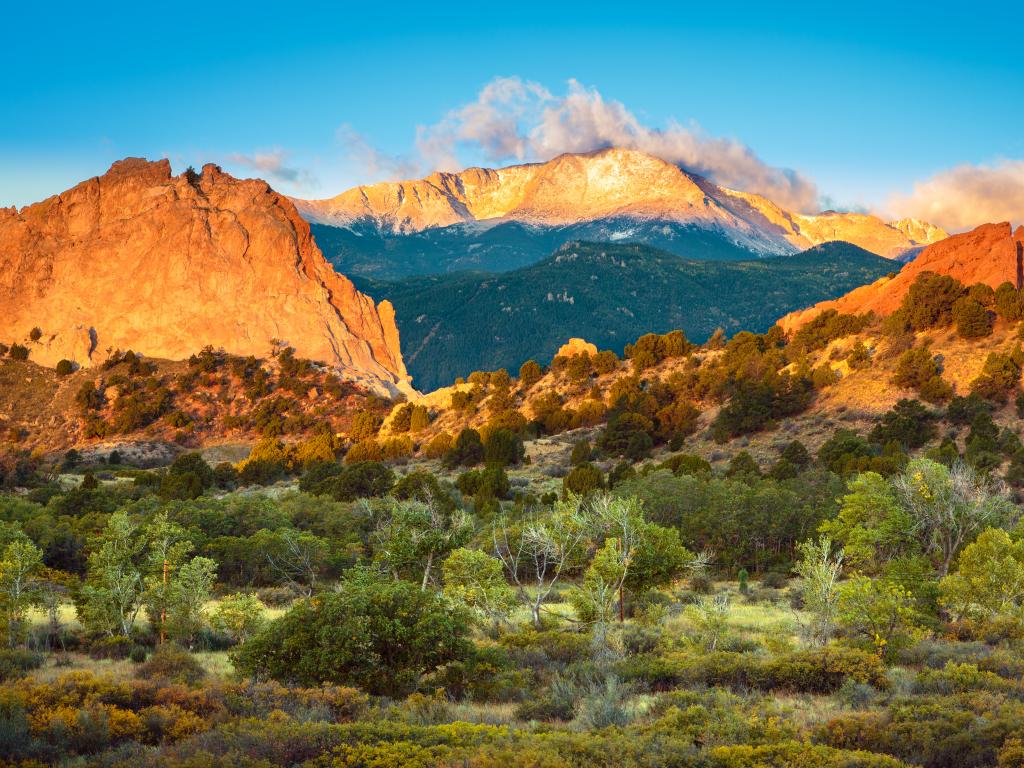 Best time to go on a road trip from Dallas to Denver
The best time to do a road trip from Dallas to Denver depends on what you're after – both the trip and the city itself have plenty to offer no matter when you choose to do it.
With that said, there are several things worth keeping in mind – if you're set on driving through the Panhandle, bear in mind that it's fairly common for snow to pile up on the highways there for days, if not weeks on end, potentially grinding your scenic trip to a screeching halt.
Also worth considering are the landscapes along the way – San Isabel, Gunnison, and White River National Forests are only a few of the Rocky Mountain forests worth checking out, and it might be in your best interest to explore them when the trails are clean and the weather is mild.
As for Denver, there are perks to visiting in every season. Despite its amazing location for skiing, winter is considered a low point for Denver in terms of visitors.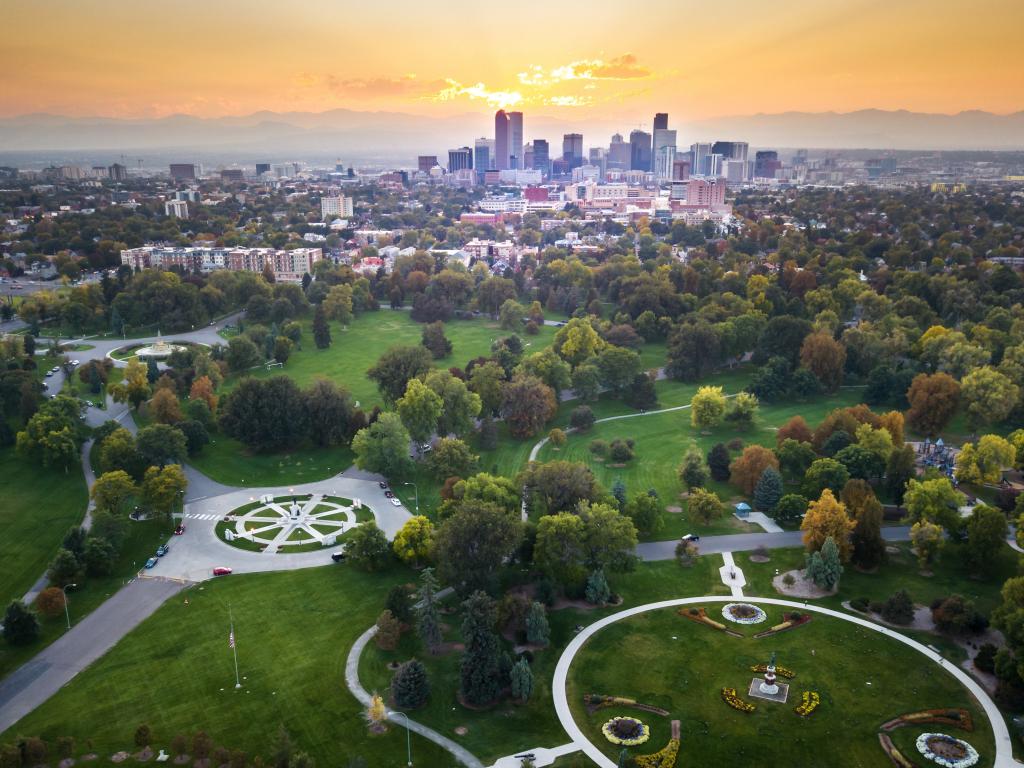 If you know for a fact there's been heavy snowfall in Denver in a particular year, you can even go skiing in early spring and get a great deal on a hotel room to boot.
Late spring and fall are great times to do the trip since the temperatures are comfortable and there's plenty to do, from Oktoberfest and Beer Fest to a number of music festivals. The catch is that the city gets a lot of rain these times of the year, potentially limiting your outdoor time.
If the rainier seasons don't appeal to you, there's always summer. Don't be fooled by the elevation, however – temperatures here can and will often approach the triple digits, and you'll need to think about accommodation well in advance if you want to find a decent hotel room.