Road Trip from Dallas to Miami
This unforgettable road trip takes you from the bustling city of Dallas to the sunny beaches of Miami via glitzy riverboat casinos and emerald-green national forests. It's perfect if you can't decide between a city break or a beach holiday - this scenic drive from Dallas to Miami offers both!
The 1,380-mile road trip from Dallas to Miami takes 19 hours 10 minutes to drive. You'll pass through Pensacola, Jackson, Tallahassee and Orlando's world-famous theme parks, or detour north via Alabama and Georgia to visit Birmingham and Atlanta.
Discover some of America's best beaches and coastal cities on this road trip from Dallas to Miami, with scenic views and plenty of beachside activities on offer. Read on to discover two of the best routes to take you to your destination in style.
How far is Miami from Dallas, and how long will the road trip take?
Comparison of road trip routes between Dallas and Miami

| Route | Distance | Driving Time |
| --- | --- | --- |
| The Gulf of Mexico | 1,380 miles | 20 hours 50 minutes |
| The Atlanta Route | 1,450 miles | 21 hours |
The Gulf of Mexico Route covers a distance of 1,380 miles and takes 20 hours and 50 minutes to drive, not accounting for any stops along the way.
The Atlanta Route is 1,450 miles long and similarly takes 20 hours and 50 minutes to drive. This route winds via Alabama and Mississippi to take in the historic cities of Atlanta and Birmingham before passing through Orlando.
Keep in mind that that this route is slightly longer, and some of the points of interest en route to Miami will require detours.
While both routes could technically be completed in 3 or so days, we'd recommend stretching the trip over a week and taking advantage of a few well-timed overnight stays, so you can fully immerse yourself in the cities and beach towns along the way.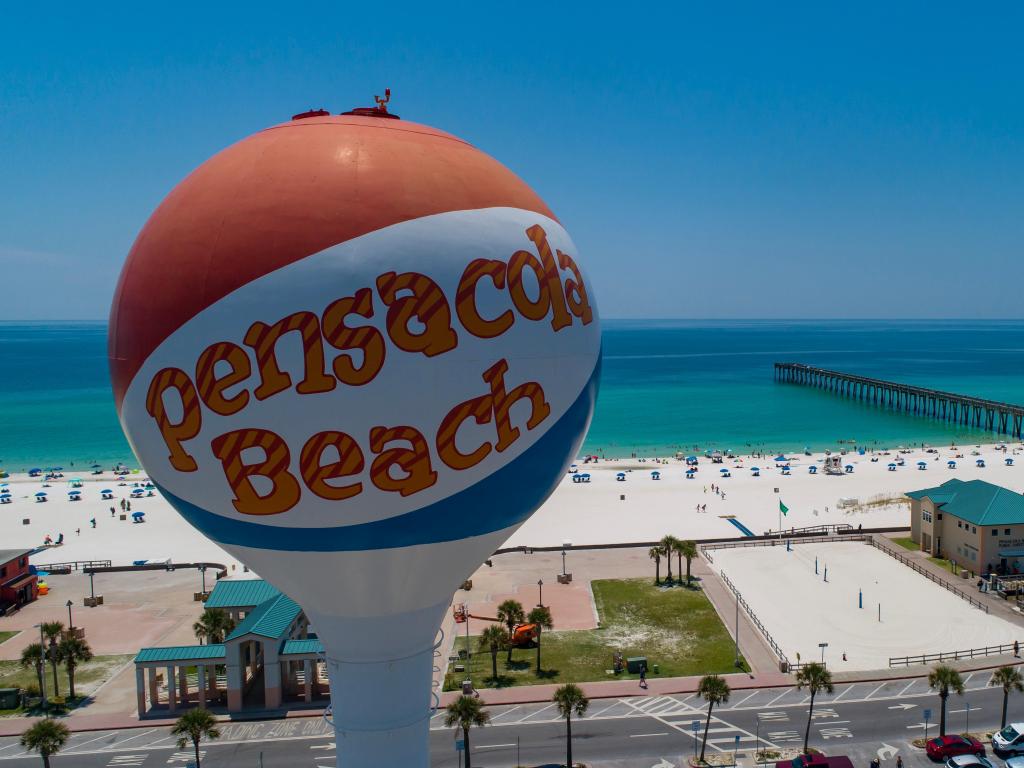 Best road trip route from Dallas to Miami
Our recommended routes on a Dallas to Miami road trip cover similar distances but vary greatly in vibes so the one you choose will depend on how you'd like to spend your time on this road trip.
You can decide whether you want to head inland to some buzzing cities or stick to the coast and soak up the sun.
On the Gulf of Mexico Route, you will drive along stunning coasts and enjoy the beautiful beaches at Pensacola and Mobile. This route takes you straight down towards the Gulf Coast via Pensacola, Mobile Tampa and Fort Myers, and there is also the option to add on a detour to New Orleans if you have the time.
The Atlanta Route includes bustling Atlanta and music-filled Birmingham as highlights. A diverse blend of natural wonders, historic landmarks and urban nightlife make up the fun vibe of this route, and there are plenty of interesting detours to make off the main road as you head towards Miami.
How to drive from Dallas to Miami
The map above shows our suggestions for the best road trip routes between Dallas and Miami. Keep reading for detailed descriptions of both routes, where to stay on either, and the best things to do on the way.
The Gulf of Mexico Route
Drive east on Interstate 20 (I-20) out of Dallas until you reach Shreveport. Rejoin the interstate and cross the Mississippi River to enter the Magnolia State. Follow this road until you arrive in Jackson. You can head south following I-55 if you'd like to make a detour to visit New Orleans.
Otherwise, take US-49 heading south and merge onto I-59. Continue onto US-98 as you pass through the De Soto National Forest and take the exit for Mobile. Get on I-10 going east and drive across Mobile Bay until you enter Florida and take the exit for Pensacola.
Here you can extend the road trip and make it a beachy vacation by making a detour to Destin. If not, rejoin I-10 and follow this road all the way to Tallahassee, with the option to make a detour to Apalachicola National Forest.
Head south towards Tampa and then Fort Myers, turning east when you reach Naples. Drive through Big Cypress National Preserve and you will reach your destination in Miami.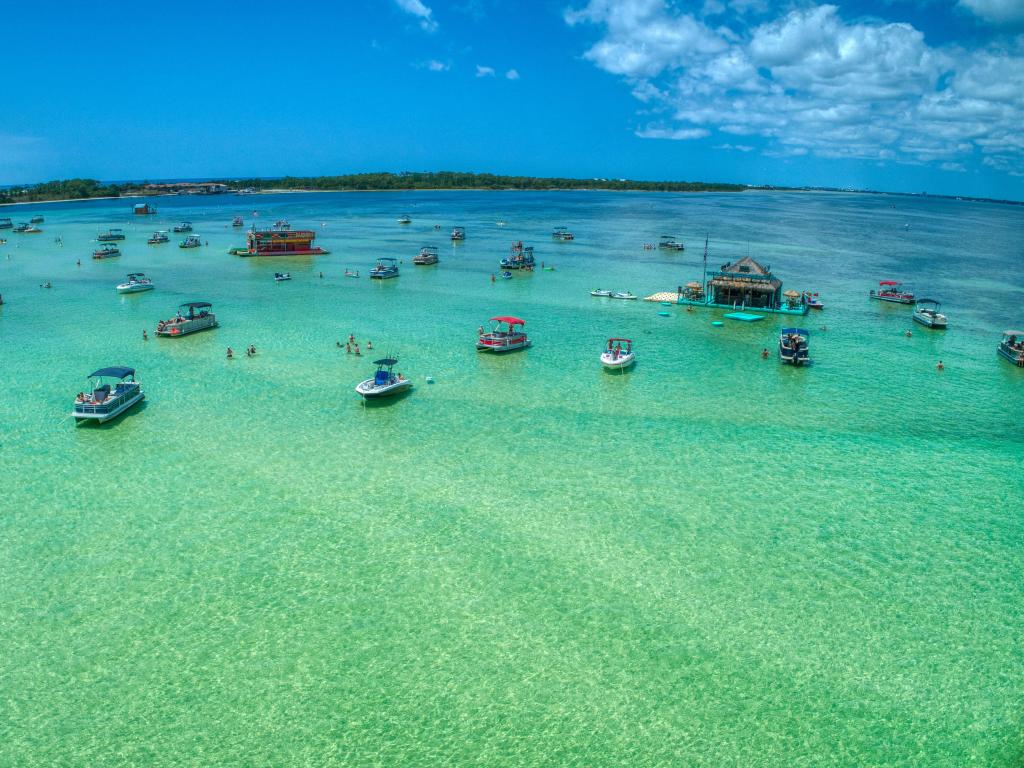 The Atlanta Route
Drive east on I-20 out of Dallas until you reach Shreveport. Rejoin I-20 and cross the Mississippi river to enter the Magnolia State. Follow this road until you arrive in Jackson.
Rejoin I-20 to pass into Alabama and reach Birmingham. Take a hiking stop in Talladega National Forest before you cross state lines into Georgia and arrive in Atlanta.
After some time spent learning about the history of Civil Rights and checking out Atlanta's art museum, drive south on I-75 and head to Gainesville.
After Gainesville, keep left to continue on Florida's Turnpike and follow signs for Orlando. Check out the theme parks, and then rejoin this road to reach some of Florida's most famous beaches en route to Miami.
Best places to stop between Dallas and Miami
Whichever route you choose to take, you'll be passing through a heady mix of stunning scenery, coastal views and city skylines.
With approximately 20 hours of driving under your belt, it's a good idea to plan out some overnight stops where you can take a break. We've picked out a few of the best to spark your imagination.
Hit the beach in Pensacola
Located about halfway along the Gulf of Mexico Route, Pensacola is a bustling beachside metropolis that is well worth a stop. Known as the 'The City of Five Flags', Pensacola has a checkered history of ownership during the colonial period but is today a proud city of Florida.
The Pensacola Bay Area is the modern hub of the city with a stellar view - you can visit museums and indulge in upscale dining here, or head downtown to visit one of the many beaches.
Make sure to visit Perdido Key Beach for a dip in the crystal-clear waters and take a towel to relax on the white sand - perfect after a hard day's driving.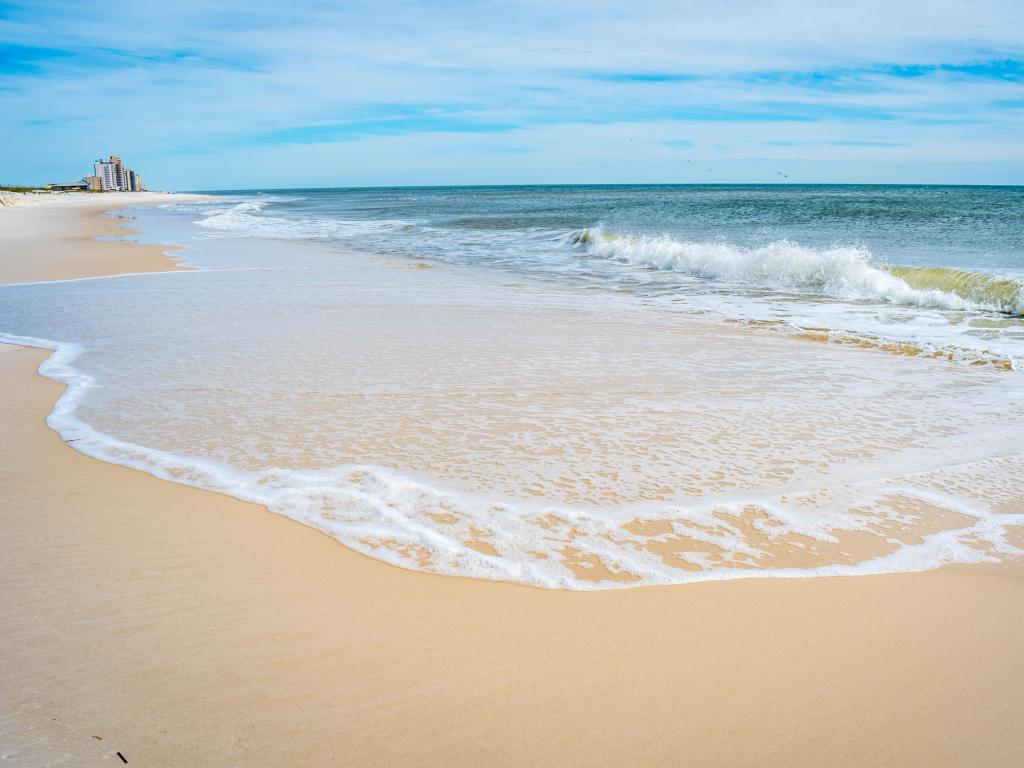 If you fancy an attraction, try out the Gulf Breeze Zoo - it houses more than 800 animals from lions to kangaroos. You're in for a treat if you visit during Halloween or Christmas, as they are famous for their festive-themed activities.
When in Pensacola, stay at the Margaritaville Beach Hotel, a charming beach resort situated on the seafront with great facilities. The outdoor pool is perfect to relax in without getting sand everywhere, and they even offer paddleboard or margarita-making lessons!
It's just a short walk from Pensacola Beach Gulf Pier and only 15 minutes' drive from Pensacola city center. There is free on-site parking so you don't have to worry, and it's conveniently located to hop back on the route the following day.
Explore downtown Atlanta
About halfway along the Atlanta Route is Georgia's capital, the vibrant and lively city of Atlanta. One of the booming cities of the American South, Atlanta has a long tradition of attracting artists, creative minds, and investors from far and wide. Today it's filled with quirky shops, bistros and nightlife.
While in town, visit the World of Coca-Cola, which is a fascinating attraction for learning about the history of the world's most popular canned drink. Another museum worth visiting is the National Center for Civil & Human Rights, where you can learn about the history of the Civil Rights movement in the US.
Atlanta also hosted the 1996 Summer Olympics, and you can visit the Centennial Olympic Park which celebrates its legacy and is a beautiful green space to relax in.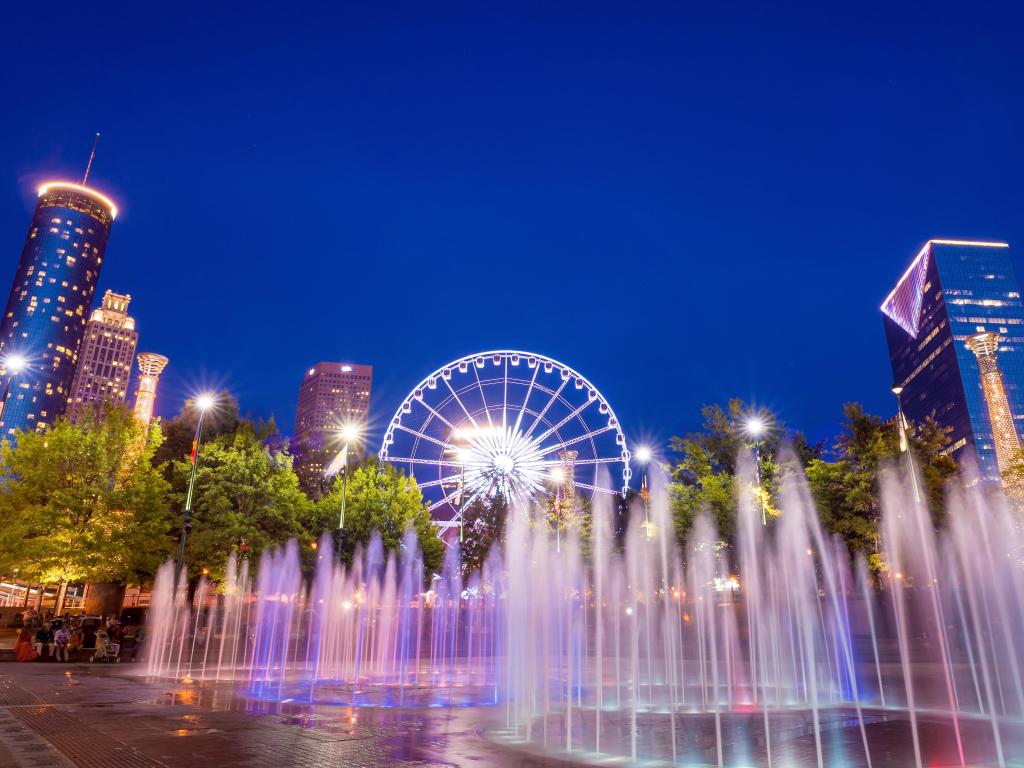 If you want to stay in the heart of Atlanta, book yourself into Reverb by Hard Rock Atlanta Downtown. This hotel is right in the mix of downtown, a stone's throw from an abundance of bars, restaurants, and live music which lasts late into the night.
It has a fantastic on-site restaurant and a bar in which to enjoy cocktails, and you can unwind on the terrace to take in the urban views. The hotel is within walking distance of the Centennial Olympic Park and Mercedes-Benz Stadium, home of the Atlanta Falcons.
Where to stay when you reach Miami
Once in Miami, treat yourself to a spot of luxury at Mr. C Miami - Coconut Grove. This beautiful 5-star hotel is the perfect place to base yourself in as you explore the glamorous city, with an upscale restaurant and stunning terrace.
The hotel does a great breakfast, and some rooms even have kitchens so that you can enjoy that home-away-from-home feeling.
If you can tear yourself away to go exploring, Vizcaya Museum and Lowe Art Museum are close by.
Things to see on a road trip from Dallas to Miami
This drive packs in plenty of things to do, from theme parks to world-class museums. Over the 2,000 miles or so of the trip we've picked out some of the best spots to discover.
The Gulf of Mexico Route
Crosslake - The manmade lake is close to Louisiana's border with Texas and is popular for fishing and boating, while being host to some stunning sunsets.
Historic Oakleigh House Museum - This is one of Mobile's most popular attractions and is situated only a few minutes from downtown. The museum sheds light on the cotton industry during the nineteenth century.
Gulf of Mexico - Situated just 22 miles from the Gulf of Mexico, it's well worth a detour to some of the world's top sugar-white sandy beaches, where you can take in 1,600 miles of breathtaking coastline.
Tallahassee - Known for its imposing red hills, Tallahassee is home to the Tallahassee Automobile Museum, Florida State University and Florida Historic Capitol Museum.
Apalachicola National Forest - Just a short detour from Tallahassee, this beautiful forest provides recreational opportunities for camping, hiking, fishing, and biking.
Tampa - Home to the famous Busch Gardens, Tampa is definitely a city worth visiting (consider staying overnight!). You can also visit the Florida Aquarium and take a stroll on Bayshore Boulevard here. Tampa is also known as the birthplace of the Cuban sandwich.
Fort Myers - Located on a shallow plateau, Fort Myers' beaches are filled with beautiful shells, which brings many enthusiasts in the area to explore.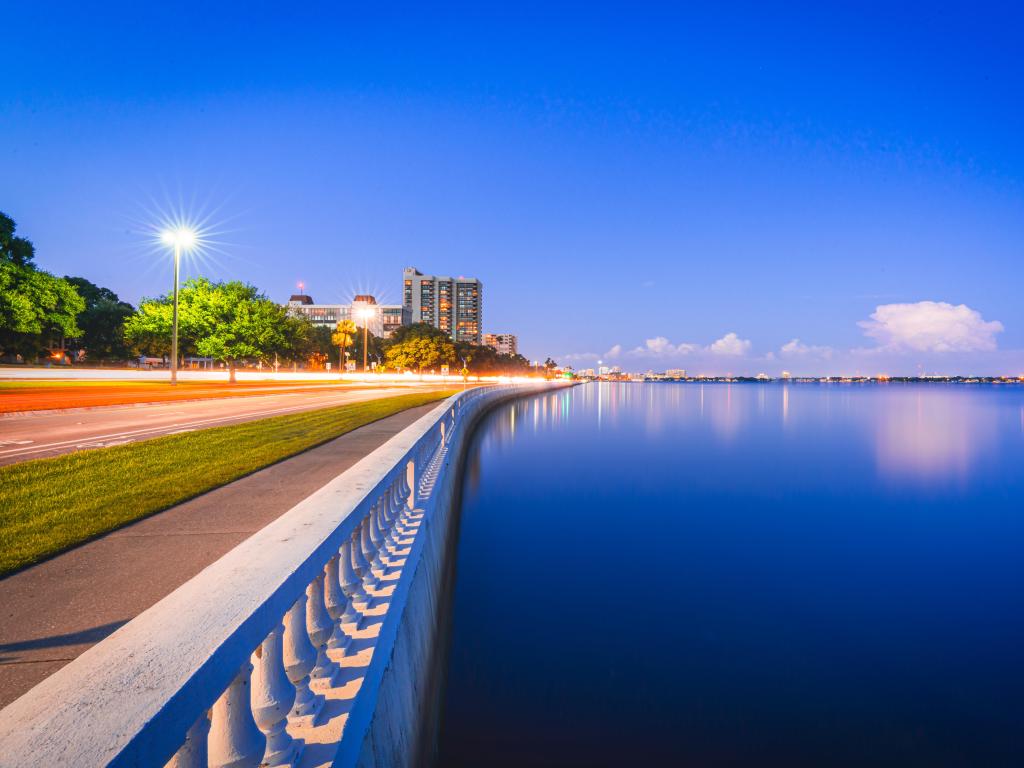 The Atlanta Route
High Museum of Art Atlanta - This museum is held in high regard, as it provides a social space for people from all walks of life to showcase their skills and artistic flair.
Georgia Aquarium - If you love sea life then head down to Georgia Aquarium to witness some of the stunning creatures living in our oceans.
National Center for Civil & Human Rights - This cultural institution brings the U.S Civil Rights Movement to the forefront of visitor's minds, and connects issues from the past to existing human rights challenges today.
Skyview Atlanta - If you like Ferris wheels, this attraction is for you. Stunning scenery is guaranteed as you gaze across Atlanta's mesmerizing skyline.
Mercedes-Benz Stadium - If you're a fan of NFL or soccer, this is sure to be a treat. Guided tours can be booked online or over the phone, so be sure to secure your ticket to avoid disappointment.
Barber Vintage Motorsports Museum - Motorsports fans can find sports bikes and exquisite cars here, dating back to the very beginning of what is now a global sport.
Birmingham Civil Rights Institute - This museum takes its visitors on a tour of a once segregated city. Visitors can see the real prison door which Martin Luther-King was behind when he wrote his famous ''Letter From Birmingham Jail.''
Jackson Volcano - You will be passing through the center of Jackson, so it's worth paying a visit to the extinct Jackson Volcano lying 2,900 feet beneath the Mississippi Coliseum.
Gainesville - Gainesville is well-worth visiting if you're an art lover. Harn Museum of Art is home to a large collection of Asian and African artworks.
Universal Orlando Resort - You'll pass through this world-famous resort on the Florida turnpike, so why not make a quick pit stop to relive your childhood before continuing your trip to Dallas?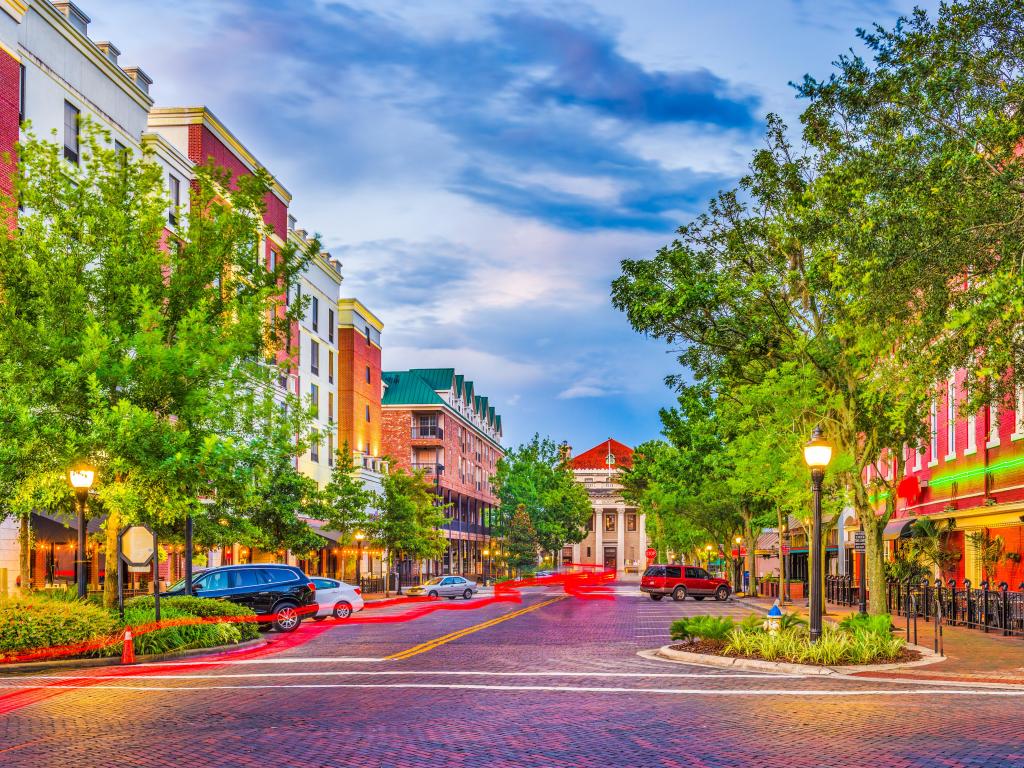 Both Routes
Shreveport - Hop on a glamorous riverboat casino here and try your luck in becoming a millionaire! Visit the Shreveport Aquarium and sample amazing Louisiana cuisine in one of the restaurants downtown.
R.W. Norton Art Gallery - Founded in 1966, this art gallery is situated on the outskirts of Shreveport and holds some of the world's most prized art collections. The works on display span more than four millennia.
Shreveport Municipal Auditorium - If you love theater, then this is the stage for you. This auditorium is rich in history and is home to top local talent, as well as attracting world class performers from around the world.
Best time to go on a road trip from Dallas to Miami
The road trip from Dallas to Miami can be completed at any time of the year, as the Floridian and Texan climates are subtropical and remain relatively hot all year round.
The average temperature rarely falls below 75 degrees Fahrenheit on either route and often fluctuates around 60 degrees in the winter months.
In the summer Miami attracts plenty of tourists, but don't let that deter you - although there may be longer queues and increased traffic there is an abundance of things to see and do for everyone.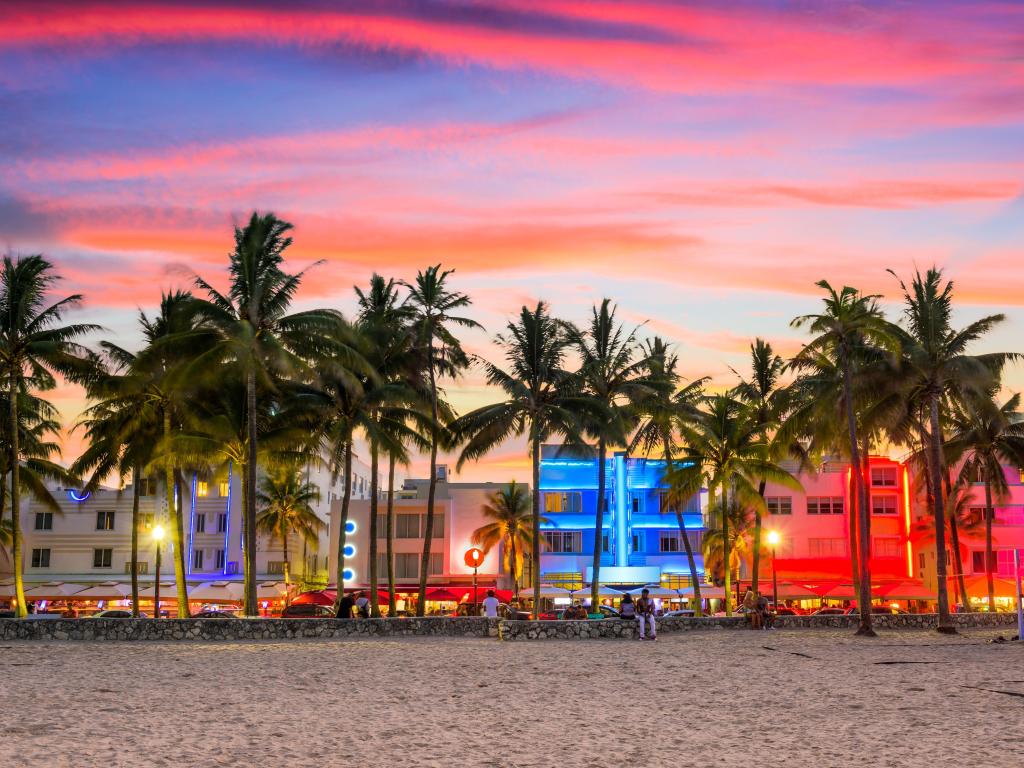 There are also plenty of indoor activities in Miami which can help you cool off when it does get too hot outside. You might catch the International Ballet Festival of Miami if you're around in the summer.
The weather is cooler in the winter months, but still warm enough to head outdoors and explore everything that the modern metropolis has to offer.
The water will be colder but should be fine for swimming or surfing with a wetsuit. Art Basel Miami Beach draws a stylish crowd to the city in December.
The weather remains pleasant throughout spring, and it's a great time to be in town as there are plenty of festivals and events taking place at this time of year. Miami Open and Ultra Music Festival both take place in March, and the Redlands Blues & Barbecue Festival is in April.