Road Trip from Dallas to Yosemite National Park
Experience the journey of a lifetime on this road trip from Dallas to Yosemite National Park, where you'll get to see some of the best that the Southern and Western United States have to offer, epic national parks and buzzing cities one after another.
The 1,750-mile road trip from Dallas to Yosemite National Park will take about 27 hours to drive. You can visit Las Vegas, Los Angeles, Santa Fe, Albuquerque and El Paso as well as Death Valley, Grand Canyon and Sequoia National Parks on the way.
Keep scrolling to discover all that awaits you on this stunning road trip from the best routes to amazing things to see and unforgettable places to stay at.
How far is Yosemite National Park from Dallas, and how long will the road trip take?
Comparison of road trip routes between Dallas and Yosemite National Park

| Route | Distance | Driving Time |
| --- | --- | --- |
| The Northern Route | 1,750 miles | 27 hours |
| The Southern Route | 1,850 miles | 29 hours |
The Northern Route crosses just under 1,750 miles, so you'll definitely need to stop several times to get a good night's sleep. Keep in mind the 27-hour driving time doesn't include stops for rest, to fill up on gas or to go to the bathroom.
The Southern Route crosses just under 1,850 miles and is a little longer than the Northern Route at 29 hours without accounting for any stops or detours.
For both routes, we recommend setting aside at least a week and ideally closer to 10 days to get the full road trip experience.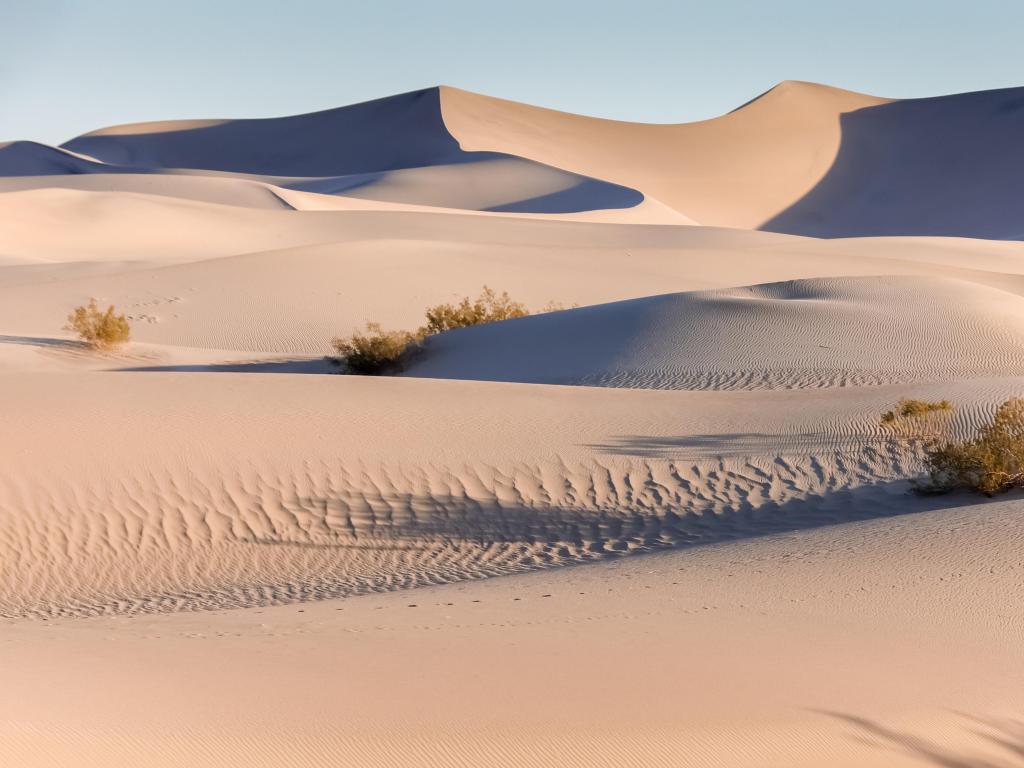 Best road trip route from Dallas to Yosemite National Park
We've got two unique routes that will take you from Dallas to Yosemite, and each route offers a different vibe and set of attractions.
The Northern Route is city-forward and includes within its itinerary a stop in the gorgeous cities of Santa Fe and New Mexico. You'll also visit Las Vegas, the gambling capital of the world, before stopping by Death Valley National Park, a celebrated desert area and a much-beloved US park.
A highlight of this route is a visit to the iconic Grand Canyon, one of the world's most recognizable national monuments and a totally bucket-list worthy destination.
The Southern Route is also city-forward but explores the cities of California, Arizona and Texas. You'll get to visit the iconic city of Los Angeles, with it's celebrated entertainment industry and proximity to the gorgeous Pacific Coast.
You can also stop in bustling Phoenix and historic El Paso. When it comes to natural attractions, the Southern Route includes a visit to Sequoia National Park—several other National Parks and Forests are nearby.
If you choose to travel on the Northern Route, you will use the Tioga Pass Entrance (closed in winter) to the park, whereas the Southern Route will take you to the Big Oak Flat Entrance. If you prefer to use another entrance, you can use our detailed guide to help you decide.
How to drive from Dallas to Yosemite National Park
The map above shows our suggestions for the best road trip routes between Dallas and Yosemite National Park. Keep reading for detailed descriptions of both routes, where to stay on either, and the best things to do on the way.
Northern Route
Starting from Dallas, Texas, head northwest towards Santa Fe, New Mexico. Along the way, take in the stunning desert landscapes of the American Southwest. Once in Santa Fe, explore the city's rich history and art scene, including the famous Canyon Road art district.
From Santa Fe, continue on towards Albuquerque, New Mexico, where you can take in the city's many cultural attractions, such as the Indian Pueblo Cultural Center and the Albuquerque Museum of Art and History.
Next, make your way to the Grand Canyon in Arizona, one of the most iconic natural landmarks in the United States. Be sure to take in the stunning views and explore the various hiking trails and other outdoor activities.
After the Grand Canyon, drive west towards Las Vegas, Nevada, and take in the city's famous sights and attractions, such as the Bellagio fountains and the Stratosphere Tower.
From Las Vegas, head to Death Valley National Park, one of the hottest and driest places on earth, but also one of the most breathtaking. Explore the park's unique landscapes and geological formations, such as the Badwater Basin and the Mesquite Flat Sand Dunes.
From there, head towards Yosemite National Park, located a quick drive away via the Tioga Pass Entrance.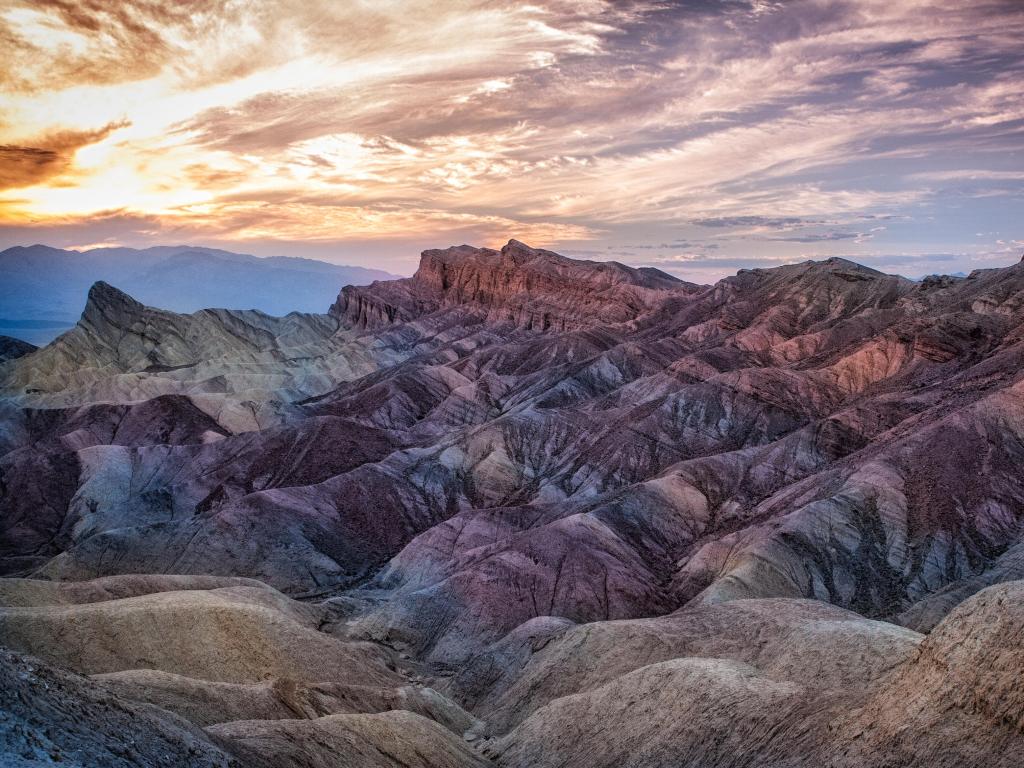 The Southern Route
Starting from Dallas, take I-20 W and US-385 N to El Paso, Texas. From there, take I-10 W towards Tucson, Arizona. Along the way, consider stopping at the Chiricahua National Monument to take in the stunning rock formations.
After Tucson, continue on I-10 W towards Phoenix, Arizona, and take some time to explore the city's many attractions and nightlife. Be sure to take a stroll through the beautiful desert landscapes that surround the area.
From Phoenix, drive west to Los Angeles, California, and take in the city's iconic sights, such as the Hollywood Walk of Fame and the Santa Monica Pier.
After Los Angeles, take CA-99 N towards Fresno, California, and then continue on CA-180 E towards Sequoia National Park. Finally, make your way to Yosemite National Park by taking CA-41 N from Fresno and using the Big Oak Flat Entrance.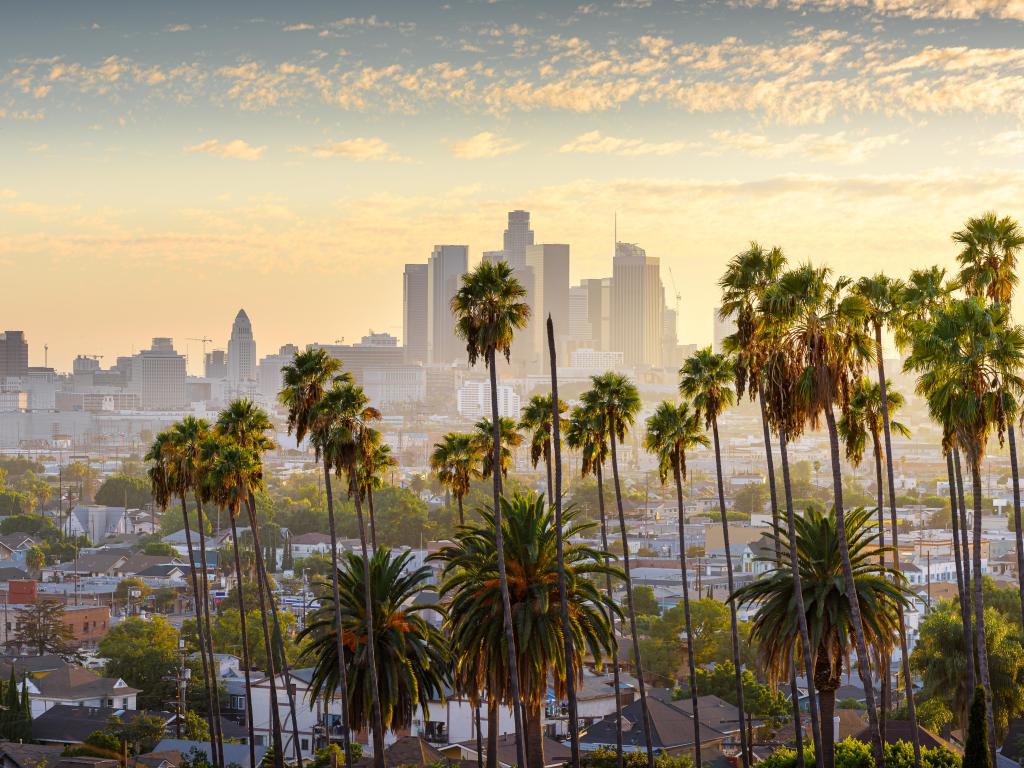 Best places to stop between Dallas and Yosemite National Park
You've got a whole host of cities to choose from when it comes to finding a place to stop overnight on these routes. If you're not big on cities, there are several fabulous options as well. Keep reading to discover our favorite stopping points!
Enjoy unique history in Santa Fe
For travelers seeking an overnight stop on the Northern Route, Santa Fe is a vibrant and artistic town that offers an abundance of attractions and nightlife. Although Albuquerque is also an option, Santa Fe is a more historic destination, making it an ideal place to explore.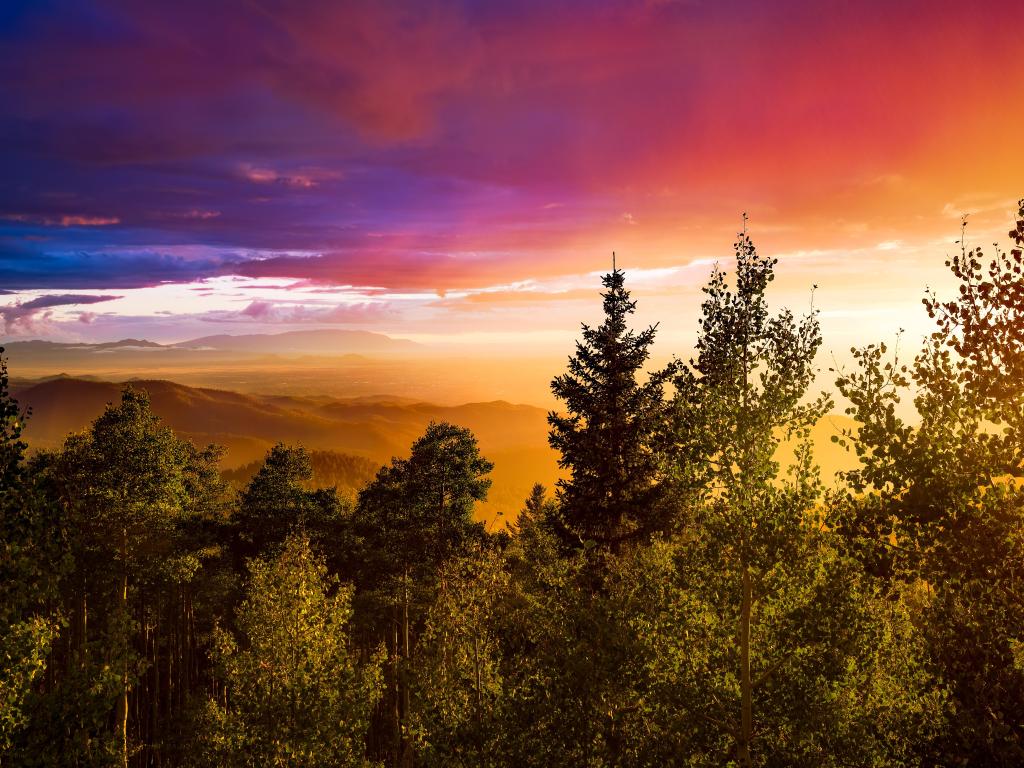 As the oldest capital city in the United States, Santa Fe is renowned for its historic Spanish colonial architecture, rich Native American culture, and flourishing arts and classical music scene. Visitors can experience the city's unique blend of cultures by exploring its many galleries, museums, and markets. Santa Fe is a perfect stopover for those looking to indulge in the city's rich history and artistic offerings.
Check out the San Miguel Chapel, the oldest church in the United States which dates back over 400 years, or take a stroll through the Georgia O'Keeffe Museum to discover this iconic American artists work. You could also check out the Cathedral Basilica of St. Francis of Assisi, which dates back to the 19th century and which boasts a unique history.
The La Posada De Santa Fe resort and spa is the perfect place to unwind after a long day of driving. With an outdoor pool, fully functional spa, and hot tub, guests can relax and rejuvenate in a tranquil environment. The resort features four restaurants offering a variety of dining options to suit everyone's taste buds. The elegantly decorated rooms provide a comfortable and luxurious stay.
Located close to downtown, the resort is designed to offer guests privacy and seclusion while still being within walking distance of a variety of attractions, including the New Mexico History Museum, Santa Fe Plaza, Georgia O'Keeffe Museum, and the Saint Francis Cathedral. For guests who prefer to dine out, there are plenty of nearby dining options to choose from. In the morning, guests can easily get back on the highway and continue their journey.
Overlook Mexico from El Paso
Situated along the US-Mexico border and towards the beginning of the Southern Route, El Paso offers a unique overnight stopover for travelers heading to the Grand Canyon from Little Rock, and is generally a fabulous place to stay the night on a long trip. The town boasts a distinct blend of American and Mexican cultures, with plenty of delicious food and cultural attractions to explore.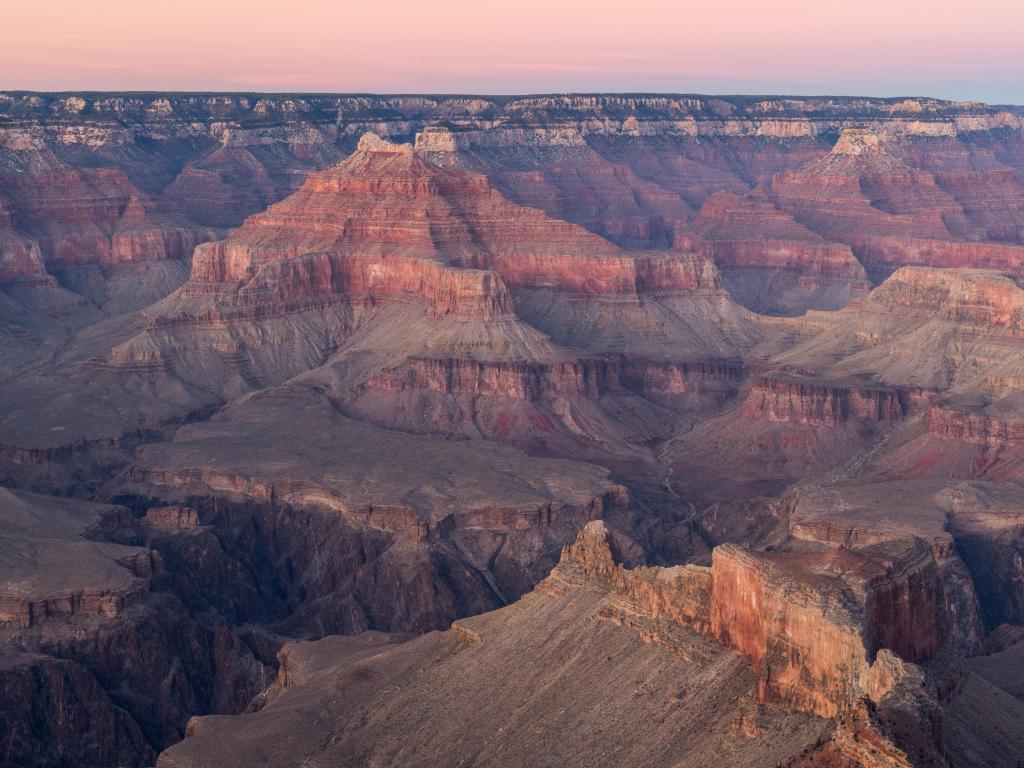 Known as the "Sun City" due to its sunny climate, El Paso receives an average of 302 days of sun each year. Visitors can also take in the stunning desert landscapes and explore the Indigenous and Mexican art showcased throughout the area's cultural attractions. After enjoying a unique cultural experience, travelers can hit the road and complete the last leg of their journey to the Grand Canyon in the morning.
When it comes to attractions, we recommend checking out the El Paso Museum of Art, which boasts five galleries exploring El Paso's American, Mexican and European roots. You could also explore the El Paso Zoo and Botanical Gardens, or take a walk to the El Paso Scenic overlook, where you'll get an idea of the size and beauty of this city.
Hotel Paso Del Norte is a centrally located and elegantly decorated hotel that features a historic lounge and bar, complete with a 25-foot Tiffany-style stained-glass dome. Guests can enjoy various amenities, including an outdoor pool, a fitness center overlooking the city, and a relaxing spa to unwind in.
The hotel provides both on-site and off-site parking options, as well as valet services. The El Mirado Bar offers stunning views of downtown El Paso and Juarez, Mexico, making it a perfect spot to unwind and take in the surrounding scenery.
The hotel located within walking distance of several interesting attractions, including the El Paso Museum of Art, El Paso Museum of History, and St. Patrick Cathedral. Additionally, the hotel's central location is convenient for travelers, as it is located near the I-10, allowing for easy access to the highway and for travelers to quickly get back on route in the morning without having to drive through the city.
Where to stay when you reach Yosemite National Park
Located just 2 miles from the south entrance of Yosemite National Park, the Tenaya Lodge at Yosemite is the ideal accommodation if visiting the Park, providing a convenient base for exploration.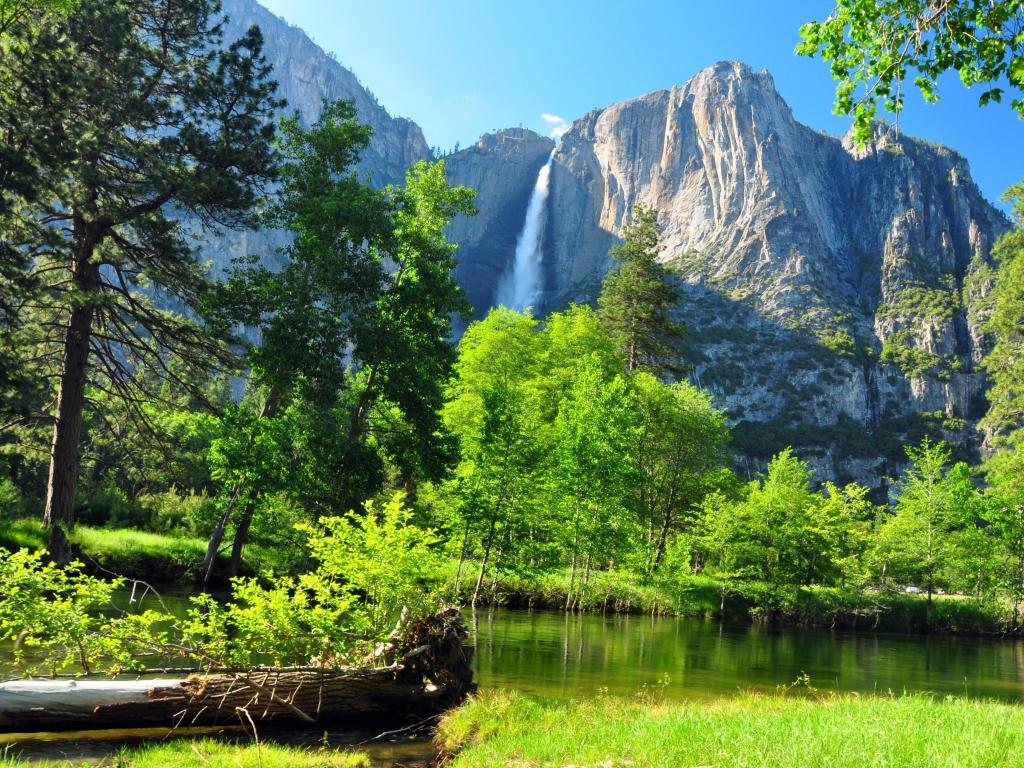 The hotel boasts complimentary parking, making it convenient for guests to come and go as they please without having to worry about expensive or unsafe parking. You'll find the hotel has two swimming pools, a hot tub, and several dining options, including a casual pub and a fine dining restaurant. We can't think of a more perfect spot for unwinding after a day of exploring the great outdoors.
Things to see on a road trip from Dallas to Yosemite National Park
There's an endless number of attractions to choose from on this fabulous route. Keep reading to discover some of our favorites: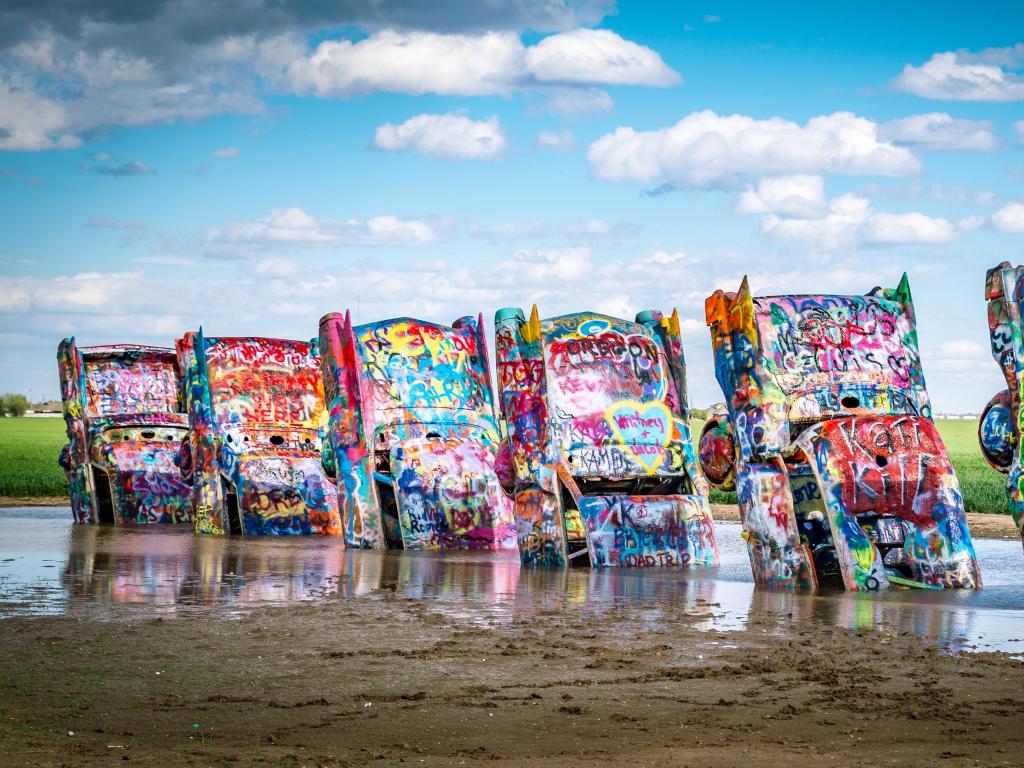 The Northern Route
Log Cabin Village - Interactive exhibits and performances at this historical site aim to provide insight into mid-19th-century life in Texas.
Cadillac Ranch - This distinctive public art installation located near Amarillo, Texas, consists of vintage Cadillacs half-buried and covered in graffiti.
Route 66 Museum - This mom-&-pop museum has on display tons of classic and vintage cars, as well as Route 66 memorabilia.
National Museum of Nuclear Science & History – This educational center and museum exclusively focuses on the history and evolution of nuclear science, and it's located roughly an hour away from the main route.
Museum of Northern AZ – Discover Arizona's fascinating past at the Museum of Northern Arizona, which showcases a diverse range of exhibits and artifacts dating back to 15,000 B.C.
Lava River Cave – A mile-long underground tunnel, formed by a river of lava more than 700,000 years ago, can be found just an hour away from the Grand Canyon.
Las Vegas – Discover this iconic city, known for it's many casinos, glamorous hotels, creative dining culture and so much more.
Death Valley National Park - Explore the hottest and driest place in North America with stunning landscapes, unique geology, and stargazing opportunities at Death Valley National Park.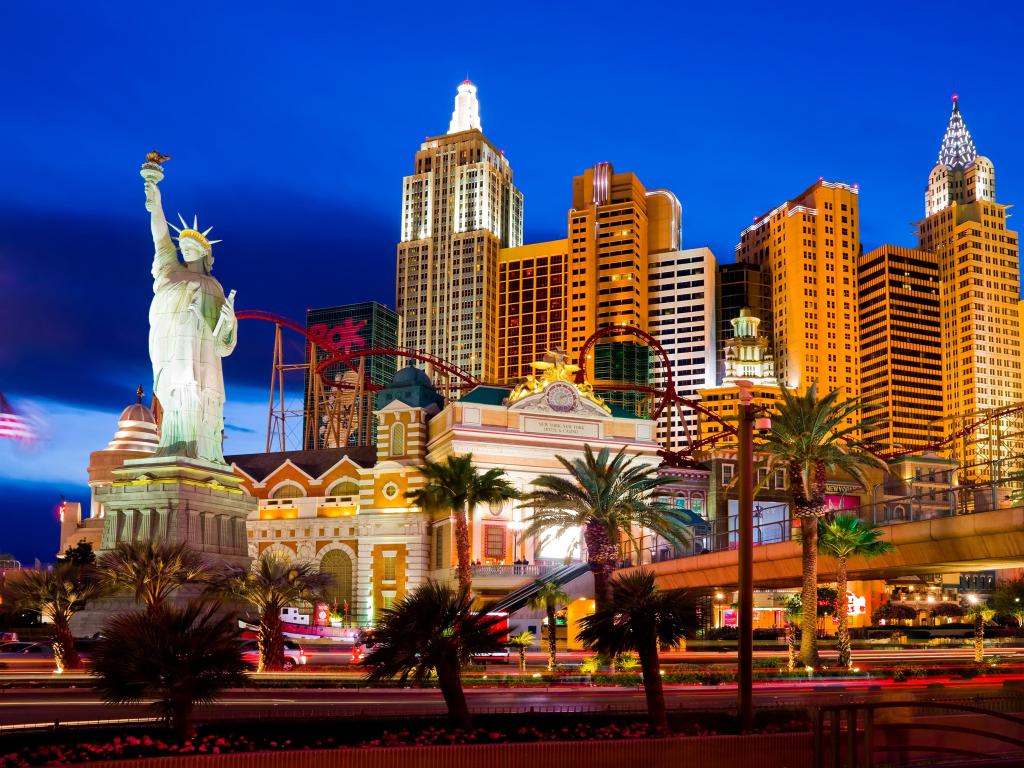 The Southern Route
National WASP WWII Museum - Dedicated to the memory and legacy of the Women Airforce Service Pilots, most of whom served during World War II, this museum honors their service through exhibits and displays.
Permian Basin Petroleum Museum – Interpreting the 230-million-year history of oil, the Permian Basin Petroleum Museum offers engaging tours and interactive exhibits.
Butterfly Wonderland – Located just outside Phoenix, an interactive indoor rainforest habitat awaits visitors, home to thousands of butterflies, as well as a gift shop and café.
Phoenix Art Museum – Boasting over 18,000 art pieces from all over the world, this 285,000 sq. foot museum is the largest visual arts museum in the southwest United States.
Keys View, Joshua Tree – Offering stunning panoramic views of California's mesas, mountains, and valleys, Keys View at Joshua Tree is the highest viewpoint in the area.
Cabazon Dinosaurs – Experience the magic of vintage roadside attraction at Cabazon Dinosaurs, where giant dinosaur sculptures await. Tickets available for purchase at the door.
Prospect Park – With an amphitheater and orange grove, this charming park offers visitors a scenic spot to take a break and enjoy views of Los Angeles.
Sequoia National Forest – Take in the massive trees of Sequoia National Forest and nearby Sequoia National Park, both of which offer tons of exploratory trails.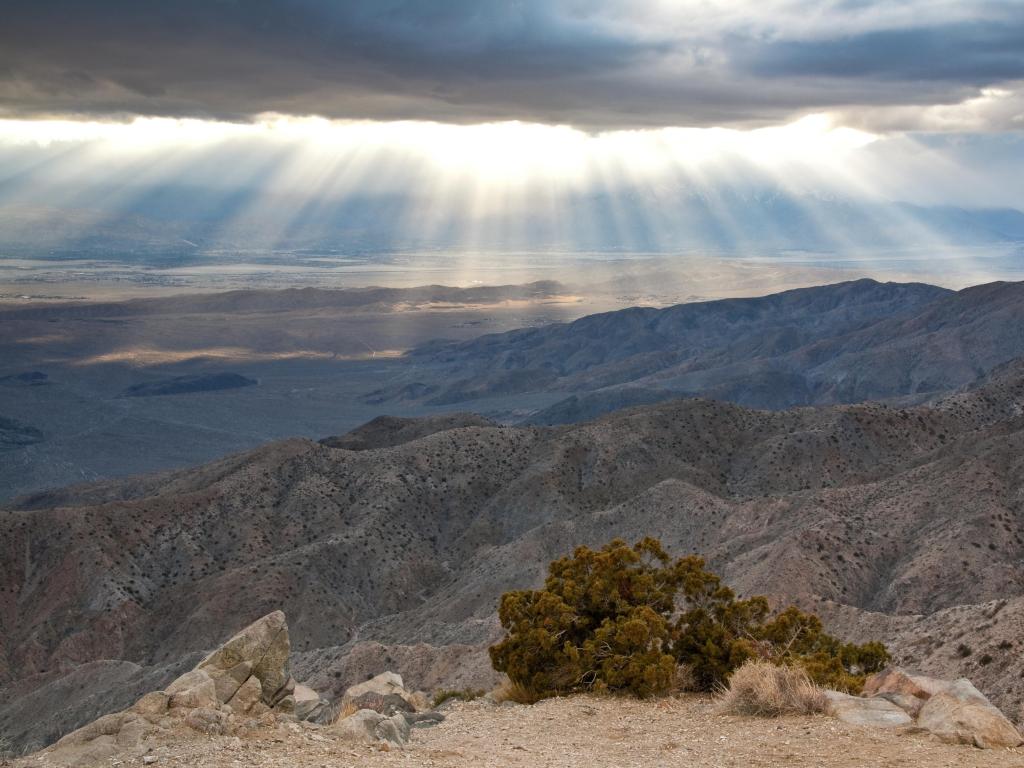 Best time to go on a road trip from Dallas to Yosemite National Park
There's no time of the year when Yosemite National Park isn't absolutely breathtaking; that being said, there are some seasons that allow for more exploration and adventure than others. Due to closures during the winter months, it's best to visit Yosemite in the summer or during the shoulder seasons, when there are less crowds.
Yosemite's peak season runs from June to August when the weather is warm, and the park is fully accessible. During these months, visitors can enjoy various outdoor activities, such as hiking, camping, and rock climbing.
However, it's worth noting that the park tends to be crowded during this time, which can lead to long wait times and higher accommodation rates. The temperature during this season ranges from 50 to 90 degrees Fahrenheit, making it a perfect time for visitors to enjoy the park's natural beauty comfortably.
During the winter, the majority Yosemite closes down due to heavy snowfall. However, a small portion of the park remains open for winter sports enthusiasts, making it an ideal destination for those who enjoy snowshoeing or skiing.
Despite the limited access, Yosemite's winter beauty is still worth experiencing. Temperatures during this time range from the low-20s to 50-degrees Fahrenheit, which may be chilly for some visitors, but also creates a picturesque snowy landscape.
If you're planning to visit Yosemite during the winter, be sure to pack accordingly and check for road closures before your trip.
Yosemite National Park's shoulder seasons are the spring and fall months, which offer visitors a more peaceful and affordable experience. During these times, the park sees fewer crowds and milder temperatures, creating a more comfortable environment for outdoor activities such as hiking, biking, and fishing.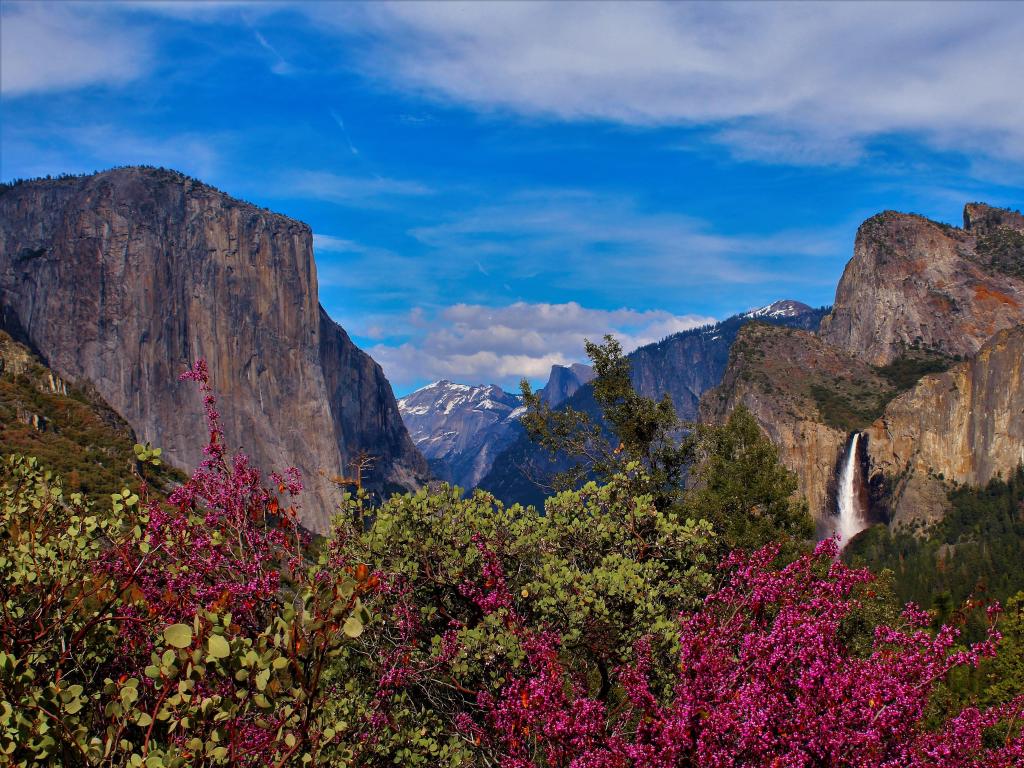 Accommodation rates are also more affordable, making it a great time to explore Yosemite on a budget. The temperature during these shoulder seasons ranges from the 30s to 70-degrees Fahrenheit, which can vary depending on the elevation and location within the park.
The park hosts several festivals and events throughout the year, including the Yosemite Facelift, Bracebridge Dinner, and the Firefall, among others. These events provide visitors with unique opportunities to engage with the park's history and community.
The summer months are the busiest festival season in Yosemite, with events like the Mariposa Butterfly Festival and the Yosemite Music Festival, attracting large crowds.
However, the park also offers events during other times of the year, such as the Vintners' Holidays in November and December and the Chefs' Holidays in January and February.