Road Trip from Detroit, Michigan to Las Vegas
This scenic cross-country road trip from Michigan to Las Vegas is a great opportunity to tick some of the United States' most memorable cities off your bucket list. Starting at Michigan's famous Great Lakes, you'll head through terrain as diverse as snowy Aspen, mountainous Denver or the jaw-dropping Grand Canyon, all on the way to the dazzling neon lights of the Las Vegas Strip.
The 2,060-mile road trip from Detroit, Michigan to Las Vegas takes 31 hours to drive. Highlights en route can include Ann Arbor, Chicago, Denver and Dixie National Forest; or alternatively St Louis, Oklahoma City, Santa Fe and the Grand Canyon.
Discover the beauty of the northern states or soak up the sizzling south on this classic American drive, with plenty of natural wonders and city skylines to experience along the way. Read on to discover two very different routes that will maximize the fun out of your journey to Las Vegas.
How far is Las Vegas from Detroit, Michigan, and how long will the road trip take?
Comparison of road trip routes between Detroit, Michigan and Las Vegas

| Route | Distance | Driving Time |
| --- | --- | --- |
| The Northern Route | 2,060 miles | 31 hours |
| The Southern Route | 2,310 miles | 35 hours |
The Northern Route spans a distance of 2,056 miles and takes 31 hours of total driving time, passing through the northern states and major cities including Ann Arbor, Chicago, and Denver. It's the most direct route, but doesn't account for the time taken exploring any of the destinations along the way.
The Southern Route is 2,311 miles long and takes 35 hours to drive. It detours via the southern states, and includes a stop at the Grand Canyon. This route is slightly more leisurely, and is more city-focused than the northern itinerary.
For this trip, we'd recommend allowing between 7 to 8 days. With over 2,000 miles to cover, it's important to take proper breaks from driving, and how better to do that than spending time exploring the historic landmarks and natural wonders both routes have to offer.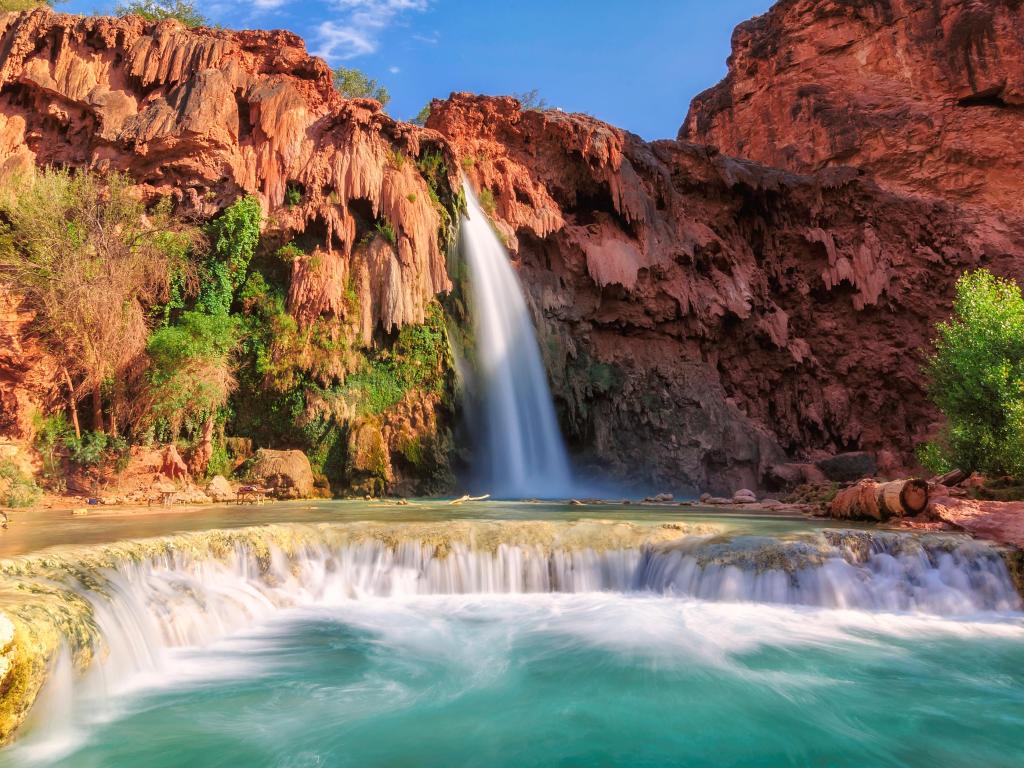 Best road trip route from Detroit, Michigan to Las Vegas
Both recommended routes cover a similar distance, but offer a different road trip experience along the way. Decide on which side of the US you'd like to get to know better - exploring the natural beauty of the north or soaking up the distinct culture of the south.
The Northern Route passes through a whole host of states including Michigan, Illinois, Iowa, Nebraska, Colorado and Utah. You'll find a really diverse collection of natural landscapes and picturesque stretches throughout the journey, such as the mountains of Colorado, the plains of Nebraska and the forests of Illinois.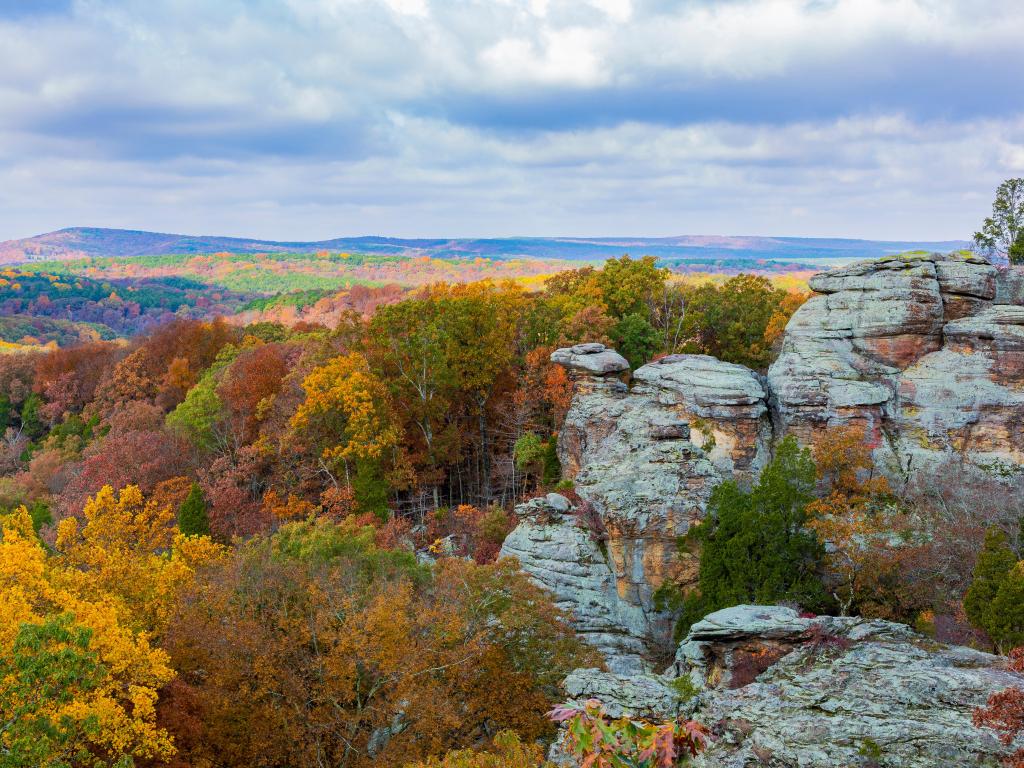 Highlights on our Northern Route include the Dixie National Forest and Zion National Park, and you could also tack on a ski stop in Aspen.
The Southern Route takes you through the sunny states of Illinois, Indiana, Missouri, Oklahoma, New Mexico, and Arizona. You'll stop in major cities including St Louis, Oklahoma City and Santa Fe, and will also get to explore one of this country's most unique natural formations, the Grand Canyon, which draws in millions of visitors every year.
The Northern Route
Head west on Interstate-96 (I-96) to reach the tree-lined city of Ann Arbor, then follow I-94 and I-90 west along the shore of Lake Michigan to arrive in Chicago.
Follow I-88 west and cross the Mississippi River to enter Iowa and reach Des Moines. Get on I-80 to drive west across Nebraska, and merge onto I-76 to drive through Pawnee National Grassland and arrive in Denver.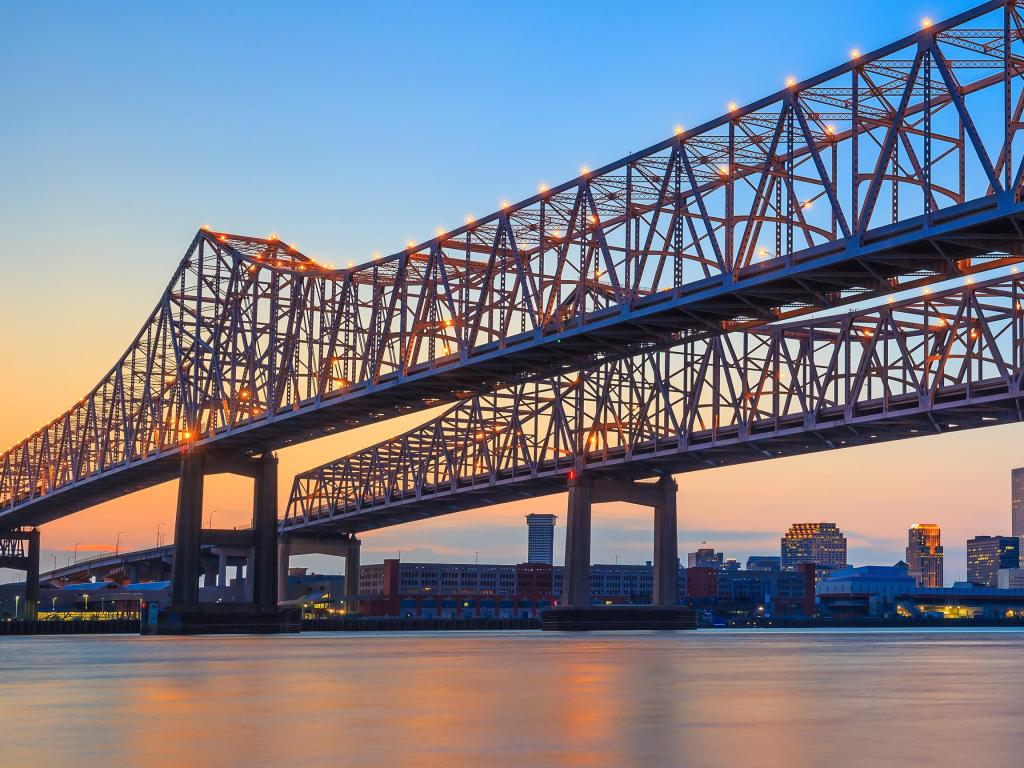 Take I-70 west and take exit 203, then continue south on CO-9 to get to Breckenridge. You have the option here to take a quick detour via Aspen to hit the slopes.
Once you're back on the route, take I-70 to drive west through the stunning forest landscapes of Colorado, then get on I-15 and drive south. Stop for a hike in Dixie National Forest, before rejoining I-15 to arrive in the desert city of Las Vegas.
The Southern Route
Follow I-75 out of Detroit down past Lake Erie and join US-24 at Toledo. Once you enter Indiana, take I-69 south to Indianapolis.
Take I-70 west and cross the Mississippi River to enter Missouri and arrive in St. Louis, namesake of the famous musical. Head south on I-44, with the chance to stop and stretch your legs in Mark Twain National Forest. You'll enter Cherokee Nation Land before arriving in Oklahoma City.
Drive west on I-40 to pass through the north of Texas and enter New Mexico. Turn onto US-285 to arrive in Santa Fe. Once you've explored the hundreds of art galleries, follow I-25 south to Albuquerque.
Follow I-40 west and take a break to discover the thousands of tree fossils at Petrified Forest National Park. Take exit 165 and follow signs for Grand Canyon Village.
Once you've had your fill of the Grand Canyon, rejoin I-40 and take the exit for I-11 to cross into Nevada and arrive in Las Vegas.
Best places to stop between Detroit, Michigan and Las Vegas
Whichever route tickles your fancy, you'll pass through a diverse landscape of natural wonders, distinct cultures and unforgettable cities.
Over the course of a week you'll want to make plenty of overnight stops, and we've picked a selection of some of the best places to explore for an evening and spice up your journey.
Kick back in the Mile High City, Denver
Located about two thirds of the way along the Northern Route, the state capital of Colorado is a buzzing city surrounded by gorgeous forest landscapes.
There are plenty of opportunities to get outside into the mountains, or you can stick around in the city itself and explore the many cultural attractions Denver has to offer.
The immense Denver Art Museum is an architecturally arresting landmark even if you're not an art aficionado. If you are, the collection boasts over seven storeys of local and global art in a variety of mediums and disciplines.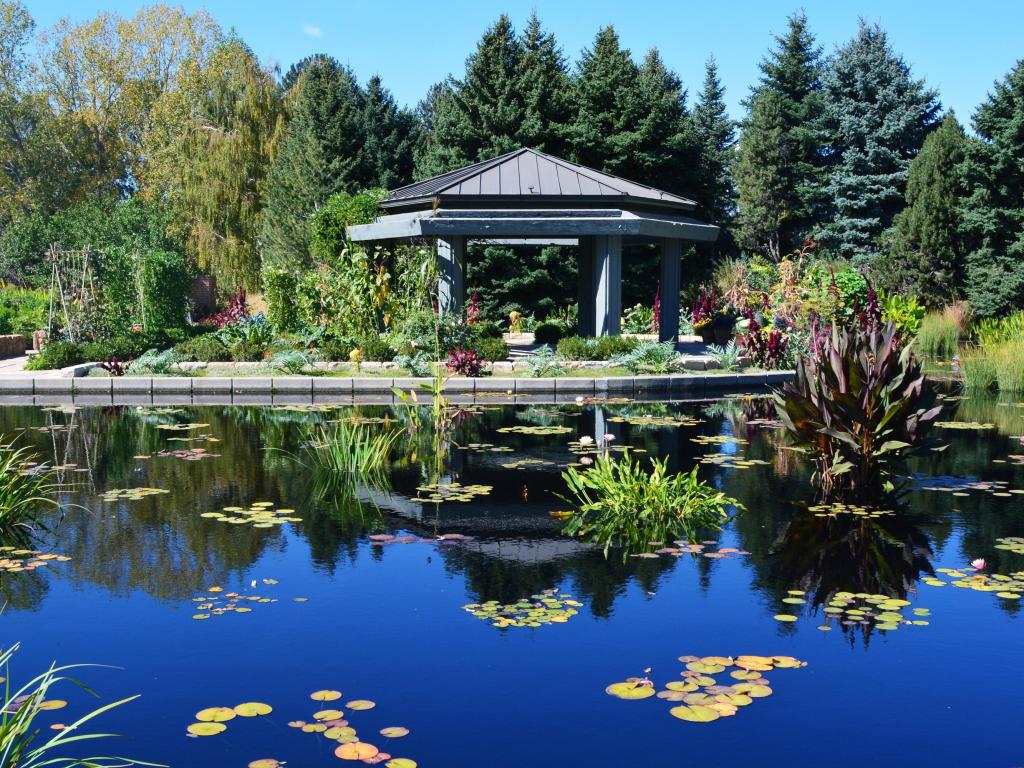 If you want to let your hair down, Lakeside Amusement Park dates back to 1908 and is famous for its original display of over 100,000 lights. For a more peaceful excursion try Denver Botanic Gardens - the 23 acres of this park house a conservatory, several themed gardens and a sunken amphitheater used for concerts and performances during the hotter months.
Book into Four Seasons Hotel Denver to stay in the heart of bustling downtown. The hotel has elegant rooms with stunning mountain views if you're lucky. The rooftop pool is the biggest draw, as well as a full-service spa, fitness and wellness center.
If you don't fancy venturing out, the hotel has several on-site dining options, including the EDGE Bar which serves tapas and cocktails. It's close to North Broadway Street, which leads right back to the route the next day.
Celebrate cowboy culture in Oklahoma City
Right at the halfway point of the Southern Route, Oklahoma City is a great place to stop and rest before driving through the long desert stretches of Texas and New Mexico.
Known as "The Big Friendly", Oklahoma City is celebrated for its cowboy culture and western heritage and boasts tons of cultural attractions including dozens of museums.
While in town, take a trip to the century-old Oklahoma City Zoo and Botanic Garden, which is host to over 500 animals as well as thousands of native and imported plants. Alternatively, head to the National Cowboy and Western Heritage Museum to discover the history of the Wild West.
Stop by Oklahoma City National Memorial for a moment of reflection - this outdoor memorial with a surrounding pool is dedicated to the victims of the tragic Oklahoma City Bombing, which claimed the lives of over 160 people.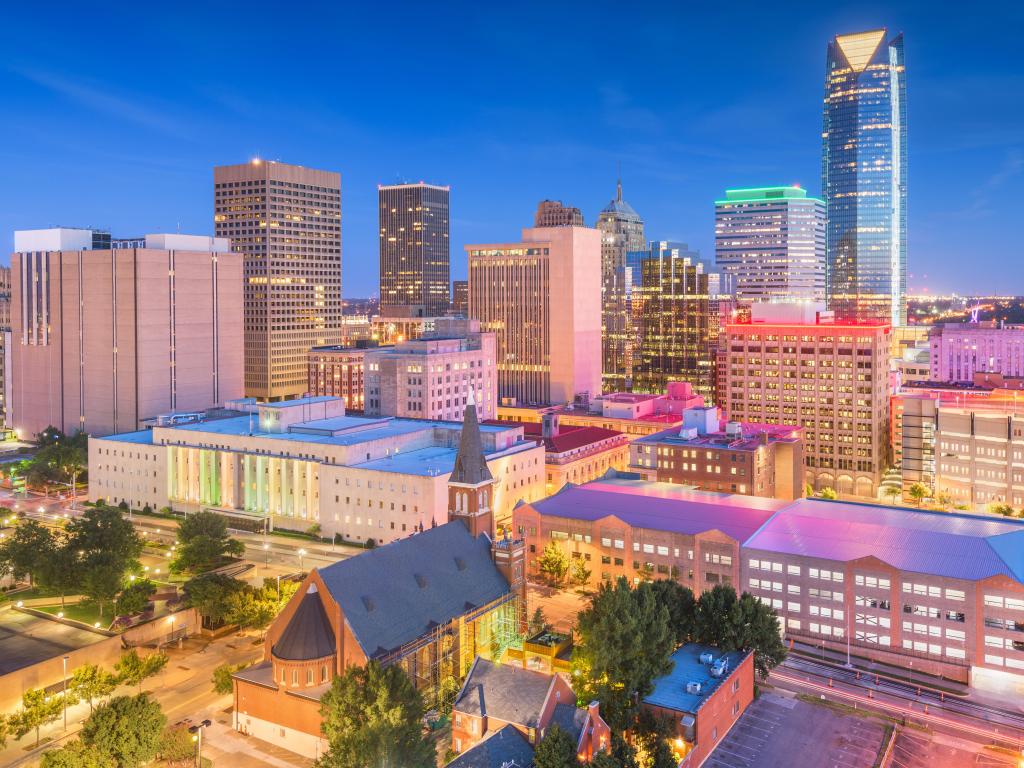 To get a feel for the local atmosphere, head to Bricktown, Oklahoma City's most bustling district in a former warehouse yard, now boasting shops, restaurants and entertainment venues.
Within walking distance to most of the major attractions, The Skirvin Hilton Oklahoma City is a historic hotel minutes from Bricktown. Feel elegant in the cocktail bar and relax in the indoor swimming pool, or enjoy a meal in their in-house restaurant, the Park Avenue Grill.
There is a concierge service and parking, so you don't have to worry about your car if you want to head out to explore Oklahoma City's attractions on foot. Bonus - it's incredibly conveniently located, so you can hop back on the highway in the morning.
Where to stay when you reach Las Vegas
Once you get to Las Vegas, treat yourself to a touch of glamor at ARIA Resort & Casino. Located right on the strip, a stay here puts you right in the heart of the action.
This hotel offers the quintessential Las Vegas experience - city views from floor-to-ceiling windows, plush robes and soaking tubs and an on-site spa, with several restaurants and its own 150,000-square foot casino.
A fail-safe hotel to make your trip that extra bit special, the only challenging part of your stay here might be venturing outside to experience all that Las Vegas has to offer.
Things to see on a road trip from Detroit, Michigan to Las Vegas
This road trip crosses from East to West and passes plenty of breathtaking nature and well-trodden attractions along the way. Over the 2,000-mile distance we've chosen some of the highlights not to be missed.
The Northern Route
The Creature Conservancy - Meet and interact with a variety of adorable animals (including sloths and cougars) at this ethical animal conservatory.
The Cascades - These beautiful artificial waterfalls were built alongside pools and fountains in the 1930s and are best viewed at night when they're dramatically lit up.
Lake Michigan - While you'll be able to enjoy this Great Lake from your vehicle, we definitely recommend stopping for a lunch break alongside Lake Michigan's calming waters.
Woodstock Square Historic District - Located in the city of Woodstock, Illinois (famous as the location for the movie Groundhog Day), the Woodstock Square Historic District is almost 200 years old and boasts antique stores and a Victorian town square.
Lincoln, Nebraska - This route takes you right through Lincoln, Nebraska's capital and home to a slew of historic and unique cultural attractions.
Spinney Mountain State Park - Add about 30 minutes to your route and catch this geyser majestically explode 70 feet into the air, once every hour.
PioneerTown - Step back in time at this historic museum in Cedaredge Colorado, boasting five-acres and twenty-four buildings dedicated to recreating life from the late-1800s through to the early- and mid-1900s.
Giant Soda Cans - Discover this quirky road-side attraction featuring massive tanks painted to resemble your favorite soda, located right on the route!
Parowan Gap Petroglyphs - Free to visit, these Native American Petroglyphs are thought to date back almost a thousand years.
Zion National Park and Temple of Sinawava - The Temple of Sinawava is located in Zion National Park and contains a paved trail along the Virgin River complete with waterfalls and flower gardens. If you'd like to hike up to Angels Landing, you will need a permit and will need to make a reservation. Check the Zion National Park's website for more details.
Moqui Cave - Once used as a speakeasy and now converted into a natural history museum, Moqui Cave boasts an incredible rock collection and gift shop.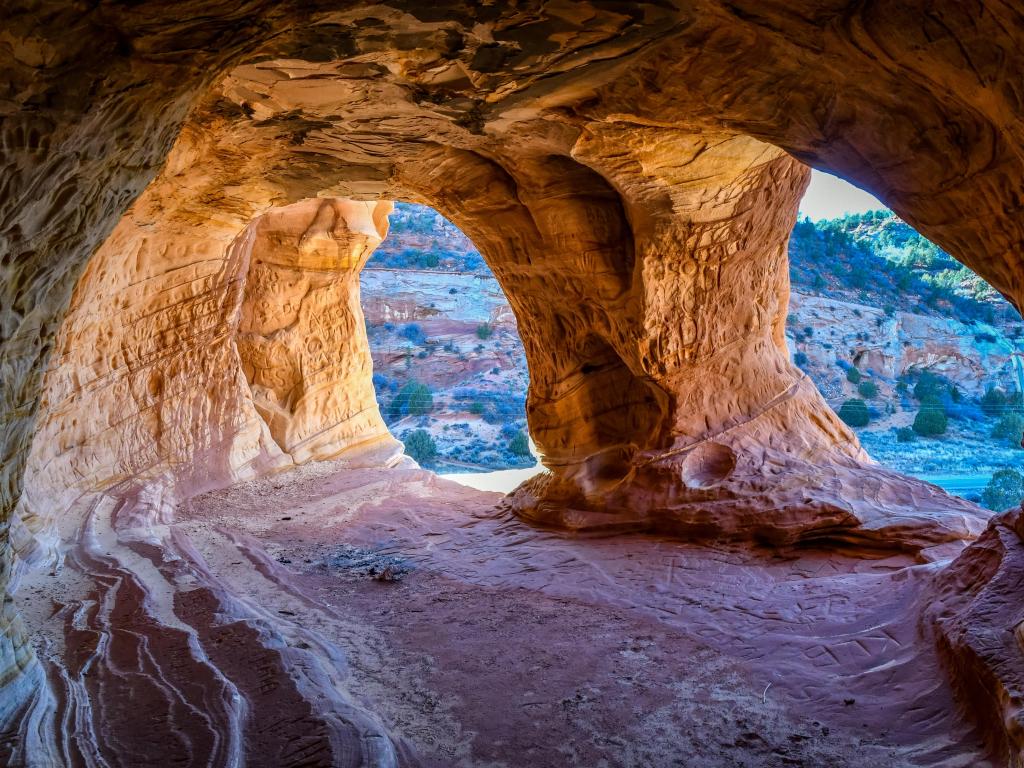 The Southern Route
Conner Prairie - Discover the 200 acres of this recreated 19th century village, which explores Indiana's unique past through interactive exhibits.
Cahokia Mounds State Historic Site - Take a walk through this historic site, boasting Native American artifacts and 13th-century ruins of homes and monuments.
Route 66 Museum - This curious museum is found inside a recreated gas station complete with vintage cars and gas pumps; you'll find exhibits exploring Route 66-related history and showcasing a range of unique items.
Blue Whale of Catoosa - Along the iconic Route 66, you'll find this large whale sculpture built on a small pond. Great for a picture or snack break!
Center of the Universe - Be sure to visit this unique attraction, where visitors can hear their own strangely amplified voices echoed back at them.
Oklahoma City Zoo - Over a century old, the Oklahoma City Zoo and Botanic Garden is host to over 500 animals as well as thousands of native and imported plants.
Stafford Air & Space Museum - Located along Route 66 and featuring over 3,500 aerospace-related items, this indoor/outdoor museum also offers tours and interactive exhibits.
Cadillac Ranch - Just outside of Amarillo, Texas, you'll find this unique public art installation consisting of half-buried and graffitied vintage Cadillacs.
National Museum of Nuclear Science & History - At about an hour's detour, this educational center and museum is entirely dedicated to chronicling the development of nuclear science.
Museum of Northern Arizona - Explore Arizona's rich history at the Museum of Northern Arizona, where you'll find tons of exhibits with artifacts dating back to 15,000 B.C.
Montezuma Castle National Monument - Once the dwelling-area of the Sinagua people, Montezuma Castle is carved directly into the limestone cliffs amidst Arizona's desert landscape. This attraction adds about an hour to your route.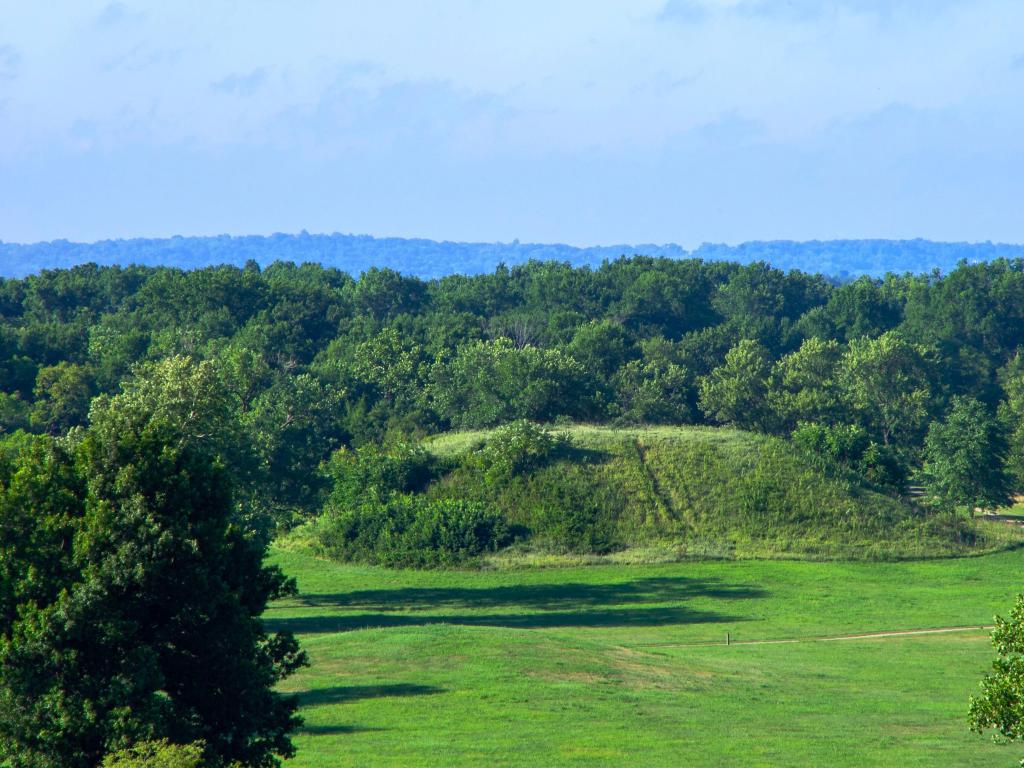 Best time to go on a road trip from Detroit, Michigan to Las Vegas
It goes without saying that the main draws for a visit to Vegas are mostly indoors; unreal restaurants and an unrivaled gastronomical scene, world-renowned casinos, entertainment venues hosting the world's biggest stars, and the famous Vegas Strip, whose bright lights shine regardless of the time of year.
As a result, this destination is really something that you can visit year-round, though if you're particularly sensitive to heat, avoid visiting Las Vegas during the hot summer months. Las Vegas is host to tons of events year-round, including concerts by iconic performers, Cirque du Soleil shows, world-class drag shows and more, so there's no shortage of events to enjoy any time of year.
In the summer, temperatures range between 70°F and 105°F, so you could end up spending most of your time by the pool! It's also worth keeping in mind that hotel rates could be higher as tourism tends to peak. Summer also sees the arrival of Electric Daisy Carnival Las Vegas.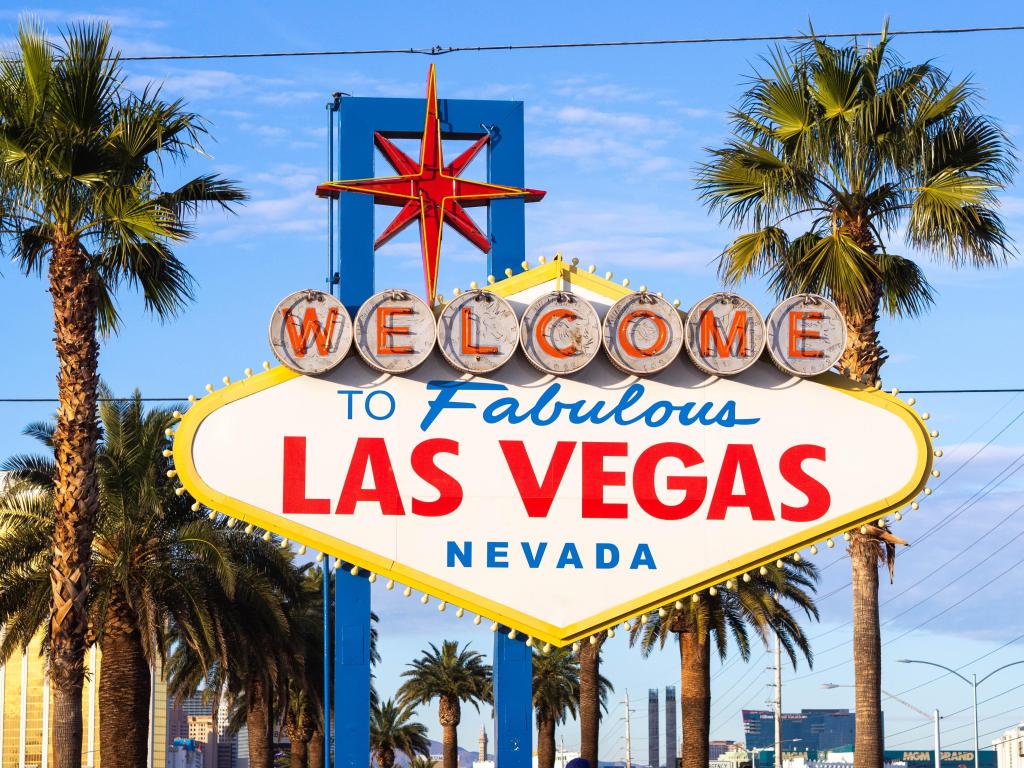 Temperatures in Las Vegas during the winter range between the high-thirties to the mid-sixties, and outdoor pools can sometimes close during this season. That said, there's still lots of tourism, especially during New Years and Christmas, when hotel prices are the highest. Make sure to book in advance!
Visiting during the winter is a good idea if you'd like to see some of the surrounding desert landscapes, including the Mojave Desert. Winter also sees Las Vegas host its Snow Carnival, which is a good reason to stick around!
Spring and fall are both great times to visit Las Vegas, as the weather is much more bearable and the tourism levels go down. Temperatures at these times of year range from 45°F to 95°F, and hotels might be more affordable.
There are a whole host of events in spring, including Las Vegas Foodie Festival, San Gennaro Feast, Viva Las Vegas, Las Vegas Beer Festival and Las Vegas Epicurean Affair.
In fall, you can celebrate at Las Vegas Bike Week, Rise Lantern Festival, the Las Vegas Pride Parade & Festival and iHeartRadio Music Festival. The party never stops in Sin City!