Road Trip from Minneapolis to Niagara Falls
Looking for a holiday experience that offers stunning scenery as well as exciting urban adventure and culture in one trip? Consider a road trip from Minneapolis to Niagara Falls, where you will get to admire some stunning scenery in not only one but two different countries!
The 960-mile road trip from Minneapolis to Niagara Falls will take 16 hours to drive. The notable stops include Chicago, Detroit, Oconto, Mackinac Island, Port Huron, and Hamilton, Wilkes Dam, Wisconsin Dells and Necedah National Wildlife Refuge.
Read on to find out some of the stops to take along the way, information on routes, distances, and some excellent recommendations on stopovers and activities on this exciting drive.
How far is Minneapolis from Niagara Falls and how long will the road trip take?
Comparison of road trip routes between Minneapolis and Niagara Falls

| Route | Distance | Driving Time |
| --- | --- | --- |
| Southern Route | 960 miles | 14 hours |
| Northern Route | 1,050 miles | 16 hours |
There are two routes for you to choose from for the road trip from Minneapolis to Niagara Falls. The Southern Route is 960 miles and will take about 14 hours of total driving. Given an average of 6 hours driving a day, this is best to be spread over 2 or even 3 days.
Road conditions are good on this route, staying on Interstates for most of the journey. As with most of the US some of the roads have tolls, so be aware of these.
The Northern Route is slightly longer at 1,050 miles, which is around 16 hours of driving. Similar to the Southern Route, this can be done over 2 or 3 days to get the most from your travel experience.
This route takes you on some more minor roads with a few more exits and turns than the Southern Route, but it is a straightforward drive for the most part, which will allow you to enjoy the beautiful scenery you will drive through.
Best road trip route from Minneapolis to Niagara Falls
Ultimately, the best road trip route from Minneapolis to Niagara Falls depends on what you're after. Both routes have a wealth of attractions and landscapes you will get to admire on the way.
The Southern Route takes a cultural, urban path with stops at interesting cities and towns, whereas the Northern Route showcases more of nature at its finest.
If you'd like to experience the best of both worlds, you can take one route on the way to Niagara Falls and the other on the way back.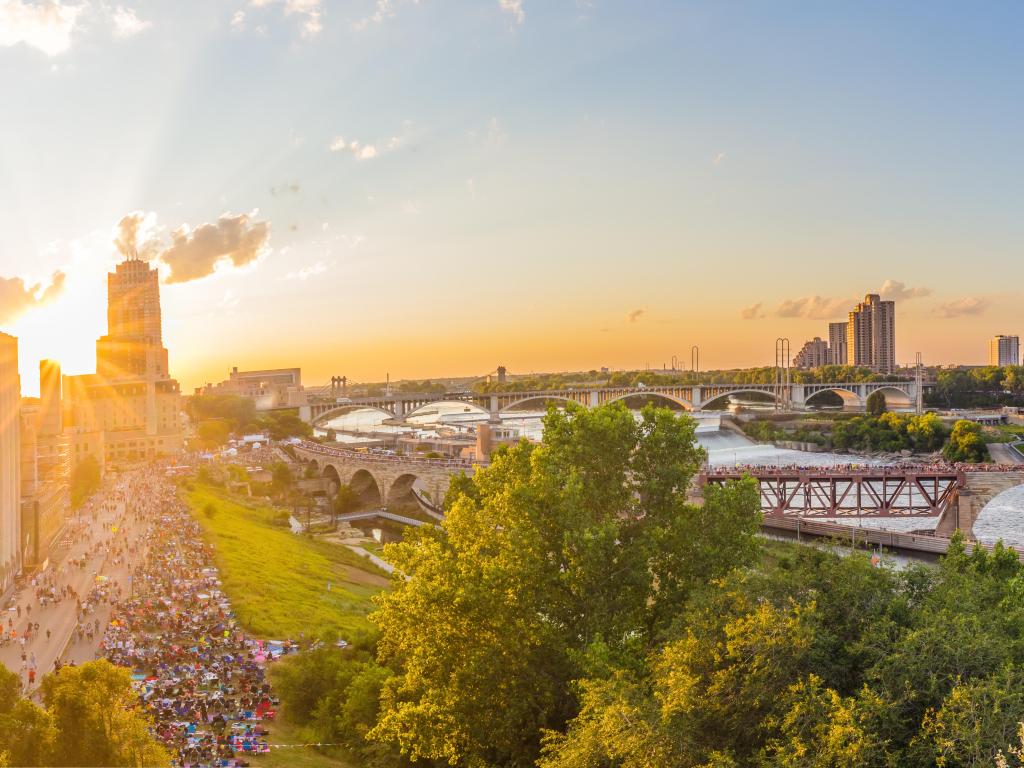 How to drive from Minneapolis to Niagara Falls
The map above shows our suggestions for the best road trip routes between Minneapolis and Niagara Falls. Keep reading for detailed descriptions of both routes, where to stay on either, and the best things to do on the way.
The Southern Route
Taking Interstate 94 (I-94) East out of Minneapolis, you travel through St. Paul and on to skirt past (or stop off for a visit) at Eau Claire. The route stays on I-94 heading south, to continue on and merge onto Interstate 90 (I-90) past Kirby.
The road continues on through Wisconsin Dells, past Madison, and on to Chicago where a stop-off is a must.
Still staying on I-90 you will drive round the southern tip of Lake Michigan, onwards to pass close by Toledo and on to Cleveland. I-90 continues past Cleveland, traveling alongside the gorgeous Lake Erie.
Finally, you start heading north until you reach Exit 53 to take you on to Interstate 190 (I-190) past Buffalo, then Exit 22 for US-62 and on to Niagara Falls.
The Northern Route
Once again, you take I-94 East out of Minneapolis, but just before Eau Claire, at Exit 52, you join the WI-29 road. This continues east until it merges onto the US-51 south briefly, then on to WI-29 east again.
Just past Thornton, Exit 227 takes you to County Road East. Merge onto US-41 and start heading north, turning right just past Menominee onto North Shore Drive and the M-35, traveling along the shore of the phenomenal Lake Michigan.
Heading through the center of Escanaba, the road turns into US-41 again, heading north. and then becomes US-2 just past Masonville and Rapid River.
Continuing on the US-2 and still skirting Lake Michigan, just past Gros Cap, you take the slip road to Interstate 75(I-75) South and take the Mackinac Bridge over the lake to Mackinaw City.
I-75 takes you south straight on to Detroit where a stop is a must, then you take the M-3 north out of Detroit, meeting up with I-94 East which travels past Lake St. Clair.
Exit 266 takes you on to the I-94 bus loop which takes you right alongside the border of the US and Canada, which travels along the middle of the St. Clair River.
Coming up to Port Huron, you continue on the same road and then take the slip road to Canada and Blue Water Bridge East. Now in Canada, you continue on the ON-402 East and then the ON-403 East until Hamilton and then on to the Queen Elizabeth Way.
Carrying on, the road takes you to General Brock Parkway, Interstate 190 (I-190) South then NY-31, and on to Niagara Falls.
Best places to stop between Minneapolis and Niagara Falls
To fully enjoy your trip, at least one stay at one of the amazing places on the route is a must. Make sure you are ready and relaxed for the next day of driving by resting your head in some of the luxurious and welcoming accommodation suggested below.
Jazz it up in Chicago
On your Southern Route, just when you thought the ride was getting a little too long, you will reach Chicago, about 6 hours away from Minneapolis. This iconic city is ready to delight you with its urban atmosphere, legendary pizza, and cool nightlife.
The Windy City is famous for its architecture, and landmarks like the Willis Tower and the Cloud Gate, located in Millenium Park draw thousands of curious travelers to the city.
While visiting a city renowned for its unique architectural landmarks, you will want to stay in an equally attractive property and it is hard to beat The Kimpton Hotel Monaco with its designer touch and stellar location.
Overlooking the Chicago River, this boutique hotel is close to attractions like the famous Millennium Park and the Magnificent Mile, the luxurious shopping, dining and entertainment district.
The hotel is also only a 15-minute walk to the beach if you would like to relax after all that driving. Alternatively, you can take advantage of the fabulous in-room spa treatment options in the hotel for a perfect evening of relaxation before you set off on the rest of your adventures.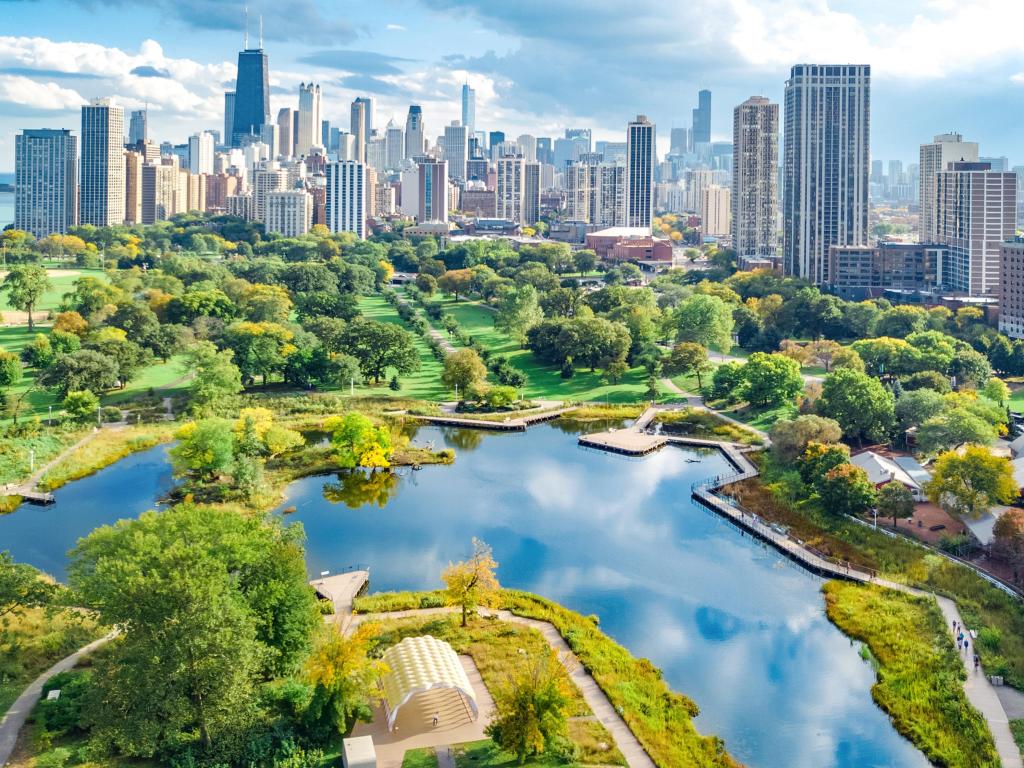 Unwind in Mackinac Island
If you choose the Northern Route and have been traveling through lakes and nature, then a great stop is Mackinac Island, about 8 hours from Minneapolis. It is good to keep in mind that this island is only accessible by ferry (the views from the ferry are well worth it).
This very unique island is car-free; the only way to go around is by bike, horse-drawn carriage, or walk. It's the perfect place to relax and enjoy amazing views and historic charm from the 1800s.
On Mackinac Island, there are plenty of options for accommodation, all of which are family-owned. One great option is the Harbour View Inn.
This beautiful Inn has options for a balcony overlooking the harbor or the gardens. It offers bicycle hire or you can walk in its courtyard, taking in the 19th Century architecture.
The Mackinac Island Butterfly House is a two-minute walk from the Inn, and there's the option to visit Mackinaw City by ferry. You can also absorb some more nature at Mackinac State Park, only two miles from the accommodation.
Best place to stay at Niagara Falls
You are finally at the magnificent Niagara Falls and ready to drop your bags and experience the thunderous wonder of the waterfalls themselves.
Located under a mile from the Maid of the Mist Niagara Falls boat tour, the scenic Niagara Riverside Resort; BW Premier Collection is perfectly situated. This stunning hotel overlooks the Niagara River and boasts a perfect location for your excursions.
Right across from the hotel, you will find the bridge that will take you to Buckhorn Island State Park. The Falls are obviously the main attraction here, and you have easy access to all the Niagara Falls attractions, including boat tours, from the property.
After admiring the scenery that is world-famous, you can head back to the hotel to enjoy your favorite cocktail at the on-site bar or treat yourself to a delicious meal at its upscale restaurant.
Things to see on a road trip from Minneapolis to Niagara Falls
The best thing about this road trip from Minneapolis to Niagara Falls is that there are plenty of amazing places to stop on the way. Below are just a few of the many options to entice you to visit on your drive:
Southern Route
Eau Claire - A small and green city with parks and fresh markets, ideal for a quick stop.
Necedah National Wildlife Refuge - This ancient, exposed lakebed lets you enjoy activities such as hiking, hunting, fishing or go along on a field trip or guided hike.
Wisconsin Dells - Known for its theme parks and water parks, and also the Mirror Lake State Park, which is worth a stroll around.
Wizard Quest - Close by Wisconsin Dells, perhaps this 30,000-square-foot fantasy-themed labyrinth is a refreshing and fun change of pace. Choose a quest, answer questions, decipher riddles, and investigate hidden passages.
Historic Auto Attraction - in Roscoe, Illinois this is not just for car enthusiasts - this automobile museum is huge with themed rooms and exhibits including John F. Kennedy and Kennedy family memorabilia, as well as the Stock Car Hall of Fame.
Chicago - The windy city. This is one of the US' biggest cities and has lots of attractions. We recommend a nice walk around Millenium Park Campus or the Chicago Riverwalk and soak up all you can see, popping in for a bit of famous Chicago pizza as you go.
Kalamazoo - This small Midwestern town has lots of green areas and even ski resorts during winter.
Cleveland Museum of Art - stop off in Cleveland and soak up some culture, with many changing exhibitions and outside events, this is worth popping in for a browse and a break.
Detroit - The biggest city in Michigan, and is famous for being the "Motor City". The Diego Rivera murals are worth a visit.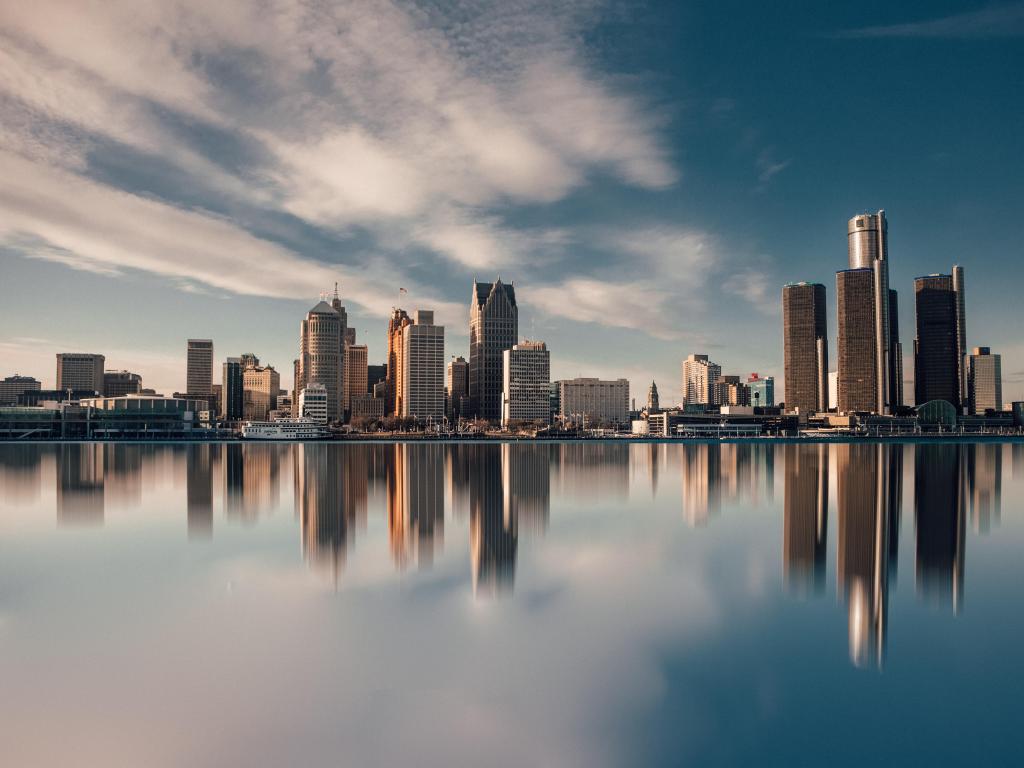 Northern Route
Jurustic park - Just south of Colby this quirky site shows recreations of the extinct creatures of the area as well as a hobbit house and studio workshop.
Oconto - Stop off at this lakeside down and take a walk around Bond Park and visit the beautiful building and surroundings that house the Beyer Home and Carriage Museum.
Manistique - Great outdoors, beautiful beaches, and green surroundings, take a walk along its picturesque boardwalk and stretch those driver's legs.
Mackinac Island - One of the favorites of this route. You need to take a ferry to access Mackinac Island and experience its historical heritage and amazing sunsets.
Pinconning - A small family-friendly town where you can stop to have lunch at CJ's Sports Grill and go on to explore the nearby Pinconning Nature Preserve.
Port Huron - Located right next to Lake Huron and the St. Clair River. In this town, you can enjoy beautiful parks and a big marina with perfect views.
Wilkes Dam - Just south of Fairview, this impressive work of engineering is worth a stop, with recreation trails, lookouts, and - if you're lucky - some eagle spotting!
Hamilton - The last stop before your final destination, take in the many sights in this city on the south bank of Lake Ontario. including Tiffany Falls, Dundas Museum, and Royal Botanical Gardens.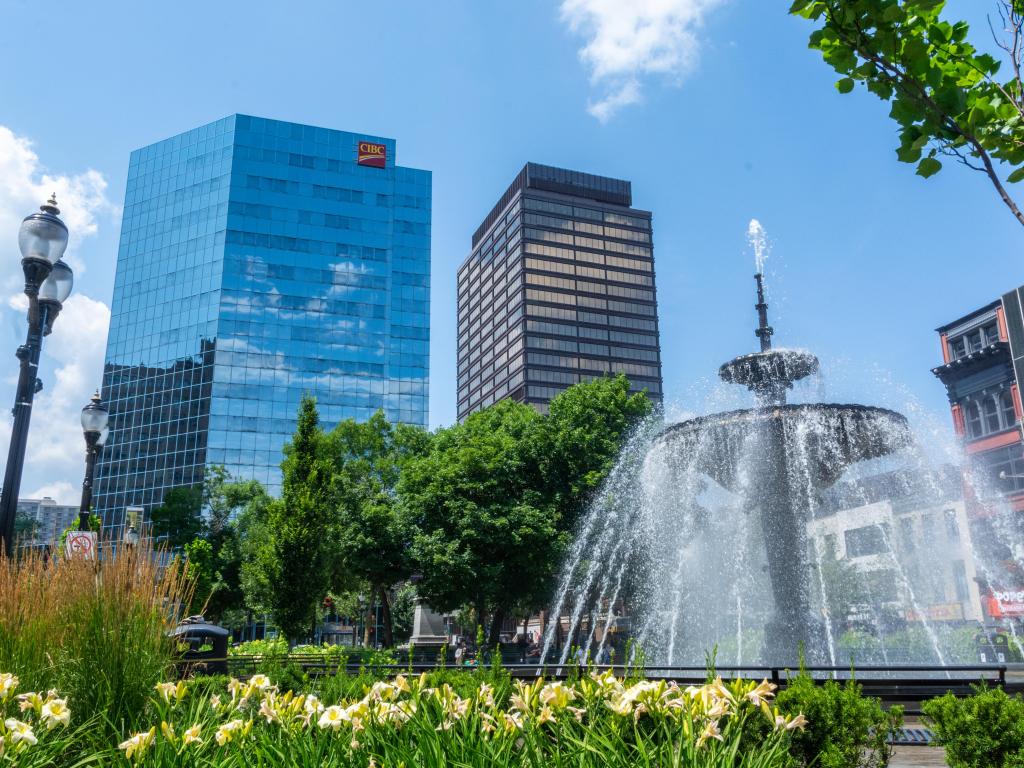 Best time to go on a road trip from Minneapolis to Niagara Falls
You can do the road trip from Minneapolis to Niagara Falls any time of year with June to August being ideal to visit the Falls. Of course, summer is the peak season, with temperatures over 80 degrees Fahrenheit, but because of the breeze off the waterfalls, the air feels cooler.
During this time, hotel rates are more expensive than usual and it's very crowded as expected, so maybe consider going before or after the high season. You can enjoy similar conditions if you choose to go in mid-May or September and miss the huge crowds.
These are great times to experience both routes, with the greenery of May starting to show, and the colors of fall coming into September.
The weather will be mild during these months as well, with temperatures averaging 65 degrees Fahrenheit, perfect for a day outdoors. If you are visiting in September, you will have the opportunity to participate in Niagara Falls Night of Art.
If choosing to go during autumn or wintertime, remember to check the attractions at Niagara Falls as some of them close during this season.
Don't forget to charge and pack your camera as you get ready for this road trip, because no matter which month you make this journey, you will be greeted with incredibly stunning natural scenery both en route and once you arrive at Niagara Falls.