Road Trip from Detroit, Michigan to Yellowstone National Park
If a trip of a lifetime through America is on your bucket list, you've come to the right place. This incredible trip from Detroit, Michigan to Yellowstone National Park will take you through the Midwest and to natural wonders such as awe-inspiring canyons and towering mountains.
The 1,800-mile road trip from Detroit, Michigan to Yellowstone National Park will take 30 hours to drive. Key stops along the way are Ann Arbor, Chicago, Milwaukee, Toledo, Gateway Arch of St Louis, Indianapolis, Wisconsin Dells and Mount Rushmore.
Arriving in Yellowstone, you're able to see the geysers in action, a unique experience as steamy water erupts into the sky. Read on to explore the best routes, discover all the amazing places you'll visit along the way and to learn about the best time to make this amazing trip.
How far is Yellowstone National Park from Detroit, Michigan, and how long will the road trip take?
Comparison of road trip routes between Detroit, Michigan and Yellowstone National Park

| Route | Distance | Driving Time |
| --- | --- | --- |
| The Mount Rushmore Route | 1,800 miles | 30 hours |
| The Colorado Route | 2,260 miles | 36 hours |
There are two unique options for getting from Michigan to Yellowstone National Park, with the fastest route shaving six hours off your travel time.
The most direct route out of our two suggestions - the Mount Rushmore Route - is 1,800 miles in total and will take you 30 hours to drive. This journey can be completed in just 5 days if you skip the opportunities en route - but you'd be missing out.
The slower route - the Colorado Route - will take an additional six hours, equalling 36 in total. The Colorado Route covers 2,260 miles of beautiful American landscape and urban centres.
Of course, life's a journey and there's no rush. You'll get to Yellowstone in good time, but why not take in the beautiful sights on the way? To ensure you're getting the most out of your trip, you should give yourself between 6 and twelve days. This will give you plenty of time for new experiences and having fun.
Best road trip route from Detroit, Michigan to Yellowstone National Park
The routes we've chosen for this trip from Detroit, Michigan to Yellowstone National Park are full of interesting places to visit.
On the Mount Rushmore Route, you'll have the opportunity to check out beautiful waterfalls, lakes and caves. This route offers a huge variety - including small towns, large cities and scenic spots you won't believe until you see them.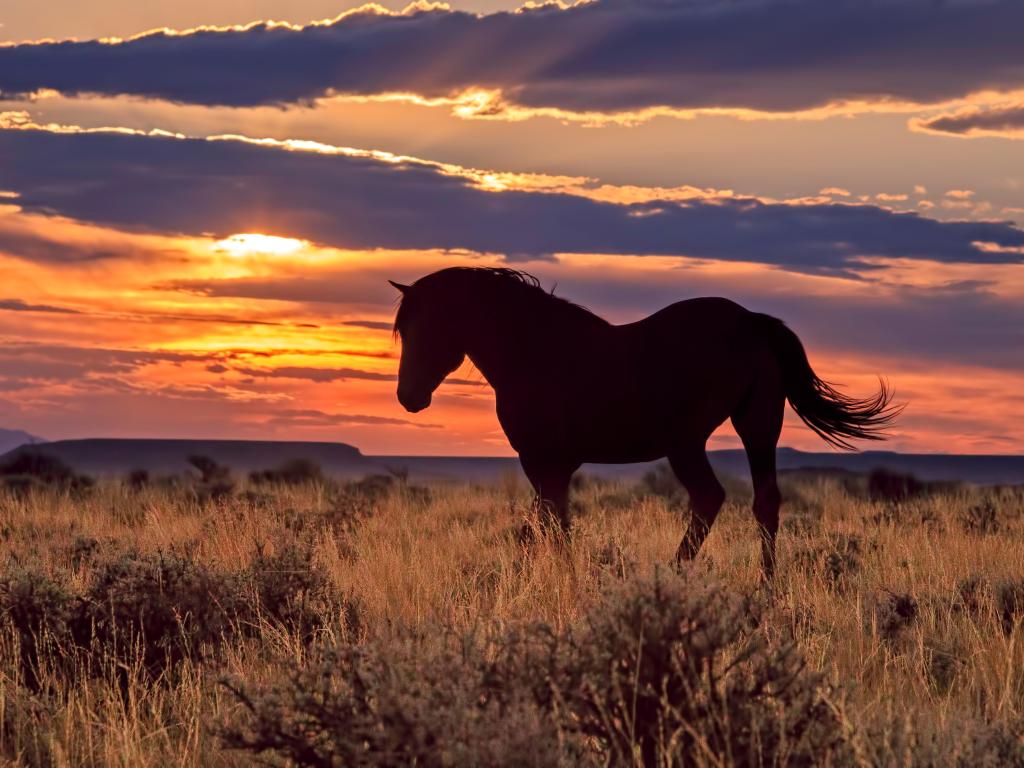 If you are traveling in winter, the Mount Rushmore Route is the one to follow, as it will take you the North Entrance of Yellowstone Park. This is the only road in Yellowstone that's open all year round so a good option if visiting between November to April when the Grand Loop is closed.
The Colorado Route offers outdoor activities including skiing and hiking, as well as deep canyons and alpine mountains to admire. If you want to visit as many states as possible, you can choose this route where you'll visit 9 states including Ohio, Wyoming and Utah.
Whether the shorter Mount Rushmore Route or scenic Colorado Route is more appealing to you depends on how quickly you want to get to Yellowstone National Park.
The Mount Rushmore Route
Start by taking the E Jefferson to John C. Lodge Freeway, passing the beautiful city of Ann Arbor where you can stop off for car snacks. After that, you will soon arrive in Chicago by the shores of Lake Michigan. Here you'll see the incredible skyscrapers filling your windscreen.
Keep in mind that downtown Chicago can get heavily congested, so you might want to avoid this area if you want to cut down on your driving time.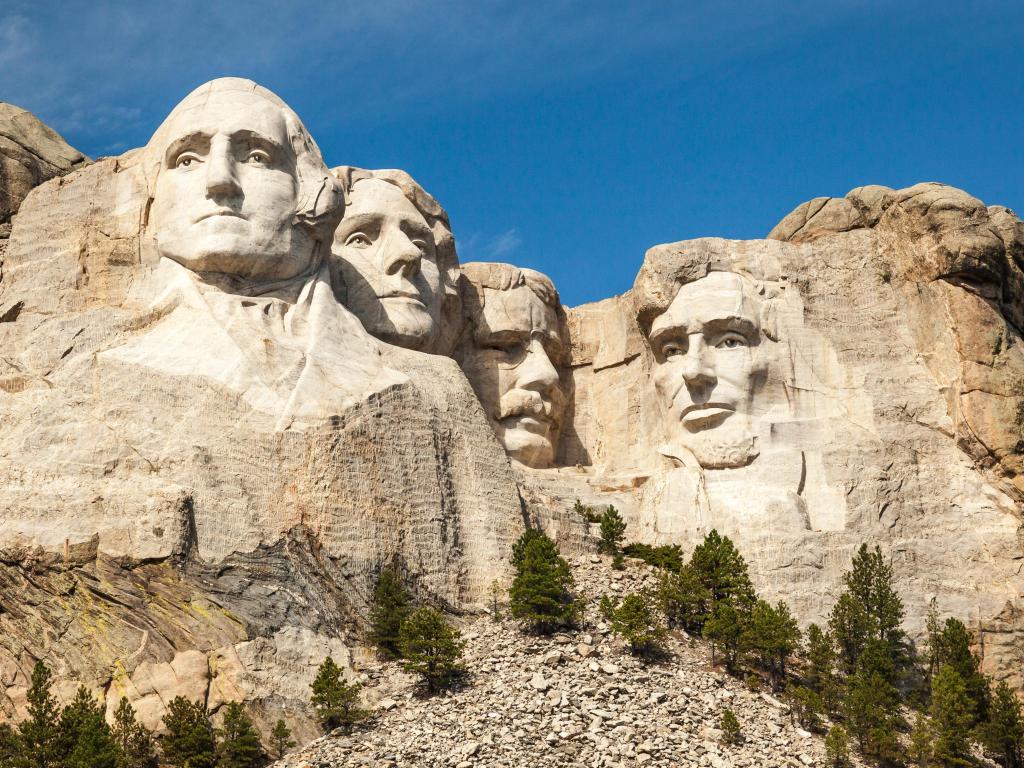 You will then enter the state of Wisconsin and drive through Milwaukee and Wisconsin Dells. From here, continue to Niagara Cave. After your visit, head to Sioux Falls on Interstate 90 (I-90), which will also take you to Badlands National Park and Mount Rushmore.
Switch to US-212 for a while before hopping back on the interstate. Shortly after that you'll enter the North Entrance of Yellowstone National Park and arrive at your destination.
The Colorado Route
Head inland by taking I-75 out of Michigan. Driving through Toledo and the outskirts of Fort Wayne, you will reach Indianapolis. Follow I-70 to St. Louis and then the bustling Kansas City, which is great for an overnight stop.
Kansas City is better than larger cities for traffic and so shouldn't cause any issues, except for wind chill warnings in winter that can cause low visibility.
You will stay on this interstate all the way to Denver and Grand Junction. During this part of your journey, you'll spot Colorado National Monument and Copper Mountain, as well as pass Frisco and Flaming Gorge National Recreation Area.
Afterwards, drive north and get ready take in the sights - you've arrived at Yellowstone National Park, one of the world's most beautiful spots.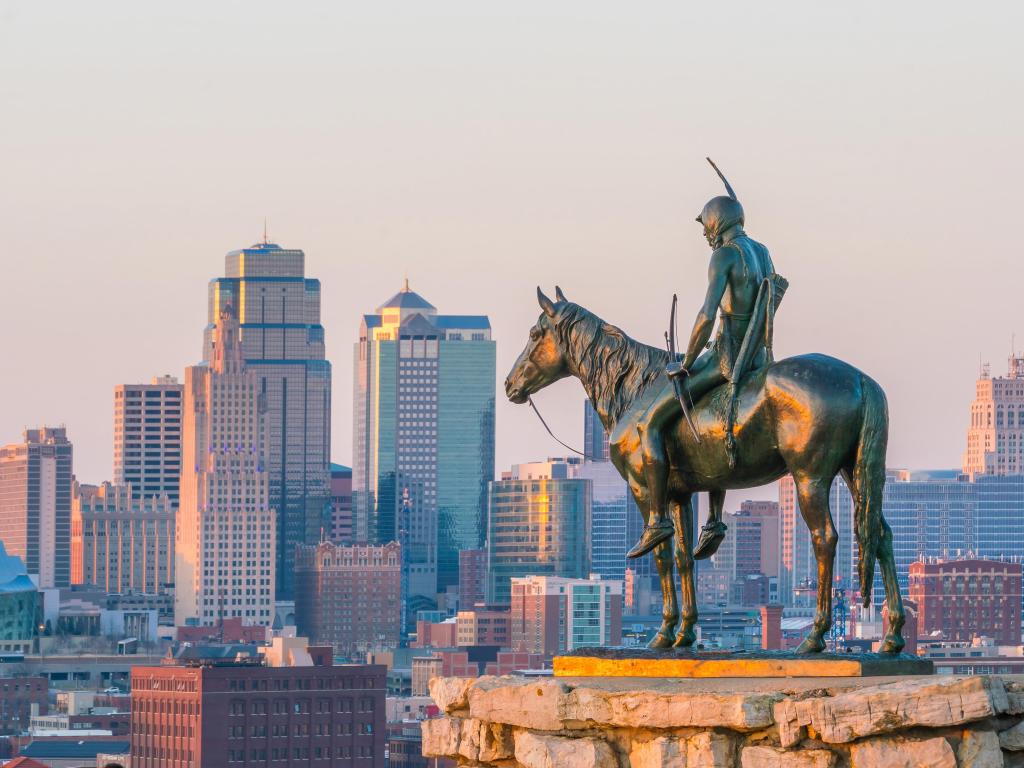 Best places to stop between Detroit, Michigan and Yellowstone National Park
The journey from Detroit, Michigan to Yellowstone National Park is brimming with quaint cities, interesting landmarks and gorgeous mountains to visit.
If you decide to park up and enjoy everything there is to see on route, you'll need a hotel to rest your head and these are our favourites.
A scenic stop at Sioux Falls
Sioux Falls in South Dakota is the perfect stop on the Mount Rushmore Route, located just under halfway. Sioux Falls is home to the waterfall of the same name and has trails to walk in and around the city, which makes it the perfect scenic place to relax and recharge.
This beautiful city is home to unique attractions. The Old Courthouse is perfect for history lovers, dating back to 1889 and containing artifacts and information about the history of this special place.
If you'd like to explore the artistic soul of Sioux Falls, take a stroll on the SculptureWalk, which is located in the downtown area and is dotted with artwork.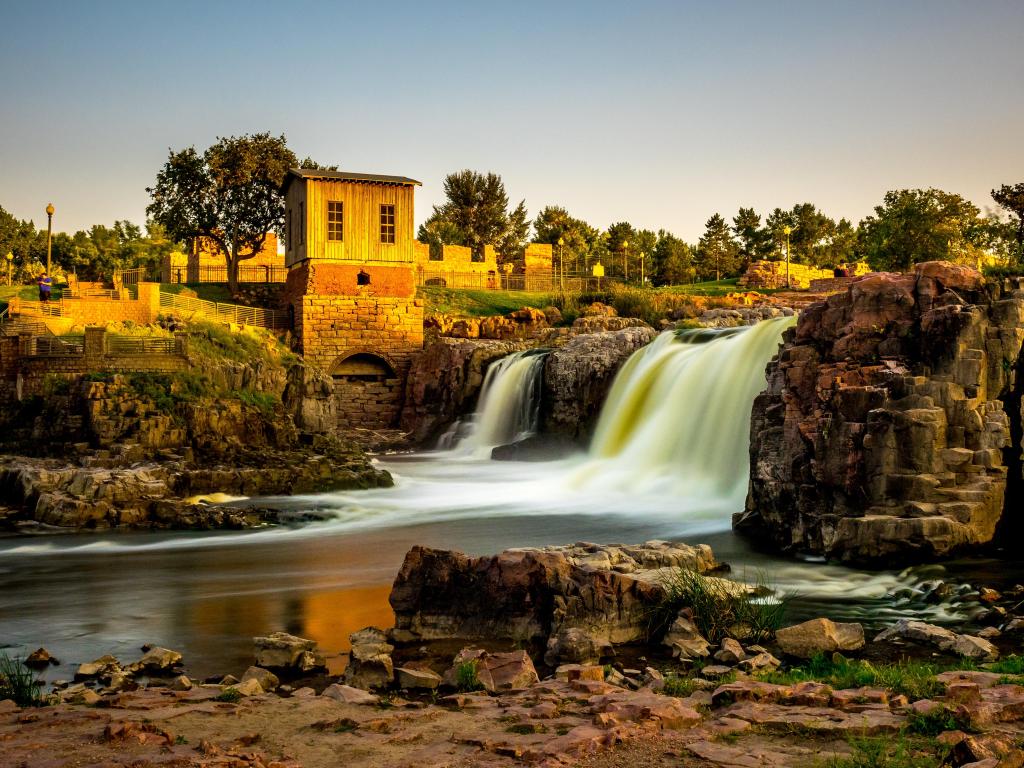 Foodies rejoice! Sioux Falls is home to over 750 restaurants also the ideal place to enjoy tasty food - whether you're into American BBQ or Japanese sushi.
For a comfortable night's sleep, we recommend Hotel on Phillips. Perfect for its private parking, contemporary design and fitness center, you can be sure you'll have everything you need.
The hotel is located in downtown Sioux Falls, meaning that all the attractions will be a stone's throw away. You will find the beautiful Falls Park, Fawick Park and WoodGrain Brewing Company within walking distance of the property.
Jazz it up in Kansas City
If you're taking advantage of the scenic Colorado Route, Kansas City is an ideal location to rest for the night. While only 12 hours into this 36-hour journey, Kansas City is definitely worth a visit. The city is known as The City of Fountains because it has more fountains than any other city in the world!
Kansas City is world-renowned for its jazz heritage. As the quote goes, "Jazz may have been born in New Orleans, but it grew up in Kansas City". Visit the American Jazz Museum to learn about the city's rich musical past. At night, you can visit one of the many jazz bars downtown.
If you'd like to explore more museums while in the city, we recommend spending a day at the Nelson-Atkins Museum of Art. Home to a vast collection of art, this museum even has four huge shuttlecocks on the front lawn for a fun photo.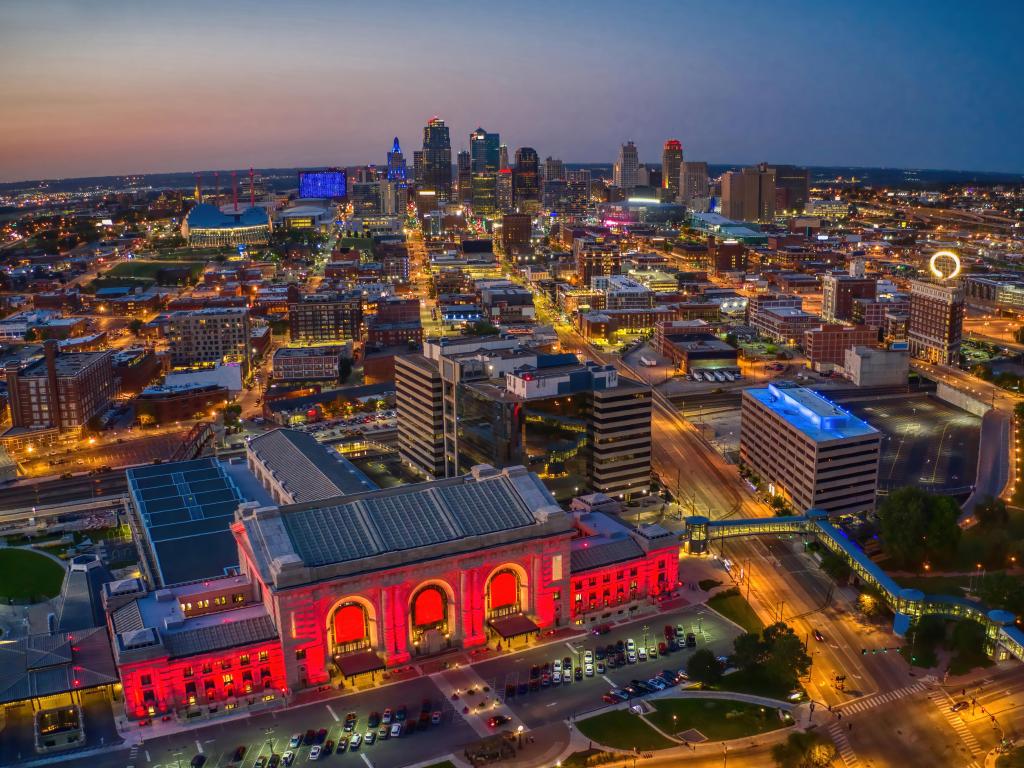 Claiming to have the "world's most comprehensive WWI collection", The National World War I Museum at Liberty Memorial is a must-visit for history buffs.
Our hotel recommendation as to where to stay is Loews Kansas City. The hotel has an indoor swimming pool and hot tub where you can relax and unwind after a long day in the car.
There's no need to worry about breakfast the next day either, with room service available throughout your stay. Also, you will just be a 30-minute walk from the American Jazz Museum and a 12-minute drive from the Nelson-Atkins Museum of Art.
Where to stay when you reach Yellowstone National Park
You'll be amazed at how many stunning views and natural wonders there are to explore at Yellowstone National Park. Make sure you're well rested before you begin your Yellowstone adventure by staying at The Bucking Moose. Our hotel of choice has free parking for all guests, making for a very convenient stay.
These log cabins are just a short five-minute drive from the West Entrance to Yellowstone National Park, meaning you can wake up and enjoy the beautiful landscape immediately. With mountain views and well-kept rooms, this hotel is one not to miss.
Things to see on a road trip from Detroit, Michigan to Yellowstone National Park
You might be worried that the trip from Michigan to Yellowstone National Park is too long, but don't worry - there are a variety of amazing things to see and do along the way that will keep you busy for hours at end.
With such an impressive mileage to cover, there's enough to fill a lifetime. That's why we've put together a list of our top favourite things to see.
The Winter Route
Ann Arbor. Michigan - The Kelsey Museum of Archaeology, University of Michigan Museum of Art and Michigan Museum of Natural History offer an experience for a range of interests, or may even spark a new hobby.
Chicago, Illinois - Meander through Millenium Park and don't forget to take an iconic photo next to Cloud Gate. Then go up the John Hancock Building to the 360 Chicago Observation deck with its tilting platform to enjoy panoramic views.
Milwaukee, Wisconsin - Sample delicious beer at one of the over 25 breweries available here, or visit the Harley-Davidson Museum to find out more about the famous bikes.
Wisconsin Dells, Wisconsin - Connect with nature by taking a boat trip along the gorge or dance the night away in amazing clubs and bars.
Niagara Cave, Minnesota - Discover ancient fossils as you join a guided tour deep into the Niagara Cave.
Badlands National Park, South Dakota - This is your chance to see buffalo and deer who roam the Custer State Park Wildlife Loop. Cameras at the ready - you'll want to show your family these incredible animals when you get back home.
Interior, South Dakota - Perfect for hiking trails, you can walk Cliff Shelf Nature Trailhead, Door Trailhead or Saddle Pass Trailhead.
Mount Rushmore, South Dakota - Home of the famous carved presidents, Mount Rushmore is one of America's most famous sights. Can you name all four presidents?
Little Bighorn Battlefield Monument, Montana - Learn about the history and take time to reflect by attending the site of the Battle of the Little Bighorn.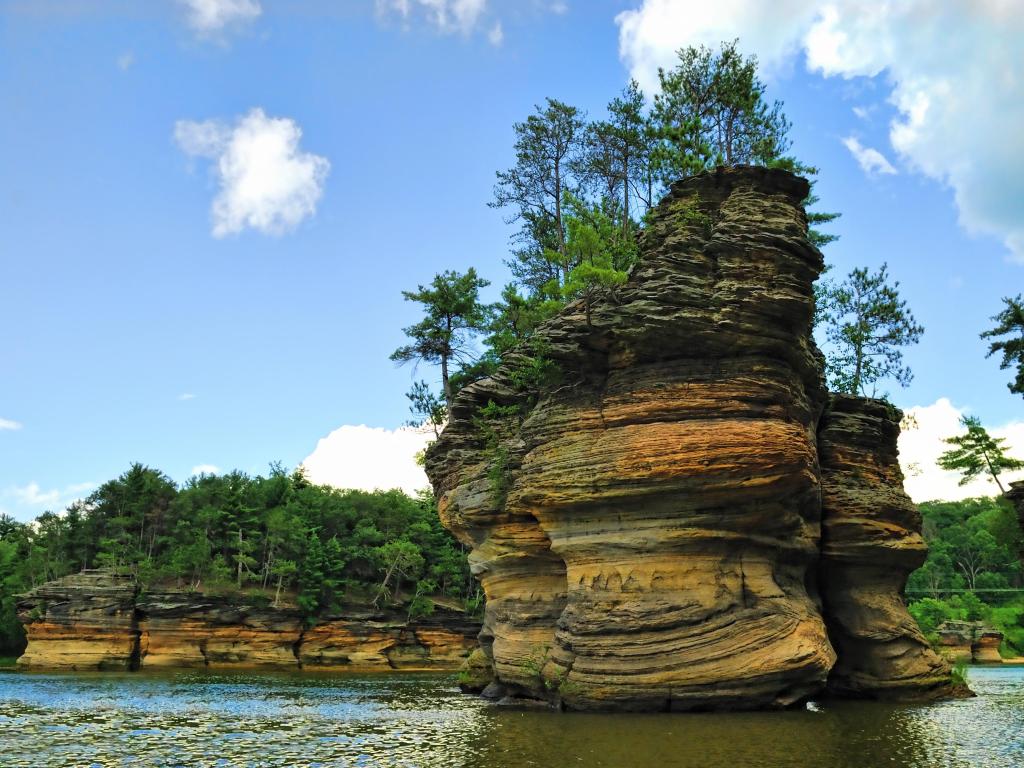 The Colorado Route
Toledo, Ohio - Check out Hensville Park, where exciting live events are hosted throughout the year. Also check out Middlegrounds Park, which is a relaxing downtown Riverwalk.
Indianapolis, Indiana - Perfect for couples looking to enjoy a gondola ride together before a romantic meal for two. Head to Monument Circle to go into the heart of the city.
St Louis. Missouri - Home of the Gateway Arch, a 630-foot monument honouring ex-President Thomas Jefferson.
Chalk Pyramids, Kansas - The Chalk Pyramids were formed 80 million years ago, offering you a brilliant opportunity to step back in time and marvel at the beauty of our world.
Denver, Colorado - Surely no one in Denver has ever been bored, with a buzzing downtown for dancing, Rocky Mountains for exploring and performances at Red Rocks Amphitheater.
Colorado National Monument, Colorado - 23,000 acres of canyons sprawl across this landscape, making for an iconic stop-off.
Frisco, Colorado - Perfect for seasoned skiers and beginners alike, Frisco offers incredible opportunities to take to the snowy slopes.
Copper Mountain, Colorado - An ideal spot to see the Rocky Mountains by flying along on the 5,800 feet long Coaster.
Flaming Gorge National Recreation Area, Utah - Waterski, parasail and raft on the reservoir with a gorgeous canyon backdrop. With campsites surrounding the area, you're never far from the fun.
Jackson, Wyoming - Witness the snow-capped peaks of the Grand Teton Range or the old-west vibe of bustling restaurants and live music.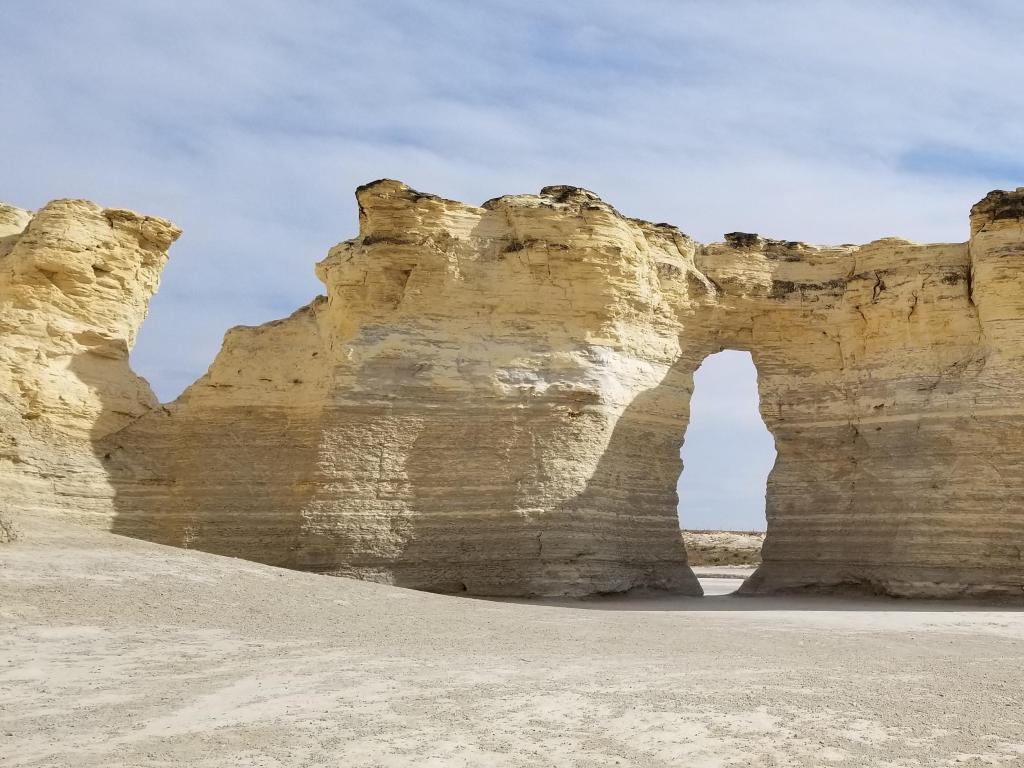 Best time to go on a road trip from Detroit, Michigan to Yellowstone National Park
A road trip from Detroit, Michigan to Yellowstone National Park is best enjoyed in the summer. While the Park is open all year round and 24 hours a day, some areas are harder to reach during the winter - preventing you from having the best experience possible.
During winter, certain landmarks - including Old Faithful - are harder to see, which will affect how good an experience you can have. Some roads are closed by heavy snowfall and ice caused by temperatures dropping as low as 5 degrees Fahrenheit.
Don't be disheartened if you were planning to see Yellowstone in the snow. While challenging, there are guided snow coach and snowmobile tours to help you round.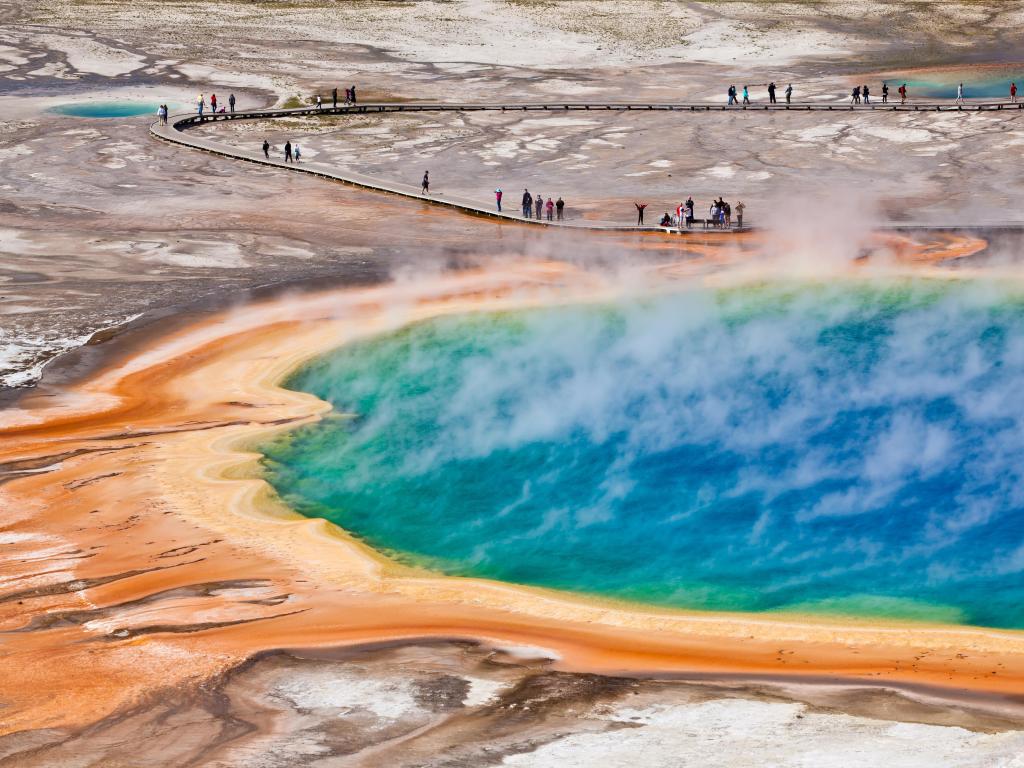 Aware of the drop in footfall during winter, Yellowstone offered 17th January and 11th November 2022 as free entrance days - offering another perk to visiting at this time of the year.
While better than visiting in winter, Spring and Fall still experience some snowfall, preventing you from accessing certain parts of the site. The Grand Loop closes from November to April, meaning some of the spring season is affected.
The advantage, however, is that Yellowstone National Park has five times fewer visitors during these seasons - meaning the site is calmer and quieter.
Summer is the best season, reaching 75 degrees Fahrenheit. The Grand Loop is open for self-drive tours, allowing you the freedom to explore this incredible park at your own pace.