Road Trip from Detroit to Florida
Explore the central United States on this amazing road trip that takes you from beautiful Detroit to the world-famous resorts and epic theme parks of Orlando, Florida. You'll see iconic cities, stunning forests, and some of the most inspiring landscapes in the country.
This 1,280-mile road trip will take just over 18 hours. Top highlights along the way include Louisville, Nashville, Chattanooga, Atlanta, Knoxville, Pigeon Forge, Gatlinburg, Asheville, Charleston, Savannah and America's theme park capital Orlando, Florida.
You'll experience some of the best destinations for fun, nature, and culture on this road trip of a lifetime. Read on below for our recommended routes, places to stay, and exciting stops along the way.
How far is Florida from Detroit, and how long will the road trip take?
Comparison of road trip routes between Detroit and Florida
Route
Distance
Driving Time
The Nashville Route
1,290 miles
18 hours 20 minutes
The Great Smoky Mountains Route


via Knoxville and Asheville

1,290 miles
20 hours 40 minutes
On the Nashville Route, you'll drive 1,280 miles with 18 hours and 20 minutes of driving time. This route is slightly less leisurely and more direct.
The Great Smoky Mountains Route will take you 1,290 miles via the cities of Knoxville and Asheville. You'll be driving a total of 20 hours and 40 minutes on this route and passing the beautiful Smoky Mountains.
Because of all the wonderful scenery and fun along the way, we recommend taking seven to eight days to complete this trip. Read on to learn more about our two suggested routes, where to stay, and what to do when you reach your destination.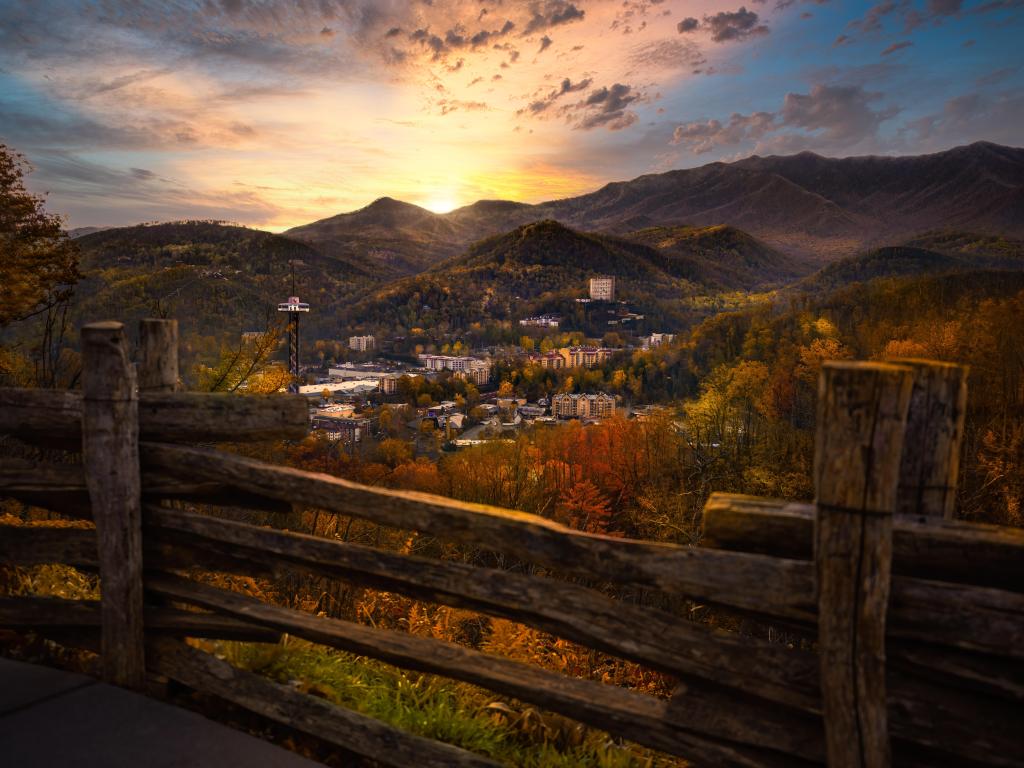 READ MORE - Ultimate Florida Road Trip Itinerary
Best road trip route from Detroit to Florida
Both of our suggested routes will take you to your destination in Florida through iconic cities and unique sights, so the best one to follow will depend on what you'd like to see.
Choose the Nashville Route to discover the bustling cities of Atlanta and Nashville, passing through a variety of states and landscapes along the way.
This route takes you through mostly larger cities, passing vertically through the Central United States and visiting Louisville, Nashville, Chattanooga, and Atlanta before reaching Orlando.
You'll explore a variety of American landscapes, including the plains of Ohio, the forests of Kentucky and Tennessee, the swamplands of Georgia and the beautiful beaches of Florida.
If you love mountain scenery and charming small towns, then choose the Great Smoky Mountains Route. This route takes you through the Carolinas and Tennessee, stopping in small but scenic cities like Knoxville and Asheville and offering a passage by the Great Smoky Mountains as well as along the Atlantic Coast.
How to drive from Detroit to Florida
The map above shows our suggestions for the best road trip routes between Detroit and Florida. Keep reading for detailed descriptions of both routes, where to stay on either, and the best things to do on the way.
The Nashville Route
From the great city of Detroit, head south on Interstate 75 (I-75) into Ohio. Pass Toledo and the coast of Lake Erie on your way to Cincinnati.
From here, take I-71 southwest through the great state of Kentucky down to Louisville. From here, head on I-65 through the center of Kentucky and into Tennessee.
Once you reach Nashville, the capital of Country Music, make your way east into Chattanooga. After exploring the city head south on I-75 to Atlanta.
Continue south into Florida. Take Florida's Turnpike and head straight into Orlando. Here is our epic guide to the ultimate Florida road trip for a bigger adventure.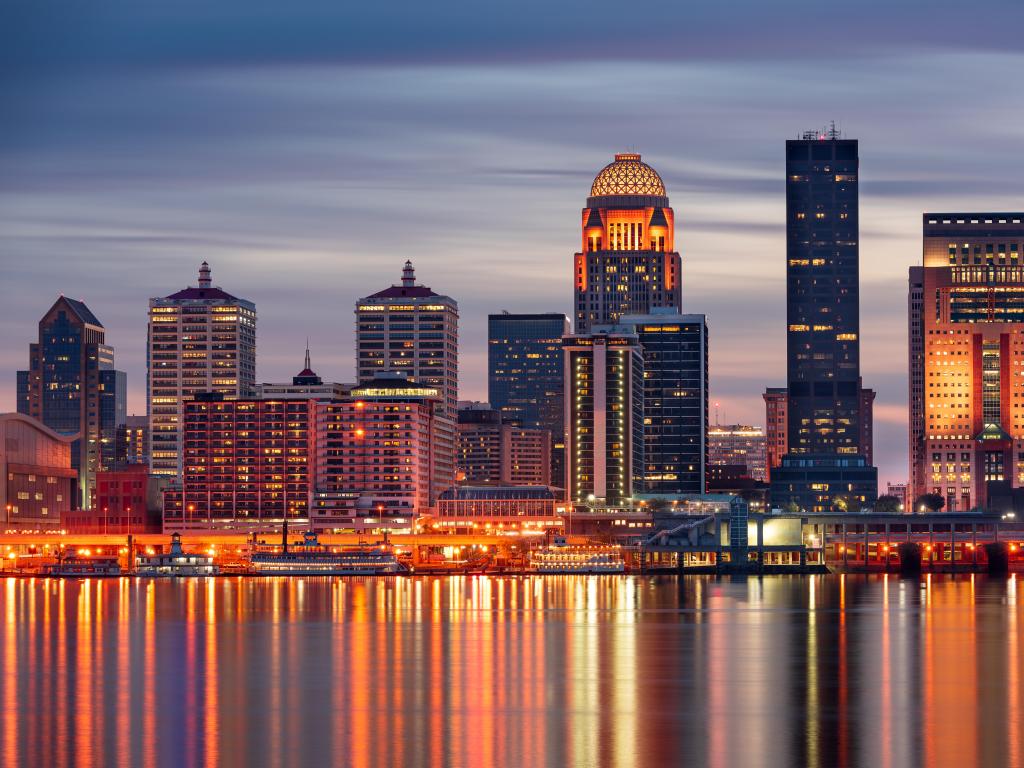 The Great Smoky Mountains Route
From Detroit, also known as Motown, head south on I-75. Drive through the city of Toledo and continue on into Cincinnati.
From here, continue south on I-75 into Lexington, Kentucky. Drive south through central Kentucky and the Daniel Boone National Forest.
Continue on into Tennessee and the wonderful city of Knoxville. After exploring the city, make your way up the windy mountain roads of The Great Smoky Mountains National Park.
Make your way through towns like Gatlinburg and cross the mountains into Asheville. After seeing one of the south's most art and music centered cities, continue on into South Carolina into Charleston.
Drive along the beautiful Atlantic coast and explore the cities of Savannah, GA and Jacksonville, FL. Continue on through northern Florida and make your way into Orlando. If you have more time, here is our ultimate Florida road trip itinerary.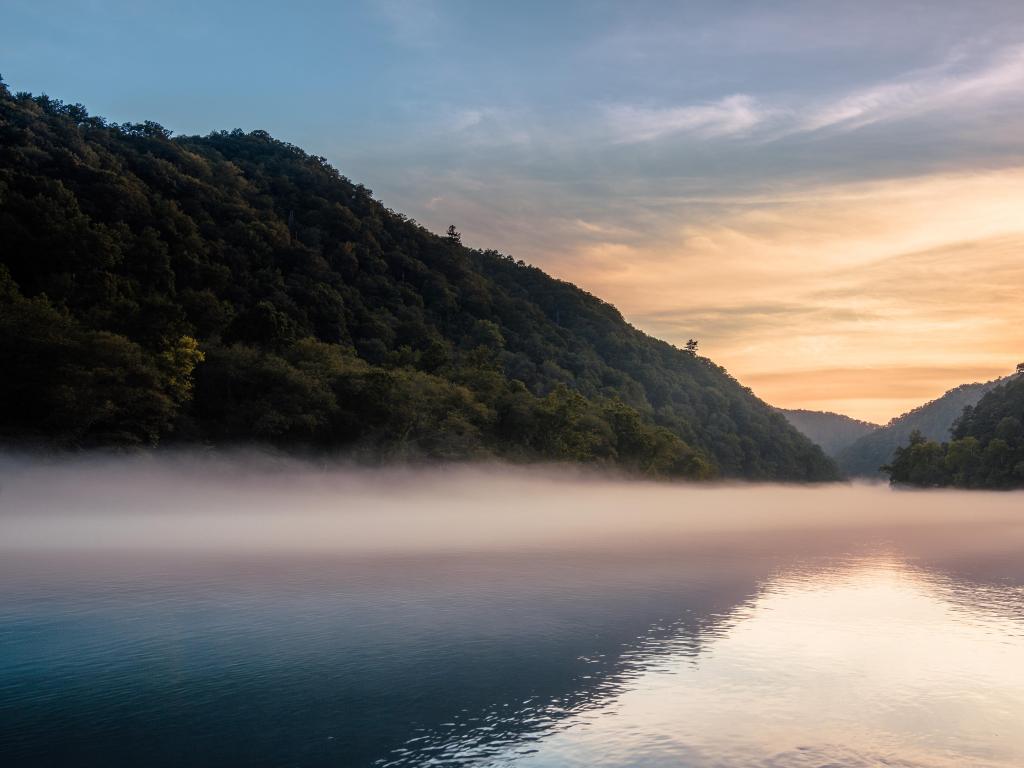 Best places to stop between Detroit and Florida
On both routes, you'll be driving through some of America's most exciting cities. To help you choose the perfect stopover, we've selected our top two destinations plus our recommended hotels.
Soak up the rich culture of Atlanta
Just over halfway on the Nashville Route is the city of Atlanta. This colorful city has a rich music and art scene and hosts music festivals and some of the country's best museums. On top of that are its timeless architecture, history, and booming food scene.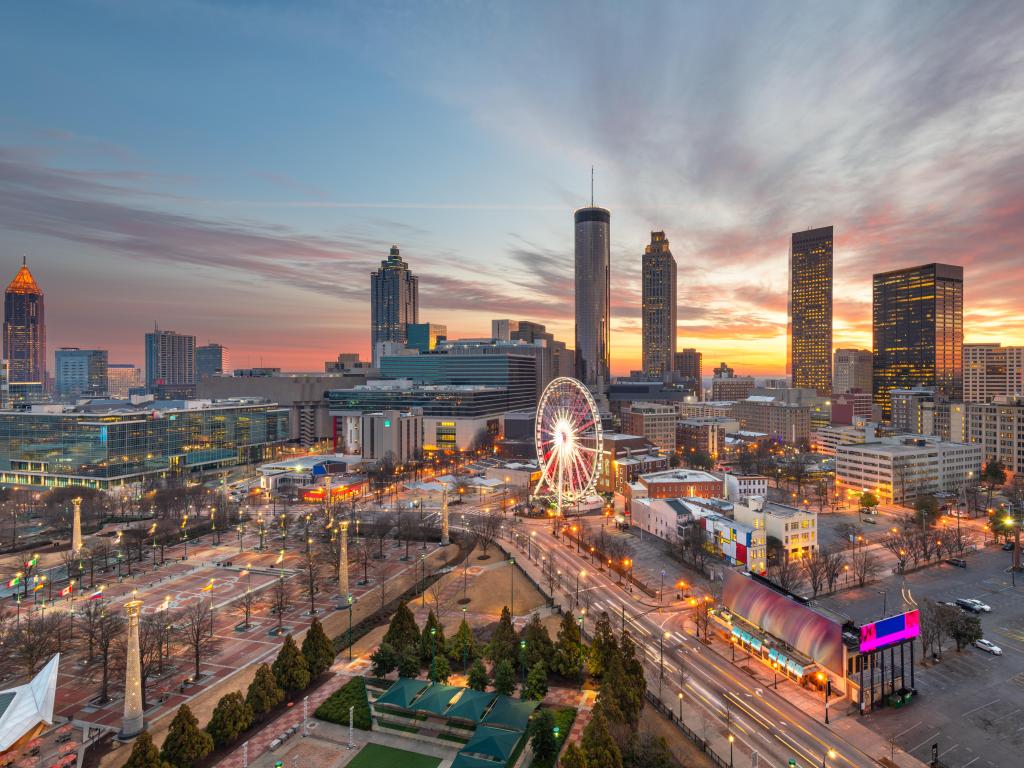 There are plenty of things to see and do in this amazing southern city. If you love animals, Zoo Atlanta is a wonderful attraction where you can see thousands of animal species including pandas.
A short drive outside the city is the Delta Flight Museum. This museum offers hands-on exhibits and vintage aircraft plus plenty of photo opportunities.
While in Atlanta, you should visit the World of Coca-Cola. This unique attraction takes you through the history of one of the world's most famous beverages.
Once you reach Atlanta, we recommend spending the night in the luxurious and centrally located Epicurean Atlanta. This stylish and new hotel is located in the city's commercial center, so you will find Atlanta's top sights, including the High Museum of Art and Piedmont Park.
In this food-focused hotel (as its name implies), you will find a top-notch restaurant to enjoy a delicious meal at. Make sure to also check the fabulous outdoor pool and have a dip before you need to check out.
Explore the Marble City of Knoxville
About halfway on the Great Smoky Mountains Route is the city of Knoxville. Located on the picturesque Tennessee River, Knoxville is one of the most historically significant cities in the American South.
The Great Smoky Mountains are a stunning range of mountains, nicknamed Smoky because of the beautiful fog that sits in the valleys. These mountains are known for hosting diverse plants and wildlife, and for being full of history.
In addition to being a great gateway to this natural wonder, Knoxville is home to architectural beauty as well. The downtown was recently renovated and has several iconic 19th-century buildings.
For a dose of culture, head to the famous Knoxville Museum of Art. This contemporary museum showcases new and old works of art from the area's top artists.
Once you arrive at your destination of Knoxville you will have plenty of lodging options, but none of them come close to The Tennessean Personal Luxury Hotel. This beautiful hotel is centrally located downtown.
The hotel is full of fantastic amenities and offers a traditional southern hospitality experience. The hotel's interior is chic and modern with the popular Drawing Room restaurant serving a rotating seasonal farm-to-table menu.
Nearby, you can walk to the city's top restaurants, bars, museums, and more. Make sure to check out the Frank H McClung Museum and the mighty Tennessee River. You're also very close to the highway so you can get back on the route in no time.
Where to stay when you reach Florida
Once you reach Orlando, try to stay at the famous Four Seasons Resort Orlando at Walt Disney World Resort. The hotel is an iconic, AAA Five Diamond Resort dotted with gardens, pools, and towering pillars of palms and cypress.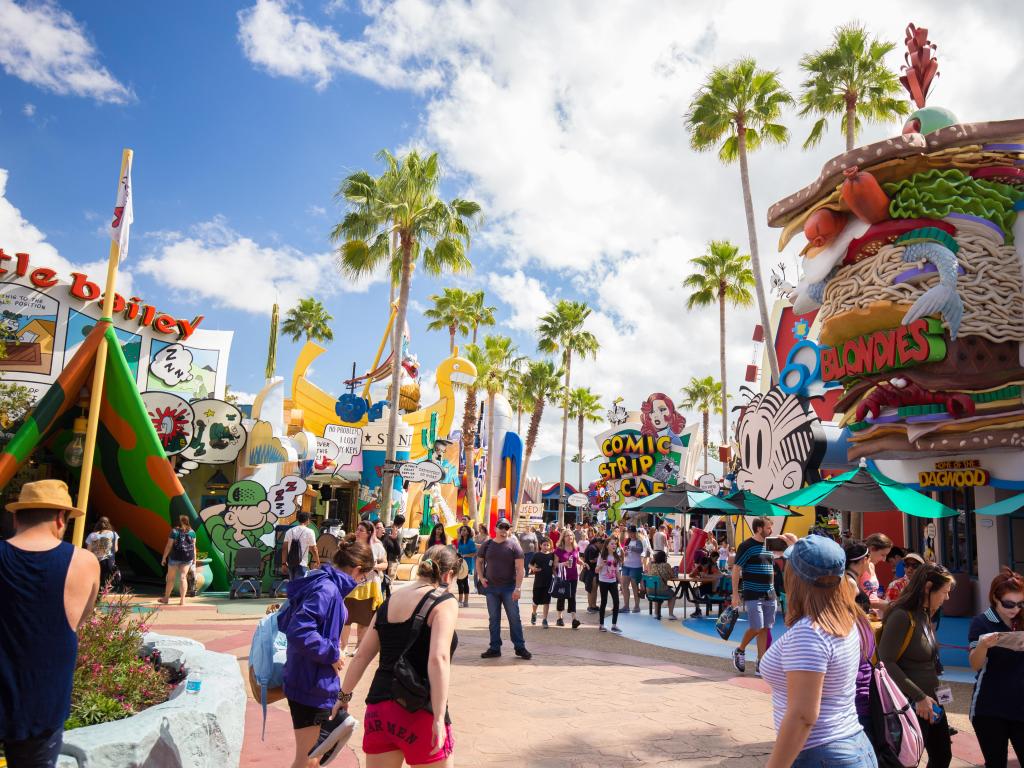 The hotel offers luxury shuttles to the four Disney Parks, a luxurious spa and salon, 6 on-site restaurants, and a private 5-acre water park on sight as well. To top everything off, there's tons of fun for adults, including the infinity-edge adults-only pool surrounded by palm trees and cabanas.
The Four Seasons Resort Orlando is listed in Trip Advisors' top one percent of luxury hotels worldwide - which suggests you'll be having the stay of a lifetime!
Things to see on a road trip from Detroit to Florida
This road trip is jam-packed with things to do and see. To help make your choices easier, we've included our top destinations below.
The Nashville Route
Louisville - Kentucky's largest city, this wonderful metropolis is right on route and is perhaps most well-known for the Kentucky Derby in May. That being said, you'll still find lots to do in this city including a visit to the Louisville Slugger Museum & Factory, which produces baseball paraphernalia for the Major League.
Sam Davis Home - This former home of a Civil War soldier was built in 1810. It features exhibits on the dark period of slavery in US history.
Tennessee Aquarium - The great inland aquarium in Chattanooga was built on the shores of the Tennessee River. It has plenty of marine life, birds, and butterflies as well.
Chief Vann House Historic Site - This home was built in 1804 and was the first brick residence built in the Cherokee Nation. You can take a tour and explore the beautiful gardens and exhibits.
Southern Museum of Civil War & Locomotive History - This museum is a Smithsonian affiliate and has permanent exhibits featuring plenty of hands-on activities and items related to the Civil War-era railroad.
Zoo Atlanta - In this incredible animal park, you can see 1500 animals. The park is open until 3:30 on weekdays and 4:30 on weekends.
Jarrell Plantation State Historic Site - Located just outside the town of Macon, the Jarrell Plantation State Historic Site is another site dedicated to the painful legacy of slavery in the American South.
Museum of Aviation - Just southeast of Macon is this wonderful free museum and educational center dedicated to aviation. You can experience a flight simulator and get close to several classic planes.
Marjorie Kinnan Rawlings Historic State Park - Southeast of Gainesville is this restored 1930's farmhouse that once was the home of Pulitzer Prize-winning author Marjorie Kinnan. The incredible house is tucked in between the beautiful Orange and Lochloosa Lakes.
This National Historic Landmark - This was the site of one of the costliest American Indian battles. It is now a community hub full of green spaces, picnic tables, and a battle reenactment every January.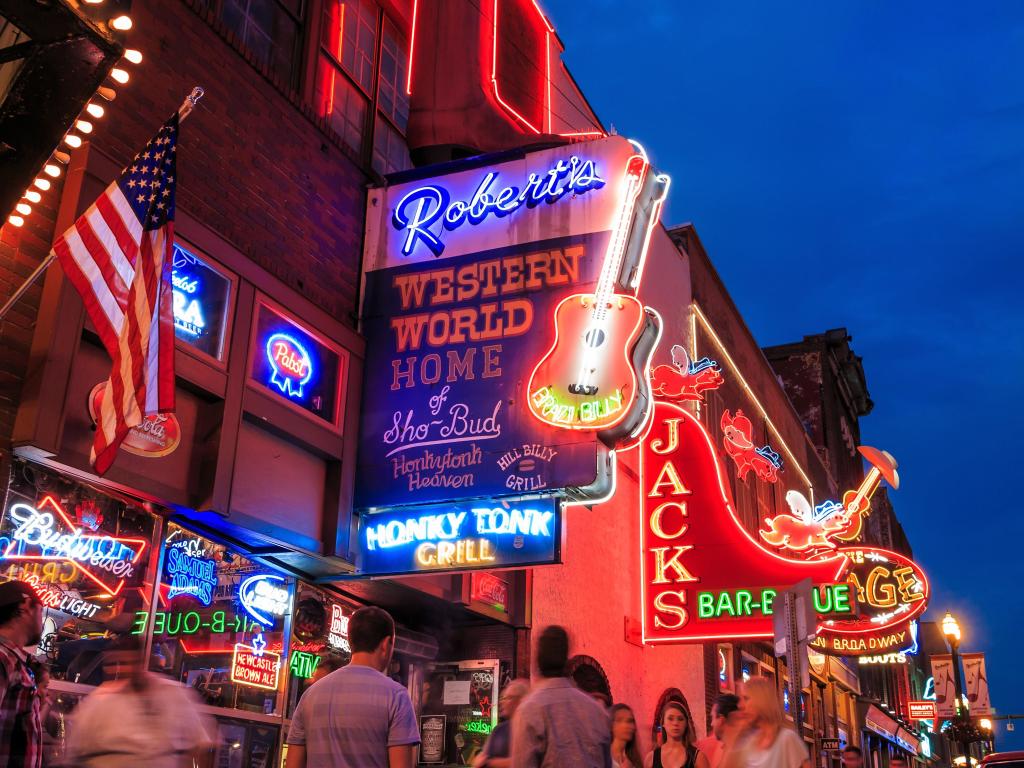 The Great Smoky Mountains Route
Lexington, KT - This smaller city is easily accessible along this route and is best known for its horse farms, as well as the International Museum of the Horse.
International Friendship Bell - The International Friendship Bell weighs over 8000 pounds and commemorates the Manhattan Project, Oak Ridge, and most importantly world peace.
Wheels Through Time Motorcycle Museum - At 38,000-sq.-ft, this museum is a monstrosity. The museum houses over three hundred rare motorcycles and has educational and interactive exhibits that are fun for all ages.
Chimney Rock State Park -This famous rock formation boasts gorgeous panoramic views. Nearby in the same state park are waterfalls and endless hiking trails.
Peachoid - Just off the route is this 135-ft tall water tower resembling a giant peach.
Francis Marion & Sumter National Forests - Come enjoy this beautiful natural space, noted for its beautiful vistas overlooking Lake Murray, wildlife, and deep forests.
Riverbanks Zoo & Garden - This animal park and garden features animals from around the world. Some highlights include a birdhouse, botanical gardens, reptile galleries and even a penguin enclosure.
South Carolina State Museum - Located on four floors of a former textile mill, this contemporary museum contains revolving exhibits on art, nature, history and science & technology.
McLeod Plantation Historic Site - Walk along the grounds of this former plantation complete with a Georgian-style mansion and slave cabins. This museum is dedicated to educating people about this dark period in American history.
Pinball Palace - This unbelievably fun stop was voted one of the best Pinball Arcades in the USA, The Pinball Palace in Brunswick, GA is home to 100 pinball machines, 40 classic arcade games and 3 bouncy castles that will be fun for the entire family.
St. Augustine Alligator Farm - Come see this 100-year-old alligator sanctuary and experience its daily wildlife shows.If you're feeling brave, take a zipline over the sanctuary and look down at the dozens of species of reptiles and birds below.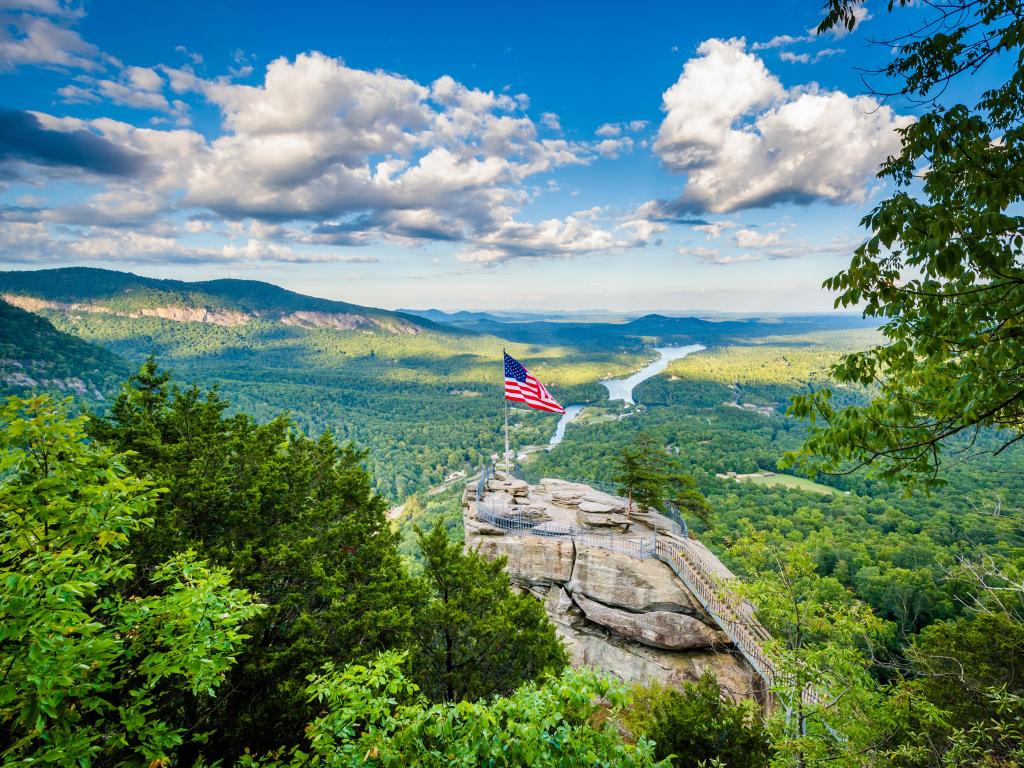 Both Routes
Cincinnati - This bustling city is located right en route and makes the perfect pit stop; it's celebrated for its 19th-century architecture and the iconic Cincinnati Zoo & Botanical Garden!
Cookeville Depot Museum - This railroad depot was built in 1909 and is now a museum housing classic antiques and train-related artifacts.
Ozone Falls State Natural Area - These beautiful falls flow in front of a rough rock amphitheater. Hikers can take advantage of the many trails and nature areas or even picnic in the park's spacious sitting areas.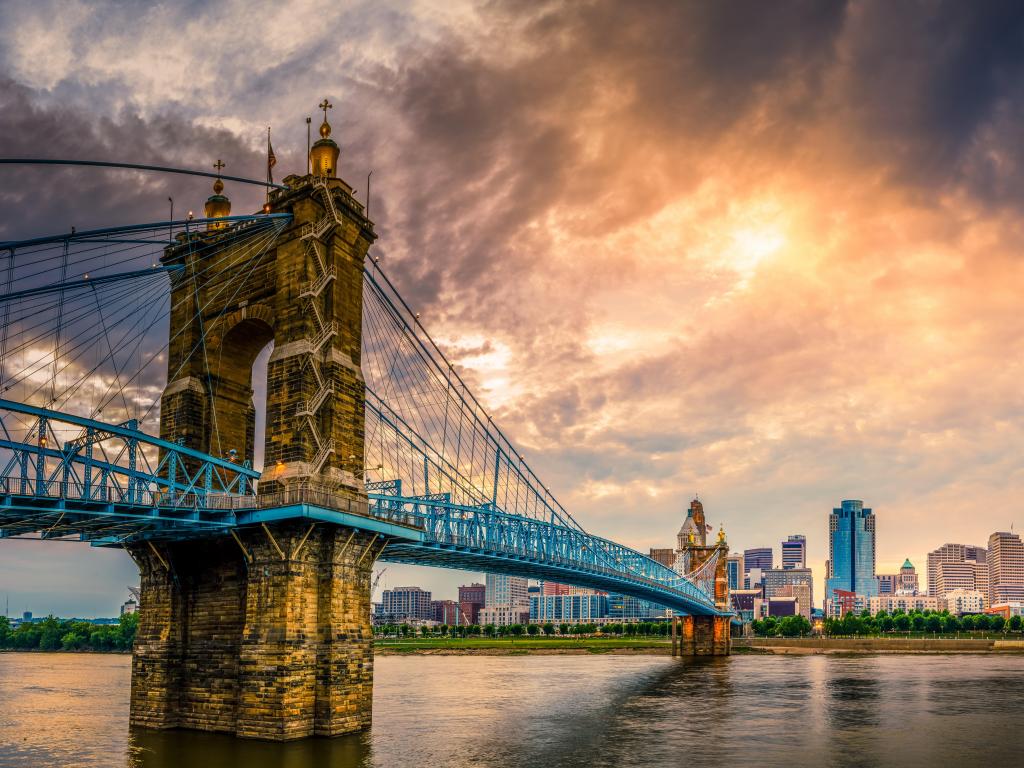 Best time to go on a road trip from Detroit to Florida
Orlando is absolutely a year-round destination, and indeed, due to its many parks, this city enjoys tons of tourism throughout all seasons, especially in summer.
Summers are long and hot; perfect for a day in the waterpark! Temperatures in summer range between 69 and 91 degrees Fahrenheit, sometimes going over this range but rarely going under. You might encounter some rain as well, so make sure to pack some waterproofs.
If you are visiting in summer, make sure to check out the Florida Strawberry Festival and sample some of the strawberry-centric foods and drinks on offer.
Winters, on the other hand, are short, cool and partly cloudy. Temperatures range between 52 and 74 degrees Fahrenheit, sometimes dipping down to 40 degrees Fahrenheit. Winter tends to be slightly less busy with tourism, with the exception of the holiday season.
Mild winters make Florida a very popular destination during the Christmas period. During the winter months, you can also participate in the unique Orlando Renaissance Festival and Light Up UCF.
Spring and fall are great times to visit Orlando, as they're considered the shoulder seasons and see less tourism and cheaper accommodation even though the weather is perfect. Average temps for both seasons range between the mid-50 and mid-70 degrees Fahrenheit.
If you happen to be in town in April, Florida Puerto Rican Parade & Festival is a fantastic event to spend some time at.