Road Trip from Detroit to Niagara Falls
Looking for an adventure that has a little bit of everything? On a road trip from Detroit to Niagara Falls, you're sure to be spoilt for choice between places of historic and cultural significance, outstanding natural beauty spots and charming cities.
The 630-mile road trip from Denver to Niagara Falls will take you 11 hours to drive. The notable stops are Ann Arbor, Cleveland, Pittsburgh, Jamestown, Buffalo, Cuyahoga Valley National Park, Allegheny National Forest and Kinzua Bridge State Park.
Ending at the stunning Niagara Falls, the many places to see before this final wondrous destination make it a road trip well worth the mileage. Read on to find out which route is for you, and the best place to stay once you get there.
How far is Niagara Falls from Detroit, and how long will the road trip take?
Comparison of road trip route options between Detroit and Niagara Falls

| Route | Distance | Driving Time |
| --- | --- | --- |
| The Canada Route | 280 miles | 5 hours 20 minutes |
| The USA Route | 630 miles | 11 hours 20 minutes |
The Canada Route is the shorter of our two routes, covering 280 miles with around 5 hours and 20 minutes total driving time. You'll pass through colorful small cities and places filled with history, with Tiffany Falls at Hamilton a highlight, making a stunning prelude to Niagara Falls.
Alternatively, the longer USA route covers 630 miles with a total drive time of about 11 hours and 20 minutes. Perfect for those who like to see plenty of sights, this route really packs in nature, art, culture and vibrant city life, plus the must-do SkyWalk at Kinzua Bridge State Park.
You can do the drive between Niagara Falls and Detroit in a little over 5 hours. Realistically, the Canada route could be done in a day, but we recommend taking your time over two-three days to leave plenty of time for city exploring and some gorgeous hikes.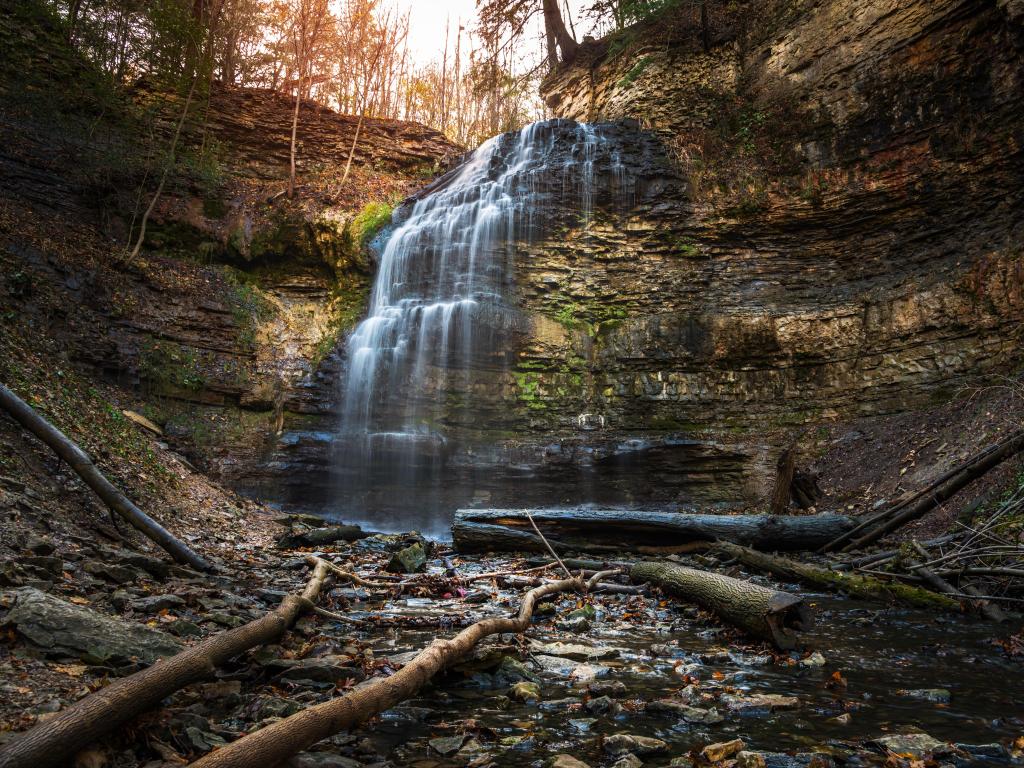 Best road trip route from Detroit to Niagara Falls
The best road trip will depend on what you would like to see on a road trip from Detroit to Niagara Falls and on whether you'd like to cross international borders or not.
The USA Route has the perfect balance of nature and city life. Think vibrant nightlife, historic cities and glorious national parks. This route spans four states, taking you through Michigan and into Ohio, crossing off iconic Cleveland on your way.
You'll head to Pittsburgh, Pennsylvania before hitting historic Jamestown and Buffalo in the state of New York. If you're short on time you can bypass Pittsburgh and drive by Lake Erie instead, though bear in mind you'll miss out on the SkyWalk at Kinzua Bridge State Park.
The more direct route through Canada takes you through Southern Ontario. You'll pass through the small cities of Strathroy and Brantford, and stunning natural spots including Tiffany Falls. You'll also cross the border over the Blue Water Bridge.
The USA Route
Head out of central Detroit and drive east to Ann Arbor via Interstate 96 (I-96) and then carry on to Toledo, driving parallel to the shores of Lake Erie.
From Greenbelt Parkway join I-280, then take I-80 and head east towards Cleveland. Drive to West Roadway; from there, it's less than an hour to Akron.
To get from Akron to Pittsburg, drive east and take I-279 into the city. When you're done exploring Pittsburgh, head north out of the city towards Buffalo. Head north and drive towards your destination, the world-famous Niagara Falls.
The Canada Route
From Detroit, drive north towards Metro Parkway, keeping Lake St Clair on your right. From here, it's just a few minutes east along the interstate and state highways to Sarnia, where you will cross the border from the USA to Canada and then head to Strathroy.
Follow County Road 39 and then ON-22 to London. When leaving London, head east to Brantford, and then to Tiffany Falls and Hamilton.
Head north to get to the Royal Botanical Gardens in Burlington. Then follow Regional Road 77 to St Catharines, then continue on to the Canadian side of Niagara Falls.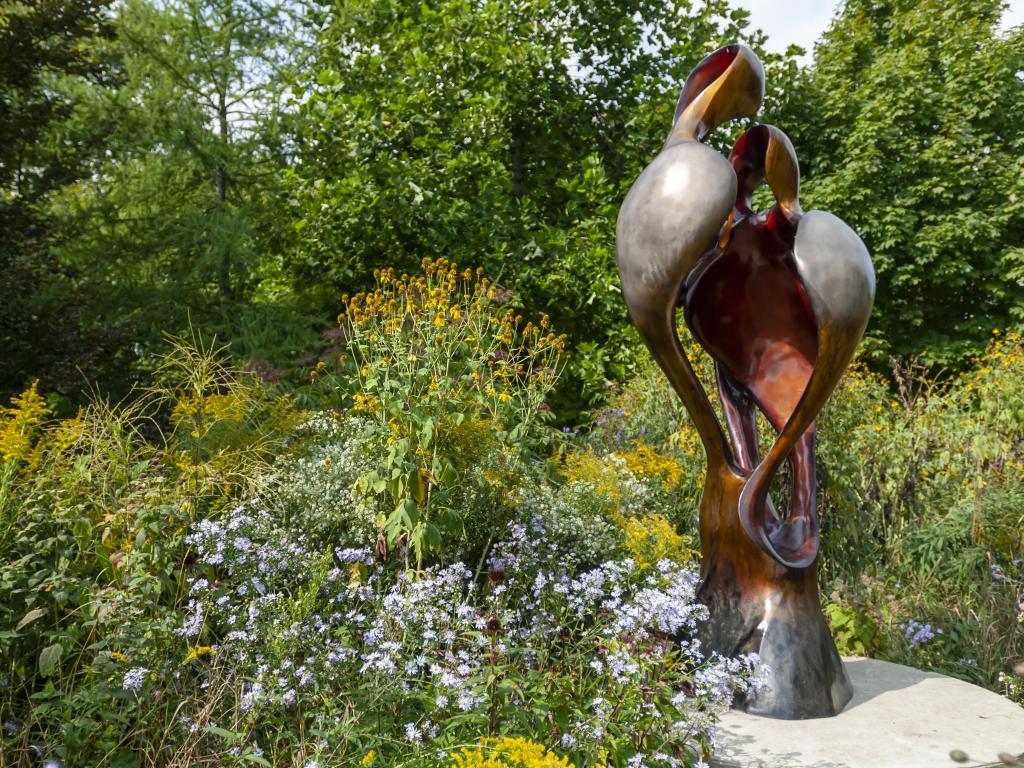 Best places to stop between Detroit and Niagara Falls
Whichever route you choose, we recommend at least one overnight stop, so you can make the most of the plenty cities and parks you'll pass through on the way.
A break in London, Canada
If you take the Canada Route, we suggest planning for an overnight stop in London, Ontario. It's halfway between Detroit and Niagara Falls, giving you ample time on each leg of your journey to explore the places you pass through.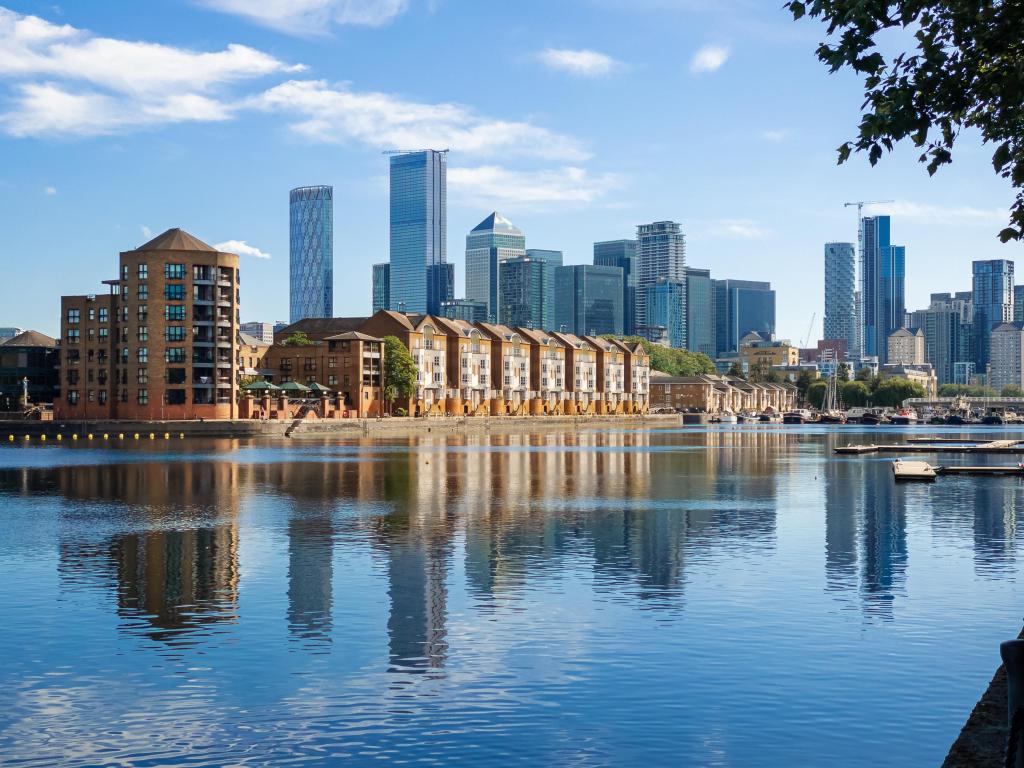 You might be surprised to learn that this charming Canadian city, very much like its namesake in England, has a Thames River passing through it. Many of the city's streets are also named after the capital city of England-try to spot some during your stay!
The newly renovated Delta Hotels by Marriott is the perfect place to bed down for a night or two while visiting London (at least, the one in Canada!). The contemporary calming decor and indoor pool will help you unwind, while paid parking is available.
It's also just a short walk away from the tranquil Victoria Park, where you can have a leisurely stroll or a picnic, and downtown London, while the Thames River is a short stroll away. The city even has its own Covent Garden – perfect for people-watching.
London also has many cultural sights to explore. There are plenty of museums to choose from – we recommend the London Museum, The Museum of Ontario Archaeology and the Canadian Medical Hall of Fame.
Visit the "City of Bridges", Pittsburgh
If you decide to do the road trip via the USA Route, the welcoming city of Pittsburgh in Pennsylvania is our number 1 choice for an overnight stop. The aptly-named City of Bridges is halfway along the route for a well-deserved driving break and a healthy dose of art and culture.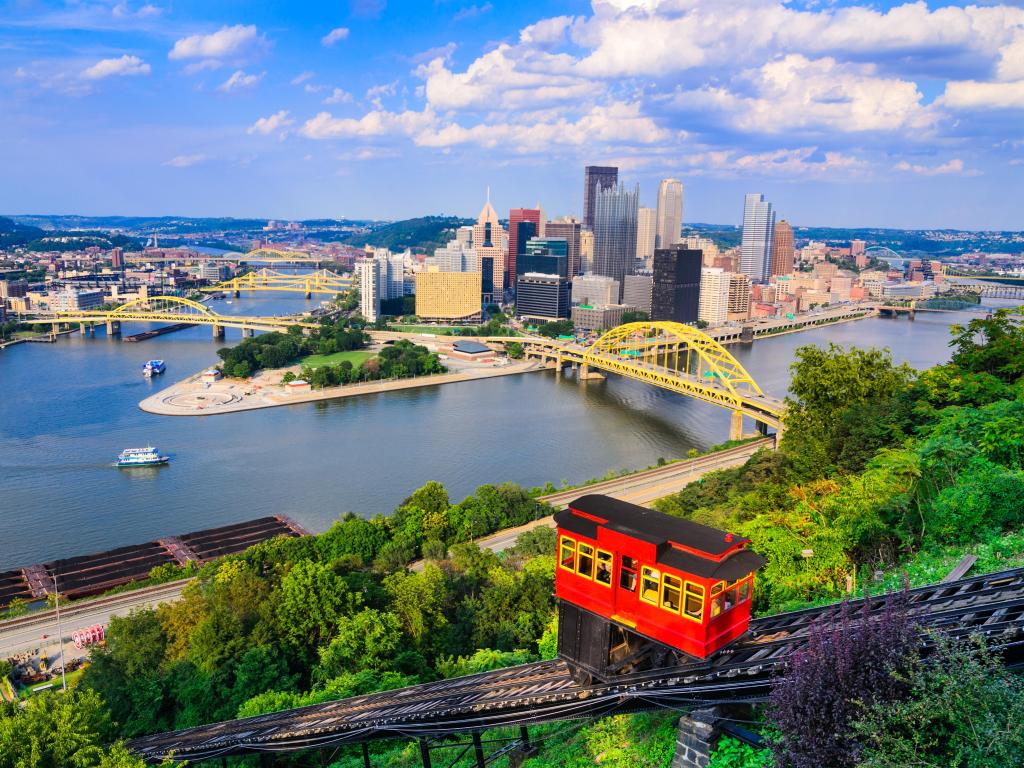 One of the few places to stay with free parking, Hampton Inn & Suites Pittsburgh Downtown has everything you need after a drive-including a fabulous indoor pool; the perfect way to stretch tired muscles.
If you are feeling energetic, the property is located on the edge of the cultural district and is within the walking distance of the Andy Warhol Museum, the biggest collection of Warhol's artworks in the world. To get there, walk along the Andy Warhol Bridge and enjoy fabulous views of the city.
Another must-see is the Carnegie Museum of Natural History, known as one of the best museums in the US. Ride the cable car at Duquesne Incline, and be sure to catch a sports game – the Pittsburgh Steelers are major players in the NFL league, with six Super Bowls to their name.
Where to stay when you reach Niagara Falls
Being a very popular touristic spot, it isn't surprising that Niagara Falls has several accommodation options on offer. That being said, none of them come close to The Cadence with its stylish and contemporary decor and amenities.
Its superb location is just half a mile away from the Niagara River, making it easy to go to the Maid of the Mist to gaze upon the main attraction.
Things to see on a road trip from Detroit to Niagara Falls
There are so many things to see with many epic cities and memorable attractions on a road trip from Detroit to Niagara Falls. To make your planning easy, we prepared a list of our top recommended things to see on each route.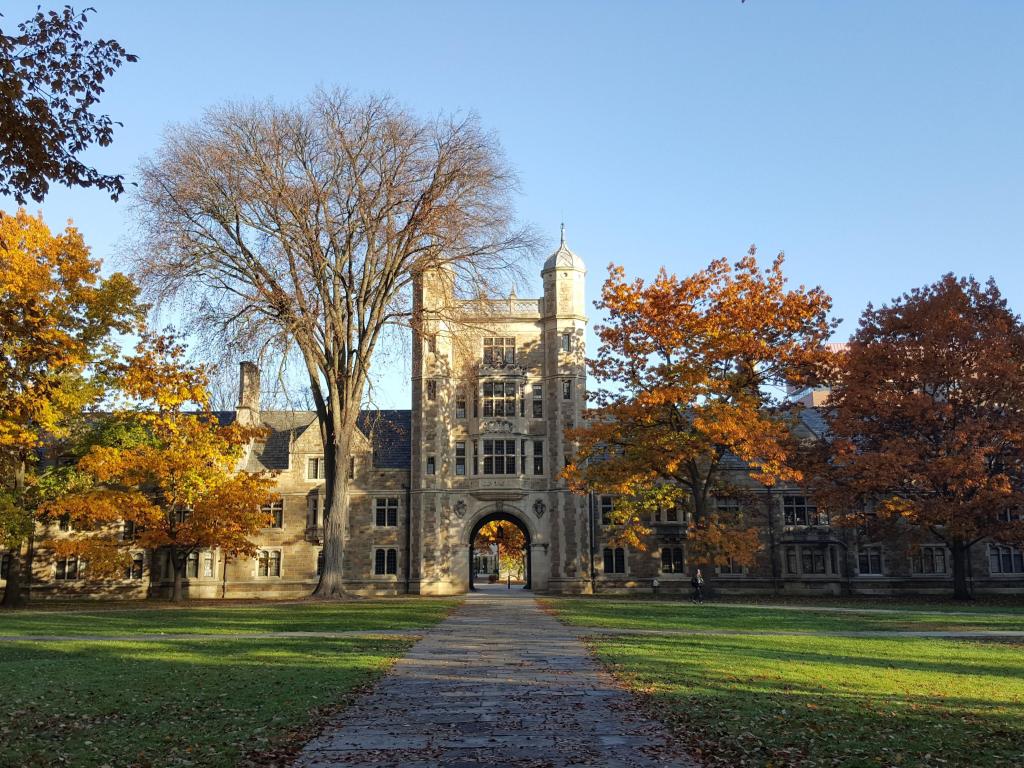 USA Route
Ann Arbor – Take in the relaxing, free-thinking vibes of the city on Main Street. There's lots of art to discover too.
Toledo, Ohio – The Toledo Museum of Art houses collections from around the world and be sure to take a look at the Queen of the Most Holy Rosary Cathedral.
Cleveland – One for the music fans, cultural Cleveland is home to the Rock N Roll Hall of Fame.
Cuyahoga Valley National Park – A stunning 33,000 acres expanse of hiking trails, imposing rock formations and towering waterfalls.
Akron – This small historic town isn't short of attractions. Tour a 1915 mansion at the Stan Hywet Hall & Gardens and travel on the Cuyahoga Valley Scenic Railroad.
Pittsburgh, Pennsylvania – Discover a plethora of museums and art, then let loose on the Strip with its electric nightlife.
Allegheny National Forest – For a once-in-a-lifetime experience head to the Kinzua Bridge State Park to do the Skywalk along an old railway bridge over the gorge.
Buffalo, New York – The second largest city in the state, explore one of the many museums before strolling along Canalside where you'll find bars and cafes galore.
Canada Route
Lake St Clair Metropark – Watersports, a beach and scenic views create the perfect antidote to the bustle of Detroit.
Sarnia, Ontario – Situated on the edge of the St Clair River, visit Centennial Park to unwind.
Strathroy – Every Tuesday the Museum Strathroy-Caradoc has a heritage walking tour at 2pm, a fantastic, immersive way to learn about the local history.
London –Like its British namesake, London has many green spaces. Stroll along the River Thames and visit St Peter's Cathedral Basilica to see the stunning stained-glass windows.
Brantford – On the way to Brantford, stop at the Glenhyrst Art Gallery of Brant and the Myrtleville House Museum. You can also visit Bell Homestead, where Alexander Bell invented the telephone.
Hamilton – Explore hidden gem Tiffany Waterfalls, in a stunning Conservation area.
South Burlington – The grandiose Royal Botanical Gardens are a must-see in the south of the city. Continue driving and stop at Dundurn Castle, a stately home built in 1835.
St Catharines – Explore historic downtown and enjoy multiple shops, cafes and pubs in this colorful city.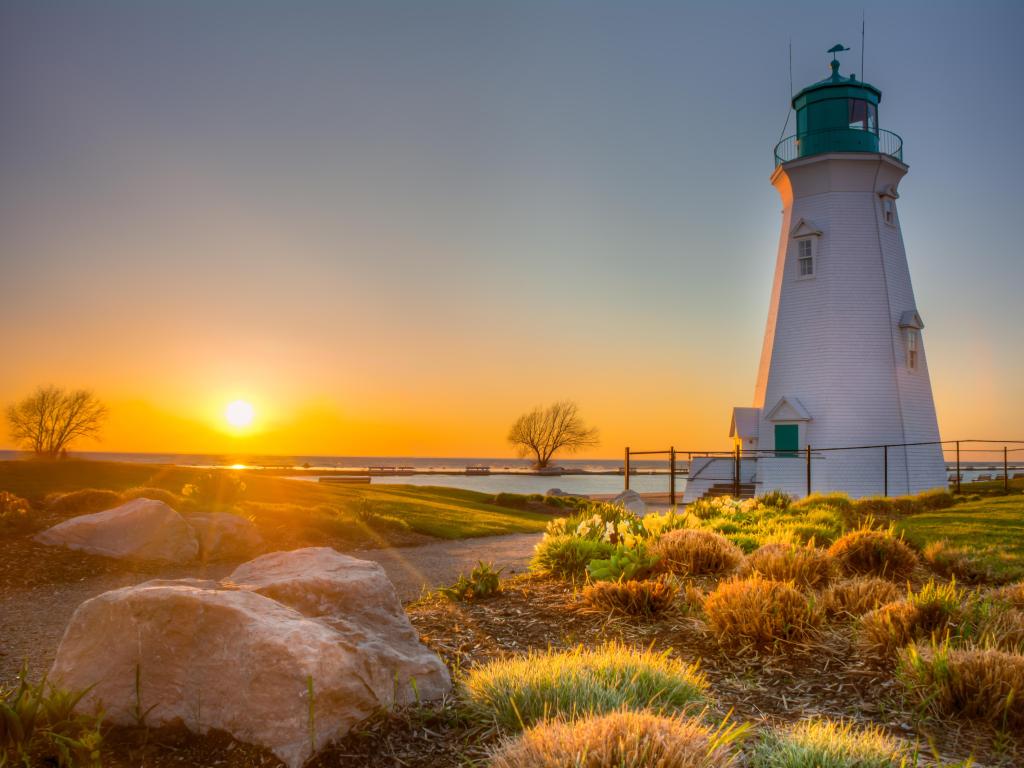 Best time to go on a road trip from Detroit to Niagara Falls
A tourist destination year-round, Niagara Falls can get especially crowded during the summer months of July and August, and at weekends throughout the year.
Summer has pleasant temperatures of 60-72 Fahrenheit, so June is a good month to go to avoid peak times yet enjoy a warmer climate.
September and May sport similar temperatures to June (57-63 Fahrenheit) and are quieter too. The boat trips operate, so it's still a great time to visit.
Winter can get cold at the Falls. November, December and January see average temperatures of 25-41 Fahrenheit, with January being the coldest month. This means snow and ice! If you visit Niagara Falls in winter, you can catch it looking like it is frozen and suspended mid-air!
This is actually an illusion because the waters keep flowing under the icy top layer. Nevertheless, this magnificent sight brings tourists to the area in the colder months. It is good to note that the boat trips only operate from May to November.