Road Trip from Florida to Portland, Maine
The Eastern Coast of the United States has tons to offer when it comes to attractions, must-see cities, charming towns and gorgeous nature. For the ultimate exploration of the East Coast, check out our road trip from Florida to the beautiful coastal city of Portland, Maine.
The 1,500-mile road trip from Florida to Portland, Maine will take about 25 hours to drive. Notable sights are New York, Boston, Jacksonville, Savannah, Charleston, Washington DC, New Haven, Shenandoah National Park and Blue Ridge Parkway.
If we've piqued your interest, keep reading to discover all that awaits you on this once-in-a-lifetime road trip.
How far is Portland, Maine from Florida, and how long will the road trip take?
Comparison of road trip routes between Florida and Portland, Maine

| Route | Distance | Driving Time |
| --- | --- | --- |
| The Atlantic Coast Route | 1,500 miles | 25 hours |
| The Blue Ridge Parkway Detour | 1,520 miles | 25 hours |
We've got two stunning routes that will take you from Florida to the beautiful city of Portland, Maine. They share lots of similarities, with the key difference that the Blue Ridge Parkway Route veers inland and away from the coast to pass through the Blue Ridge Mountains.
The Atlantic Coast Route sticks to the stunning Atlantic coast from Florida all the way up through New York to Maine. This route will take you about 25 hours to traverse, crossing about 1,500 miles in total.
The Blue Ridge Parkway Detour is slightly longer at 1520 miles but will also take you about 25 hours to cross without accounting for breaks or overnight stays!
While you could feasibly make this trip within a weekend, we recommend taking at least a week to complete this trip to get the most out of the many on-route attractions.
Looking to extend your road trip to Maine? Here is our ultimate road trip itinerary.
READ MORE - Ultimate Maine Road Trip Itinerary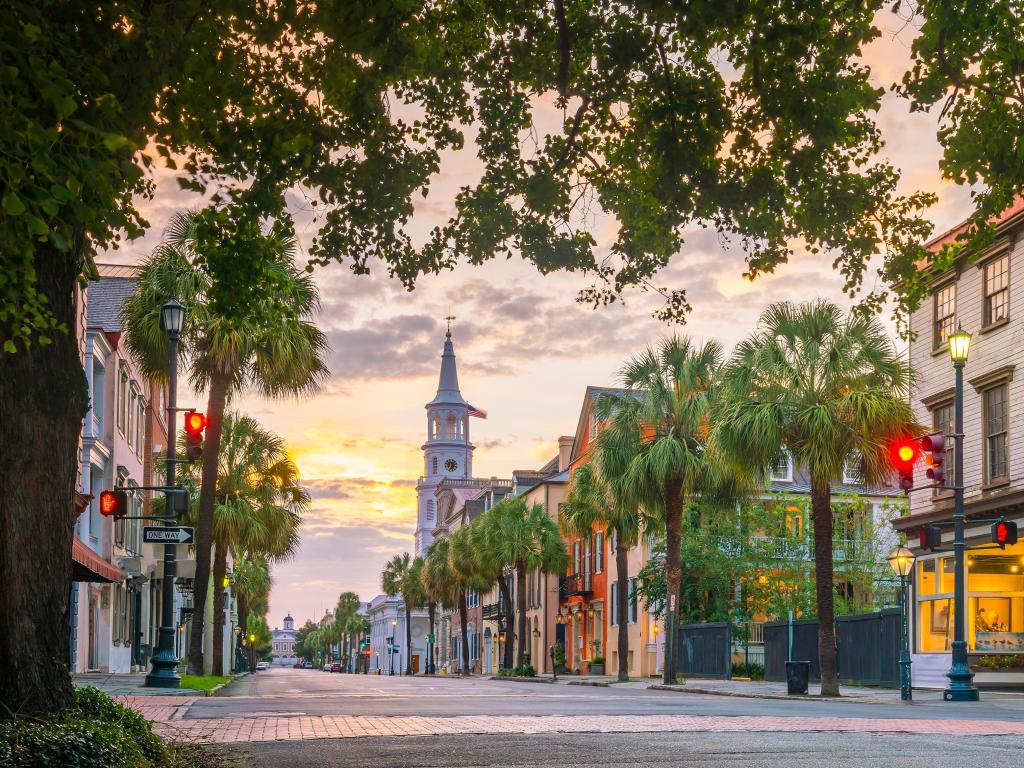 Best road trip route from Florida to Portland, Maine
When it comes to choosing a route for this road trip, it all comes down to what sort of experience you're looking for. For the most part, the routes follow similar paths, with the exception of a detour away from the coast and towards the Blue Ridge Mountains on the Blue Ridge Parkway Detour.
The Atlantic Coast Route spans the entire length of the Atlantic Coast, from picturesque Florida up to charming Portland, Maine. With stops in several cities, including popular destinations such as New York, Washington DC, Savannah, Philadelphia, and Boston, this route is city-forward but still offers stunning views of the Atlantic.
The Blue Ridge Parkway Detour is a breathtaking route that allows you to experience the beauty of the Blue Ridge Mountains and Shenandoah National Park. Along the way, there are several small and large cities to explore, including the must-see destinations of New York City, Washington DC, and Baltimore.
This route offers an unforgettable journey through stunning natural landscapes, historic landmarks, and charming towns. From the majestic mountains to the bustling cities, the Blue Ridge Parkway Detour offers something for every type of traveler.
How to drive from Florida to Portland, Maine
The map above shows our suggestions for the best road trip routes between Florida and Portland, Maine. Keep reading for detailed descriptions of both routes, where to stay on either, and the best things to do on the way.
The Atlantic Coast Route
Starting in Orlando, head north on Interstate 95 (I-95) towards Jacksonville. After about two hours, you will arrive in Jacksonville, where you can take a stroll on the beach or visit the Cummer Museum of Art and Gardens.
Continue on I-95 North until you reach Savannah, Georgia. This beautiful and historic city offers a variety of attractions, including the stunning Forsyth Park and the Savannah Historic District.
Next, head north to Charleston, South Carolina, which is known for its rich history, beautiful architecture, and delicious cuisine. Take a walk down Rainbow Row, visit the famous Charleston City Market, and enjoy some shrimp and grits for lunch.
From Charleston, head up to Richmond, Virginia. Richmond offers a variety of historical sites, such as the American Civil War Museum and the Virginia State Capitol.
After exploring Richmond, drive to the nation's capital, Washington D.C. This city is full of iconic landmarks, such as the White House, the Lincoln Memorial, and the Smithsonian National Museum of American History.
From DC, drive to Philadelphia, Pennsylvania and visit the Liberty Bell and Independence Hall, where the Declaration of Independence and the US Constitution were both signed.
Next, head to New York City. There are countless things to do and see in this vibrant and exciting city, such as visiting the Empire State Building, the Statue of Liberty, and Central Park.
Finally, drive north to Boston, Massachusetts, where you can visit Harvard University, the Freedom Trail, and the famous Fenway Park. End your journey in Portland, Maine and enjoy some fresh lobster and a stroll along the waterfront.
Check out our ultimate guide to an epic Maine road trip here.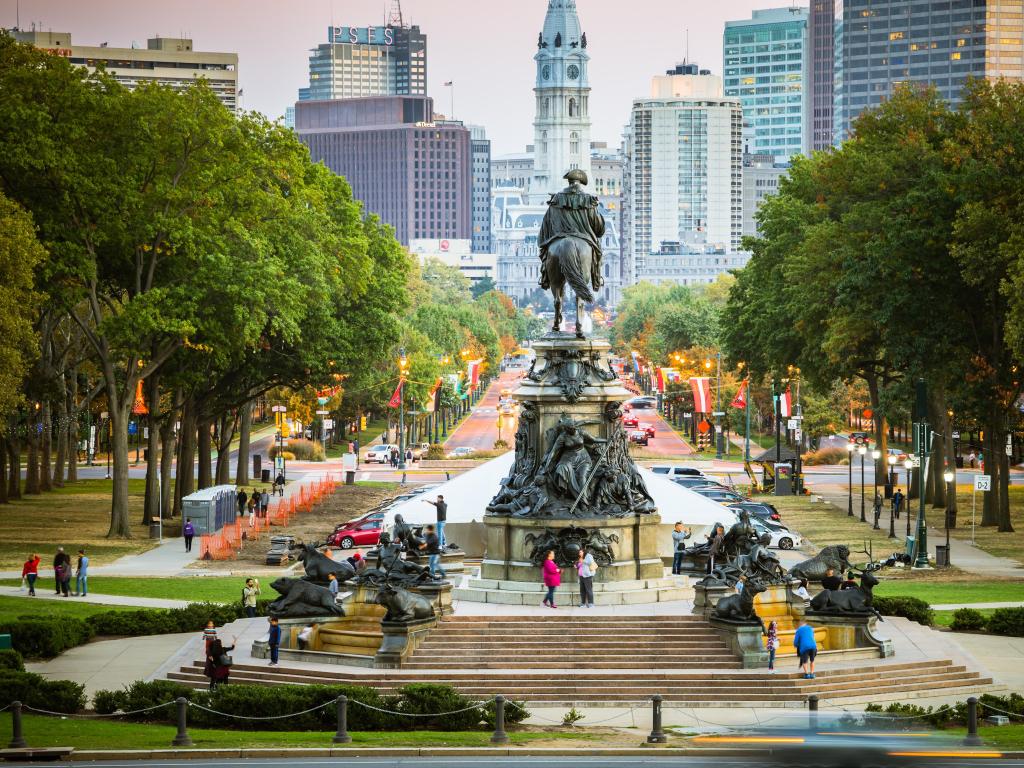 The Blue Ridge Parkway Detour
Starting in Orlando, head north on I-95 towards Charlotte, North Carolina. Once you reach Charlotte, take I-77 north towards Fancy Gap, Virginia. Take exit 8 towards VA-148 and follow the signs for the Blue Ridge Parkway.
Drive along the Parkway and enjoy the stunning scenery of the Blue Ridge Mountains as you head towards New York City to visit this iconic metropolis. When you're ready to move on, head north on I-95 towards Boston, Massachusetts.
Finally, make your way to Portland, Maine via I-95. There are tons of additional stops you can add along the way, but if you're looking to mostly enjoy natural landscapes then you can keep city stops to the options listed above.
There is so much more to see in Maine, though! Here is our ultimate Maine road trip itinerary.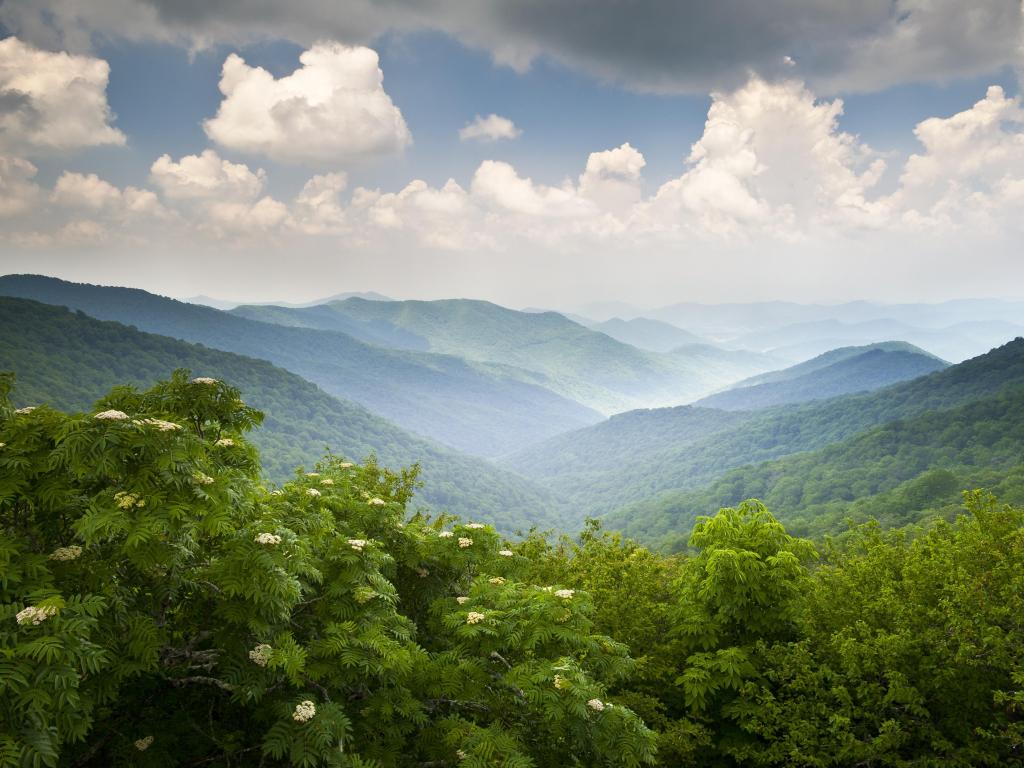 Best places to stop between Florida and Portland, Maine
Below, you'll find a couple of options for places to rest up during this beautiful road trip. You'll definitely need to stop in at least two separate cities, so here are options that would work for either route!
Take in the historic sights in Savannah
Savannah is a city that should not be missed on any road trip through the southern state of Georgia. The city is conveniently located on both the Atlantic Coast and Blue Ridge Parkway Detour, located about two-thirds of the way to your final destination in Maine.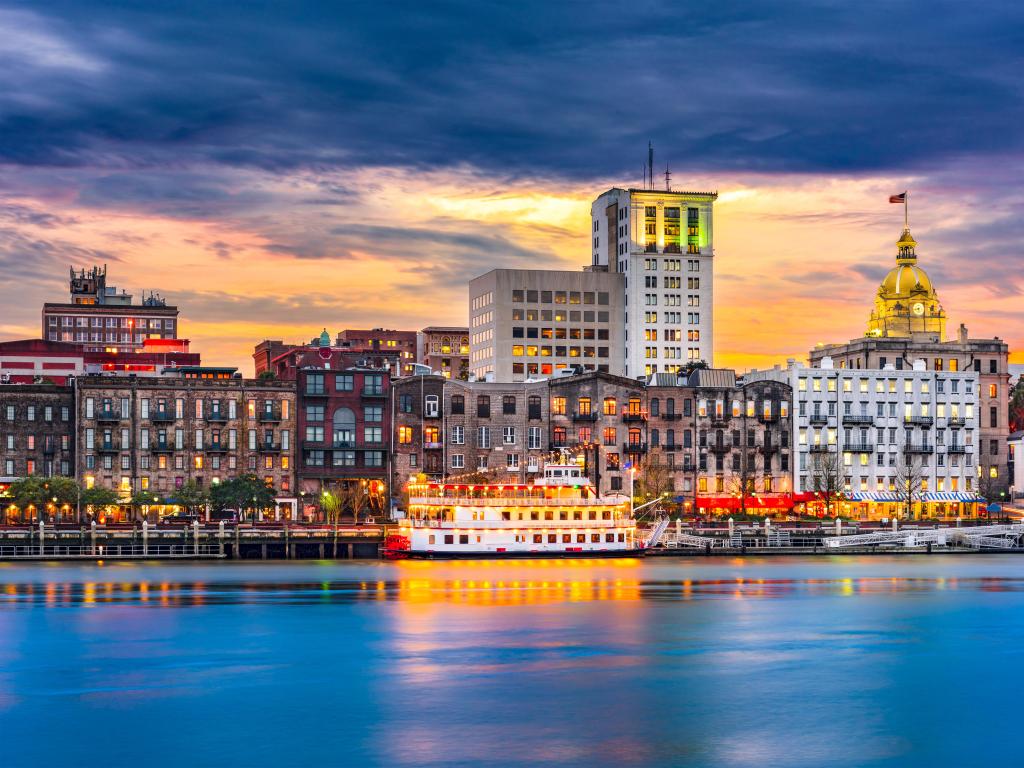 Savannah is historic city is known for its beautiful architecture and stunning coastal landscapes, making it a must-visit destination for anyone exploring the southeastern United States.
One of the highlights of Savannah is its picturesque historic district, with its cobblestone streets and charming squares. Visitors can take a leisurely stroll through the district and admire the beautiful architecture of the historic homes and mansions, many of which date back to the 18th and 19th centuries.
For architecture enthusiasts, the Cathedral Basilica of St. John the Baptist is a must-see attraction with its stunning stained-glass windows and intricate design.
Another popular attraction in Savannah is Forsyth Park, one of Georgia's most famous parks. This beautiful park is a great spot for a picnic during the summer or a relaxing stroll any time of year. Visitors can enjoy the park's fountain, historic monuments, and scenic views of the city skyline.
When it comes to finding a place to stay, the JW Marriott Savannah in the historic Plant Riverside District is an excellent choice. The hotel is comprised of three unique buildings that house a full-service spa and several fabulous dining options.
The location is also ideal, as it is within walking distance of most of Savannah's most notable attractions. And if you're looking to get back on the road quickly, the hotel is conveniently located near the highway.
An unforgettable visit to Washington DC
Washington DC is a fantastic option for either route. As the bustling capital of the United States, it offers an abundance of historic attractions, lively nightlife, and world-renowned museums, including the Smithsonian.