Ultimate Maine Road Trip Itinerary
With stunning scenery, miles of beautiful coast and impressive wildlife, Maine is the perfect place to head if you want to connect with the natural world. Whether you're in search of peace and quiet or looking to hop between the state's quaint towns and coastline, a road trip around Maine certainly won't disappoint.
It takes 5 days to drive the ultimate 860-mile road trip loop around Maine, visiting beautiful Portland, Augusta, Belfast and Bar Harbor, Greenville as well as Acadia National Park, Baxter State Park, Mt Katahdin and the stunning, rugged Maine Coastline.
Located on the northeast corner of the United States, visit Maine to enjoy its stunning views, winter sports and wonderful historic towns, many of which are perched on the North Atlantic coast. Keep on reading to find out how to make the most out of a 5-day road trip around the state.
The ultimate road trip itinerary in Maine
What is the ultimate Maine road trip itinerary?
Famous for its lush green forests and rugged coastline, New England's largest state is actually one of the smaller states compared with other parts of the USA. That means it's the perfect place to enjoy a scenic road trip, without having to spend too much of your trip on the road.
It's possible to comfortably travel an 860-mile road trip around Maine in 5 days, with stops in Augusta, Bar Harbor, Greenville, Carrabassett Valley and Portland.
You'll spend an average of 4 hours per day on the road, though be prepared for a longer stretch on day 3 as you travel from Bar Harbor up towards Greenville.
If you have a little more time for exploring, you could easily add on extra nights at Bar Harbor (to visit Acadia National Park), Moosehead Lake or the Kennebec Valley, or alternatively spend an extra night in York as you travel back towards Portland.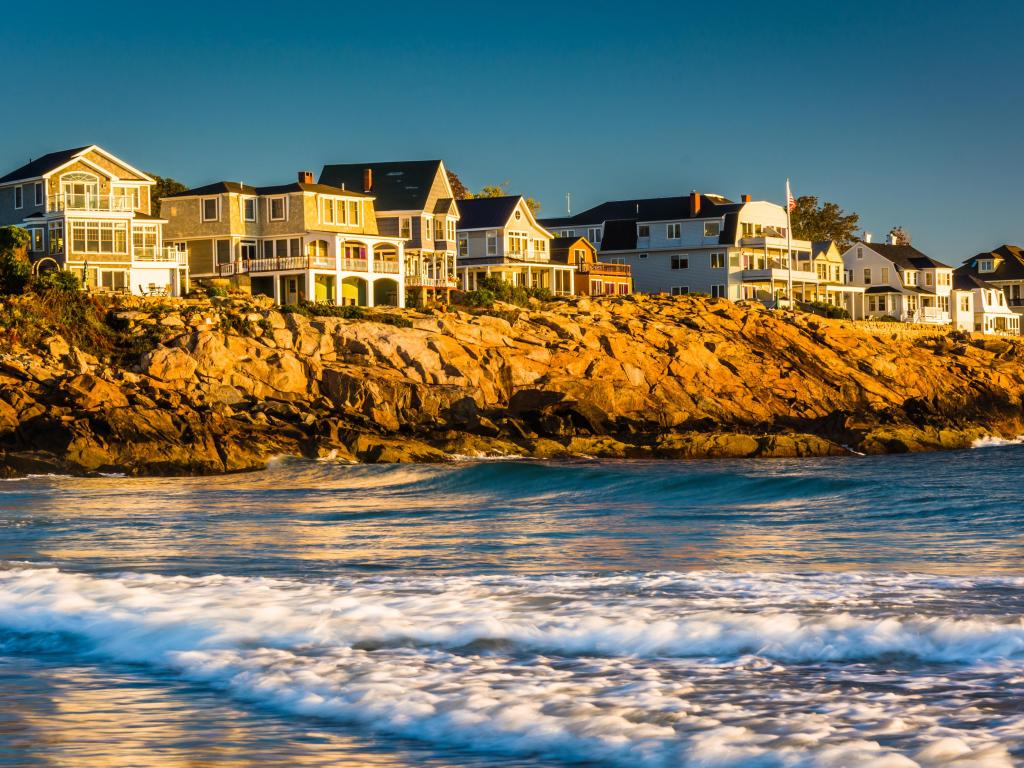 Day 1: Driving from York to Augusta
Starting out in York, the first day of your Maine road trip follows the coast as far as Bath, from where you can visit Popham Beach and Reid State Park, before heading inland towards Augusta.
You should expect a manageable 3 hours 50 minutes of driving on day 1, as some of the 170 miles you'll cover takes you off the interstate and out along the stunning coastal roads.
Road trip route from York to Augusta
From your starting point in York, pick up US-1 to visit Bald Head and Ogunquit before switching onto I-95 to pick up the pace as you head northeast.
If you have a little extra time, you could also consider sticking with the highway a little then turning onto ME-9 which winds through Kennebunkport and Cape Porpoise before joining up with the interstate a little further on near Biddeford.
From the interstate, follow the road into Portland then make your way out of town on I-295 to continue your journey. You'll be skirting Casco Bay, which is full of islands and scenic views so make sure to stop and snap a picture or two.
Approaching Brunswick the highway and the interstate separate. Take Route 1 towards Bath then turn off south through Phippsburg to reach Popham Beach. Returning to Bath you can cross the wide Kennebec River and take Arrowsic Road all the way down to Reid State Park.
Retracing your route back up to Woolwich, stick on US-1 then turn onto ME-127 as far as Dresden. From here, Route 27 runs close to the banks of the Kennebec River before merging onto ME-9 and following it all the way to Augusta.
Things to explore on the way to Augusta
You cannot visit Southern Maine and not visit one of its gorgeous beaches. Old Orchard Beach is a great starting point, located between Ogunquit and Portland.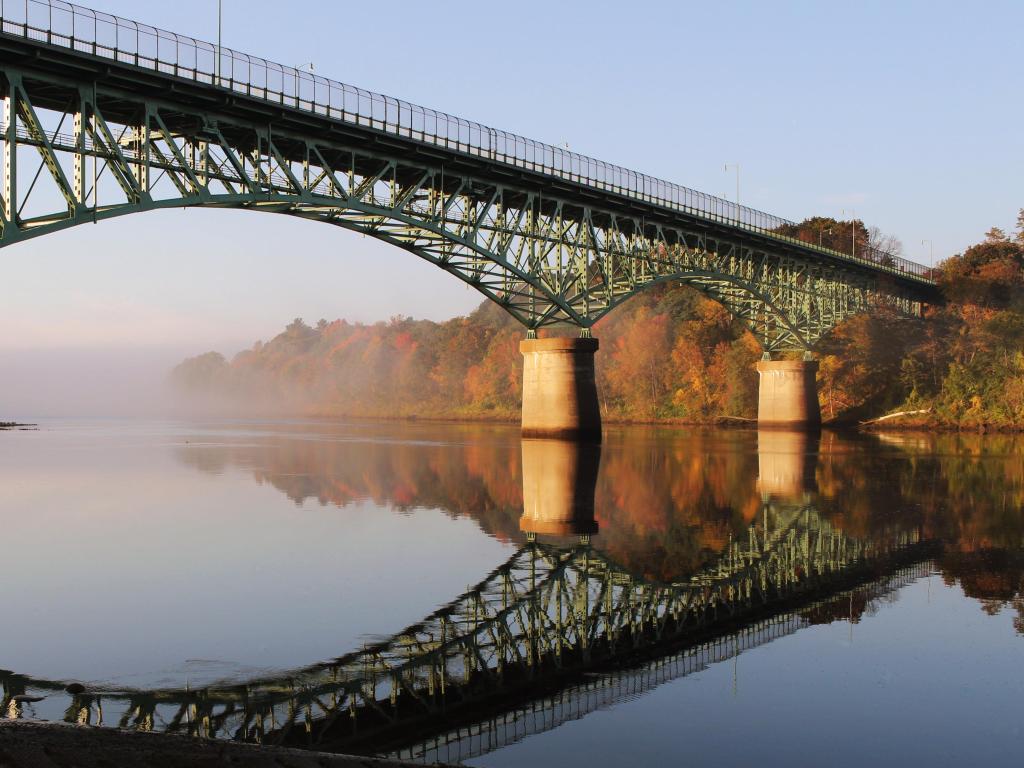 Located on a beautiful stretch of the Atlantic Ocean, you will find a gorgeous pier, plenty of entertainment, souvenir shops, restaurants and even a carousel here.
And of course, make sure to enjoy a delicious lobster roll on the beach before you set off on the next leg of your ultimate Maine adventure!
Sticking to the coast, you'll arrive at Reid State Park, which is known for its sandy beaches, ledges to climb (if you are feeling adventurous!) and hiking trails. There is even a lagoon, perfect if you are traveling with family, meaning that this park has both saltwater and freshwater beaches.
Where to stay in Augusta: enjoy a cozy retreat
Known as a historic hub that played an important role in Maine's history, Augusta is arguably most famous for Fort Western, a National Historic Landmark. This former British colonial outpost is the oldest wooden fort in United States.
The architecture of the gorgeous Maple Hill Farm Inn is a perfect example of Maine's historic facades. You will have access to the sauna on the property to let off some steam (pun intended) and an outdoor hot rub. There is a fantastic bar on site and the hotel serves made-to-order breakfast so that you can start your day right.
For the ultimate romantic Maine experience, you will find a fireplace in select rooms. This property is located near Maine State House and Maine State Museum.
Click here to skip back to the top.
Day 2: Driving from Augusta to Bar Harbor
You'll have a shorter but no less scenic drive on day 2, as you travel 130 miles on quiet roads through Maine's leafy interior before following Penobscot Bay.
Along your 3-hour drive you'll pass Rockland, Belfast and Ellsworth, with the stunning Acadia National Park a real highlight of the day.
Road trip route from Augusta to Bar Harbor
Follow the Memorial Bridge across the Kennebec River then leave Augusta on S Belfast Avenue. You'll get picture postcard views as you cross Togus Pond, then continue on past Windsor and Somerville.
At the crossroads turn left towards Rockland, where you'll meet the ocean once again and start to follow Route 1 - the Atlantic Highway - north along Penobscot Bay. Look out for beautiful glimpses of the water through the trees.
Stick on US-1 through Belfast and across the Penobscot Narrows Bridge, following it as far as Ellsworth where you join ME-3 to head south on to Mt Desert Island, where most of Acadia National Park is located. The same road will take you all the way to Bar Harbor to complete your drive for the day.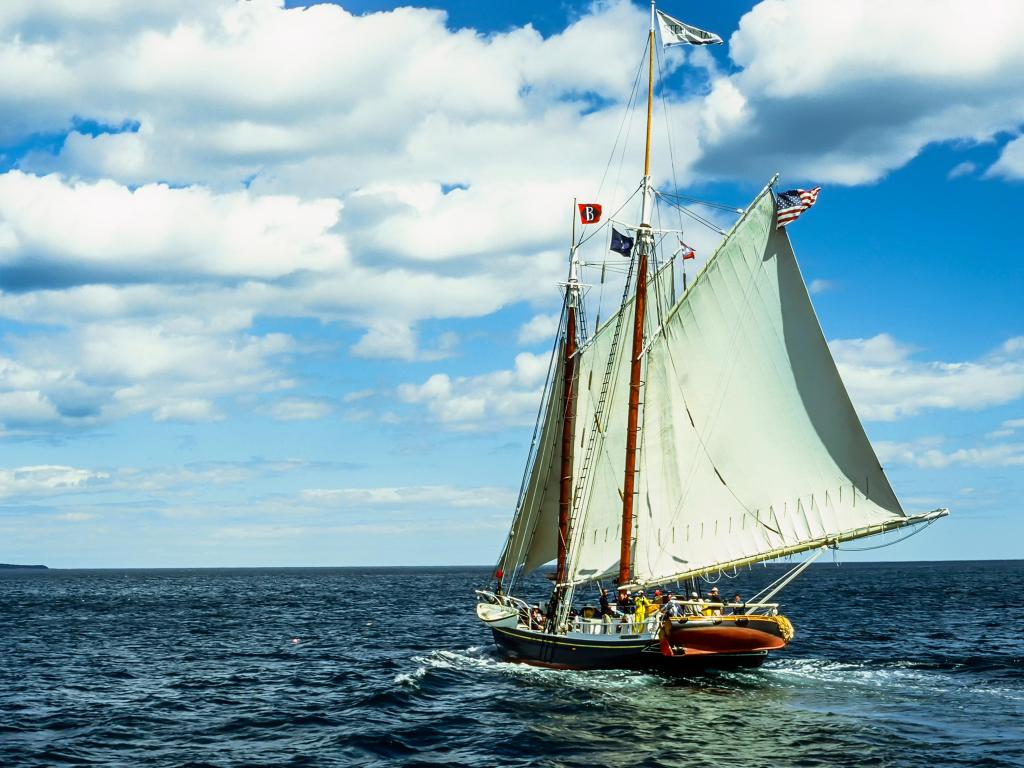 Things to explore on the way to Bar Harbor
Rockland is a stunning Maine town that boasts gorgeous coastal scenery and a majestic rocky shoreline. Make sure to check out the boat tours on the famous Windjammer while in Rockland for a unique experience!
With many historic homes and shops in Rockland too, you can visit The Farnsworth Art Museum and Wyeth Center to learn more about and admire Maine art, including works by the famous Wyeth family.
You can also make a stop here and enjoy a meal at the many restaurants. In fact, Rockland is the capital of the lobster industry in Maine, so it isn't surprising that it was named one of the "Top 9 Small Foodie Towns" in Maine.
You can't visit Maine without spending some time in Acadia National Park. It's an absolutely stunning national park, where you can fish and ski (depending on the time of year) as well as hike gorgeous trails.
Inside the national park, climb Cadillac Mountain to see the sun rise before anyone else in the country. Thunder Hole is also an impressive place to visit, as the breaking waves create their own natural spectacle.
Where to stay in Bar Harbor: watch the sunrise in style
Seeing as Acadia National Park is one of the must-see stops along this route, we'd definitely recommend spending a night or two in nearby Bar Harbor so that you have plenty of time to enjoy the national park, and to relax over a delicious meal after a busy day exploring.
There's also plenty to do in Bar Harbor itself. Pause a while to enjoy the unforgettable ocean views and if you're lucky you might even see whales out in the bay.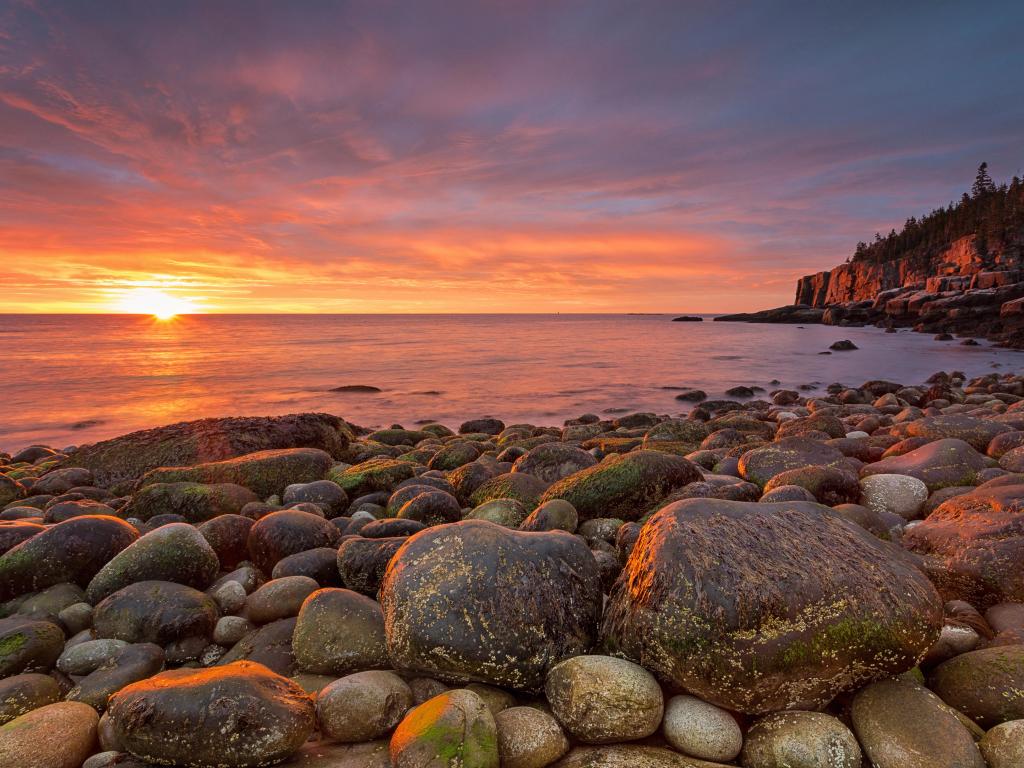 For a really characterful stay, book into the beautifully designed Queen Anne's Revenge, where you'll receive a warm welcome.
The hotel also has a beautiful garden to relax in as well as a terrace. There is a daily breakfast with buffet and continental options. The property is a short distance from Agamont Park and The Abbe Museum and West Street Historic District.
Click here to skip back to the top.
Day 3: Driving from Bar Harbor to Greenville
The 220-mile route you'll follow on day 3 takes you inland to visit the stunning Baxter State Park before ending the day at beautiful Moose Head Lake.
It's the longest day of driving on your ultimate Maine road trip, coming in at around 5 hours 50 minutes on the road, so make sure to stop for snacks and fuel before setting out.
Road trip route from Bar Harbor to Greenville
Leaving Bar Harbor, work your way back along ME-3 towards Ellsworth on the mainland, where you'll join US-1A heading north across more of the beautiful Maine countryside. Watch out for lakes and rivers tucked away behind the trees.
From Bangor you'll pick up the interstate, which runs parallel to the Penobscot River for a while. After crossing the river at Medway, follow Main St through Millinocket then turn right onto Huber Road once you've crossed the scenic Dolby Pond.
From here you can make a detour to Roberts Road to reach the scenic Katahdin Loop Road and Scenic Overlook. Explore the area's stunning trails if you have time, especially around Katahdin Woods and Waters National Monument.
When you're ready to continue, head back south towards Huber Road and follow it west until you meet up with Millinocket Road. After passing Millinocket Lake, you can choose to drive on the Golden Road, which will take you around the southern side of Mount Katahdin - Maine's highest mountain - following the river towards Ripogenus Lake and then Caribou Lake.
The road isn't fully paved along this part of the drive, so consider the impact that weather conditions will have on the road unless you're traveling in a 4WD vehicle.
Otherwise follow ME-11 past Schodic Lake and switch to ME-6 in Milo, which will take you directly to Greenville.
Things to explore on the way to Greenville
Did you know that Bangor, one of the larger towns you'll pass on day 3, is home to a few celebrities? You could run into Stephen King as you are strolling down Bangor's streets as he owns a house (more like a Victorian mansion!) in the city.
You can also take a Stephen King tour around the city, which will take you to the famous Paul Bunyan statue, featured in the author's beloved scary novel "It", among other interesting sites.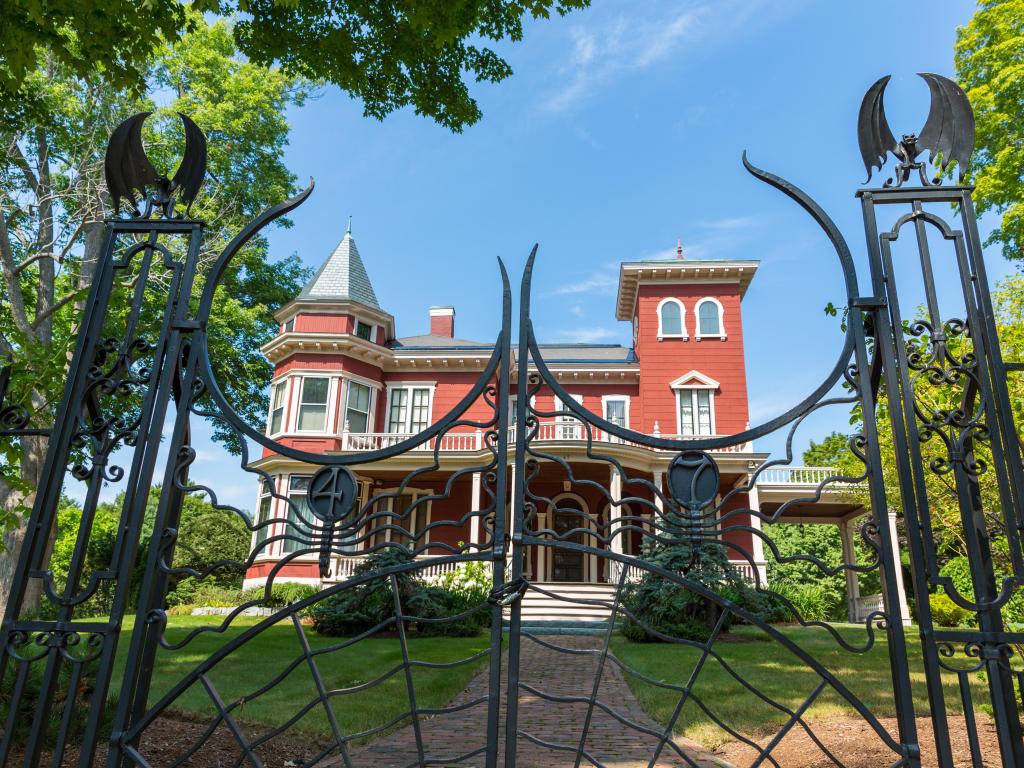 There is so much to do and explore in this small city, starting with the Cole Land Transportation Museum, which has an extensive collection of cars and trains on display.
Further north you'll reach Baxter State Park. This Maine wilderness haven was created by Percival P. Baxter, who described it as his "magnificent obsession".
You can take gorgeously scenic hikes, camp in one of the many campsites, spot some adorable wildlife or simply have a relaxing picnic here.
We highly recommend visiting during fall to admire the foliage in the park change into golden and auburn colors.
Where to stay in Greenville: explore the Maine Highlands
Moosehead Lake, where you'll end the third day of your Maine road trip, is the ideal place to spend a couple of nights if you're wanting to head out into the Maine Highlands or even just explore the incredibly scenic area around the lake itself.
An absolutely fabulous place to stay if you're looking for a bit of luxury in your scenic getaway is the Lodge at Moosehead Lake. There isn't much here that can't be described as stunning, from the lake views to the hotel's service, restaurant and gorgeous design.
Another great option which is also more budget-friendly is Leisure Life, Greenville, which also offers superb views and a great location. You can park up here for free and relax at the hotel bar - you'll most likely have earned some downtime after the day's driving and hiking.
Click here to skip back to the top.
Day 4: Driving from Greenville to Carrabassett Valley
After the long and adventurous driving on day 3 you'll probably welcome the much shorter stretch that lies ahead on day 4. It's just 90 miles from Greenville to Carrabassett Valley, which will only take a couple of hours to drive, leaving you plenty of time to stop and explore along the way.
Road trip route from Greenville to Carrabassett Valley
Turning away from the lake, follow ME-6 south past Monson on the way to Abbot. There are rafting companies based along this road if you fancy making an active stop just outside Greenville.
At Abbot turn right onto West Road which leads you to Kingsbury Plantation and Lake. A little further along the road you'll reach Bingham, which sits on the shore of Wyman Lake.
From here, River Road follows the Kennebec River south - with another opportunity for rafting - until you reach Solon. Here, cross the river and take Cross Town Road to join up with ME-16 to Kingfield.
The Carrabassett Valley runs north from Kingfield, offering river views and trailheads.
Things to explore on the way to Carrabassett Valley
Located in Western Maine, Bigelow Preserve and Flagstaff Lake make a stark contrast to the state's coastal towns. You will find alpine landscapes and the pretty Flagstaff Lake views here.
Plus, if you're traveling with your kayak or canoe, Flagstaff Lake is the perfect place to put them to use.
Both are just a short drive further on from Carrabassett Valley, and once you're there you can enjoy hiking trails for all levels of outdoor enthusiasts, including an easy one that is perfect for the whole family.
Of course, this ultimate Maine road trip itinerary isn't only for sun worshippers, beach lovers or foodies. If you are a fan of winter sports, you will find world-class facilities at the Sugarloaf Ski Resort, which is also just a short distance out of Carrabassett Valley. You will get to admire stunning views as you ski or snowboard.
Sugarloaf Mountain is also one of the most popular rock climbing spots in the country with around 270 different routes to explore.
Where to stay in Carrabassett Valley: hit the slopes and trails
As we've mentioned, Carrabassett Valley is known for being home to the majestic Sugarloaf Mountain Ski Resort, which is the largest skiing area in Maine.
There is plenty to do in Carrabassett in other seasons as well, such as hiking, biking, boating, fishing and golfing. You can also take foliage walks, something this area is so famous for.
With direct access to skiing areas and an 18-hole golf course, Sugarloaf Mountain Hotel has something for every traveler. In warmer seasons, you can enjoy hiking and cycling in the area.
After your adventures outdoors, you will be happy to learn that there is also a fabulous outdoor hot tub to soak and relax in at the property. You'll find restaurant options a short drive from the hotel too.
If you aren't traveling with your skiing equipment, you can hire them from the property. There's also ski storage if you have brought your own.
Click here to skip back to the top.
Day 5: Driving from Carrabassett Valley to Portland and York
You'll complete your road trip with another 4-hour drive, taking you the 170-miles from Carrabassett Valley to Portland and York.
Traveling through more of Maine's beautiful green landscapes and passing rivers and lakes before you meet the coast again at Portland, it's the perfect way to end your ultimate Maine adventure.
Road trip route from Carrabassett Valley to Portland and York
The final day of your trip starts out on some of Maine's small, scenic roads, first traveling along ME-27 to Eustis then down ME-16 to Rangeley. Once you've made your way around Rangeley Lake, ME-17 takes you through picturesque forests, rivers and hills to Byron and Roxbury until you reach Chisholm Park.
Here, join US-2 which follows the Androscoggin River through Hanover and Newry. Then, once you reach Bethel, take ME-35 past Waterford and Harrison then along Long Lake as far as Naples.
Crossing the Naples Causeway you'll join Sebago Road, which offers picturesque views and lakeside attractions once it hits the shore of the popular Sebago Lake.
From Standish, simply follow ME-114 all the way to Portland, then pick up the interstate for the final few miles of your trip, heading back south to York.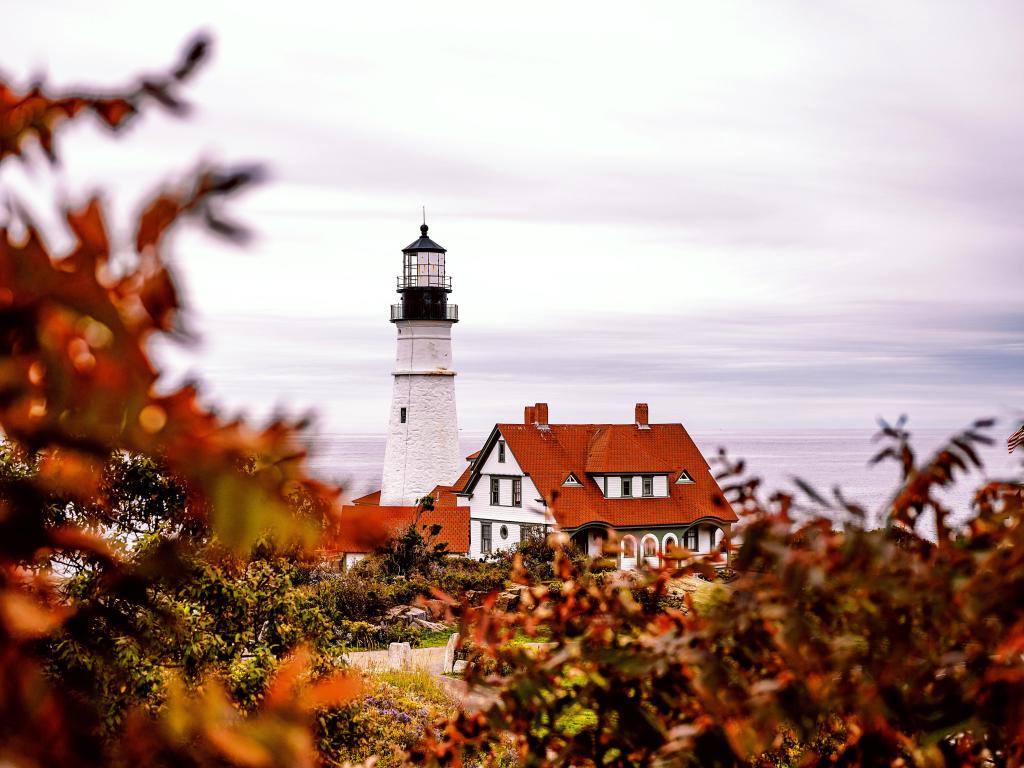 Things to explore on the way to Portland and York
Located in close vicinity of the scenic Rangeley and Mooselookmeguntic Lakes, Rangeley is a charming town with a laidback character. You will find fantastic golf courses here, as well as the scenic Rangeley Lake State Park.
Wilhelm Reich Museum and Height of Land (a popular scenic overlook) are both a short distance from the town too.
Keeping with the scenic lakes theme of this leg of the itinerary, Sebago Lake is a fantastic place to take a break en route.
This beautiful, clear lake is the second largest in Maine after Moosehead Lake, and is especially popular in summer. You will be able to enjoy watersports, golfing and fishing, sunny beaches and even a float-plane excursion here!
Where to stay in Portland: take a trip back in time
Portland is a beautifully scenic town, full of cobblestone streets and historic houses. You can also indulge your creative side, as the city has a buzzing arts scene.
After the lovely drive from Carrabassett Valley, you'll have plenty of time to end the afternoon sitting back to relax beside Portland's waterfront.
You can also stay nearby at Portland Harbor Hotel, which is in walking distance of the waterfront as well as Wadsworth Longfellow House, Victoria Mansion and Portland Downtown Historic District on foot.
Its central location and beautiful design, which channels a contemporary coastal vibe, means that you have a fantastic choice of restaurants, bars and cafes nearby. Or, if you don't feel like venturing out there's also a restaurant on-site.
Things to see on the ultimate road trip in Maine
By now you'll probably already have several stops in mind for when you make your fabulous Maine road trip, but there's even more to discover if you have the time.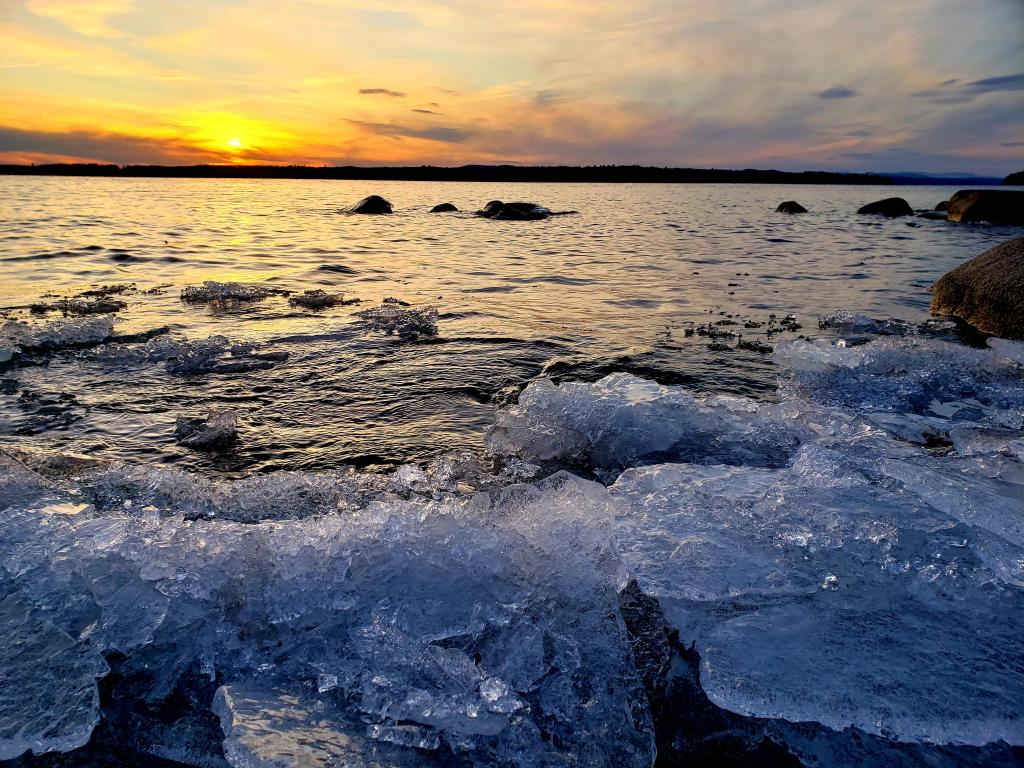 York - With views across stunning sandy beaches, the Yorks are the perfect place to come for some good old-fashioned seaside entertainment. Head to the Fun-O-Rama arcade and enjoy live music and saltwater taffy as you explore York Beach.
Ogunquit - The stunning waterside gardens around Ogunquit Museum of American Art make this a must-see stop if you're visiting the town. There's also a lovely stretch of coastline here - said to be one of the country's best beaches.
Broad Cove Reserve - Trails here take you to more amazing ocean views, starting from a sandy beach.
Popham Beach State Park - At the mouth of the Kennebec River you'll find this swimming and surfing spot. You can also walk to Fox Island across the beach, but pay attention to the rising tide which cuts off the path at certain times of day.
Bath - Known as the 'city of ships', it's no surprise that Maine Maritime Museum is located here. It's also a great place to indulge in some of the state's famous and delicious seafood.
Reid State Park - This is a bird watcher's paradise, with seabirds nesting in the stunning coastal landscape. You can also follow trails along the headland which will reward you with amazing coastal views.
Augusta - The state capital has a number of excellent museums, including Maine State Museum and the Old Fort Living History Museum.
Kennebec Valley - If you can add an extra day to your trip, consider following the beautiful Kennebec Valley from Augusta to Skowhegan.
St George Peninsula - There's more of the fabulous Maine coastline to explore along this beautiful peninsula, but for a bit of variety this is also a great place to sample Maine wines. The Owls Head Transportation Museum is worth a visit too.
Rockland - Home to the popular Maine Lobster Festival, Rockland also has a thriving arts scene which you can get to know at Center for Maine Contemporary Art or with a visit to the North Atlantic Blues Festival.
Belfast - Another artistic stopover, many visitors like to drop in to Belfast's small galleries or enjoy live music and summer Arts Walks.
Penobscot Narrows - Take a tour up the huge observation tower to admire the ocean from a new perspective.
Bar Harbor and Acadia National Park - This popular national park is famous for its rugged coastal views and excellent wildlife spotting opportunities
Bangor - As well as taking a tour of locations that inspired legendary author Stephen King, we'd also recommend checking out Maine Forest and Logging Museum and the Cole Land Transportation Museum.
Baxter State Park - North Penobscot and Mount Katahdin are both super-scenic areas within this stunning state park, where you can kayak and climb as well as hiking and fishing.
Greenville - Take a break from the road with a cruise on beautiful Moosehead Lake.
Bingham - Consider a detour to see more of the Kennebec Valley, which you can explore via US-201. Following this road, you can read The Forks and Moxie Falls, as well as taking an exhilarating white water rafting trip.
Bigelow Preserve - Pick up the northern end of the Appalachian Trail in this beautiful natural area, which was almost turned into a ski resort back in the 70s.
Sebago Lake - Cool off at this popular lake a short drive out of Portland. You can take a boat or kayak here too.
Best time to go on the ultimate road trip in Maine
It's possible to visit Maine all year round, but depending on when you travel you'll have a very different experience. You'll encounter snowfall and freezing temperatures through the winter compared to temperatures in the 80s in summer!
Traveling in winter
With temperatures often sitting below freezing, and frequent, heavy snowfall, you'll need to wrap up warm if you're visiting Maine in winter. The coast, where temperatures can hit the high 30s Fahrenheit, is warmer than the interior.
That means Maine is a great winter sport destination, and you can find plenty of places to ski, including Nordic skiing. However, driving can be challenging if you're not used to snowy conditions, although roads are kept as clear as possible.
Out of the peak summer season, you might find that cafes, galleries and other visitor attractions in quieter areas may be closed.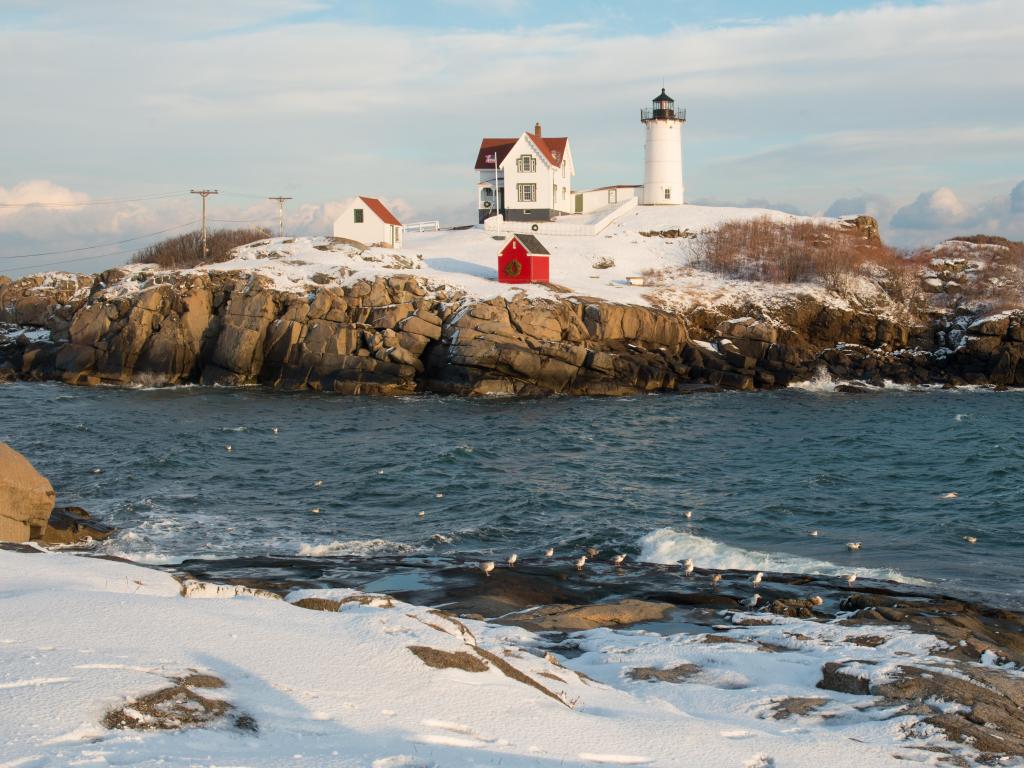 Traveling in summer
With its northerly location, Maine doesn't usually get too hot in summer, and temperatures in the high 70s Fahrenheit can make for ideal hiking. You'll have to pack for the seasons though, as there's frequent rain here even in summer, and occasional dramatic thunderstorms.
While we've mentioned the many stunning beaches you'll visit along the way, we should also point out that the water might feel chilly even in summer.
Expect crowds at Acadia National Park and in the coastal towns, as they're popular destinations for a summer vacation. Consider booking accommodation in advance to be sure of your top picks.
Traveling in spring or fall
The Maine winter can feel very long, with March and November feeling more like winter than spring or fall. Spring is a variable time of year, but don't expect significantly warmer temperatures until late April or May.
By May you'll have a good chance of mild and relatively dry weather if you're spending time outdoors, but remember to take bug spray to guard against the harmless but ever-present wildlife that's likely to try and join you on your hike.
Maine is famous for its stunning fall scenery, but it's also a very wet time of year. With temperatures dropping to around 60 degrees by October, you might prefer to visit in September for the ultimate combination of smaller crowds, mild weather and beautiful sea views.