Road Trip from Houston to Dallas
A road trip from Houston to Dallas is a truly fascinating drive between modern metropolises, where you get to travel through picturesque nature, tiny historical cities, and various roadside curiosities.
The 240-mile road trip from Houston to Dallas will take 3 hours and 30 minutes of driving. You'll pass the charming cities of Madisonville, Fairfield, and Corsicana as well as Lake Conroe and Sam Houston National Forest.
If you're doing a road trip, then you know it isn't about the starting point nor the destination, but the in-betweens that make the journey a lot more interesting.
So read on to find out more about the route you could take, the things you could see along the way, and the best time to make your trip from Houston to Dallas.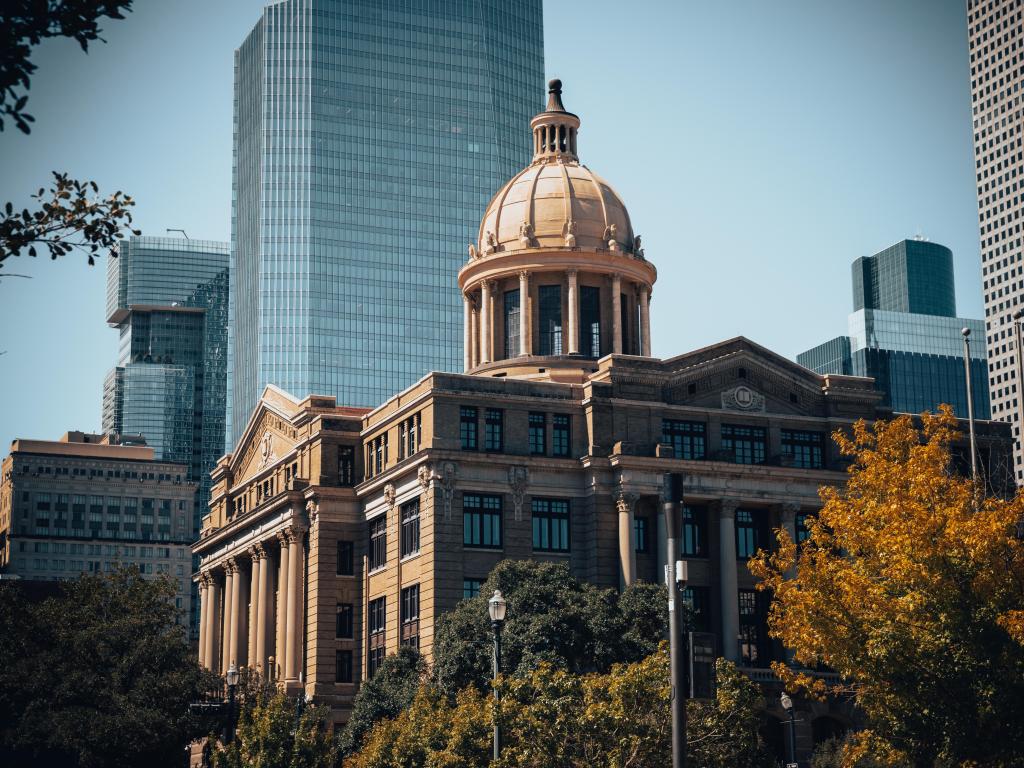 How far is Dallas from Houston and how long will the road trip take?
Dallas is only 240 miles from Houston and you can make the drive in only 3 hours and 30 minutes.
You would be wise to time your trip to factor in heavy rush hour congestion. Houston is the fourth most populous US city and getting stuck in traffic, especially if you live downtown, would add at least a couple hours on top of the driving time.
You can certainly complete this in a day, but there are plenty of opportunities for adventure and stopovers along the way, so carry on reading for tips on making an enjoyable road trip out of it.
Best road trip route from Houston to Dallas
From Houston you can take two routes to Dallas. The direct route, which is simple to navigate, takes you via Interstate 45 in around 3 and a half hours. This route passes through small Texas countryside cities, with a surprising number of interesting attractions to visit along the way.
There's also the option to take the I-35 past Waco and College Station, but this adds at least half an hour onto your journey. So unless you're planning your itinerary to visit specific sites near the college towns, we'd recommend taking the direct I-45 route described below.
Road trip route from Houston to Dallas
Kick off your journey by hopping on I-45 in the morning, and driving north towards The Woodlands. One of the first places you'll pass through is Old Town Spring, a famous shopping district on the outskirts of Houston that still retains its rustic charm.
Keep driving to reach Conroe, where you'll pass by one scenic view after another - Lake Conroe, Sam Houston National Forest and Richland Chambers Reservoir.
If you're interested in the rich history of Texas, this route also offers access to the grounds of the Sam Houston Monument, The Historical Flag Park, and various museums in Fairfield.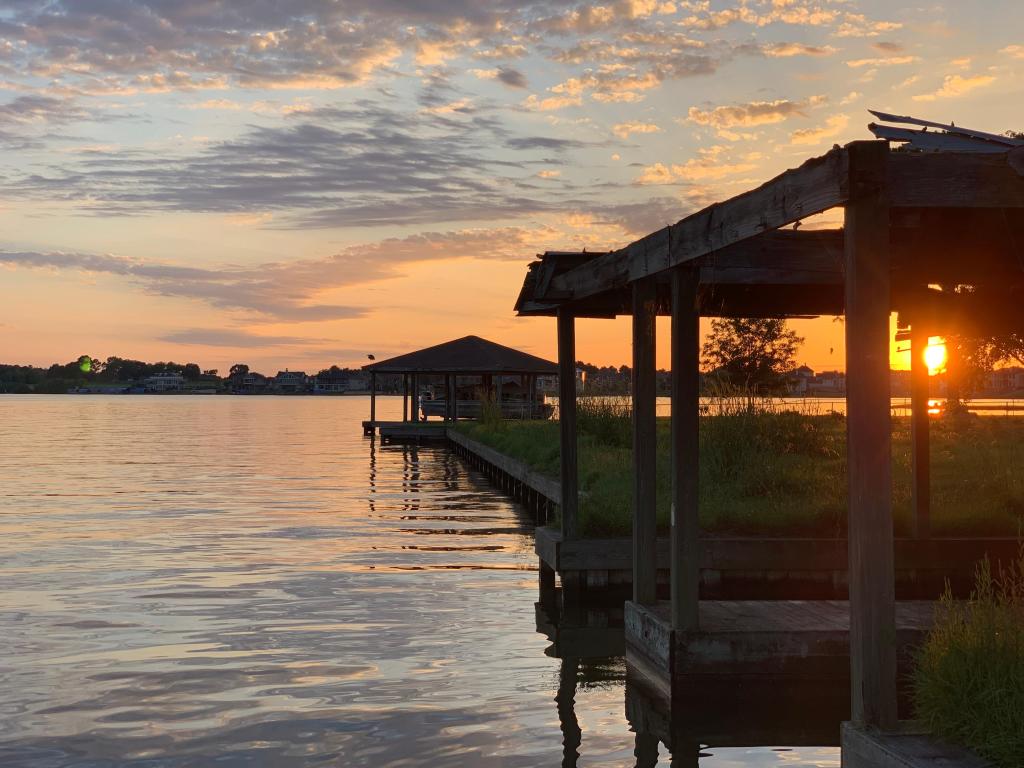 The I-45 continues past Huntsville, Madisonville and Centerville, where you may even spot deer, before reaching Corsicana.
From the historic Corsicana downtown, you'll pass through Ennis on your way north. If you're traveling in Spring, the roadsides here will be lined with lovely Bluebonnet flowers in full bloom.
From here, it's only another 35 miles along the same road to reach Dallas.
Best places to stop between Houston and Dallas
With a route that offers countless spots to visit, you'd want to break up your trip into two legs or more. A few great stopover options are present along the route, which gives you both a chance to rest and explore nearby attractions.
Stay for a night in Madisonville
Even with a couple of stops, if you set off from Houston in the morning you'll arrive in Madisonville with time for a meal and some relaxation.
Check out the nearby Lake Madison Park for some outdoor recreation or take a detour and wander around Davy Crockett National Forest - located east of Crockett - about an hour's drive from Madisonville.
If you're looking to stay overnight, the Best Western Executive Inn and Suites is convenient and well-located. Positioned just right off the I-45, it has some of the best hotel amenities and is a perfect starting point to explore the rest of the city.
Cap off the day with a dip in the hotel's indoor pool or grab some dinner at Buc-ee's, an iconic Texas store just a few steps from the hotel. Buc-ee's has vegetarian-friendly menus, but if you want a seafood dining experience, then the Shrimpy's Seafood Restaurant a little further up may strike your fancy.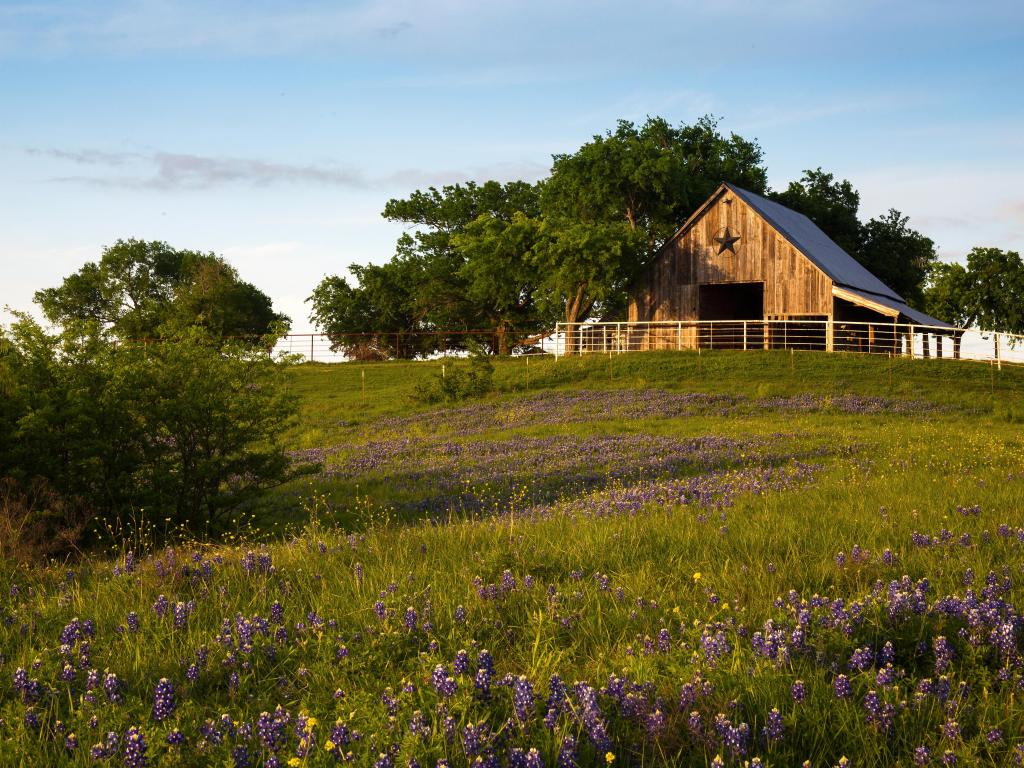 Take it easy at Corsicana
Corsicana isn't far from Dallas, but if you need to recharge before you reach the buzzing city of skyscrapers then this scenic and historic countryside town is a great place to stop.
The town is a beautiful piece of Texas - a haven for both history and nature lovers that have managed to preserve fragments of history in its many museums and monuments.
In the mid-1800s Carriage District you can take a Bronze Statue audio tour, or visit the Pearce Museum with its Civil War history exhibitions.
There are many lakes in the surrounding area, including Richland Chambers Reservoir, Lake Halbert, and the Navarro Mills Lake. The stunning views and fishing grounds are a little out of the way, but worth a visit.
We suggest you stay at the welcoming and comfortable Hampton Inn and Suites. This handy hotel is situated conveniently beside the road, surrounded by a plethora of wonderful restaurants, shops, as well as easy access to Corsicana nature.
A favorite local spot for swimming and picnicking, Lake Halbert Park, is just steps away from the hotel. If open water isn't your thing, though, the Hampton Inn has its own swimming pool, perfect to refresh yourself and recharge before you hit Dallas.
Get to know Dallas
The city prides itself for its Arts District, with the Dallas Museum of Art and Nasher Sculpture Center both well worth a visit. Or venture over to nearby Deep Ellum neighborhood to explore its street art and history.
Dallas also offers many opportunities to learn about the different cultures that have come together to shape this vibrant region. Make sure to check out the Latino Cultural Center, or call into the highly regarded African American Museum.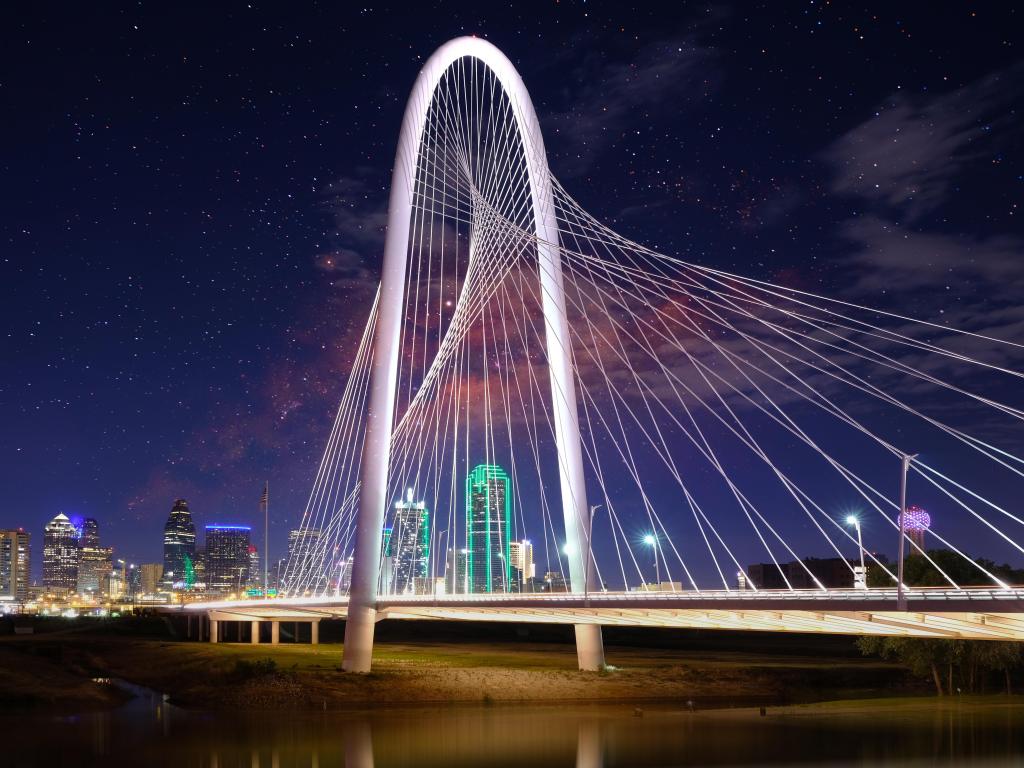 If you find yourself in search of a moment of tranquillity after pounding the city streets, Dallas Arboretum and Botanical Garden is the place to go. Situated on the shore of White Rock Lake, you'll get a different perspective on the city from here.
There are so many places to stay in Dallas, but we recommend the stylish and upscale Kimpton - Pittman Hotel. In easy reach of Downtown and Deep Ellum, this hotel is as welcoming as it is luxurious, with an outdoor pool to help you cool down after a busy day.
Things to see on a road trip from Houston to Dallas
The great thing about taking a road trip from Houston to Dallas is that there are a ton of interesting things worth stopping by along the route despite the short distance:
Sam Houston Statue – A 67-feet tall roadside monument of the first Texas President that can be seen from miles around.
Sam Houston National Forest – A large and popular year-round hiking and camping ground featuring unique wildlife and magnificent views of creeks, rivers, and Lake Conroe.
Lone Star Monument and Historical Flag Park – Home to the 1830s Texas Revolution flags.
Kasmiersky Park, Conroe – If you're traveling with pets, this is the best park to have them stretch their legs.
Davy Crockett National Forest – A detour from Madisonville will take you to this tranquil woodland and camping ground.
Cooper Farms, Fairfield – A popular store selling sweet and juicy peaches or peach-flavored desserts.
Collin Street Bakery – A great shop for pecan pies and their recipes date back to 1896!
Fort Boggy State Park – Another park en route with magnificent lake views where you can unwind in peace and quiet.
Reunion Grounds State Historic Site – A detour from Fairfield, this is the site of the camping ground and dancing pavilions of the past Confederate Civil War veterans.
Petroleum Park – The birthplace of Texas' oil industry.
Pearce Museum – World-class museum housing a collection of 15,000 Civil War letters.
Pioneer Village – Shows a simulation of the pioneer days in Corsicana and Navarro County.
Angelita Vineyard and Winery – A picturesque vineyard and wine-tasting bar.
Ennis Bluebonnet Trail – The official Texas trail of bluebonnet wildflowers.
Dallas Museum of Art – Home to 22,000 artifacts dating back to the 3rd millennium BC.
Dealey Plaza – where the assassination of President Kennedy took place - a museum at the Sixth Floor is dedicated to this tragic event.
Nasher Sculpture Centre – Exhibits one of the largest and most admired sculpture collections in the world.
Best time to go on a road trip from Houston to Dallas
Technically you can embark on a road trip from Houston to Dallas at any time because there are just so much going on in this route year-round.
The spring and fall are both great times to take a more relaxed road trip. There will be fewer travelers in these seasons, and with temperatures between the upper-60s and mid-80 degrees Fahrenheit, you'll avoid the humidity and high temperatures that Texas summers are known for.
If you travel in the spring you can also catch the beautiful Bluebonnet trail in Ennis, or visit Madisonville - the mushroom capital of Texas - in the fall to witness its annual Mushroom Festival.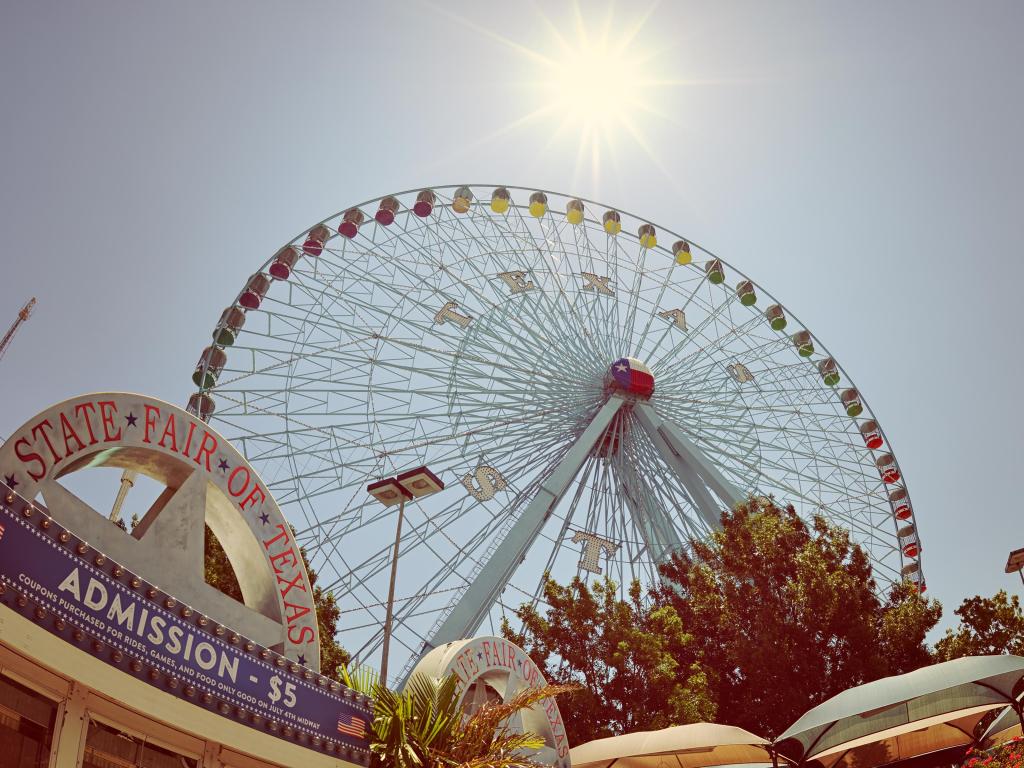 Another annual highlight, taking place in Dallas every September, is the State Fair of Texas, which brings parades, sports fixtures and a whole host of other attractions to the city. It's worth keeping in mind that this could make accommodation in the city harder to find, or push prices up.
Winter can also be a good time to take on the road, as in general, Texas has a relatively tolerable winter. It is worth noting, though, that there may be attractions that will not be open for the season, so be sure to check before you travel.