Road Trip from Houston to Kansas City
On a road trip from Houston to Kansas City, you will thread through the heart of America, where landscapes tell tales from bayous to plains. Buckle up for a journey where every mile serves a slice of the country's melting pot of cultures and what makes West South Central States so special.
The 850-mile road trip from Houston to Kansas City will take about 13 hours. You can visit Waco, Dallas, Oklahoma City, Wichita, El Dorado Lake, Topeka, Lawrence, Shreveport, Texarkana, Little Rock, Branson, Springfield, and Lake of the Ozarks.
With so much fun and excitement on offer, this incredible journey will give you plenty of lifelong memories. Keep reading to learn more about the best routes, best places to stay, and top highlights to enjoy on the way.
How far is Kansas City from Houston, and how long will the road trip take?
Comparison of road trip routes between Houston and Kansas City

| Route | Distance | Driving Time |
| --- | --- | --- |
| The Oklahoma Route | 850 miles | 12 hours 50 minutes |
| The Arkansas Route | 915 miles | 15 hours 20 minutes |
The Oklahoma Route will take you roughly 850 miles and around 12 hours and 50 minutes. You'll pass notable places such as Waco, Dallas, Oklahoma City, Wichita, and Topeka, plus endless natural landmarks.
The alternative Arkansas Route spans 915 miles and takes about 15 hours and 20 minutes. You'll see highlights like Shreveport, Texarkana, and Little Rock, on top of some of rural America's most charming towns.
While it's possible to complete either of these trips in a day or two, you'll be able to enjoy more sights and highlights if you set aside 4-5 days.
Best road trip route from Houston to Kansas City
Both the Oklahoma and Arkansas routes have unique attractions and experiences, and some of the most beautiful scenery in the country. Which route you choose will depend on which highlights you want to enjoy the most.
The Oklahoma Route takes you to the pages of a Wild West novel. As you cruise along, you'll see towns steeped in the lore of the Wild West and America's Indigenous culture.
You'll see historical cities such as Waco, Dallas, Oklahoma City, Wichita, and Topeka. You'll also get to visit cultural sites such as the Chickasaw Cultural Center and the Toy and Action Figure Museum.
But it's not just about history and culture; the route also brushes past picturesque lakes, like Lake Murray and El Dorado Lake, inviting you to take a break and enjoy the water.
The Arkansas Route is the perfect drive if you love nature. It winds through the forests and rural communities of Texas, Arkansas, and Missouri. Natural highlights on this route include Angelina, Sabine, and Ouachita National Forests.
The pristine waters of the Buffalo National River are perfect for kayaking or hiking along its banks, while the Lake of the Ozarks, flanked by the Ozark Mountains, has breathtaking views.
Nature is not the only highlight on this route. The Arkansas Route also leads you through historical towns and cities, such as Nacogdoches, Shreveport, and Little Rock.
How to drive from Houston to Kansas City
The map above shows our suggestions for the best road trip routes between Houston and Kansas City. Keep reading for detailed descriptions of both routes, where to stay on either, and the best things to do on the way.
The Oklahoma Route
Start your journey northwards from Houston on US-290 W and head towards Waco, passing through College Station.
As you leave Waco, take I-35 towards the north to Dallas. Dive into this large and fun city, and maybe even catch a sunset view over the skyline.
North of Dallas, a water lover's paradise awaits at Lewisville Lake, perfect for a quick refreshing dip or a picnic. Continue your journey, steering northwards to Oklahoma.
Before reaching Oklahoma City, stretch your lakes at Lake Murray State Park and visit the Chickasaw Cultural Center. As you head back on I-35, consider a fun-filled stop at the Toy and Action Figure Museum for a dose of nostalgia.
Once you reach Oklahoma City, head northwards on the interstate again and make your way to the ghost town Pleasant Valley and continue to Arkansas City. Proceed to Wichita, and you might want to indulge in the local food and arts scene.
From Wichita, head north towards Topeka, the state's capital. As you leave Topeka, stop by Lawrence before continuing on to Kansas City.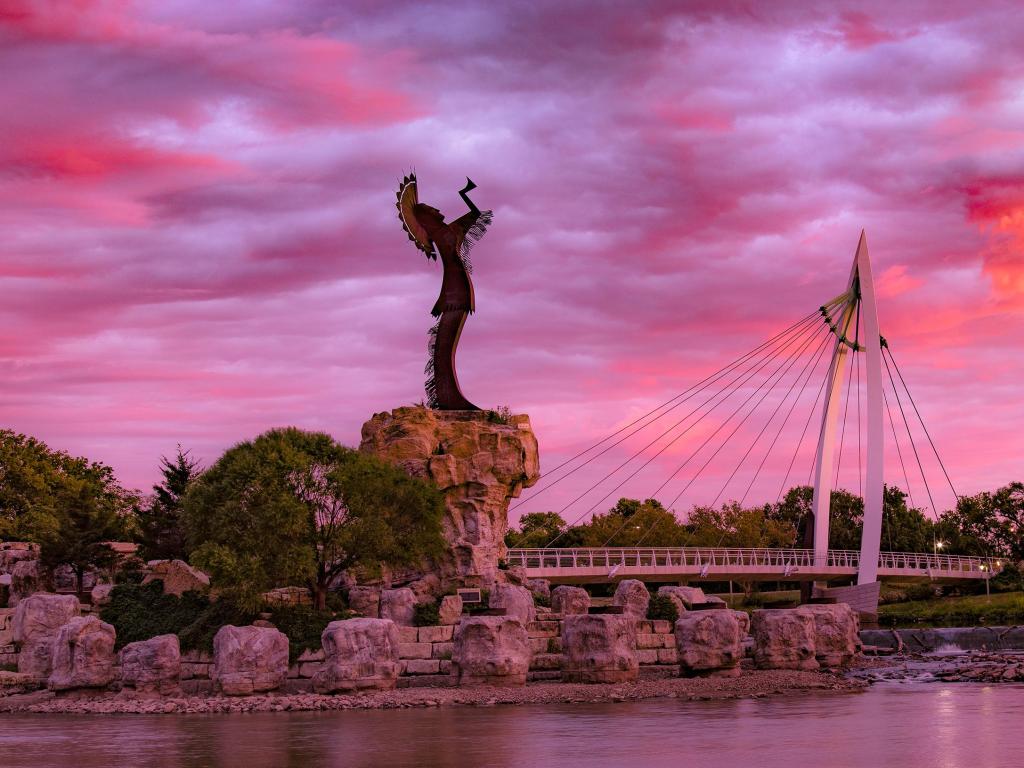 The Arkansas Route
Beginning in Houston, head northeast on US-59. Stop at Livingston and then take a detour to the lush green expanses of Angelina National Forest. Continue your journey to Nacogdoches, considered to be the oldest town in Texas.
Next, head to the dense canopies of Sabine National Forest, a treasure for nature enthusiasts, and then to the city of Shreveport. After absorbing all that Shreveport has to offer, head towards Caddo Lake, a wetland wonder known for its cypress trees and rich biodiversity.
Soon you'll touch Texarkana, which lies between Texas and Arkansas. Proceed on I-30, and the renowned city of Hot Springs awaits, famed for its therapeutic waters and historic bathhouses.
From Hot Springs, head northeast, making your way into the heart of Ouachita National Forest, a sprawling wilderness filled with trails and viewpoints. Your next major urban encounter is Little Rock, the Arkansas capital, where history and modernity merge seamlessly.
Heading north, make a pitstop at Lost Canyon Cave and Nature Trail for a touch of spelunking. Further up the road, you'll see Branson. The route will then lead you to the picturesque shores of the Lake of the Ozarks. Afterwards, you will soon reach beautiful Kansas City.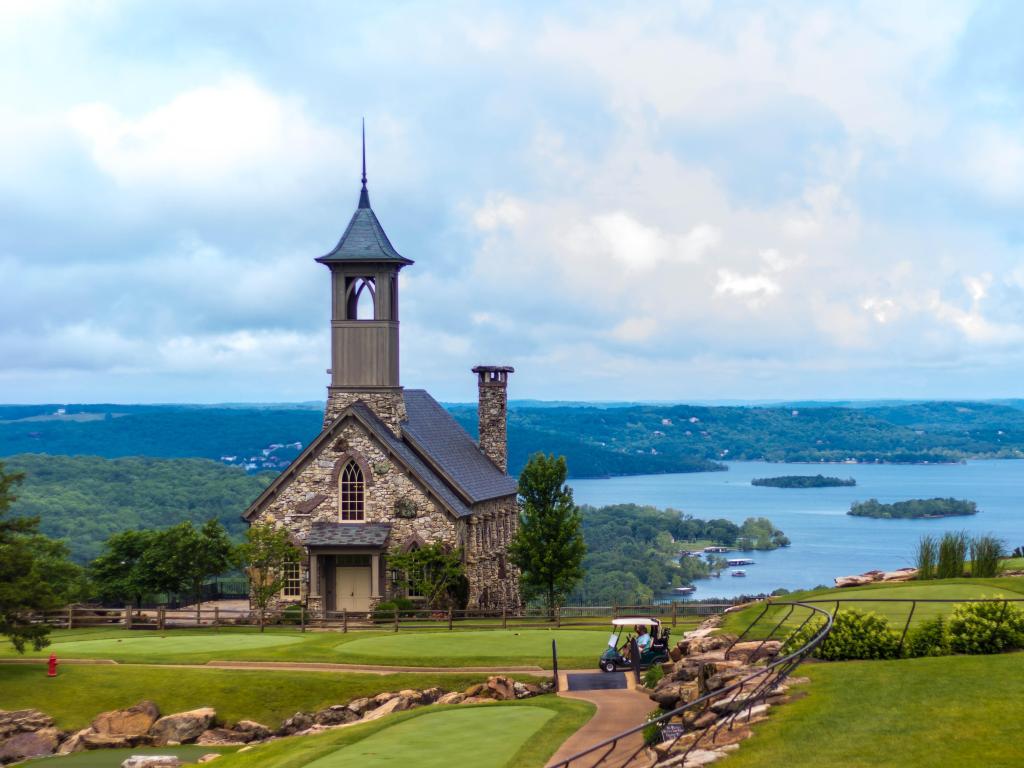 Best places to stop between Houston and Kansas City
Because of all the exciting stops along the way, you'll want to stop at one of the fantastic cities listed below. This way, you can relax and enjoy all the wonders that this part of America has to offer.
An urban rest in Oklahoma City
About halfway into your journey on the Oklahoma Route is Oklahoma City. This fun-filled city features rich Wild West heritage and contemporary attractions.
Here, the National Cowboy & Western Heritage Museum will take you on a captivating journey through the pages of history where legends of the Wild West come to life.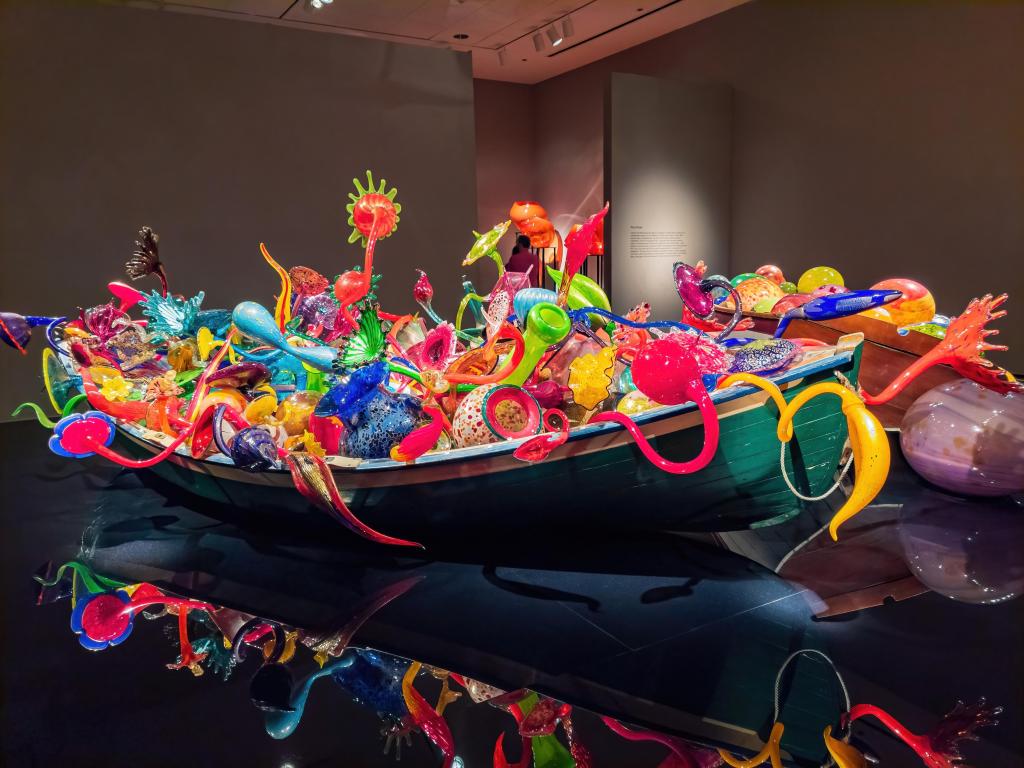 The Oklahoma City Museum of Art is another must-see stop, showcasing a diverse collection of modern and classic art.
As dusk sets in, we recommend resting at the beautiful and well-appointed Omni Oklahoma City Hotel. Situated close to the city's downtown, this luxury hotel features plenty of amenities, like an indoor pool, 24-hour front desk help, and daily housekeeping.
The hotel's modern rooms feature city views of Oklahoma City's skyline. If you're looking to relax, the hotel's wellness center has a hot tub, sauna, and incredible massage services.
Nearby the Omni Oklahoma City Hotel, the lush expanse of Myriad Botanical Gardens awaits you. Just a stone's throw away lies the Oklahoma City National Memorial.
A relaxing soak in Hot Springs
Roughly 6 hours and 45 minutes into the Arkansas Route is the charming city of Hot Springs. This enchanting town is famous for its serene vistas of the Ouachita Mountains and thermal baths.
After a long drive, what could be better than soaking in a natural hot spring bath? The town's crowning glory, Hot Springs National Park, gives you the chance to indulge in the restorative baths that have drawn people for generations.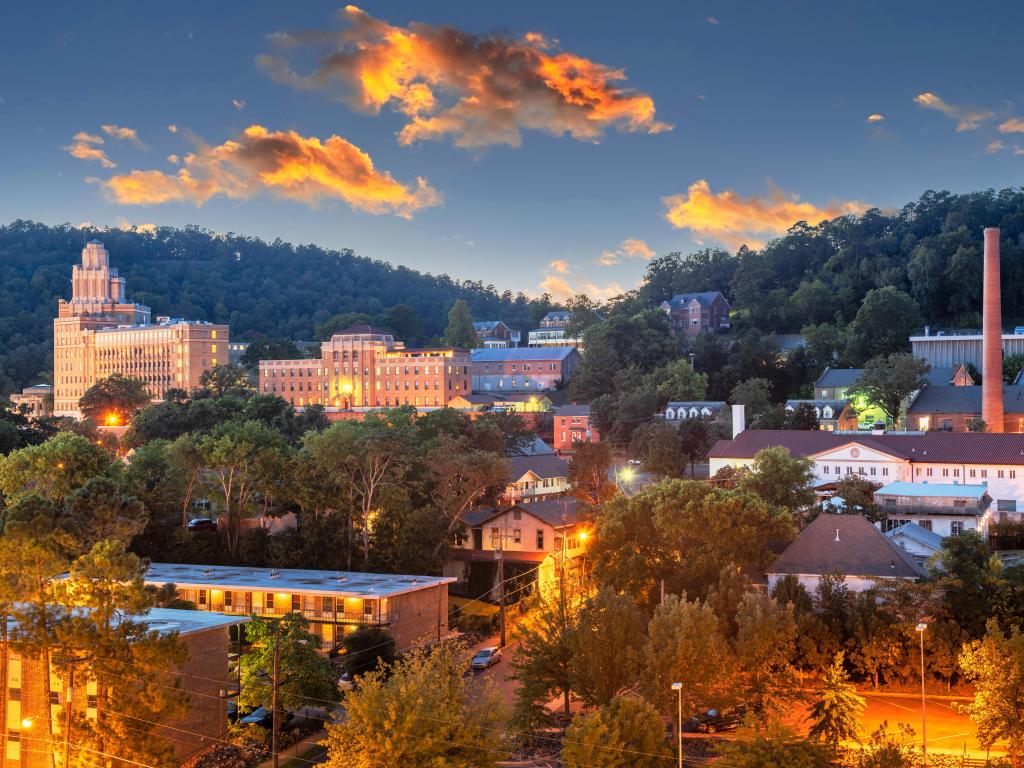 Dive deeper into the history of these famed waters at the Fordyce Bathhouse Visitor Center and Museum, where you can dive deep into the spa city's past.
When you arrive at Hot Springs, we recommend staying in the heart of town at the five-star Hotel Hale. This beautiful and luxurious hotel echoes the town's thermal legacy, inviting you to plunge into their own private hot spring bath.
The hotel's architecture and interiors, painstakingly restored, have a charm that is both historical and chic. Dining at Hotel Hale's restaurant is a foodie's journey to paradise, with a highly rated menu that features classic American to vegetarian and vegan delights.
While staying at Hotel Hale, check out the Gangster Museum of America just walking distance from the hotel. If you're looking for a panoramic view of Hot Springs and its picturesque surroundings, the Hot Springs Mountain Tower is also just a quick hike away.
Where to stay when you reach Kansas City
Kansas City, often considered the city of jazz, invites you into its rich tapestry of culture, history, and music. Its tree-lined boulevards, historic downtown, and booming restaurant and bar scene will definitely keep you entertained.
As you explore this dynamic city, iconic places like The Nelson-Atkins Museum of Art will amaze you. For a blend of old-world charm and upscale shopping, check out the Country Club Plaza, offering excellent shopping and an architectural experience.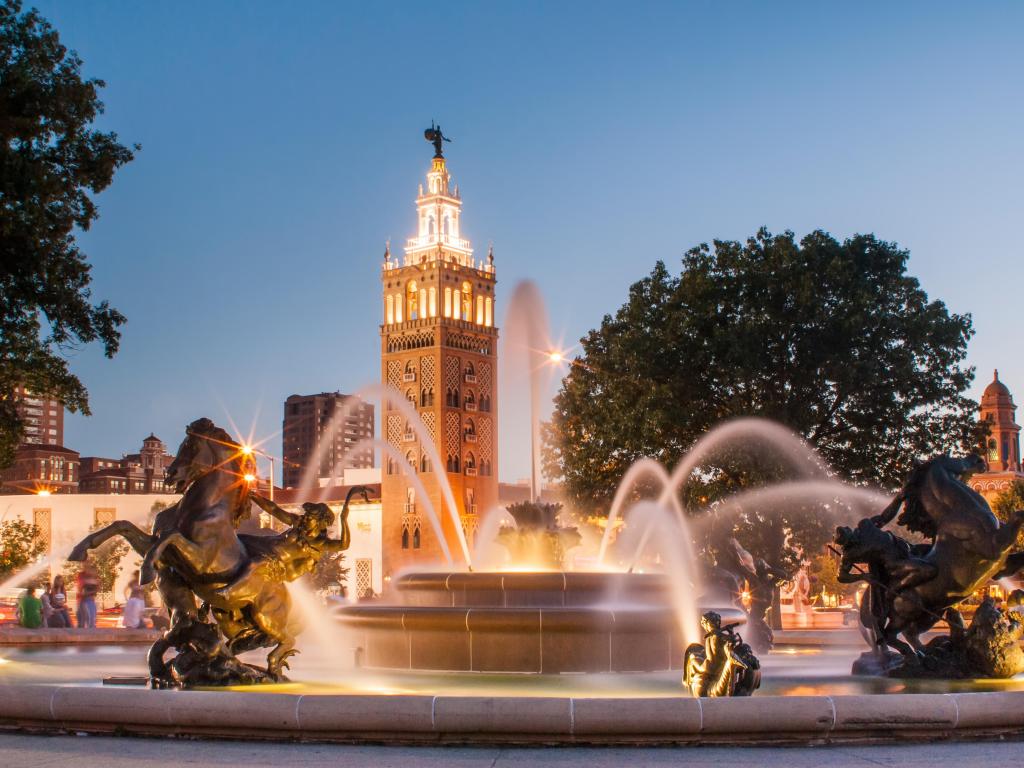 While you're strolling the city streets, keep an eye out for the hundreds of artistic fountains that adorn Kansas City's public spaces. This is why the city is nicknamed the "City of Fountains."
Nestled in the center of this lively city is The Raphael Hotel, Autograph Collection, the perfect place to stay for luxury and comfort. The hotel's exterior and interior perfectly blend historic charm with modern elegance.
Here at the Raphael, the spirit of Kansas City is alive, especially when the lounge comes alive with soulful jazz performances during happy hours.
You can explore the city on wheels with the hotel's bicycle rental service or indulge in board games during a leisurely afternoon. The terrace and dedicated picnic area lets you enjoy Kansas City's beautiful weather in style.
Things to see on a road trip from Houston to Kansas City
There's so much to see and do on this incredible road trip through the heart of America. To help you plan your perfect road trip, we've included our top highlights below, so you can plan easily and make the most out of this exciting journey.
Oklahoma Route
Brazos Valley Farmers Market - A vibrant local market in Bryan offering fresh produce, artisanal goods, and a delightful community atmosphere.
Waco - A historic Texas city known for its rich cultural landmarks, including the famed Magnolia Market at the Silos.
Czech Stop and Little Czech Bakery - A beloved stop in West, Texas, offering a range of delicious Czech pastries, particularly the renowned kolaches.
The Sixth Floor Museum at Dealey Plaza - An informative museum dedicated to the life and legacy of President John F. Kennedy, chronicling his assassination in 1963.
Lewisville Lake - A scenic reservoir in North Texas, popular for boating, fishing, and lakeside recreation.
Lake Murray State Park - Oklahoma's oldest and largest state park, offering picturesque views, hiking trails, and water activities.
Chickasaw Cultural Center - A center in Sulphur, Oklahoma, dedicated to celebrating and educating visitors about Chickasaw history and culture.
The Toy and Action Figure Museum - A unique museum in Pauls Valley, Oklahoma, displaying a vast collection of action figures and toys that's well worth a visit.
Oklahoma City National Memorial & Museum - A moving tribute to those affected by the 1995 bombing of the Alfred P. Murrah Federal Building, emphasizing the power of community and resilience.
Pleasant Valley Ghost Town - A deserted historic town, giving you a hauntingly beautiful glimpse into the past.
Wichita - Kansas' largest city, known for its aviation industry and vibrant arts scene.
El Dorado Lake - A large reservoir in Kansas ideal for fishing, boating, and camping.
Kansas State Capitol - An architectural marvel, this building offers visitors a glimpse into the state's legislative process, as well as panoramic views from its dome.
Lawrence - A vibrant city in Kansas, known for its collegiate atmosphere, historic architecture, and artsy downtown.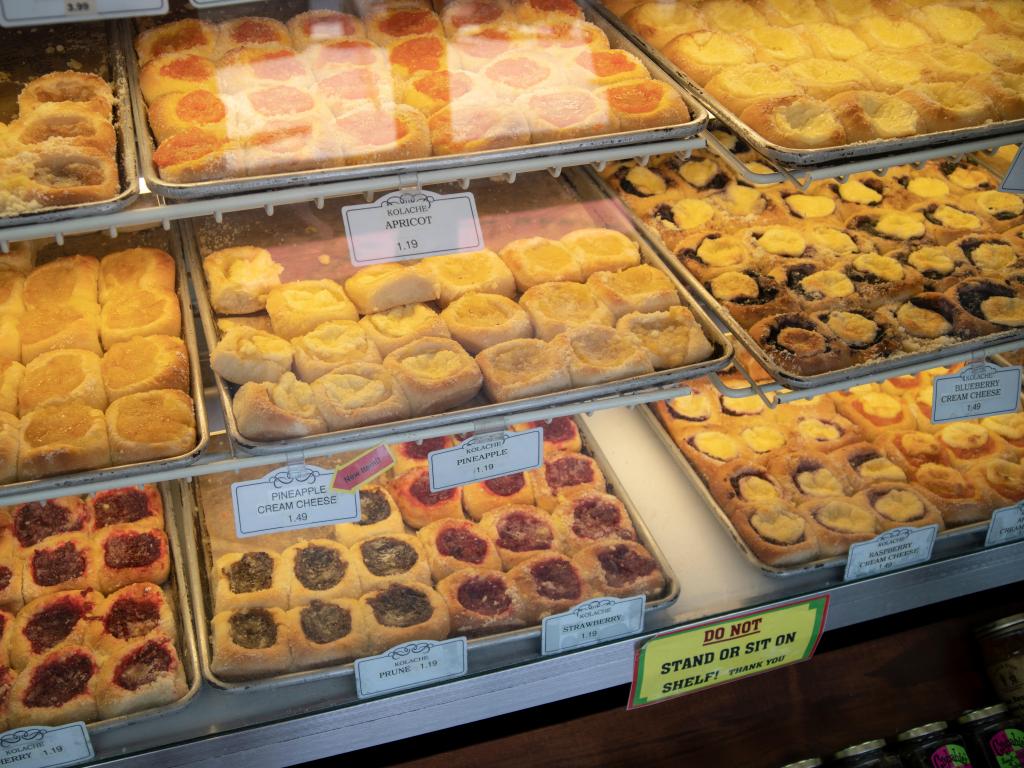 Arkansas Route
Livingston - A Texan town known for its proximity to Lake Livingston, one of the largest lakes in the state.
Angelina National Forest - A serene forest in Texas, teeming with diverse wildlife, recreational activities, and picturesque landscapes.
Nacogdoches - Recognized as the oldest town in Texas, this amazing historical destination has many historic sites for you to explore.
Sabine National Forest - A lush forest located in Texas, ideal for hiking, fishing, and nature watching.
R.W. Norton Art Gallery - A free museum boasting a comprehensive collection of American and European art, surrounded by beautiful gardens.
Caddo Lake - A sprawling lake and wetland on the Texas-Louisiana border, famed for its cypress groves and diverse ecosystem.
Texarkana - A unique city straddling the border of Texas and Arkansas, known for its harmonious blend of southern cultures.
Hot Springs - An Arkansas city renowned for its naturally heated springs, historic bathhouses, and the Hot Springs National Park.
Ouachita National Forest - The oldest national forest in the southern U.S., offering vast landscapes, hiking trails, and diverse wildlife.
William J. Clinton Presidential Library and Museum - Provides a detailed look into the life and presidency of Bill Clinton, with interactive exhibits and a replica of the Oval Office.
Lost Canyon Cave and Nature Trail - A captivating natural attraction in Missouri, featuring guided tours through a cave and scenic nature trails.
Silver Dollar City - A popular 1880s-themed amusement park with rides, crafts, live entertainment, and seasonal festivals celebrating Ozark culture.
Fantastic Caverns - America's only ride-through cave, allowing visitors to explore the wonders of the underground world in jeep-drawn trams.
Lake of the Ozarks - A vast reservoir in Missouri, popular for water activities, scenic views, and lakeside entertainment.
Best time to go on a road trip from Houston to Kansas City
Kansas City is the perfect road trip destination any season of the year. That said, you'll have different festivals, events, and weather depending on when you start your drive.
Winter on both routes is usually mild, but may occasionally surprise you with snowfalls and cold weather. Winter temperatures in Oklahoma can dip to as low as the 20s and 30 degrees Fahrenheit and Kansas City can get hit by severe cold fronts.
Spring is a pleasant time to travel on both routes, with mild temperatures and the chance to see spring flowers. You can enjoy spring festivals such as Kansas City's Earth Day festival.
Summer is hot and humid on both routes, with temperatures often exceeding 80 degrees Fahrenheit. This warmth attracts more tourists, leading to busier roads.
The journey in late summer and early fall promises the festivities of the Arkansas State Fair and the unique International Route 66 Mother Road Festival. If you're aiming for September, you'll be rewarded with the vibrant State Fair of Texas and the equally spirited Oklahoma State Fair.
Fall is pleasant, with mild temperatures and plenty of fun festivities to enjoy. In the fall, you'll also have the chance to see the American Royal World Series of Barbecue or immerse yourself in the lively Kansas City Irish Fest.