Road Trip from Houston to New Mexico
Every great American road trip needs beautiful scenery and New Mexico definitely has that covered, with its stunning rolling hills and majestic deserts. The fascinating road trip from Houston to New Mexico will take you through time and space as well as unforgettable landmarks and cities.
The epic 2,330-mile road trip from Houston to New Mexico and back takes 36 hours to drive. On the way you'll see Carlsbad Caverns, White Sands National Park, Cibola National Forest, Albuquerque, Santa Fe, Los Alamos and Bandelier National Monument.
Read on below to learn the details of this epic trip as well as our route suggestions, what to do on the way to and in New Mexico as well as fantastic places to stay and the best time to visit.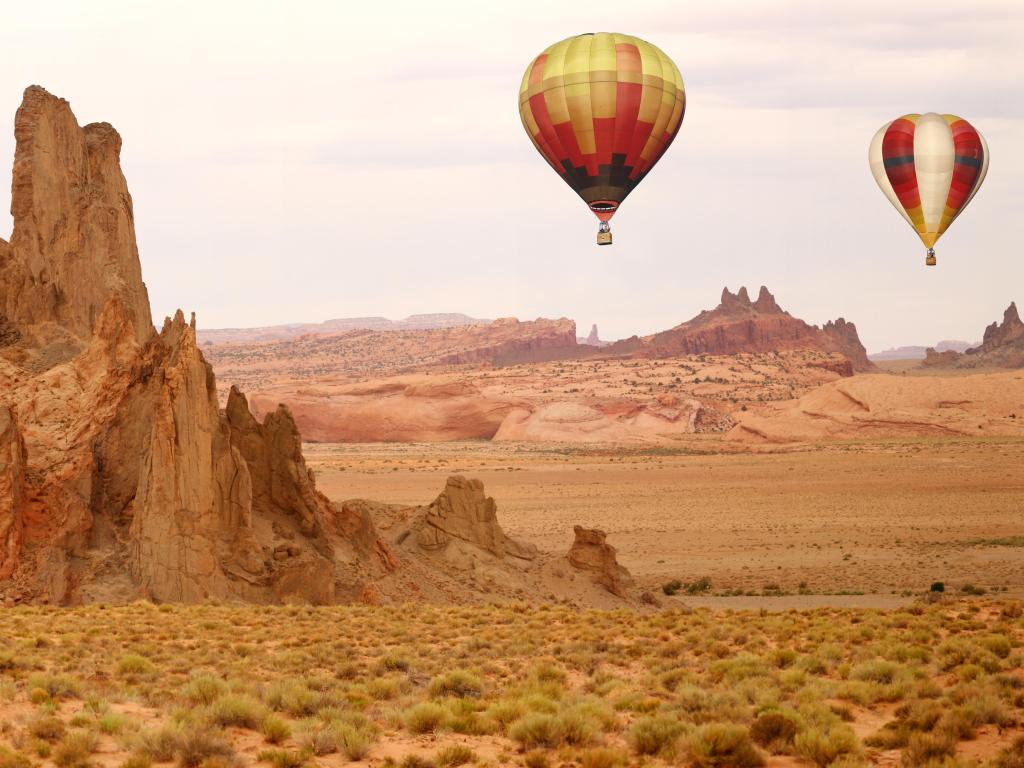 How far is New Mexico from Houston, and how long will the road trip take?
Although Texas and New Mexico are neighbouring states, you'll have to cover a lot of ground from Houston before you even cross the state line.
It will take around 11 and a half hours to drive the 780 miles from Houston to Carlsbad Caverns (the first main landmark you will see as you enter the state of New Mexico), and you'll pass San Antonio, Fort Stockton and Marfa along the way.
Continuing on from Carlsbad Caverns, we suggest that you follow our recommended route below. This route - starting at Carlsbad Caverns National Park and ending in Santa Fe - will take at least 12 hours 15 minutes to drive and covers another 650 miles. This is an epic tour around the top attractions in New Mexico.
Distances and driving time from Houston to popular destinations in New Mexico

| Destination City/Landmark | Distance | Driving Time |
| --- | --- | --- |
| Carlsbad Caverns | 780 miles | 11 hours 25 minutes |
| White Sands National Park | 960 miles | 15 hours |
| Cibola National Forest | 1,180 miles | 19 hours |
| Albuquerque | 1,330 miles | 20 hours 30 minutes |
| Los Alamos | 1,410 miles | 22 hours |
| Santa Fe | 1,440 miles | 22 hours 45 minutes |
Although you could see the highlights of this road trip in around 6 days, including one night in Texas at both the start and the end of your trip, we'd recommend taking up to 2 weeks if time allows.
This means you can really immerse yourself in the art museums of Santa Fe or spend longer hiking in the Guadalupe Mountains National Park or Lincoln National Forest.
Even if you're heading directly back to Houston, via Amarillo and Dallas, you'll need to factor in the 13 hours of driving this will take. Plus, if you plan on making stops in Texas on either side of your New Mexico road trip, you could easily spend 3-4 days exploring the state.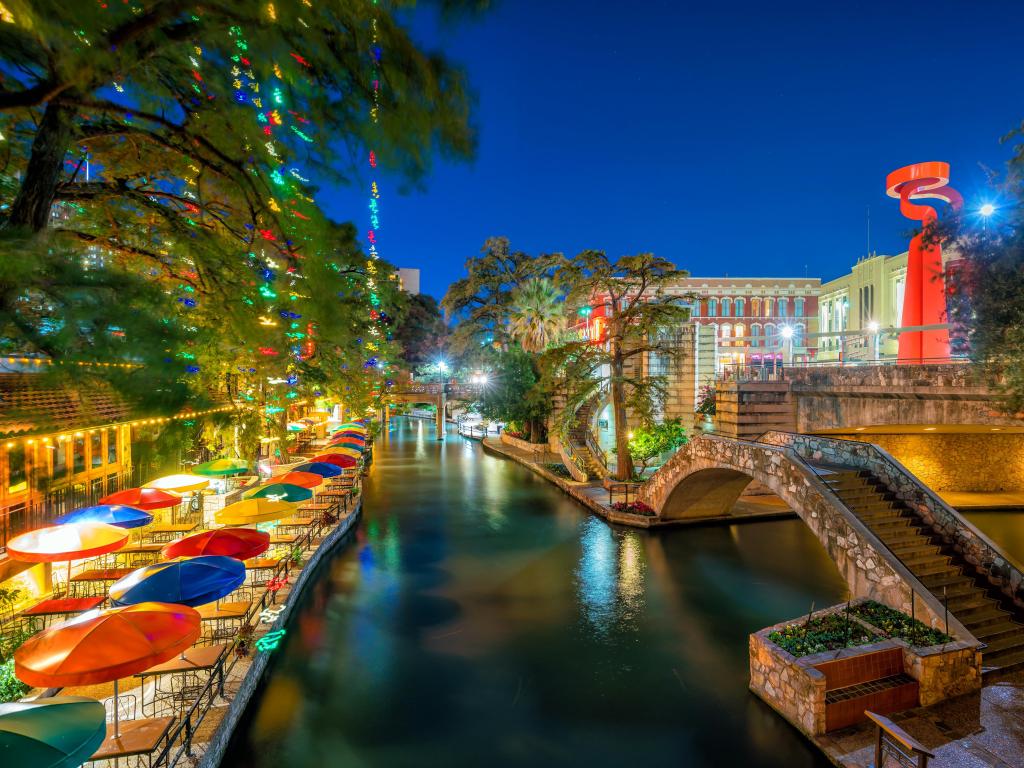 Best trip route from Houston to New Mexico
The road trip from Houston to New Mexico crosses the state border near Carlsbad Caverns, the first popular landmark you'll pass as you start your trip around the state.
The route then will take you on a tour of iconic Wild West scenery, desert drives, space frontiers and spectacular landscapes as you continue north to Lincoln National Forest, White Sands National Park and Cibola National Forest.
Your next two major waypoints are the cities of Albuquerque and Santa Fe, where you'll have plenty of chance to enjoy restaurants, bars and cultural attractions.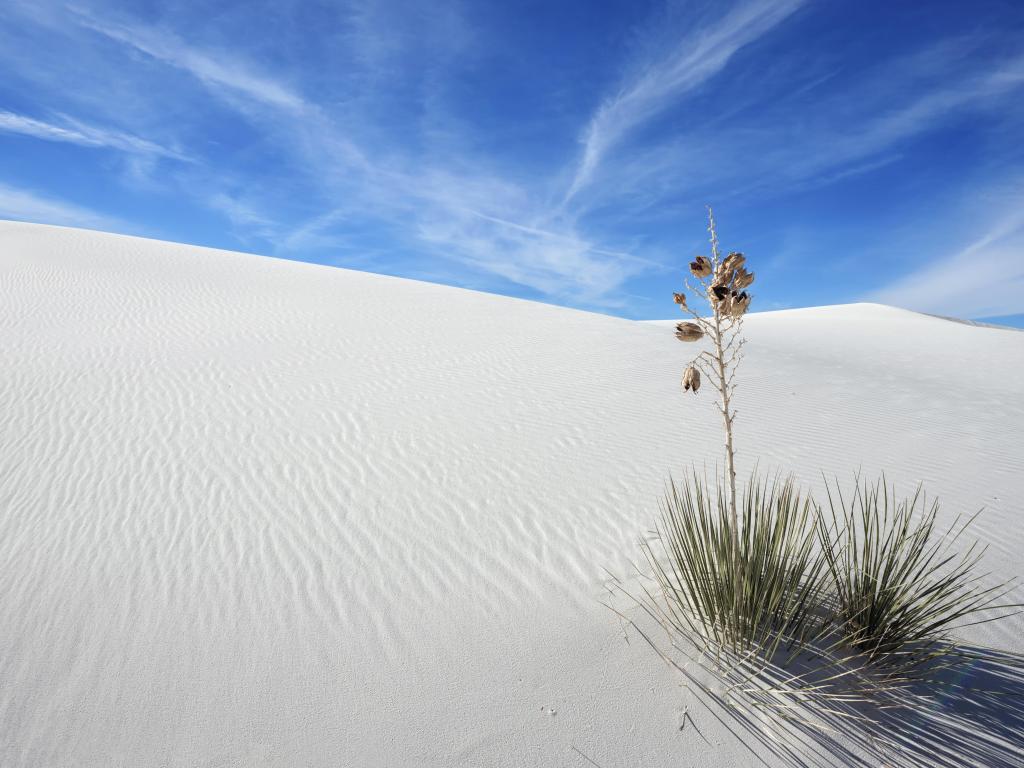 Before leaving New Mexico you'll also visit Los Alamos and have the chance to hunt for petroglyphs at Bandelier National Monument and explore the ruins of Pecos National Historical Park.
You'll travel through some amazing places with a rich and varied past, from Pueblo Indian culture and Spanish explorers to the Civil War and the Wild West, before landing in the futuristic realm of atomic science. Add some stunning trails, hot springs, and maybe even a UFO or two, and you have the makings of an amazing adventure.
Round road trip route from Houston to New Mexico
Leave Houston on Interstate 10 (I-10) heading west. For the simplest journey, you could just follow this same road until you reach Fort Stockton, but we'd suggest making a few stops along the way.
Just outside Houston, consider a detour to Attwater Prairie Chicken National Wildlife Refuge, then head to the Pioneer Flight Museum in Kingbury, just off the Interstate.
Next, you'll come to one of the more well-known places on the route through Texas, San Antonio. After spending some time in the city, continue on the interstate past Sonora and Ozona until you reach Fort Stockton.
Follow the road signs for Alpine and Marfa. If you're set on visiting Big Bend National Park during your trip, these are the best jumping-off points for you.
Head north again, keeping Mt. Livermore on your right and continue on towards the Texas-New Mexico border.
On this final part of your drive through Texas, you'll skirt around Guadalupe Mountains National Park and past the absolutely stunning El Capitan Lookout, so make sure to stop and enjoy the view.
Road trip route around New Mexico
After crossing into New Mexico, continue driving on the highway and then follow the signs for the Carlsbad Caverns on the state route. From there, you will reach the city of Carlsbad after your visit.
At Artesia, turn left onto US-82 and follow it across several miles of wide-open countryside before you begin the drive through Lincoln National Forest. It winds its way past Twin Forks and Cloudcroft.
As you approach Alamogordo, you will get the opportunity to visit White Sands National Park. When you're ready to continue your road trip, return along the same roads past Alamogordo until you reach Carrizozo.
The route will cross the scenic Valley of Fires and skirt round the northern end of White Sands Missile Range before it crosses the Rio Grande and meets up with I-25 in San Antonio.
Drive though the city and you can make a detour as you reach Datil, to visit Cibola National Forest.
The interstate will take you to Albuquerque and then on towards Santa Fe. However, we'd suggest continuing your way up and making your way to Los Alamos before you stop at Santa Fe.
Return along the state highway, following the signs for Santa Fe, where you can enjoy some time in the museums, restaurants and bars before following Old Pecos Trail back to the interstate.
After your visit to the city, drive towards Pecos to reach Pecos National Historical Park. Following the signs for Santa Rose will take you on I-40 and across the state border back into Texas. After Amarillo, keep an eye out for the signs and follow the highway to Fort Worth.
Here, you can take a trip into Dallas too if time allows, then follow I-45 past Sam Houston National Forest and back into the city of Houston.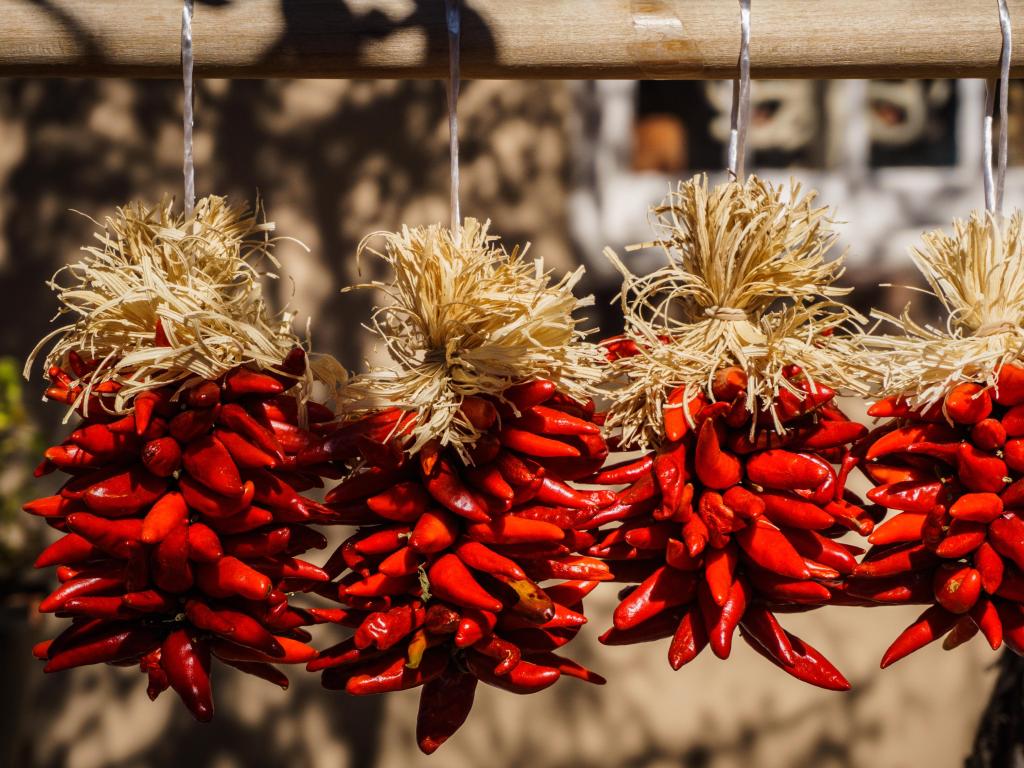 Best places to stop between Houston and New Mexico
With at least 36 hours of driving to enjoy along this epic road trip, you're going to need to make several overnight stops as you travel from Houston to New Mexico and back.
Luckily, you're spoilt for choice, with so many places to break your journey and immerse yourself in the sights and sounds of New Mexico.
An overnight stop in the historic Fort Stockton
You'll reach Fort Stockton, known for its Wild West history, after driving about 7 hours across Texas. This is the perfect stop if you want to spend most of your time on this trip in New Mexico, where you can reach before lunch on day two.
After such a long drive you're going to want somewhere comfortable to turn in for the night, so head for Sleep Inn & Suites Fort Stockton. Located just off the interstate, this modern hotel boasts an indoor pool to help you cool down after a long day on the road.
This hotel is located just a short drive away from Historic Fort Stockton. While you're here, take the time to get a glimpse of Texas's frontier past. Head to the Visitor Center for details of a self-guided route around Fort Stockton which takes in a number of its historic buildings.
For a different perspective, head to the Annie Riggs Museum. Rooms in this former boarding house are set out as they would have been a century ago, making for a fascinating glimpse into the past. If you have time, you can also visit the Old County Jail.
To wrap up your busy day of history, look out for the Grey Mule Saloon – a 140-year-old saloon with a Wild West history, which offers wine tasting and local products.
Enjoy a scenic hike in Cloudcroft
14 hours into your drive, and 3 hours past Carlsbad Caverns, you'll find yourself in Cloudcroft. This charming town is a real contrast to many of the other places you'll experience on your road trip with its mountainous scenery.
There are many hike and bike trails through the mountains, so lace up your boots and head out into the hills, since the higher altitude here means cooler weather even at the height of summer.
If you aren't an outdoors enthusiast, you can head to the town center and find out more about its history at Sacramento Mountains Museum & Pioneer Village, a fascinating insight into settler life in the past.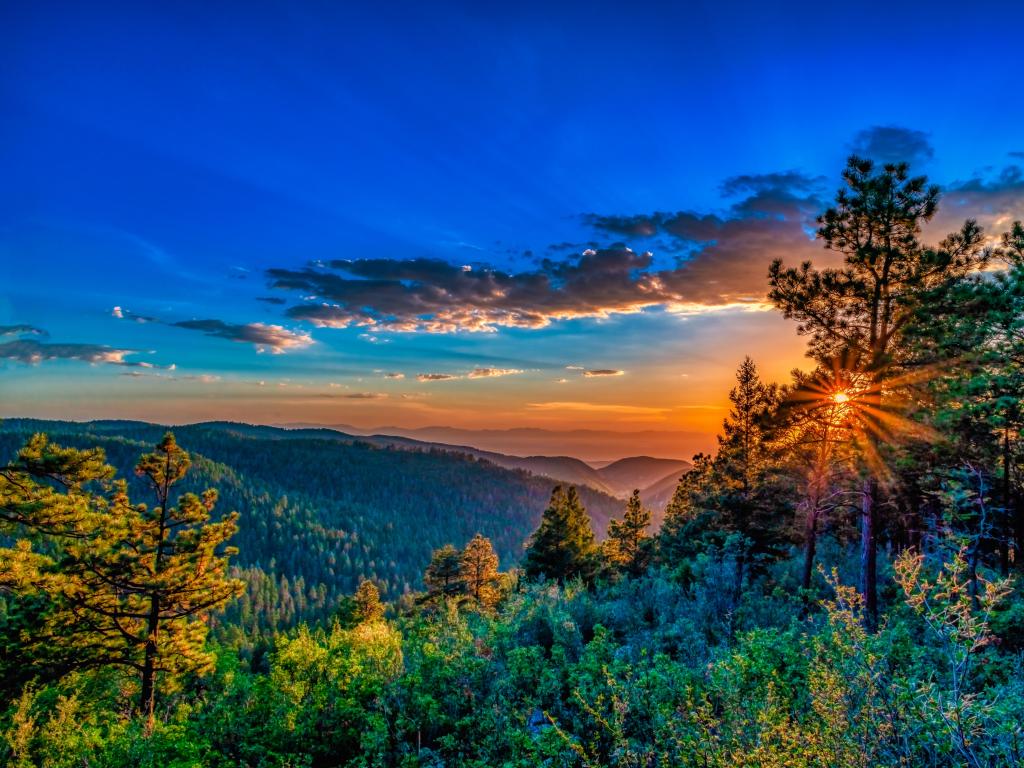 After a long day, you can enjoy some local cheese and wine tasting in town or choose to head back to the hotel for a meal in its rustic restaurant.
For a warm welcome and a comfortable bed, look no further than The Lodge at Cloudcroft for an overnight stay here. Full of rustic charm, it has fabulous views, a seasonal outdoor pool and a piano bar where you can relax after a day of hiking or chasing history.
Admire traditional art in Albuquerque
Just over halfway along this road trip you'll reach Albuquerque, a fascinating city with plenty to see and do, which offers some of the best hotel choices you'll find on this trip.
For a fabulous place to stay that's within walking distance of Albuquerque's Old Town, make for El Vado Motel Albuquerque. This quirky motel combines the classic road trip vibe with contemporary comfort and style.
Relax on the patio or cool off in the outdoor pool before grabbing a bite to eat at one of the pop-up restaurants on site. After resting up, you can head see the attractions in the city center as the motel is within walking distance of Albuquerque's Old Town.
The trip up Sandia Peak Tramway is an absolute must - it takes you up to the top of Sandia Peak for fabulous views across the city and beyond.
Next, head to the Indian Pueblo Cultural Center, which celebrates the history and culture of the 19 Pueblo Tribes of New Mexico. You'll see some of the traditional styles of art reflected in Albuquerque's many colorful murals before heading back to the motel for a well-deserved rest.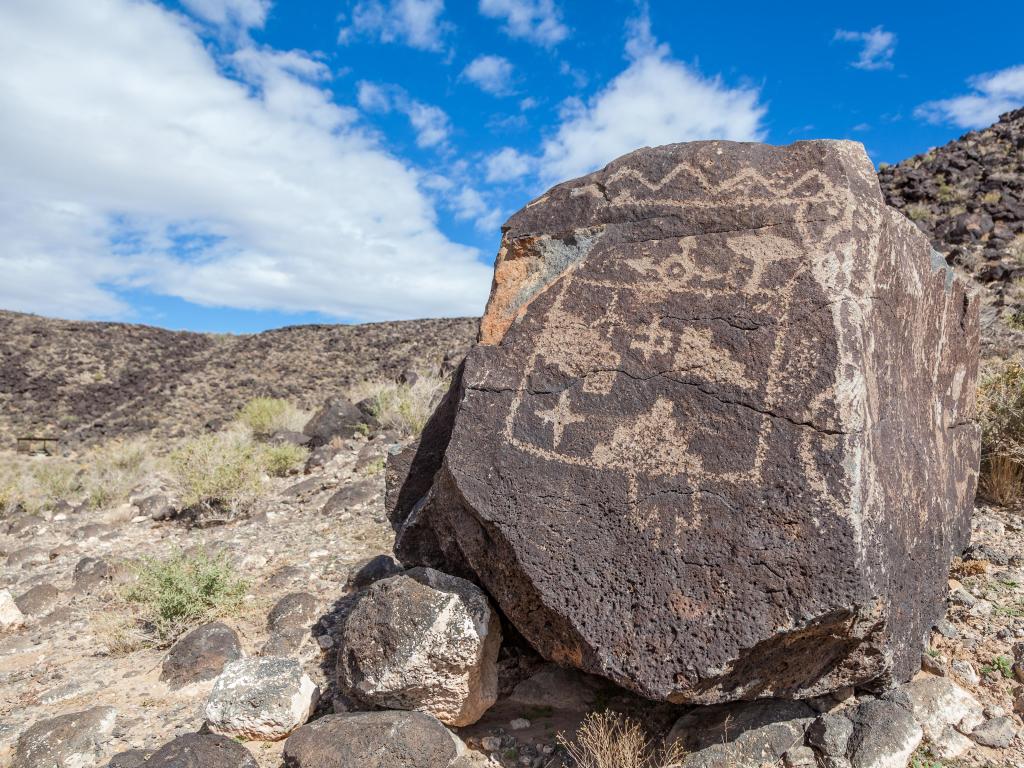 Delve into the cultural heart of Santa Fe
Almost 23 hours from the start of your road trip, you'll find the state capital, Santa Fe. While on paper it's only a couple of hours' drive from the previous recommended stop in Albuquerque, this gives you plenty of time to visit Los Alamos before reaching Santa Fe in the afternoon.
Santa Fe is also renowned for its art and culture scene. The Museum of Contemporary Native Arts is a national showcase for contemporary Native American artists, and the New Mexico Museum of Art displays New Mexican and international work.
Also in town is the Georgia O'Keeffe Museum. O'Keeffe was famous for her landscapes of New Mexico, many of which are now displayed here.
In walking distance of the city's museums and galleries, and with a fantastic location right by Santa Fe Plaza, La Fonda on the Plaza is a fantastic hotel choice in the city. It's one of the oldest hotels in the country, and is built in the traditional South West/Spanish Pueblo style.
That's not to say that the comforts that make a stay really special have been forgotten about. There's a rooftop hot tub and bar, outdoor pool and on-site spa to pamper yourself after a long drive. And if that's not enough, it's worth adding that parking is available too.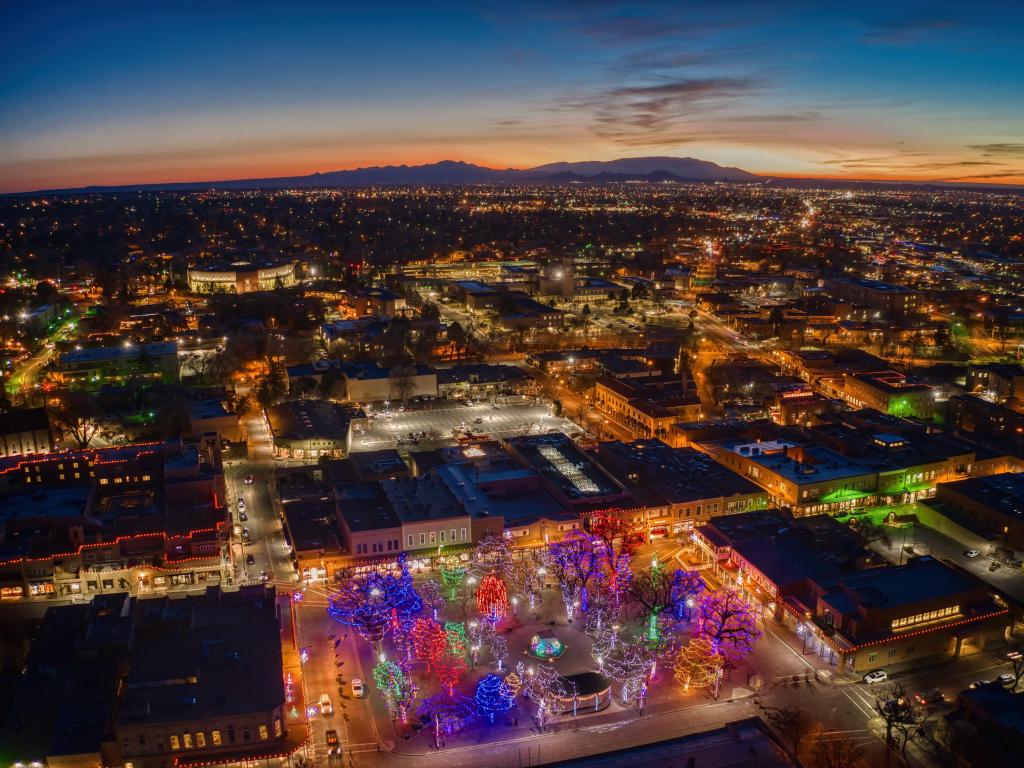 Things to see on a road trip from Houston to New Mexico
There's more to New Mexico than you might think! In fact, with so much to do you'll want to plan your trip to make sure you squeeze as much as possible in.
To get you started, we've listed a few of the highlights, but make sure to stop to explore the state's many charming small towns as you make your trip.
Things to see on the way to New Mexico
Attwater Prairie Chicken National Wildlife Refuge - Just off I-10 there's a major effort to increase the numbers of the critically endangered Attwater Prairie Chicken, and this beautiful stretch of native coastal prairie is part of that program.
Pioneer Flight Museum, Kingsbury - This living history museum restores and displays vintage aircraft from the early days of flight, when pilots across the region were testing out just how far these tiny planes could take them. Call ahead to confirm opening hours.
San Antonio - Stretch your legs or enjoy a meal along San Antonio's beautiful and buzzing River Walk. Then head over to El Alamo, the site of a famous battle in Texas's fight for independence from Mexico where you'll now find a museum.
The Museum of Western Art, Kerrville - The fact that this collection used to be known as the Cowboy Artists of America Museum should give a clue about what you'll find here. You'll also find art and exhibitions about women and Native Americans in the West.
Fort Stockton - Head to Historic Fort Stockton, a popular roadside attraction especially beloved by the history buffs, and the Old County Jail for a flavor of Wild West life.
Marfa - Popular among art-world tourists, this small desert city is great as a stopping off point if you plan to visit Big Bend National Park (see below).
Big Bend National Park - This beautiful wilderness area is about as far as you can get from the hustle and bustle of the city. This isn't a place for the novice hiker – you'll need to be well equipped and fully prepared for some challenging terrain with few facilities.
Guadalupe Mountains National Park - Within this national park, where you can hike or horse ride, you'll find part of a massive, fossilized coral reef as well as the Guadalupe Mountains and the impressive El Capitan cliff face which soars above the surrounding desert.
Things to see around New Mexico
Carlsbad Caverns - Over 100 limestone caverns are hidden beneath the ground in this national park, and you can take a guided tour to learn more about the impressive rock formations. Make a reservation online in advance, as entry numbers are limited.
Roswell - A slight detour from the route takes you to Roswell, where reports of alien activity began in the 1940s. Today, you can visit the International UFO Museum and Research Center.
Cloudcroft - Sitting high in the Lincoln National Forest, you can hike, hike and even ski in this beautiful high-altitude town. This charming town is also home to many quaint shops.
Lincoln National Forest - Landscapes in this large park range from desert to mountain to forest. In the forest, there are plenty of recreation areas where you can hike, mountain bike and dirt bike.
The Museum of Space History, Alamogordo - The deserts of New Mexico have played an important part in the evolution of Space Science and this informative museum celebrates that through its exhibitions and artefacts.
White Sands National Park - This unique natural landscape is made up largely of brilliant white Gypsum sand dunes. You can hike, cycle or take a scenic drive, or pick up a sled at the park shop – sledding down the snow-like dunes is a popular activity.
Bosque Del Apache National Wildlife Refuge - Stretching across the Rio Grande floodplain, you'll find beautiful wetland and grassland habitat which is a haven for birds.
Cibola National Forest - Mountains rise up from the desert here, and you can hike or take a scenic drive up several of the peaks for stunning views.
Albuquerque - Start your trip at Old Town Plaza then make for Sandia Peak Tramway where you can look back across New Mexico and get a sense of just how far you've come!
Petroglyph National Monument - There are hundreds of petroglyphs carved into the rocks on these hills and trails, making it a fascinating place to hike.
Los Alamos - Located among beautiful scenery on the Parajito Plateau, Los Alamos was where US scientists developed the Atomic bomb back in the 1940s. There's plenty to see while you're in town – take your pick of the Bradbury Science Museum, Los Alamos History Museum, or the Manhattan Project National Historic Park Visitor Center. Or for a more relaxed visit you could just follow a historic walking tour.
Bandelier National Monument - This mesa landscape is dotted with ancient petroglyphs, telling the hidden stories of people who called this place home many centuries ago.
Valles Caldera National Preserve - In the wide crater left behind by a prehistoric volcanic eruption, you'll now find a beautiful place to hike, bike or fish, all among a unique and peaceful natural landscape.
Santa Fe - The state capital is home to several world-class museums, including the Georgia O'Keeffe Museum, New Mexico History Museum, and IAIA Museum of Contemporary Native Arts.
Pecos National Historical Park - This park covers a wide area, but nestled inside it you'll find evidence of the people who've lived here in the past, from Pueblo settlements to abandoned Spanish mission buildings.
Things to see on the way back to Houston
Santa Rosa - Before you leave New Mexico check out Route 66 Auto Museum to get a feel for the way travellers of the past would have driven this part of the route. Then cool down at Blue Hole Lake before continuing on your drive.
Amarillo - If you haven't had your fix of space and technology in New Mexico, head to Jack Sisemore Traveland RV Museum and Texas Air & Space Museum. Just outside town you'll also find Cadillac Ranch art installation.
Dallas - Enjoy the vibrant Stockyards then find yourself a fantastic meal at what will probably be the last stop on your epic trip. If you're visiting in spring, check out the bluebonnets in bloom as you head south out of the city too.
Best time to go on a road trip from Houston to New Mexico
You can visit New Mexico all year round, but when you travel is probably going to be decided by what you want from your trip, and how hot you like your summers. Also, if you're heading to New Mexico to get that Wild West feeling, you'll probably want to avoid the winter.
New Mexico experiences hot summers, with temperatures of 90 degrees Fahrenheit from June to August. If you're planning on hiking in these hot months, make sure you're prepared – for a more relaxed experience, you might prefer to travel in the spring or fall.
If you can tolerate the heat, one thing you might like to check out in July is Roswell's UFO Festival. It's a slight detour from the route, but fans of all things extra-terrestrial should definitely head here for this truly unique experience.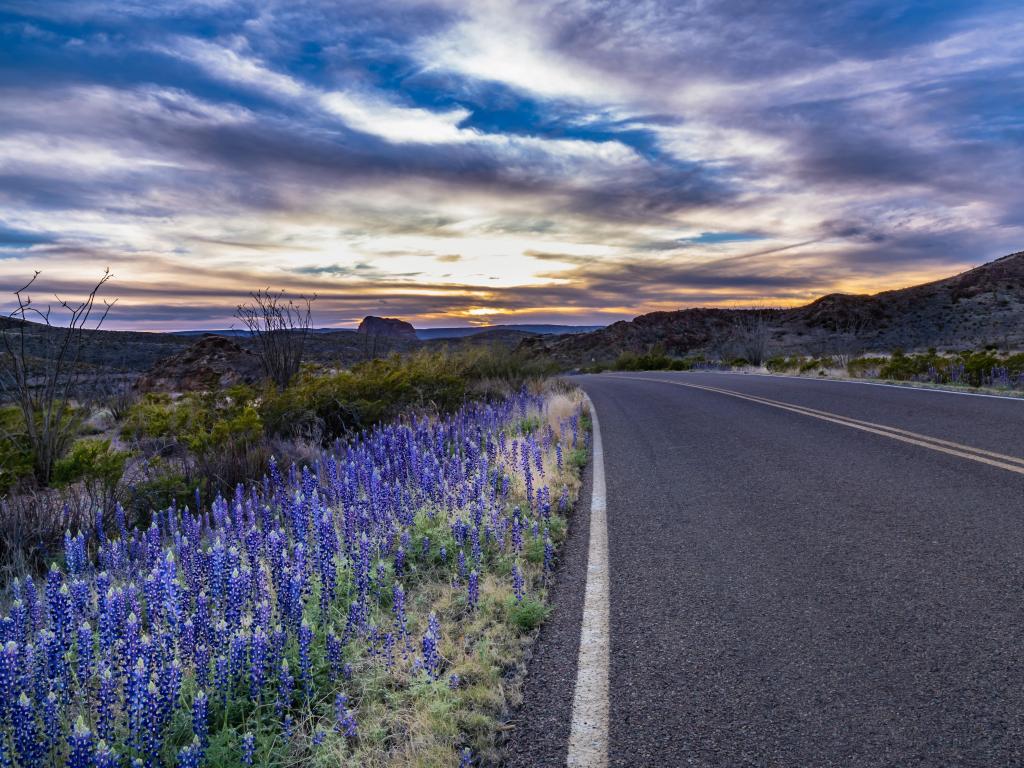 In contrast, winter in New Mexico is mild. In Albuquerque, for example, average temperatures are in the 50s and there's little rain, meaning you can enjoy some time outdoors. But don't be surprised if you see a little snow – temperatures can drop into the 20s.
In spring, you'll see wildflowers blooming across a lot of this route, and with temperatures that range from the 60s in March to the 80s in May, this can be a really pleasant time to travel.
Fall is also a great time to travel. September and October remain warm and dry and any summer vacation crowds will have dispersed. The Fiesta de Santa Fe sees music and dancing all around the historic Plaza in early September each year.
You can also take in the spectacular sight that is the Albuquerque International balloon festival if you visit in October.